Roasted Beets and Carrots Salad with Burrata | The signs of fall have finally reached Texas. I woke up this morning and it was 55 degrees. In fact, my toes were practically frozen.
But with the cold weather comes cold-weather food. Yessss! Bring on the stews, braised meats, and roasted vegetables!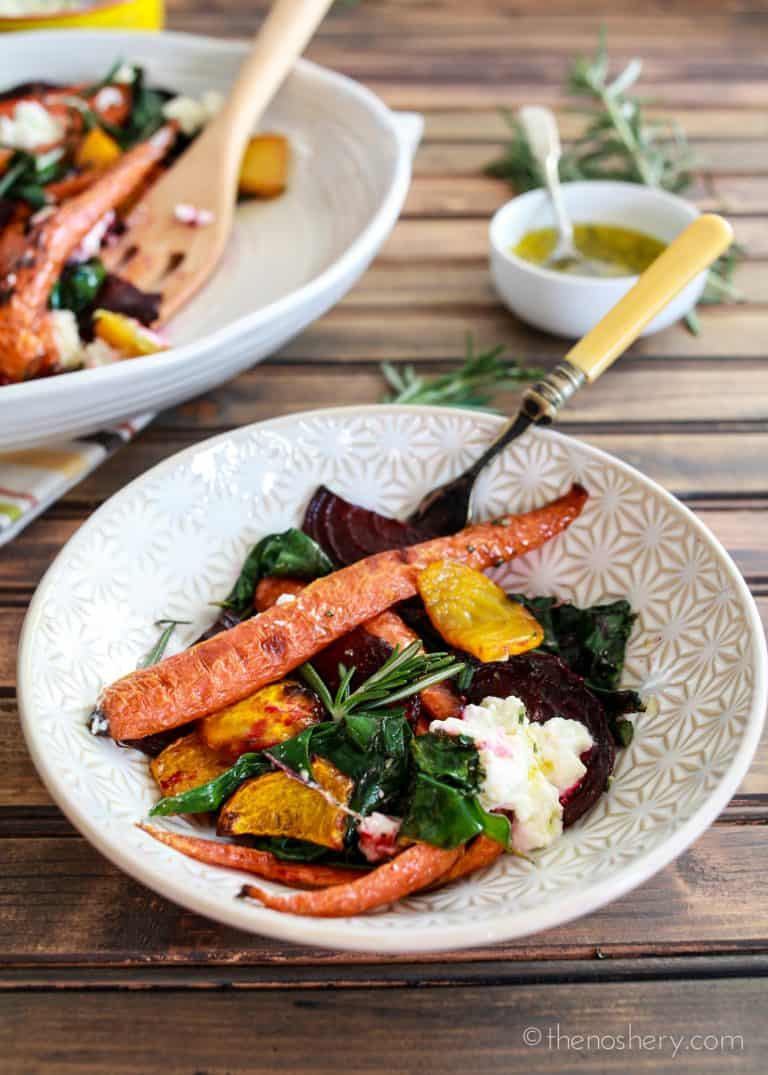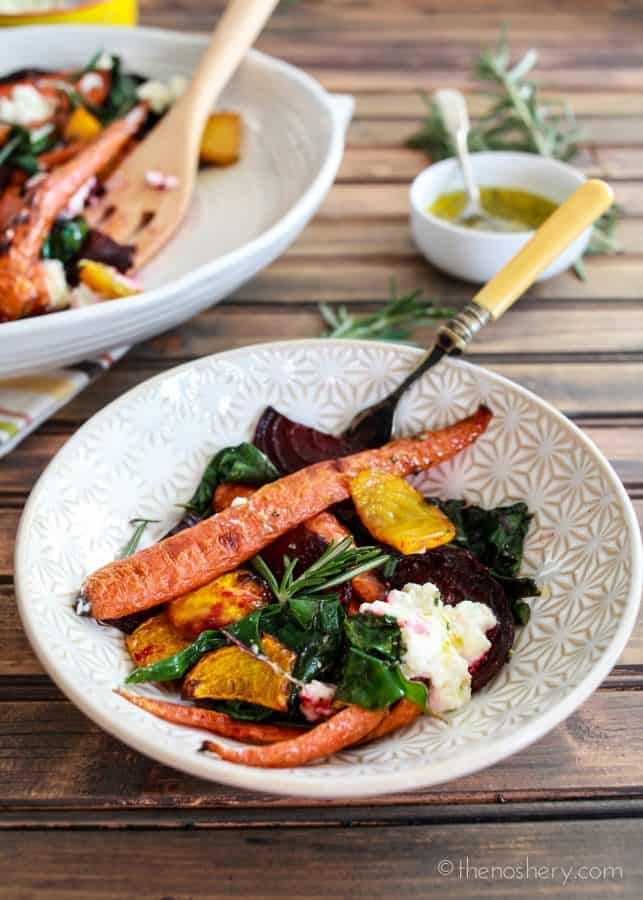 Regardless of how cold it was, I had to get up and moving. I got out from under the covers and immediately considered crawling back into bed with my laptop under my very warm down comforter. (By the way, thank you waterfowl for your wonderful feathers!)
I decided to get dressed and go to my happy place…the grocery store. Some women get in a funk and go shoe shopping. I go grocery shopping. Not because I want to eat my feelings but because it makes me happy to look at produce and meats and think of all the wonderful things I can do with them.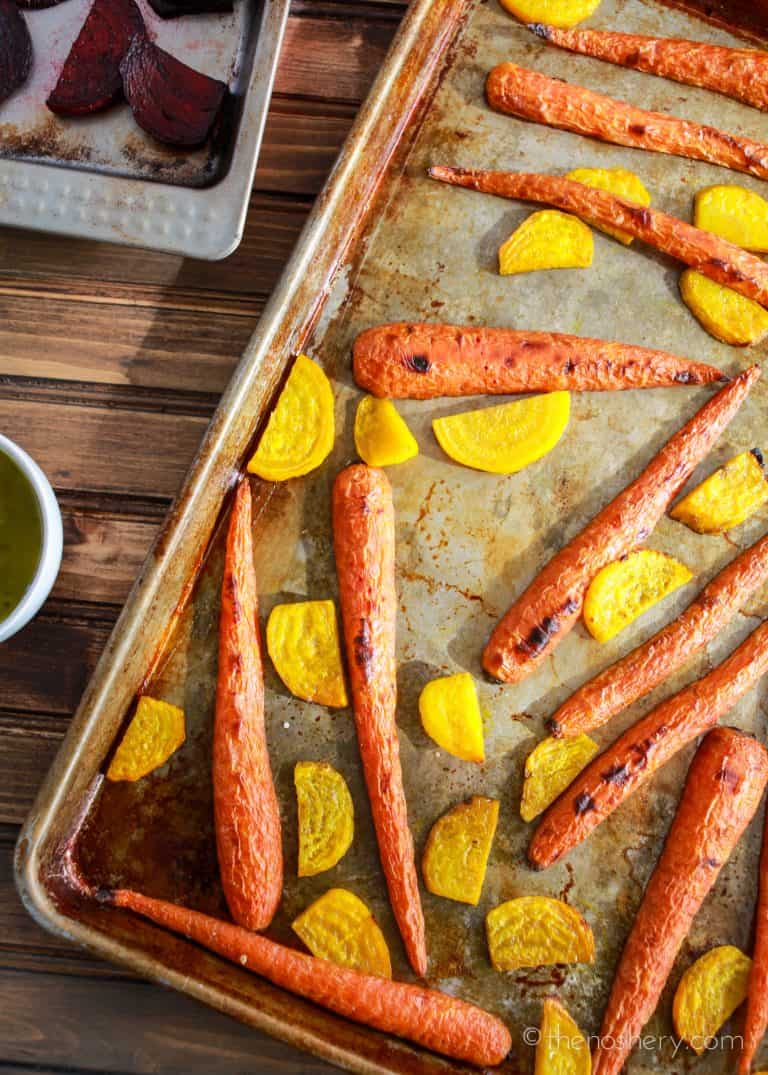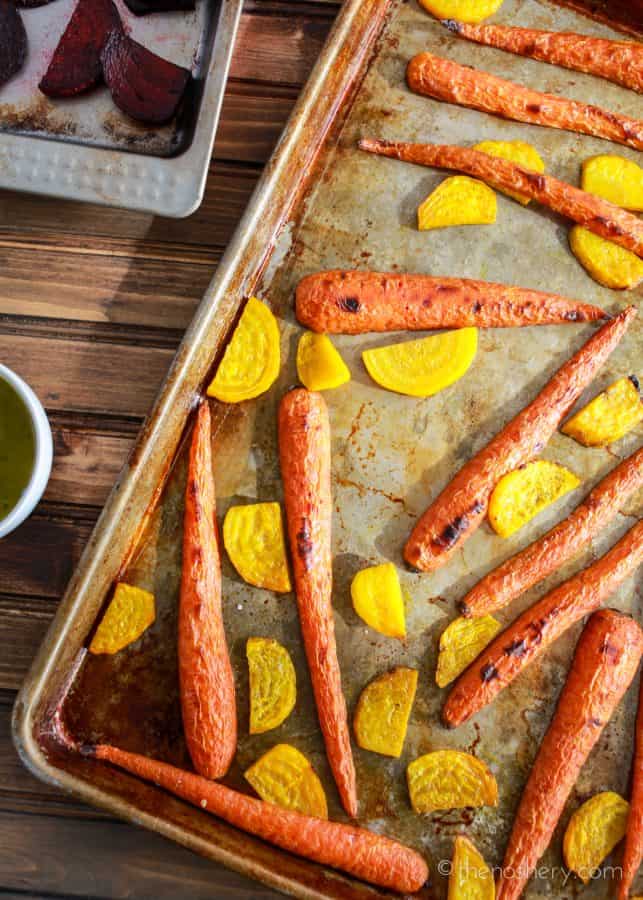 Veggie Inspiration
While I was at the store, I came across some gorgeous organic gold and red beets and a tub of creamy burrata cheese. And it occurred to me that even though the produce selection can be scarce in the winter, there are still some beautiful and colorful options.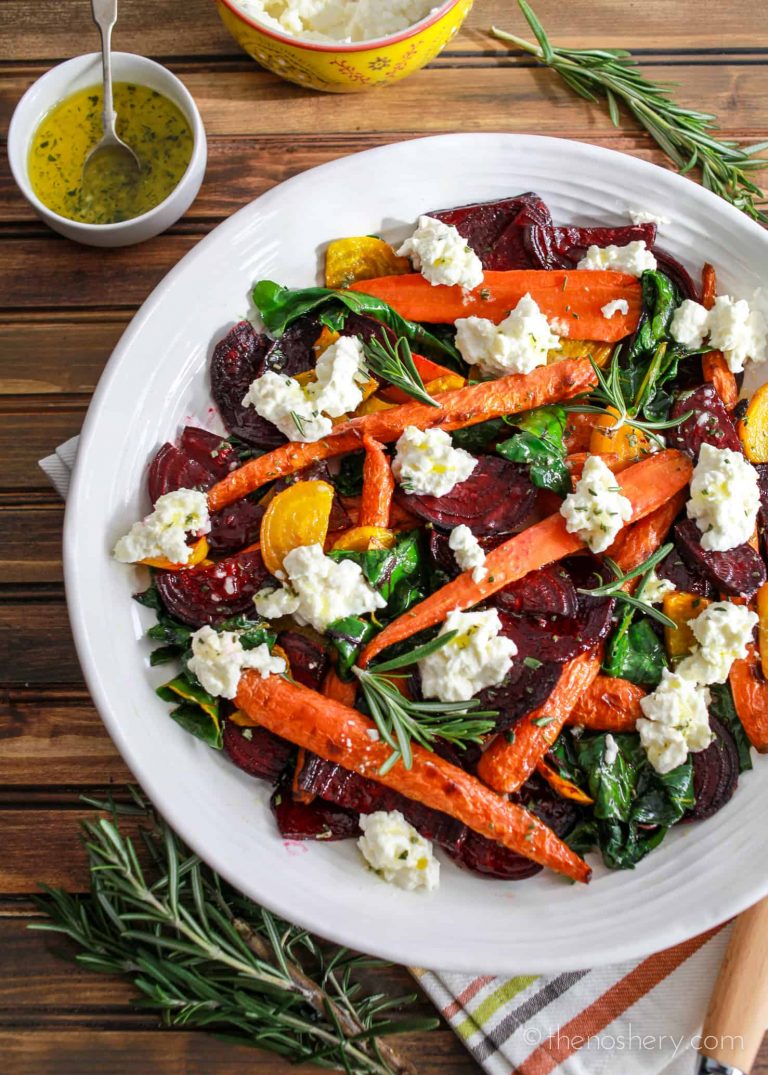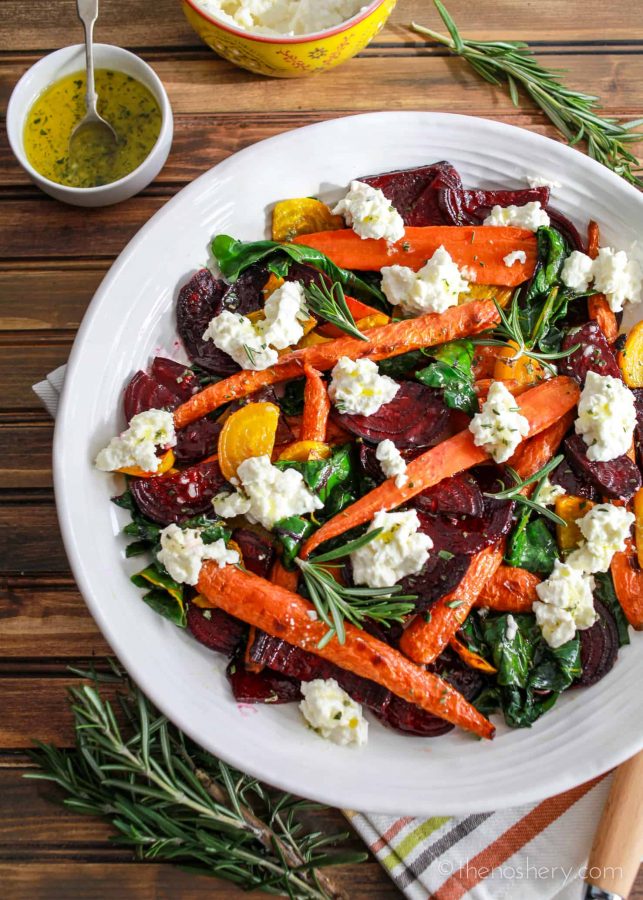 The bright, jewel-colored vegetables instantly inspired me. And if I was going to be away from my warm bed, I really needed a happy dish. Something green and colorful would brighten up a cold, gray day…topped with a creamy, fresh cheese.
I grabbed those beets and burrata like I was a beet burglar. Then I added some carrots and fresh rosemary to my cart. I was going to make a happy plate, dog-gone-it! And it worked out, because as pretty as they are on a plate, I love eating beets even more!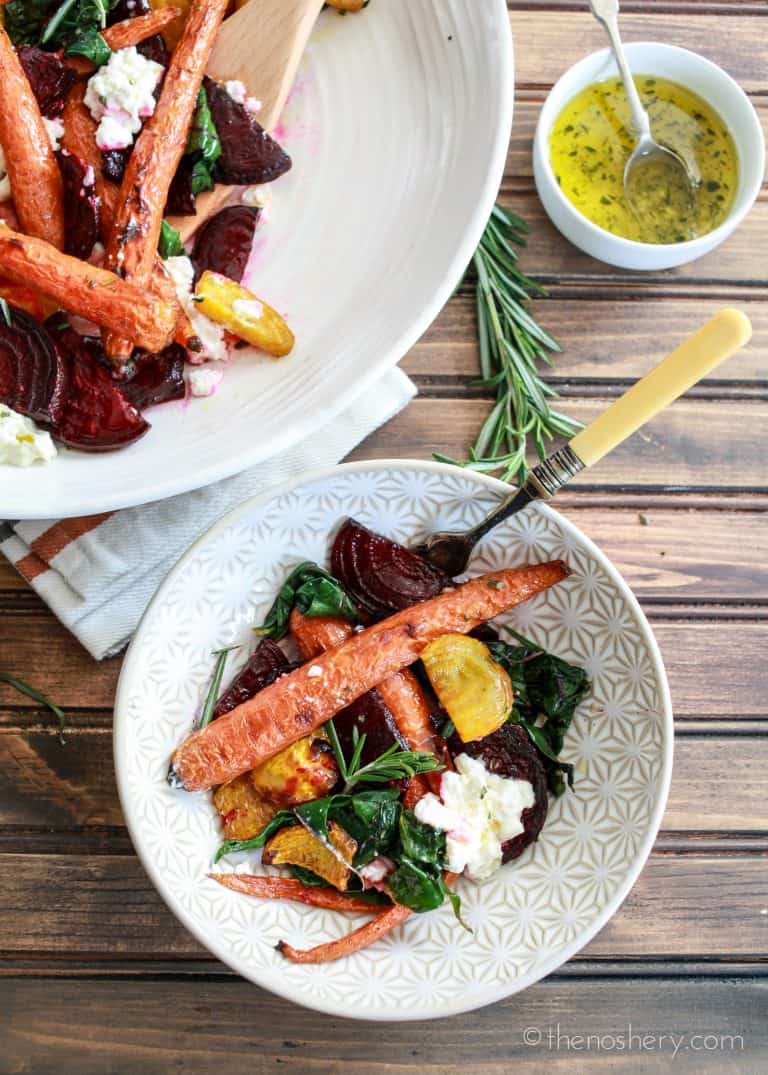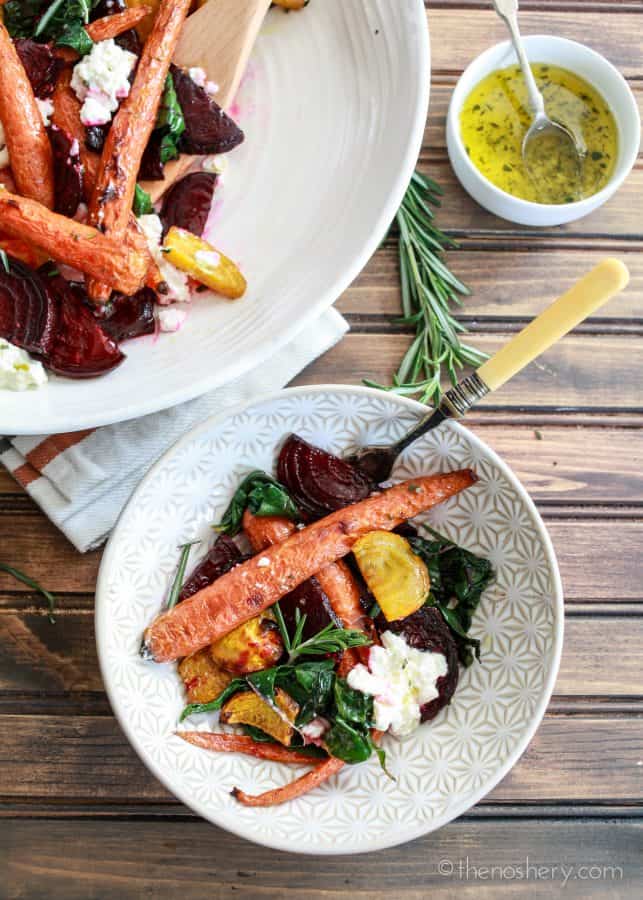 With the space heater on full throttle and beautiful beets in hand, I went on a little cooking getaway. I took extra time to slice the beets and vegetables, clean those leafy greens, and season the vinaigrette. I wanted to make sure everything was just right and to take as much time in my happy space.
Roasted Beets and Carrots Salad with Burrata Recipe Ingredients
salad
3 red beets with tops
3 golden beets with tops
6 carrots, halved lengthwise
burrata cheese (or fresh mozzarella)
olive oil
salt to taste

dressing
1 tablespoon honey
1 garlic clove, crushed
3 tablespoons extra virgin olive oil
2 tablespoons white wine vinegar (or balsamic vinegar)
1 teaspoon minced rosemary
salt to taste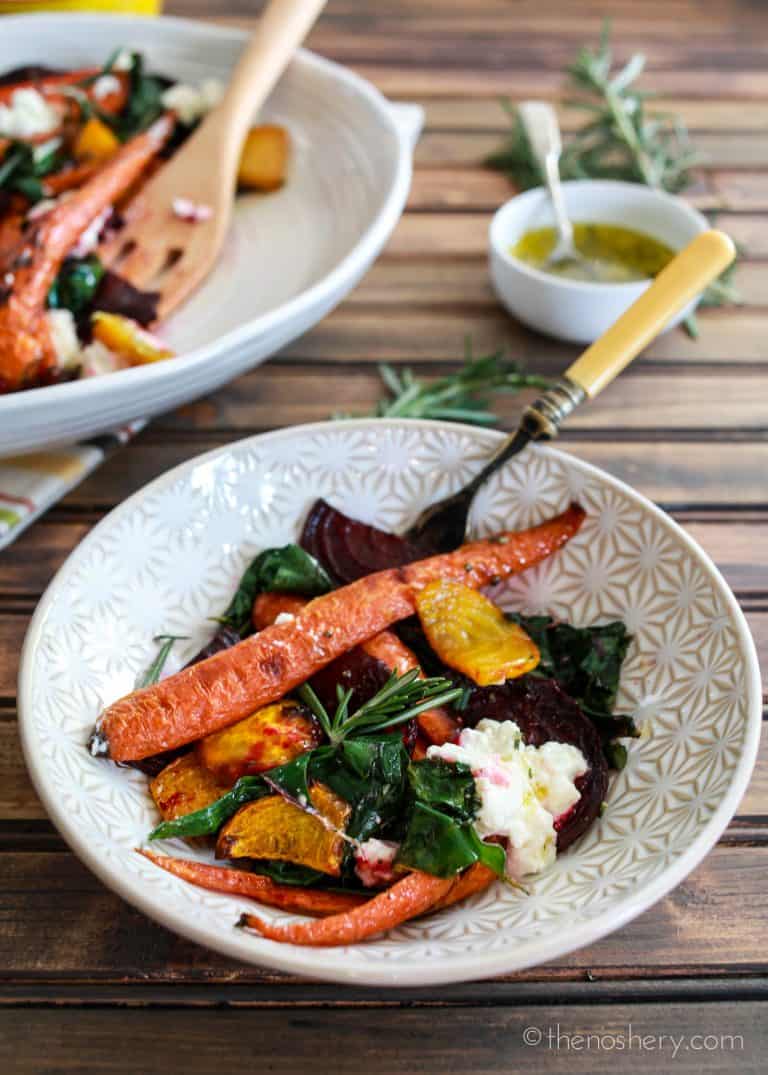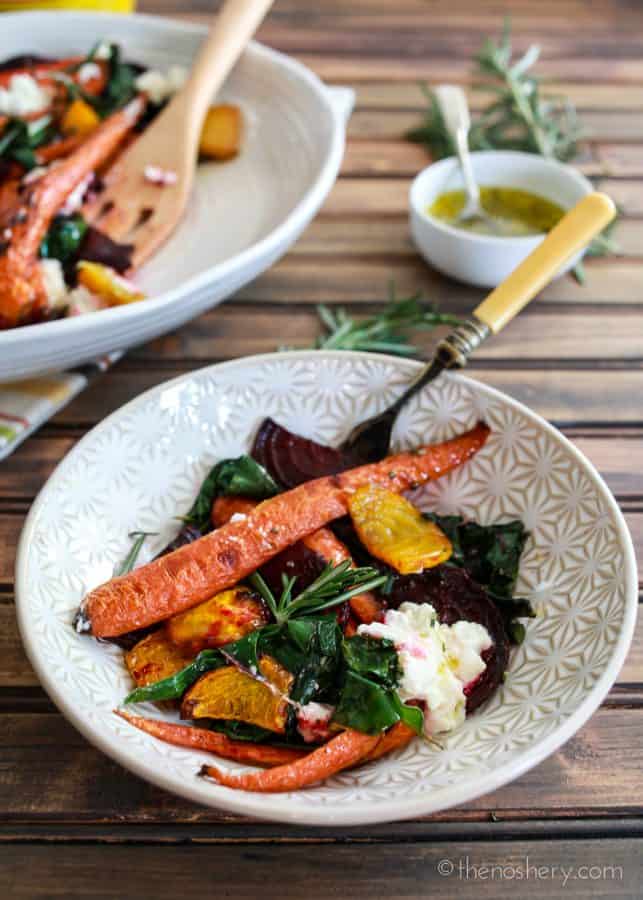 How to Make Roasted Beets and Carrots Salad
I made sure to roast the beets until they were sweet with crunchy edges. If you've never learned how to make roasted beets, this is a fool-proof method!
Then I quickly sautéed the greens until they were bright green and just starting to wilt. It was important to me that they still have a bit of bite and a lot of bright color. The burrata, with that mozzarella and cream, was a perfect complement to the sweet, jeweled baked beets.
Do You Have to Peel Beets Before Roasting?
While many vegetables require peeling before roasting, cooked beets are much easier to peel. Once the beets are tender and cool to the touch or room temperature, rubbing with a paper towel works great to remove the skin.
Can You Freeze Roasted Beets?
Oven-roasted beets freeze beautifully if you place them on a parchment-lined baking sheet, flash freeze them so they don't stick together, and then store them in a freezer-safe container until the next time you crave a roasted beet salad.
What Goes Well With Roasted Beets?
I love beets earthy flavor and dense in texture. Becasue of this roasted beet recipe would go well with rich meats such as pork, beef, duck, and ham.
In the end, I got just what I wanted: a bright and beautiful vegetable dish, taken over the top by that tangy vinaigrette and fresh cream of the burrata.
This would be perfect as a side dish or as a main course served up with your favorite protein. You can also enjoy them on crusty bread like this killer appetizer, balsamic beets & goat cheese toasts. A few minutes with your vegetable peeler, then foil and roast for easy clean-up. It doesn't get much easier than that!
If you are looking another amazing roasted fall vegetable dish try this fall vegetables and herb galette. For more salad ideas check out my entire salad collection.
more fall dishes
easy oven dinners
Yield: 4 servings
Roasted Beets and Carrots Salad with Burrata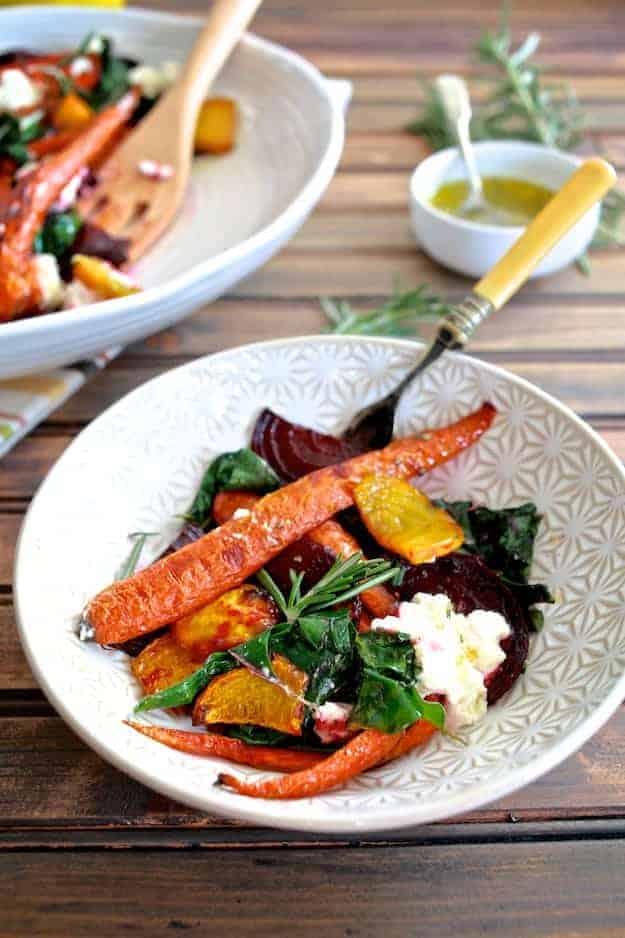 Roasted beets and carrots with sautéed beet greens tossed with honey rosemary vinaigrette and topped with burrata. A perfect fall vegetable side dish.
Ingredients
Salad
3 red beets with tops
3 golden beets with tops
6 carrots, halved lengthwise
olive oil
salt to taste
Dressing
3 tablespoons olive oil
2 tablespoons white wine vinegar
1 tablespoon honey
1 garlic clove, crushed
1 teaspoon minced rosemary
salt to taste
Instructions
Heat oven to 400 degrees.
Cut the tops of the beets, reserving the beet greens. Scrub the beets clean, half and slice. Clean ribs off the beet greens and tear the greens into pieces.
Set aside. Keep the red beets separate from the rest of the vegetables if you don't want the colors to bleed. Toss beets and carrots in olive oil with salt. Spread in one layer on sheet pan. Again keeping red beets separate from the rest of the vegetables if you don't want the colors to bleed.
Roast in the oven for 30 minutes or until tender and browned.
Combine dressing ingredients and whisk until well combined.
Right before the vegetable are read from the oven heat a skillet over medium-high heat with a drizzle of olive oil.
Quickly sauté the beet greens, about 2 minutes or until lightly wilted. Transfer to platter.
Top with roasted vegetable, burrata and drizzle with dressing. Garnish with fresh rosemary.
Recommended Products
As an Amazon Associate and member of other affiliate programs, I earn from qualifying purchases.
Nutrition Information:
Amount Per Serving:
Calories:

232
Carbohydrates:

19g
Protein:

2g