Roasted hot madras acorn squash garnished with cilantro, queso fresco, pomegranate, and cashews. Simple and packed full of all the flavors.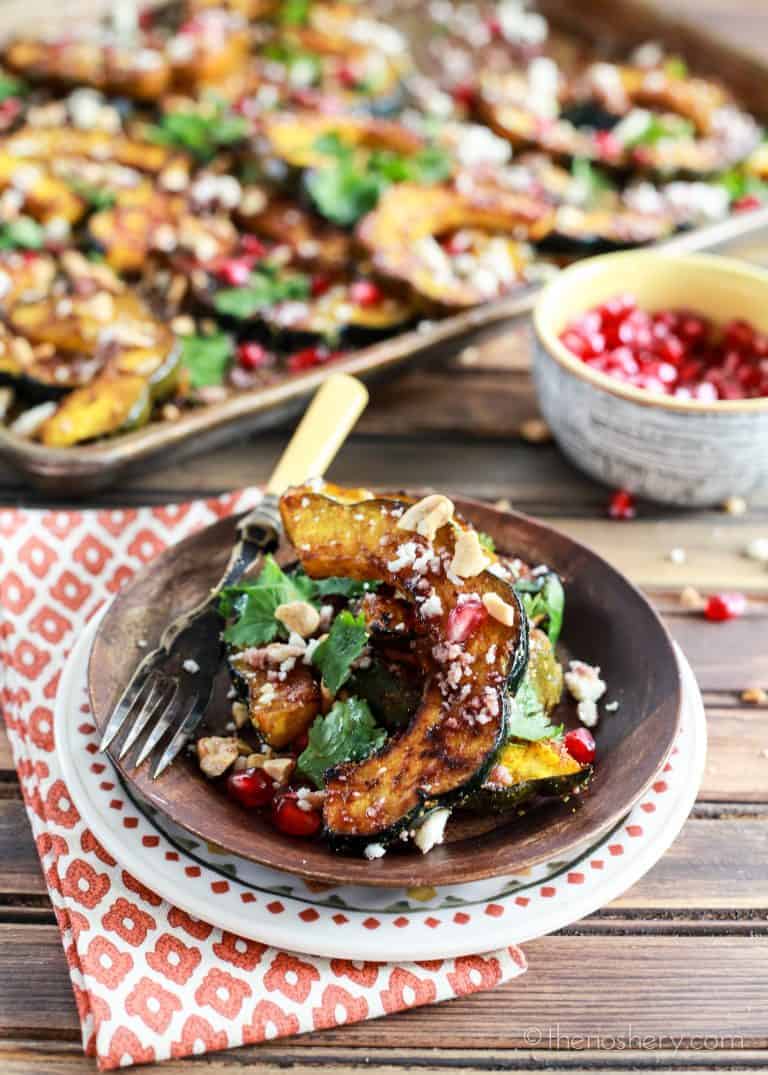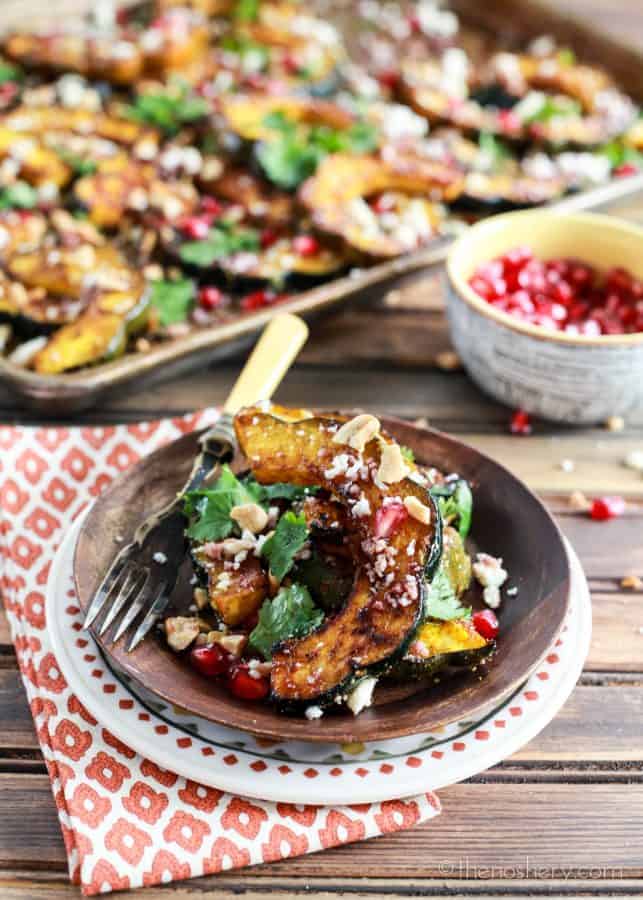 It's fall! I can use the oven again! As soon as the temperatures start to drop the first thing I think to do is pull on the flannel pants and get to roasting my favorite foods. The entire summer I avoided turning on the oven. It was too stinking hot and the oven heats up our entire house, making it unbearable.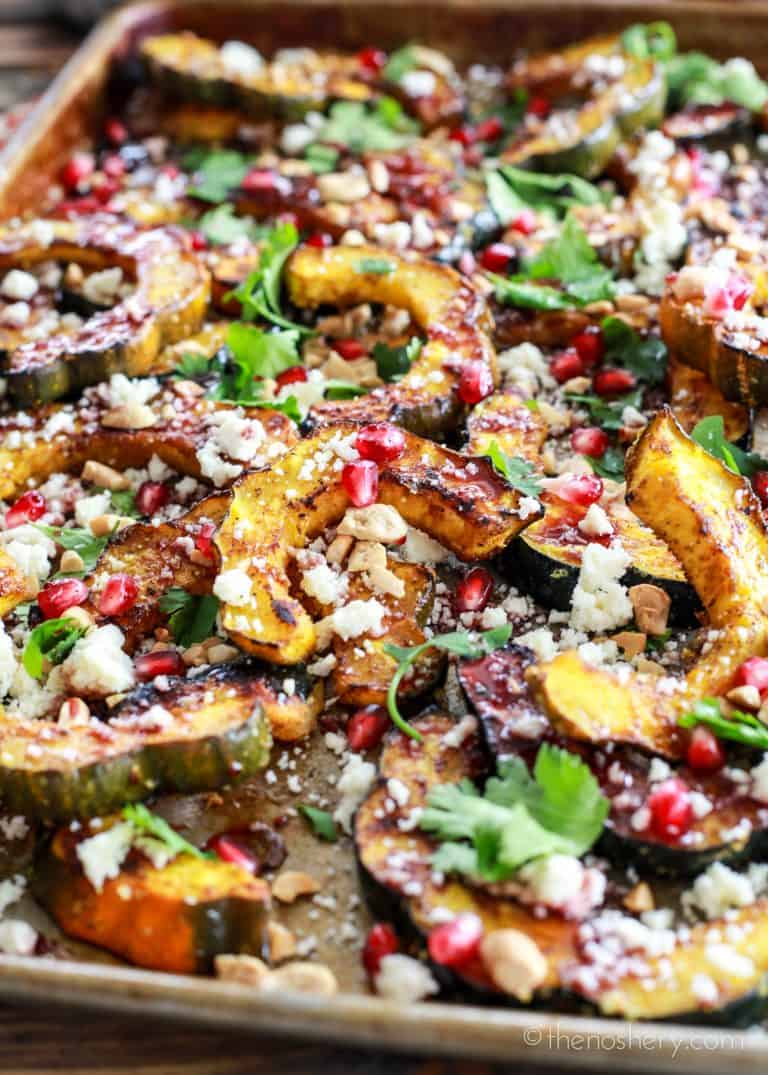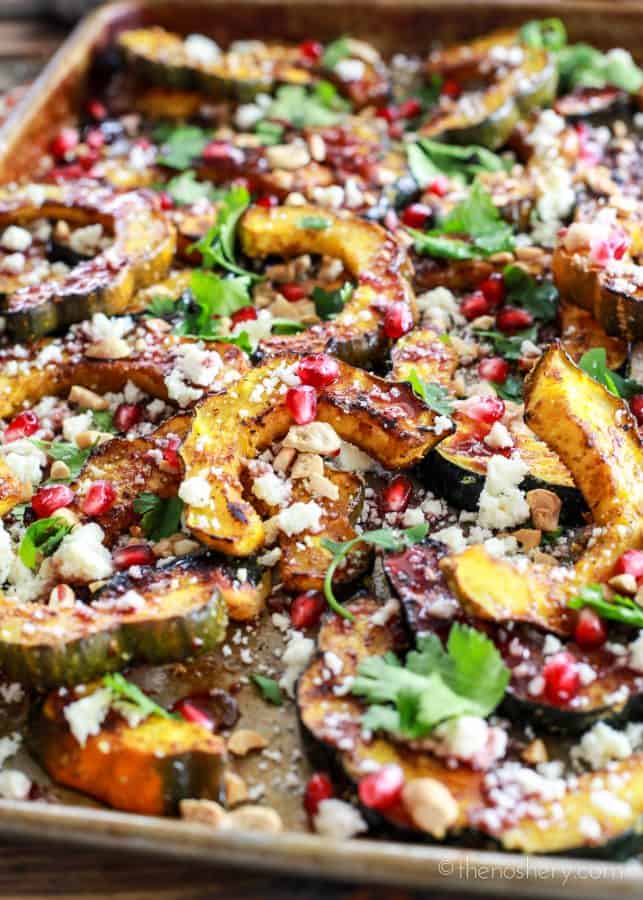 Today, we are experiencing a temperature drop and my first thought was to roast some fall squash.  I love roasted vegetables and since it's finally cool enough to turn on the oven it's time to crank up the heat. Roasting is one of my favorite techniques because as the moisture leaves the vegetables the flavors concentrate. Also, you get the bonus of crispy caramelized edges!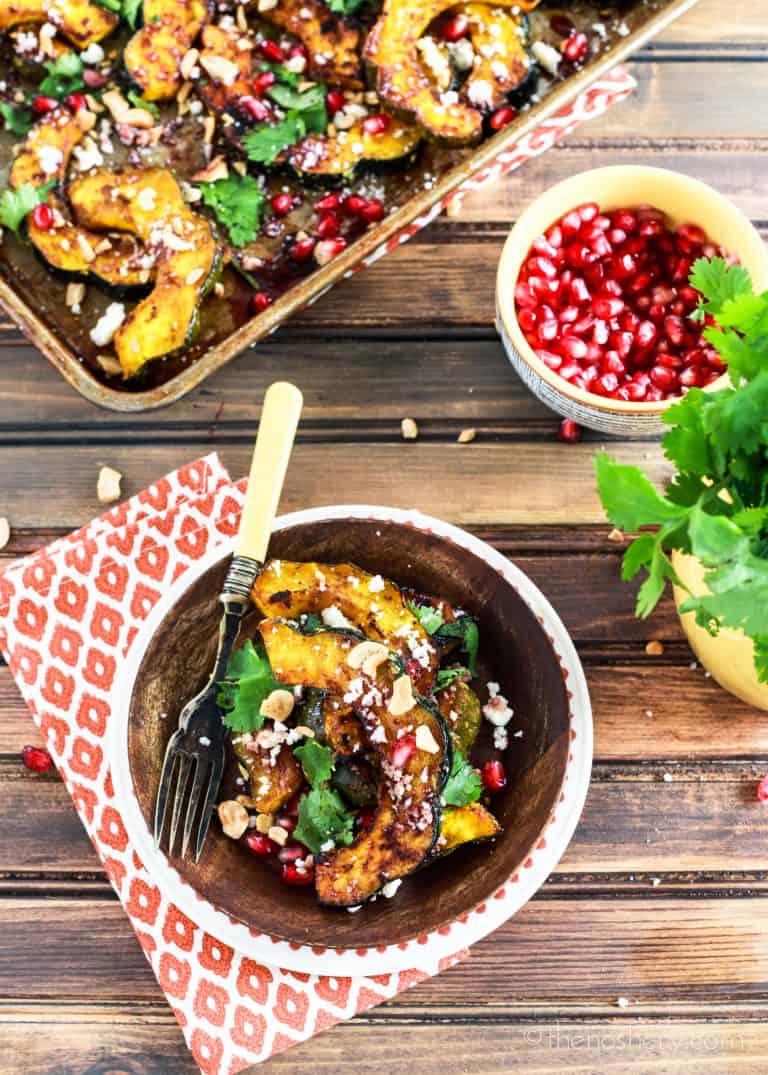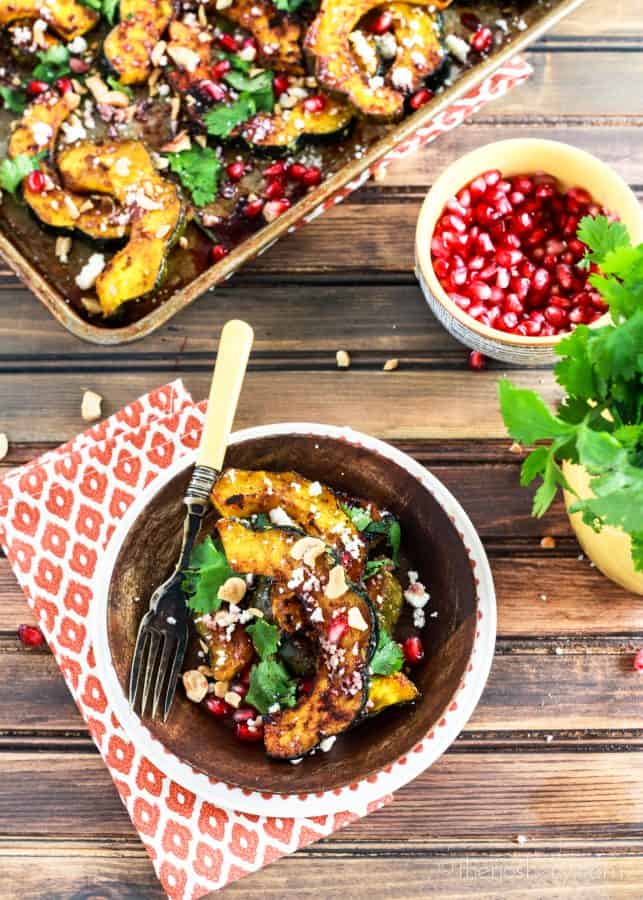 What do I love about this dish? Everything! This dish is very fall but, still very light and bright. I love the complex spice from the madras curry and brightness from the cilantro. I decided to top it with queso fresco and tart pomegranate syrup to help balance out the spice of the madras curry. Top it off with some toasted cashews and pomegranate arils for some crunch and you have a crowd-pleasing winner.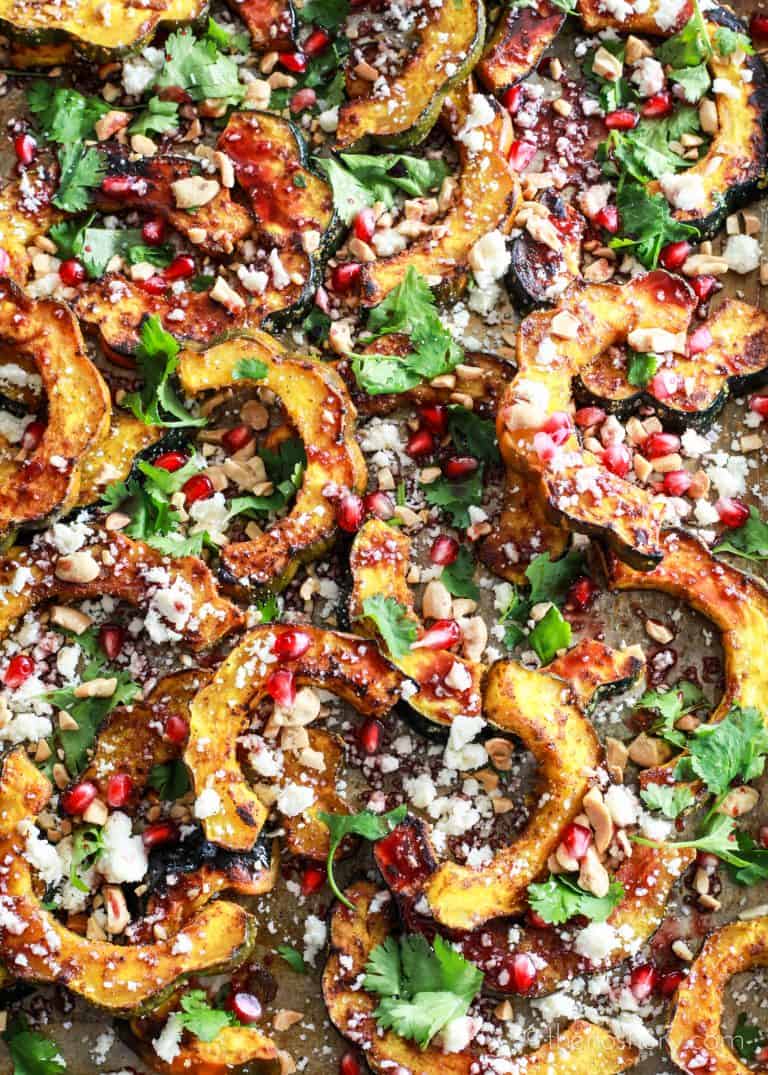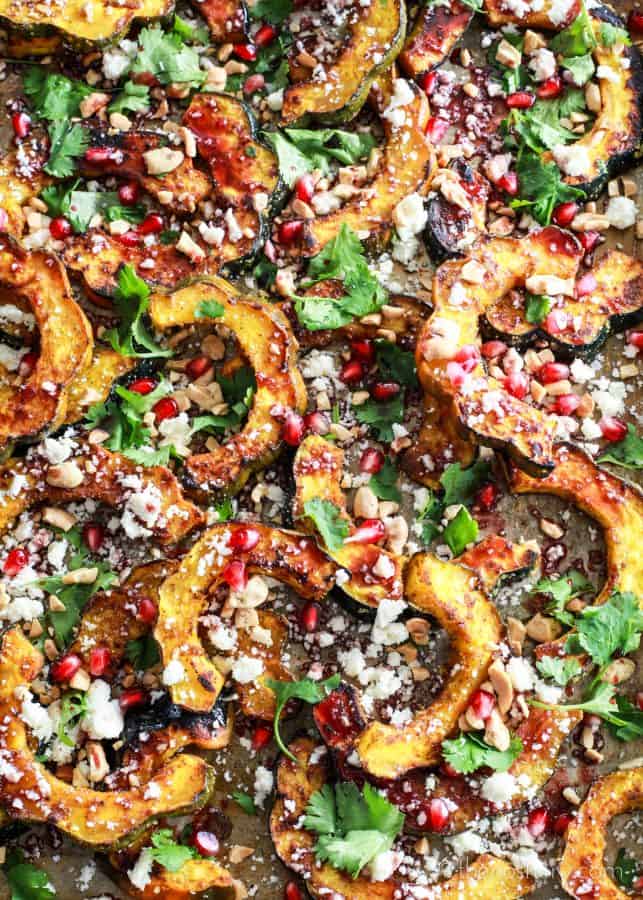 If you would like a heartier version of this dish, you could add a grain like farro or wild rice. It would also be perfect over a bed of baby greens or toss it all in a blender, add some cream, hot broth and run through a strainer and you have soup!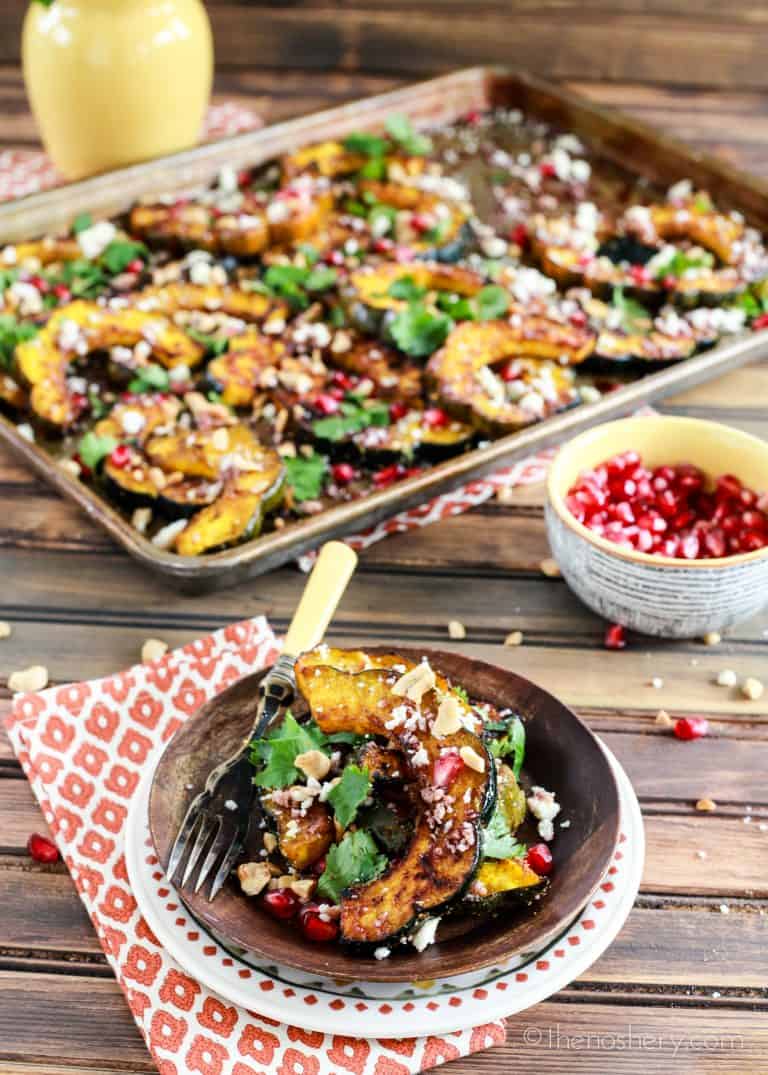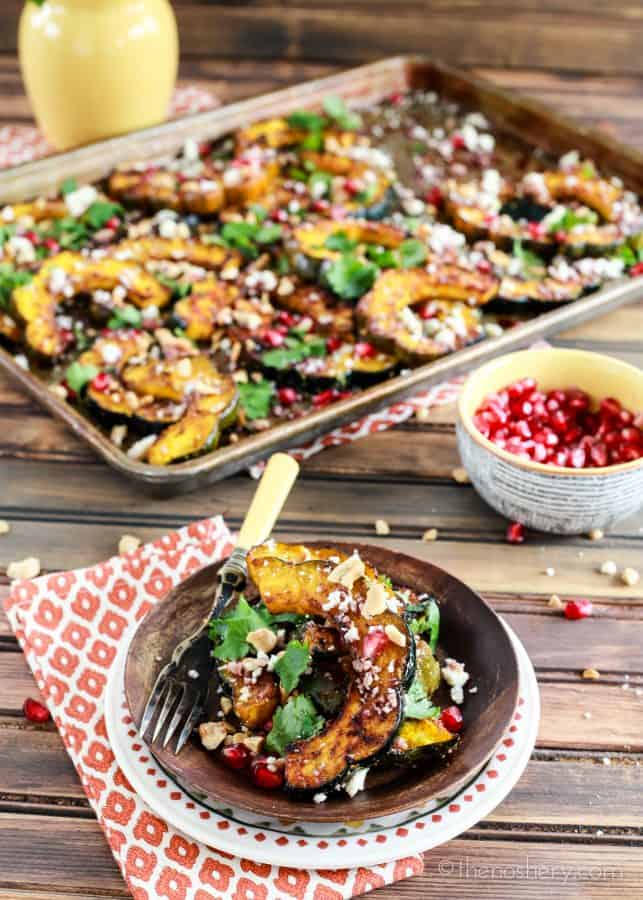 This dish just goes to show that fall dishes don't always have to be stewed beef, cheesy risotto or spicy chili. Don't get me wrong, all those things are delicious but, it's nice to keep it light once in a while. Looking for more roasted fall vegetables try Roasted Beets and Carrots Salad with Burrata or Roasted Sweet Potato Salad with Warm Bacon Apple Cider Dressing.
More Acorn Squash Love:
Items Used In this Recipe:
Yield: 6
Roasted Hot Madras Acorn Squash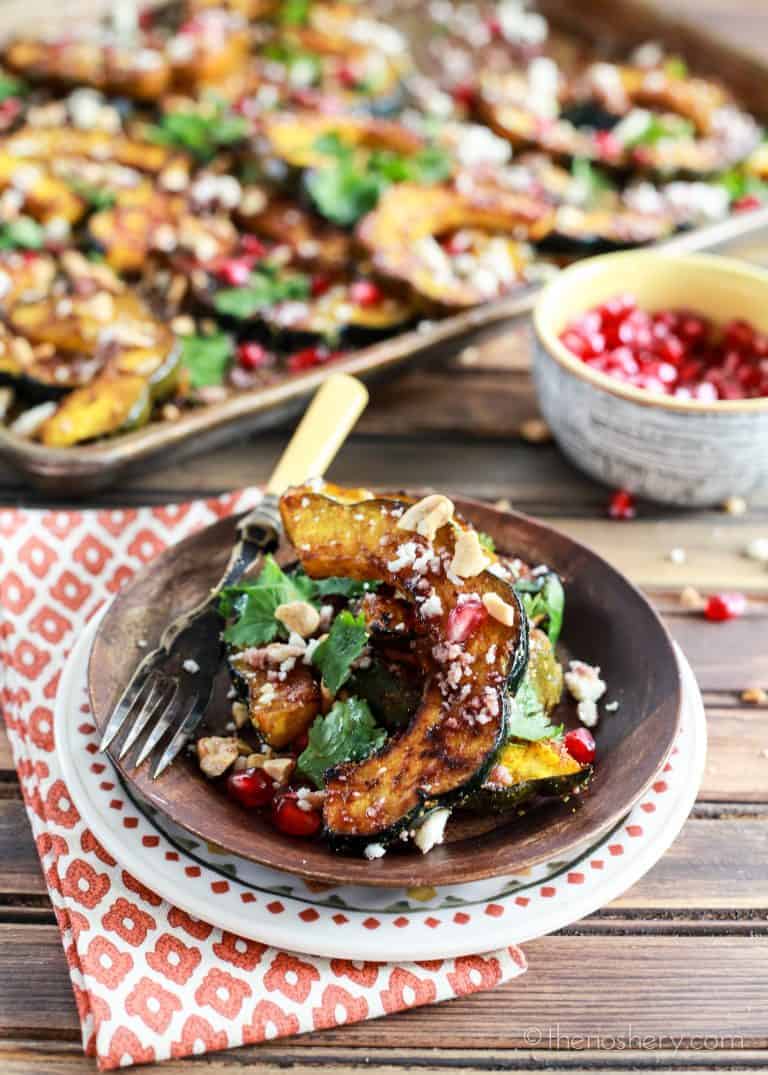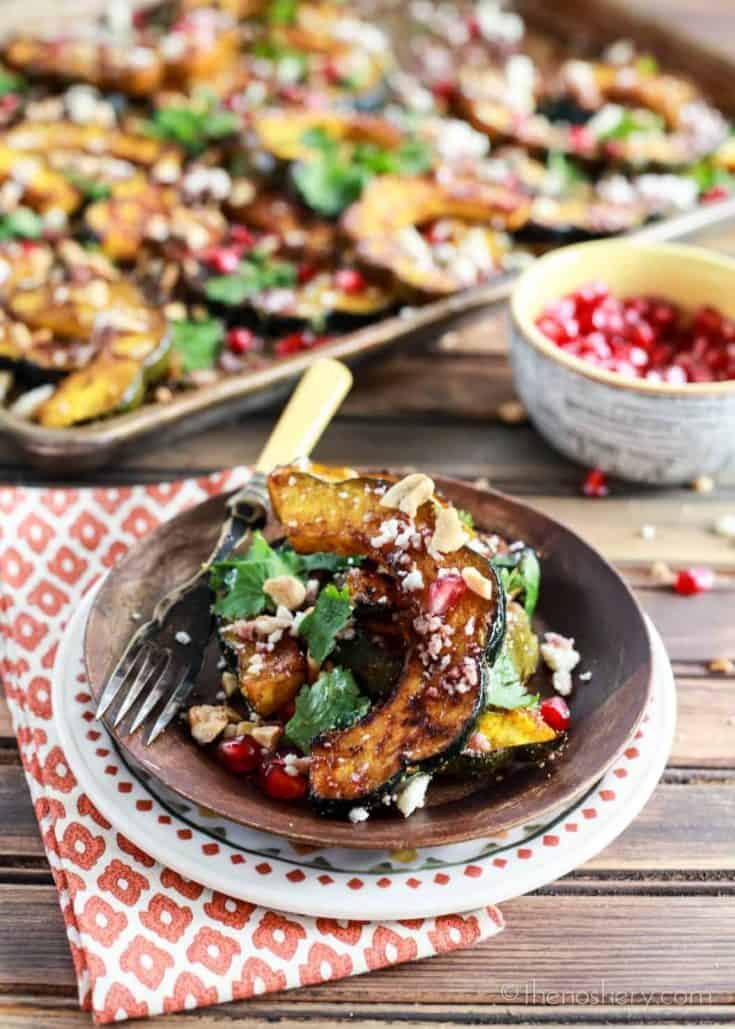 Roasted hot madras acorn squash garnished with cilantro, queso fresco, pomegranate, and cashews.
Inactive Time
1 hour
39 minutes
Ingredients
2 cups pomegranate juice
1/4 cup sugar
juice from 1/2 lime
2 acorn squash, halved and sliced
2 1/2 teaspoons hot madras curry
2 tablespoons coconut oil, melted
pomegranate arils
queso fresco
chopped cashews
cilantro
Instructions
Heat a sauce pot over medium-high heat. Combine pomegranate juice, sugar and lime juice. Cook, stirring occasionally until the sugar has completely dissolved. Once the sugar has dissolved, reduce the heat to medium-low and cook until the mixture has reduced by half, approximately 30 minutes. It should be the consistency of syrup. Remove from the heat and allow to cool in the saucepan.
Spray acorn squash slices generously with coconut oil and toss with hot madras curry. Arrange on a baking sheet on a single layer and bake in the oven at 400 degrees for 30 - 45 minutes, turning once, until golden brown.
Transfer roasted squash to serving dish. Top with cilantro, chopped cashews, queso fresco and pomegranate arils. Drizzle pomegranate syrup over top and sprinkle with salt. Serve
Nutrition Information:
Amount Per Serving:
Calories:

383
Carbohydrates:

45g
Protein:

15g