Peach Honey Mint Sorbet Recipe | I'm sorry for jumping on the band wagon, but I need to whine about the heat because obviously, if you whine, it makes it all better. It's not just hot here, it's stinking hot. Like buckets of sweat hot when walking form the door to the car.
Needless to say, this heat makes me resistant to turning on the oven or standing in front of a hot stove, but it's perfect for a cool sorbet. Is it stupid to say "cool sorbet"? I mean obviously it's cool, or it wouldn't be sorbet. It would be juice — really sweet juice.
I have a love-hate relationship with summer. Give me all the fresh fruits and vegetables that are in season during the summer. But can we not with the scorching heat, tank tops, shorts, flip-flops and the fact that I sweat through my head and look like a wet chicken after 5 minutes outside?
If it were up to me, it would be Fall year round. But that world does not exist. Good thing I am a true believer in air conditioning, ice cream, snow cones, and especially sorbets.
After visiting a nearby peach orchard, Livesay Orchard, and coming home with lots of treasures, I knew that a sorbet had to be in my future.
Any fruit can be made into a sorbet, but after hitting up the orchard, I am definitely using peaches. On a hot summer day, I will take a sorbet over ice cream any day. Fight me on it!
Peach sorbet recipe ingredients
orange zest
orange juice
very ripe peaches
clover honey
fresh mint
kosher salt
water
How to choose peaches
There are two variables that are important when picking the perfect peach: color and firmness.
A peach with a bright, vibrant color will be loads more flavorful than one with a dulled appearance. Their progression in ripening also plays an important role. If it's firm, it's still a little underripe and hasn't reached the optimal level of sweetness, but still tastes pretty good. And just say no to soft or mushy peaches.
But if you want to go beyond "pretty good," you want a nice, vibrant peach that has a little give near the stem.
How to make this peach sorbet recipe
Prepping your sorbet base is as easy as measuring, pouring, and working a blender (or food processor). Combine the orange juice, zest, chopped peaches, honey, mint, and salt in your blender with ½ a cup of water. Then process until smooth.
Then pour the base into an ice cream maker and freeze according to the manufacturer's instructions. Once the machine is done, you can either eat it immediately or spoon it into an airtight container and put it in the freezer for a few hours or until firm. This will result in a more solid texture.
But either way, it's tastier when you eat it the same day you make it. Trust me, it won't be hard to eat this tasty, creamy treat in one day.
The perfect cold treat
There's nothing like something cold and sweet on a hot day. It makes putting up with the insane temperatures a lot more bearable. And I have plenty of easy sweet treat recipes to keep in your back pocket. If you're like me and picked up lots of fresh peaches at the farmer market, make this peach ice cream with a divine rum caramel sauce, What's Gaby Cooking's grilled peaches with vanilla ice cream, or add them to this homemade ice cream recipe from Barefeet in the Kitchen. Peach simple syrup is also divine for your iced tea refreshment.
But good things come in different forms than just ice cream. There's piragua de crema and cherry vanilla — Puerto Rican shaved ice. Icebox cakes like this raspberry chocolate frozen Greek yogurt cake or a chocolate peanut butter and pretzel icebox cake will also satisfy the sweet tooth!
Whether we were looking for relief from the heat or just lost all control because that frozen peach heaven was so delicious, I don't know. But I cannot tell a lie, OB and I sat down with the peach sorbet after dinner and pretty much cleaned it out.
It was so delicious and refreshing, with the sweetness of peach and honey and the brisk mint. And it's refined sugar free on top of everything! You must experience this perfect end to a light summer dinner soon.
more dessert love
Yield: 1 quart
Peach Honey Mint Sorbet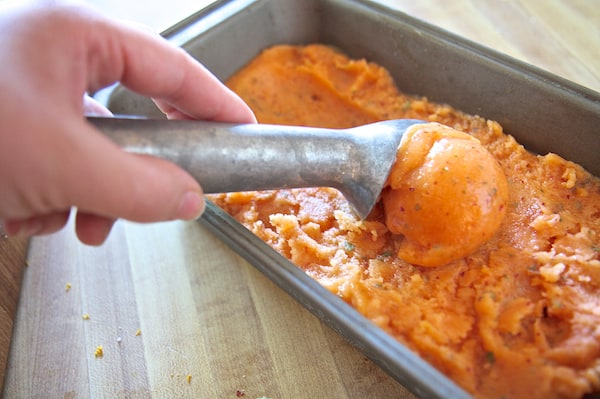 Sweet and refreshing peach and mint sorbet with a hint of honey. A perfect summer treat.
Total Time
8 hours
15 minutes
Ingredients
1 or 2 large oranges, zest from 1 orange and 1/2 cup juice
4 cups chopped, very ripe peaches (about 5 large)
1/2 cup clover honey
2 tsp chopped fresh mint
1/2 teaspoon kosher salt
Instructions
Combine all of the ingredients with 1/2 cup water in a blender and purée until completely smooth.
Freeze in an ice cream maker according to the manufacturer's instructions.
Serve immediately or transfer to an airtight container and freeze for a firmer texture. Best if served the same day.
Recommended Products
As an Amazon Associate and member of other affiliate programs, I earn from qualifying purchases.
Nutrition Information:
Yield:
4
Serving Size:
1
Amount Per Serving:
Calories:

267
Total Fat:

1g
Saturated Fat:

0g
Trans Fat:

0g
Unsaturated Fat:

0g
Cholesterol:

0mg
Sodium:

286mg
Carbohydrates:

69g
Fiber:

5g
Sugar:

62g
Protein:

3g