Rhubarb and Strawberry Parfaits | This post was sponsored by Pompeian. All opinions expressed on my site are my own.
If there is one "fruit" that screams Spring to me it's rhubarb. I love this time of year! Magazines and food sites are overflowing with rhubarb treats. When the temperatures begin to rise I am always looking for something healthy, tart, and sweet. These yogurt parfaits are just the thing to satisfy my craving.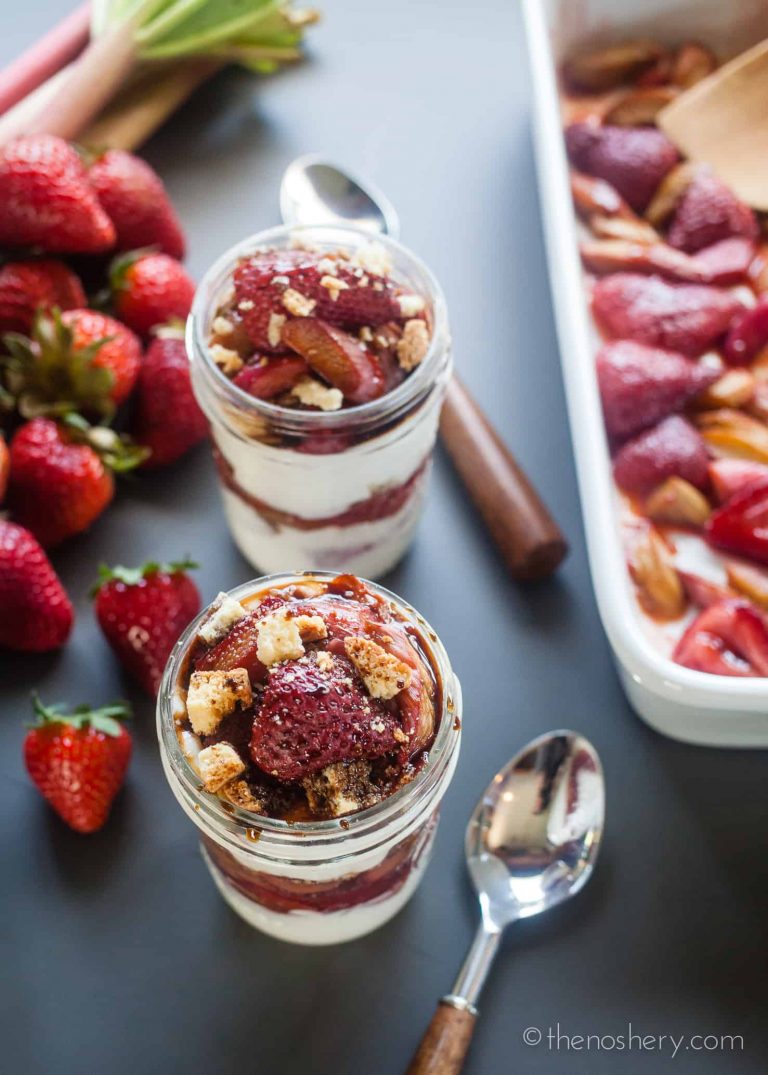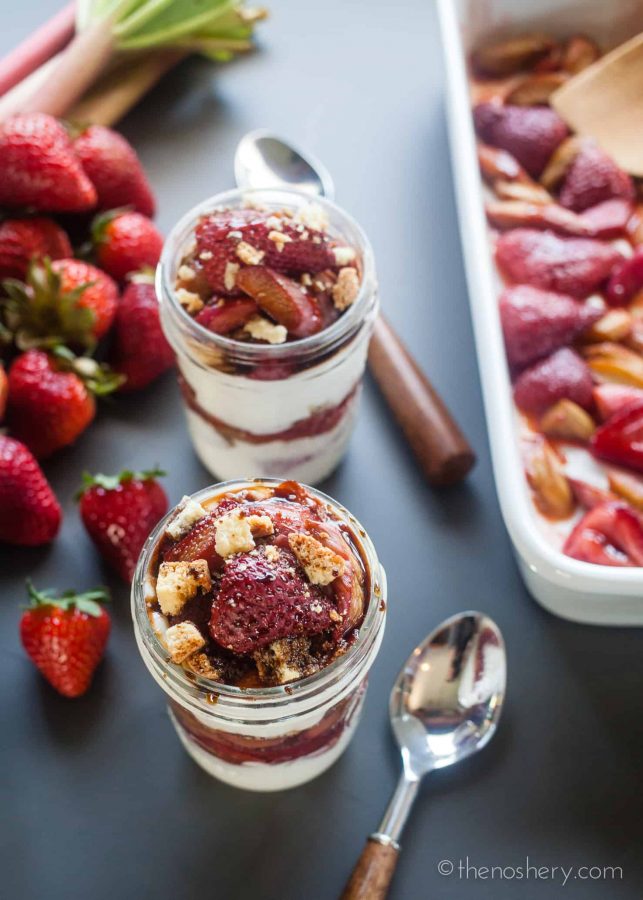 What is Rhubarb?
The prime season for rhubarb starts in April and goes through June. Because rhubarb is used mainly in desserts and is typically paired with strawberries it is seen as a fruit but, it's actually a vegetable. Rhubarb has a fleshy crisp stalk and leafy tops like celery but they are not in the same family. Rhubarb is sold with or without leaves. However, the leaves are toxic and only the stalks are edible. It is very tart which is why it is typically sweetened and paired with sweet fruit.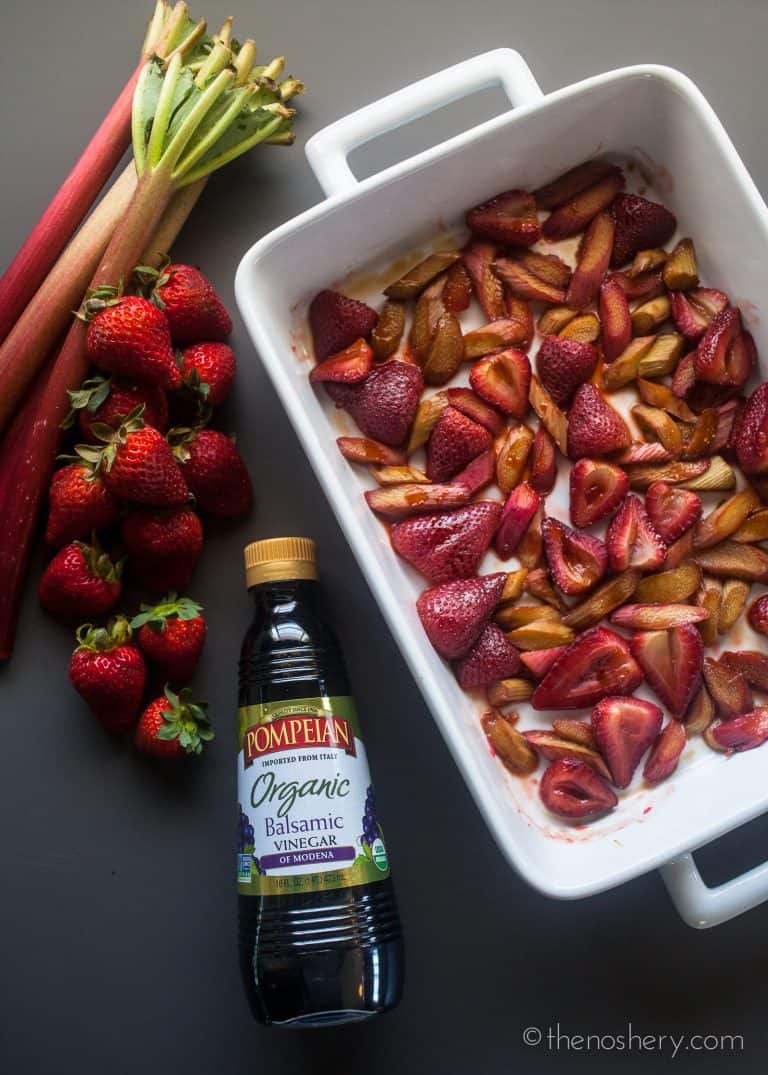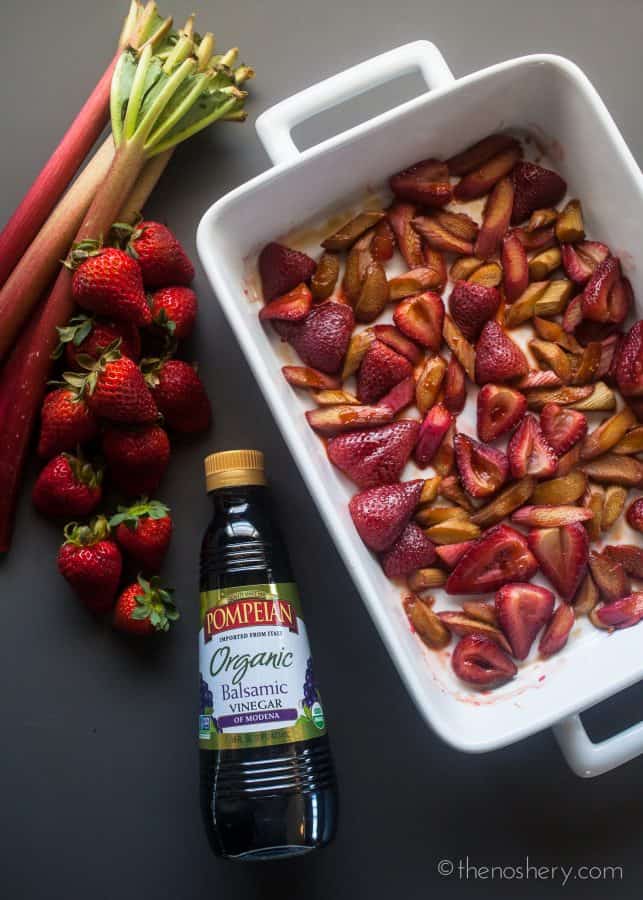 Tips for Buying & Storing Rhubarb
Don't try rhubarb raw, it's not good. It is extremely tart and stingy.
Look for stalks that are firm, with bright red bottoms, and with minimal blemishes.
Purchase rhubarb during its prime season between April and June.
Store rhubarb unwashed, in a loose plastic bag, in the refrigerator, for up to one week. The bag that you use when purchasing the rhubarb works fine.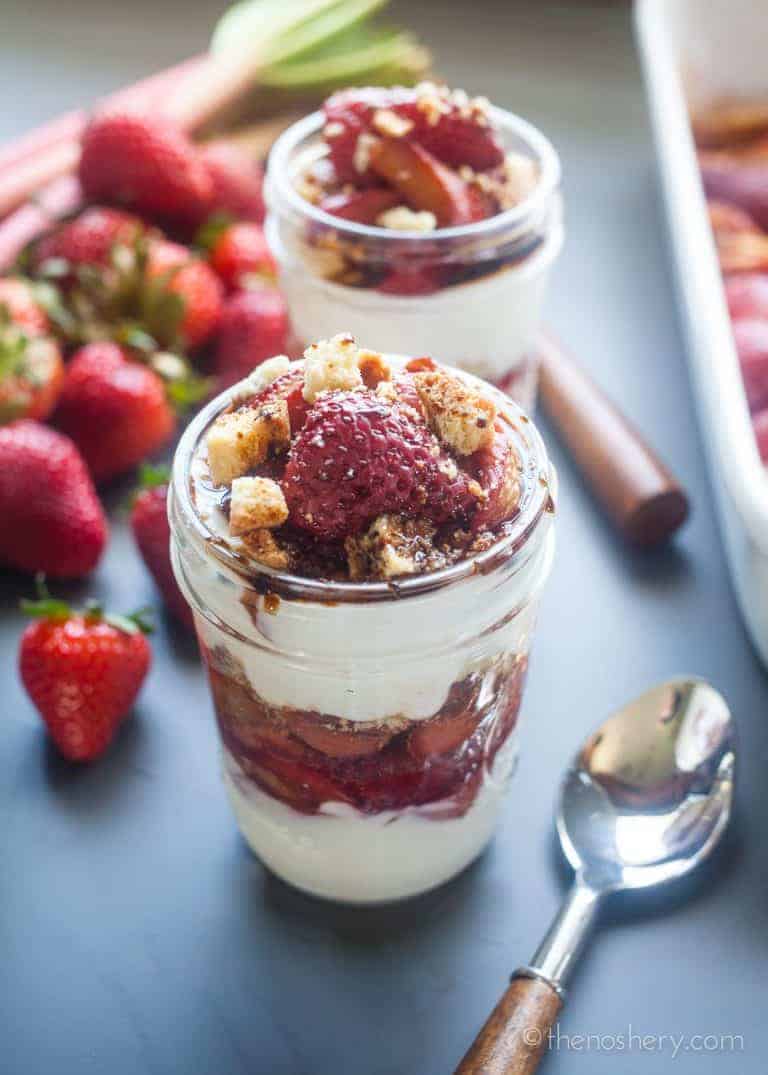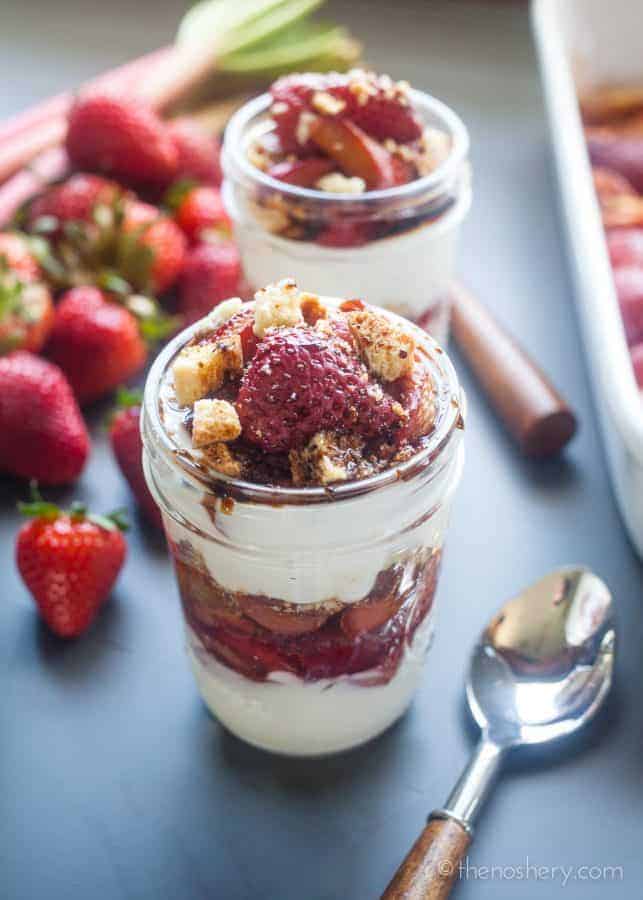 Roasting rhubarb and strawberries mute the tartness of the rhubarb and amplify the sweetness of the strawberries. Pairing them with balsamic vinegar provides a satisfying richness to an otherwise light treat.
Balsamic Rhubarb and Strawberry Yogurt Parfaits Recipe
2 lb strawberries
12 stalks rhubarb
1/2 cup sugar or agave
2 tablespoon Pompeian Organic Balsamic Vinegar
1 tablespoon agave
1 cup Pompeian Organic Balsamic Vinegar
4 cups vanilla greek yogurt
2 almond or vanilla biscottis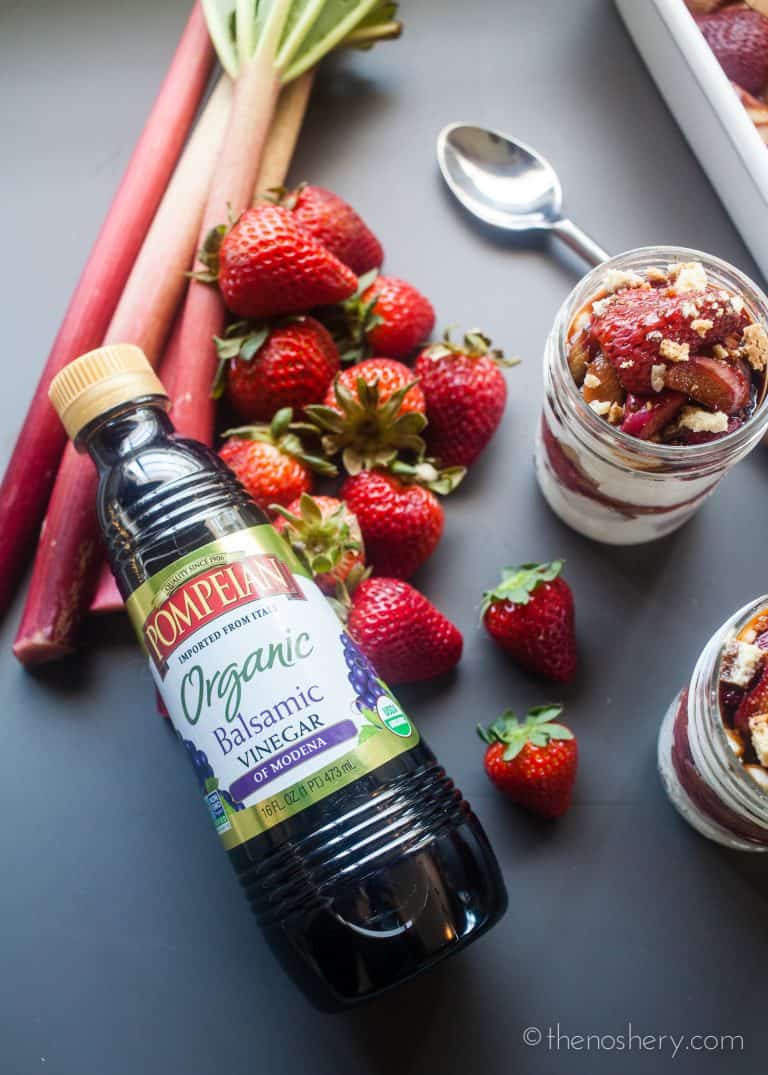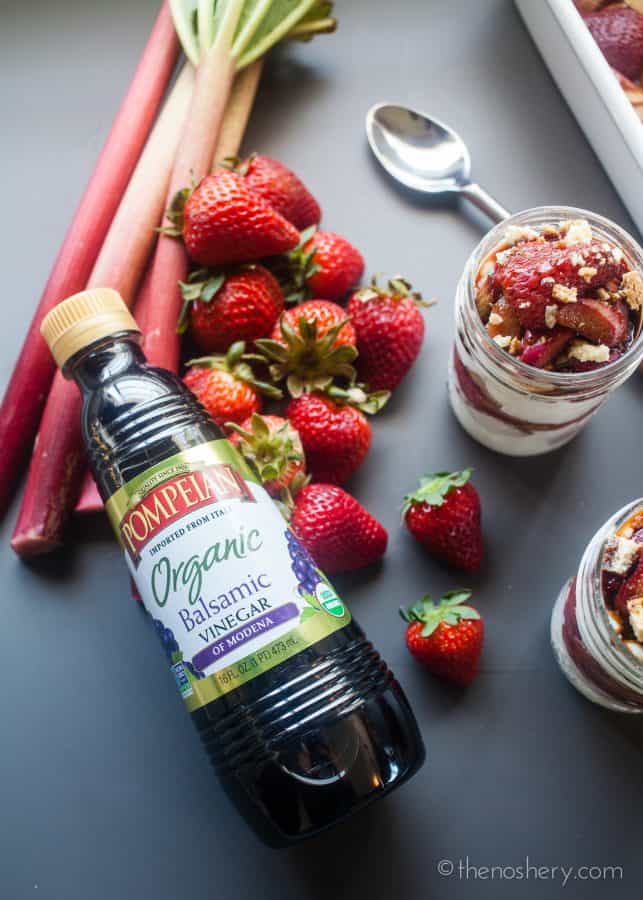 Today I used this roasted rhubarb and strawberry compote to make simple yogurt parfaits. A perfect healthy springtime dessert. I even sprinkled in some crumbled almond biscotti to add a little crunch to the parfaits. And, because I believe you can't get enough sweet tang I the parfaits off with a little balsamic reduction drizzle.
Balsamic vinegar is one of the only kinds of vinegar I would describe as sweet and tangy, which is why it's one of my favorite kinds of vinegar. You saw how I used Pompeian Organic Balsamic Vinegar to satisfy my sweet tooth. But it also perfect for salad dressings, marinades and to drizzle on vegetables. It is made from organically grown grapes from Modena, Italy, and harvested at the ripest moment to ensure the highest level of flavor. It is produced in the time-honored tradition of Modena. The grape juice is slowly cooked and then placed in barrels for refining and aging which adds a complex flavor.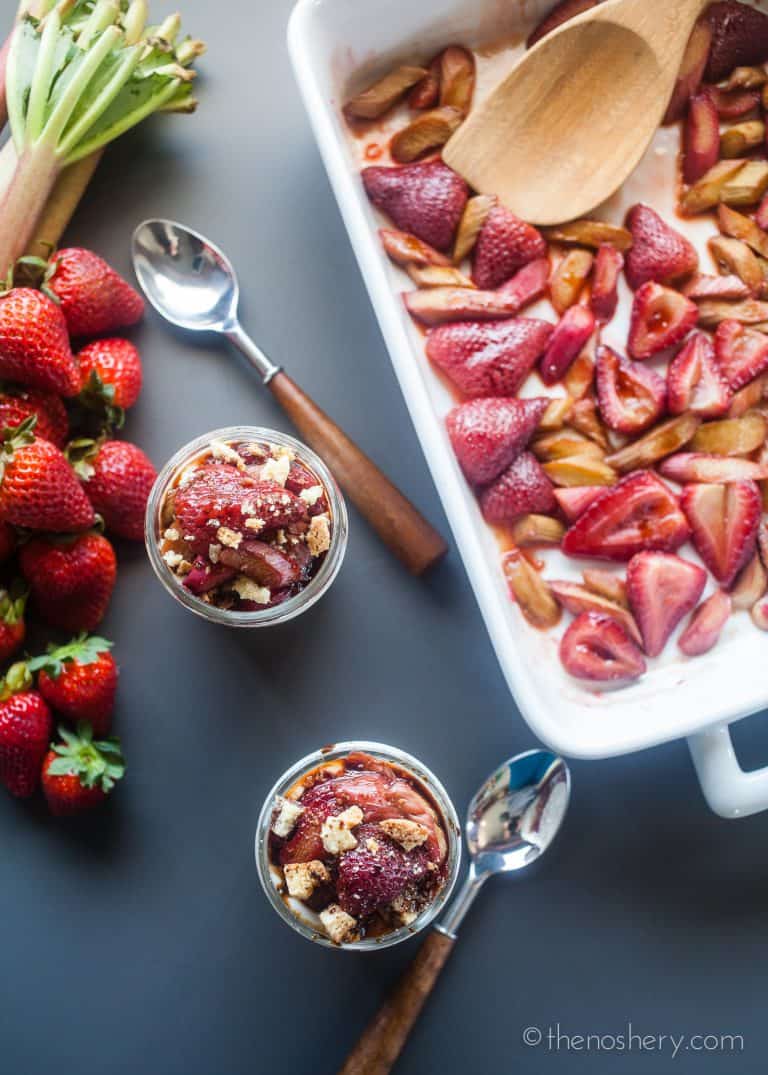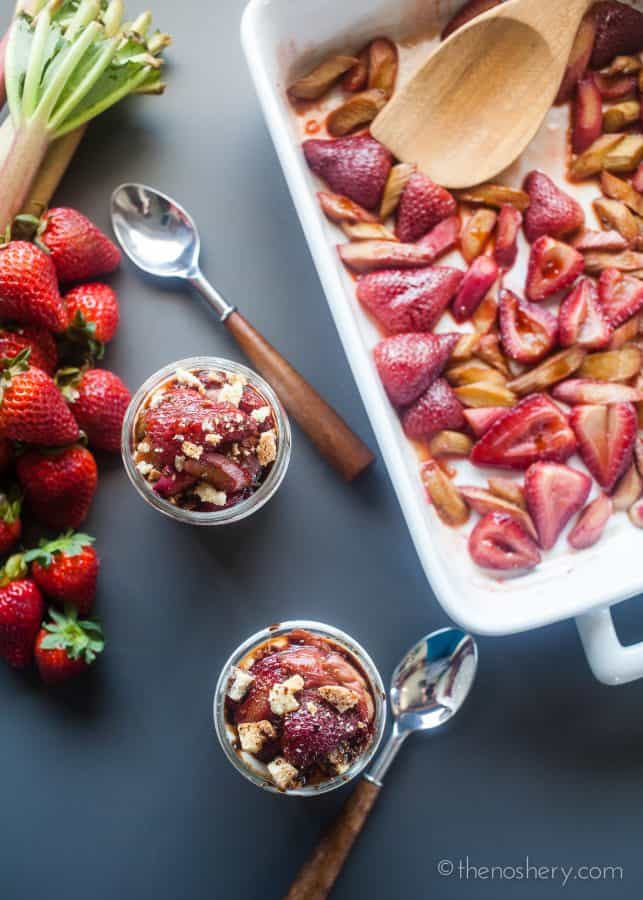 The great thing about the roasted rhubarb and strawberry compote is its versatility. This compote would be great served over ice cream, grilled pound cake, or even on a steak.
Are you looking for more healthy spring-inspired flavors? Try my peppery strawberry and burrata crostinis, summer dinner fruit salad, or blistered tomato mozzarella and arugula salad.
What are some of your favorite healthy spring-inspired dishes? Don't just tell me about them, show me and Pompeian how you are experimenting with the latest food trends on Instagram. To share your latest on-trend creations using Pompeian, tag your photos with #TrendingintheKitchen. If you looking for inspiration or for tips on how to trend in the kitchen, visit Instagram.com/Pompeian or check out my healthy recipes collection.
Thanks to Pompeian's ongoing commitment to quality and innovation, home cooks can depend on Pompeian's olive oils and vinegars as a great tasting base while exploring new flavors and ingredients.
more healthy spring-inspired eats love

Follow me on Instagram!
[juicer name="thenoshery"]
Yield: 4 servings
Roasted Balsamic Rhubarb and Strawberry Yogurt Parfaits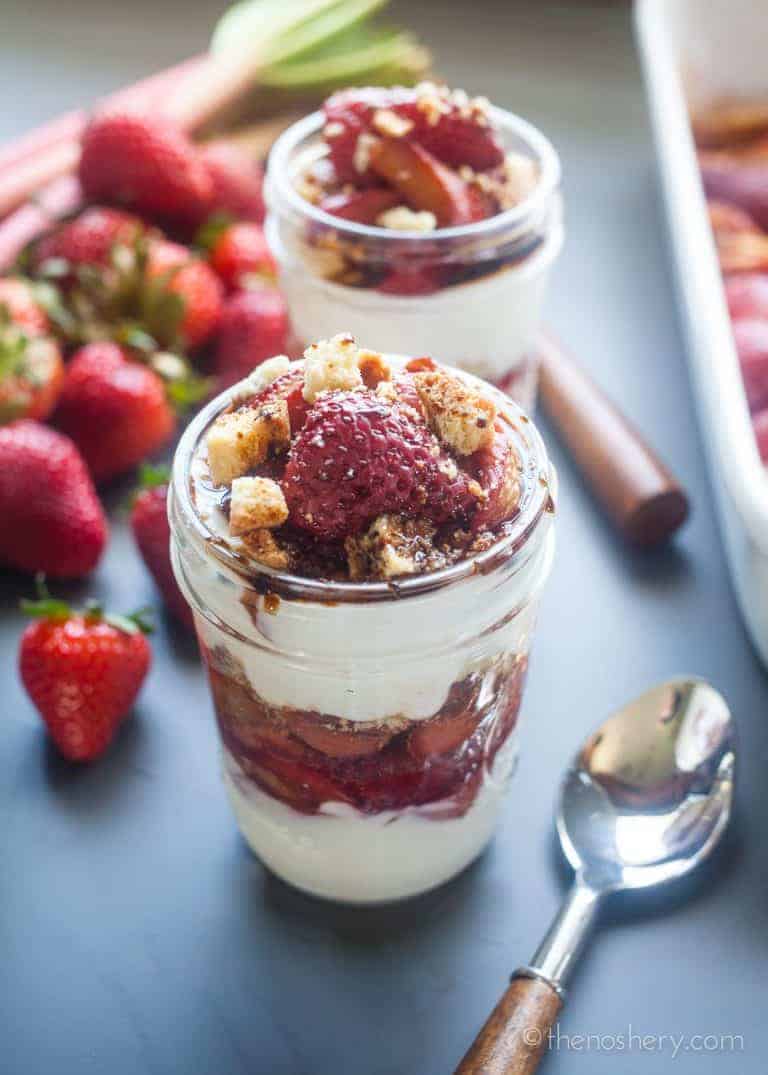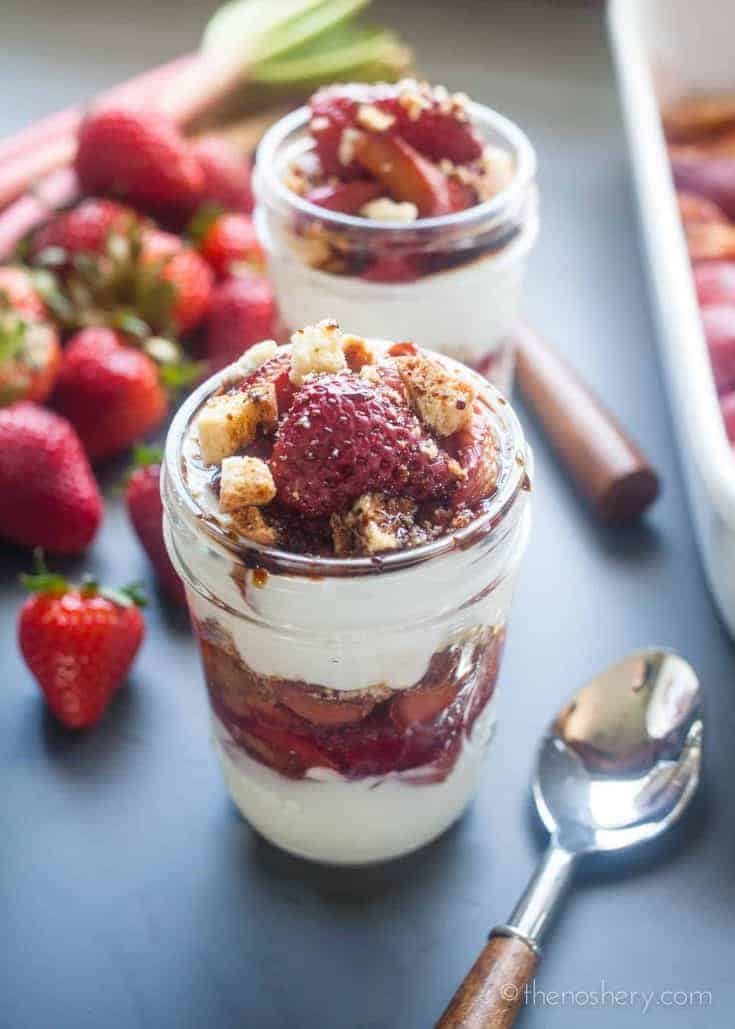 A sure sign of summer is rhubarb season! Rhubarb and strawberries are tossed in balsamic vinegar and sugar for a simple summer treat topping.
Ingredients
2 lb strawberries, hulled and halved
12 stalks rhubarb, sliced
1/2 cup monk fruit and stevia sweetener
2 tablespoon Pompeian Organic Balsamic Vinegar
1 tablespoon agave
1 cup Pompeian Organic Balsamic Vinegar
4 cups vanilla greek yogurt
2 almond or vanilla biscottis, crumbled
Instructions
Heat oven to 350 degrees.
Line to sheet pans with parchment paper. In a large bowl combine strawberries, rhubarb, sugar and 2 tablespoons Pompeian Organic Balsamic Vinegar. Divide the rhubarb mixture evenly between the two sheet pans and spread it out in a single layer. Roast the strawberries and rhubarb in the oven for 40 minutes. Once done set aside to cool.
While the fruit is in the oven add 2 cups of Pompeian Organic Balsamic Vinegar and agave to a medium pot. Whisk together until well combined. Bring it to a boil, lower the heat and simmer for 10-15 minutes or until the sauce coats the back of a spoon. Pour into a heatproof container, like a glass measuring cup to cool.
Using 8 oz canning jars build parfaits starting with greek yogurt, roasted rhubarb mixture, and biscotti crumbles. Repeat, finishing with roasted rhubarb and strawberries, biscotti crumbles and top with a drizzle of balsamic vinegar reduction. Enjoy or cover with jar lids and refrigerate.
Nutrition Information:
Amount Per Serving:
Calories:

243
Carbohydrates:

39g
Protein:

23g