This post is on behalf of DaVinci in partnership with Kitchen PLAY . All thoughts, views, and opinions expressed are my own.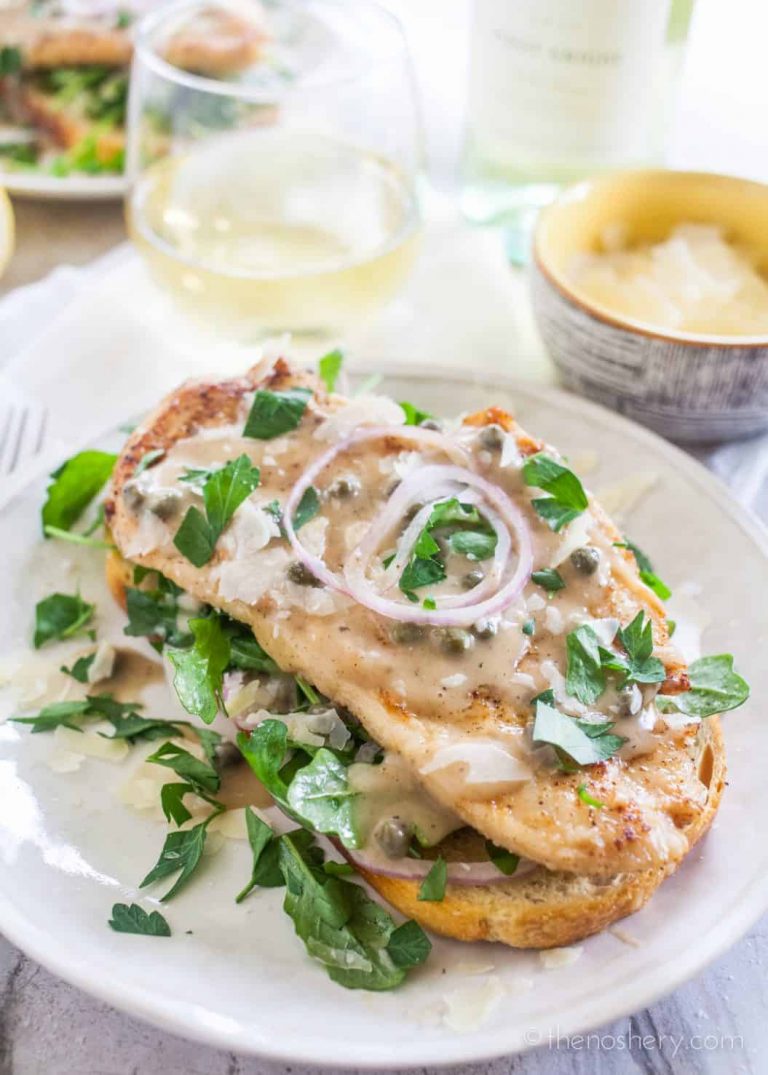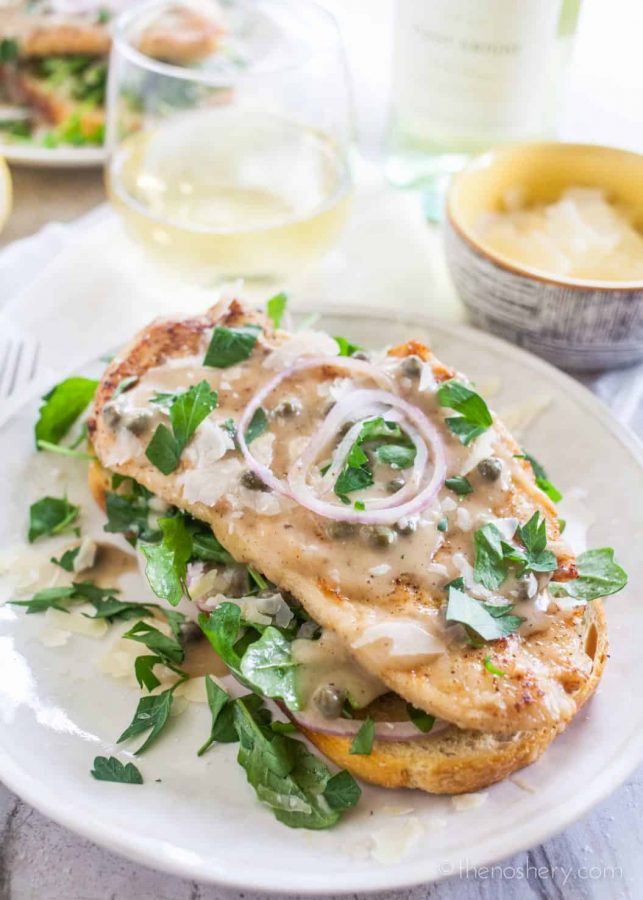 It's almost time! Summer is taking a bow, and fall is knocking down the door. Without a doubt, this is the best time of year! During the summer, we do some outdoor dining, but most days, the heat is too much. So when fall starts, we take full advantage of our outdoor patio space or what I like to call our formal dining area.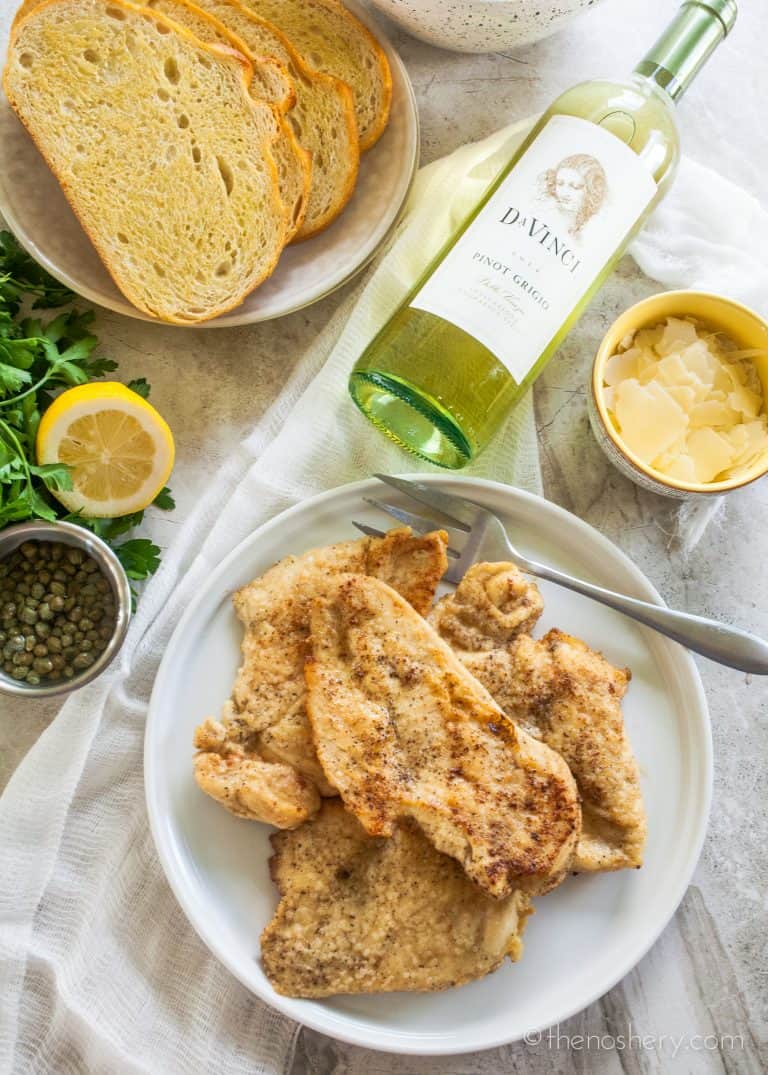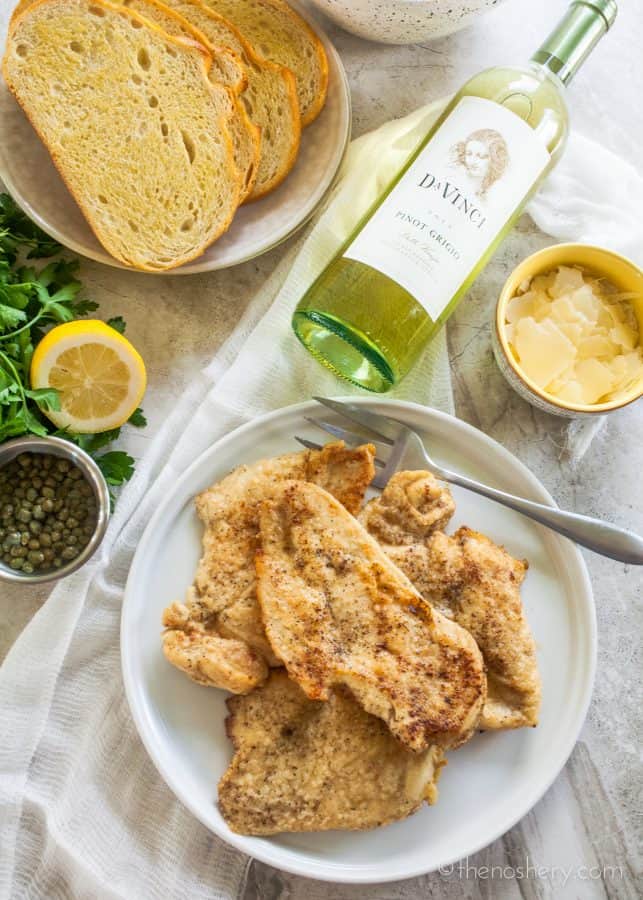 We do most of our al fresco dining in the fall. There's nothing better than a crisp late afternoon on the patio with the fire pit, good food, and a bottle of wine. If there is one word that describes fall, it's crisp – from the air,to the apples, to the crisp colored leaves.
Today I am sharing an open-faced chicken piccata sandwich. It's tangy lemon and white wine chicken piccata over a bed of arugula and apples on crusty Tuscan bread. It's one of those dishes that straddles the seasons and begs to be enjoyed outdoors.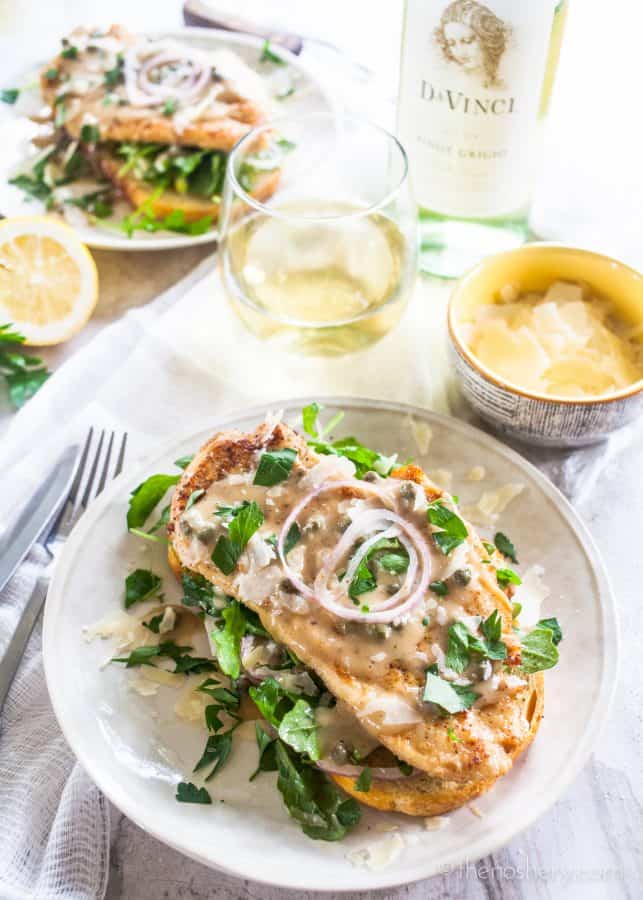 Dining outside is like an escape. I will sit there enjoying my meal, the fresh air, and a glass of DaVinci Pinot Grigio and I am transported to Italy.  It's easy to mentally transport yourself to Italy when DaVinci wines are produced by a cooperative of more than 200 passionate local winegrowers nestled near the Tuscan hillside town of Vinci, the historic birthplace of Leonardo da Vinci.
I am frequently asked what kind of wine I like to cook with, and I always tell people to cook with a wine they enjoy drinking. Whether you prefer red or white wine, you can never go wrong with DaVinci wines. DaVinci produces authentic, high-quality Italian wines, including Chianti and Pinot Grigio.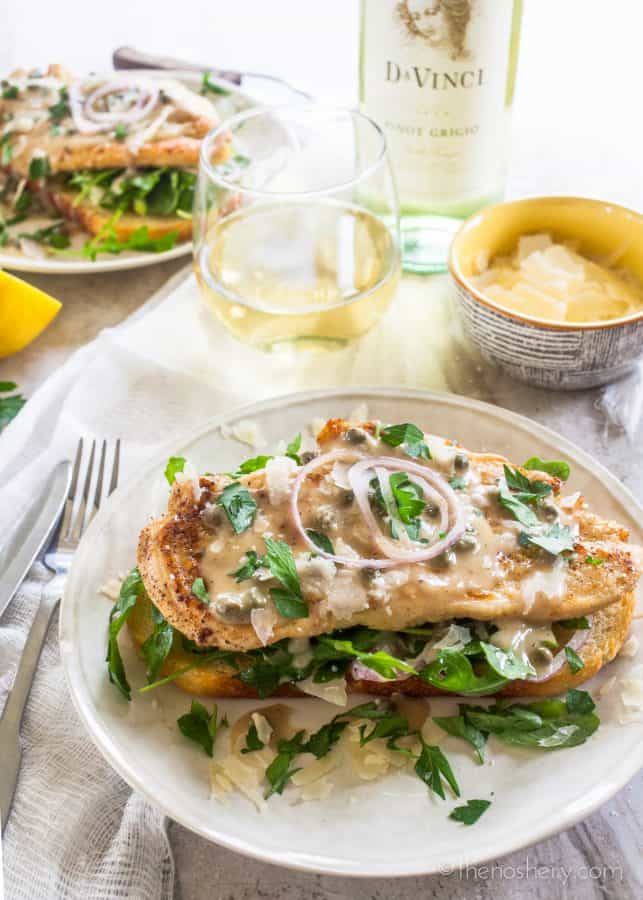 The cool evenings and warm days of northeastern Italy produce crisp, elegant Pinot Grigio grapes, resulting in a wine that is more acidic and less sweet. The clean, crisp finish and natural acidity make DaVinci Pinot Grigio very food-friendly, so it pairs perfectly with this dish and with many of your favorite foods, from burgers to seafood to dessert.
You can't have piccata sauce without a white wine. DaVinci Pinot Grigio is not only perfect for the piccata sauce, but it's the perfect wine to enjoy with the crisp fall weather and this amazing open-faced sandwich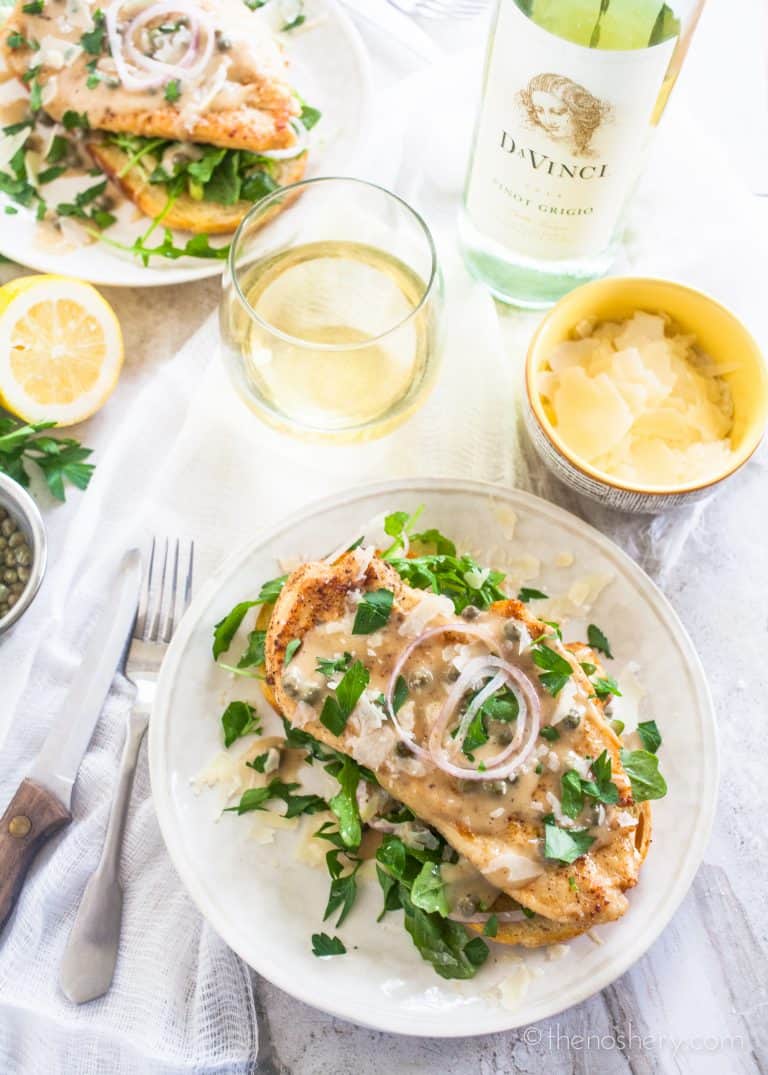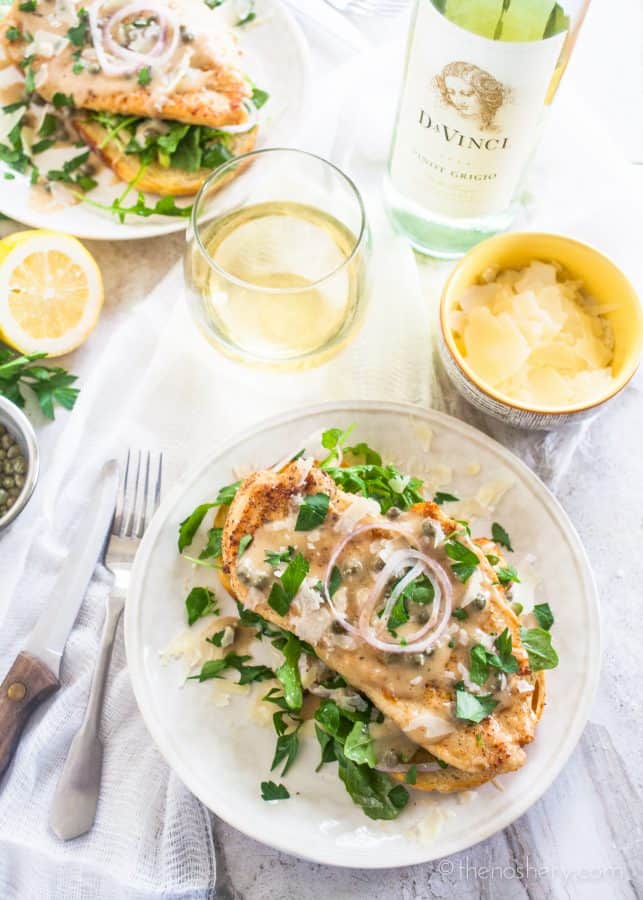 Embrace this time of year and step outside with a glass for a little getaway.
More Chicken Piccata Inspired Love:
Items Used in this Recipe:
Yield: 4
Open Faced Chicken Picatta Sandwich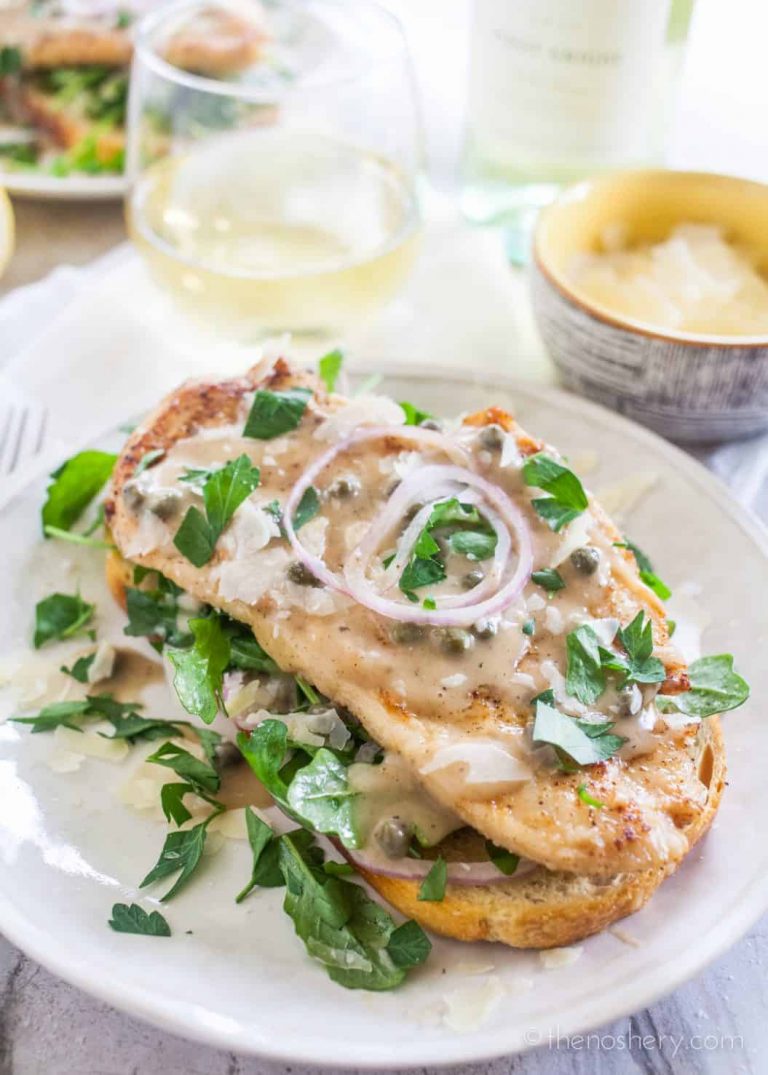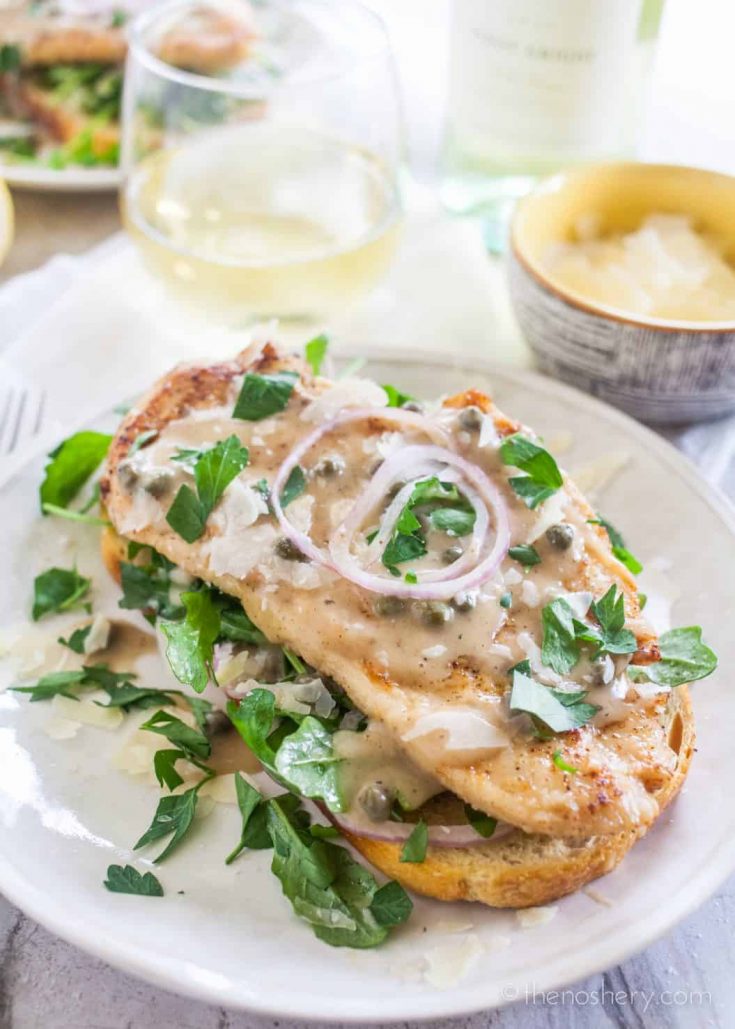 This open-faced sandwich is made with tangy lemon and white wine chicken piccata over a bed of arugula and apples on crusty garlic Tuscan bread.
Ingredients
Toast
4 slices crusty Tuscan bread
2 cloves garlic
olive oil
Chicken
4 chicken cutlets
1 cup all-purpose flour
2 tablespoons olive oil
4 tablespoons butter
1/4 cup fresh lemon juice
1/4 cup low-salt chicken broth
1/4 cup drained capers
1/4 cup chopped fresh parsley
Salad
2 cups arugula
1 granny smith apple, cut into matchsticks
1 small shallot, thinly sliced
shaved parmesan
olive oil
juice of 1/2 lemon
Instructions
Heat oven to 350 degrees. Place bread slices on a sheet pan and brush with olive oil on both sides. Sprinkle with salt. Bake in the oven for 15 minutes, turning bread over halfway, until golden brown and crisp. Gently rub toasted bread with garlic clove, set aside.
Place chicken between 2 sheets of plastic wrap or parchment paper. Using a rolling pin, lightly pound chicken to 1/4-inch thickness. Sprinkle chicken with salt and pepper. Combine 1 tablespoon of butter and 2 tablespoons of flour, set aside. Dredge chicken in the remaining flour to coat; shake off excess.
Heat a heavy large skillet over medium-high heat, add 2 tablespoons of olive oil and 2 tablespoons of butter. Without crowding the pan, add chicken to skillet, work in batches if necessary. Cook chicken until golden brown and cooked through, about 3 minutes per side. Transfer chicken to platter; tent with foil to keep warm.
Add wine, lemon juice, and broth to the skillet, scraping all the brown bits left in the pan. Boil in 1 skillet over medium-high heat. Add butter-flour mixture and whisk until well combined. Bring to a boil and continue whisking until sauce thickens slightly, about 2 minutes. Stir in capers, parsley and remaining 1 tablespoons butter. Season sauce to taste with salt and pepper.
In a bowl combine arugula, apples, and shallot. Drizzle with olive oil and lemon juice. Toss until well combined. Place arugula on toasted bread, top with chicken, shaved parmesan, parsley and sauce.