I've partnered with the National Pork Board for this trip to Sioux Falls, South Dakota and to share this information with you. All opinions remain, as always, my own.
Being a food blogger makes for a unique and exciting life. I love my job! It has opened doors to opportunities and experiences that I would never have had otherwise. And my recent trip to Sioux Falls, SD with The National Pork Board's Pass the Pork Tour was one of the most fun trips yet. I got the opportunity to meet some amazing bloggers, farmers, and chefs and to learn the ins and outs of pig farming.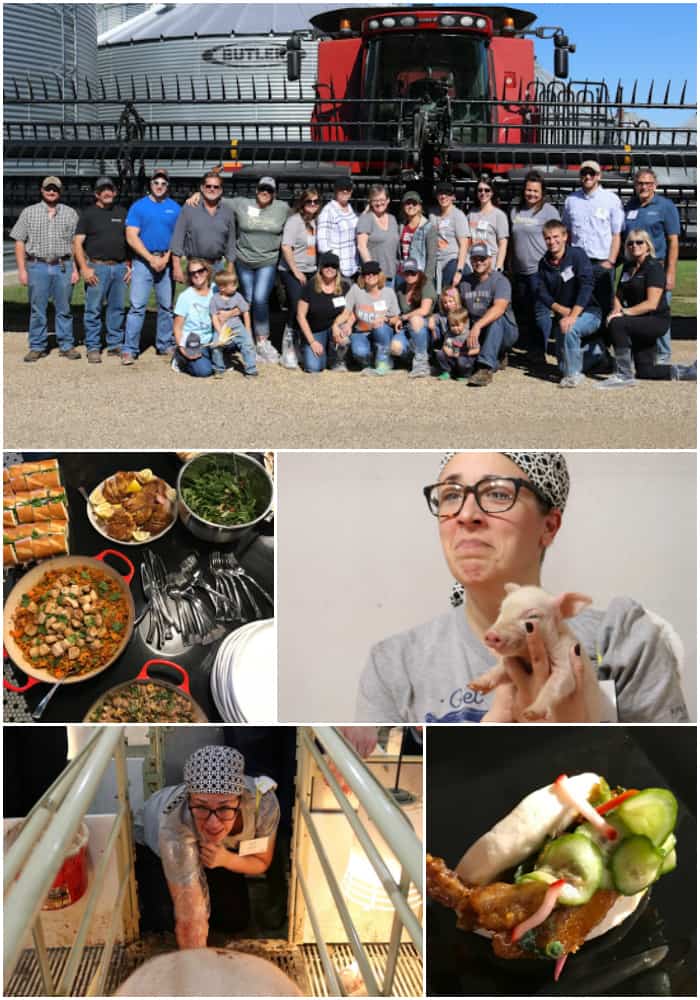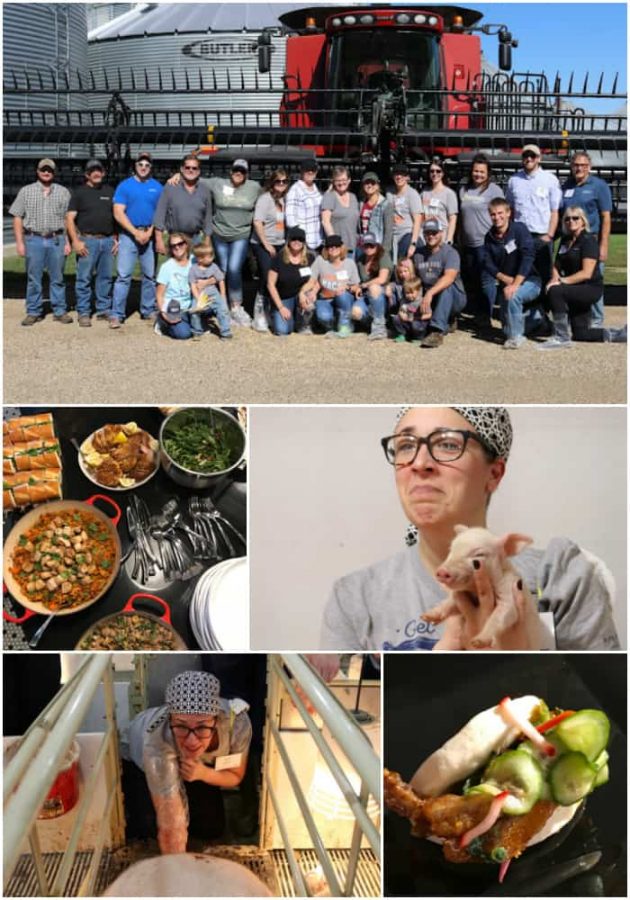 If you take a moment to explore around The Noshery, you will see that I love pork. I mean, I am Puerto Rican — the love of pork is basically in my DNA.  So, when The National Pork Board asked to partner with me and invited me on the Pass the Pork Tour, I jumped at the chance.
Today I am going to take you on a virtual pork tour. Not only will you get to learn about pig farming but also all the amazing people who take a great amount of pride in what they do. It takes a huge team to create a quality product, and each one of them is passionate about pig farming.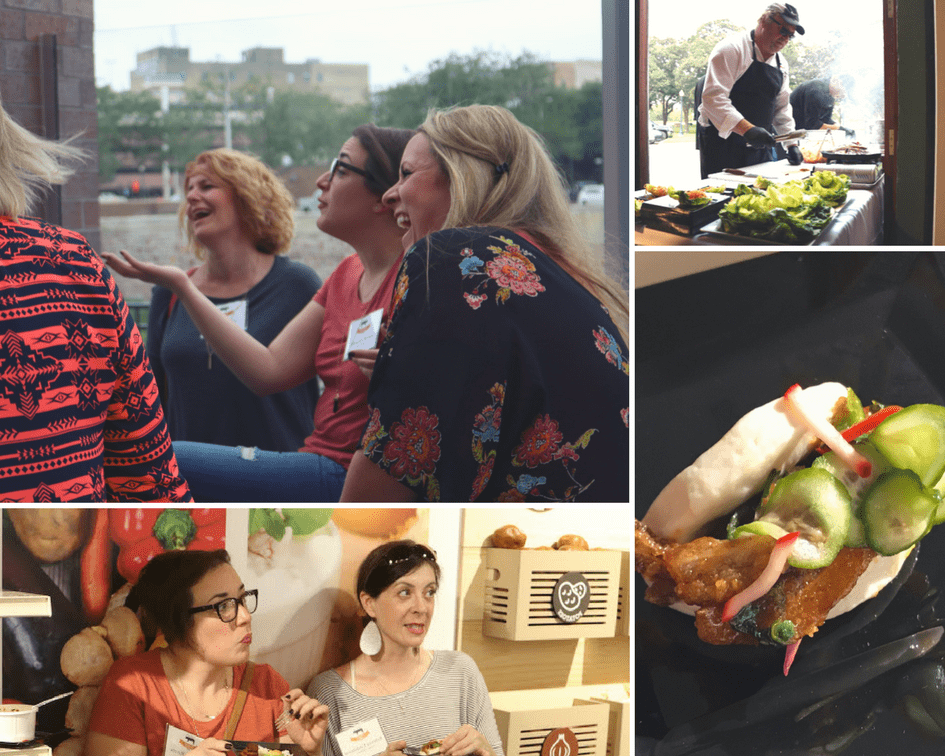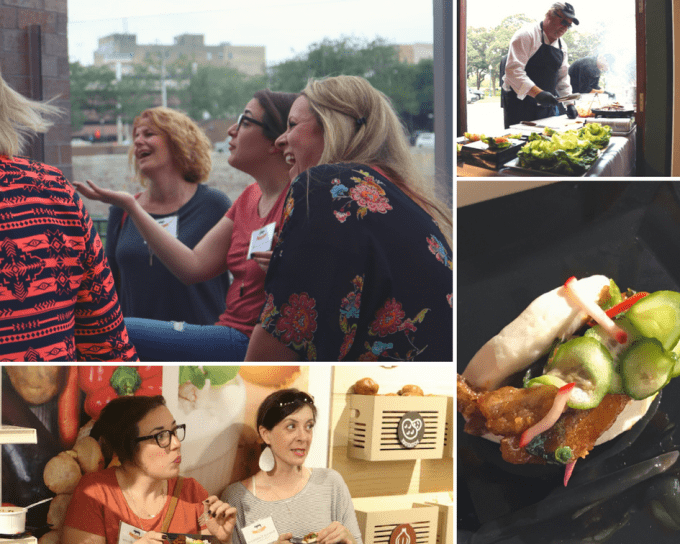 I arrived in Sioux Falls in the afternoon with just enough time to catch up with friends and change before heading out for cocktails and hors-d'oeuvres at The Stockyards Ag Experience. There we met a father and son team, Greg and Mike Boerboom, owners of Boerboom Ag Resources. They own and operate two sow farms and are also partial owners in two farms managed by Pipestone Systems. We feasted on Asian-inspired pork hors-d'oeuvres. I probably ate about five steamed pork buns and a little too much pork belly.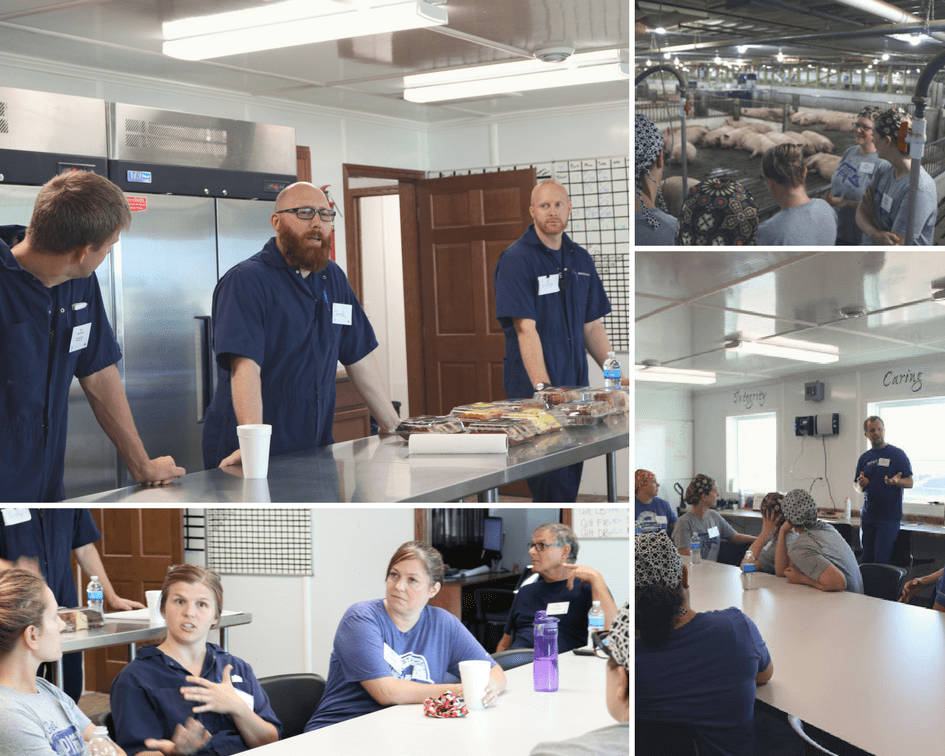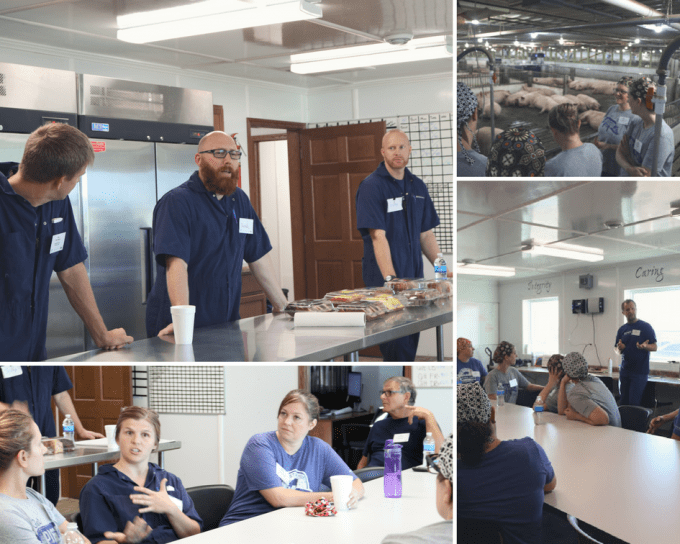 The next morning I rolled out of bed bright and early, threw on a pair of jeans, t-shirt, and cap, and headed downstairs to tour a pig farm. We drove for about an hour out to one of the sow farms owned by the Boerbooms in partnership with Pipestone. Here we learned all about the relationship between family farmers and The Pipestone System. Family farmers retain ownership in the farm and contract Pipestone to take care of operations such as providing benefits for individual employees, funding state-of-the-art sow barns, veterinary care, and tracking genetics while monitoring each pig's health.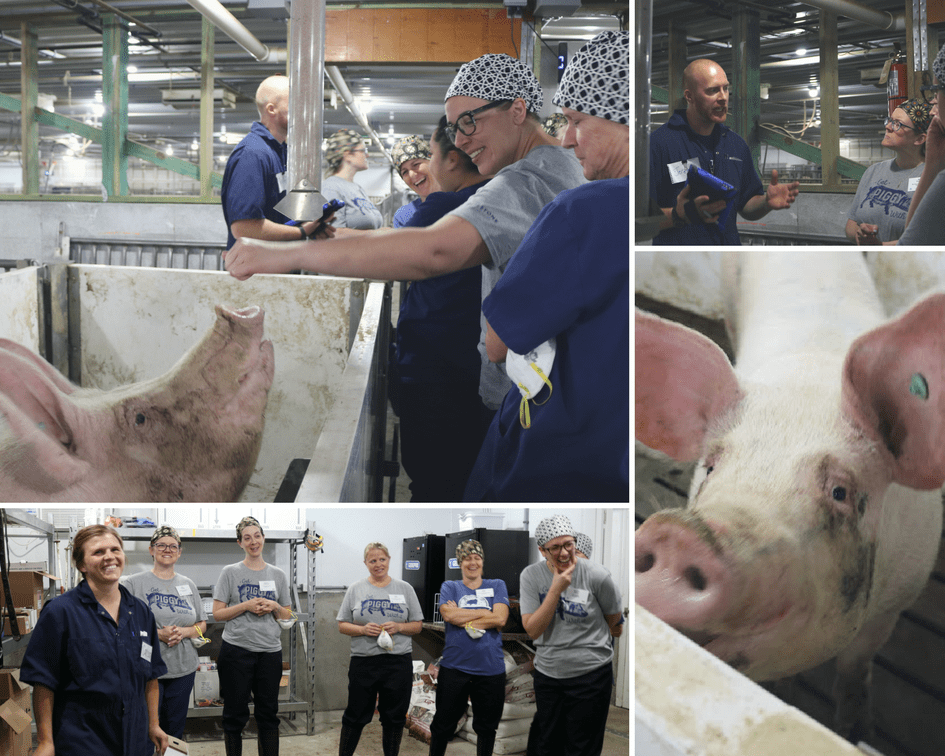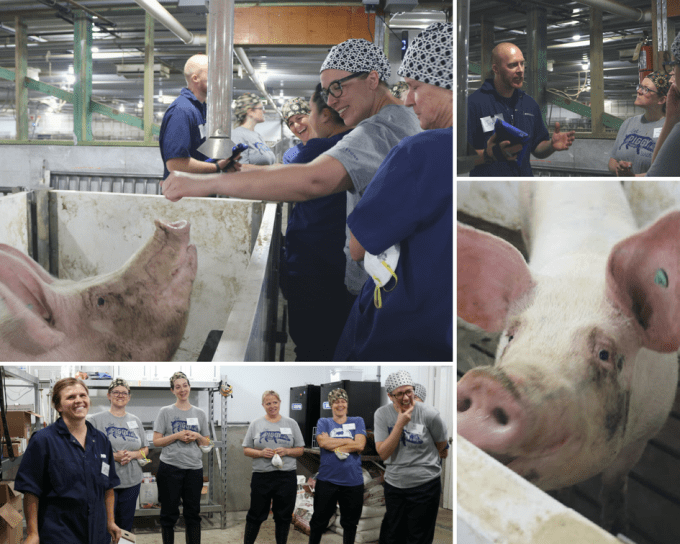 They didn't just tell us about the farming process, they toured us throughout the facilities. Not only did we see all the areas the sows live depending on what stage they are at, but we saw everything from supply areas to temperature control rooms. The one thing that I found most interesting was the technology. I am a tech nerd, so I found the tech aspect fascinating. Each sow is tagged with an RFID tag. This tag has each individual sow's information and needs. When the sow walks up to the feeder, it dispenses a customized diet depending on their individual needs.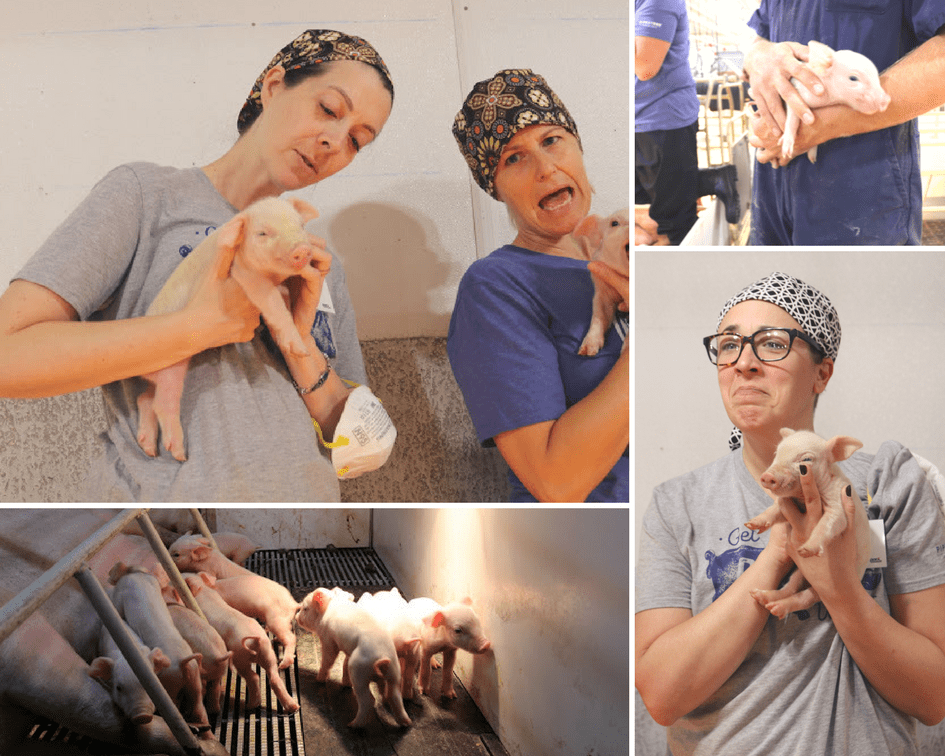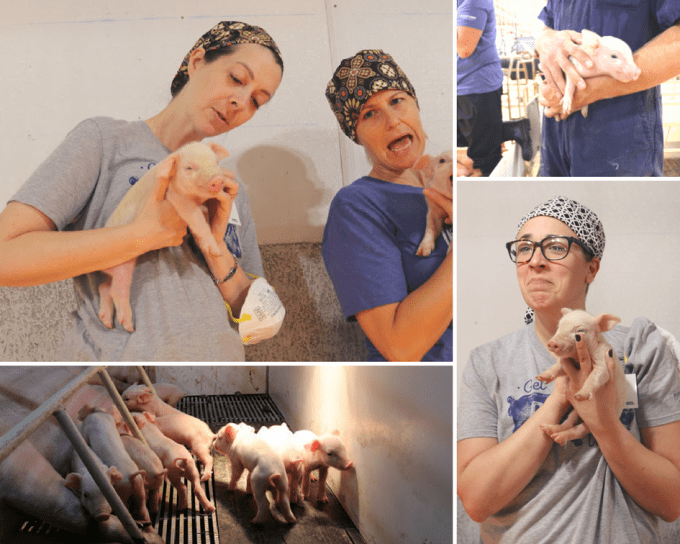 I had two goals for this trip, aside from learning all the ins-and-outs of pig farming. I wanted to hold a piglet and, if given the opportunity, help deliver a piglet. I told myself that if the opportunity arose, I was not going to flake out. Finally, the time came and we were taken to tour the farrowing pens. First, I got to hold a piglet and I may have gotten a little too excited.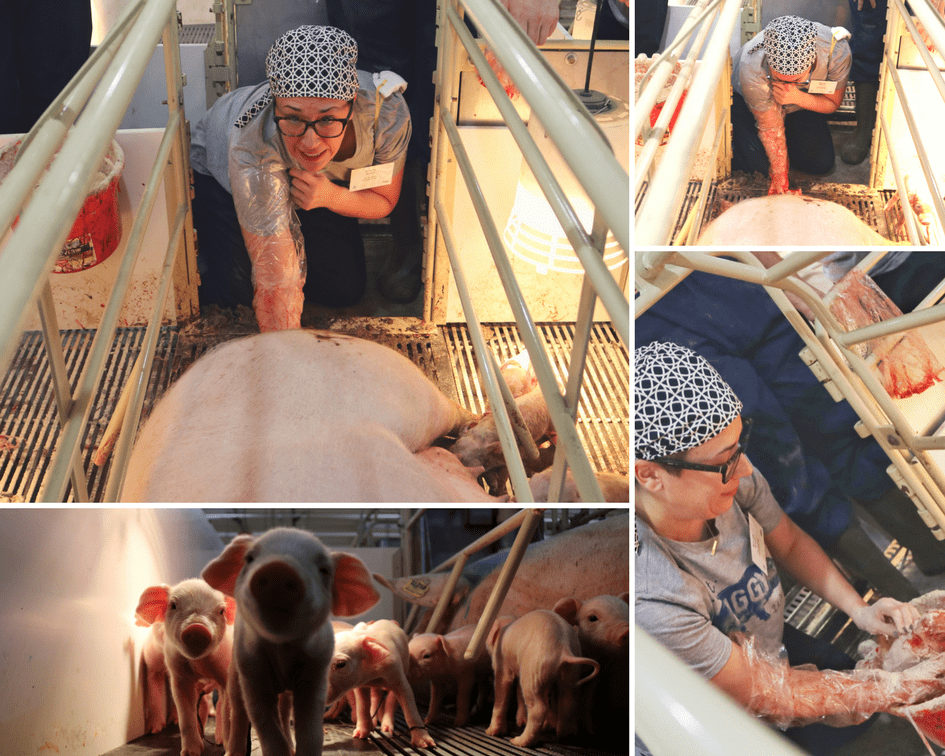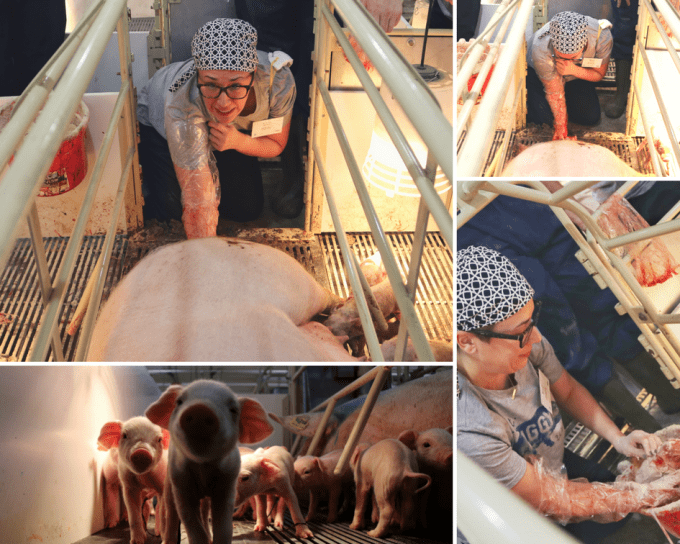 Then, Jeremy, our tour guide asked if anyone would be interested in delivering a pig. My hand shot up so fast, I'm amazed my shoulder didn't dislocate. It was time for me to "sleeve a pig". I put on a long, plastic glove that when up to my shoulder, and with Jeremy's coaching, reached into the birth canal of the sow to help her birth a piglet. It was the weirdest and coolest experience ever. At first, I couldn't find the piglet and the next thing I knew, a head appeared. I hooked my fingers around the base of the piglet's head and slowly started to tug. I needed a lot of coaching from Jeremy because I was nervous to hurt the little guy, but I did it! It's not for the faint of heart, but it's a unique experience.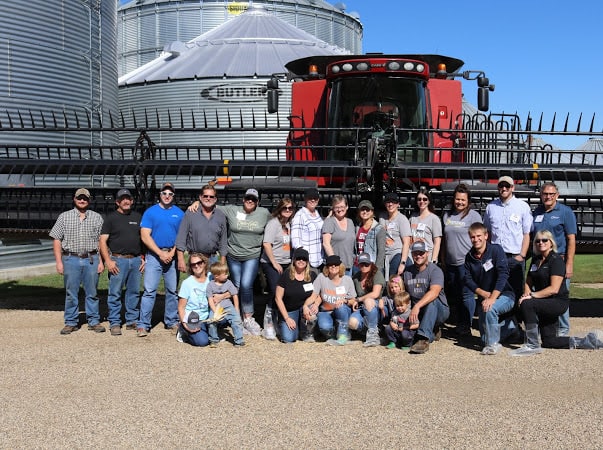 We all got to learn so much during this tour. Here are just some of the things we learned:
How the pigs are cared for throughout their life in the barns
Gilts are female pigs, and after they deliver their first litter, they are called sows
The gestation of a pig is 3 months, 3 weeks, 3 days!
Farrowing is from birth to weaning, which is 21 days
After they are weaned, they are moved to the nursery where they stay until they grow to be 50 – 60 lbs, which can take 6 – 8 weeks
The Finishing barn is their next stop. Here they can consume 6 – 10 lbs. of feed each day, growing to their final weight of about 280 lbs. when they are ready for market.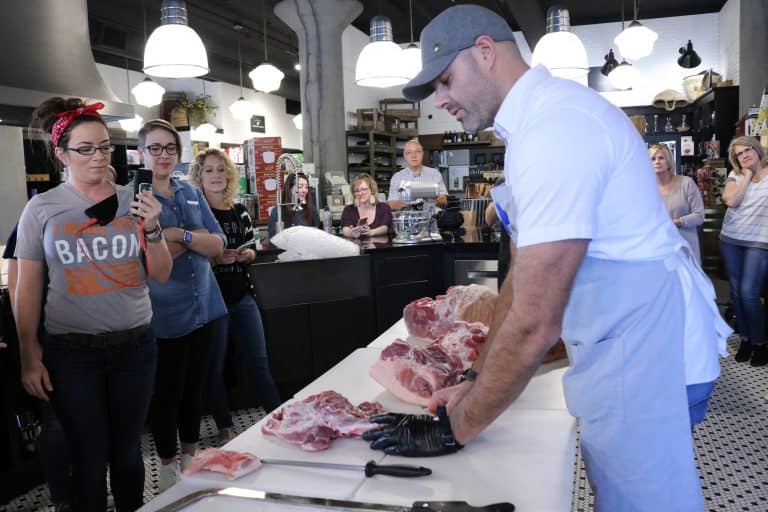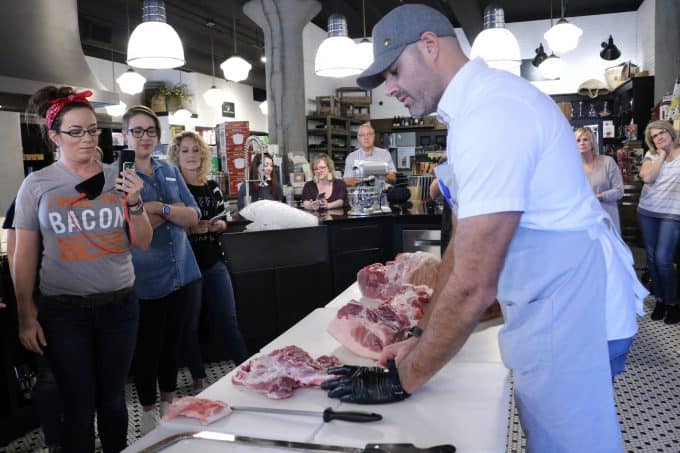 The next day before we flew out, we visited Plum's Cooking Company for a pig fabrication demo and some cooking. If you want to see more about the pig fabrication demo, you can watch Lynn from 365 days of Baking and More's Facebook videos. After the demo, we divided into three-person teams with two recipes each that featured a specific cut of meat. All together, we cooked a feast!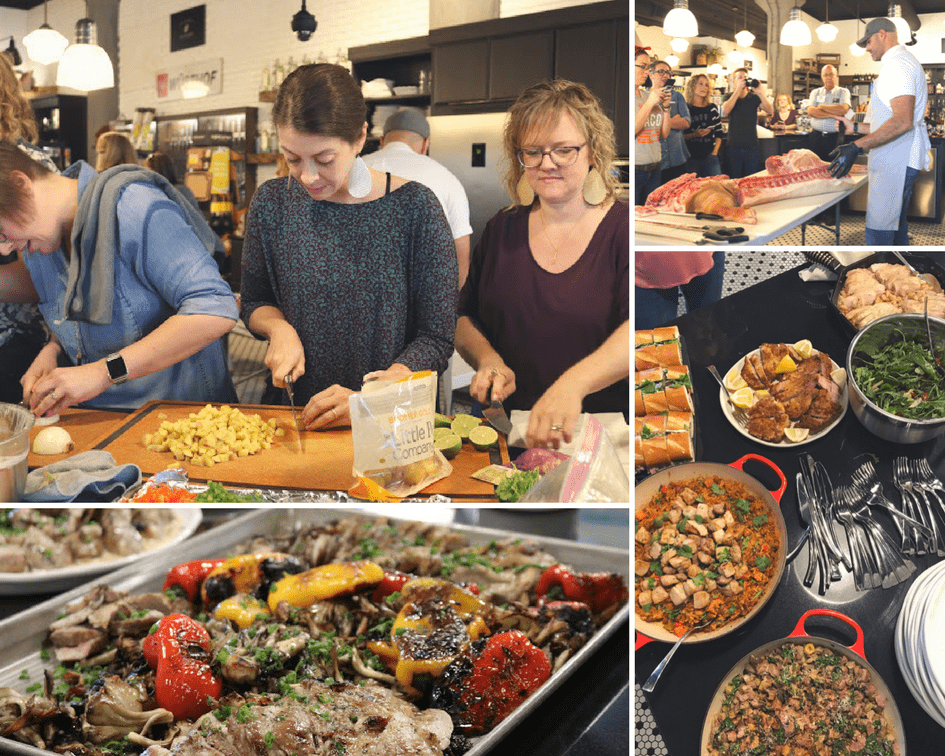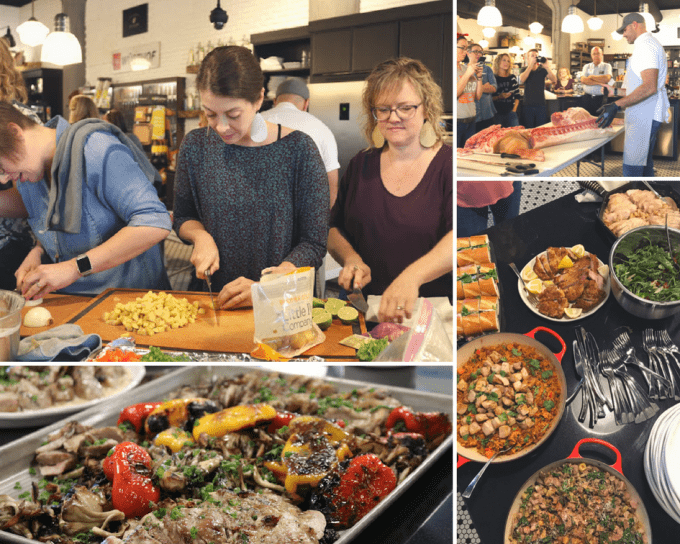 Pork production and technology has changed so much in the past 30 years that farmers are able to provide consumers with a much better product. Not only is it that is healthier, but it tastes better. Dry, pale-colored pork is no more. Now pork can be prepared like beef with a bit of pink in the center.  The National Pork Board now recommends cooking pork tenderloin to an internal temperature between 145° F. (medium rare) and 160° F. (medium), followed by a 3-minute rest.
It was so much fun being part of The National Pork Board's Pass The Pork Tour! I am so grateful for the opportunity and had such a great time making new friends and spending time with old friends. For more Pass the Pork Tour, visit all of my lovely blogger friends that were also on the tour.