Almond crusted french toast filled with peanut butter, banana and honey. If you like sweet, crunchy and gooey you'll love this french toast.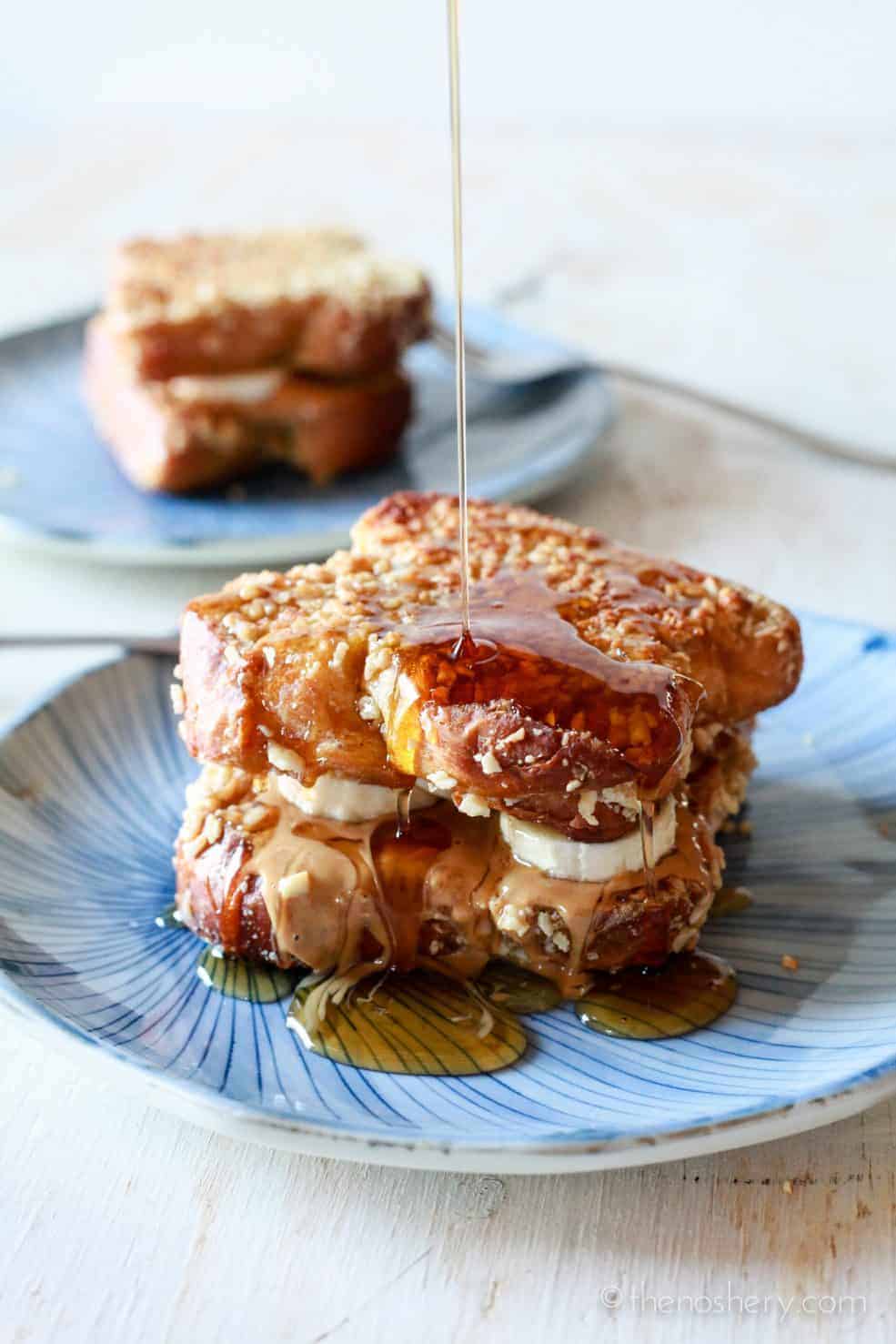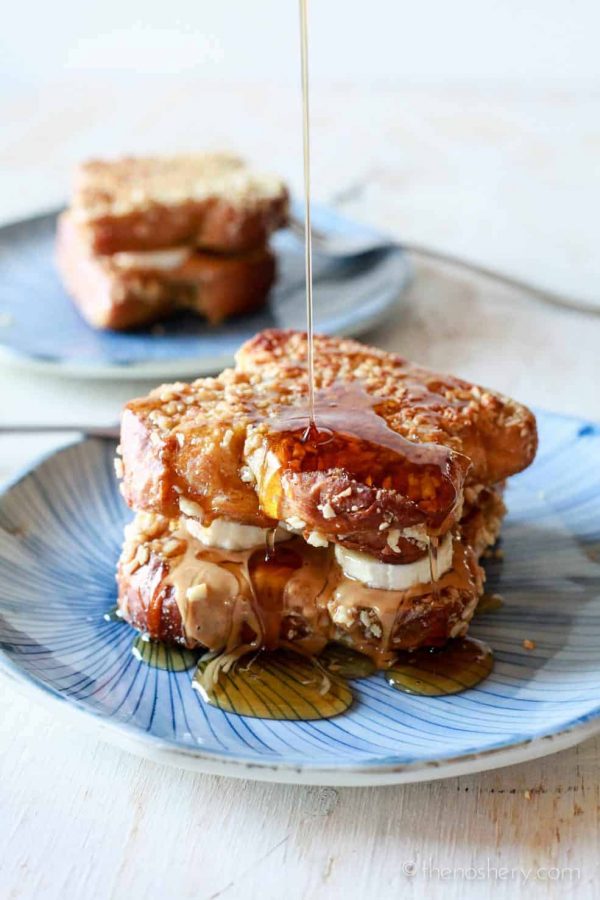 Weeknights can be crazy sometimes they can be downright insane. Many times after a full day's work, be it in the office or attempting to clean the house while keeping little ones busy, it's hard to find that final push to make dinner. All of us are looking for ways to make life easier and less stressful.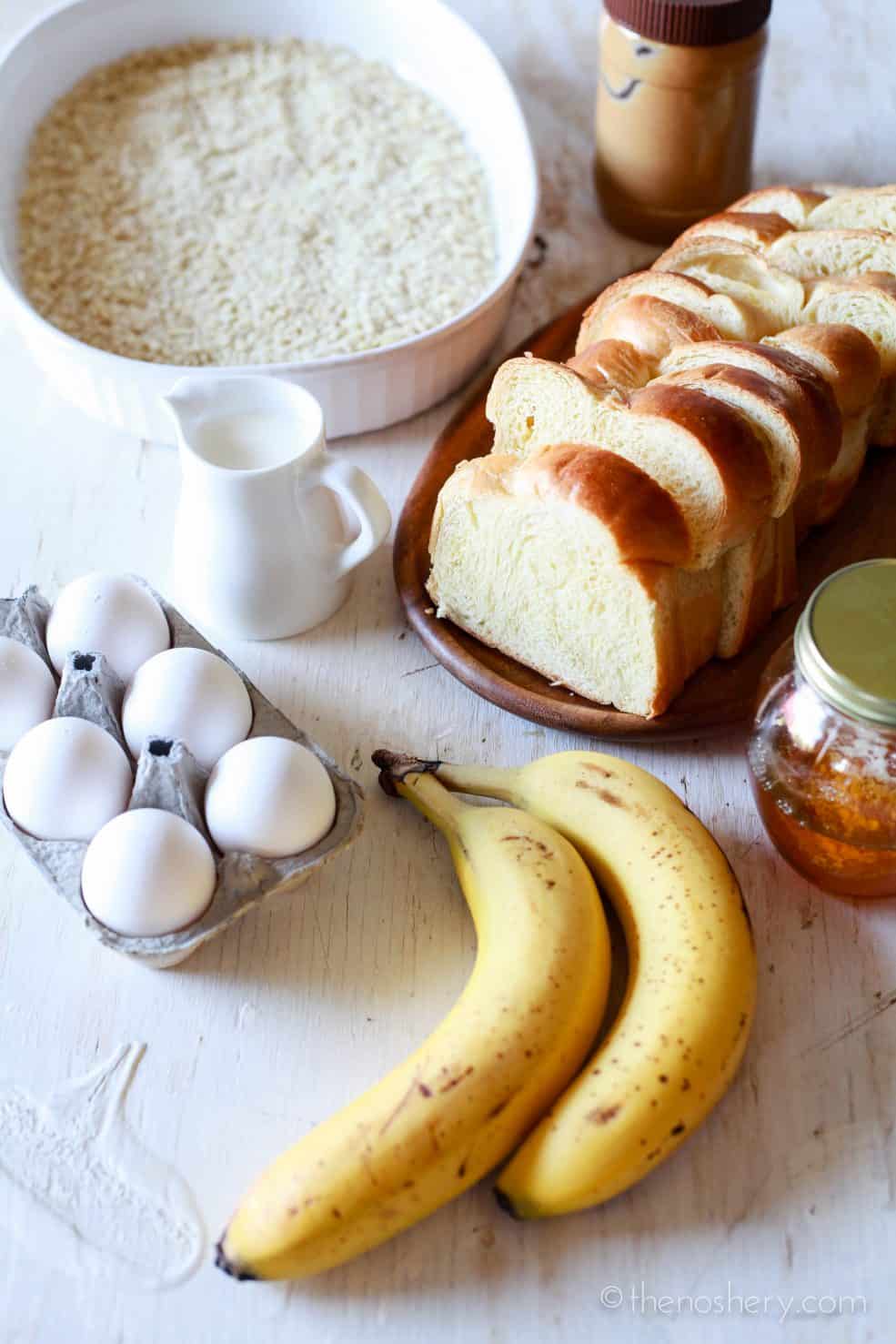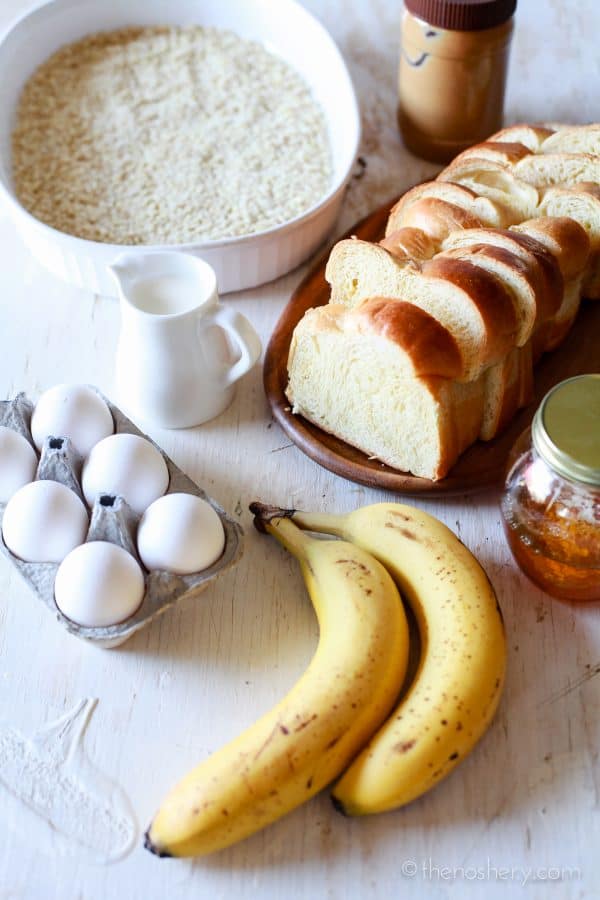 I remember when I was a kid one of my mom's go-to easy dinners was breakfast for dinner. She would whip up a batch of pancakes or French toast and dinner was served. Somewhere in a box of photos tucked away in a closet is a picture of my kid sister sitting on the counter "helping" make pancakes. Today I still make breakfast for dinner and it's still my favorite kind of dinner. How can you not love breakfast for dinner? It's a perfect combination of sweet accompanied with a side a savory, be it bacon, sausage or eggs. It's the closest thing to dessert for dinner you can get. And, yes I have had dessert for dinner (food blogger problem), but that is another post for another day.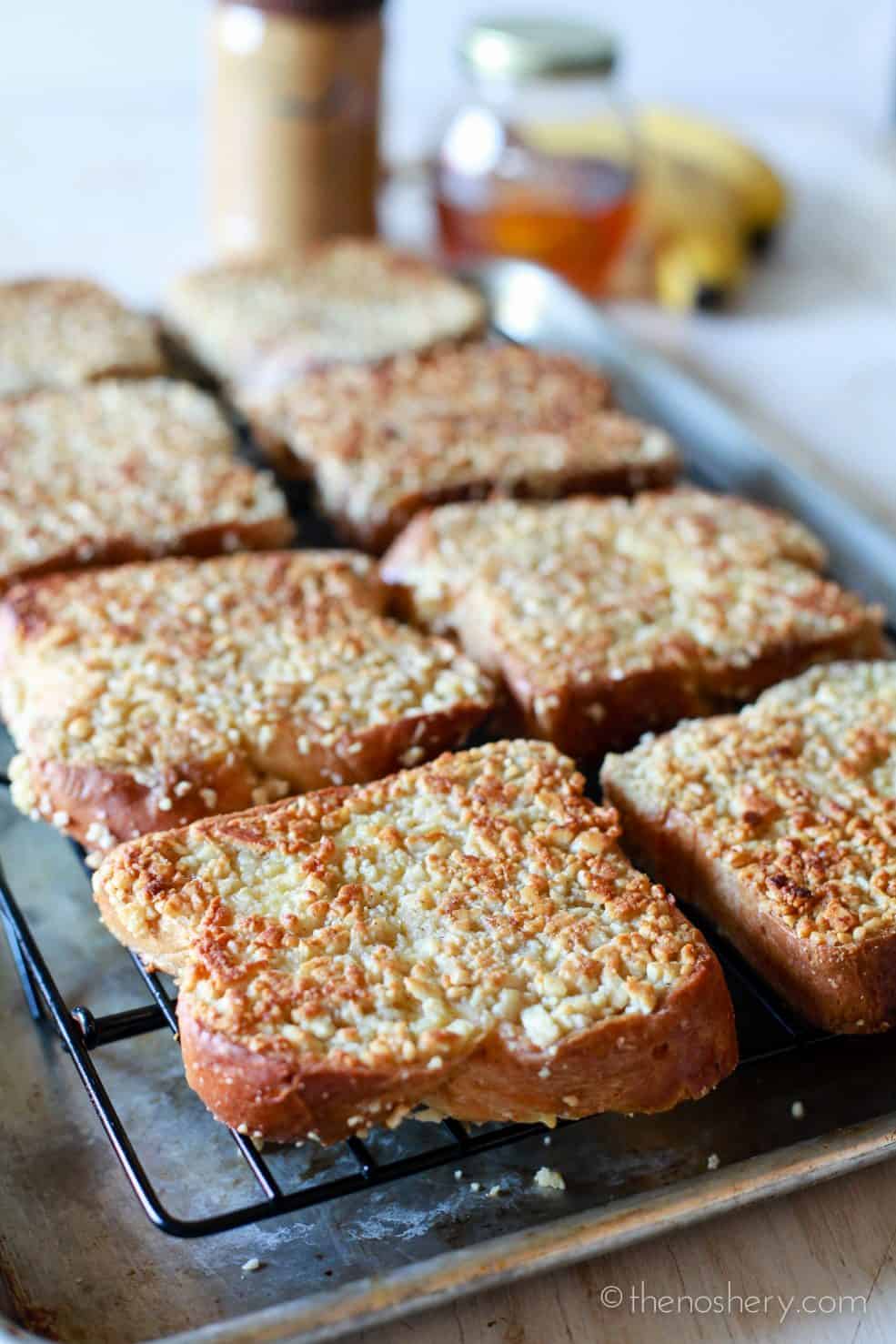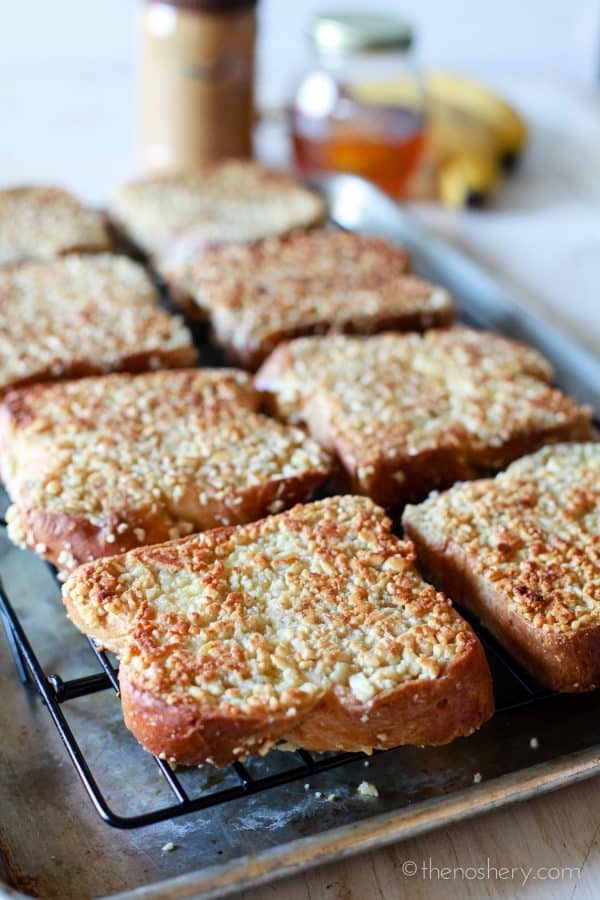 Since we are talking about breakfast for dinner I thought I would fancy up some French toast. For my birthday breakfast, I got to have the most amazing French toast ever! It was two thick slices of Texas toast, covered in an almond crust and stuffed with peanut butter, bananas and honey. Probably one of the best French toasts ever!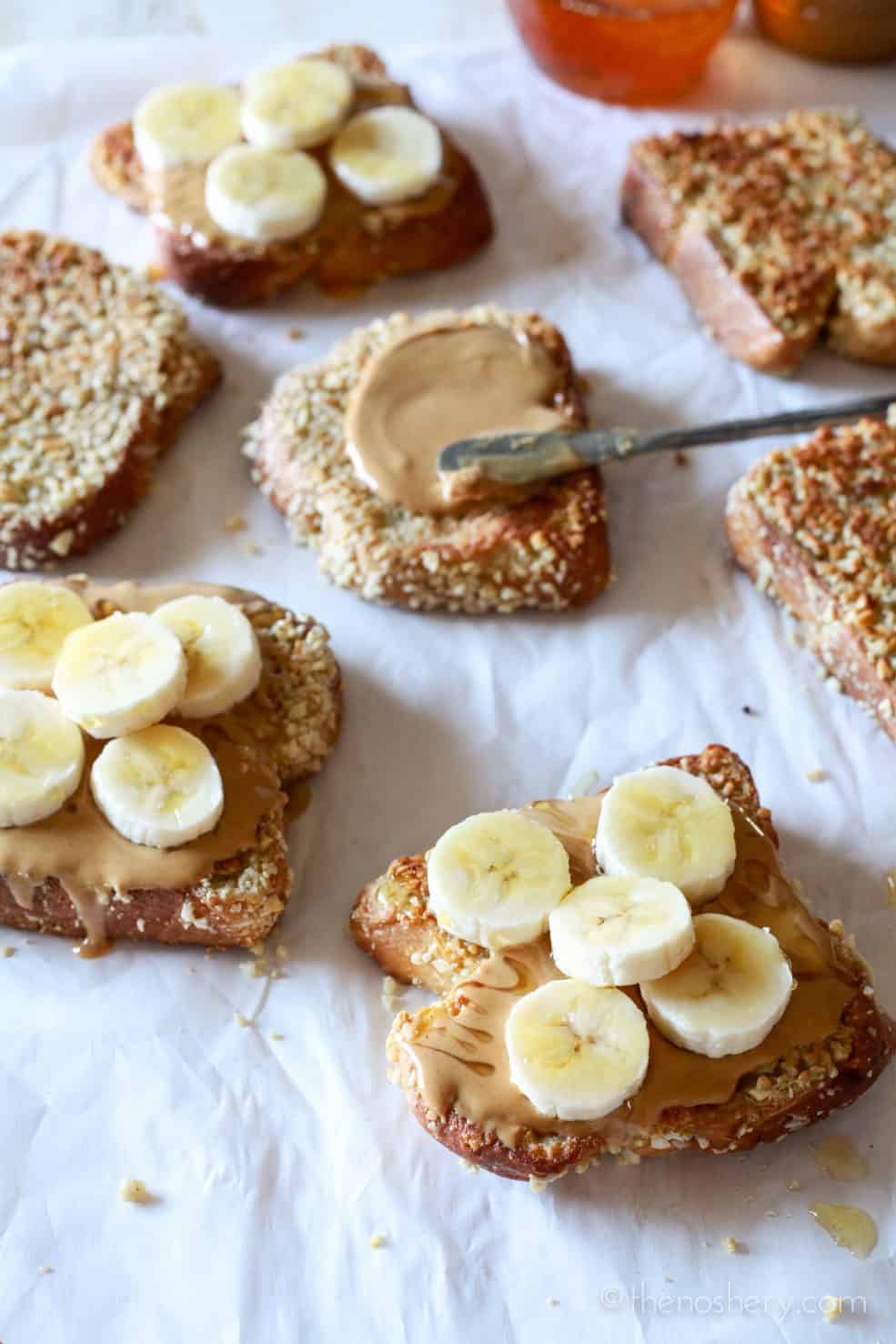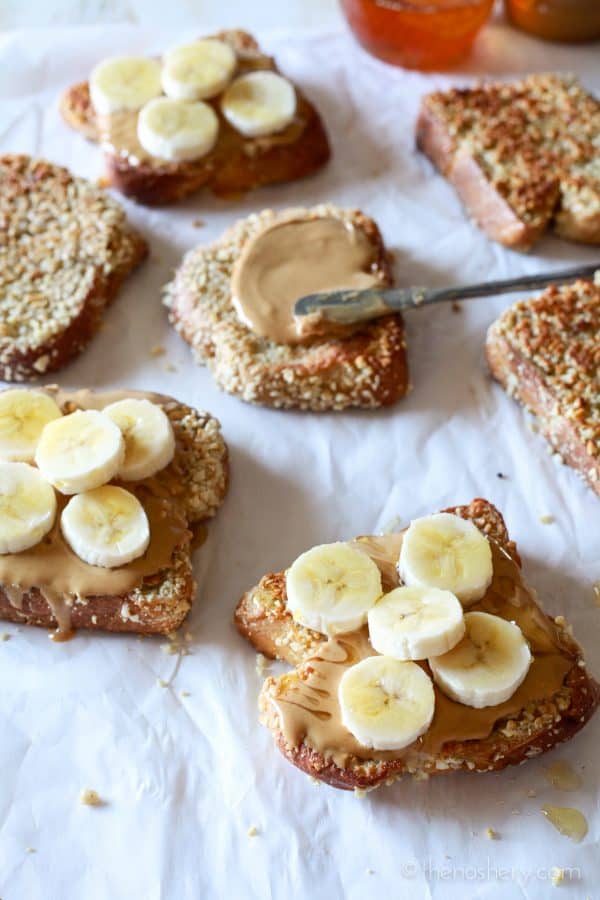 First, my plan was to just make a crunchy almond french toast but, I thought of one of my favorite quick and easy breakfasts. When I want something quick simple and sweet I make toast with peanut butter, honey and banana. So, I got the idea to stuff the french toast with peanut butter, honey, and bananas. HOLY MOLY! Am I a genius!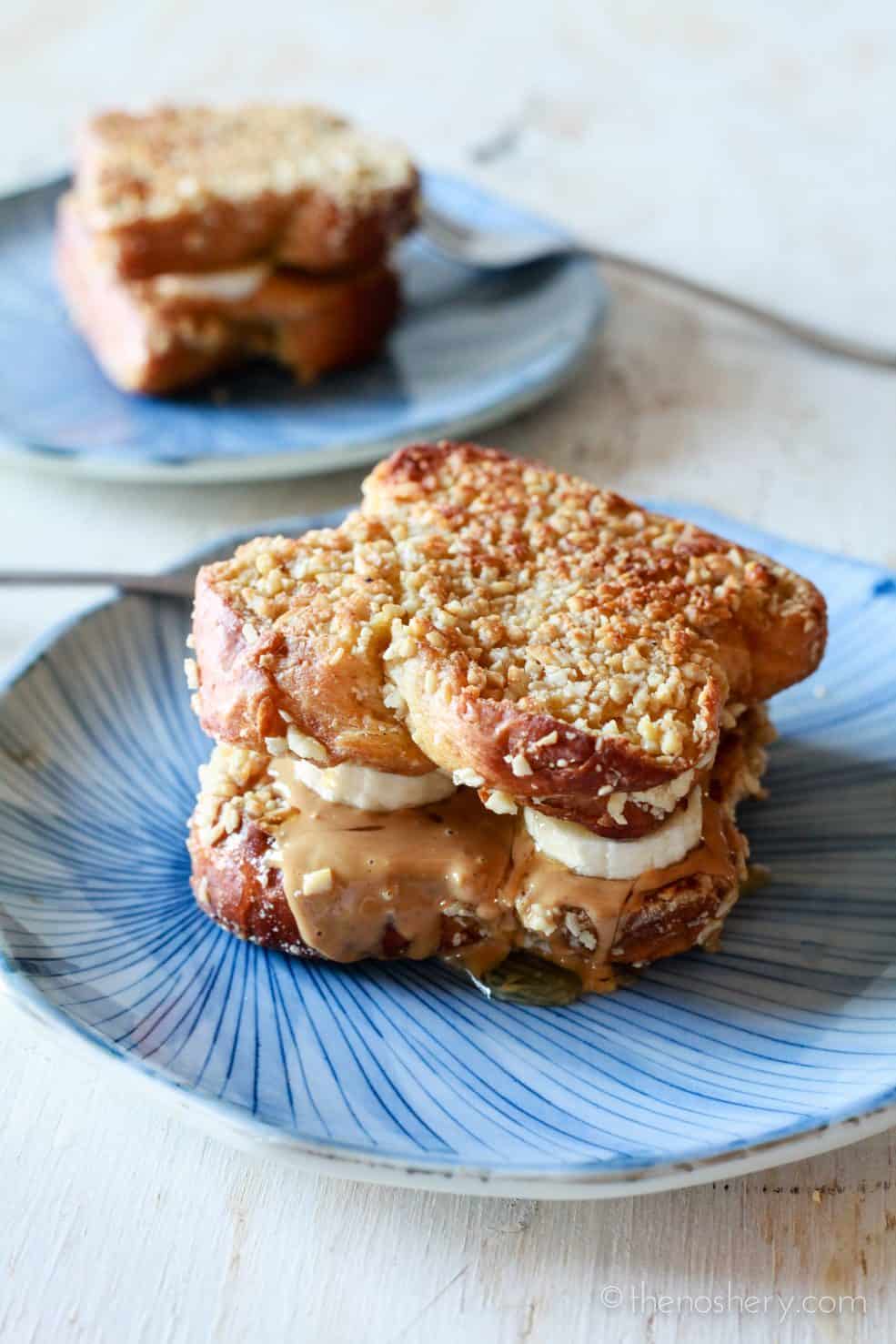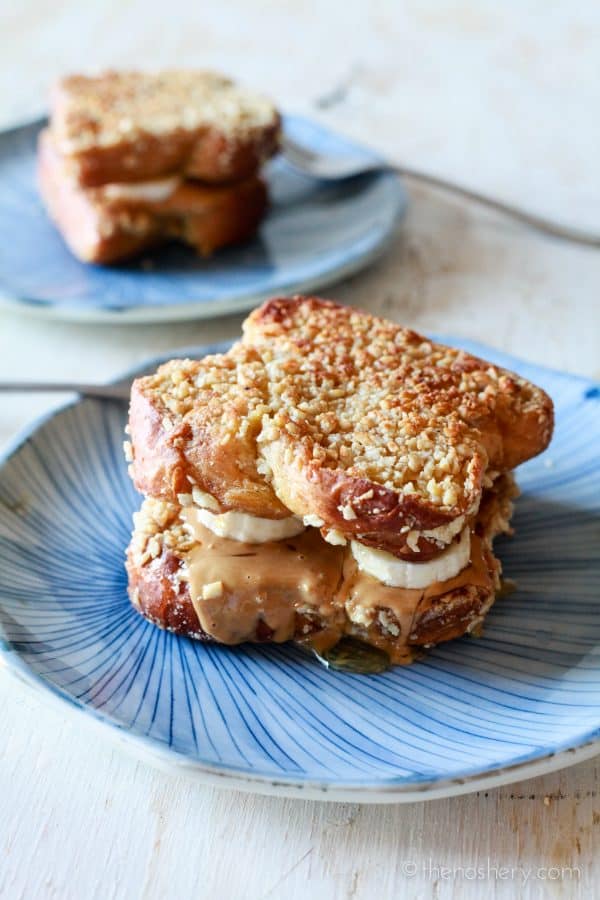 If you like crunchy, sweet, and gooey I suspect that you will love this french toast. This french toast is everything! You can make it using challah or brioche. If you want to add a nutty quality to it I think it would be great with a hearty whole grain bread.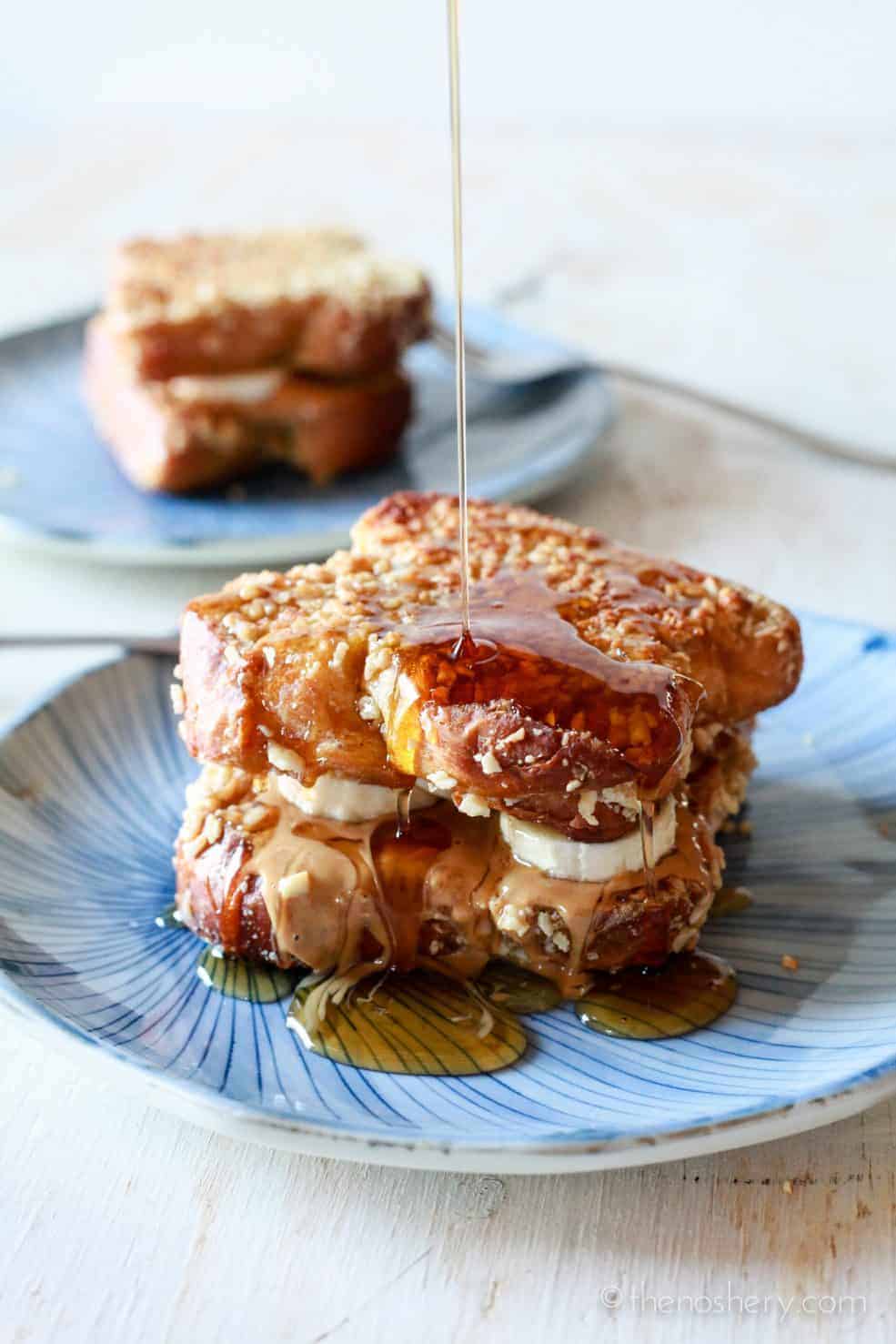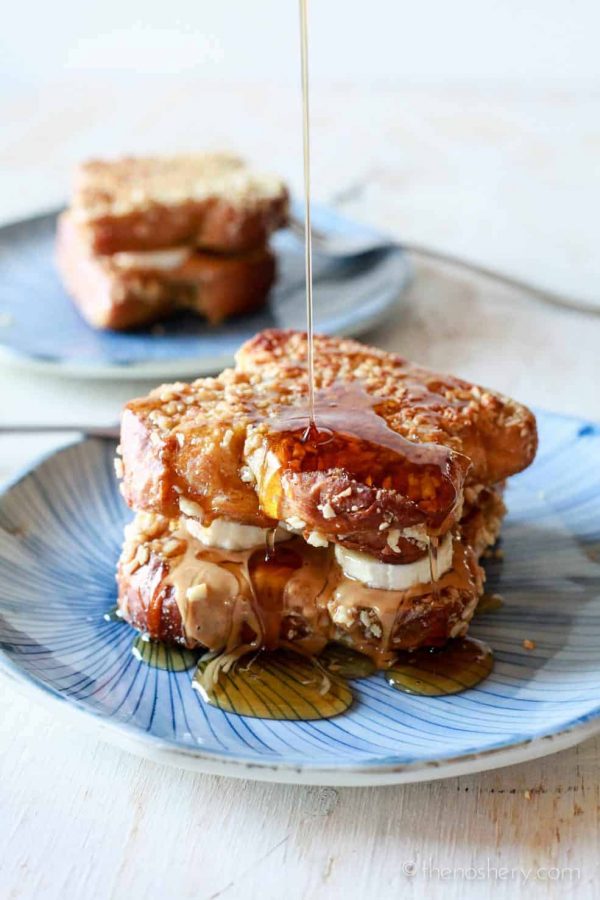 This peanut butter, banana, honey stuffed almond crusted french toast (say that five times fast) is slap your mama awesome but if you're looking for more breakfast for dinner ideas check these recipes out!
More breakfast love:
Items Used in this Recipe:
Yield: 4 servings
Peanut Butter, Banana & Honey Stuffed Almond Crusted French Toast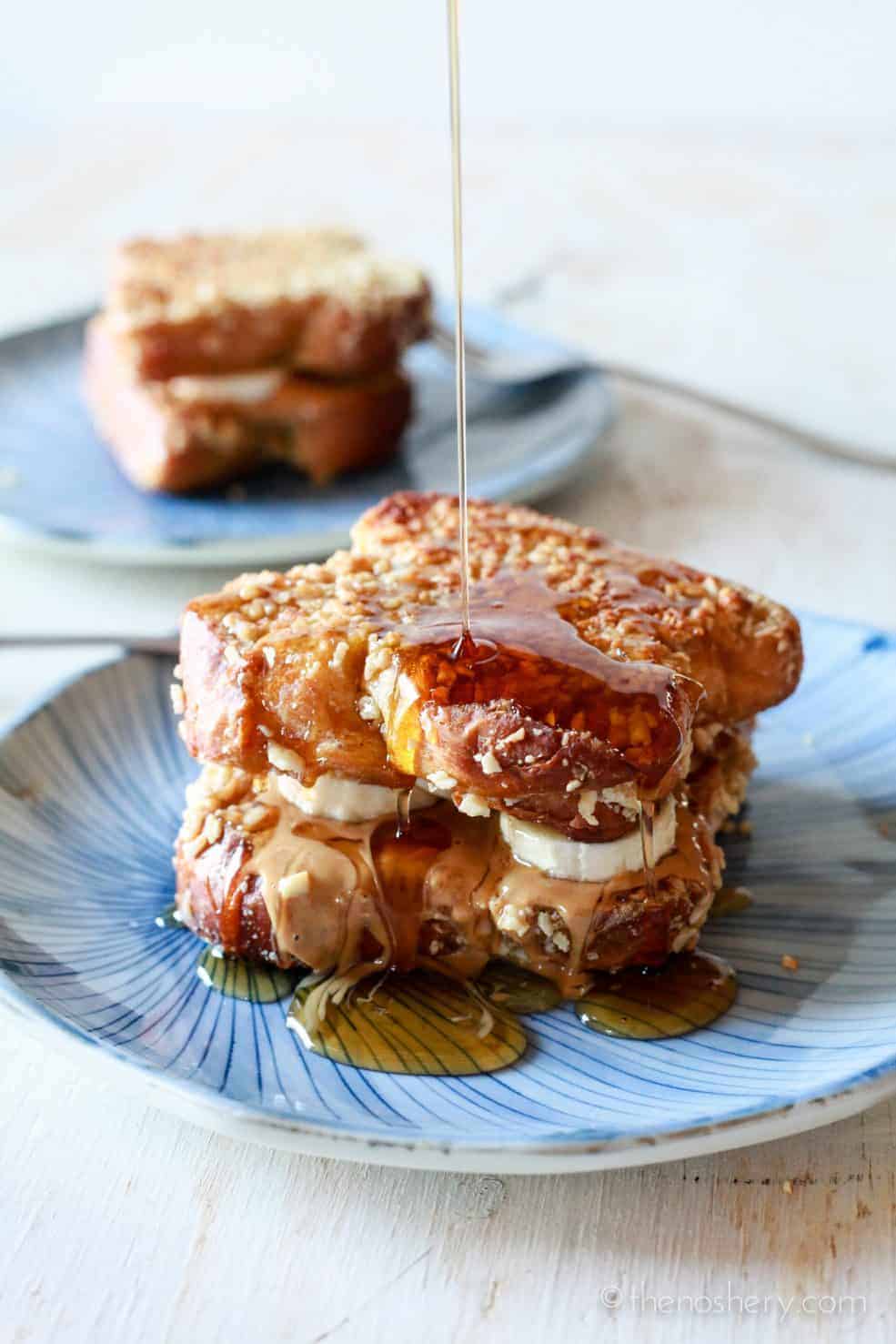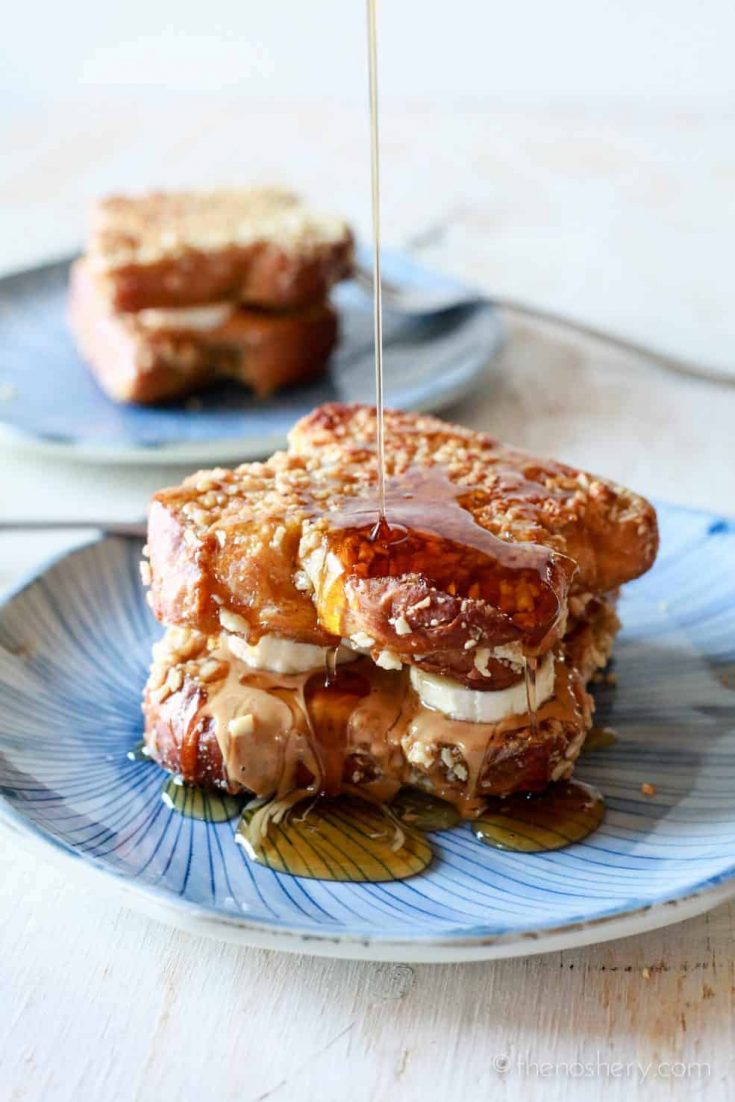 Ingredients
6 eggs
1/2 cup heavy cream
2 tablespoons sugar
1 teaspoon cinnamon
1 teaspoon vanilla extract
2 cups blanched slivered almonds
8 slices brioche bread (could also used challah or Texas toast)
2 bananas sliced
peanut butter
honey
Instructions
Preheat an oven to 350°F.
Add almonds to a food processor and process to a course grind. Spread ground almonds on a large plate and set aside.
In a large shallow bowl, whisk together the eggs, cream, sugar, cinnamon and vanilla. Drop the bread into the egg mixture, turning gently to coat evenly. Let stand in bowl until the bread has soaked up some of the egg mixture, about 1 minute.
Heat griddle to medium-high heat until hot. Have a sheet pan lined with parchment paper ready. Gently remove brioche slices one at a time from egg mixture letting excess egg drip off. Dredge in almond mixture on both sides and lay on lined sheet pan.
Place the bread slices on the griddle and cook until the nuts begin to brown, about 2 minutes.
Flip the slices and cook until golden brown on the other side, about 2 minutes more.
While the bread toasts toss the parchment paper and lightly oil the sheet pan. Transfer the slices to the prepared sheet pan. Transfer to the oven and bake until the center of the bread is heated through but is still moist, about 10 minutes.
Spread peanut butter evenly on 4 slices, top with sliced bananas and drizzle with honey. Top with remaining slices and serve with warm maple syrup.