I'm writing this and I am sleepy. Like old lady, way past her bedtime sleepy. Did I mention it's only 8 pm? But, I am determined to finish this post before my face falls forward into the keyboard. I will do this because this simple and crazy easy recipe is crazy awesome and therefore it must be shared with the world.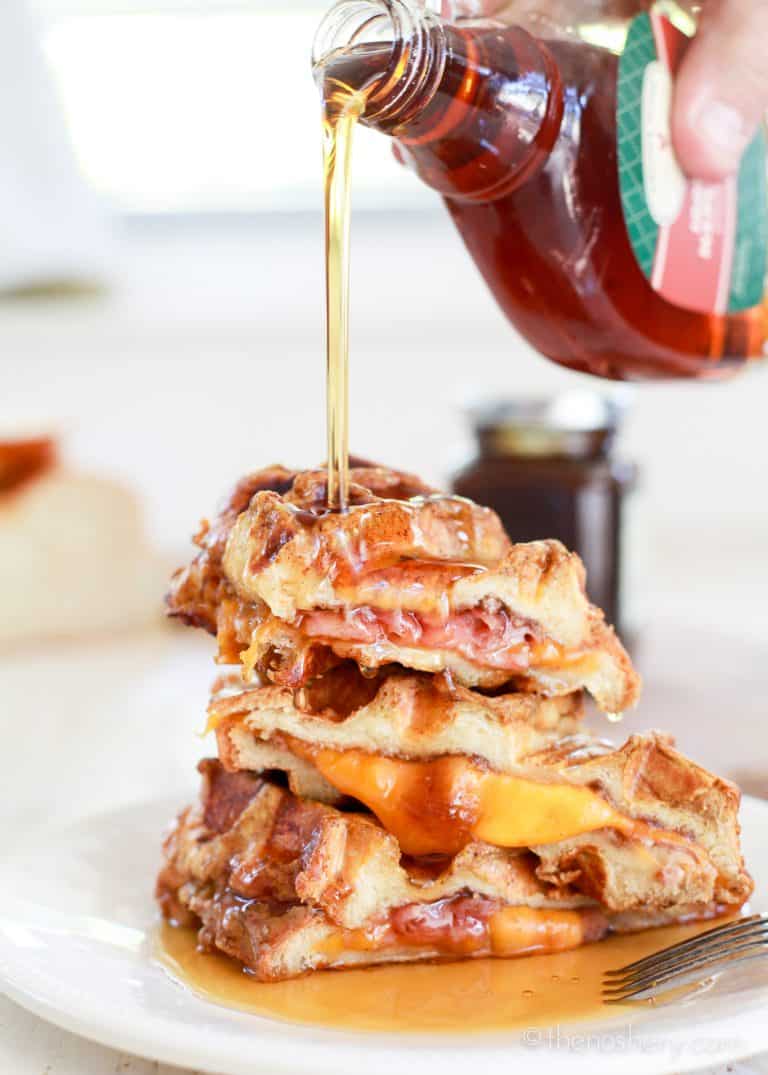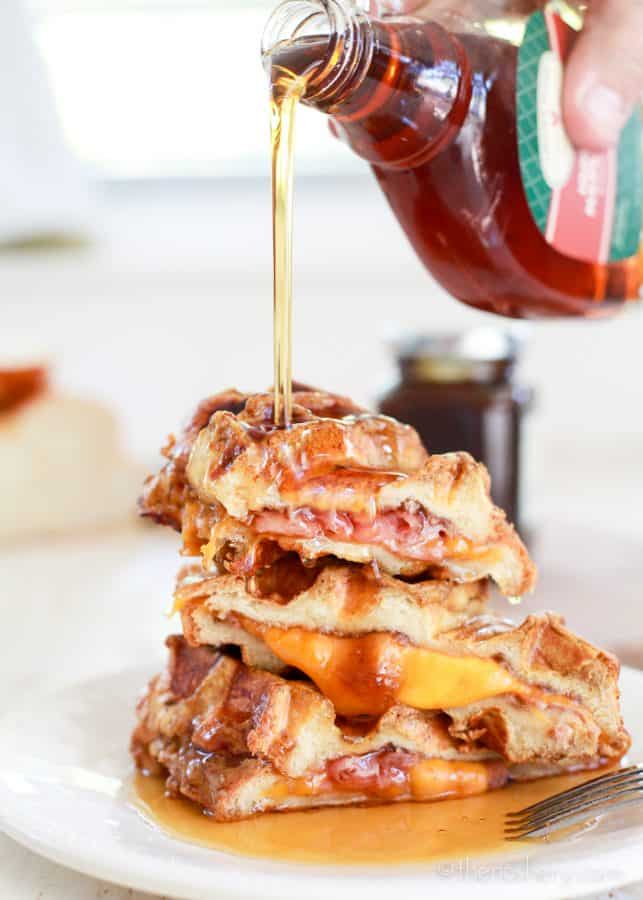 I would like to say that I got this idea simply because I'm so awesome and a freaking genius, but that would not be true and frankly it would be really obnoxious. Don't get me wrong, have a pretty solid amount of self-esteem but I have enough sense to be cool about it.
I got this idea from my mommy. For as long as I can remember she has always eaten her french toast with ham and cheese between two slices. I thought I would take the same concept, but shake it up a bit and give it a little spice.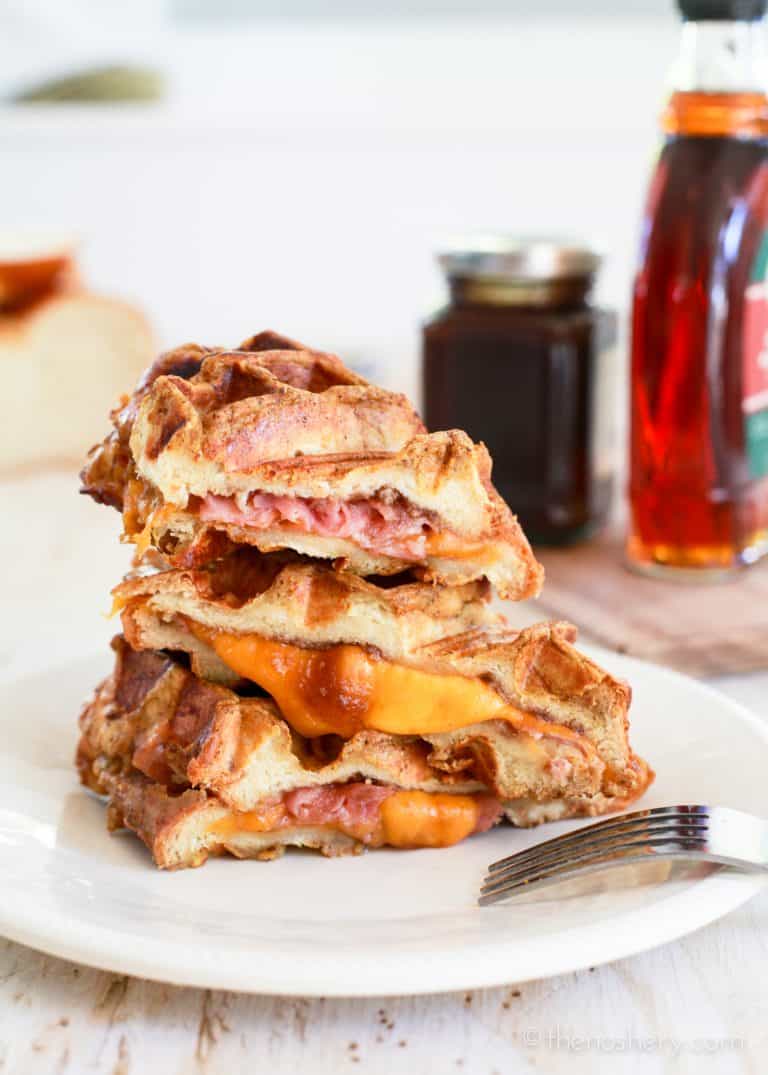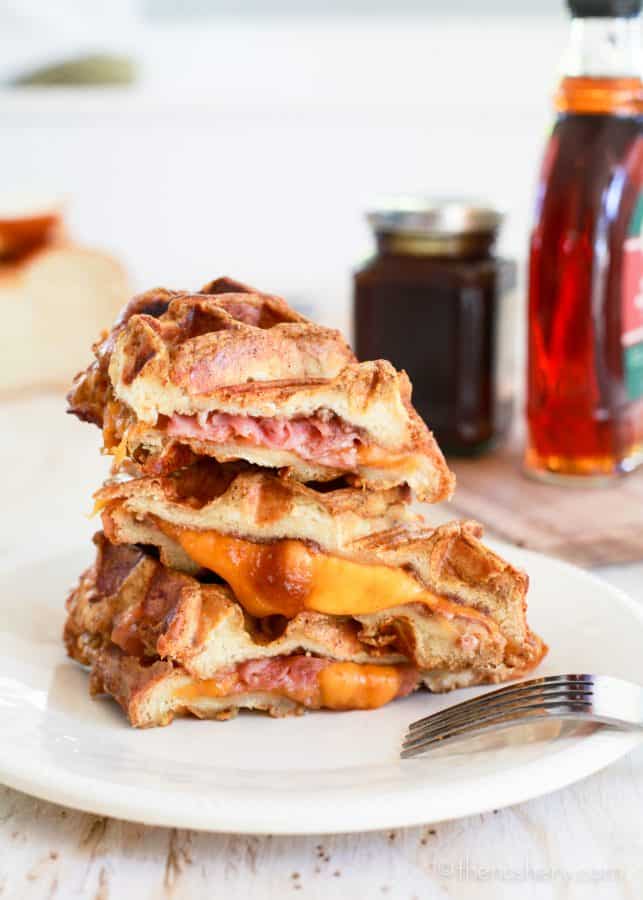 Then I thought to myself, what if someone can't decide if they want french toast or waffles. Why choose? When you can have both!
That's when I decided to take two slices of challah bread, smeared with apple butter, filled with ham and cheddar, dredged in a pumpkin spice mixture and press them in a waffle maker. If you don't have apple butter use your favorite jam and if you don't have pumpkin spice just use a little cinnamon and sugar. Like I always say, feel free to make it your own.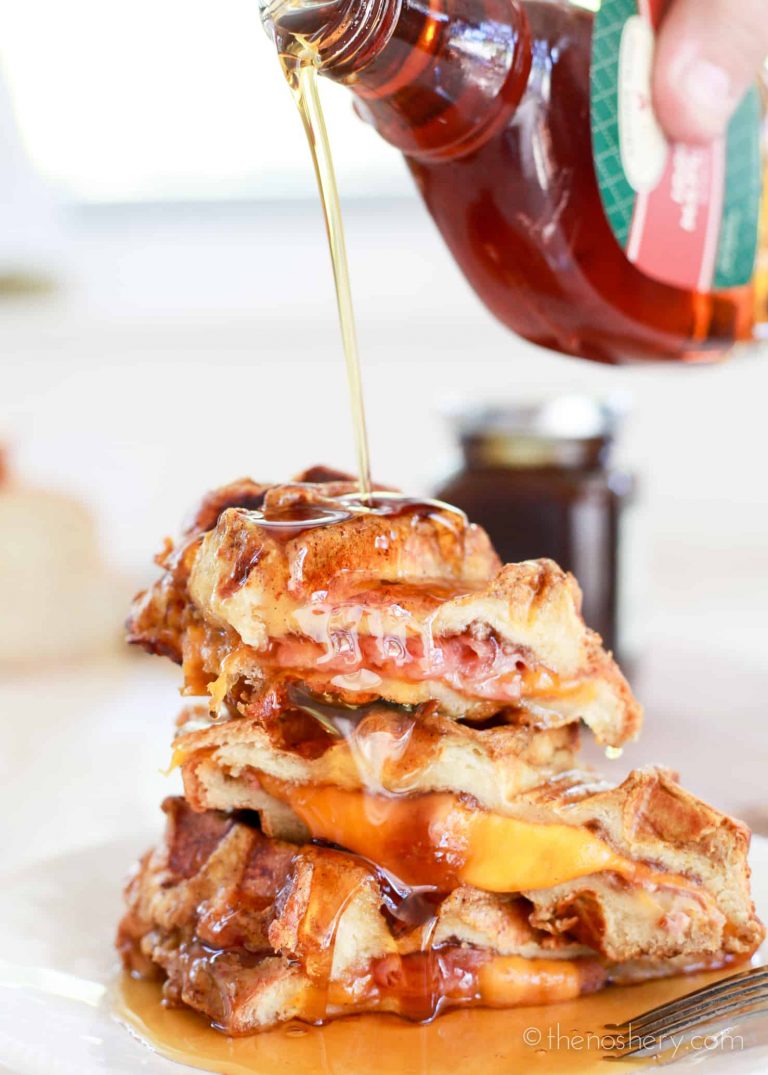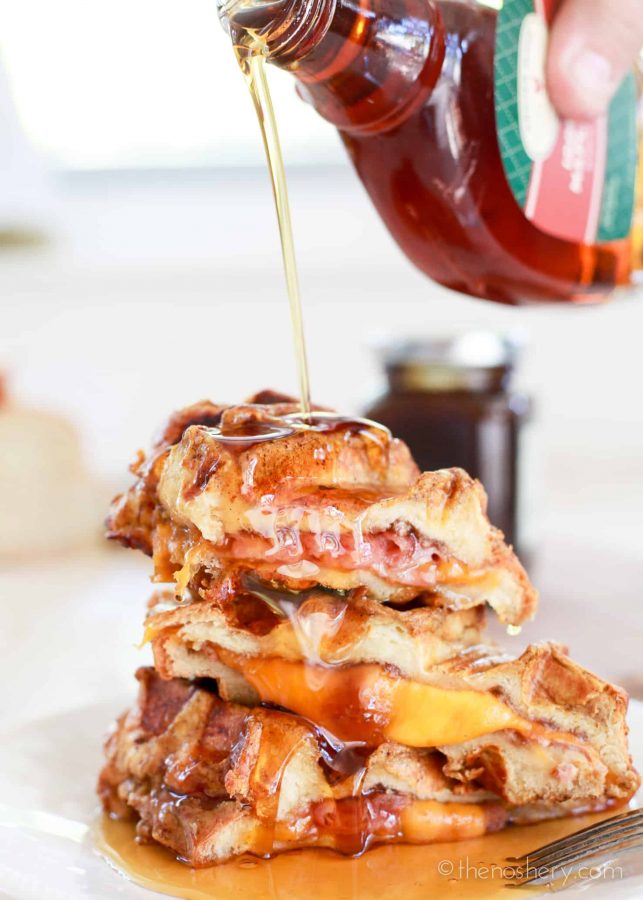 That is right my people! Wait, is that obnoxious? To say, "my people"? Like I am some weirdo, claiming you as my followers.
I guess I answered my question.
That is right my friends! I made Ham and Cheese Stuffed Pumpkin Spiced French Toast Waffles! Say that 5 times fast. It's like I couldn't decide what I wanted so I threw everything in.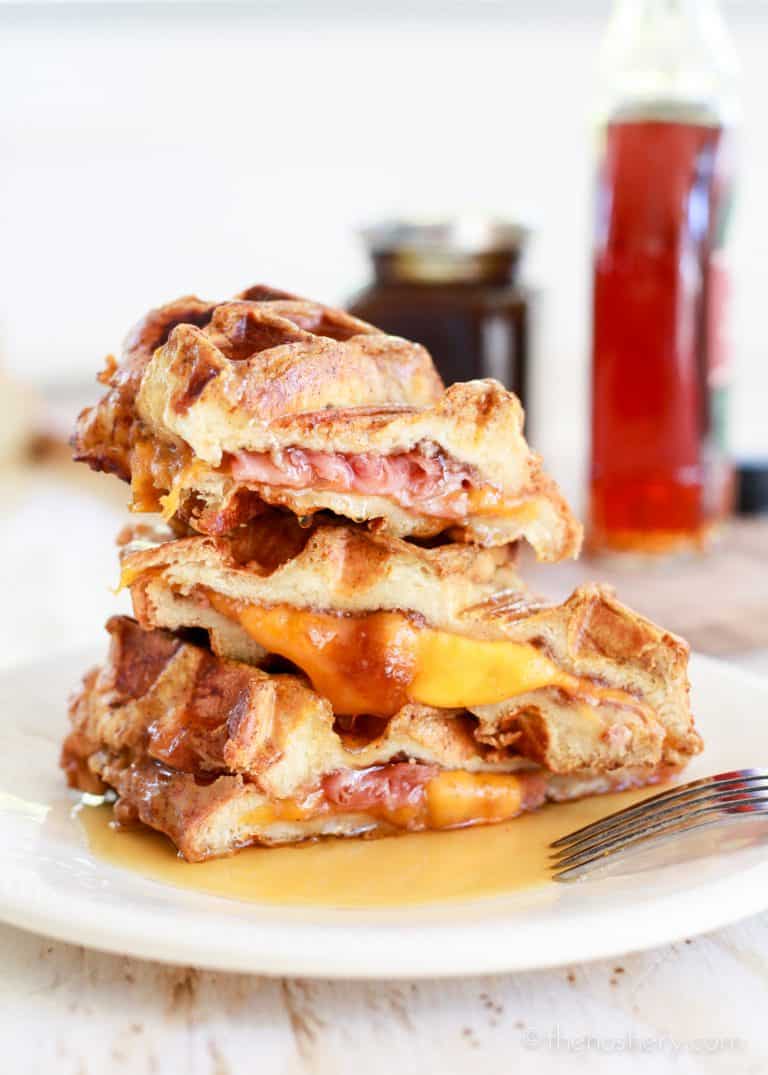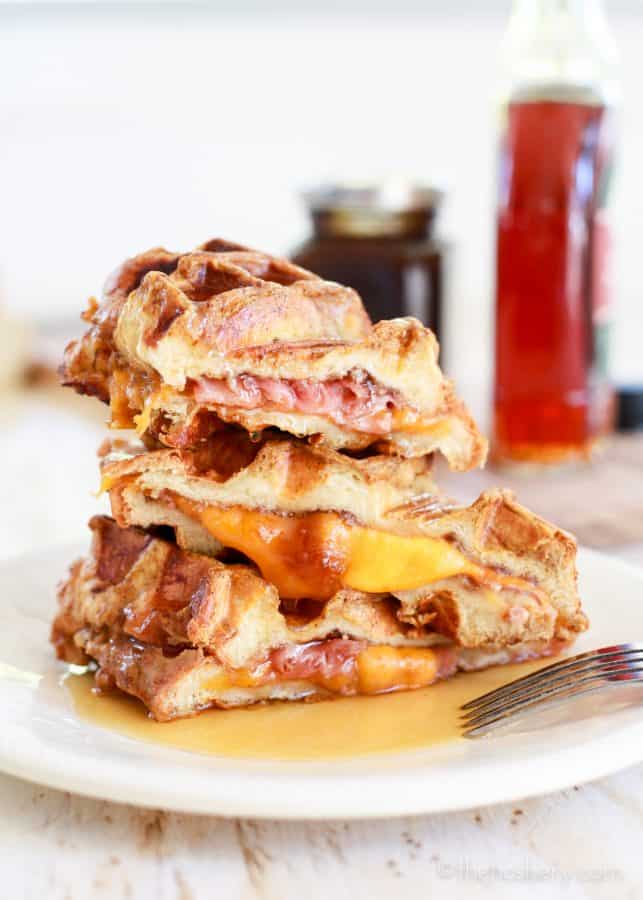 I may not be able to make a decision when it comes to waffles or french toast, but I can tell you this…these are Shut. The. Front. Door. amazing!
Tender challah bread, apple butter, cheddar and ham dredged in pumpkin spiced goodness. But hey, that's not enough, let's drizzle it with warm maple syrup. WHAT!!!
Caution, this is so delicious you can go cross-eyed. I'm just say'n.
Yield: 2
Ham & Cheese Stuffed Pumpkin Spice French Toast Waffles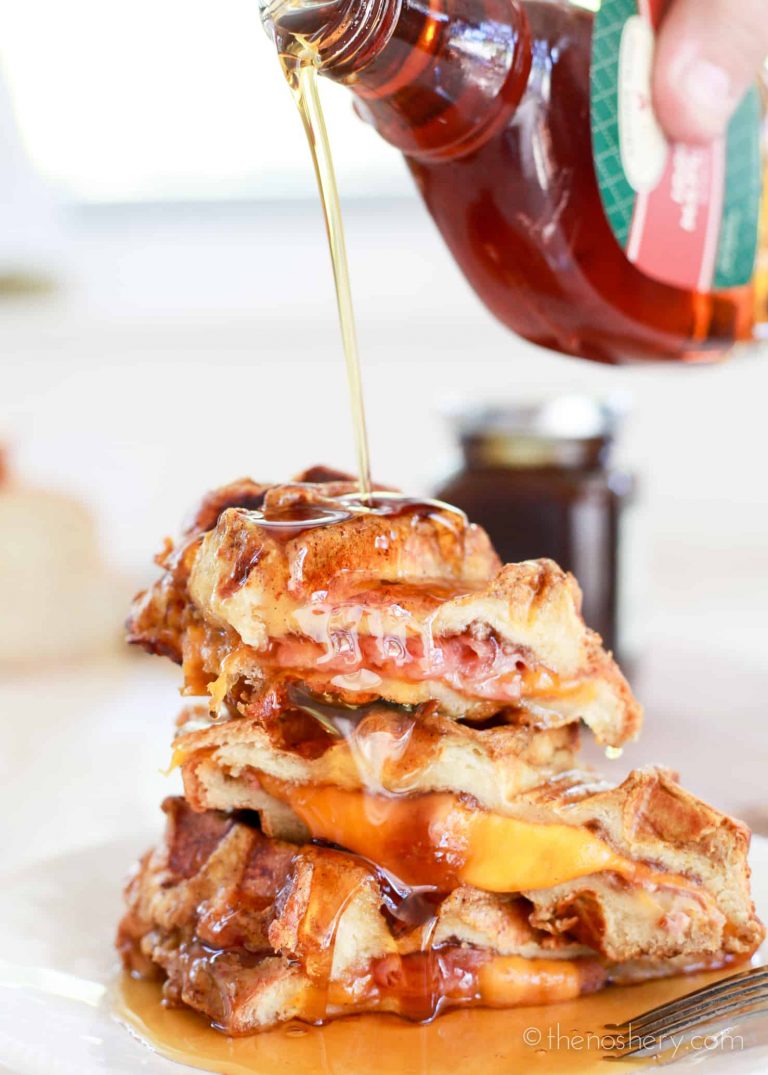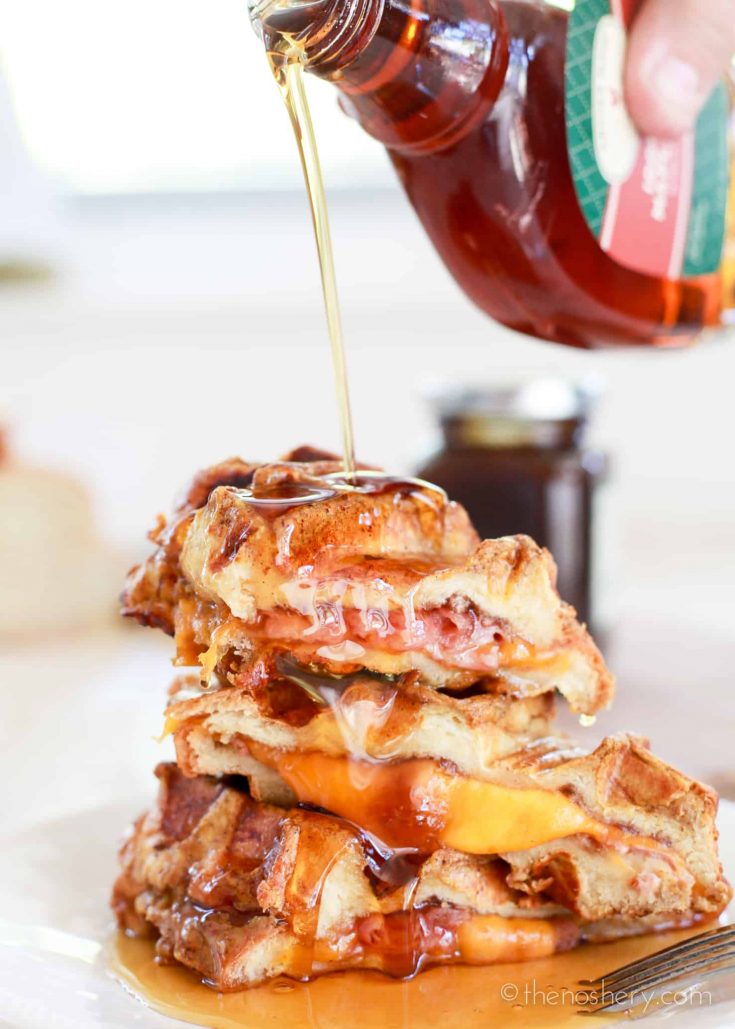 Challah bread, apple butter, cheddar and ham sandwich dredged in pumpkin spiced goodness. Pressed in a waffle maker & drizzled with maple syrup.
Ingredients
4 1/2 inch sliced of challah bread
apple butter
4 slices ham
4 slices cheddar cheese
2 eggs
2 tablespoons pumpkin puree
1 tablespoon brown sugar
1 tablespoon vanilla
Instructions
Plug in waffle maker to allow time to get hot.
Spread apple butter on to challah bread slices, lay ham and cheese slices on a slice of challah bread apple butter side up. Top with another slice of challah, apple butter side down. As if assembling a sandwich. Set aside.
In a bowl whisk together, eggs, pumpkin, sugar, vanilla and pumpkin spice, until well combine. Pour mixture into a plate. Dredge sandwiches in egg mixture, making sure to coat all sides and edges.
Spray waffle maker with non-stick butter spray. Place french toast in waffle maker, close to press. Hold closed and press until french toast is golden brown, about 2-3 minutes
Transfer to plate and serve with maple syrup.
Recommended Products
As an Amazon Associate and member of other affiliate programs, I earn from qualifying purchases.
Nutrition Information:
Yield:
2
Serving Size:
1
Amount Per Serving:
Calories:

605
Total Fat:

32g
Saturated Fat:

14g
Trans Fat:

1g
Unsaturated Fat:

13g
Cholesterol:

338mg
Sodium:

1841mg
Carbohydrates:

25g
Fiber:

1g
Sugar:

12g
Protein:

51g