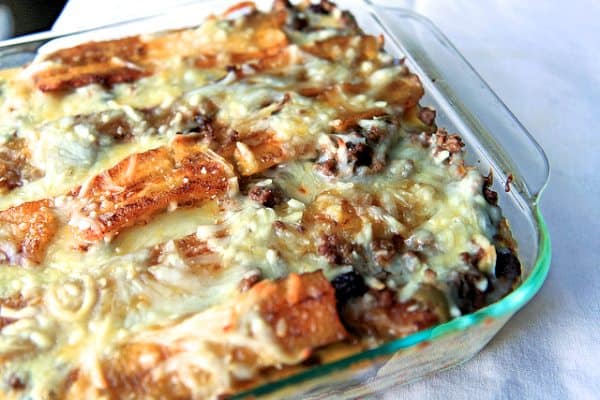 Every once in a while I just have to go back to my roots.  I just have to do some down home cooking.  This is how Puerto Ricans do lasagna….Oh Yeah!  When I was in Florida my mother-in-law had suggested that I make a patelón to post on my site.  Why I haven't thought of it sooner is beyond me, because it has to be one of my favorites.  It has the perfect combo of savory and sweet, of juicy and cheesy, of wanting to lick your plate and then lick your face………………………………………Sorry went into a trance of savory memories.  Ohhhh so good.
This a disclaimer, I take no responsibility for enlargement of waist lines, addition of dimples to the thigh and buttocks area or lectures from your cardiologist.  Proceed at your own risk.
You need 1 lb of ground beef.  I guess you can get the lean ground beef but why deprive yourself of all the juicy tastiness.
Mince 3 cloves of garlic, dice 1 onion, 1 green pepper and  1/2 cup of chopped cilantro. Toss it all into the bowl with the ground beef.  I just love the green in this picture.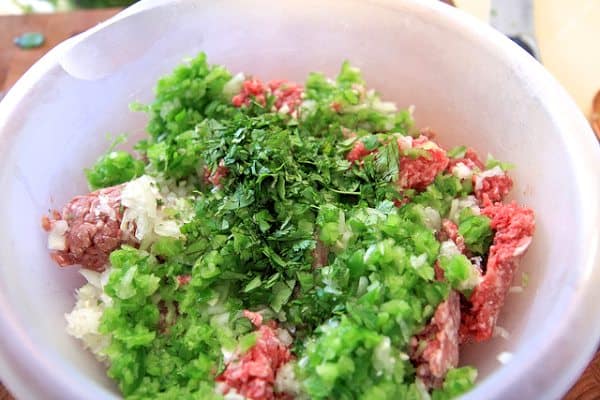 Add 2 tsp of adobo, 2 tsp of oregano, 2 Tbs of vinegar and 1 envelope of Sazón.   You can find Sazón in an Latin grocery or in the ethnic aisle of your grocery.
Mix it all together………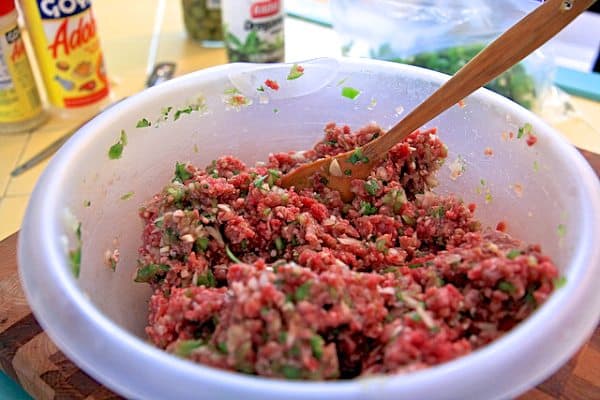 Heat a heavy skillet at a medium-high heat with 2 Tbs of olive oil.
Toss in your beef.  When the beef browns and you get some juiciness add 2 bay leaves, 8 olives cut in half, 1/2 cup of raisins and 1/4 cup of tomato sauce.
Combine well and let it simmer for 10 minutes.  Then remove from heat and set aside.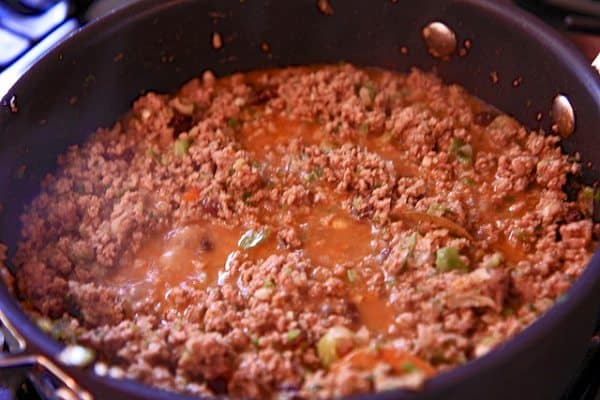 Now step 2.  Get yourself 4 really ripe plantains.  They look like they are going bad don't they?  Well this is how you want them, because this is when they are at their sweetest.
Peel your plantains.  Don't know how go here.   See how golden yellow they are.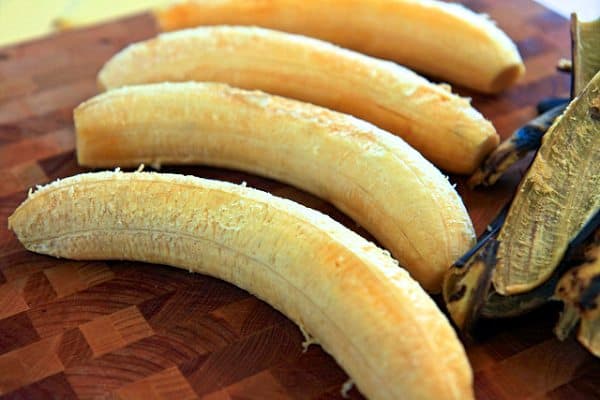 Slice them into long strips.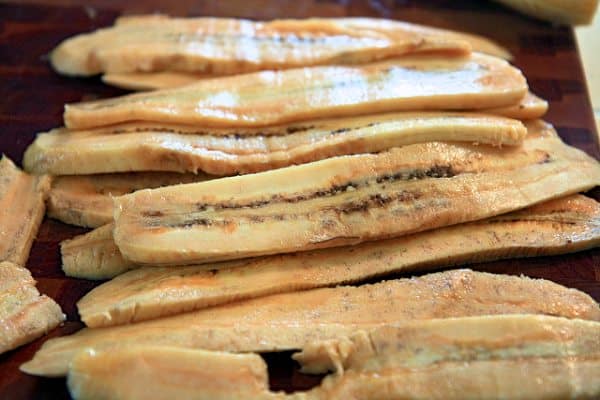 Heat a large skillet with vegetable oil, just enough to cover the bottom of your pan.  Fry the plantains till they are a golden and just a little crispy.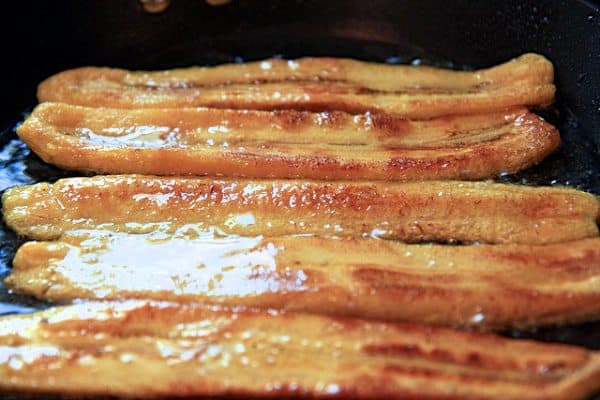 Mmmmmm, resist the temptation to eat them because you will need them soon.  Ok just one.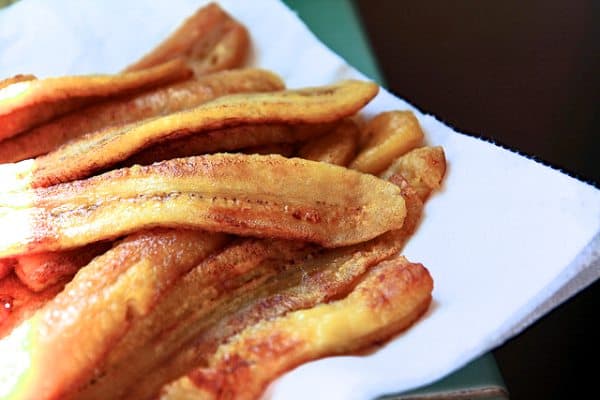 Now take a square pan and butter it up. Your first layer is plantain.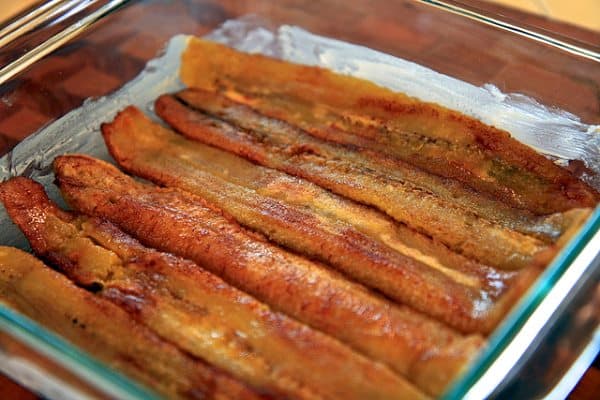 Then toss some ground beef over the plantains.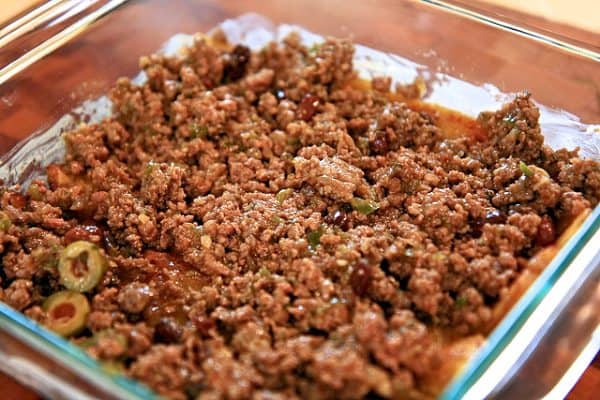 Then a fist full or about 1 cup of a white cheese,  I used Monterrey jack.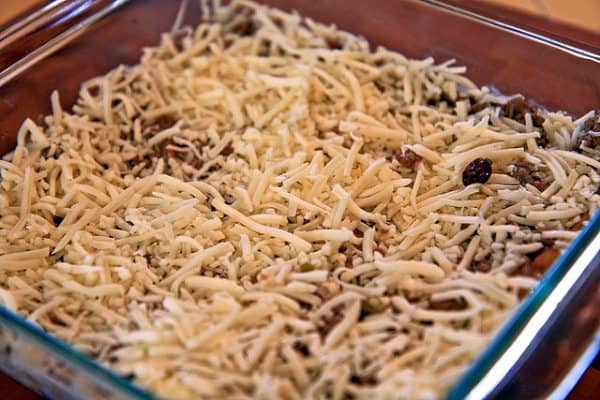 Repeat the process,  you want to finish with cheese and plantains on top.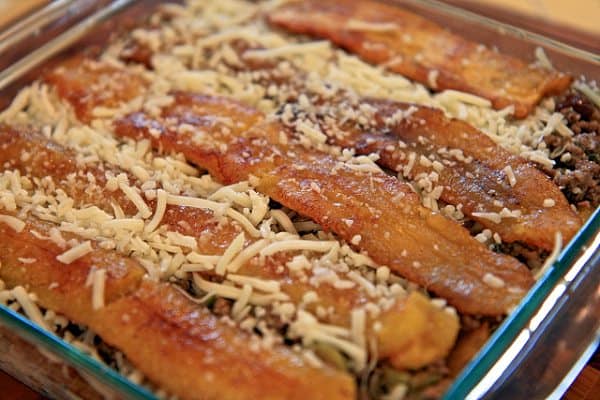 Then take 3 eggs and beat them with 2 Tbs of milk.  Pour the egg evenly over the the dish, let it sit for a few minutes allow the egg to soak in.  If you want sprinkle some more cheese on top.
Bake in the oven at 350 degrees for 20 minutes.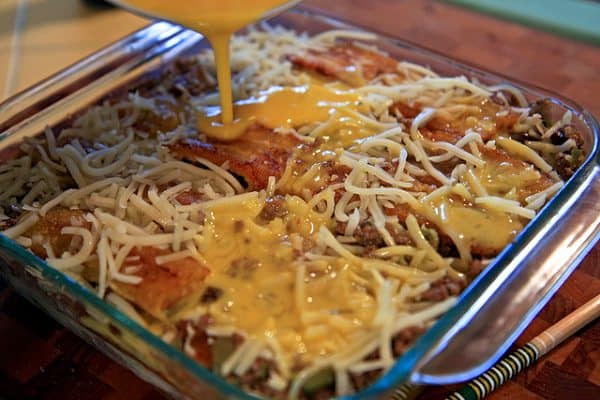 TA-DA!  Deliciousness is before you.  Go ahead reach out and touch it, it won't hurt you…..well it won't bite.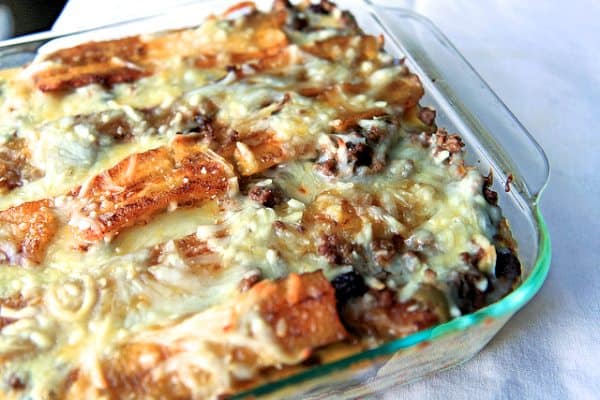 That is how a Puerto Rican does lasagna *puff out chest, beating chest* Hoo-ra!  You know y0u want some!
Pastelón (Sweet Plaintain "Lasagna")

Ingredients

1 lbs ground beef
1 onion,minced
3 gloves garlic, minced
1 green pepper, minced
½ chopped cilantro
2 tsp adobo
2 tsp oregano
2 Tbs vinegar
1 envelope sazón
2 bay leaves
8 green stuffed olives, halved
½ cup raisins
¼ cup tomato sauce
4 plantains, peeled and sliced into strips
3 eggs
2 Tbs milk
2 cups white shredded cheese
vegetable oil
salt

Instructions

Pre-heat oven to 350 degrees. Butter square pan with 1 tbs of butter.
Combine, beef, onion, pepper, garlic, cilantro, adobo, oregano, vinegar and sazon. Mix well.
Heat a large skillet at medium-high heat with 2 Tbs of olive oil, add meat mixture.
Cook beef until brown and of the juices bubble up, add bay leaves, olives, raisins and tomato sauce. Mix and let simmer for 10 minutes, set aside.
Heat a large frying pan with vegetable oil, just enough to coat the bottom. Fry plantains for 2-3 minutes on each side or until golden and slitely crispy. Drain on a plate with paper towel, set aside.
To assemble pastelon: Take your prepared square pan, start with a layer of plantains, then beef, then a fistful of cheese, repeat. You want to finish with cheese and plantains. Beat 3 eggs with 2 Tbs of milk, pour over the pastelón. Let it sit for a minute allowing the egg to soak in. Top off with just a bit more cheese.
Bake in oven at 350 degrees for 20 minutes.
Eat like a pig, scarf it down, don't share with anyone and enjoy!