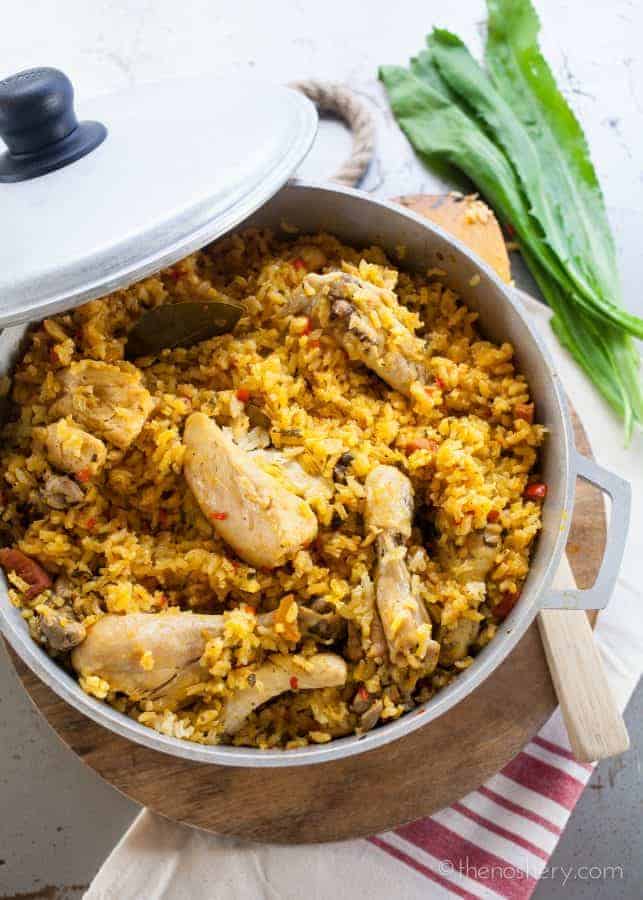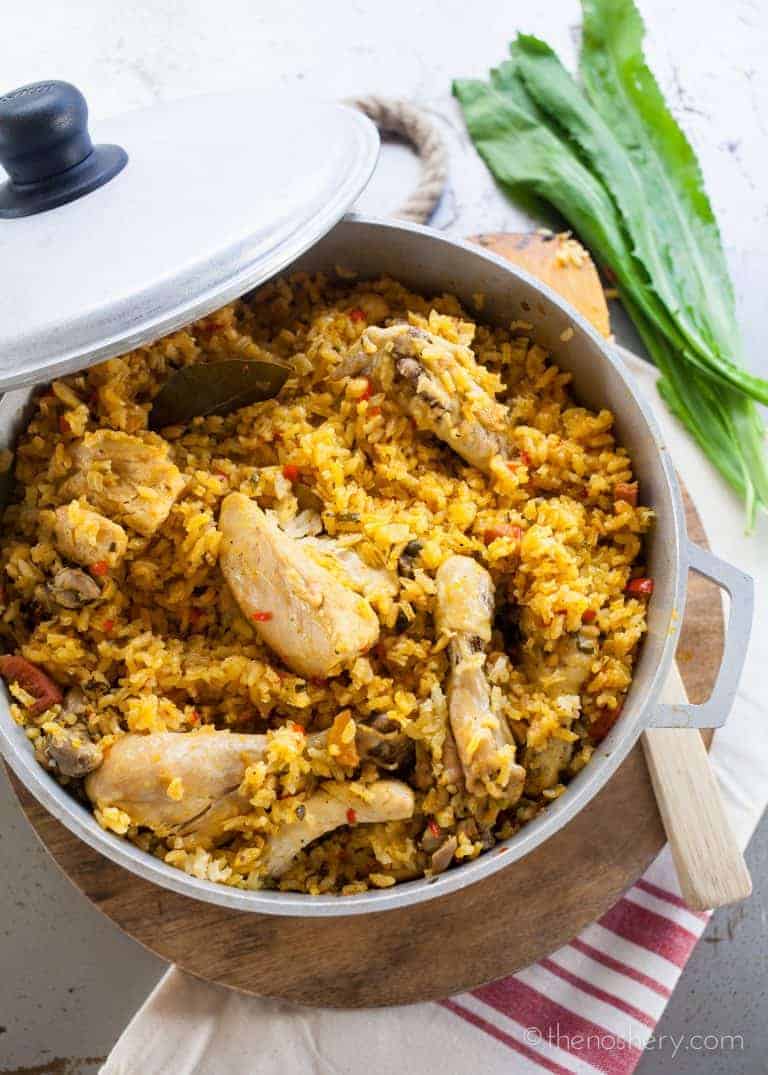 Do I have a treat for you! We all have a dish that brings up feelings of nostalgia and comfort. For me, one of those dishes is arroz con pollo (chicken and rice). My mother would make this when I was little. I remember coming home from school and being welcomed by the aroma of savory rice and chicken.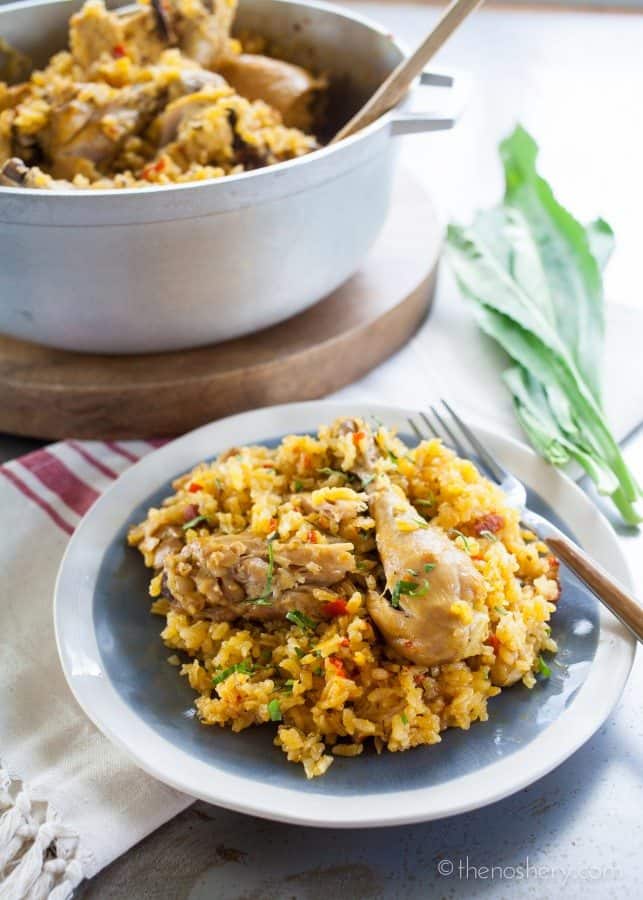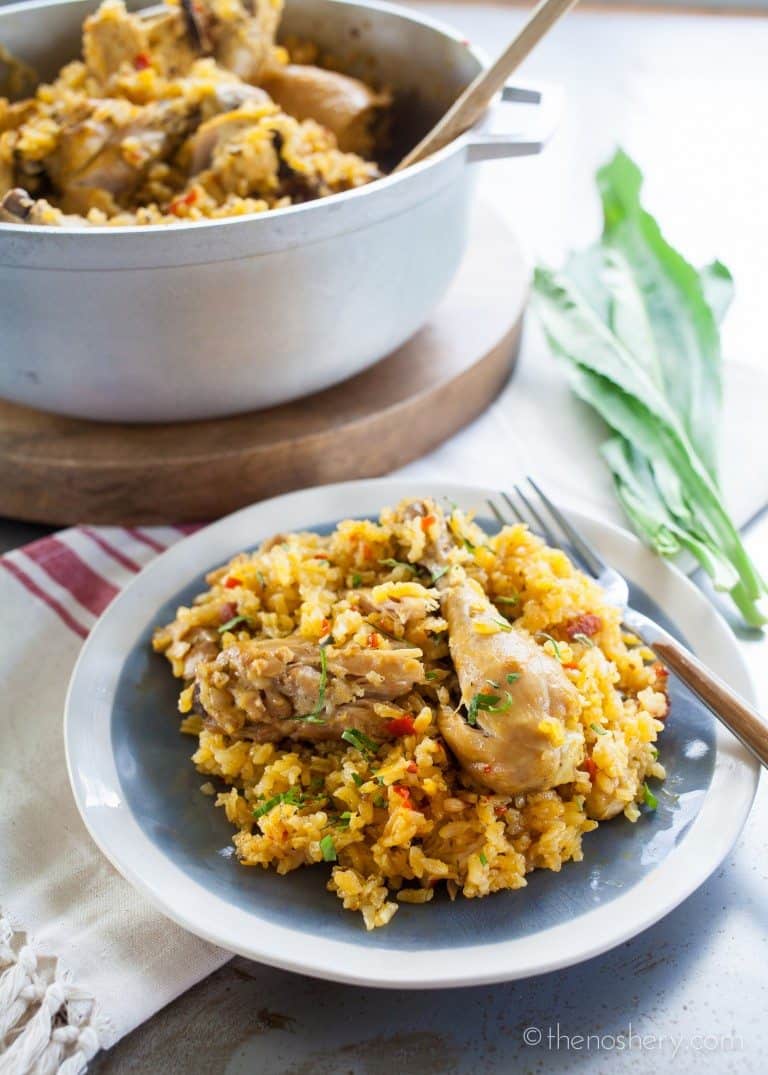 The trick to this dish is layering flavors on top of flavors. Although this is a one pot dish, layering the flavors gives every element of the dish a chance to develop. It's important to take the time to layer and develop flavor to keep the flavors of this one pot dish from being a muddled. This is why it's important to take the time to saute the vegetables, brown the chicken and toast the rice.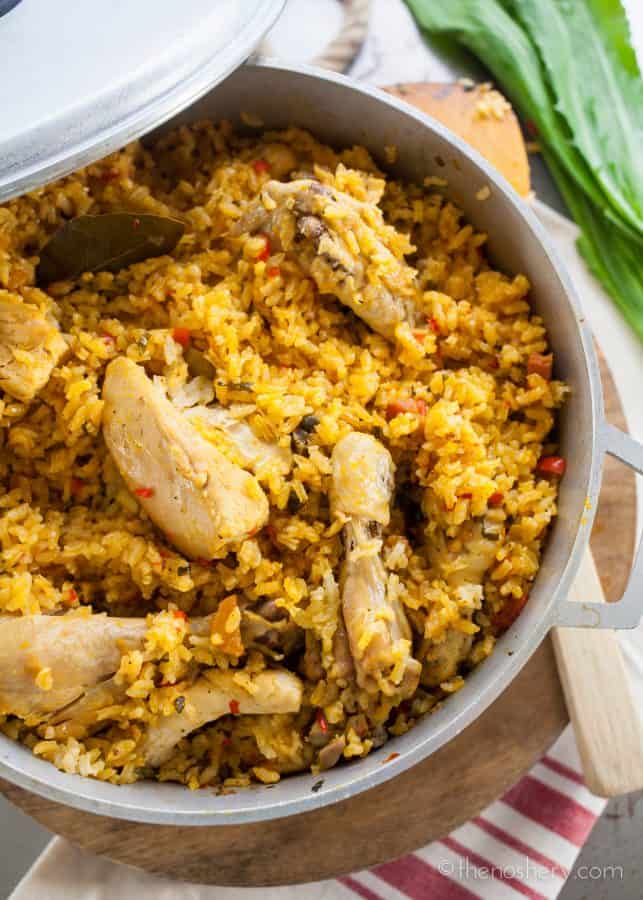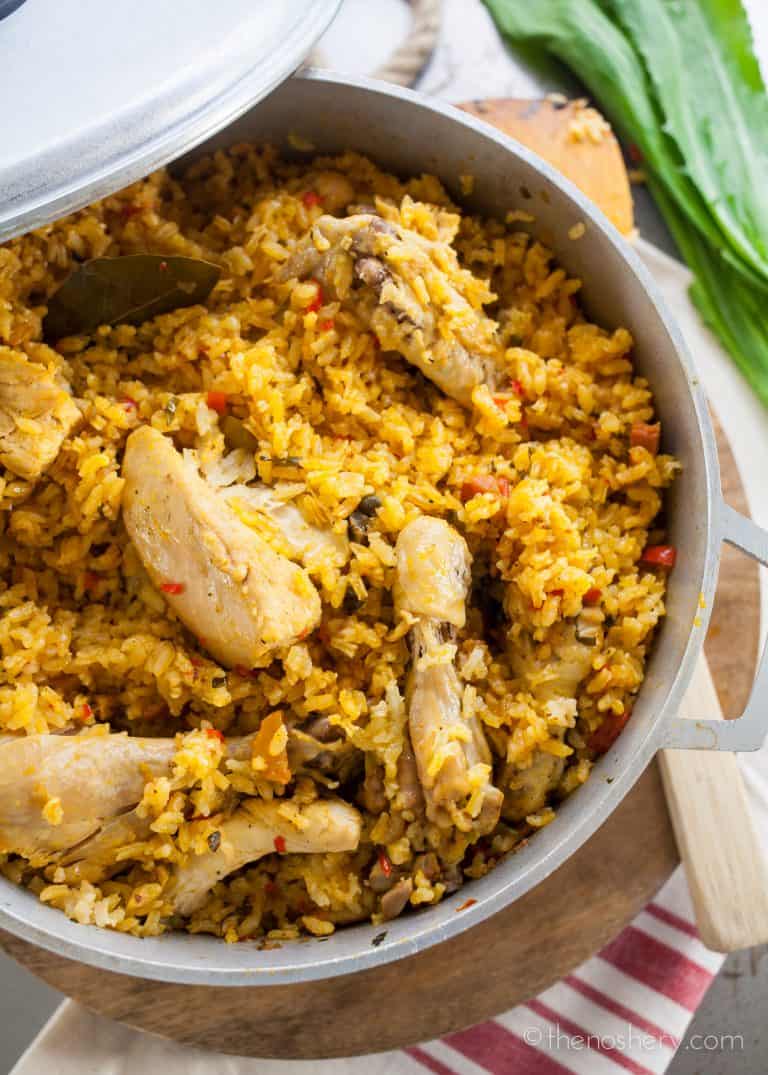 Arroz con pollo is a classic Puerto Rican comfort food. But, many Latin countries have their own versions of arroz con pollo. The seasoning, types of rice and aromatics may vary but, they all have chicken and rice. This arroz con pollo recipe is Puerto Rican style all the way. It's got sofrito, medium grain rice, achiote oil and it's prepared in a caldero. Just like abuela made it.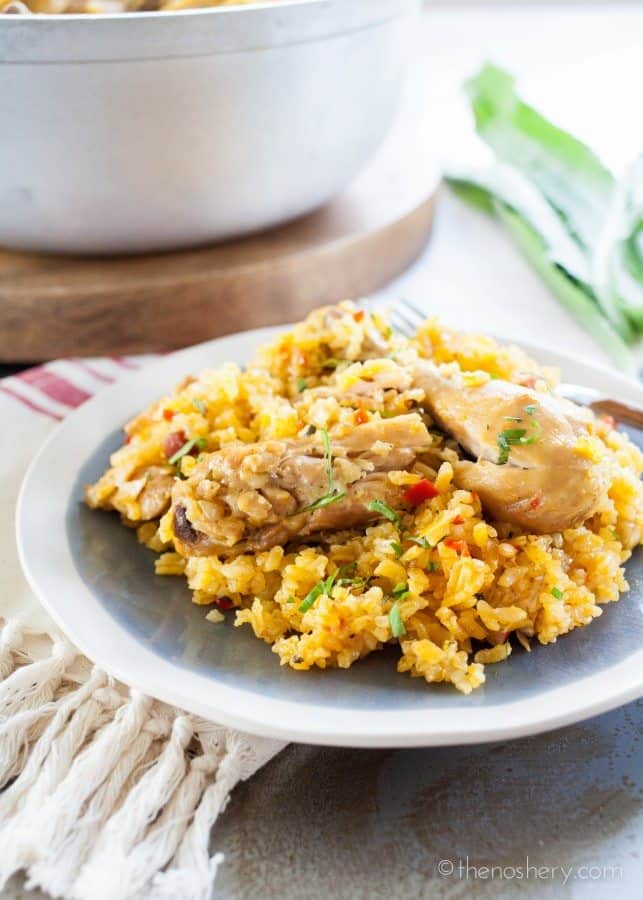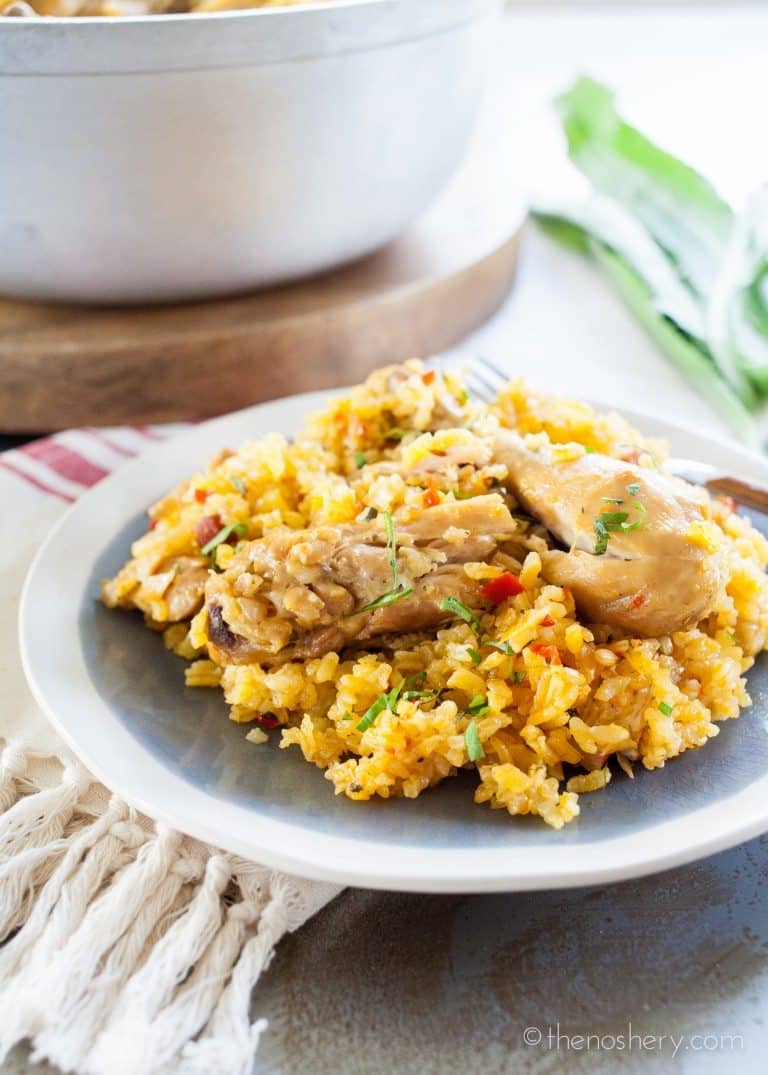 Puerto Rican cuisine has many rice dishes. It's kind of crazy how many variations of rice there are but, it goes to show that making rice is a sort of art. Many of my tip and tricks I shared for making arroz con gandules can be used to make arroz con pollo and most Puerto Rican rice recipes. I recommend checking them out to help make the best rice ever. Not that I am bias.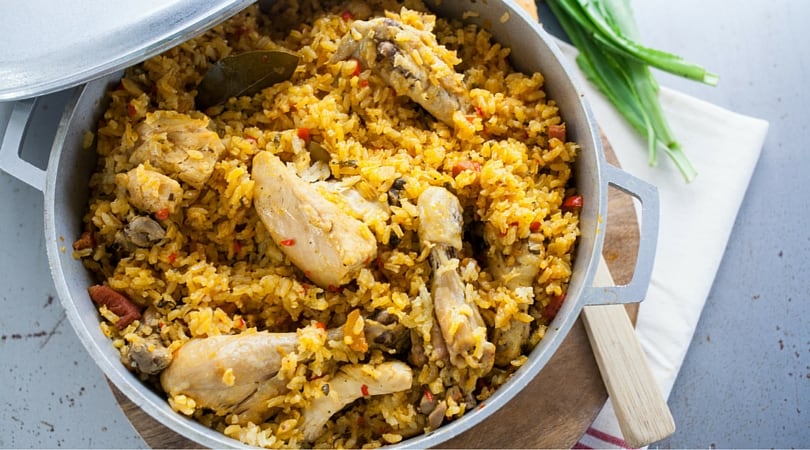 Arroz con Pollo (Chicken and Rice)
A classic Puerto Rican comfort food.
Ingredients
1 whole chicken, cut into 8 pieces and remove skin*
¼ cup diced salted pork
2½ cup medium grain rice, rinsed
2 large bay leaves


Sofrito
1 medium onion
4 culantro (recao) leaves
1 red bell pepper
3 garlic cloves, chopped
1 tablespoon capers
12 Spanish olives, chopped


Adobo (Seasoning)
1 tablespoon kosher salt
2 teaspoon ground garlic powder
1 teaspoon ground cumin
1 teaspoon ground coriander
1 teaspoon onion powder


Achiote Oil
1 cup olive oil
2½ tablespoons whole achiote (annato) seeds
Instructions
Achiote Oil


Heat the oil and seeds in a small saucepan over medium heat just until the seeds begin a steady bubble and oil turns a bright orange color. Remove the saucepan from the heat and let stand for a minute. Strain the oil. Store in half pint mason jar.


Arroz con Pollo


Combine adobo seasoning in a small bowl. Cut chicken breasts in half, sprinkle seasoning over all the chicken and toss until evenly coated, set aside.


Heat a 4-quart caldero or shallow heavy bottom pot over medium heat. Add salted pork, chicken wings and 1 tablespoon of water. Slowly render the fat from the pork and chicken wings, about 10 minutes or until pork is crispy. Transfer wings and pork to a plate.


Raise the heat to medium-high. Working in batches brown chicken on all sides, about 3 minutes per side. Transfer to plate and set aside.


Add sofrito ingredients and 3 tablespoons of achiote oil to the pot. Saute sofrito until tender, 5 - 8 minutes. Add rice and pork to the pot, mix until rice is evenly coated with oil. Toast the rice, stirring for 3 minutes.


Add chicken to the rice and toss, working the chicken into the rice. Add 3 cups of water and bay leaves. Make sure that the chicken and rice are covered by the water. Bring to a boil and let the water reduce until the rice is just becoming visible. Cover with foil and lid, reduce heat to low and simmer until rice is cooked through, about 25 - 30 minutes.


Fluff rice with a fork and serve.
68