Today I am over at Southern Fairytale sharing some pretty sweet Mini Apple Spiced Rum Cakes with Apple Cider Caramel Glaze for Bake, Craft & Sew-along. Who's not going to love you after getting one of these babies?  Pass these around to your neighbors, friends, family or co-workers and you will be the most popular kid on the block.

I am excited to  participate in the bake portion of  Handmade Holidays: Bake, Craft & Sew – along (#bakecraftsew).  Which is 30 days of inspiration. 30 days of deliciousness. 30 days of craftiness. 30 days of sewing-ness.  This fabulous blog event is hosted by the lovely Rachel of Southern Fairytale (bake edition), Cindy of Skip to My Lou (sew edition) and Kelly of According to Kelly (craft edition) for the FOURTH YEAR in a row.
These little cakes are tender, sweet and have just the right amount of rum kick.  Make little ones as gifts or make one big bunt cake for yourself.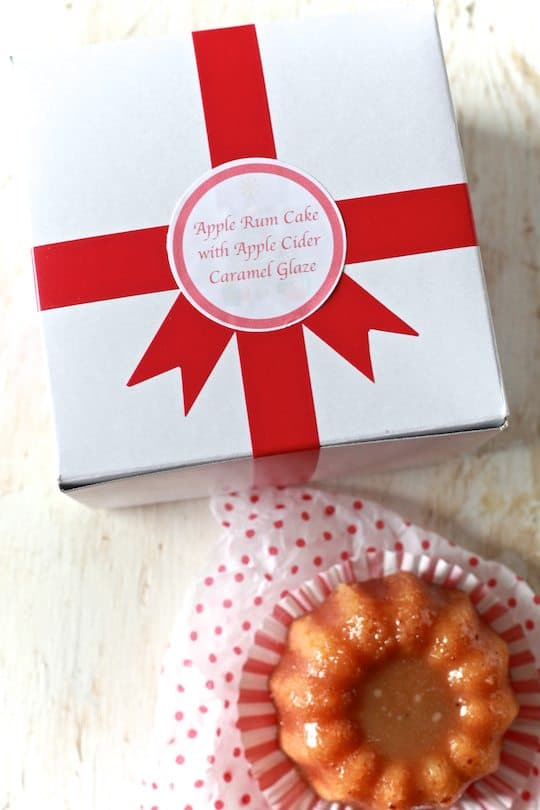 Get the recipe here! But wait, there is more, I also got some labels for your tasty gifts. Use Avery 22807 or download the images to create your own!
Oh and don't forget to enter the giveaway!  Like a really SWEET giveaway!!
Spiced Rum Apple Cake with Apple Cider Caramel Glaze + Giveaway!
Ingredients
Cake
2 cups flour
1½ cups sugar
½ cup unsalted butter, softened
½ cup instant vanilla pudding mix, dry
2 teaspoons baking powder
1 teaspoon salt
½ cup vegetable oil
½ cup milk
4 large eggs
½ cup spiced rum
3 apples, peeled & grated
2 teaspoons vanilla
butter for greasing pan
flour for dusting pan
Rum Syrup
½ cup unsalted butter
¼ cup water
1 cup sugar
½ cup spiced rum
½ teaspoon vanilla
Caramel Glaze
1 cup apple cider
3 tablespoons butter
½ cup firmly packed light brown sugar
2 tablespoons heavy cream
Instructions
Preheat oven to 325 °F. Generously grease cake pan and lightly flour. Set aside.
Place all of the cake ingredients except the rum and vanilla in the bowl of a stand mixer. Beat on medium speed for 2 minutes, scraping down the sides of the bowl after one minute.
Add the rum, and vanilla and beat for another minute. Pour the batter into the prepared pan, filling the molds ¾ of the way.
Bake cakes for 25 to 30 minutes or until a cake test comes clean. Leave the cakes in the pan to cool slightly while you make the soaking syrup.
In a medium-sized saucepan combine the syrup ingredients, except vanilla. Bring to a boil then reduce to a simmer and cook for about 5 to 8 minutes, until the syrup thickens slightly. Remove from the heat and stir in the vanilla.
Spoon a tablespoon of syrup over the cakes while still in the pan. Allow the syrup to soak in, and then repeat again and again until all the syrup is used.
Cover the pan loosely with plastic wrap and allow the cakes to sit out overnight to cool completely and soak in the syrup. Loosen the edges of the cake and invert on to a cooling rack over a sheet pan lined with parchment paper.
Pour apple cider into sauce pan, bring to a boil. Boil until reduced by half. Add remaining caramel ingredients to sauce pan and bring to a boil. Boil for 10 minutes,occasionally swirling the pan. Drizzle over cakes.
Notes
Recipe will also make 1 bunt cake. Bake at 325 for 50 to 55 minutes.
Thank you to Epiphanie Bags, Ninja Kitchen , Design Chicky and Momables for sponsoring this year's Handmade Holidays: Bake, Craft, Sew Along!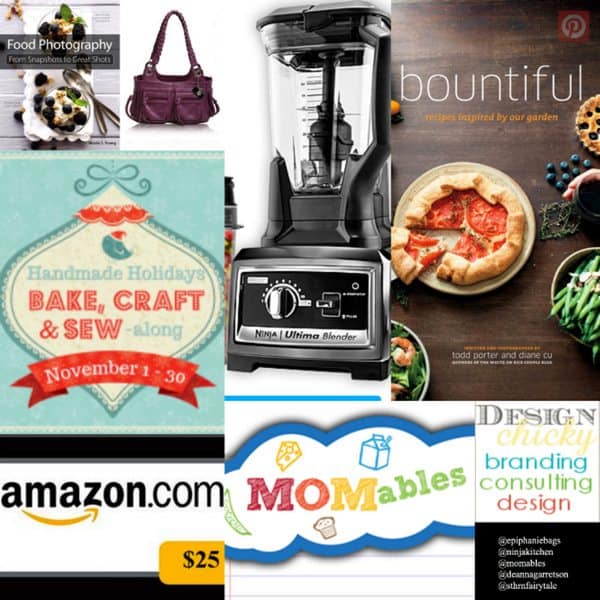 Here is the giveaway run down!
Make sure that you follow #bakecraftsew on Twitter, subscribe to each of our hosts or just click on the button in the sidebar so that you can keep up with all the Homemade Holiday posts coming up this month, and for your chances to enter to win the goodies above!!!!