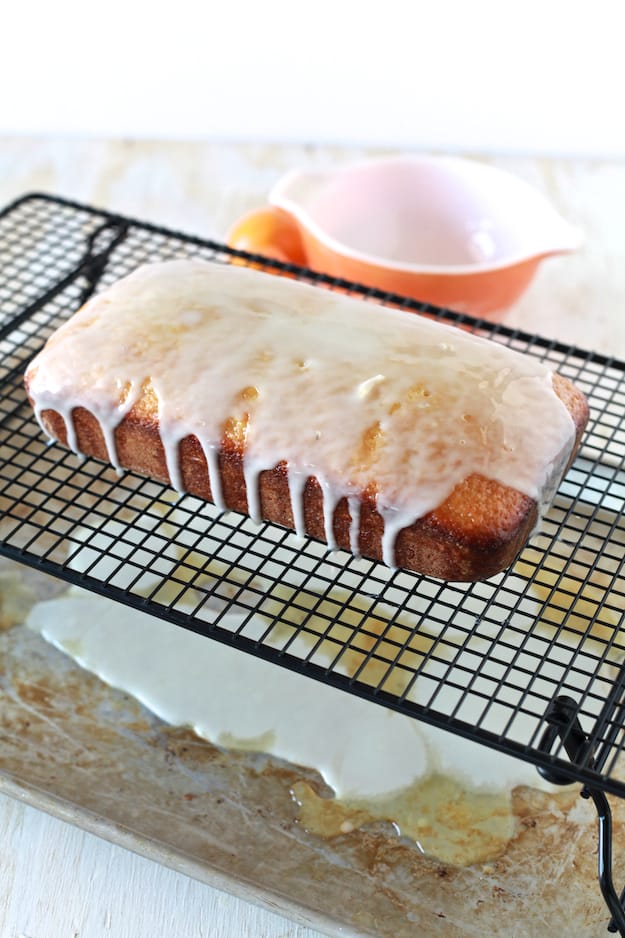 Have you ever had a bite of cake that makes you groan with joy and satisfaction? I know you know what I am talking about. You take one bite, and it throws open its arms of dessert love beckoning you to eat more. I'm telling you that you can't stop with just one bite; you have to have it all! This is one of those cakes. A Meyer lemon pound cake that will change your life.
I can appreciate a generous slice of chocolate cake, especially if it's topped with peanut butter frosting. I am cool with a traditional yellow cake and chocolate frosting. But, if you want to make my heart flutter it's with a slice of lemon cake. Citrus desserts make me weak in the knees and all swoony.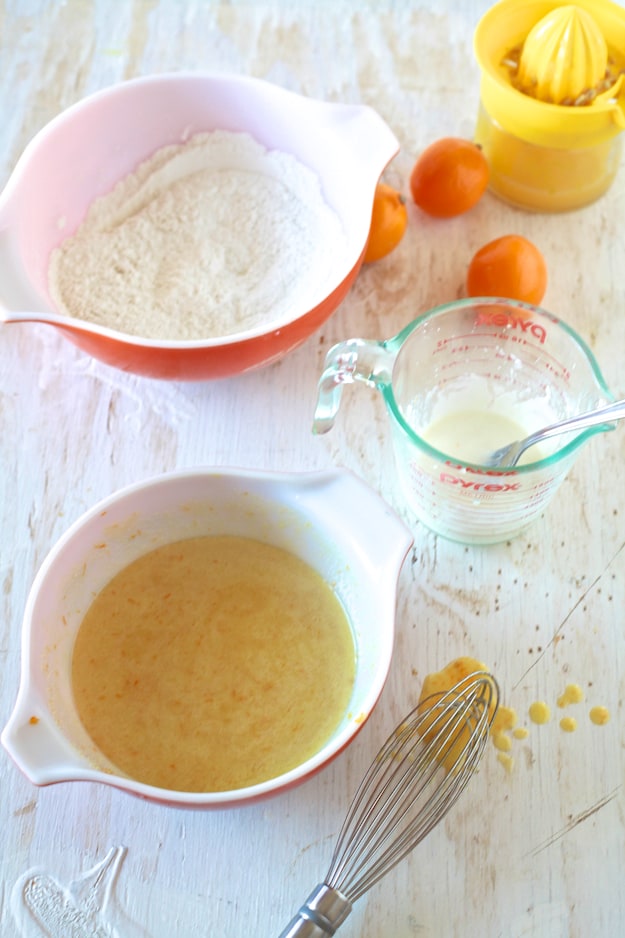 If you visit here regularly, you're probably thinking, "This woman gets all swoony over everything!" And, you know what? You are pretty much right. I love all food, which is why I am a food blogger with a little extra junk in the trunk. Call it an occupational hazard. Which is why I am busting my tail four times a week at Zumba class crying for my mama. It's also why I walked an extra 20 minutes on the treadmill to burn enough calories for a bowl of chocolate Chex with almond milk the other day. Apparently I am motivated by food. So embarrassing!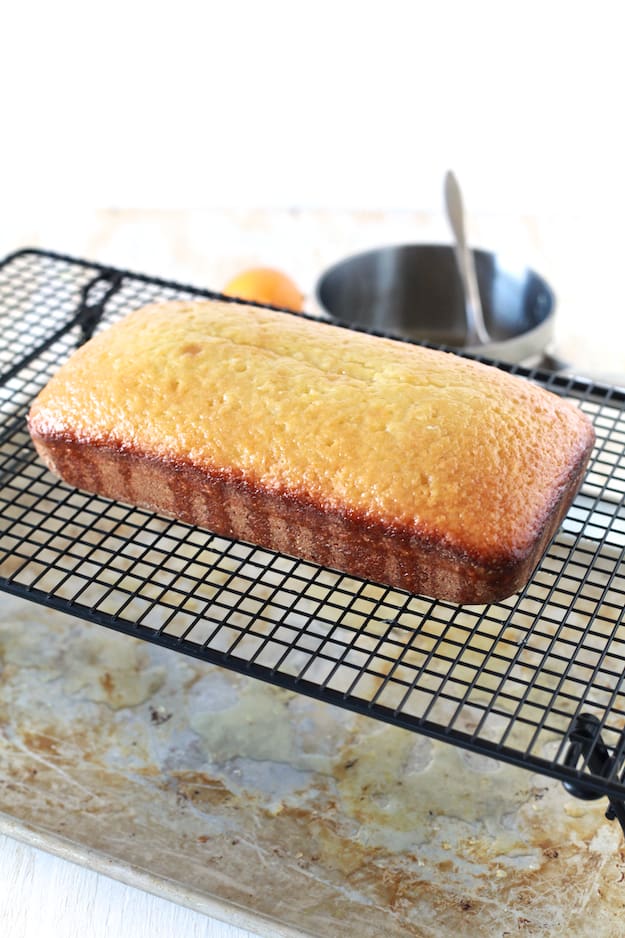 Meyer lemons are gems because they have a beautiful balance of sweetness and tart. And, in my humble opinion make the best lemon cakes. Keep your eyes peeled next time you're at the grocery store for Meyer lemons. While I was at the store yesterday, buying toothpaste, I spied a beautiful bag of Meyer lemons and had to bring them home. This is my typical MO, walking in for toothpaste leave with fresh produce, lamb chops, and French butter.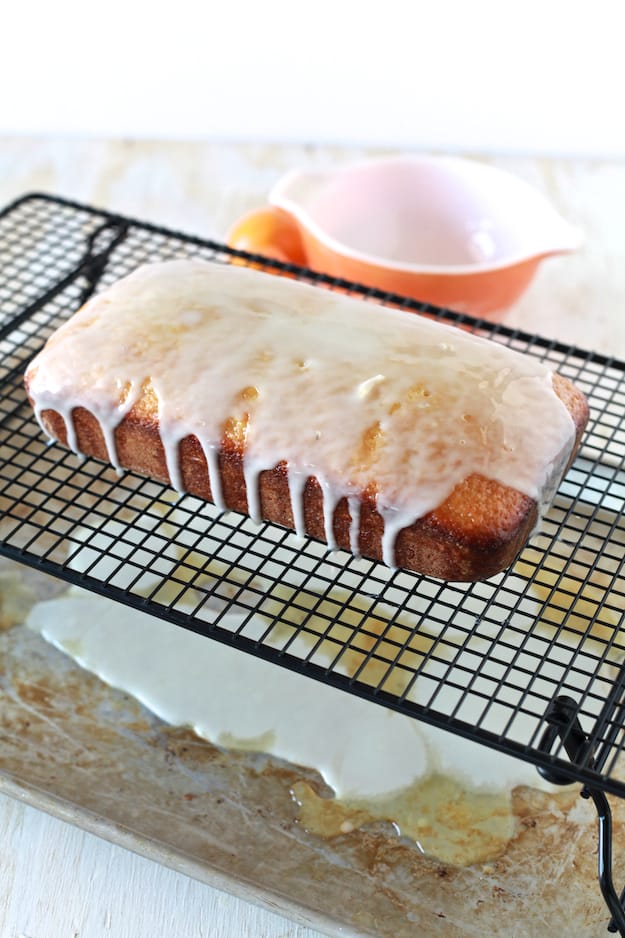 So, back to this freaking amazing cake! There is Meyer lemon everywhere in every inch of this cake. There is zest in the cake, a Meyer lemon syrup, and a Meyer lemon glaze. Meyer lemon is coming at you from all sides like little bright yellow ninjas. Although bright yellow ninjas would defeat the whole idea of a ninja, but you know what I mean.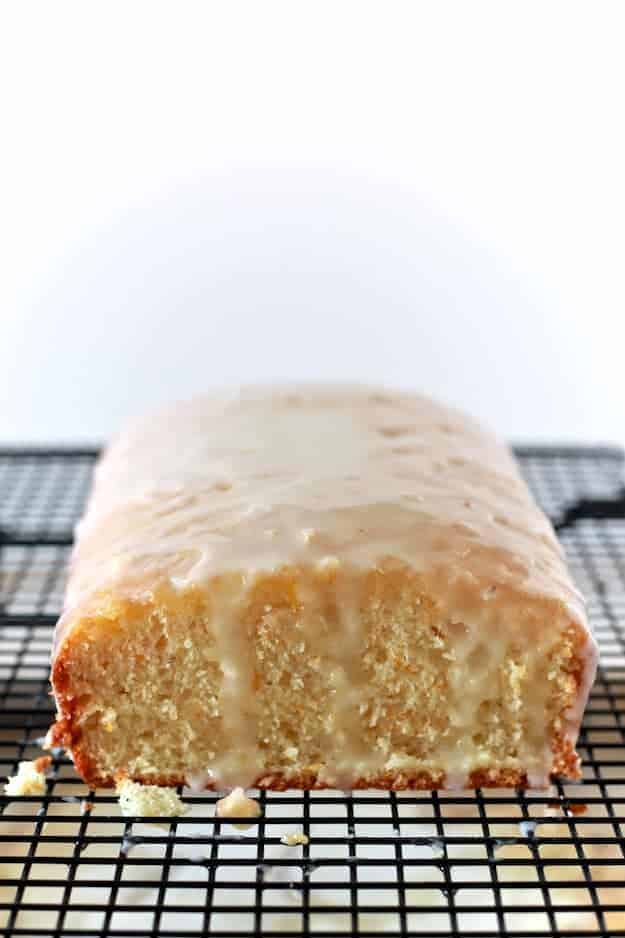 Look into the crumb of this cake and its dripping glaze. You know you want some! It's so tender and soft. Meyer lemon pound cake is perfect for breakfast, brunch or tea time. OMG! This would be amazing with a cup of tea! I think my lid just flipped. Dang it! Now I must have another slice with a cup of tea. Right after I walk for an hour.


Meyer Lemon Olive Oil Pound Cake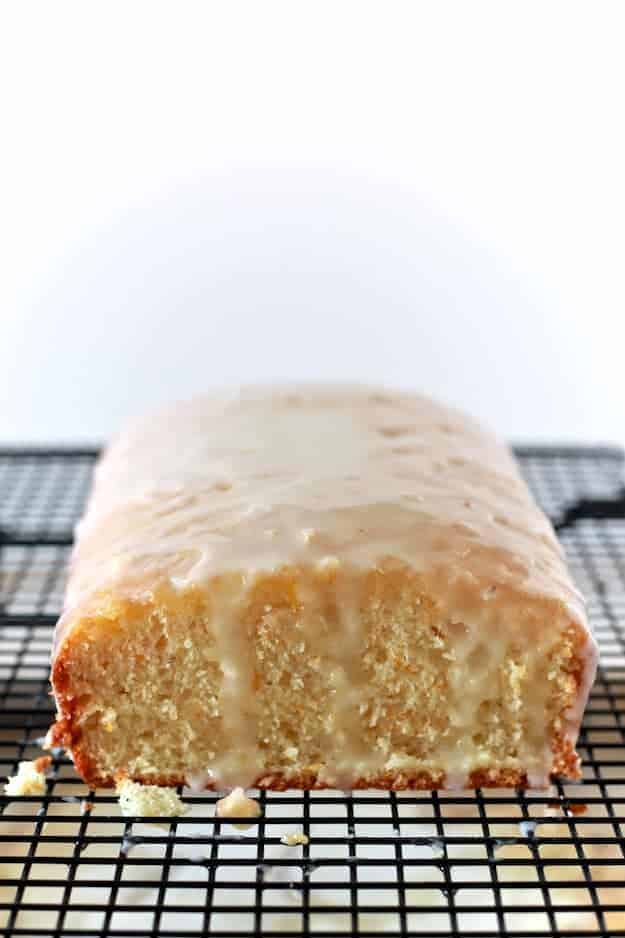 Ingredients
Cake
1 1/2 cups flour
5 - 6 Meyer lemons, zested and juiced, divided*
1 cup sugar
1/2 cup olive oil
2 large eggs, room temperature
1 teaspoon baking powder
1/4 teaspoon baking soda
1/2 teaspoon salt
1/3 cup plain greek yogurt
[br]
Syrup
2 tablespoons granulated sugar
1/3 cup juice from juiced Meyer lemons*
[br]
Glaze
1 cup powder sugar
2 tablespoons from juice Meyer lemons*
Instructions
Cake
Heat oven to 350 degrees. Butter and flour a light colored metal 9 x 5 inch loaf pan. (Dark pan will over brown cake, glass does not conduct enough heat)
In a large bowl use our fingers to combine 2 tablespoons of lemon zest and sugar. This bruises the zest release more of its lemon oils. Whisk in olive oil until smooth. Whisk in eggs one at a time until well combined.
In a second bowl combine flour, baking powder, baking soda, and salt. In a measuring cup or small bowl whisk together 2 tablespoons of lemon juice and yogurt. Using a wooden spoon or rubber spatula, add olive oil mixture and yogurt mixture to flour, alternating between them. Stir cake batter until smooth.
Pour batter into prepared pan, wrap on counter to smooth out and release any air bubbles. Bake for 45 mins to 1 hour or until cake tester comes out clean. Let cake cook for 10 mins in pan and then turn out on a cooling rack over a sheet pan.
Syrup
In a small saucepan combine 1/3 cup of lemon juice and 2 tablespoons of sugar, cook over low heat until sugar dissolves.
Using a skewer poke 10 - 12 holes in the cake. Spoon or brush lemon syrup over cake. Allow the cake to cool completely while it absorbs the syrup.
Glaze
Whisk together powder sugar and 2 tablespoons of lemon juice until smooth. Glaze should be pourable, if too thick add water 1 teaspoon at a time. Pour over cooled cake.