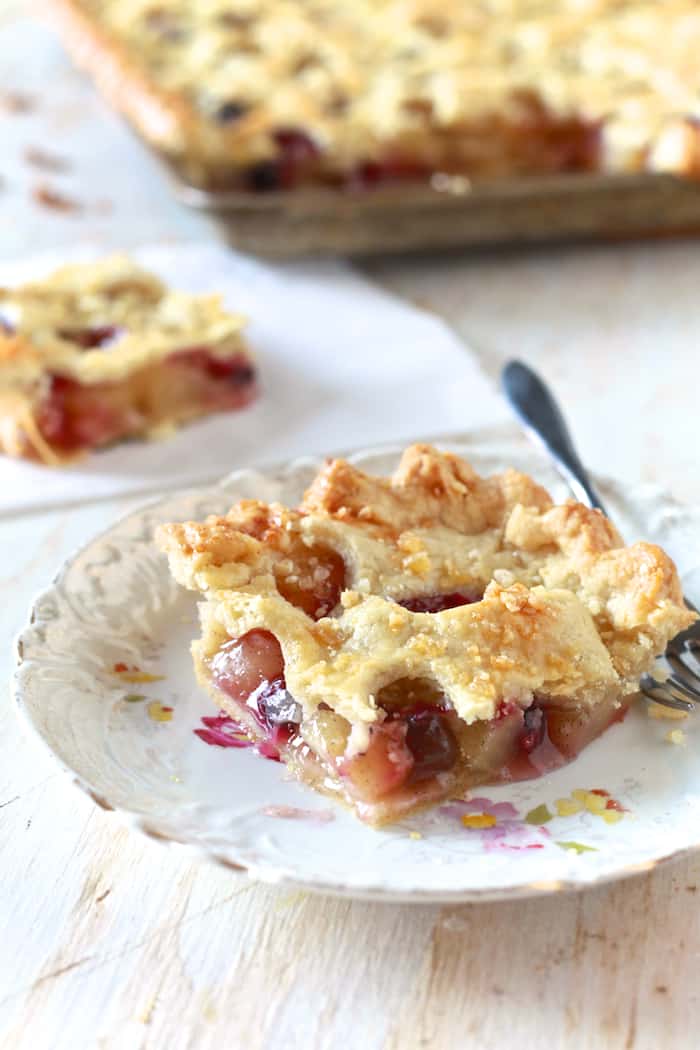 First, I want to say that the discovery of the slab pie changed my life! I haven't made a round pie since!
I just loved the look of a slab pie, the ease, and portability and not to mention you end up with a mass amount of pie. Who doesn't want a mass amount of pie?! I don't know about you but, I love pie. I love pie more than I love cake. Especially since I am capable of making a really good pie, on the other hand, my history with cakes is very hit-or-miss. Besides a pie can legitimately be eaten for breakfast.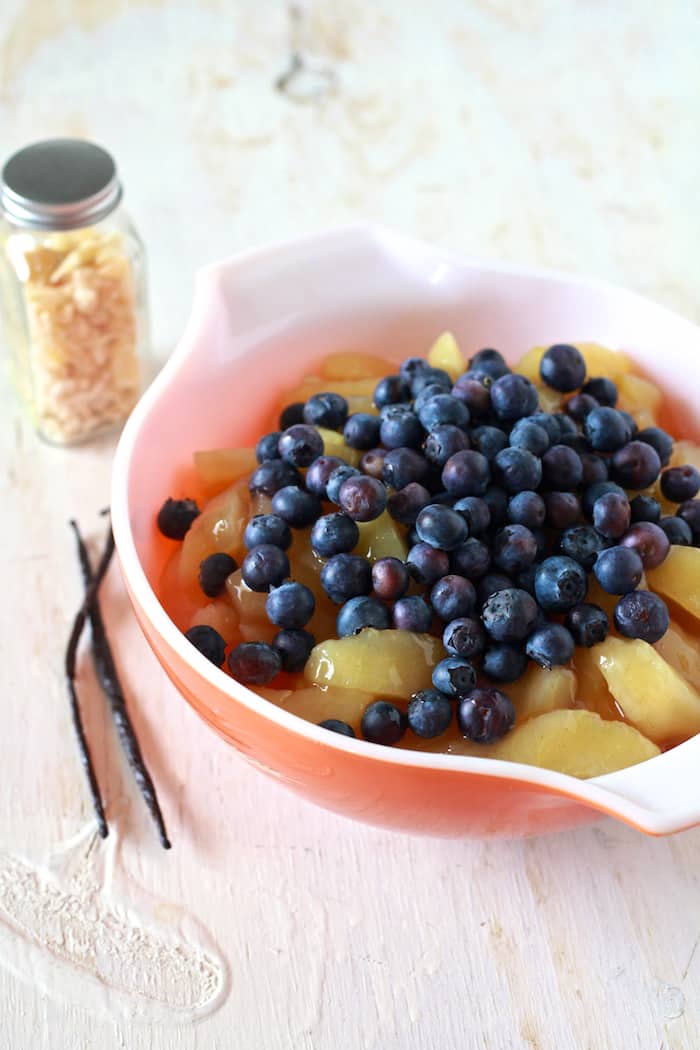 I'm going to share a secret with you about this pie. It's crazy easy! Here's the deal. I have this go to dessert shortcut in case of emergency. For example, say it's the weekend, and you've been invited to an impromptu barbecue, or it wasn't impromptu and you just forgot you were assigned to bring dessert. What I do is I grab some cans of apple pie no sugar added filling, fresh or frozen blueberries, and vanilla bean; toss together and make a big crumb ginger topping using crystallized ginger. Bake and TA-DA! You have a fancy-ish dessert in no time.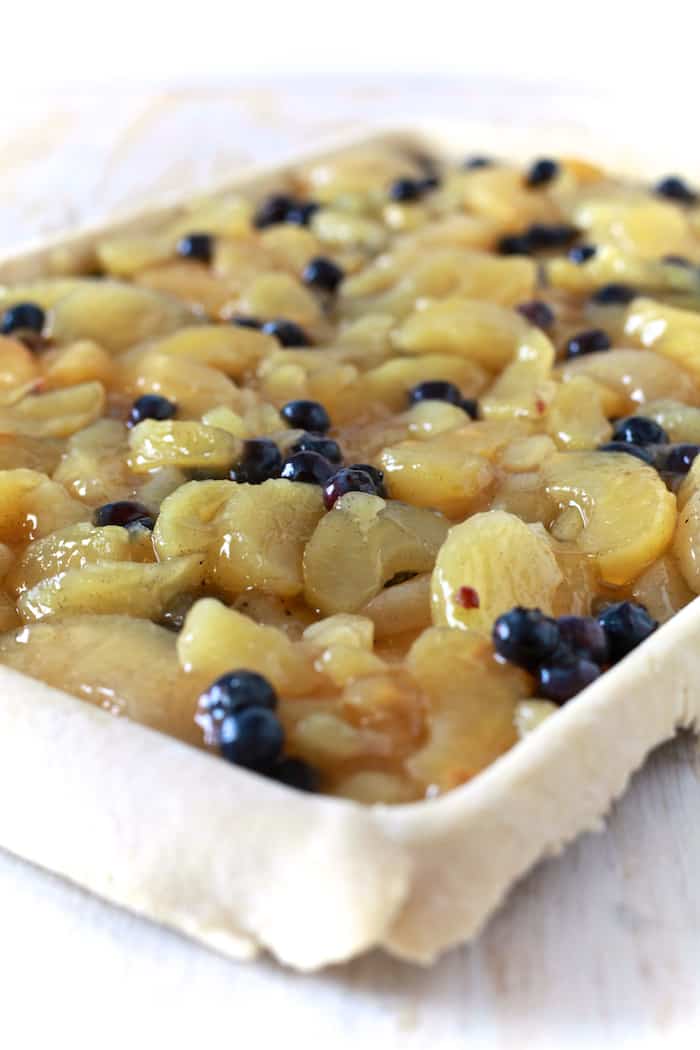 This week I thought I could use my same cheater-cheater dessert filling and make it into a slab pie. So, let's talk about slab pies for a second. They only have one downside, rolling giant pieces of pie crust. But, the upsides are plentiful.

Why slab pie is awesome
As I mentioned before copious amounts of pie. I LOVE PIE!
You can cut a slice without it falling apart. Perfect for anyone with a little tinge of OCD.
All you need it a napkin and your hand to eat a slice. Remember if you eat it over the sink calories don't count.
High crust to filling ratio. Heaven for the flakey crust lovers like me.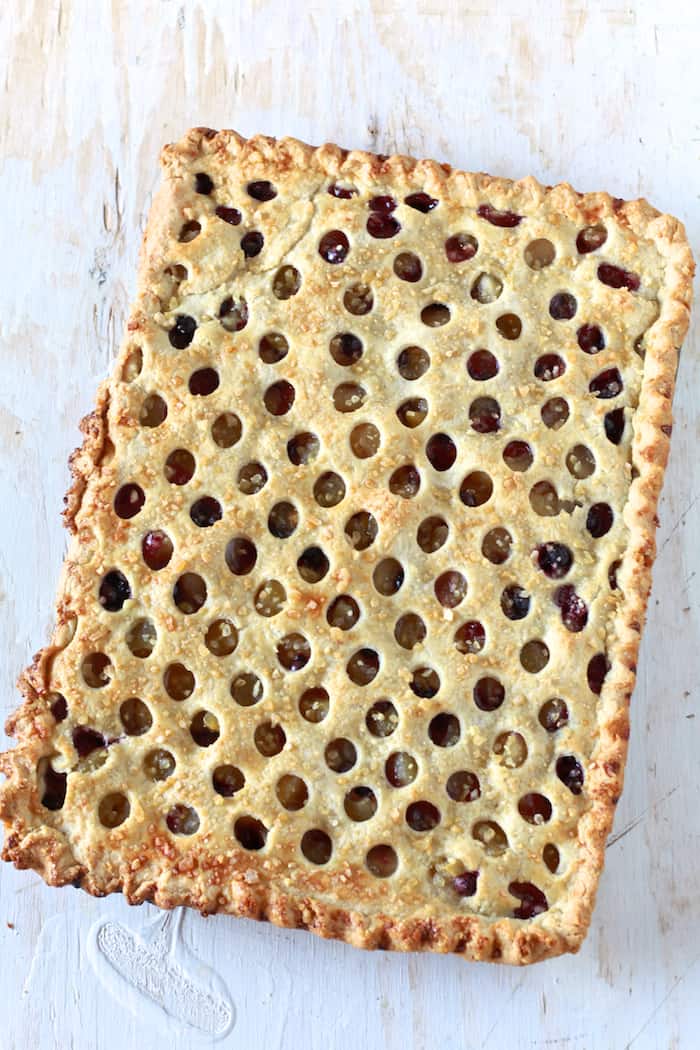 Also, I cannot say enough about this filling. I love a classic apple pie but, adding blueberries, vanilla and ginger take it up a few notches. Trust me even if you think you don't like ginger you will like it on this pie. I have fed it non-ginger lovers, and they have come back for seconds and thirds.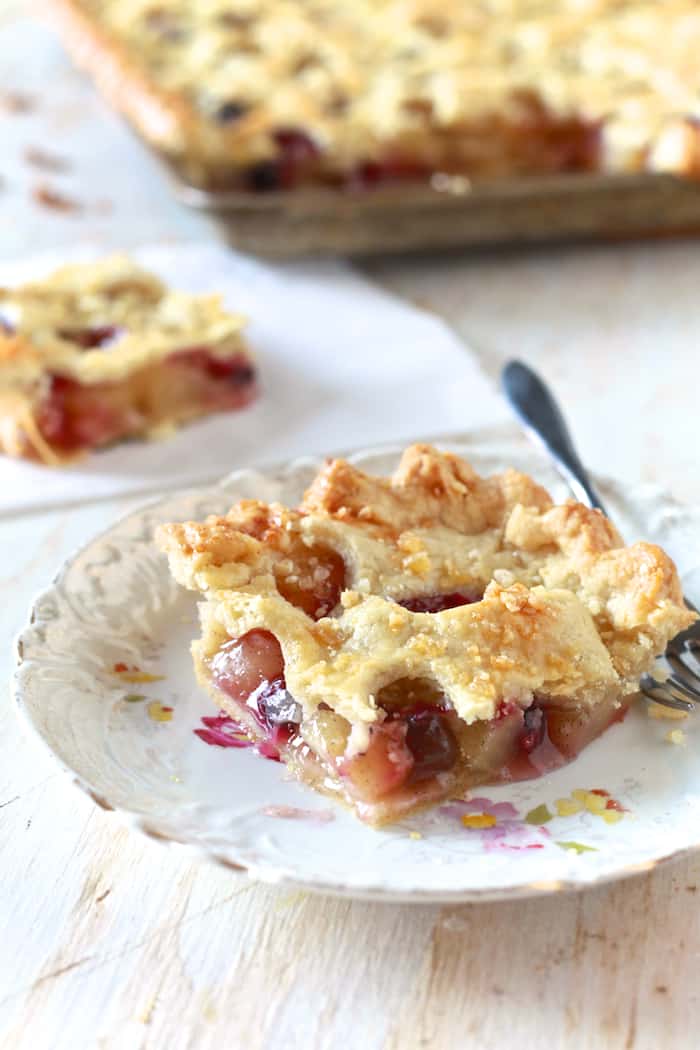 What are some of your dessert cheats?
Apple Blueberry Slab Pie with Ginger Crust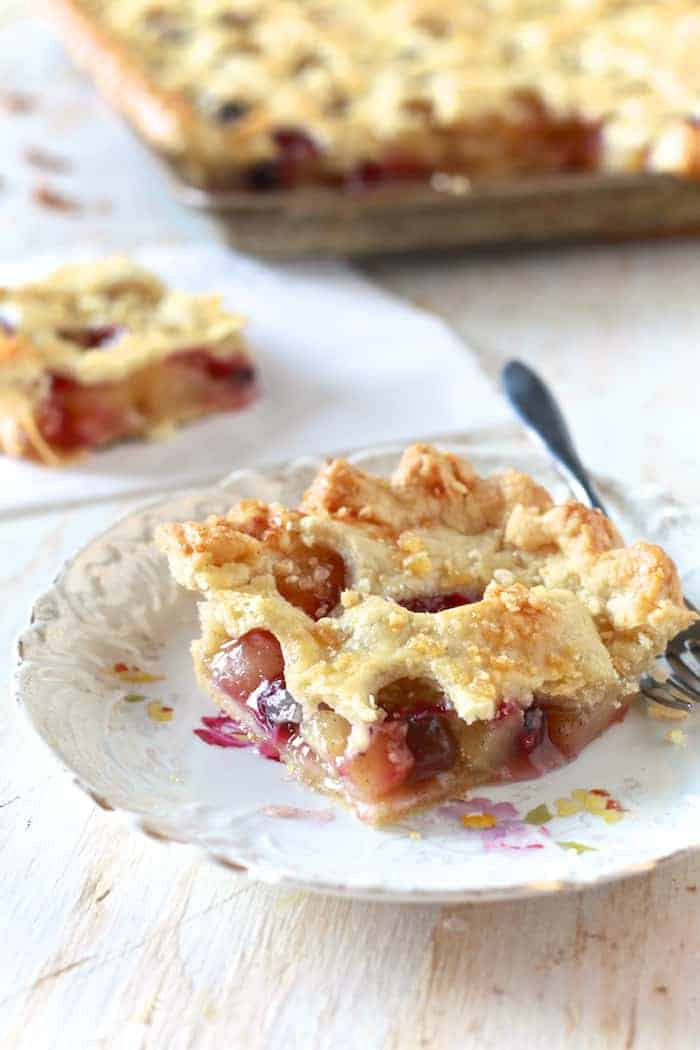 Ingredients
Pie Crust (makes 4 9-inch pie crusts)
6 cups all-purpose flour
2 whole egg
1/2 cup and 2 tablespoons cold water
2 tablespoon white vinegar
2 teaspoon salt
egg wash - 1 egg beaten with 1 tablespoon
Filling
4 cans no sugar added apple pie filling
2 pints blueberries
2 vanilla beans
1/4 cup crystalized ginger, minced
4 tablespoons raw sugar
Instructions
In a large bowl combine apple pie filling, blueberries and caviar from vanilla beans. Gently mix together until well combined. Cover and set in the refrigerator.
In a large food processor combine 3 cups flour, 1 teaspoon salt and 1 1/2 cup of butter, pulse until mixture resembles course cornmeal. In a small bowl beat together 1 egg, 1 tablespoon vinegar and 1/4 cup and 1 tablespoon of water. Add to flour mixture and pulse until dough begins to come together. Transfer to a resealable plastic back and press together to form a ball. Repeat to make second crust. Refrigerate crusts for 30 minutes.
Pre-heat oven to 375 degrees. Lightly spray a 10x15x1-inch baking sheet or jellyroll pan with non-stick spray.
Generously flour work area. Shape the pie dough into a rough rectangle and roll out to about an 18-by-13-inch rectangle. Make sure you use plenty of flour to keep the dough from sticking. Gently drape dough over rolling pin and transfer to baking sheet. Dough should drape over the edge of the pan, trim about 3/4 inch of the crust.
Pour filling into crust, spread out evenly and transfer to the refrigerator.
Roll out the second crust slightly smaller then the first, about a 16-by-11-inch rectangle. Using the cap of a vanilla extract cut small circles out of the top crust. Be careful that they are not too close together or the crust may tear when transferring. Gently lay crust over filling and fold the bottom crust's overhang over the edges sealing them together and crimping the edges.
Brush top crust with egg wash. In a small bowl combine ginger and raw sugar, generously sprinkle over crust. Bake for 40 to 45 minutes or until crust is golden and filling is bubbling. Transfer to a wire rack and let cool until just warm to the touch, about 45 minutes.