Tender and crumbly coffee cake with hints of sweet cherries and tart buttermilk. Coffee Cake is perfect for breakfast, snack, or a gift.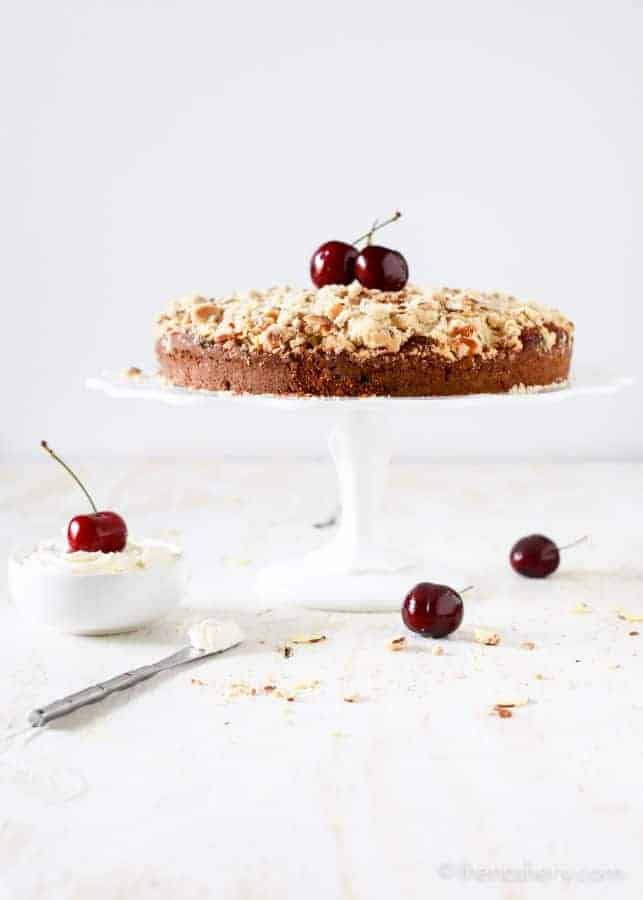 This time of the year the grocery stores are brimming with stone fruit and cherries are one of my favorites! Looking at through my archives I have noticed that I have a few cherry recipes. Earlier this week I shared a Cherry Limeade Mojitos. If you're looking to keep cool, maybe you should try some Vanilla Cherry Shaved Ice.  And, who says cherries are only for sweets? One of the best cherry dishes I've made was Grilled Skirt Steak with Roasted Cherries and Figs. Today I'm sharing a perfectly tender and crumbly Cherry Almond Buttermilk Coffee Cake. Like I said I love cherries.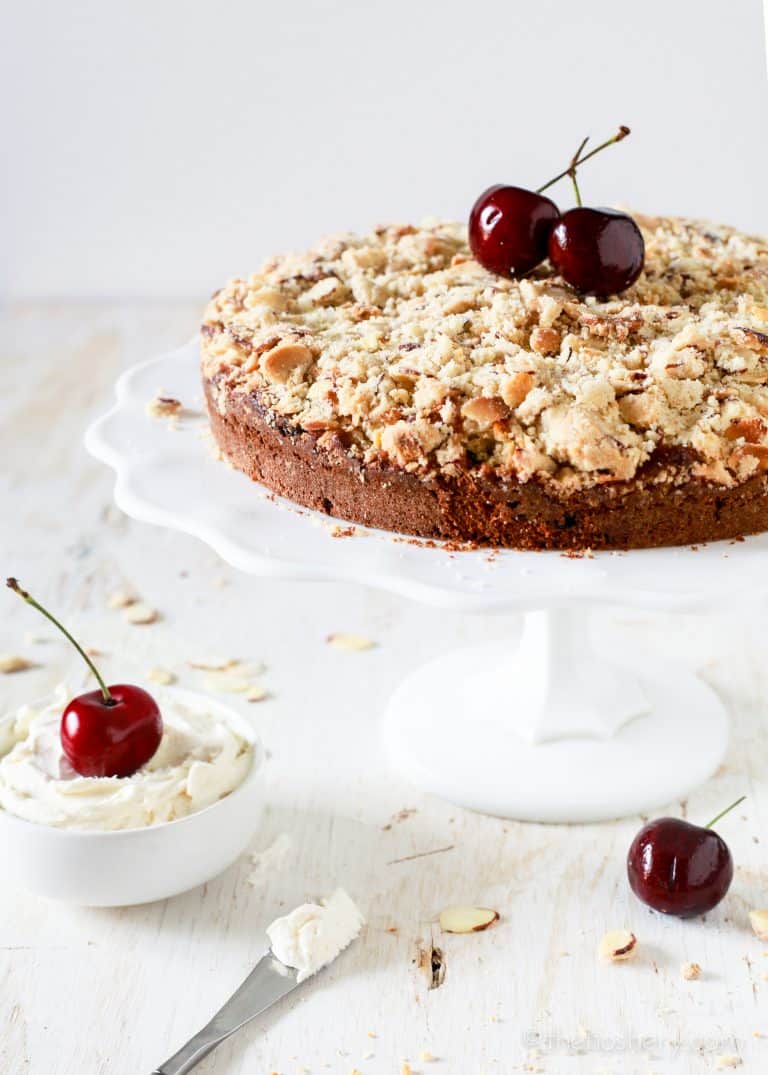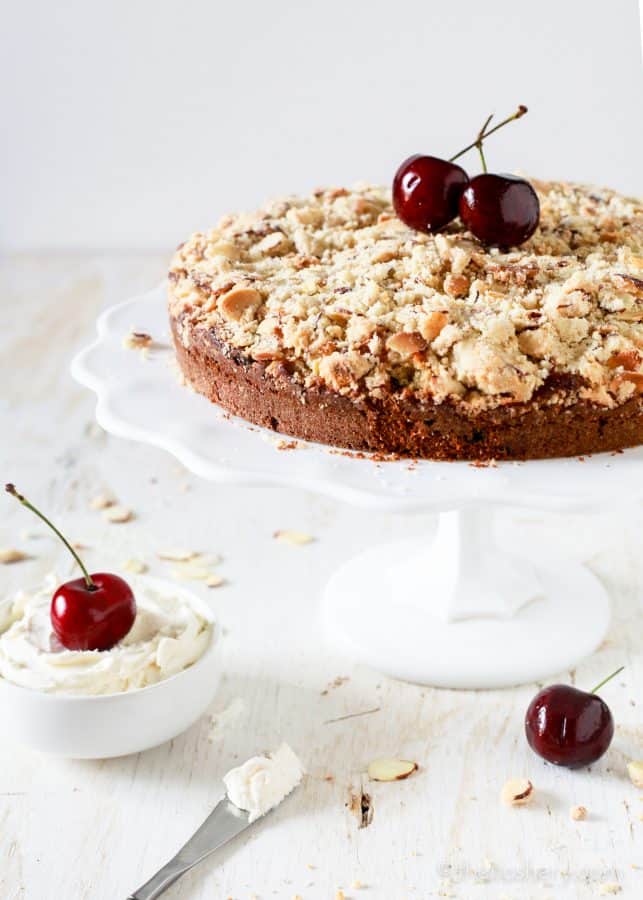 The sign of a good coffee cake is crumble. I love a good crumble! The topping for this coffee cake is made of big crumbles and almonds. But, it's not just about a crumbly topping but also a tender crumbly crumb. Have I said crumb enough yet?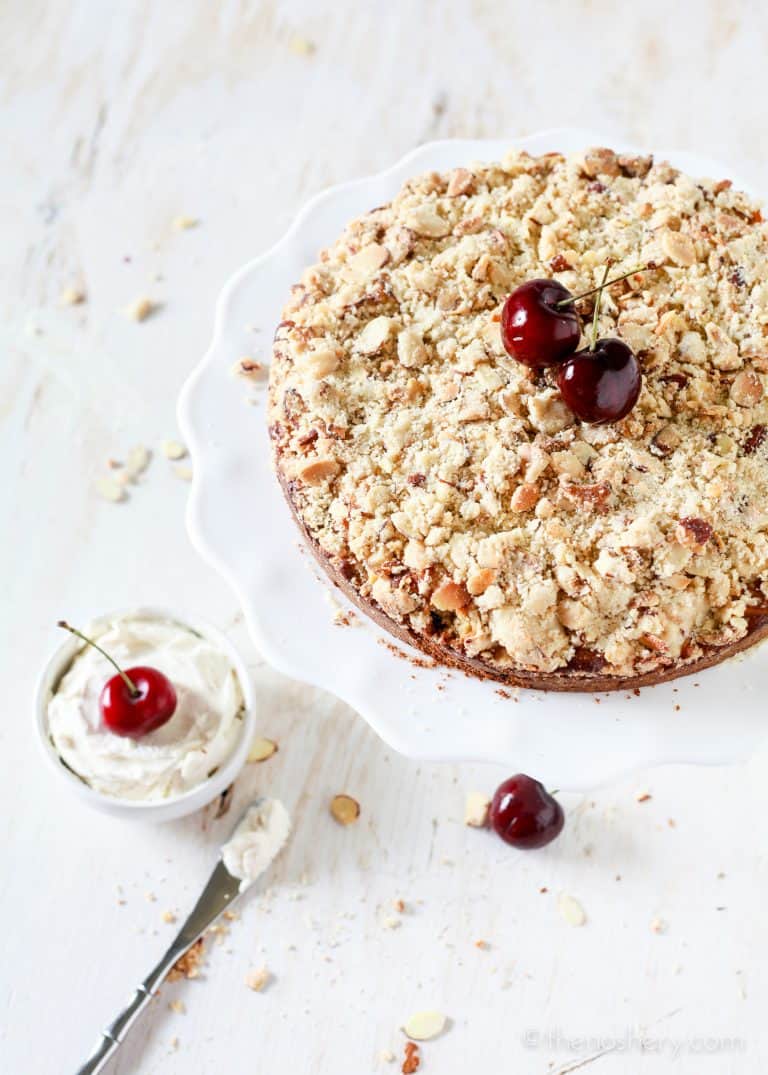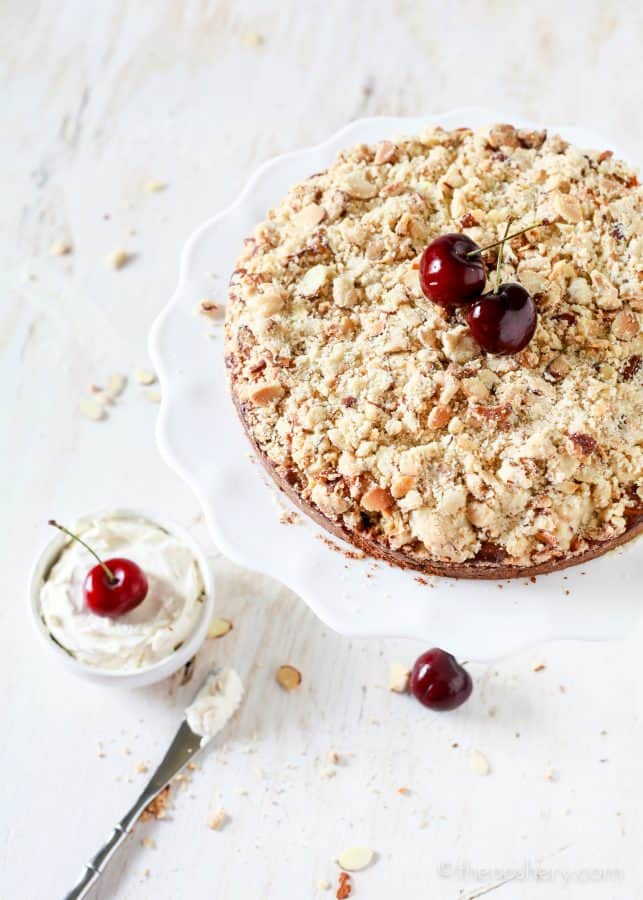 I served this cake with mascarpone cream, but it would also be great with a dollop of clotted cream. This cake is perfect for your next tea party – because we all have tea parties – or breakfast. It also makes a great gift for a friend. The buttermilk guarantees a soft crumb and a tart flavor which is perfect with cherries and almonds. It's kind of an amazing thing!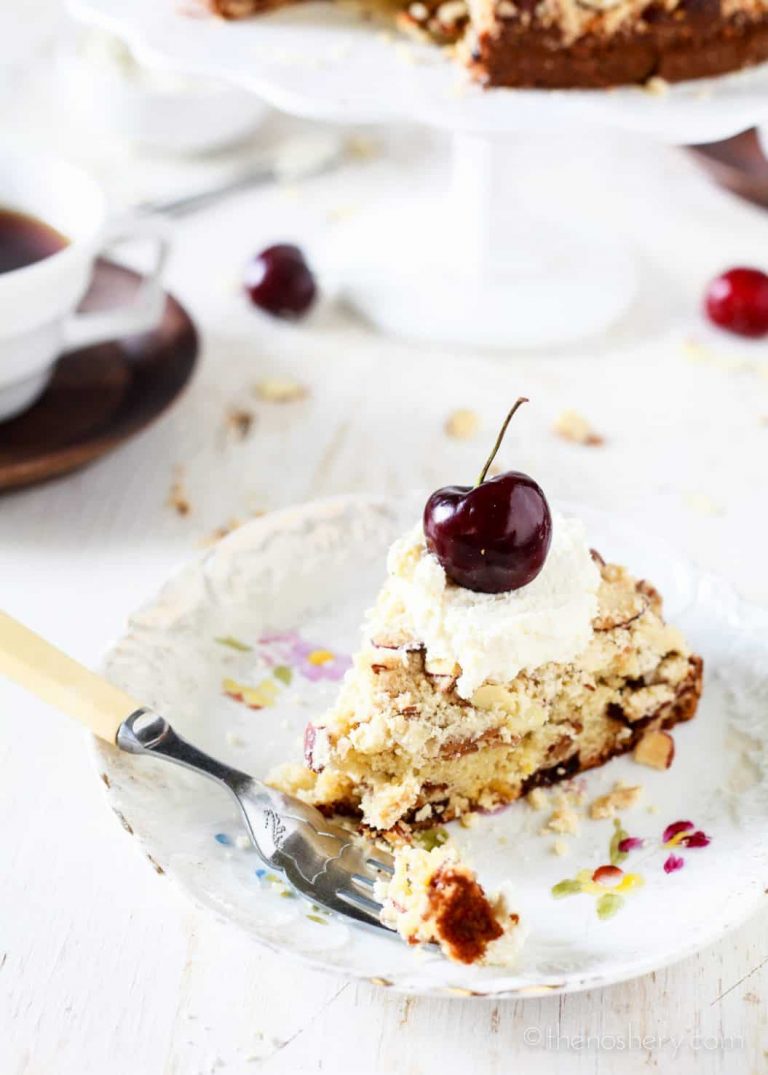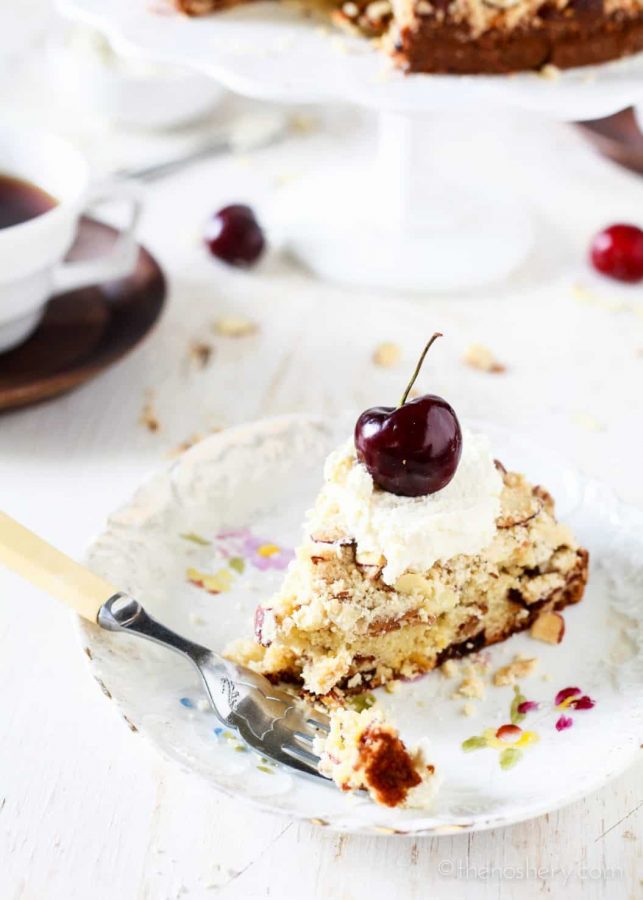 Cherry Almond Buttermilk Coffee Cake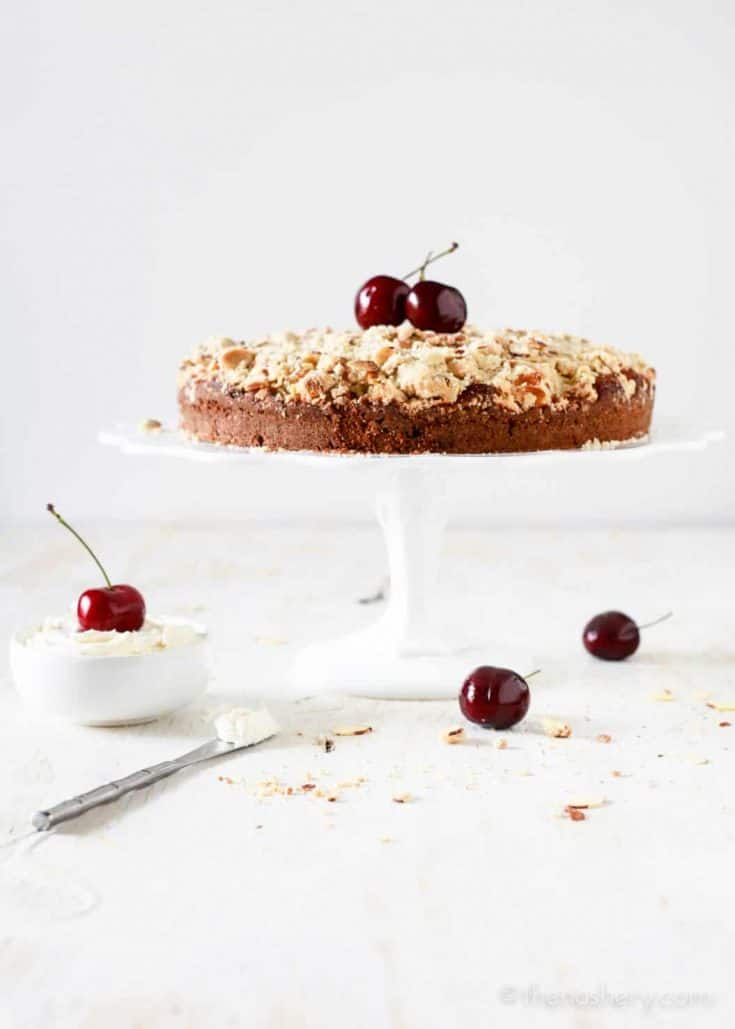 Cherry Almond Buttermilk Coffee Cake Author: Meseidy Serves: 8 Adapted from Gourmet 2009
Ingredients
Cake
[br]
1 cup dry cherries
1/4 cup sliced almonds, toasted
1 cup flour
1/2 teaspoon baking powder
1/2 teaspoon baking soda
1/4 teaspoon salt
1/2 stick butter
2/3 cup plus sugar
1/2 teaspoon pure vanilla extract
1 large egg
1/2 cup well-shaken buttermilk
[br]
Topping
[br]
1/3 cup granulated sugar
1/8 teaspoon salt
3/4 cups all-purpose flour
1/4 cup almonds
4 tablespoons butter
[br]
Mascarpone Cream
[br]
8 oz mascarpone
1/4 cup heavy whipping cream
2 tablespoons sugar
1 teaspoon vanilla
Instructions
Pre-heat oven to 400 degrees. Spray a 9-inch cake pan (see notes) with non-stick spray and lightly flour.
Pour dry cherries into a small sauce pan, fill with water until just covered. Bring to a simmer on the stove top, allow to simmer for 5 minutes, strain and set aside. Spread almonds on a sheet pan and lightly toast in the oven, about 2 - 3 minutes.
Whisk together flour, baking powder, baking soda and salt in a small bowl. In the bowl of a stand mixer beat together sugar and butter until well combined, add vanilla extract and egg. Beat well.
At low speed, mix in flour mixture in 3 batches, alternating with buttermilk, beginning and ending with flour, and mixing until just combined. Fold in cherries and toasted almonds. Pour into prepared pan.
Topping
In a small bowl combine all ingredients except butter. Mix together using a fork, slowly add olive oil while mixing with fork. Using your hands press together crumb mixture to form larger crumbs. Sprinkle over cake mixture.
Bake in the oven at 400 degrees until cake test comes our clean, about 25 - 30 minutes.
Let cool in pan for 10 minutes.
Carefully invert onto a sheet pan, cover with a plate and turn to transfer to a plate.
Mascarpone Cream
Combine ingredients in a clean bowl of a stand mixer, whisk together until fluffy.
Serve cake with a smear of mascarpone cream.
Notes
It would be easier to use a 9-inch spring form pan then a cake pan. I didn't think of this till after the fact.
3.4.3177