I participated in the National Pork Board program as a member of One2One Network. I received compensation but all opinions are my own.
A highlight of summer is firing up the grill and applying meat to fire. A unique flavor develops when meat is cooked over open flames, a flavor that cannot be replicated. I love the smell, and the sizzle is the theme song of summer. If there is one thing I love to throw on the grill for a quick and easy dinner, it's bratwurst, and it is no coincidence that Bratsgiving is celebrated at the height of summer.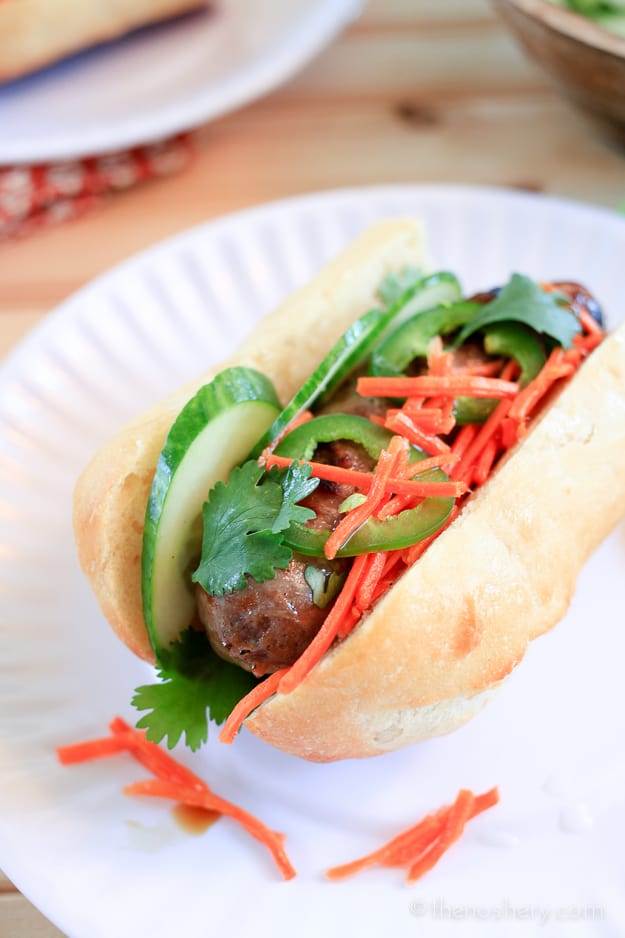 What is Bratsgiving? It's National Bratwurst Day of course! On August 16 grab a pack of Johnsonville Bratwursts, light up the grill, put on your most festive summer attire and get the party started! Most default to a simple bun and mustard when serving bratwurst but this is Bratsgiving! And, Bratsgiving deserves more than just your everyday bratwurst toppings.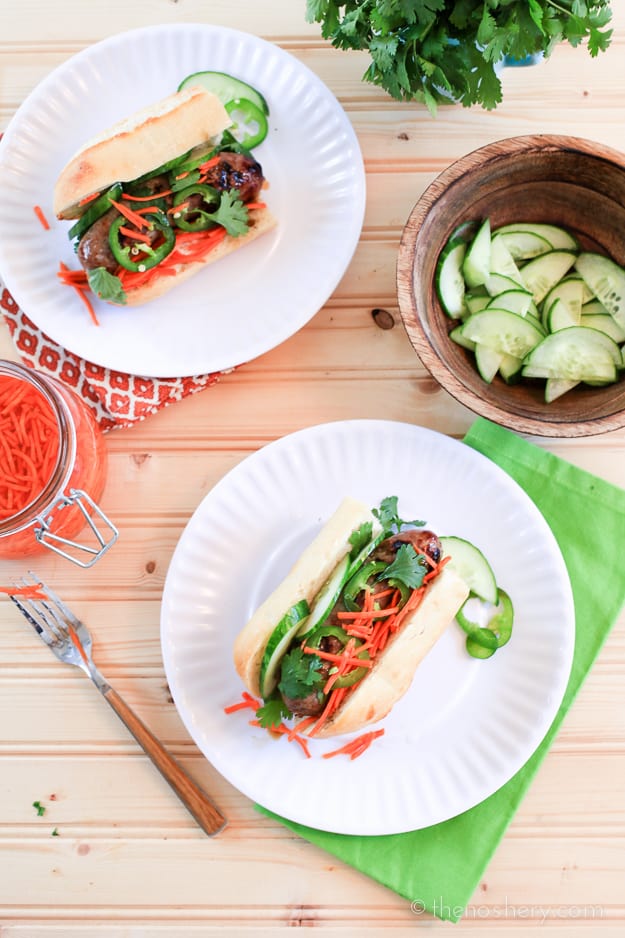 Banh mi is Vietnamese for bread or more specifically French baguette, but it's also used to reference a Vietnamese sandwich made with a baguette. A typical Banh mi sandwich is baguette, pork, cilantro, cucumber, pickled carrots, and jalapeño. Pork is the main ingredient of a Banh Mi sandwich so; a quality pork bratwurst would naturally make a killer Banh mi.
The first time I ever tried a Banh mi sandwich was while I was living in Tulsa. Right, before I moved away a Banh mi sandwich food truck became very popular. On a warm Wednesday afternoon down by the Guthrie Green, I sat on a bench and fell in love with my first Banh mi.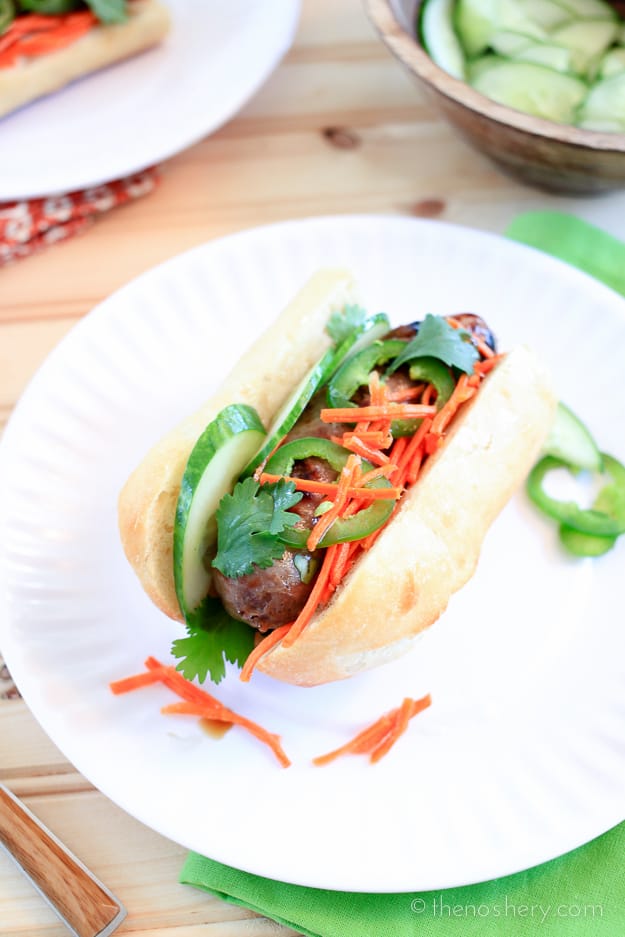 Banh mi brats are the perfect summer bratwurst. The brats are infused with a sweet citrusy brine, grilled and topped with fresh, crisp cucumbers, cilantro, spicy jalapeño and bright pickled carrots. The brats are light in flavor but still incredibly satisfying.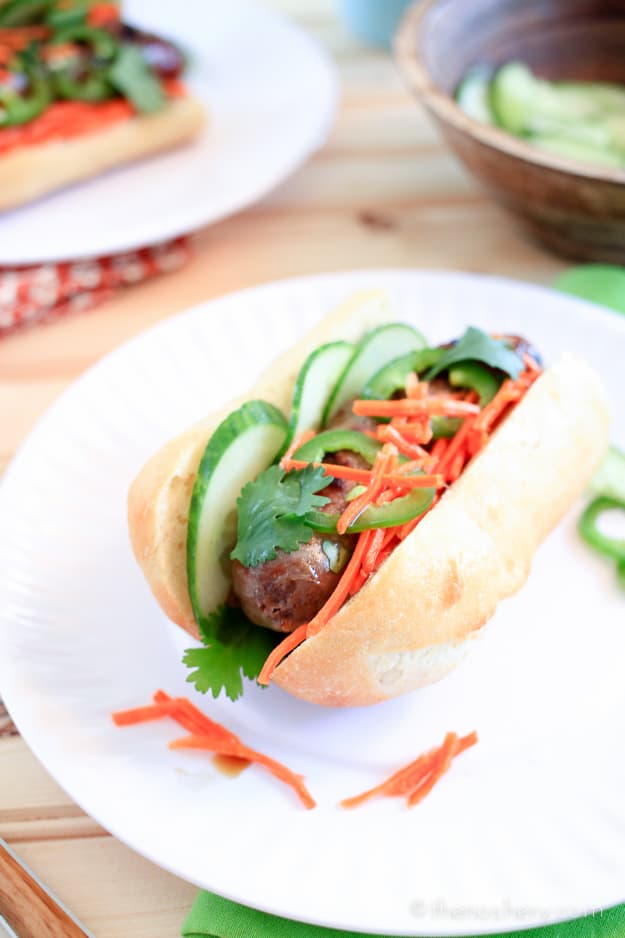 Bratsgiving is one day of summer dedicated to bratwurst, and nobody knows brats better than Johnsonville. Johnsonville has a full assortment of fresh grilling links at Walmart and is the #1 brand of brats nationally, a favorite at all barbecues! Perfect for any occasion and a favorite at picnics and barbecues.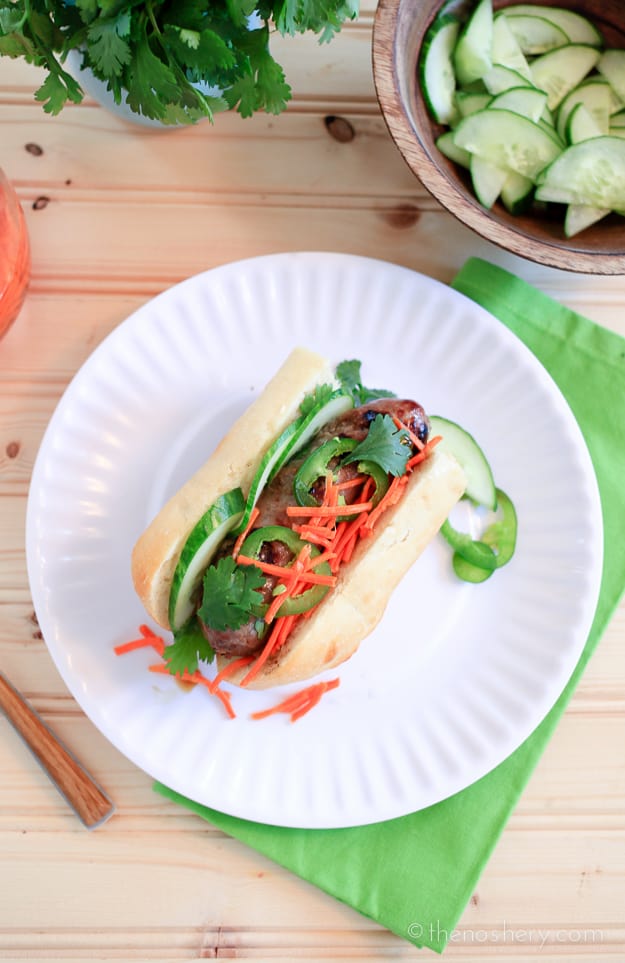 Don't forget that after your Bratsgiving celebration the grilling season continues! This Grilling Season, be sure to pick-up Smithland/Farmland (depending on market) pork at Walmart; every cut of their hand-trimmed extra tender fresh pork is proudly raised in the USA.  Need some ideas on how to prepare some amazing grilled pork dishes? Visit  GrillPork.org  for more grilling inspiration.
GIVEAWAY
Leave a comment and win a grilling kit (Retail value: $150) – Johnsonville grilling kit, Smithfield/Farmland coupons, Pork branded apron, Pork branded brush, A1 product, Johnsonville coupons, meat thermometer, Walmart gift card ($75)
Open to U.S. residents only
One More Thing!
From now until Labor Day a lot of grilling is going to happen. Wouldn't it be cool if all that grilling could win you a year's worth of free groceries at WalMart? Good news! It can! Now through September 7, the next time you toss pork on the grill, snap a photo and tag it with #GrillPorkSweeps on Instagram. If you tag your photo and fill out the sweepstakes form on GrillPork.org, you'll be entered to win a year's worth of free groceries from Wal-Mart and other great prizes from Johnsonville, A1, and Smithfield! Photos with the hashtag will be uploaded to GrillPork.org.

Banh Mi Brats
Ingredients
Bratwurst


4 cups water
¼ cup kosher salt
¼ cup sugar
3 medium garlic cloves, peeled and smashed
1 serrano chili
1 lime, quartered
4 Johnsonville Bratwursts


Pickled Carrots


½ cup distilled white vinegar
½ cup sugar
2 teaspoons kosher salt
1½ cups shredded carrots sticks


Assemble


2 take-and-bake mini baguettes, baked and sliced in half
mayonnaise
English cucumber, thinly sliced
cilantro leaves
jalapeño, thinly sliced
light soy sauce
Instructions
Bratwurst


In a small sauce pot combine 2 cups water with kosher salt, sugar, garlic, chili & lime. Heat over medium-high heat and stir until sugar and salt dissolve. Add remaining 2 cups of water and pour brine into a resealable bag or container large enough to hold brine and brats. Lightly score the brats three times, just enough to break the casing. Place the brats in the brine, seal and refrigerate for 30 minutes to 1 hour.


Carrots


Combine sugar, salt and white vinegar in a small saucepan over medium heat. Stir until the sugar and salt dissolve. Place carrots in a small bowl and pour pickling mixture over the carrots. Set carrots aside to soften for 30 minutes or overnight.


Assemble


Prepare grill medium direct heat. Grill brats for 6 to 8 minutes on each side or a thermometer reads 160 degrees.


Spread mayonnaise on baguette buns. Place brats in buns and tuck cucumbers and cilantro along the sides. Top with pickled carrot, jalapeño slices and sprinkle with soy sauce.
0