This is a sponsored post written by me on behalf of Kraft Foods and Sam's Club. The opinions and text are all mine.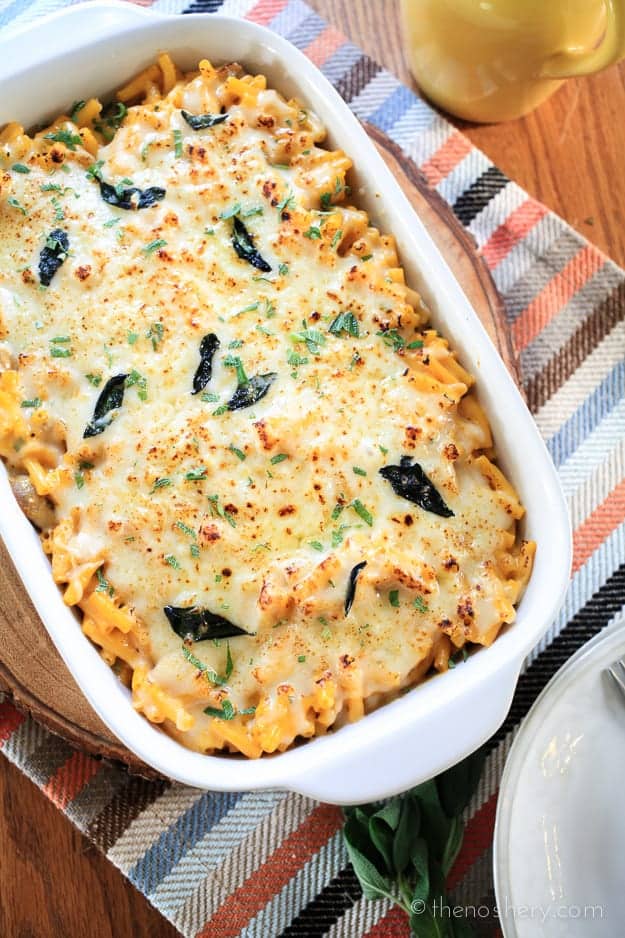 We have a first Sunday of the month tradition. Every first Sunday of the month after church we make a stop at Sam's Club to restock on some everyday items. You know the standard items, paper products, water, food for the pups and a slice of pizza for each of us.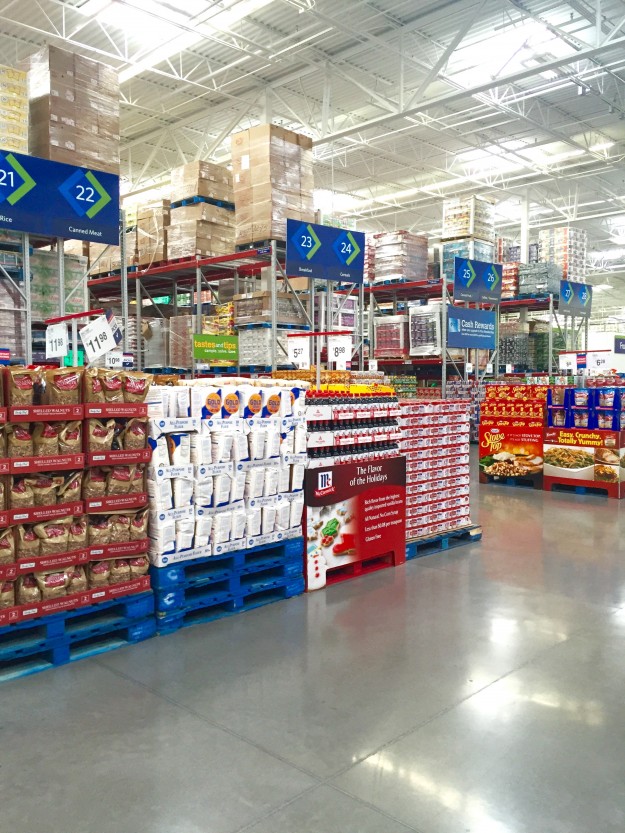 But did you know that Sam's Club also carries some family favorites one of them being Kraft Macaroni and Cheese Dinner? I grew up eating Kraft Macaroni and Cheese as a kid. I mean what kid didn't? The classic easy to make dinner was Kraft Macaroni and Cheese with hot dogs. I lived for that stuff!  I can still appreciate a bowl of mac and cheese, but I'll take a pass on the hot dogs.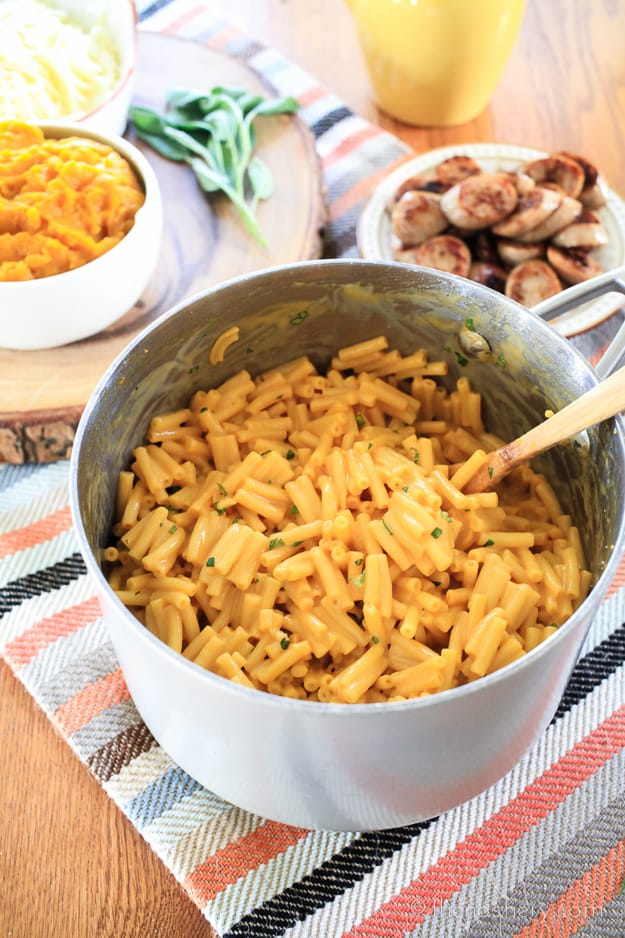 Today I am technically considered an adult, but I am still very much a kid inside. With this recipe, my adult-self and kid-self have come together to make this easy pumpkin and sage mac and cheese. Yes, I could have started with a roux and made a bechamel cheese sauce but, then where is the childhood nostalgia?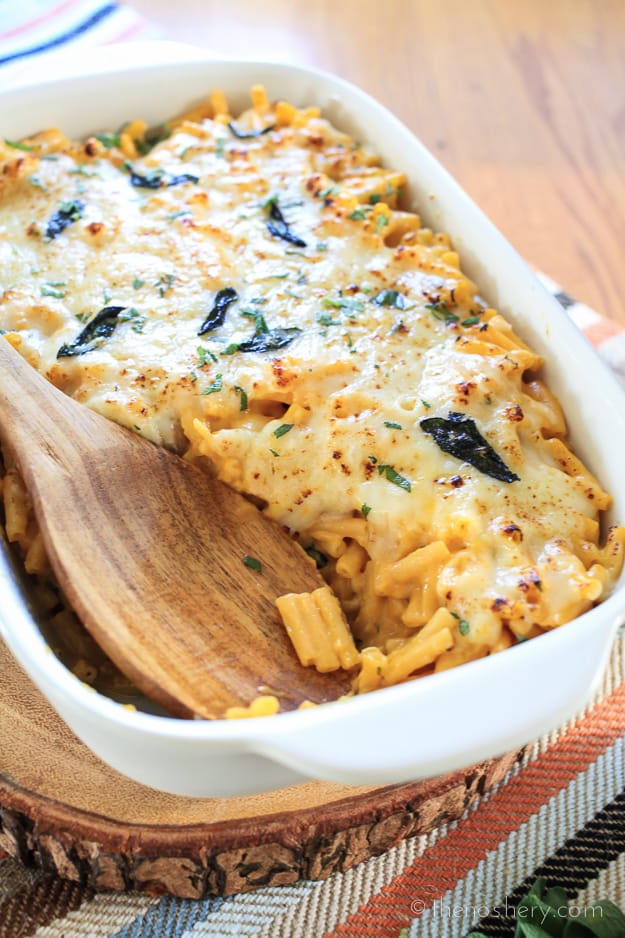 This pumpkin and sage mac and cheese will satisfy everyone in your family and it's so easy!  The pumpkin adds moisture and an earthy flavor to this easy dinner recipe. The combination of pumpkin, sage, and browned butter is perfect for this time of year. Wait! I forgot to mention the brown butter!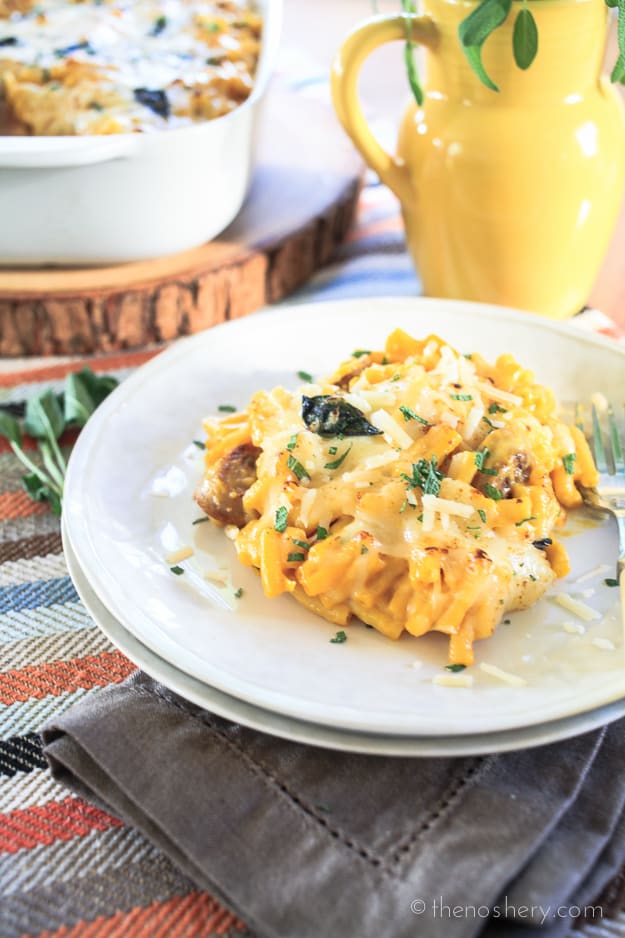 Yes, browning the butter is an extra step that is strictly to satisfy your taste buds. It's not necessary to have a deliciously creamy mac and cheese but, it taste amazing! The brown butter adds a nuttiness that perfectly complements the earthy pumpkin and sage.
So, tell me how do you or your kids like their Kraft Macaroni and Cheese? I just want to know if I was the only one that had to have mine with hot dogs.
Yield: 6
Pumpkin & Sage Mac and Cheese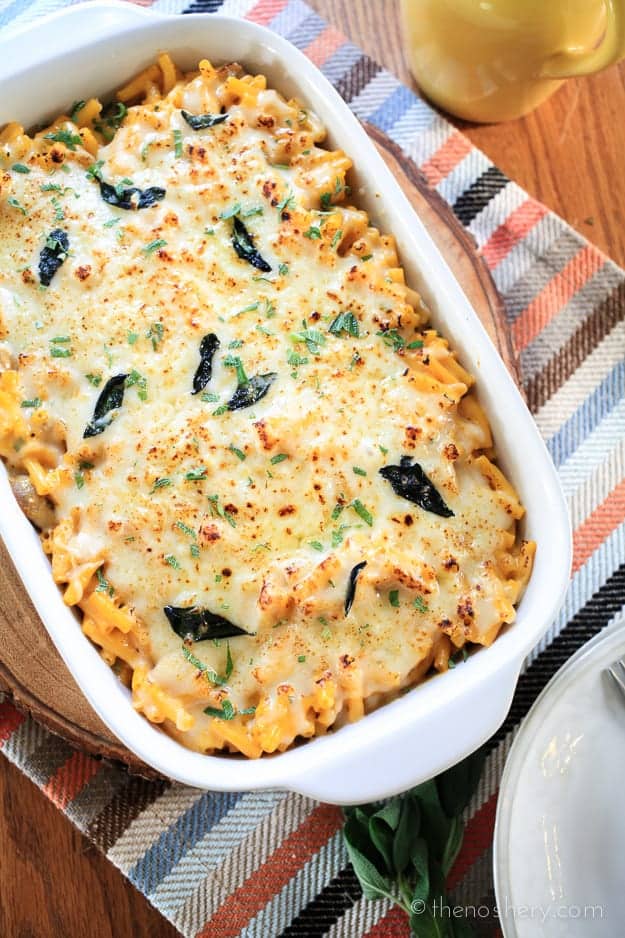 This mac and cheese will satisfy the whole family! The pumpkin adds moisture and an earthy flavor to the easy dinner recipe.
Ingredients
1 stick butter
4 sage leaves
4 links sweet apple chicken sausage, sliced
2 boxes Kraft Macaroni and Cheese Dinner
1/2 cup milk
1 tablespoon minced sage
2 teaspoons garlic powder
1/2 cup pumpkin puree
1 1/2 cup shredded white cheddar
Instructions
Heat oven to 375 degrees.
Melt butter over medium-low heat. Add sage leaves to butter and continue to melt and cook until butter solids have browned. Once brown transfer immediately to a heat-proof bowl.
Add sausage into skillet and cook over medium-high heat until sausage slices have browned, set aside.
Prepare Kraft Mac and Cheese according to package directions using brown butter instead of margarine. Add minced sage, garlic powder, pumpkin puree and 1/2 cup of cheese. Continue to heat over medium-high heat until well combined and creamy. Stir in browned sausage sliced.
Spray a 2.5-quart baking pan with non-stick spray. Pour mac and cheese in baking pan, spread evenly in pan. Top mac and cheese with remaining cheese. Bake in the oven for 15 minutes our until cheese is melted. Serve garnished with minced sage.