Happy Thanksgiving Eve!
So, it's Thanksgiving Eve and you have been invited to someone's house.  Which is great but, you still haven't decided what to bring.  Might I suggest some homemade whole berry cranberry sauce? It's crazy easy and easier to make your own.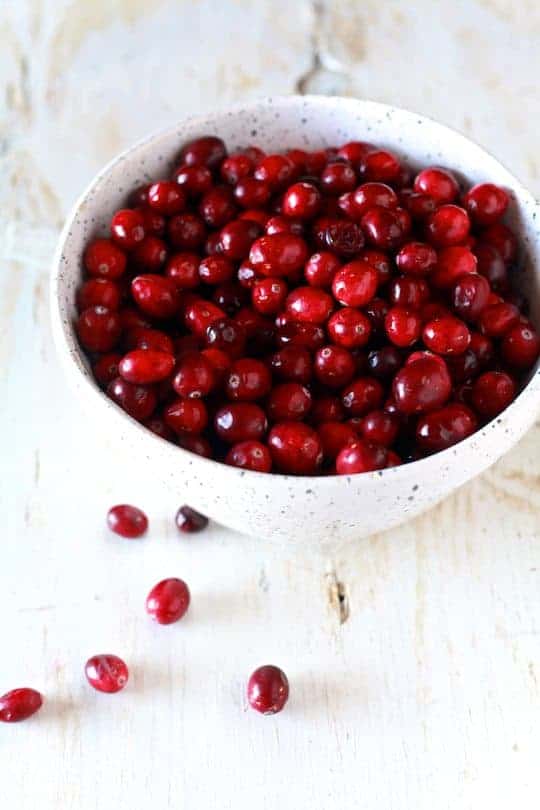 I have spent many Thanksgivings away from home, instead attending Thanksgiving dinners at friends.  Many times the cranberry sauce is an after thought. It's understandable, with everything going on Thanksgiving day it's easy to just pop open a can and serve.  But, I absolutely love homemade cranberry sauce!
There is just something completely harmonious about the combination of savory dishes with sweet and tart cranberry sauce.  It makes me happy!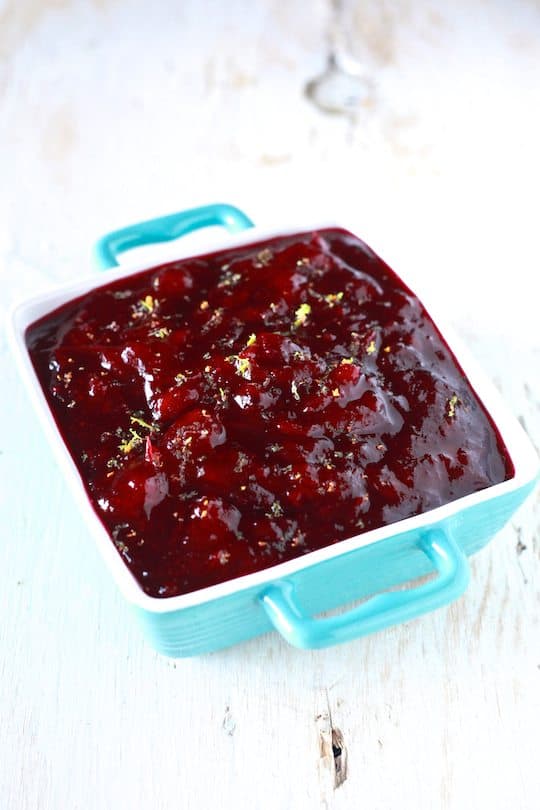 To make cranberry sauce all you need are three ingredients, one pot and a little time.  It's seriously that easy!
Simple cranberry sauce is delicious, but you can easily change it up by just adding a few complimentary ingredients, many of which are probably already sitting around your kitchen.  All you need is a solid base and you can add things like spices, orange zest, lime zest, blueberries, ginger and pomegranate. There are many possibilities!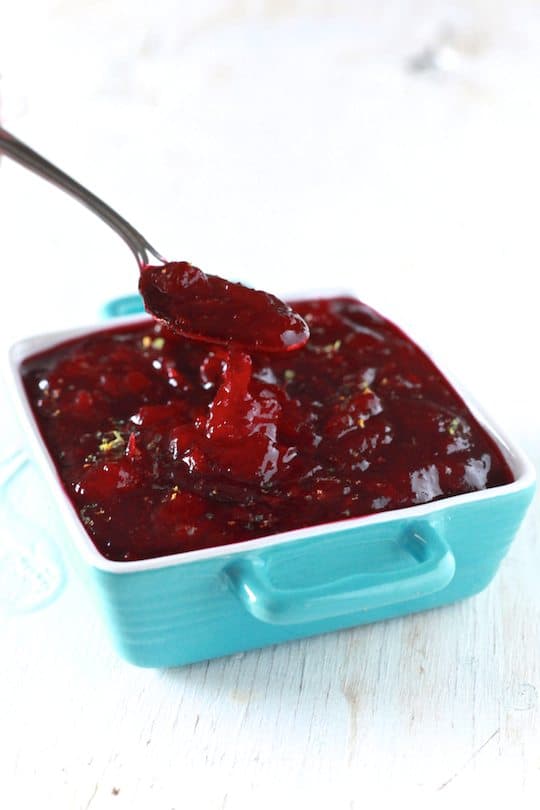 I promise if you make homemade cranberry sauce you will never dismiss it or pass it by again on Thanksgiving. It's also amazing over Italian sausage! I know, who would have thought!
Check out more Thanksgiving recipes!
Roasted Sweet Potato Salad with Warm Bacon Dressing

Homemade Cranberry Sauce
Ingredients
Cranberry Sauce
12 oz cranberries
1 cup water
1 cup sugar


Optional add-ins:
1 cup of raisins or currants
1 pint of blueberries, raspberries or blackberries
1 apple or pear, peeled and diced
1 tablespoon minced ginger
zest from 1 orange
zest from 1 lime
1 - 2 jalapeño peppers, seeded and minced
½ cup roughly chopped nuts
spices - cinnamon, nutmeg and/or allspice to taste
Instructions
Combine cranberry sauce ingredients in a sauce pot, stir until well combined. At this point you can also add any of the optional "A add-ins". Place on the stovetop and bring to a boil, stir and lower to a simmer. Simmer for 10 minutes or until all the berries burst.


Stir in any of the optional "B add-ins". Transfer to a bowl and let cool completely at room temperature, refrigerate until ready to serve. Sauce thickens as it cools.
Notes
Feel free to mix and match optional add-ins. You don't have to pick just one.
0