Let's talk about combinations that sound weird, but are magical when combined. Unlike the time, I thought I would try and be a blonde. Meseidy and blonde hair does not equal magical, not even close. But, black pepper and strawberries that's magic. Add a few other ingredients and magical becomes out of this world.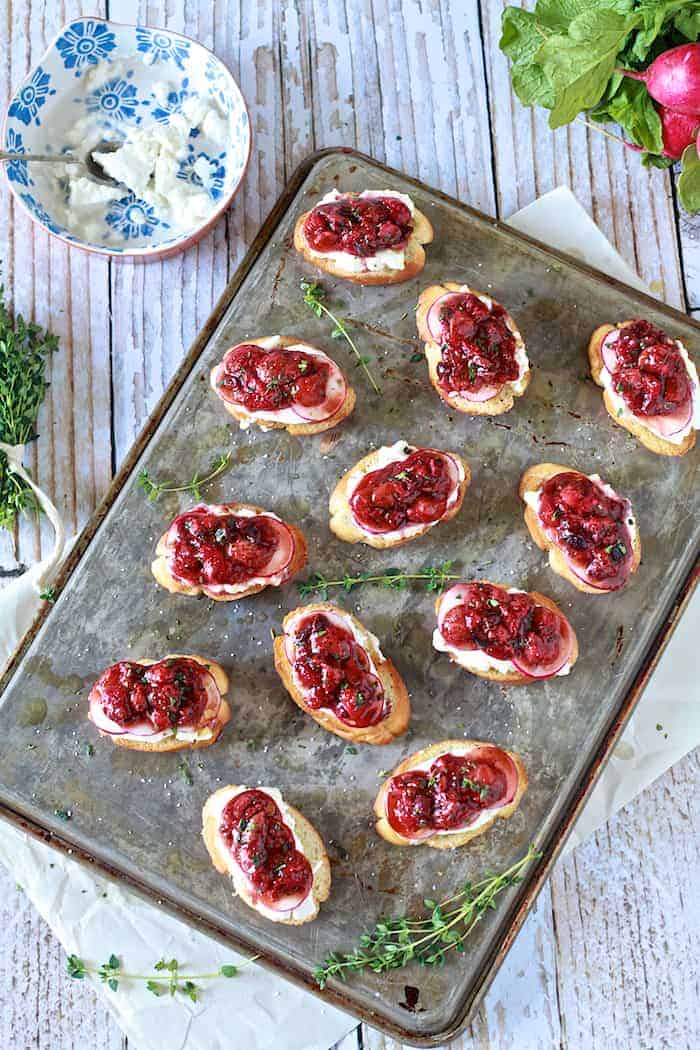 First let me introduce you to Burrata. If you haven't tried it, you must add it to your must eat list. Burrata is ribbons of mozzarella tossed in cream and wrapped in mozzarella. I know crazy right!? It's stretchy, creamy, sweet and salty. In summation, it's amazing and it's just the thing needed to balance the pepperiness of these crostini.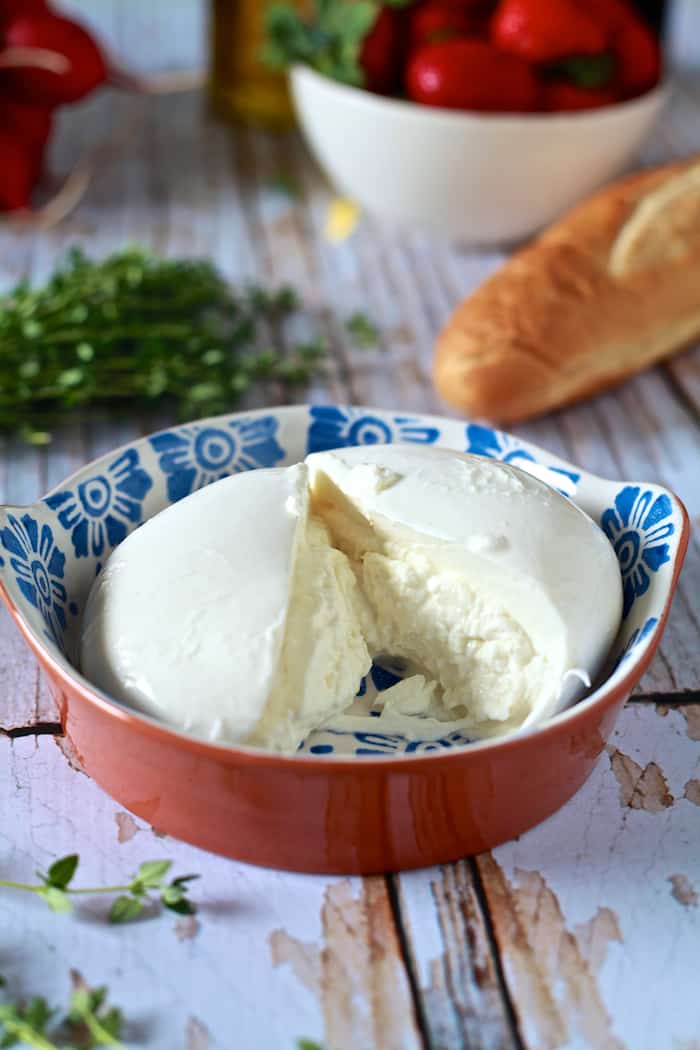 Now lets talk strawberry and black pepper. Black pepper love strawberries and strawberries love black pepper. It's really a harmonious relationship. It may sound odd, but black pepper makes strawberries taste more like strawberries with a little peppery tickle on your tongue. I'm not talking a dash of black pepper. I'm talking a lot of black pepper, don't be shy. And, because I'm weird I tossed in some salty kalamata olives. The olives are optional, but they add a perfect touch of saltiness.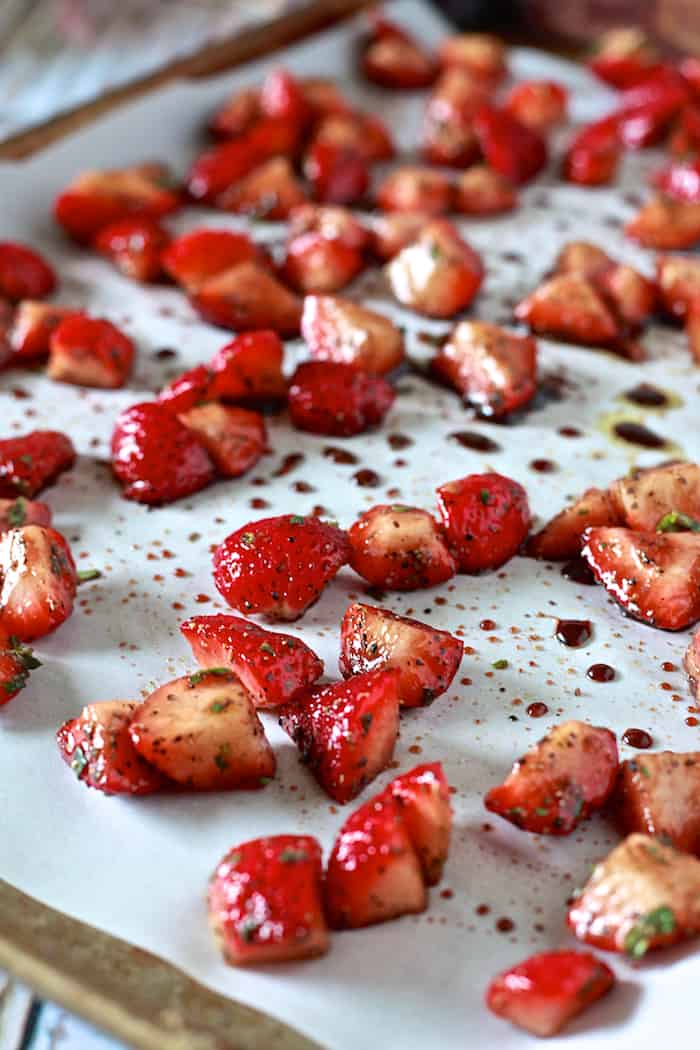 Then I thought if black pepper loves strawberries then surely peppery radishes will also love strawberries. Now we got a love triangle. But, not the weird full of drama kind. This one has more of a kumbaya vibe going on. Honestly, when I put them all together, I am pretty sure they started singing or I am crazy, which is totally a possibility.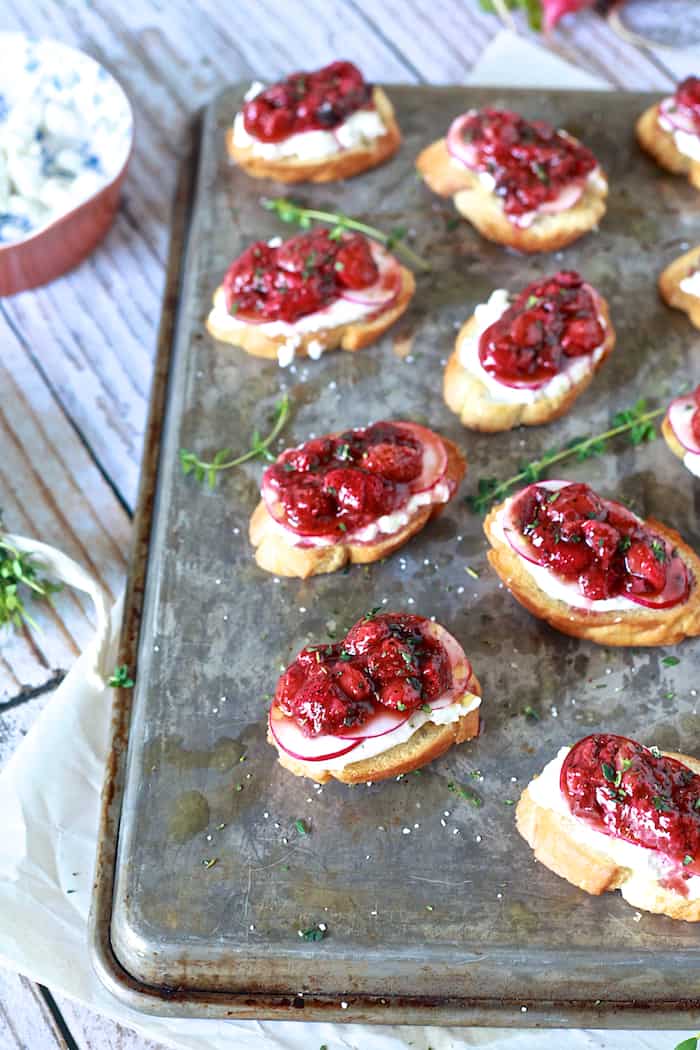 There are times when I get an idea and I think to myself, "Is this going to work?" But, then I'm rewarded with something amazing. And, I 'm talking eyes roll to the back of your head slap your knee amazing.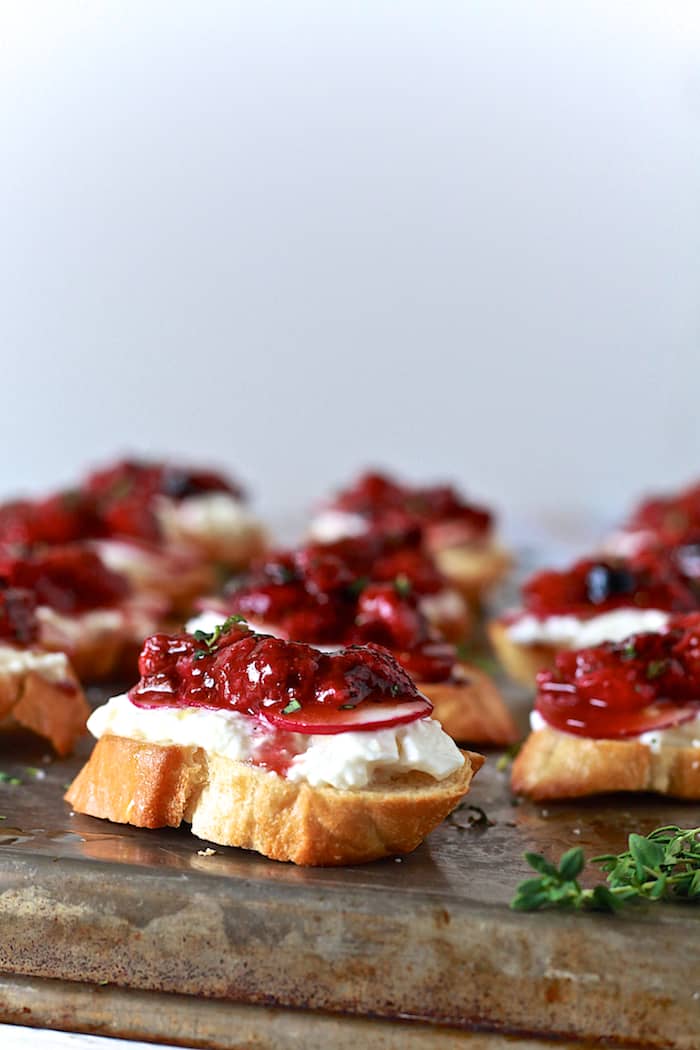 Every element of these crostini works together in perfect harmony. The black pepper and radish make the strawberries more strawberry-ey, the olives add a touch of briny salt, the crostini adds that much loved crunch and the burrata acts as the great equalizer. It's a thing of beauty.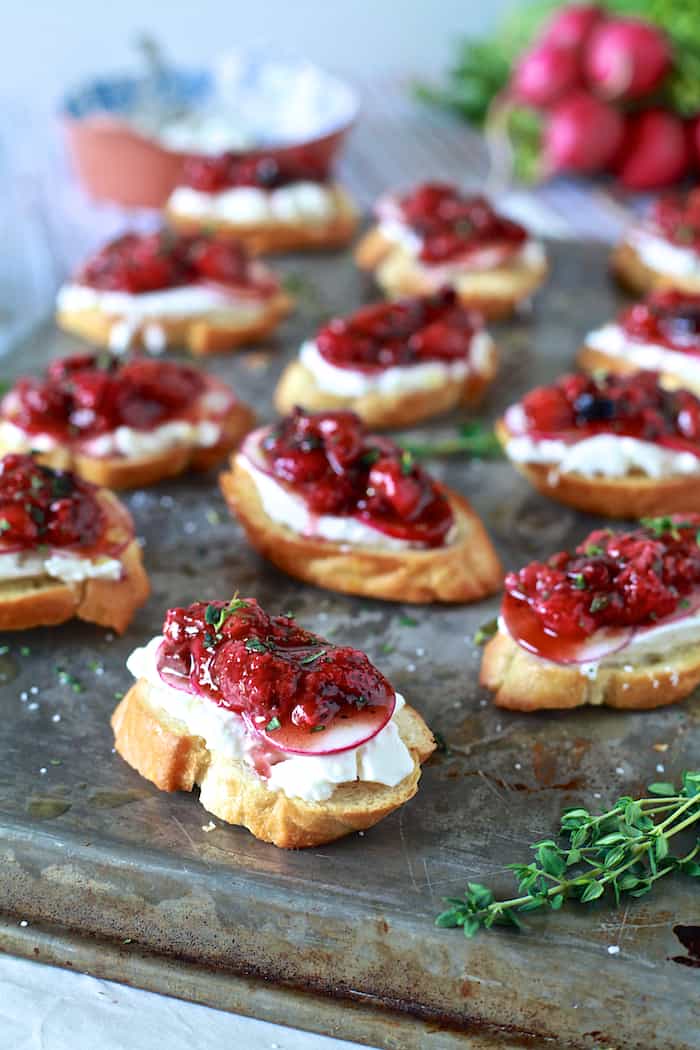 Yield: 12 servings
Peppery Strawberry and Burrata Crostini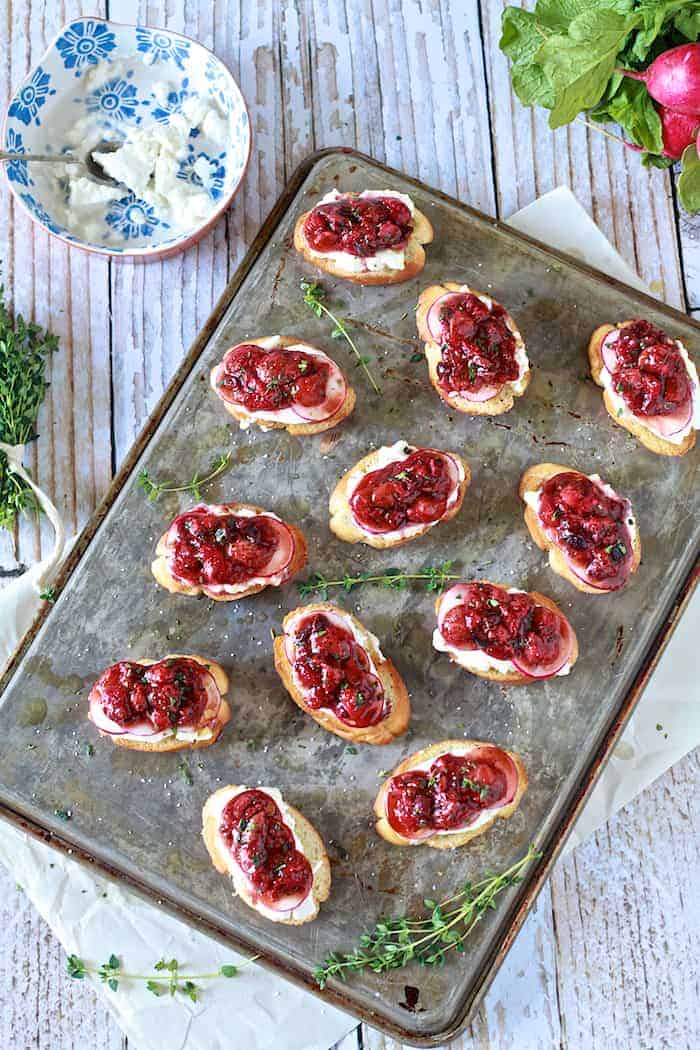 Ingredients
1 lb strawberries, hulled and small diced
1 1/2 black pepper
1 tablespoon olive oil
1 tablespoon balsamic vinegar
1 teaspoon minced fresh thyme
6 kalamata olives, small diced
12 1/2 slices of french baguette
1/2 stick butter, melted
1 garlic clove
8 oz Burrata
3 radishes, thinly sliced
Instructions
Pre-heat oven to 425 degrees.
Toss together berries, pepper, olive oil, balsamic vinegar and thyme. Spread on a sheet pan lined with parchment paper. Roast in the oven for 15 minutes. Transfer berries to a bowl and let cool. The sauce will thicken as it cools.
Brush baguette slices with butter on both sides. Lay straight on sheet pan and toast in oven until golden brown, about 10 - 15 minutes. When baguette slices are cool enough lightly rub with garlic clove, you don't need to rub it much unless you REALLY like garlic.
Stir kalamata olives into strawberries. Top crostinis with burrata, 3 slices of radish and strawberry mixture. Sprinkle with salt and garnish with fresh thyme.