Rice bowl meal prep is my new favorite thing! The arrival of a new year means the setting of new goals. One of my goals is to get my eating back on track after three months of eating virtually whatever I want. Mmmmm….pasteles. And, I am doing it with rice bowl meal prep.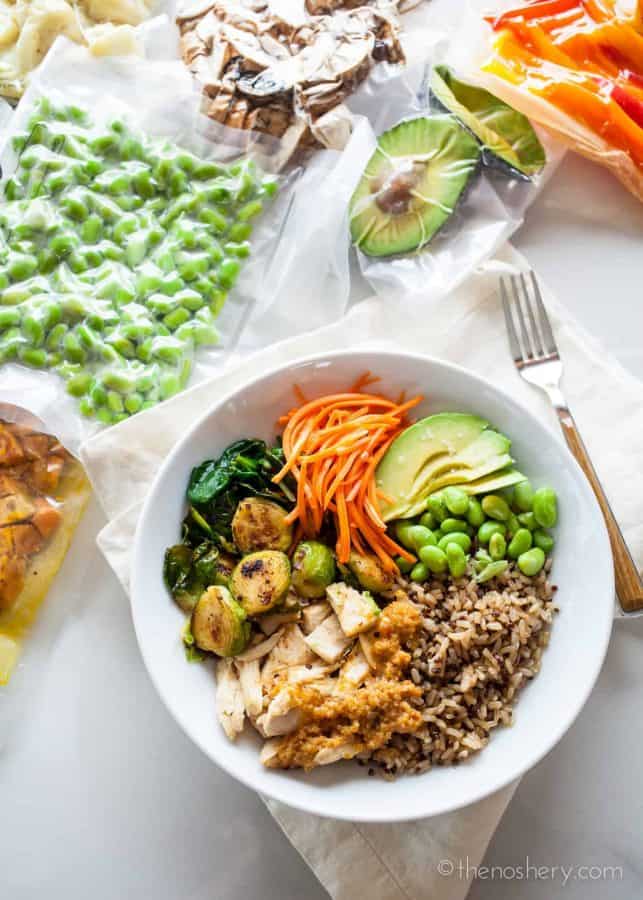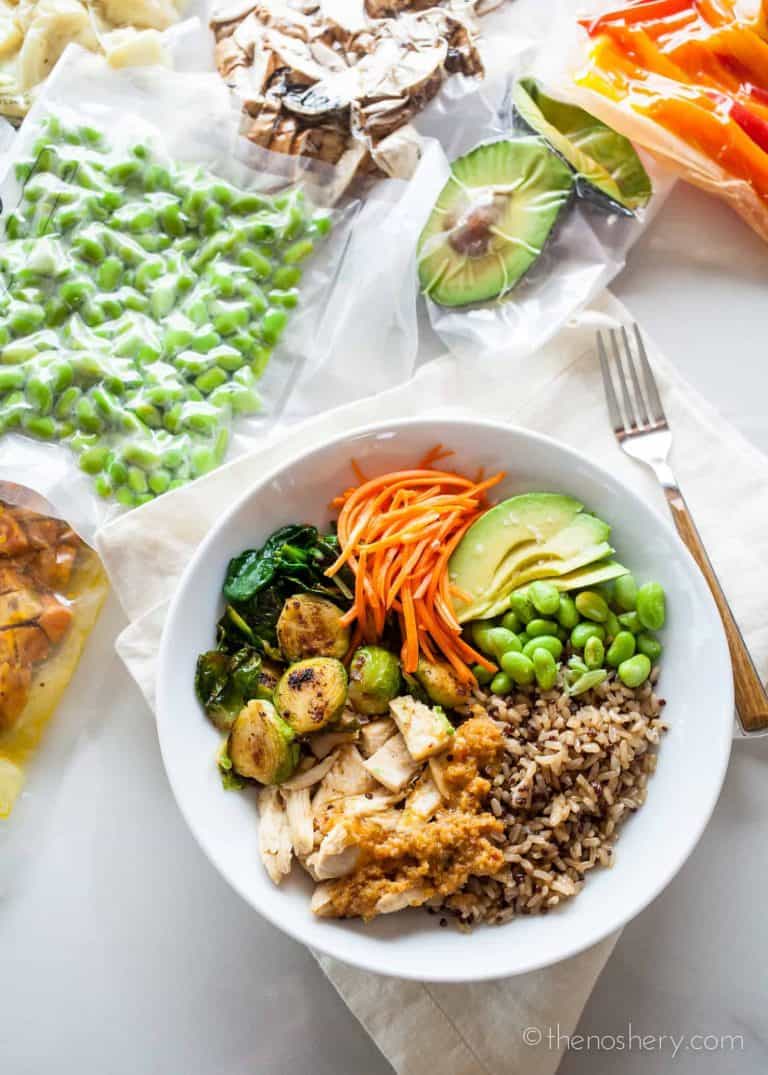 Planning and meal prepping is the key to success when trying to lose weight. Over the last year and a half, I have been really good about working out regularly but, I got a little lax with my eating over the holidays. But, I have some goals I want to accomplish this year and today I am sharing how I plan to meet those goals.
One of my biggest struggle when it comes to meal planning is that I never know what I want to eat and I cannot eat the same thing every day. If I do I quickly develop a bad case of palate fatigue and end up almost gagging on the food. I know not a pretty picture, not fun. The other challenge is that my husband is also counting macros and he has different requirements then I do. With this system, I am able to easily a different meal that meets each of our needs every day.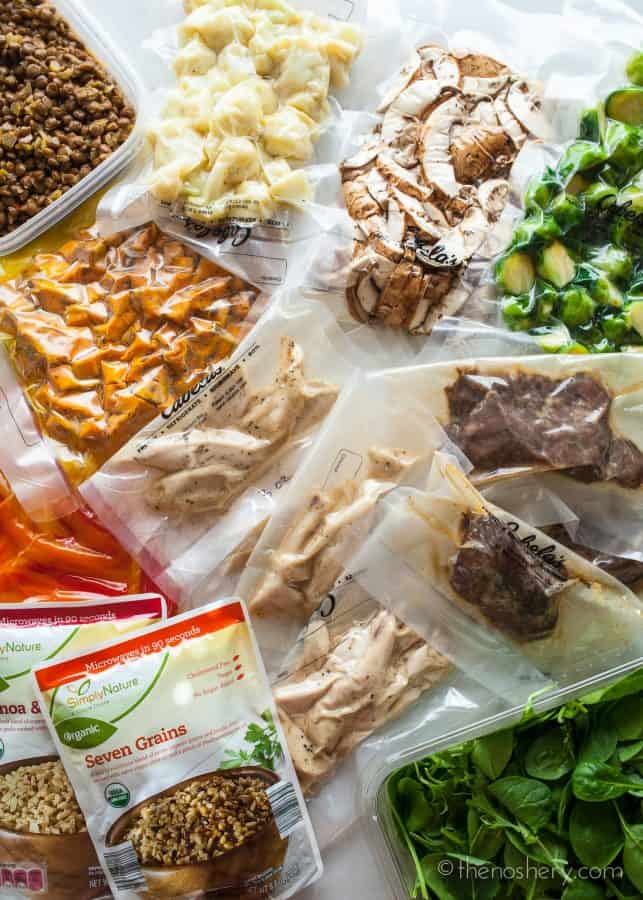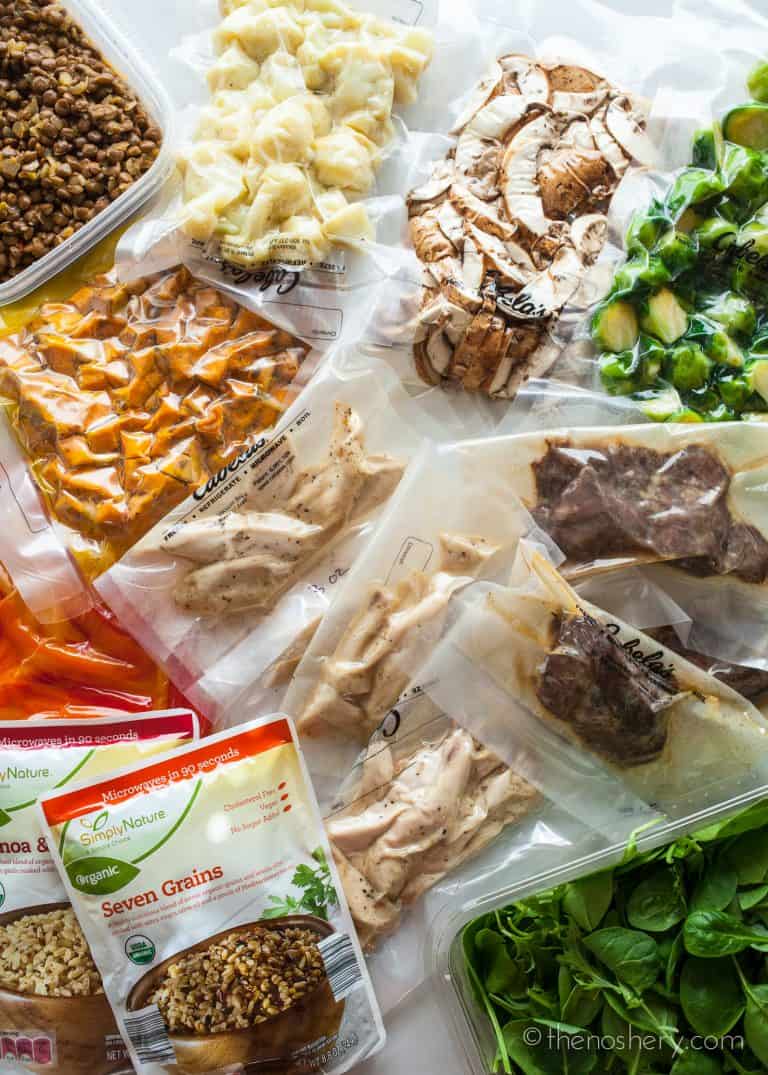 Why Rice Bowls Are The Best
Rice bowls are basically a warm super hearty salad. Picture this, it's lunch or dinner time. What are you in the mood for? Are you in the mood for meat and potatoes, Mexican, Italian, Indian, or Thai because there is a rice bowl for all of those.  When counting calories or macros you think of only 2 to 3 items on the plate but with a rice bowl, you can have a perfectly balanced plate of macros with 5 or more items. Each item will add it's unique flavor and texture making your meal super satisfying.
Rice Bowl Meal Prep
Part of my Sunday afternoon routine is to meal prep for the week ahead. I spend the day shopping, blanching vegetables, roasting chicken, slow-cooking beef, and slicing vegetables. At the top of my shopping list are rice and grain pouches. The rice pouches can get pricey but, they are available at Aldi's an average of $1 less than the average grocery store.
After I prep my proteins and vegetables I store them in vacuum sealed bags. I do this for two reasons. First, I have a very small refrigerator and the vacuum sealed bags fit better in my refrigerator. The other reason is that it helps extend the shelf life and quality of the prepped foods. Every time I open a bag I just cut the seal and reseal when I am done. However, if you do not have a vacuum seal system you can use resealable plastic bags and food storage containers. Below is a list of the foods I prep. I a have included links to my favorite seasoning mixes and dressing. I don't prep the full list every week this is just a running list of items I rotate.
rice pouches
quinoa and brown rice pouch
seven grains pouch
brown and red rice
brown basmati rice
proteins
roasted bone-in chicken breast
grass-fed beef chuck
pork loin roast
hard boiled egg
hearty vegetables
roasted diced sweet potato
roasted diced butternut squash
roasted quartered radishes
blanched halved brussels sprouts
blanched cauliflower florets
blanched broccoli florets
blanched green beans
delicate vegetables
sliced mushrooms
sliced zucchini
sliced bell peppers
cherry or grape tomatoes
shredded carrot
sliced baby cucumber
sliced red onion
asparagus
power greens salad mix (spinach, baby chard, baby kale mix)
arugula
avocado
legumes
lentils
edamame
garbanzos
black beans
seasonings and dressings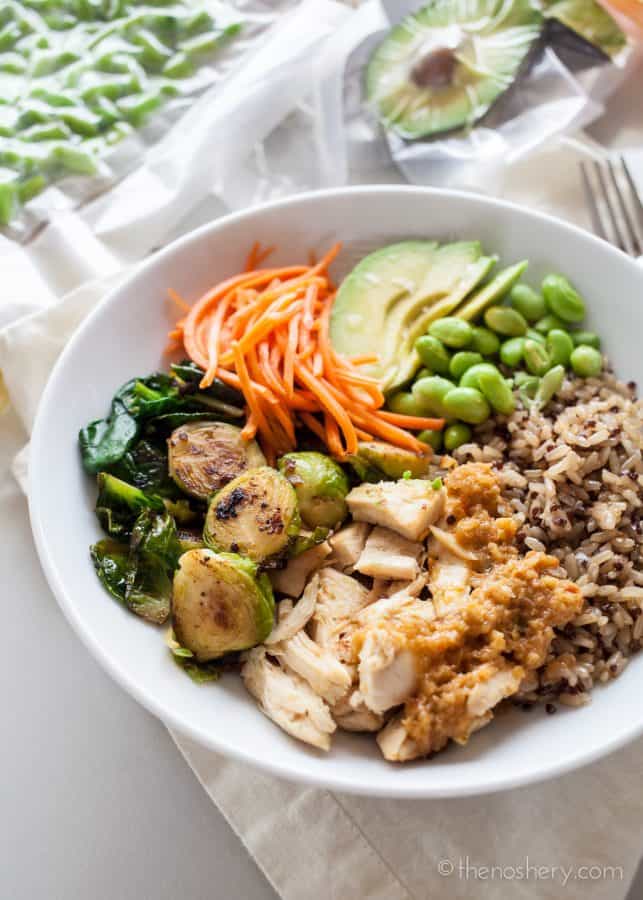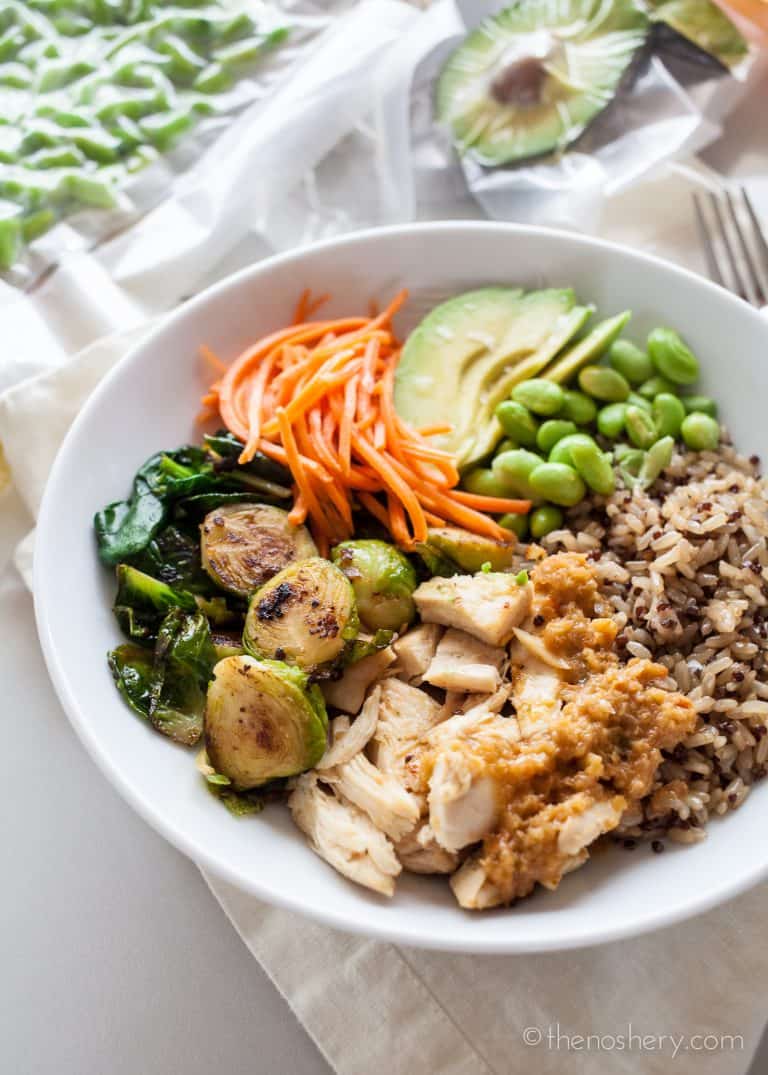 Prepping Proteins
When prepping proteins my goal is to prep them with as much flavor as possible without adding any calories.
Roast Chicken Breast
For the chicken, I chose bone-in skin on chicken breast that I roast in the oven. Chicken breast is high in protein and lean. Because it is such a lean meat I roast it on the bone to keep it from drying out. Once it is done I remove the skin and bone and store it for the week.
Ingredients
4 lbs bone-in skin on chicken breast
4 teaspoons salt
3 teaspoons garlic paste
1 tablespoon oregano
juice of 1/2 a lemon
fresh thyme & marjoram
Instructions
Heat oven to 350 degrees.
Combine salt, garlic paste, oregano, and lemon juice in a small bowl. Mix until well combined, set aside. Line a sheet p with foil, set aside.
Pat chicken breasts dry with paper towel. Season the chicken breasts under the skin and on the other side. Stuff a sprig of each fresh herb under the skin. Place the chicken breasts skin side up on the prepared sheet pan. Cover tightly with foil.
Roast in the oven at 350 degrees for 1 hour. Uncover and set aside to cool. Once cool enough to handle remove skin and debone the chicken.
Braised Grass Fed Beef
I choose grass-fed beef because it's leaner than conventional beef. The difference isn't huge but, every little bit counts. This beef can be prepared in a slow cooker or electric pressure cooker.
Ingredients
4 lb grass fed chuck roast
1 tablespoon beef spice rub
1 teaspoons salt
1/2 cup beef stock
olive oil cooking spray
Instructions
Pat roast dry with paper towel. Spray lightly with olive oil cooking spray on both sides. Season chuck on both sides with spice rub and salt.
Set slow-cooker or electric pressure cooker on sear. Sear the chuck for 2 minutes on each side. Add beef stock to the chuck.
If using a slow cooker set to LOW for 8 hours or HIGH for 4 hours. If using an electric pressure cooker cook under pressure for 1 hour and let the pressure release naturally.
Braised Pork Loin Roast
I love pork and so, of course, I have to prep some pork. Pork loin is a lean meat. To make sure it is flavorful and not dry I prepare it in a slow-cooker or electric pressure cooker.
Ingredients
4 lb pork loin roast
3 teaspoons salt
3 teaspoons garlic paste
1 tablespoon oregano
Instructions
Pat pork loin roast dry with paper towels. Combine salt, garlic paste, and oregano in a small bowl. Rub pork with seasoning. Transfer to a resealable plastic back and let marinade for at least 1 hour or overnight.
Place pork loin roast in a slow-cooker or electric pressure cooker. Add 1/4 cup of water to the pork roast. If using a slow cooker set to LOW for 8 hours or HIGH for 4 hours. If using an electric pressure cooker cook under pressure for 1 hour and let the pressure release naturally.

Prepping Vegetables
Some vegetables cook quickly with a quick saute, others need more time. Because of this, not all vegetables should be prepped the same. What I call "delicate vegetables" can be quickly sauteed in a pan with some cooking spray and salt. These vegetables can be simply sliced and stored to use later.
Hearty vegetables, on the other hand, need more time. Root vegetables like sweet potato and radishes should be fully cooked by roasting in the oven tossed with cooking spray and salt. Cruciferous vegetables like cauliflower and brussels sprouts are best blanched. The purpose of blanching is to lightly cook the vegetables, making them easy to saute. If you roast these vegetables by the time you reach the end of the week they are soggy and sad.
How to Blanch Vegetables
Fill a large pot halfway with water. Season the water with enough salt to where you just taste the salt in the water. Fill a large bowl with ice water and set aside. Heat large pot of water over medium-high heat until bubbles just start to form up the sides, don't bring the water to a boil.
Add vegetables to the hot water. Let the vegetables cook until bright in color, tender but still crispy, 2 – 5 minutes depending on the vegetables.
Using a slotted spoon or strainer transfer the vegetables to the ice to shock the vegetables and stop the cooking process. Once the vegetables are cool transfer to a clean kitchen towel to dry. Store in airtight container or vacuum sealed bag.
Quick Pickling Vegetables
Pickling does amazing things! Pickled vegetables add virtually no nutritional value but it's an easy way to add texture and acid to your food. Acid and texture are two key things that make food more enjoyable. I keep a batch of quick pickled red onion, shredded carrots, and sliced baby cucumbers on hand all the time. Trust me a little-pickled vegetable can make all the difference in the world.
To do a quick pickle all you need it is the following:
1 lbs fresh vegetable onions, carrots, cucumbers, tomatoes, grapes, or green beans
1 cup vinegar
1 cup water
1 tablespoon kosher salt
1 tablespoon sweetener
2 cloves garlic
fresh herbs and spices
I normally use white vinegar but you can also use apple cider, red wine, white wine, champagne, or sherry vinegar.
Prepping Legumes
Legumes are easy! I buy the frozen steamer shelled edamame. Steam the edamame in the bag and store. Done! Drain and rinse canned legumes like lentils, garbanzos, or black bean. For one can of beans spray a non-stick skillet with olive oil cooking spray. Saute 1/4 cup of minced onion and 2 minced garlic cloves in the skillet until translucent. Add the beans and toss with sauteed onions and garlic. Season with salt to taste. Set aside to cool completely and store in food storage container.

How to Make a Rice Bowl
Now that you have prepped all these awesome foods what do you do with them? Of course, every bowl starts with rice, but what to put on the rice is the question. When I am trying to come up with a rice bowl combination I first think of what kind of food am I'm in the mood. This will help me determine not only my protein and vegetable but also my seasonings and dressing. Here are a few combinations to inspire you.
roast chicken with a little soy sauce, brussels sprouts, edamame, avocado, pickled carrots, power greens, and ginger dressing
braised beef, mushrooms, cauliflower, power greens, quick pickled cucumbers, and caramelized sweet onion dressing
roast chicken with garlic herb seasoning, sweet potato, brussels sprouts, radishes, power greens, quick pickled cucumbers, and caramelized sweet onion dressing
braised pork loin with cumin, sliced bell peppers, avocado, quick pickled red onion, black beans, power greens, and salsa
roast chicken with Italian seasoning, sliced bell peppers, broccoli, mushrooms, pickled red onions, power greens, and balsamic dressing.
When preparing my lunch or dinner I keep a kitchen scale on hand. I then cook the rice pouch according to the package directions. I weigh and log each item in my food log. I then lightly saute the vegetables and proteins in a non-stick skillet with some olive oil cooking spray. Once they are browned and heated through they are ready to enjoy. I top my rice with the protein, vegetables, pickled vegetables, and dressing. Done! It all takes about 10 to 15 minutes. I like to saute each item individually but if you prefer you can toss everything together in the skillet.
Meal Prep Tools
I have always struggled with meal planning because I don't know what I will be in the mood to eat from day to day. This is the system that has worked best for me. I can cater to my cravings and meet my macros. It's a win-win.
29