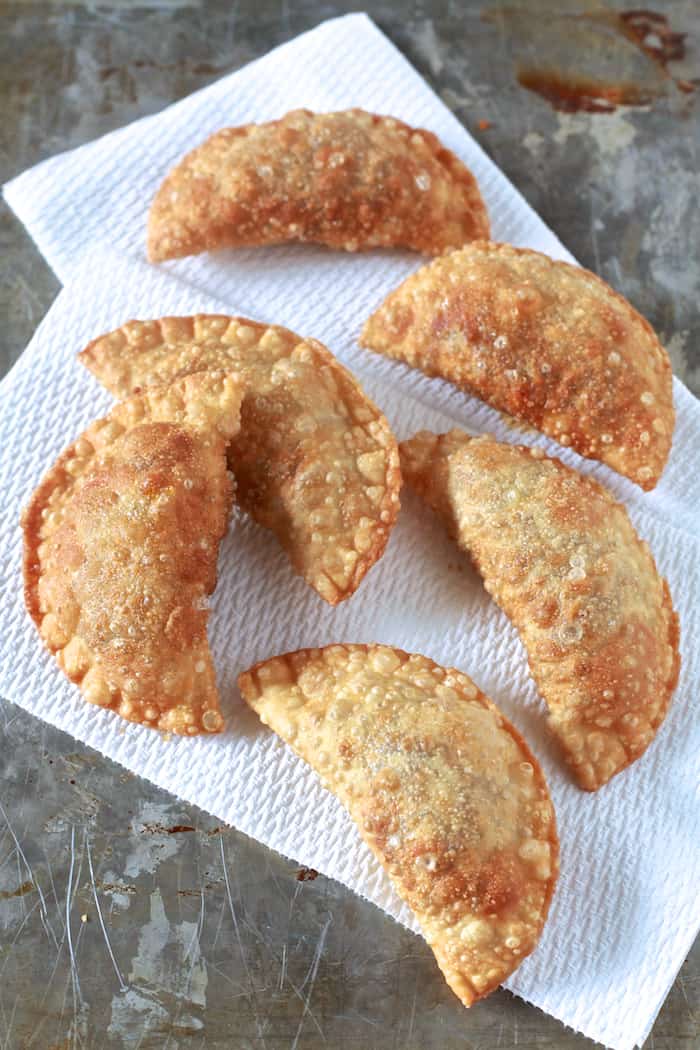 You may be looking at these little treats and think, OH! Empanadas! but they are not empanadas they are pastelillos (pas-te-lee-joes). Take that confused look off your face and allow me to explain. In Puerto Rico what you may call empanadas we call empanadillas, because empanadas normally references something that is breaded and fried, think chicken fried steak. So, what is the difference between empanadillas and pastelillos? If you ever visit Puerto Rico and ask for a pastelillos you will get a small turnover made with a thin dough, crimped edge and fried. Empanadillas are a large turnover with a thicker dough, rolled edge and fried. Basically, a pastelillo is a snack, and an empanadilla is lunch.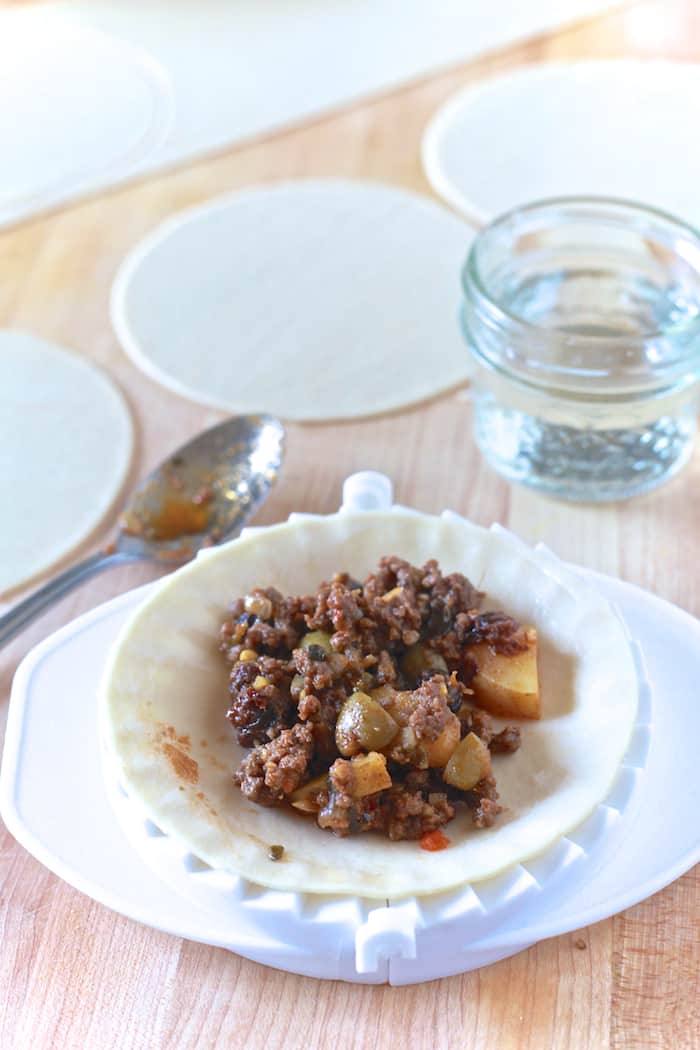 When I was in college I road several
pisicorre
(passenger van buses) to get from my home in the country to my school in the city. It was a long voyage to get to and from school. Right next to the bus terminal was a little joint that sold pastelillos and cold malta. Every day, on my way back home I would buy myself one of each to eat on the walk home. Pastelillos and malta sustained me during most of years in high school and college.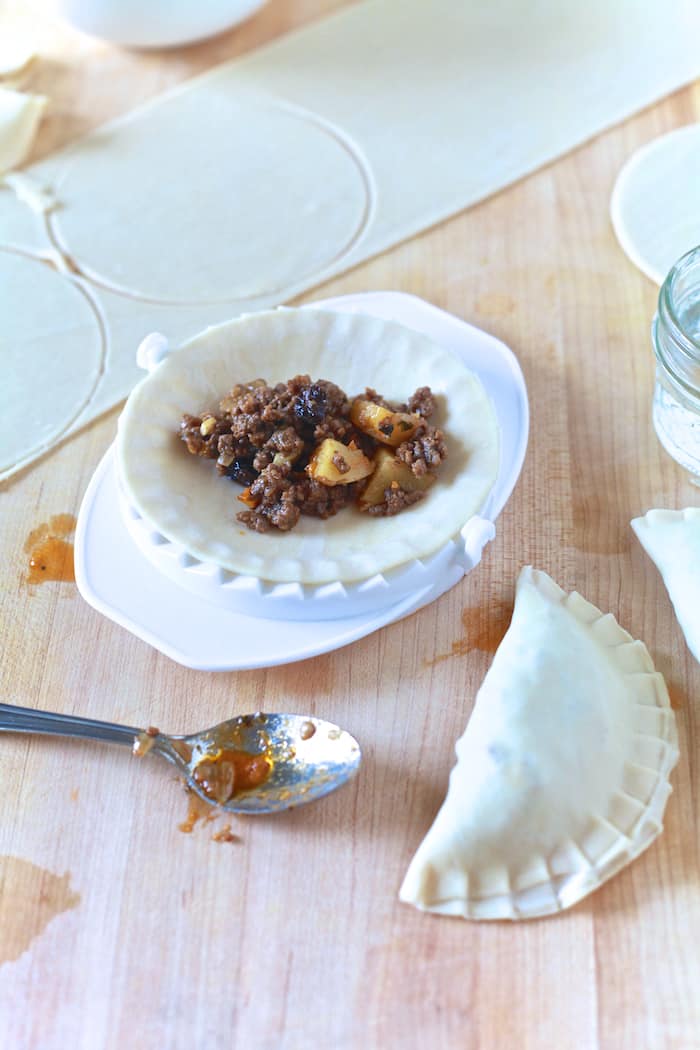 Now that we have the difference between an empanadilla and pastelillos covered let's have a chat about how to make these amazing little meat filled turnovers. The dough is very similar to a pasta dough. In fact, I use a KitchenAid pasta dough attachment to roll the dough for empanadillas. It works perfectly! And, if you can get your hands on an empanada press it's even easier. If the idea of making dough is a little too daunting, you can use Goya discos found in the specialty or Latin food freezer section. Today the pastelillos you find at roadside kiosks are filled with a simple meat filling, but the benefit of making them at home is you can fill them with all kinds of goodies. The filling is made of ground beef, potatoes, olives, raisins and a savory sauce. It's a very filling and satisfying filling.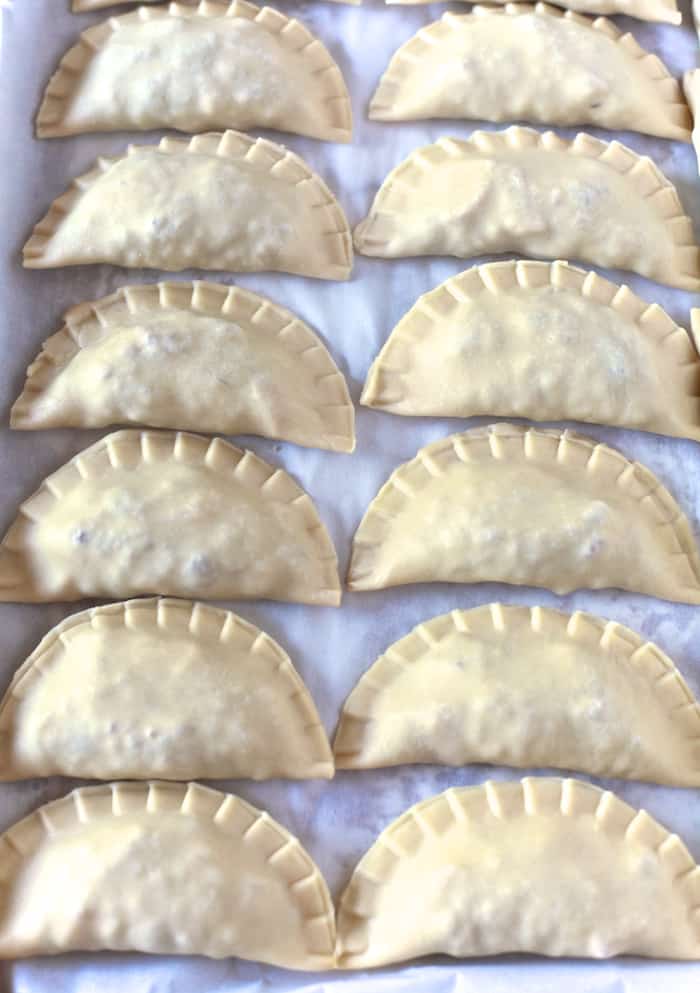 One of the great things about partnering up with JCPenney has been having access to great high-quality kitchenware that makes my time in the kitchen easier. Let's talk frying for example. I'll be honest; Puerto Ricans want to fry all the foods, but frying can be a pain. Then I got my hands on a
Waring Pro Professional Deep Fryer
and now frying is a snap, which is dangerous… very dangerous! Fry all the foods!! JCPenney has a great
collection of deep fryers for your choosing
. Having a countertop deep fryer makes all the difference! I love this fryer because it self regulates the heat, has a built in timer and is big enough to fry generous batches without having to overcrowd the basket. If you don't have a deep fryer, you can also use a
dutch oven
or large skillet. If you choose to use a skillet pick a skillet with a heavy bottom that evenly distributes heat. Nonstick skillets are great because they are easy to clean out and don't form that sticky oil buildup. My favorite kind of skillet to use for frying is a
cast iron skillet
.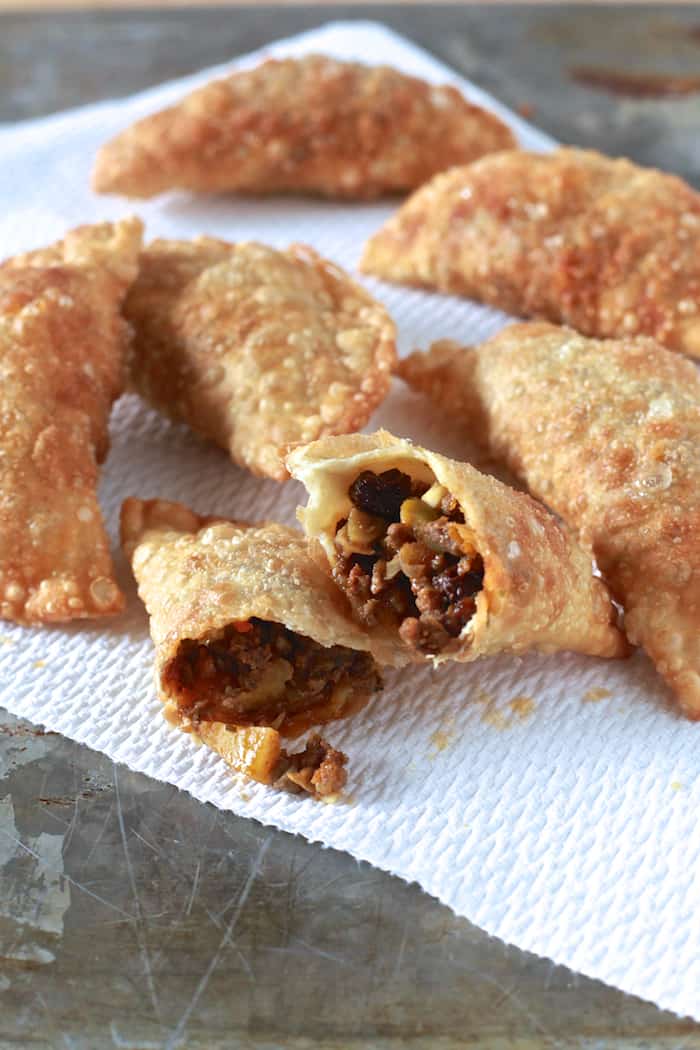 Pastelillos can be filled with all kinds of wonderful and delicious foods. The most-popular ones found around schools are pizza that is just cheese and tomato sauce. If you are traveling along the coast of Puerto Rico, you'll find crab filled pastelillos, and they can even make a wonderful dessert when filled with guava and cream cheese. My friend Rebecca of Foodie with Family just make some guava and cream cheese handpies that look amazing!
What would you fill your pastelillo with? Let me know in the comments below to enter for a chance to win a $100 JCPenney Gift Card!
Pastelillos de Carne (Puerto Rican Meat Turnovers)
Tasty fried meat turnovers like you find in the road kiosks of Puerto Rico.
Ingredients
Filling
1 onion, minced
3 cloves of garlic, minced
¼ cup recaito
1 lbs 80/20 ground beef
2 teaspoons Adobo
2 potatoes, diced
10 pimiento stuffed olives, cut in half
2 bay leaves
½ cup water
2 tablespoons tomato paste
½ cup raisins
Dough
3½ cups of flour
2½ tsp of salt
2 tsp of baking powder
3½ Tbs of vegetable oil, cold
1 egg, slightly beaten
¾ cup of water
vegetable oil for frying
Tools
deep fryer
parchment paper
dough press
Instructions
Filling
Heat skillet at med-high, drizzle with 2 tablespoons olive oil. Sauté onions, garlic and recaito until onions are translucent.
Add ground beef, sprinkle with adobo and salt. Cook the beef until just browned. Add potatoes, olives, bay leaves, water, tomato paste and raisins to skillet, bring to a boil. Lower heat to a simmer, cover and cook for 15 minutes. Uncover and cook another 5 to 10 minutes or until sauce has reduced. Set filling aside.
Dough
Sift flour, baking powder and salt into a food processor fitted with dough blades. Add vegetable oil to flour mixture, pulse to combine. Add egg and pulse to mix. Add the water a little at a time. Process until dough comes together. It may form into large pellets no worries.
Dust a workspace with flour, turn dough out on to work surface. Knead the dough using your palm, as if you were washing clothes on an old washboard. Knead until the dough is soft and smooth. Form into a ball, cover with a cloth and let it rest for 30 minutes.
Line a sheet pan with parchment paper. Cut the dough into 4 pieces and cover with a towel. With your hands, flatten one piece of dough into a ½-inch-thick. Pass it through the widest setting on the pasta machine. Fold it in thirds, like a letter, and flatten to ½ inch thick. Pass it through the widest setting (#1) again with the seam of the letter perpendicular to the rollers.
Without folding the dough, pass pasta dough through the next setting (#2) 4 times. Again reduce the rollers to the next setting (#3) pass pasta through 4 times. Reduce the rollers to the next and final setting (#4) pass pasta through 4 times. Dough should be about 1/16 inch thick and 5½ inches wide.
Lay the rolled-out dough on the lined sheet pan, loosely lay plastic wrap over top. Roll out the remaining dough in the same manner. Lightly flour each strip, lay on sheet pan and cover with plastic wrap.
Assemble
Set your deep fryer to heat 350 degrees.
Using a 5 inch round dough cutter, cut rounds out of the dough sheets. I have an 5 inch round empanada press and I use the bottom the the press to cut the rounds. You could also use any kind of container lid.
Fill the center of the dough disks with 1 spoonful of filling. Wet the edges of the dough with water or oil. Fold over to make a half moon, Trim the edges if you need to make them even. Pinch the dough together using your fingers, then go over it, pressing it with the teeth of a fork.
Place pastelillos into basket of the deep fryer, drop the fryer bucket. The pastelillos should almost immediately begin to puff and float, cook on each side about 2 minutes, or until golden brown and crispy.
Drain on a plate with paper towel, let cool and enjoy. YUMMY!
Notes
Roll by hand - Roll dough out into a rope about 15 inches long. (I roll, pull and squeeze) Once rolled out cut off disks about ¾ of an inch think. Dust your rolling pin and workspace and roll out into a thin paper circle.

Make Ahead - Once assembled place pastelillos on sheet pan lined with parchment paper and freeze individually. Transfer to resealable plastic bag and store in freezer. Thaw for 5 - 10 minutes on counter top before frying.

Short Cut - Skip the homemade dough and use Goya discos found in the Specialty Foods freezer section.
Sweepstakes Rules:
No duplicate comments.
You may receive (2) total entries by selecting from the following entry methods:
Leave a comment in response to the sweepstakes prompt on this post
Tweet (public message) about this promotion; including exactly the following unique term in your tweet message: "#SweepstakesEntry"; and leave the URL to that tweet in a comment on this post
Blog about this promotion, including a disclosure that you are receiving a sweepstakes entry in exchange for writing the blog post, and leave the URL to that post in a comment on this post
For those with no Twitter or blog, read the official rules to learn about an alternate form of entry.
This giveaway is open to US Residents age 18 or older. Winners will be selected via random draw, and will be notified by e-mail. The notification email will come directly from BlogHer via the sweeps@blogher email address. You will have 72 hours to respond; otherwise a new winner will be selected.
The Official Rules are available here.
This sweepstakes runs from 8/25 -9/22/2014.
Be sure to visit the JCPenney brand page on BlogHer.com where you can read other bloggers' posts!