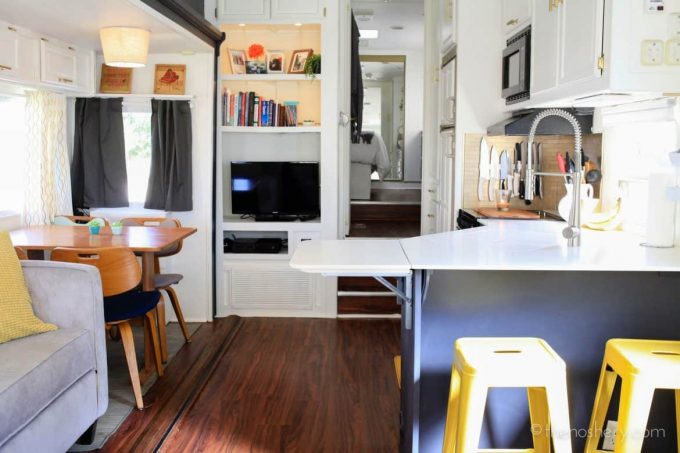 I know it took forever, but I am finally revealing our new camper home! First sorry for the delay, it's was due to publishing date commitments and ya-da-ya-da, I won't bore you with the details. No matter it's finally here, and I am excited to share my new home with you.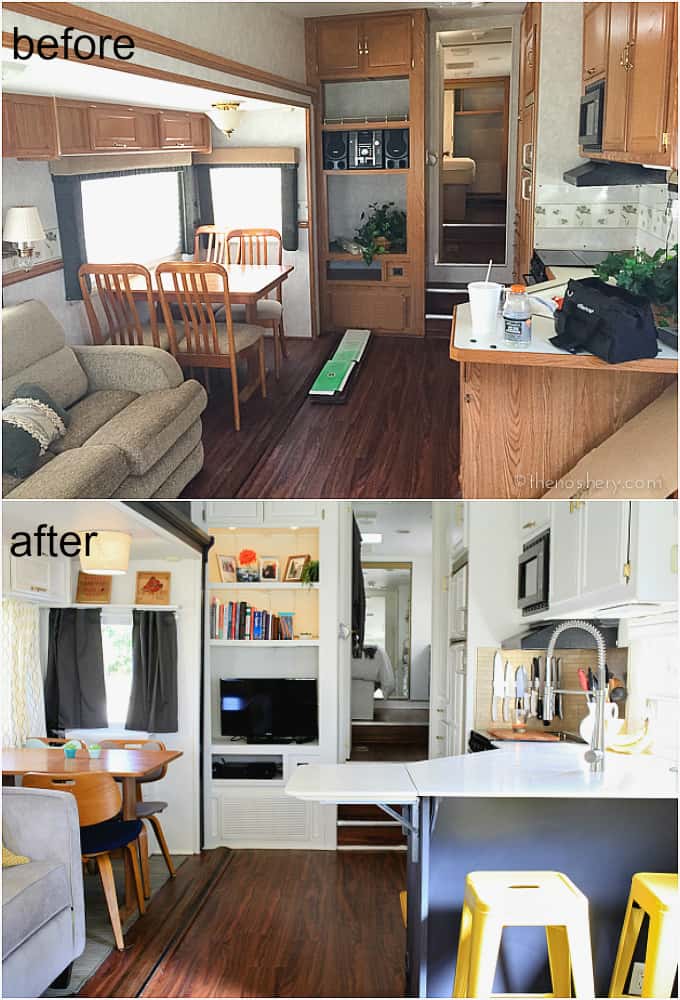 In case you haven't been following over a year ago, we made the decision to move into a tiny home. We moved into our 150 sqft vintage camper full time but after eight months we realized we needed a little more room. After some searching, we purchased a 2002 Fleetwood Wilderness GLX 30 5G. In the middle of a sweltering summer, we took on the task of remodeling.  Let's take a tour!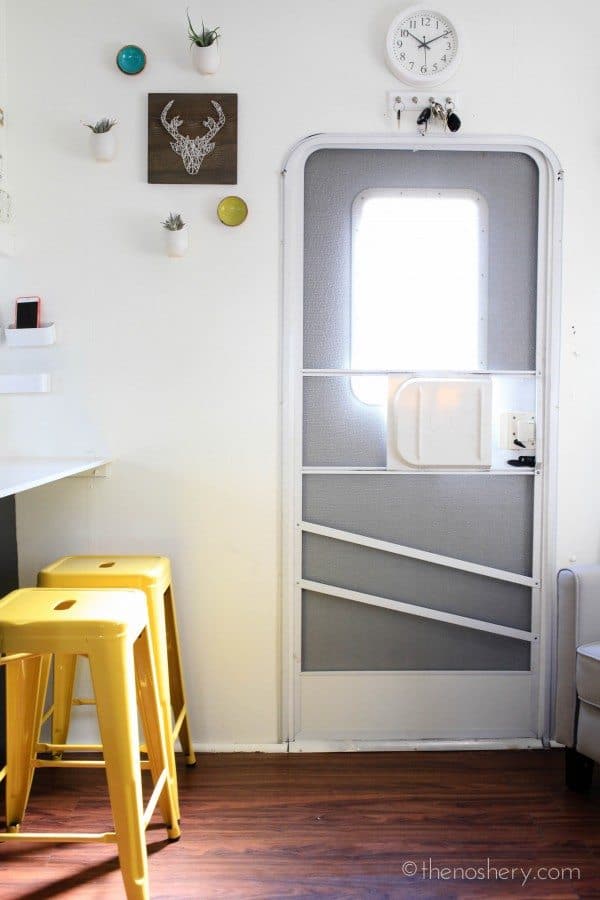 I wanted this tiny home to be welcoming but have a modern luxe feel. We did this with contrasting bright and dark colors and heavy brushed brass fixtures.
We painted everything but the floor and ceiling. We also replaced all of the furniture. The original recliners where large white leather recliners. They looked like the children of the stay-puff marshmallow man. I was able to find some smaller gray recliners that fit perfectly into the living area.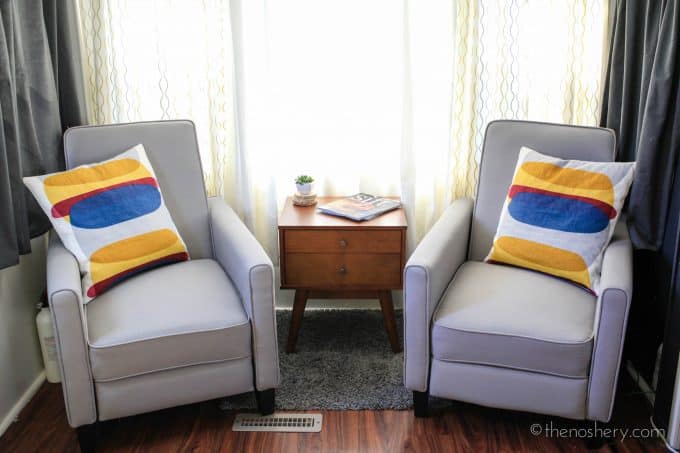 The dining table is the original table. The dining chairs, however, I found several years ago in a breakfast restaurant. I had them in storage and reupholstered them in a variety of modern colors.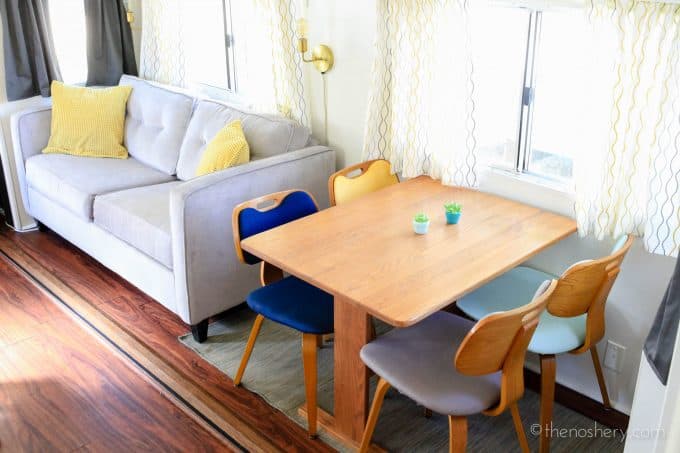 On of the challenges I had was figuring out what to do with the light fixtures over the sofa and bed. They were sad 90s glory and I needed something cool and modern. I decided on the Downtown Minimalist Plug-in Sconces with Edison Style 1910 Era Bulbs. They come in over 20 color options! You can even choose what color you want the cord. I went with a white and gold cord. I LOVE how they look! They are the perfect addition to my little house!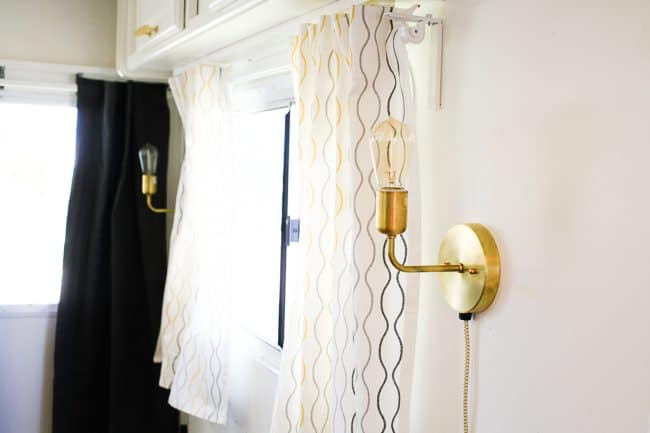 My pride and joy is my new tiny kitchen. You can see that all the upper cabinets are white, and the lower cabinets are a dark gray. The light in the picture gives the cabinets a blue hue but in person, the paint is more of a deep gray.  You can see the entire painting process in my post How to Paint Camper Interior.
I chose the Aspect champagne stainless steel subway tile backsplash to match the cabinet pulls. The surprising thing about this backsplash is that it's peel and stick. Very easy to install! It looks fantastic and easy to clean.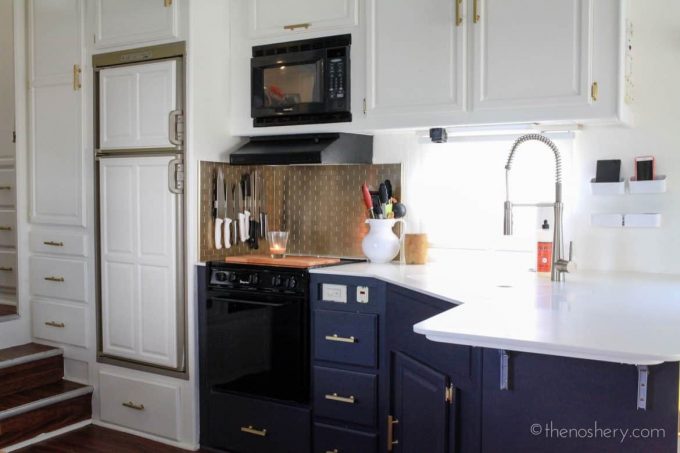 We also had the countertop replaced. We decided to do this for two reasons. The original countertops were hideous and I wanted to install and under mounted sink which required a new counter top.  The under mounted sink was the best decision.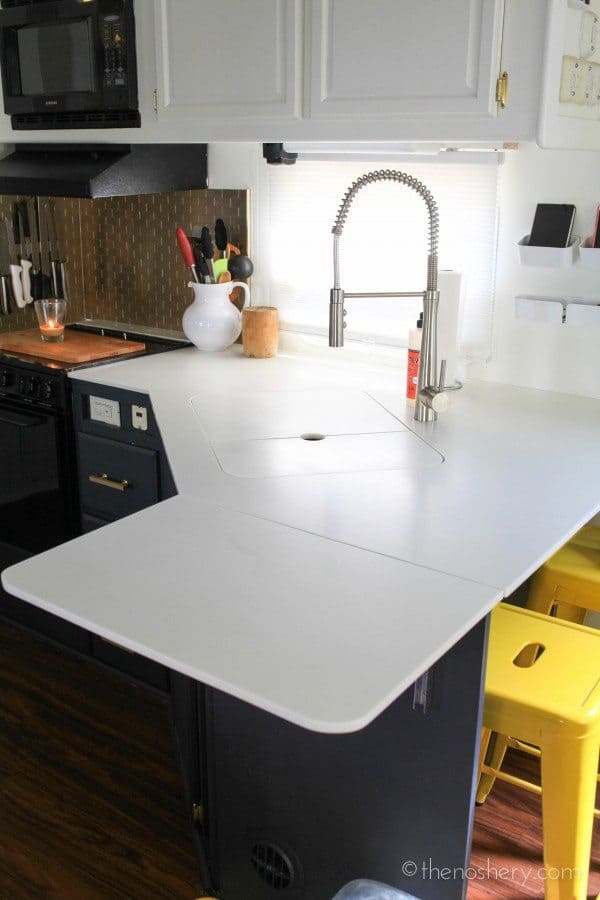 I looked for hours to find the right sink and decided on Moen 2000 Series 18-in x 24.75-in Double-Basin Stainless Steel Undermount. It was the perfect size for my tiny kitchen.  I needed a sink that was deep and compact, and this sink was perfect.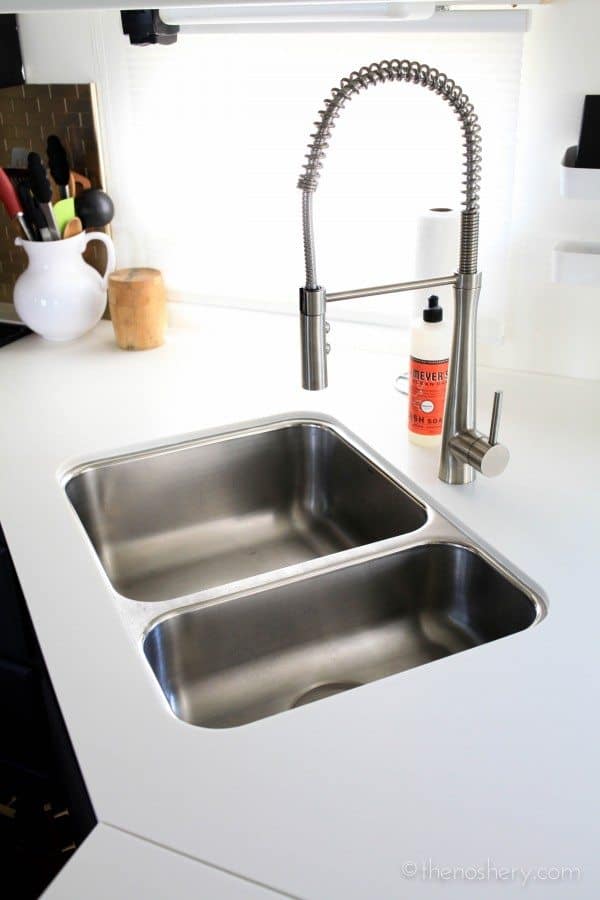 Also, by under mounting the sink I was able to use the sink cutouts as covers to optimize my counter space. Now when I prep I can keep the smaller basin uncovered for washing.  I also decided on a commercial pull down faucet. I prefer this kind of faucet to a retracting head for two reasons, I think it looks cool, and I don't have to worry about the retraction mechanism going bad.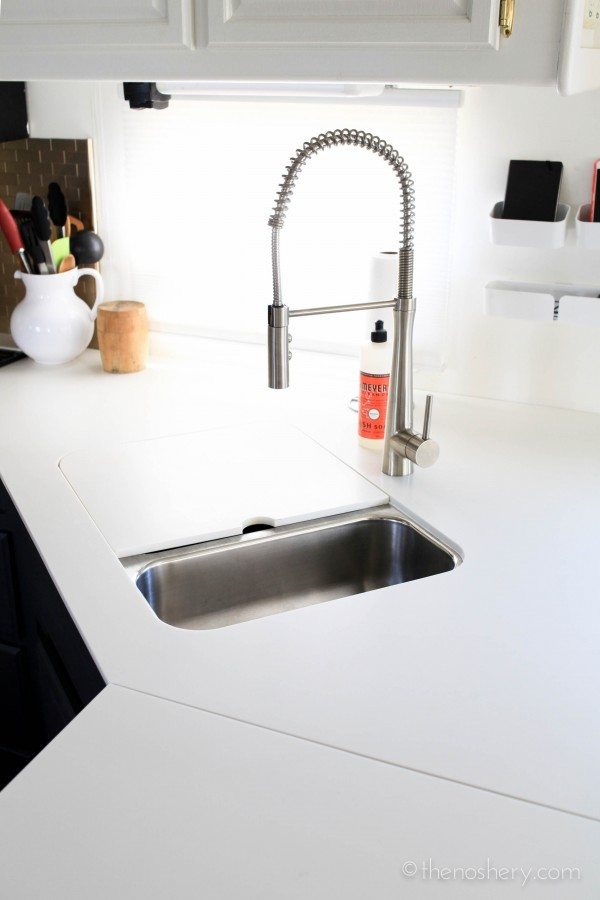 Finally, in the kitchen, we added a drop down leaf. The original counter cut off at the edge. Considering I spend most of my time in the kitchen counter space is a high priority. The drop leaf was the perfect solution.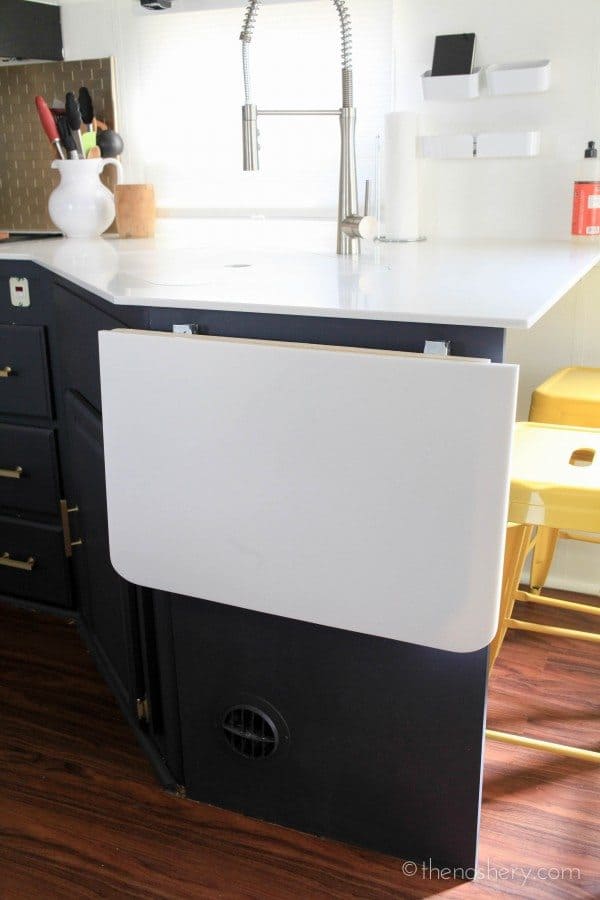 Let's move up the staircase and into the master suite. 🙂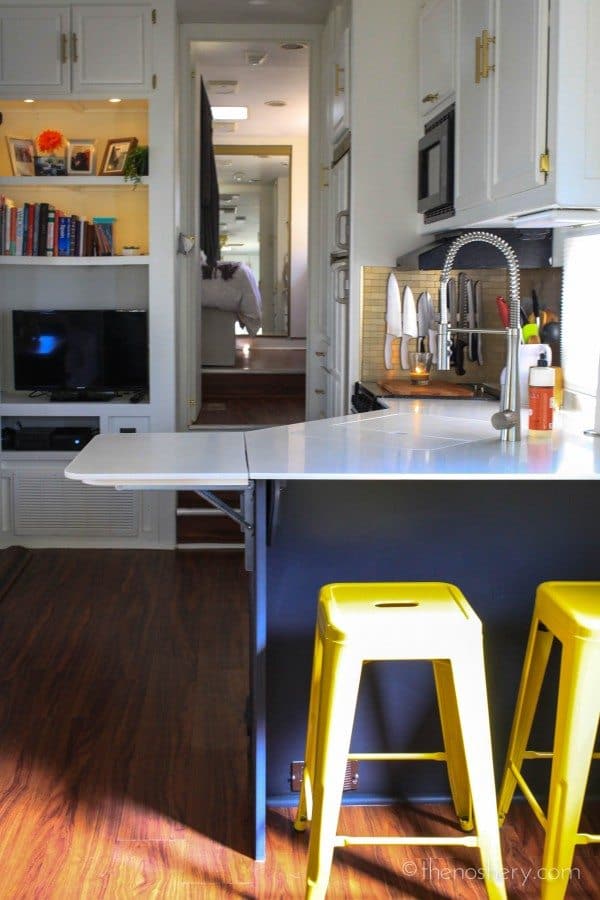 I wanted the bedroom to feel more cozy. I love that the head of the bed is tucked into the slideout. It creates a very cozy alcove. I wanted the bedroom to be bright with just a few punches of color.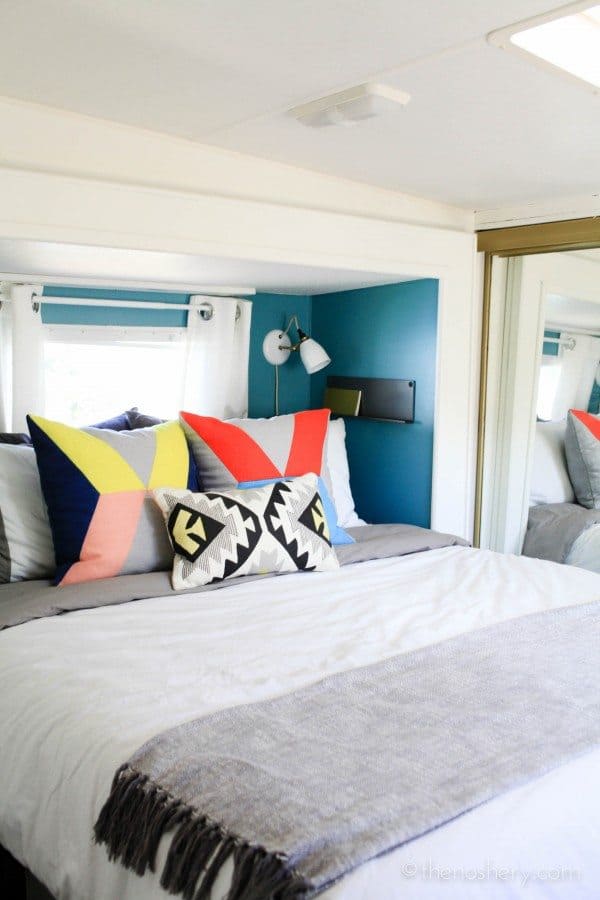 Over the bed was another set of sad 90s light fixtures. What I really wanted were some reading lamps and I fell in love with Barn Light Electric's Lovell Porcelain Plug-In Wall Sconce. They are perfect because they can be adjusted for when you want to curl up in bed with for favorite book or magazine.
Keeping with the brushed brass theme of the cabinet hardware I decided on the white with brass arm and gold and white cord. I love how it's simple with a touch of industrial. Also, the light switch sits high on the cord which makes it easily accessible for turning off and on.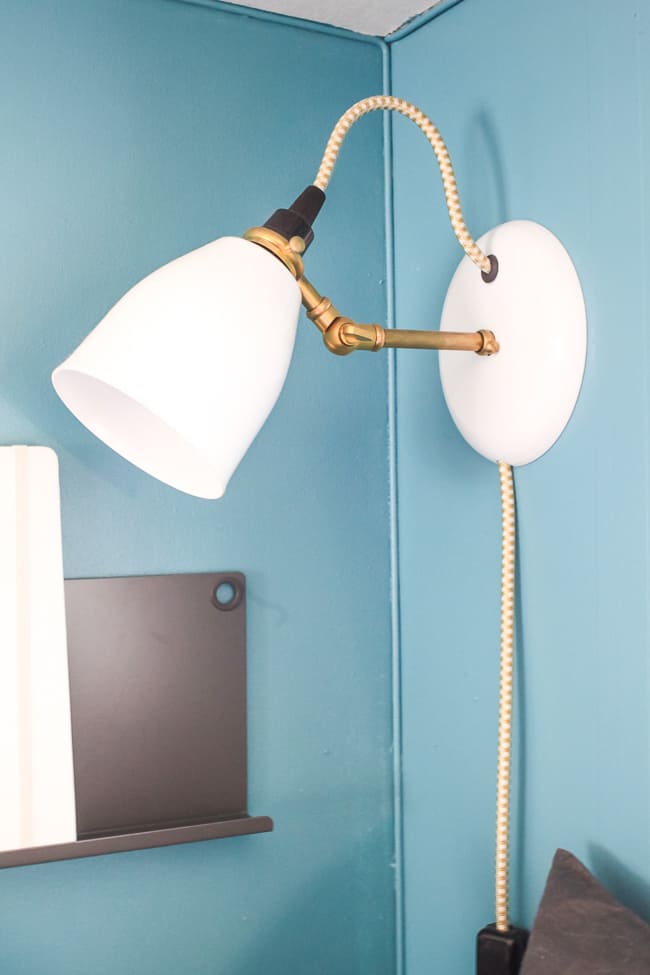 At the foot of the bed is the dresser. We painted it the same deep gray as the kitchen cabinets and continued the brushed brass cabinet pulls. The top of the dresser was laminate. We asked the same people that make our kitchen counters to cut and sand an oak top. It gave the dresser a more homey feel.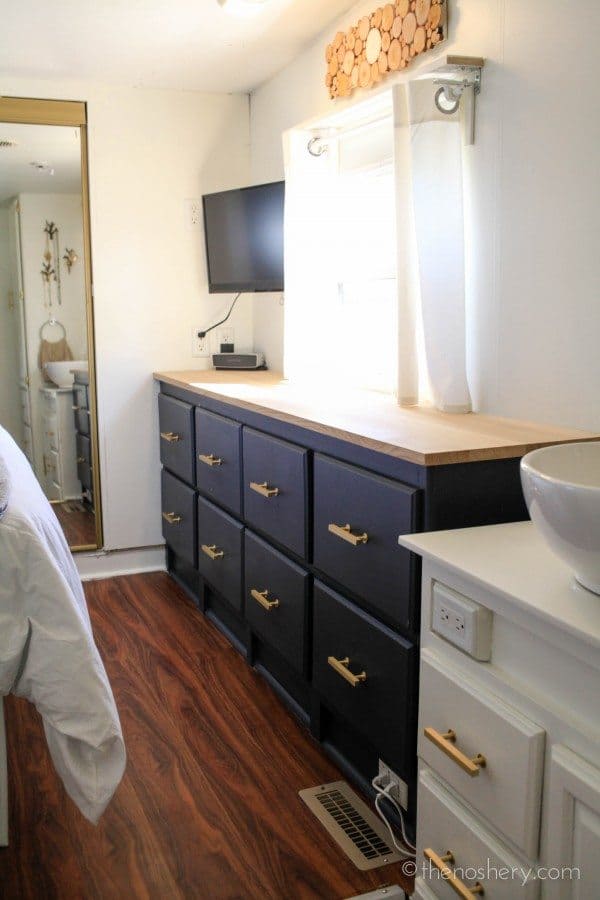 Finally, we also changed out the sink, counter, and faucet of the bathroom. The vessel sink leaves counter space and is still great for washing.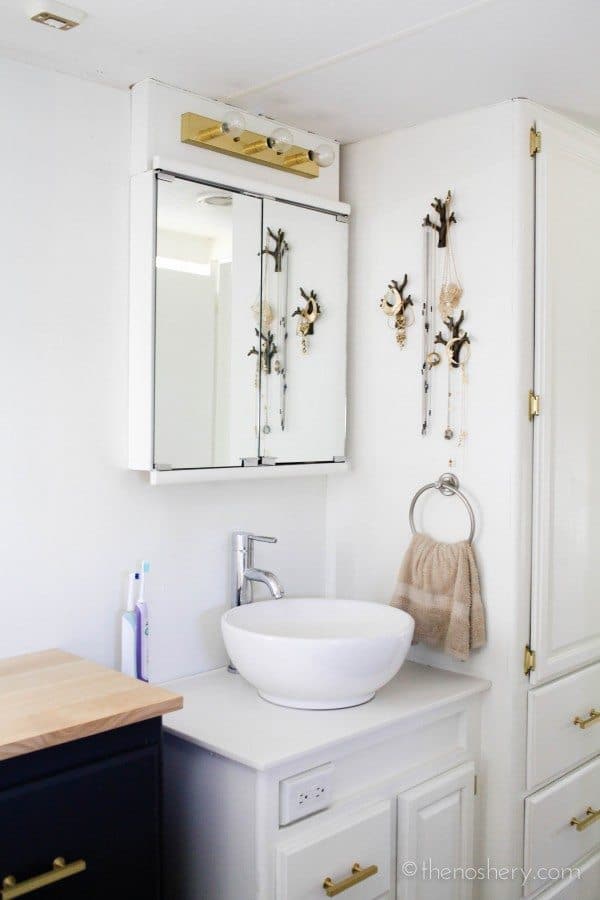 Thank you for visiting my tiny house! Also, make sure you check out Domino and Brit + Co. for features and interviews about my tiny home!
Learn More About our Dream Small Project
Little Camper Home Tour (Old Camper)
Vintage Camper Turned Glamper: Before & After
Follow The Noshery
Are you following me on Instagram, Twitter, Facebook and Pinterest? Want to get some peeks behind the scenes? Follow me on SnapChat @TheNoshery!  
Thanks for reading and subscribe to The Noshery email list to have each post delivered straight to your inbox.
** All product and supplies provided by Lowe's. Light fixtures were provided by Barn Light Electric. All opinions remain my own. 
10
Follow The Noshery
Are you following me on
Instagram
,
Twitter
,
Facebook
and
Pinterest
?
Want to get some peeks behind the scenes? Take a picture of my snapcode and follow me on
SnapChat
!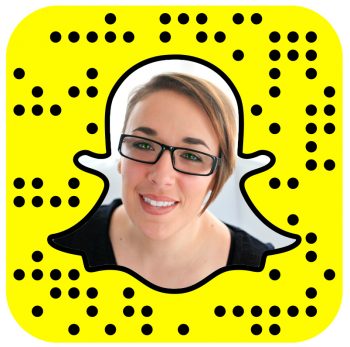 Subscribe to
The Noshery email list
to have each post delivered straight to your inbox or
follow my blog with Bloglovin.