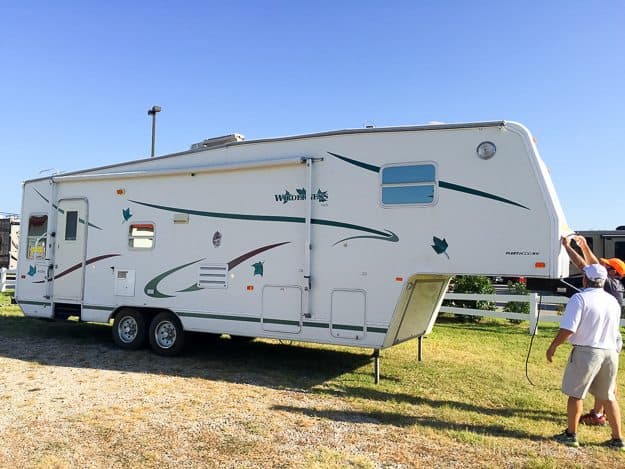 We are moving on up! Don't get too excited we are still in no position to start building but, we had to come to terms with the limited space in or tiny trailer.
I love our little camper. We put so much work and love into that little camper, and I dreamed of having it for a long time. However, it's a challenging space to live in full time. I think it would be different if it were just us but, with three dogs it gets a little crazy sometimes. All that to say we are moving into a larger camper. The good news is that there's another camper revamp in my future.
We discussed getting a new camper to death. I did not want to have to sell or little home. I stressed and anguished over the decision but when we came across the perfect used camper, I knew it was time. It will be a few weeks until we will move in, so we will continue to stay in our little camper for now. I'm planning on doing some painting and redecorating to our new home before moving.
In the mean time let do a quick tour our the new camper!
We got a 2002 Fleetwood Wilderness fifth wheel with two slide outs. We lucked out that the previous owner ripped out all the carpet and put new vinyl floors. It's one of the main reasons we chose this camper. The slide out makes all the difference when it comes to space.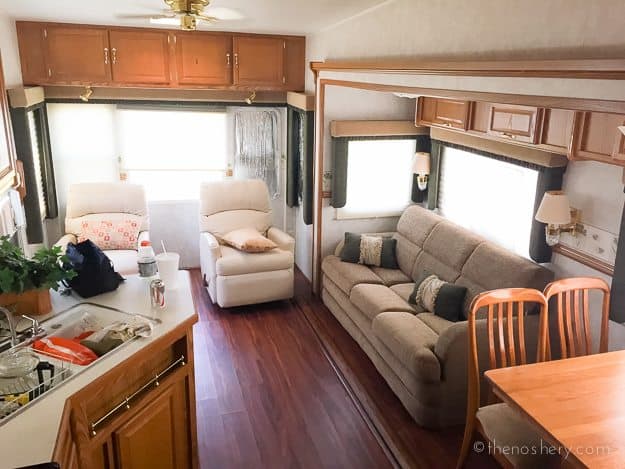 I plan on painting the walls and cabinets white and changing out all the furniture. If you're in the Dallas/Fort Worth area, all the furniture is for sale. All furniture must go! I'm considering painting an accent wall a dark charcoal. 😀 My first plan of attack, however, is it to remove all the lovely green carpeted valences front the windows and the wood wall trim. We are also planning on changing the kitchen counter top and sink. I want a sink that under mounted and can be covered so; it lays flush on the counter top. I am all about optimizing my kitchen counter space.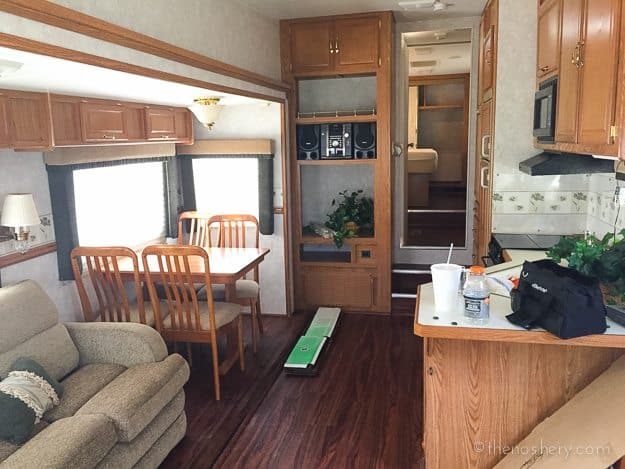 I cannot express how excited I am about the bedroom. I get to sleep in a queen size bed!! A brand new memory foam queen bed!! After sleeping up against the wall in a tiny bed, this is going to be awesome! Also, look at the size of that closet. It's a big deal. Sorry, about the finger in the shot. You'd think I never taken a picture. LOL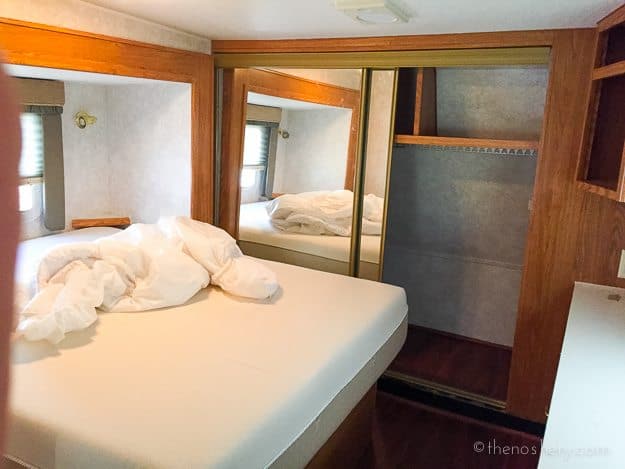 In the bedroom, I will do something a little different with the paint. The walls will be white, cabinets a dark charcoal and a color accent at the head of the bed.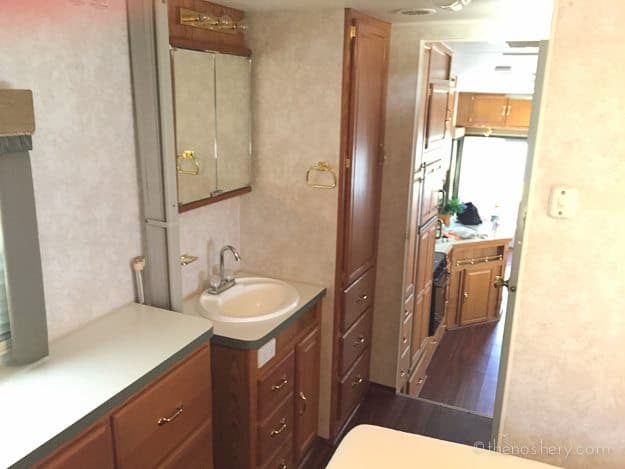 What I haven't figured out yet is what to do with the lovely light fixtures. (Insert sarcasm here) I can't change them out because they are specially made for campers and all the replacements I've seen I hate. I'm thinking if I change out the shade and do something fun with paint on the fixture; it may work. Any ideas are welcome!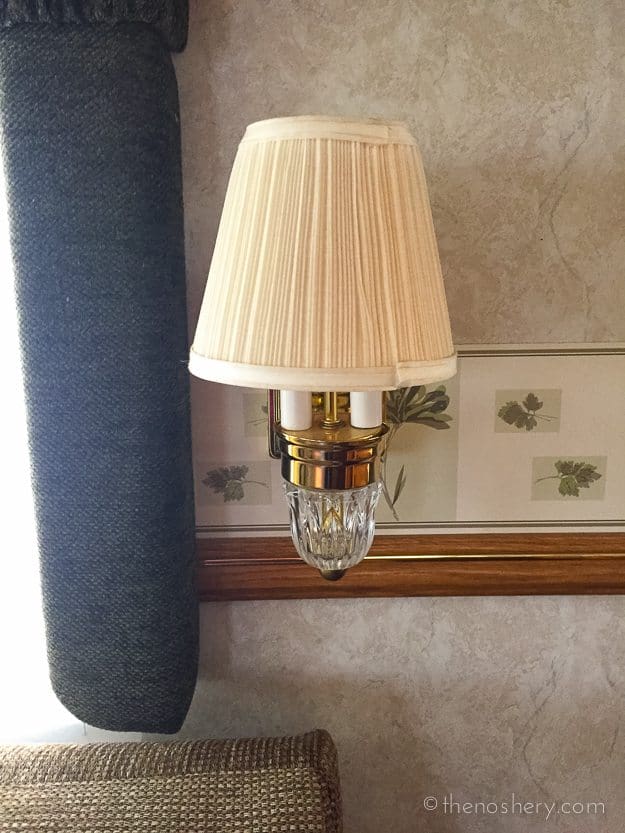 This brass beauty will be easier to change up. Hit is with some nickel finish paint, and it should be good to go.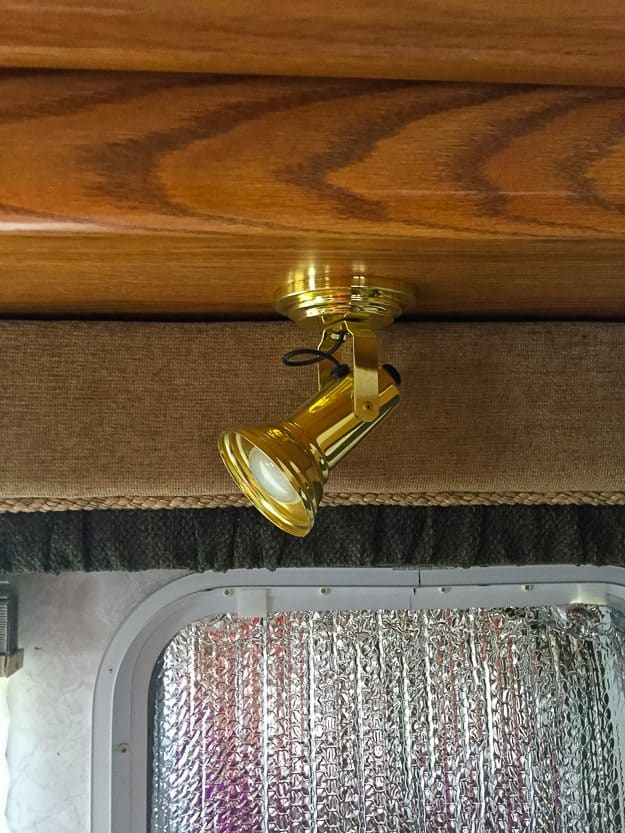 Right now what is causing the most pain to my eyeballs are the lovely heavily upholstered valances. I don't understand the logic behind these! Not only are they not cute but, all I can see when I look at them is dog hair magnet.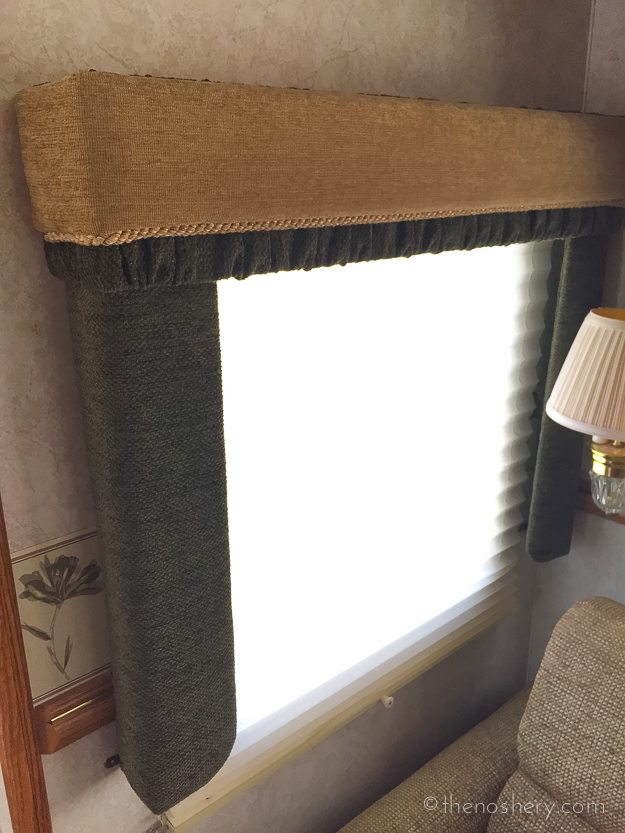 So, we took them all down! It's looks better already doesn't it! We are holding on to the blinds to repurpose them but, the valences are currently taking a dive in the dumpster. I also was happy to discover the wood detail that ran along the wall was tacked in. It was easy to remove with a flathead screwdriver and a hammer. The next step is to remove the lovely border and prep the walls for paint! YEAH!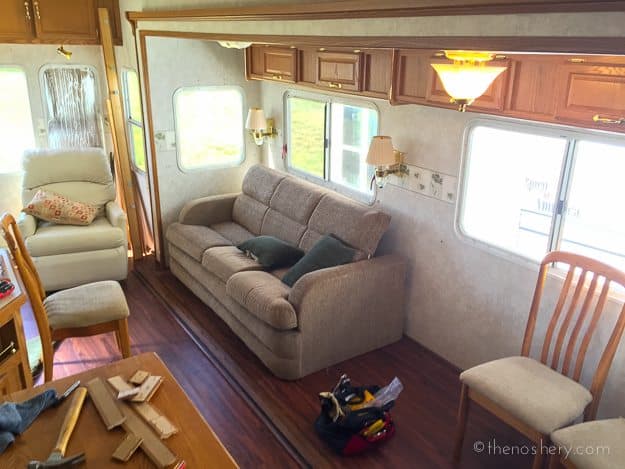 We were going to call it a day and then my handyman went poking around the lovely TV cabinet in the bedroom. At first glance, it looks like all we had to do was unscrew it from the wall. But, after removing all the visible screws it was still holding on.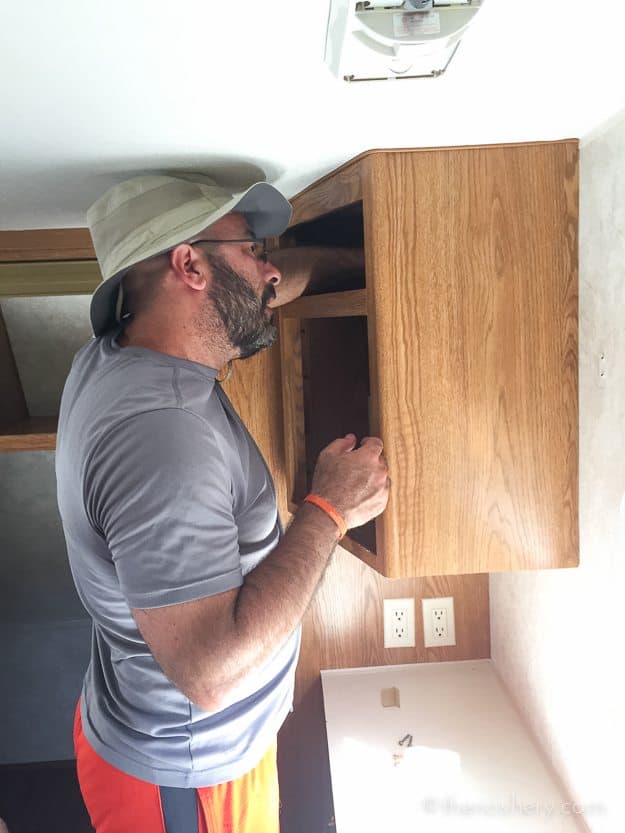 We tapped a paint scraper between the cabinet and ceiling and slowly pried away from the ceiling. What we discovered was that it had been stapled through the ceiling. Using the hammer we tapped the staple back up through the ceiling and will touch it up later. All the matters are that the circa 2002 TV cabinet is gone! Yippee!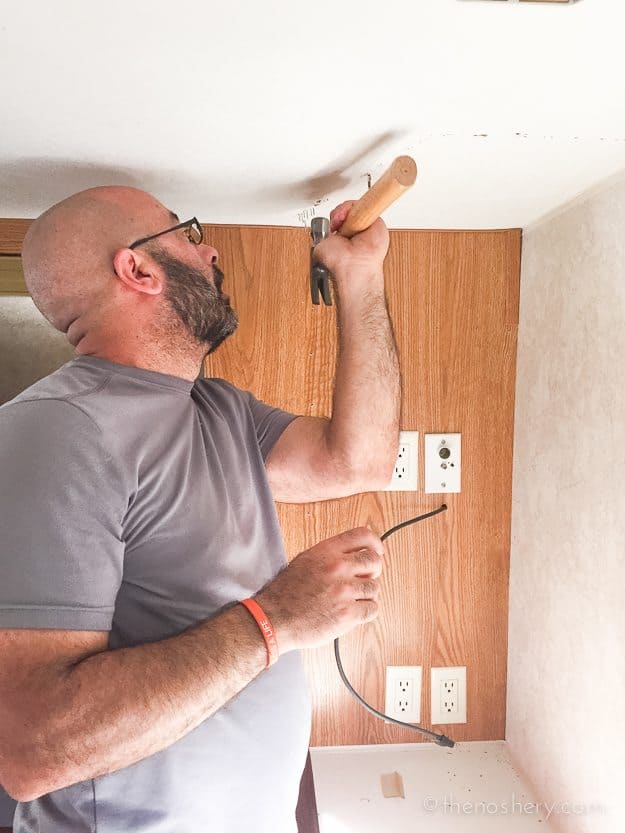 It's the very beginning stages but, I am excited to get the ball rolling. Over the next few weeks, we will be busy painting, doing small repairs, and I will be on the hunt for new furniture and accessories. EEEK! I'm so excited! Next to cooking, decorating is my favorite thing to do!!
Read more about our Dream Small Project!
Tiny House Living: New Camper Home Reveal
Make sure to follow me on Instagram, Twitter, Facebook and Pinterest so you don't miss out!
Thanks for reading and subscribe to The Noshery email list to have each post delivered straight to your inbox.