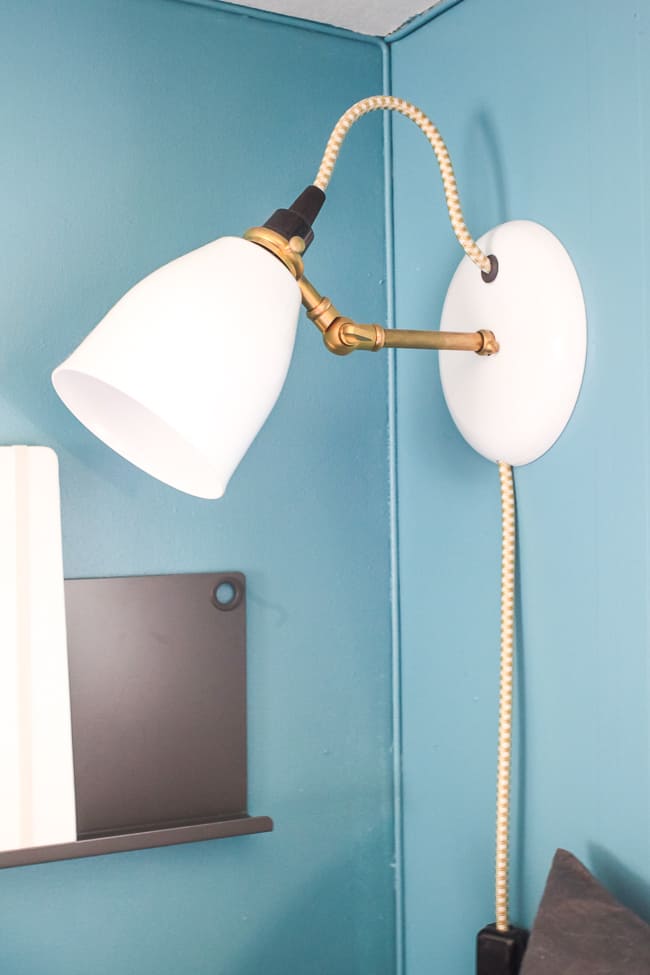 I know many of you have been eagerly and patiently waiting for updates on our new camper home. It has been a slow and long process. That happens when your learning as you go, run into multiple challenges and decided to take on a project in triple digit Texas heat. But, we are so close! We got enough done that we finally moved in and only have a few items to finish before the big before and after reveal. Keep your eyes peeled I know you're going to love it!
Do not fret! I have a little sneak peek for you! Remember those heinous lights over the sofa area? I was really stumped for awhile about what to do about them. Then I remember my buddy Amy from She Wears Many Hats cabin remodel and installed these beautiful light fixtures from Barn Light Electric. I contacted Betty from Barn Light Electric about working with us on our new camper home remodel. Betty was awesome and crazy helpful. First she checked in with manufacturing to see if it was possible to convert the lights to 12 volt. Unfortunately, that wasn't possible but that was ok because they have a selection of plug-in sconces.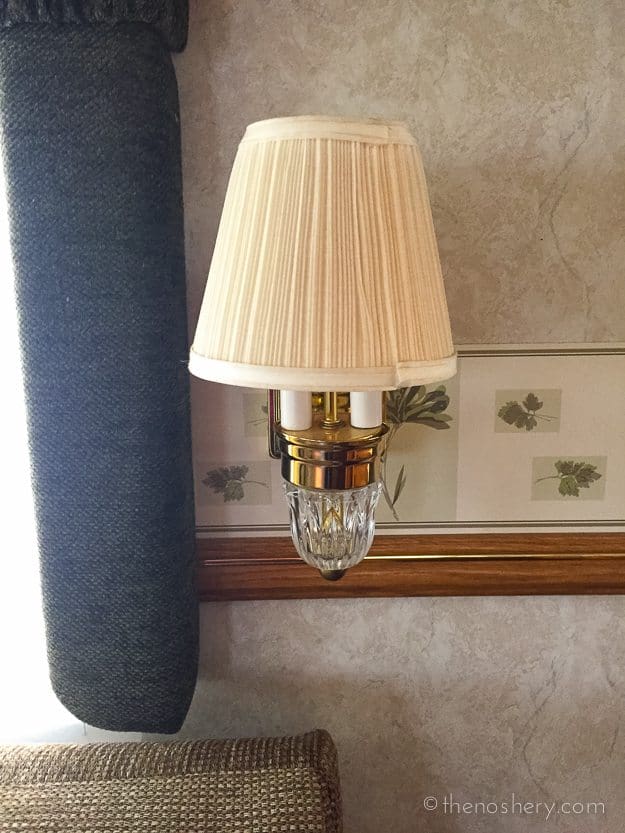 For the area over the sofa, I wanted something simple and modern. I decided on the Downtown Minimalist Plug-in Sconces with Edison Style 1910 Era Bulbs. They come in over 20 color options! You can even choose what color you want the cord. I went with a white and gold cord. I LOVE how they look! They are the perfect addition to my little house!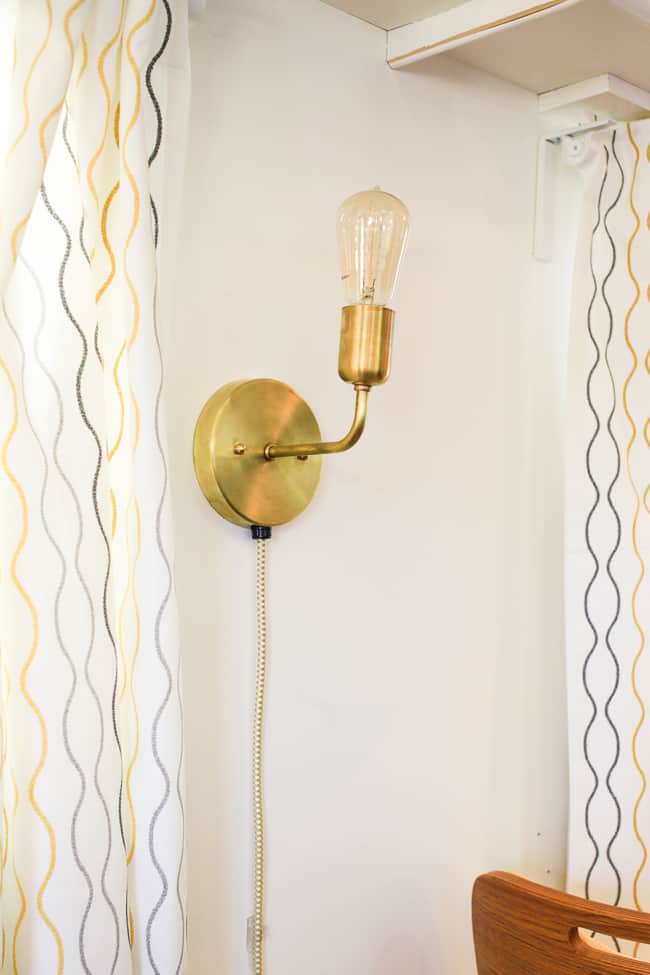 I fell so in love with Barn Light Electric I decided to also change out the wall sconces over the bed. If you look really hard (and pass my finger) you can see the tiny brass lights over the bed. They are okay but who wants okay when they can have awesome?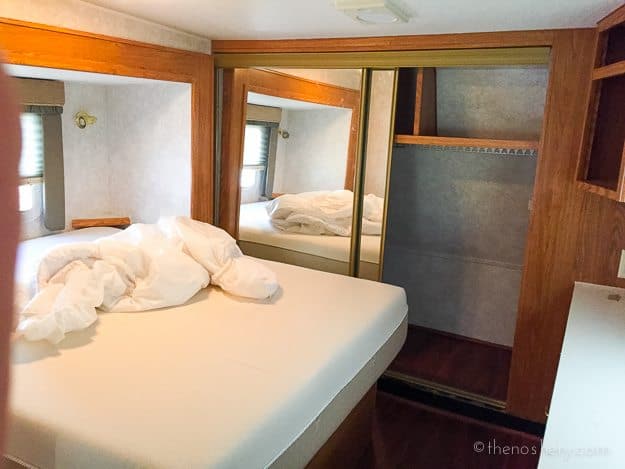 What I really wanted were some reading lamps and I fell in love with Barn Light Electric's Lovell Porcelain Plug-In Wall Sconce. Again they have a slew of colors to choose from and cord options. They are perfect because they can be adjusted for when you want to curl up in bed with for favorite book or magazine.
I decided on the white with brass arm and gold and white cord. I love how it's simple with a touch of industrial. Also, the light switch sits high on the cord which makes it easily accessible for turning off and on.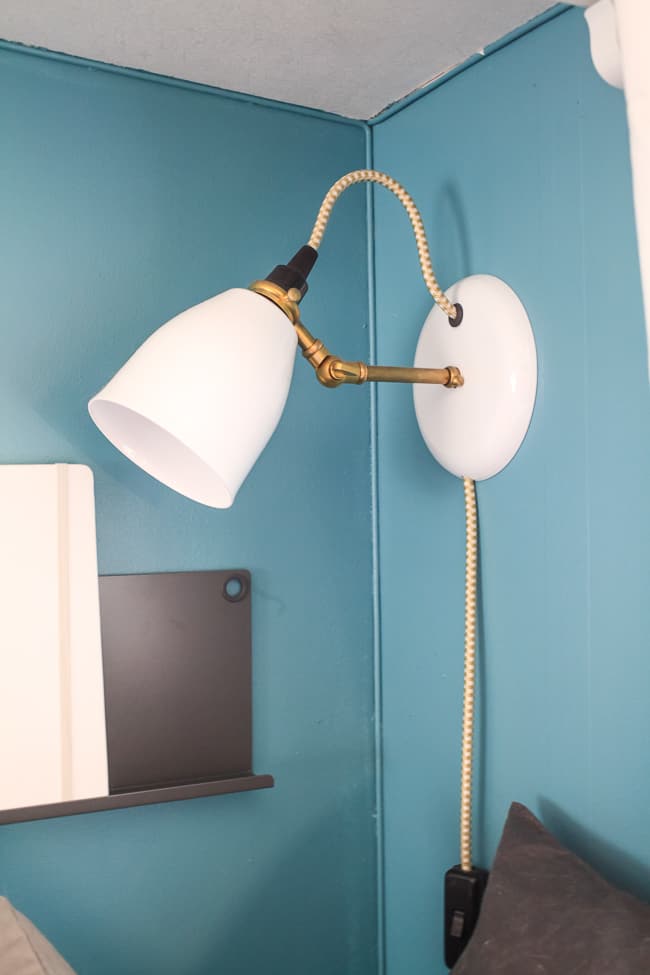 Barn Light Electric was great to work with and Betty is a rockstar! I became a fan when I saw their beautiful fixtures but I loved them even more after learning about their story. Barn Light Electric is an American company, run by real, down-to-earth people, with unique talent and vision. I do love creative artisans and creatives need to support creatives! You'll see what I mean, if you visit the Barn Light Electric site to see the video about their company story.
Checkout Barn Light Electrics beautifully crafted light fixtures! Also, make sure you take a look at their industrial decor. They have bar stools, dinnerware, signs, clocks and more!
Read more about our Dream Small Project!
Make sure to follow me on Instagram, Twitter, Facebook and Pinterest so you don't miss out!
Thanks for reading and subscribe to The Noshery email list to have each post delivered straight to your inbox.
Disclosure: Barn Light Electric provided lights for our kitchen remodel. As always, all opinions are my own.