A few weeks back I shared with you that we bought a new (to us) camper and were upgrading our space. I had dreams of living in our little vintage camper for a long time but, the reality of space hit us, and we finally decided to get a larger camper.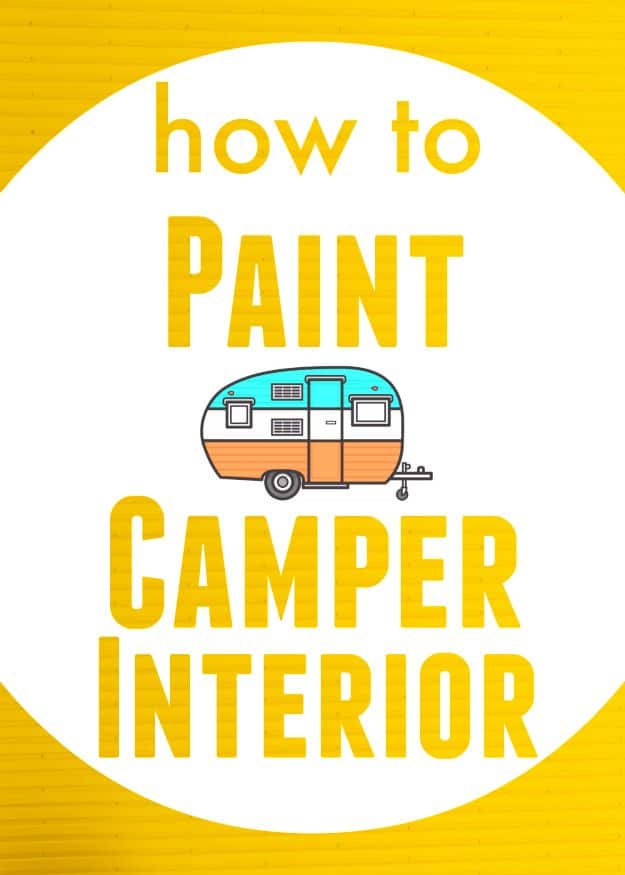 Our "new" camper is a 2002 31ft fifth-wheel Fleetwood Wilderness with two slide outs. And, like most campers it was decorated by either Paul Bunyan or Paul Bunyan's grandmother. Between our work schedules, learning as you go and the triple digit temperatures, our mission to paint and redecorate was slow going. We are finally living in the camper but, we still have a few more things to do before the big before and after reveal. But, in the meantime I thought I would share with you how we painted the interior of our camper.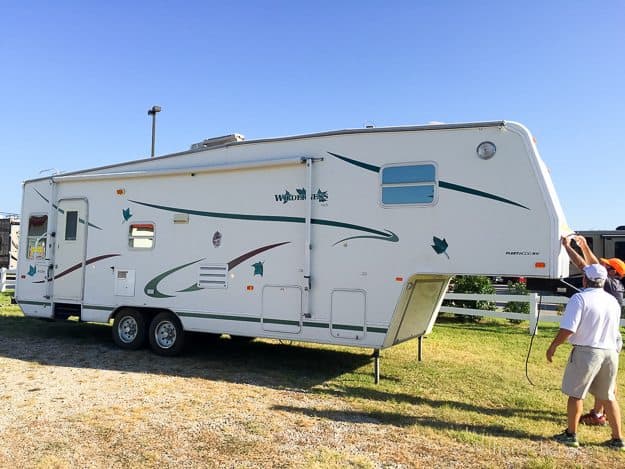 Step 1: Remove Cabinet Doors, Drawers, and Hardware
First, we removed all of the cabinet doors, drawers, and the hardware. However make sure you have a sharpie and painters tape handy to number the doors, drawers, and spaces from where they were removed; this will help the process of replacing everything much easier. If you plan on reusing the hardware store all the hardware and screws in resealable plastic bags and label for later use.
When you do get around to painting be careful not to paint over the labels. When painting the doors just remove the tape and place next to the door until the door has dried, and the tape can be put back on. Trust me when I say it's important to number everything if you don't remount the doors can become a life-size jigsaw puzzle. Store them in a safe, dry area until it's time to paint.
Step 2: Cover All Surfaces
I know that taping and covering surfaces is tedious but, it's an important step. The moment you drip or spill one drop of paint you will be grateful. We spent an entire weekend covering every nook and cranny that was not supposed to be painted. In the mind of a crazy lady, i.e. my mind, this is a quick and simple job, but I warn you that your mind lies to you! IT LIES! When I say we spent all weekend covering and taping surfaces I mean ALL WEEKEND! I was starting to dream about blue painters tape.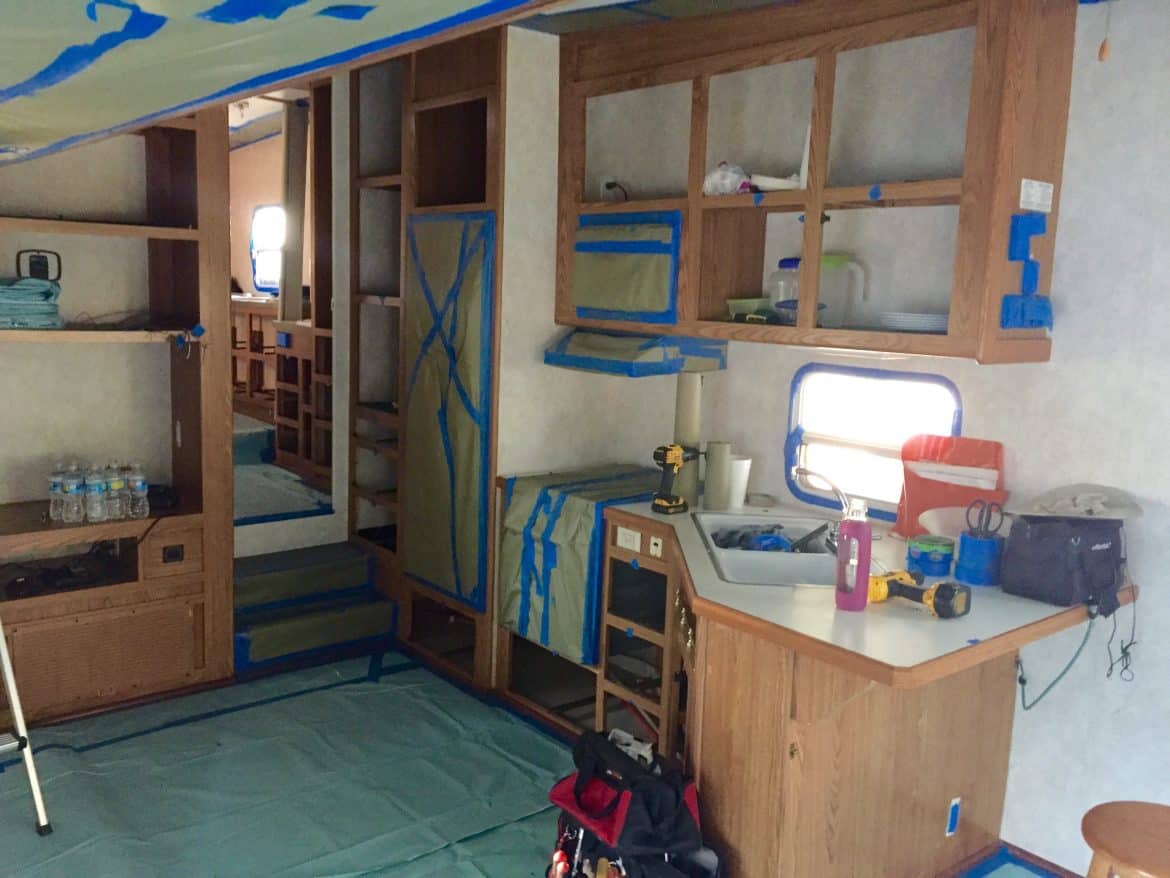 We covered every surface that was not going to be primed or painted; this includes every switch, plug, vent or piece of hardware that was not removed. The ceiling and appliances were covered with paper secured with painter's tape. On the floor, we laid out a Trimaco drop cloth and secured it with painters tape. I highly recommend the Trimaco Drop Cloth, it's durable and holds up to drips and spills. And, I can speak about this from experience because we had a spill and had zero issues with leakage. Also, the drop cloth was down for several weeks while worked in the camper with no tares. We covered the windows with clear plastic drop cloth; this protected the windows from paint and still allowed in the light.
Step 3: Prep and Clean Surfaces with Acetone
Modern campers are very likely to have a built-in gas detector. You will find it close to the floor probably around the kitchen area. This detector alerts you if there is a propane leak in your camper. And, apparently, it will also alert you if you're using acetone. If you think a smoke alarm is annoying, this alarm will make your ears bleed. In other words, disconnect the gas detector. We couldn't find a fuse or way to disconnect ours, so we had to cut the wires and reconnect them later.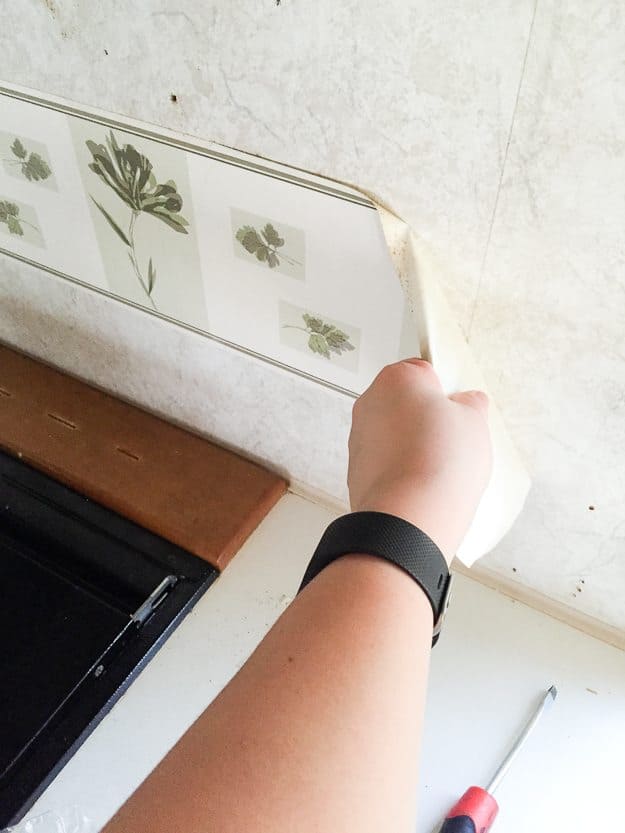 If your camper has a decorative border it can be easily removed. Using a paint scraper, I lifted the edge of the border. While gently pulling the border use the scraper to remove the border. If your border is particularly stubborn, you can get a heat gun to help with removal.
If any sticky residue remains, spray it with Goo Gone Spray Gel let it sit for a minute or two and using the paint scraper scrape off the residue. Repeat as needed and then wipe with a rag soaked with acetone.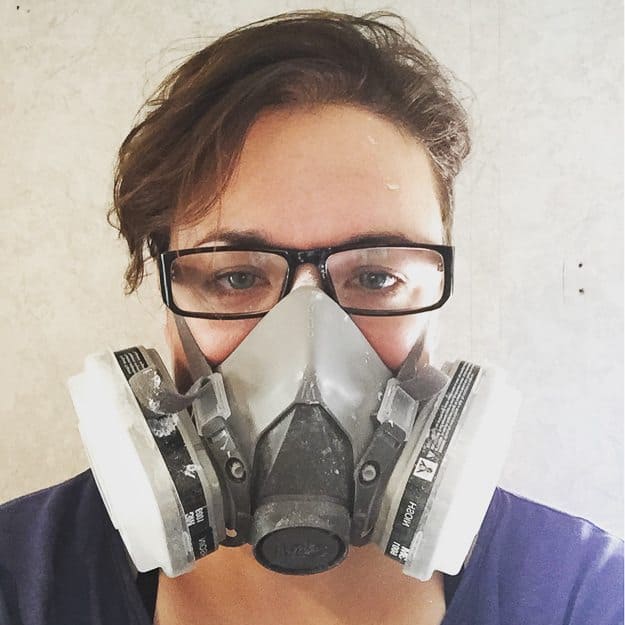 One of the challenges of painting a camper is the fumes that can build up in a small space. Make sure that all the windows are open, vent fans are on, and it also helps to have a box fan to help circulate the air. But even with all of this, it's important to wear a respirator mask, eye protection and gloves for the next few steps. I highly recommend the 3m painting respirator mask. I know it's pricey, but it does the job. When we started, we just wore a basic dust mask and it was pointless. We went and grabbed a set of respirator masks, and it allowed us to work without choking on the fumes.
The acetone is pretty much a heavy duty version of the acetone used in nail salons. But, as a precaution, we wore heavy duty cleaning gloves to protect our hands while we cleaned with acetone. However, the acetone does slowly break down the gloves. If it's possible, I recommend doubling up your gloves. Otherwise, pay attention to whether the gloves are beginning to thin and change them out.
While wearing all your protective gear soak a rag with acetone and rub it over all wood and faux wood surfaces, including cabinet doors and drawers that were previously removed. It will be necessary to continue to wet the rag with acetone as it is a solvent that quickly evaporates. Pay extra attention to the kitchen as this is where there is the most build-up of dirt and grime. The walls of our camper were covered with wallpaper, so we did not bother to clean the walls. However, if you are working on a camper that has wood paneling, I do recommend that those surfaces also be cleaned with acetone.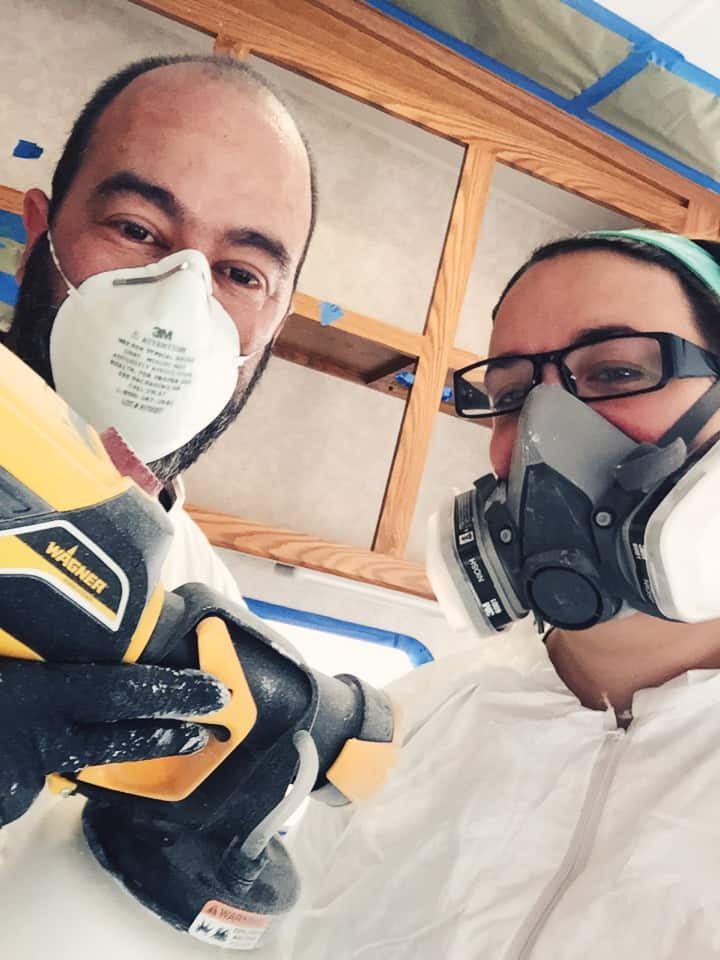 Step 4: Primer
Finally, once we got all the surfaces covered and prepped it was time to prime.
You can choose to apply primer one of two ways. You can roll/paint it on or use a spray gun to spray it on. We decided to go with the spray gun. For this step, it is VERY VERY important that you are protected. When we started the priming process, we were dressed like this. (By the way, I LOVE this picture! Hehehehe! ) We quickly learned that we needed more protection.
That when we decided to go with this super sexy assemblage.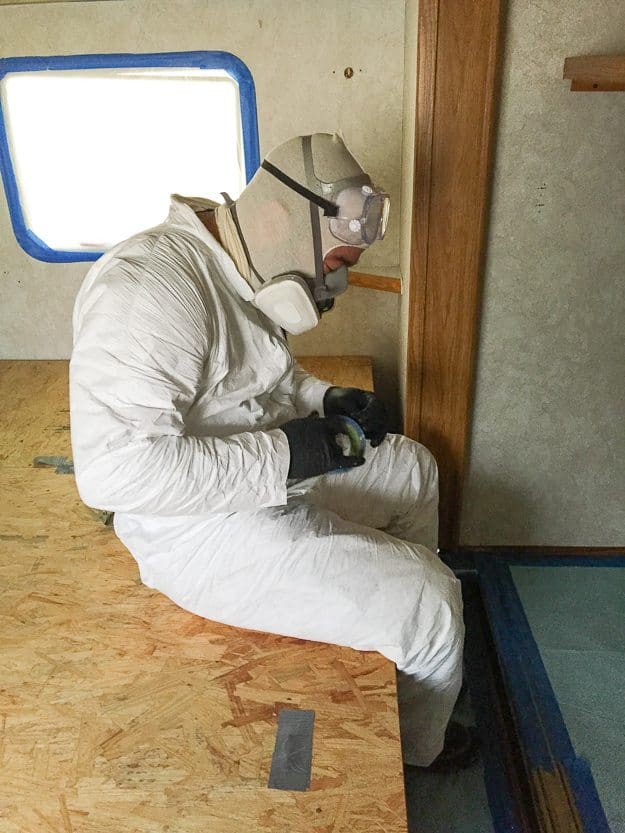 Spraying primer in a small space is intense! The paint gets everywhere and hangs in the air like a heavy cloud. It is very important to wear protective gear.
Also, be ready to sweat a gallon a minute. Holy smokes we were ripe after an afternoon spent in those suits. Even if you choose to roll the paint and primer I still recommend the protective wear, especially the mask. There is no getting around the fumes, trust me!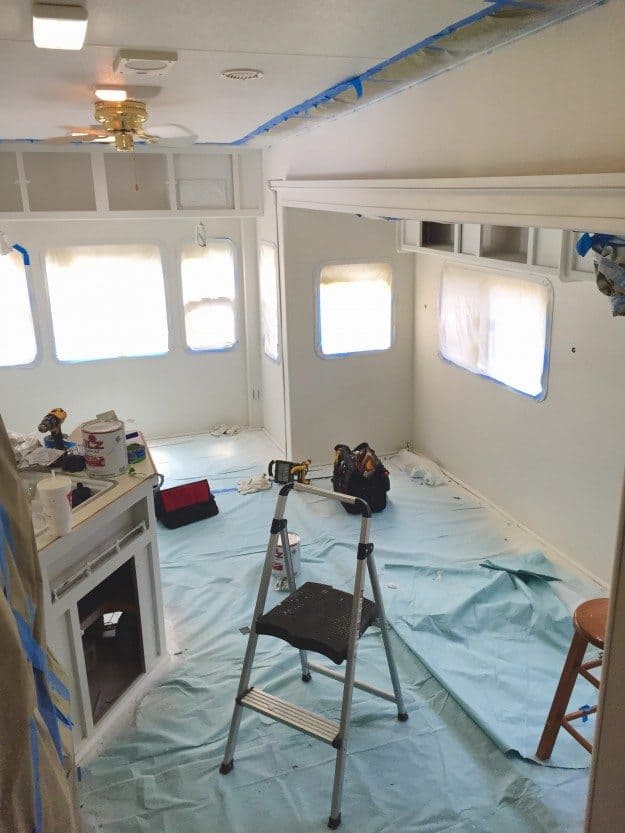 If you opt to use a spray gun and are using it for the first time, it takes a little bit to get a hang of it. Don't stress. Start off in an area that is not as visible like the back of the closet or the area behind the couch. Once you get the hang of it, feel free to move about the camper. 😉 If you do get a spot with rippling, or uneven spray use a sander to smooth it out.
Step 5: Paint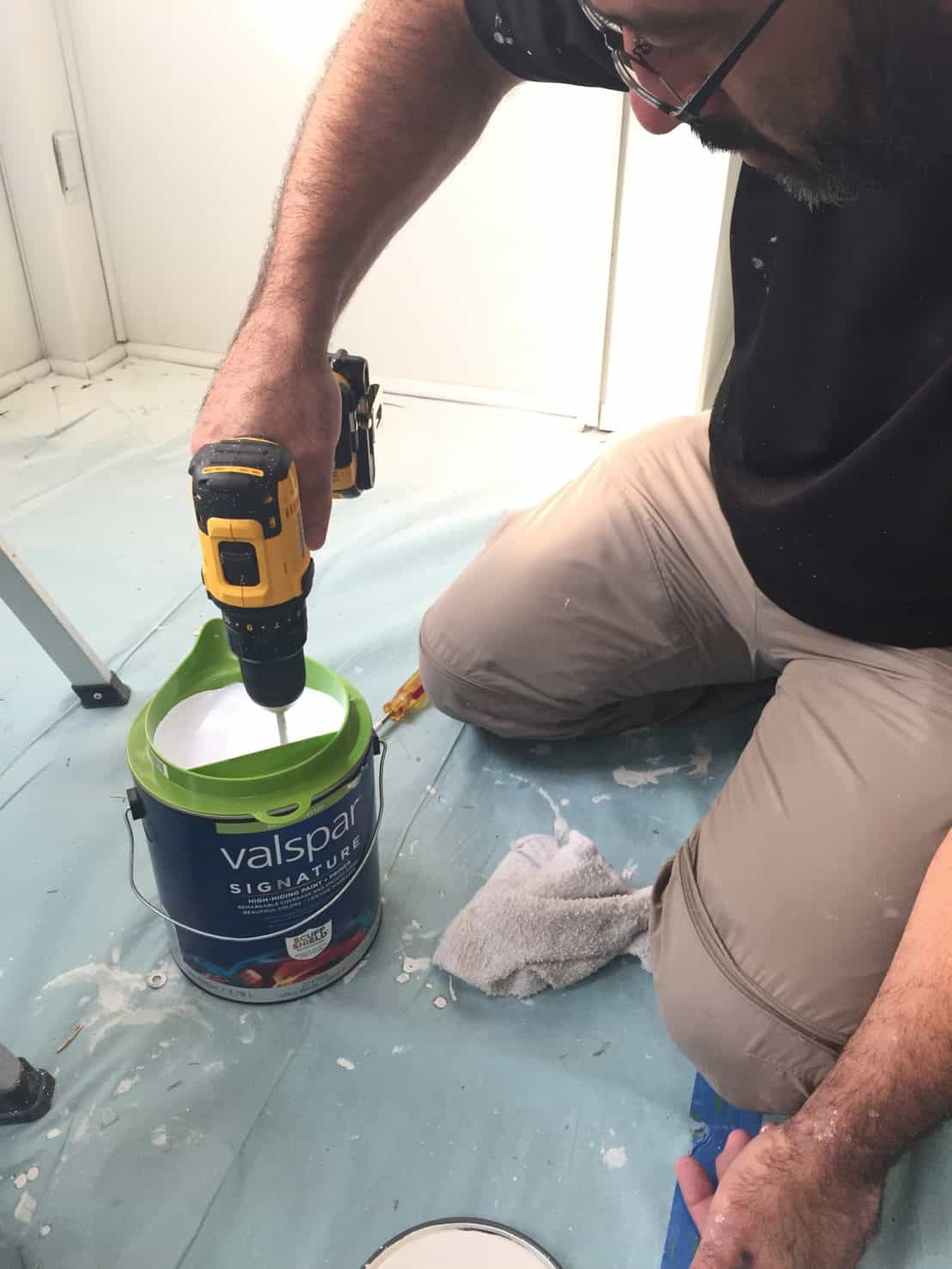 Finally, it was time to paint! At first, we were going to spray the paint but we decided to roll and brush it on instead since we were using multiple colors and didn't what to concern ourselves with overspray.
The number of coats needed will depend on the color of your paint. For example, since the primer was white our white color only required one coat but the dark gray was best with two coats. Take your time painting and be sure to allow the paint to dry between coats.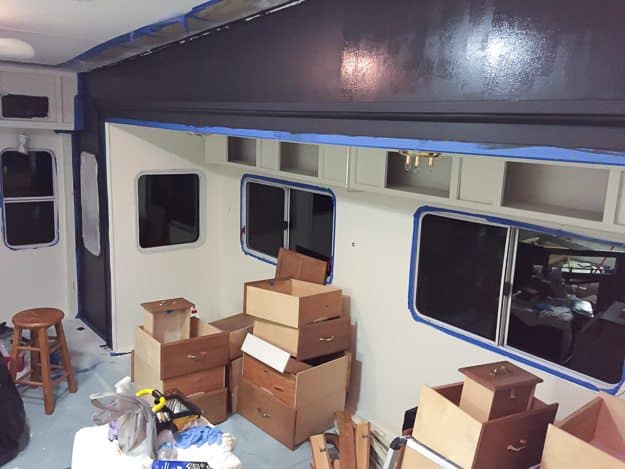 For the cabinet doors, we used foam cabinet rollers and a 1-inch Purdy paint brush to paint the grooves. I found it was best to paint with the brush and then roll on the paint for an even finish.
Give the cabinet doors and drawers a full day to dry and cure before replacing the hardware and hanging. If the cabinet doors and drawers are not given enough time to dry, they will stick when hung and damage the paint.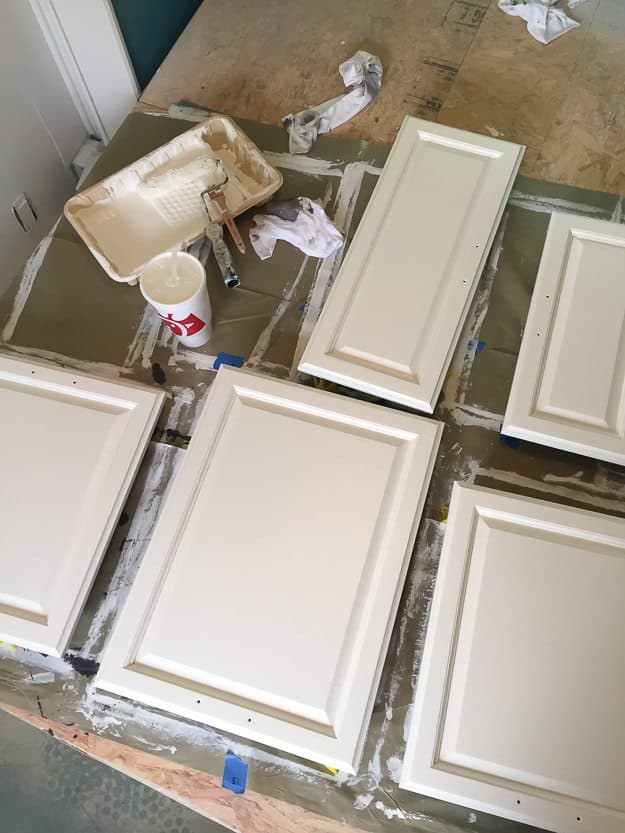 Step 6: Cabinet Hardware and Hanging
Hanging the cabinet doors sounds easy enough but it more challenging than you think. Regardless if you replace or reuse the hardware and use the same holes to hang them they won't always hang properly. The millimeters of added paint throws off the hinges and closures.
The cabinets doors of a camper can have several pieces of hardware. Normally it is a combo of hinges and a latch. What worked best for us was hanging the doors using the same holes and adjusting the placement of the latch.
Step 7: Clean and Touch Up
No matter how hard you try and how much you tape it is inevitable that there will be some drips or bleeding. Do not fret! It can be easily cleaned and touched up.
Using a cotton swab, or your fingertip and a rag dipped in acetone, gently dab and wipe the drip away. If it is a paint color that has bled on to another color gently clean with the acetone and uses small craft paint brushes to touch up with the desired paint color.
Finally, it's time to remove all the painter's tape and coverings! Because of the multiple layers of primer and paint, some of the tapes will be challenging to remove. It's annoying, but it will come off.
Once all the tape and coverings have been removed, give your work a hard look over. Look for any missed spots especially around trim, switches or plugs. If you see some missed spots use a small craft painting brush to touch them up.
Stand back and admire your work!
Final Notes
Painting a camper interior is not a weekend project. Our camper is a 31-ft fifth wheel and roughly 300 square feet. It took us probably five entire weekends working from morning till night to prep, prime and paint. It's a project that requires a lot of work, sweat and patience. However, all the hard work is worth every drop of sweat. The space is so much more personal and welcoming, and I can take a great amount of pride in what we accomplished.
3m's Advanced Multi-Surface Painter's Tape with the neon green print on the tape does not work on the slick surfaces of a camper. It's best to you the original solid blue painter's tape.
Supply List
Below is a list of all the tools and products that we used. The amount of supplies and paint varies by the project so we used Lowe's paint calculator to estimate the amount of paint we needed. All supplies were provided by Lowe's.
Kilz Original Primer
Valspar Signature Paint + Primer
Crown Acetone
See the finished camper here!
Tiny House Living: Camper Home Reveal (Before & After)
See more about our camper home adventures!
** All product and supplies provided by Lowe's. All opinions remain my own.