**This post mentions several brands for the benefit of the reader. I was not compensated in any way for this post. 
It has been just over a week that OB and I moved into our little home on wheels. It has been a lot of work organizing our space, deciding what to keep, what to sell and what to toss. But, I am am so happy we made this choice! I love our little home! Everything as a spot, it's easy to keep clean and it's magically forced me into a better and more productive routine. If it were up to me, I would insist that everyone do this at least once in their life.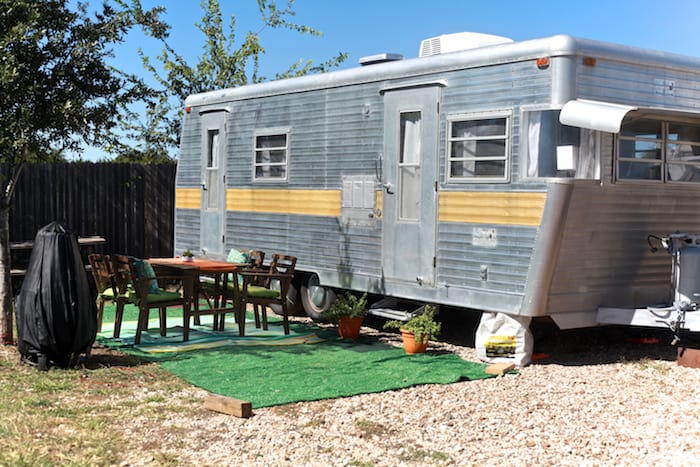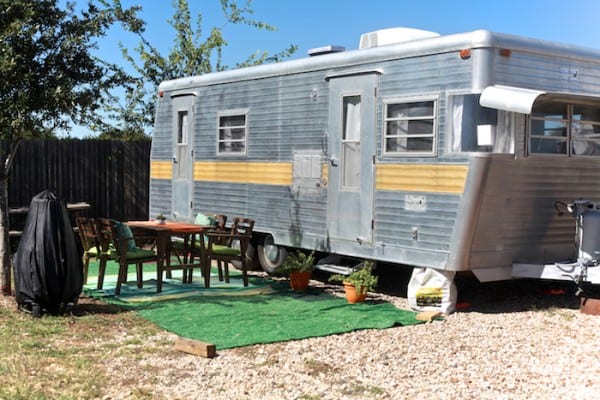 I thought that since we are finally settled in it was time for me to give you a little tour of our home. We made many small tweaks to optimize our small space and make it feel more like home.
One of the first things I focused on was out outdoor space. Spending all day in a tiny house isn't practical. It's important to have a space to stretch out a bit and enjoy one of the great benefits of living a camper…the outdoors. This is just the beginning of our outdoor space. Soon we hope to have a vintage style yellow awning and a few more plants and accessories.
To help the control of dirty paws we got a large 8 x 20 green patio rug. I love my bright green faux grass rug! It gives it the perfect touch of fun vintage. Then over the rug we put another outdoor rug to break up the green and give the patio set a focus point.  The patio set is a simple wood patio set we got at IKEA. Super easy to put together and super inexpensive.  (FYI, you're going to see a lot of IKEA, but IKEA had nothing to do with this post.) The cushions are from At Home, and the runner is secured with some adhesive velcro strips.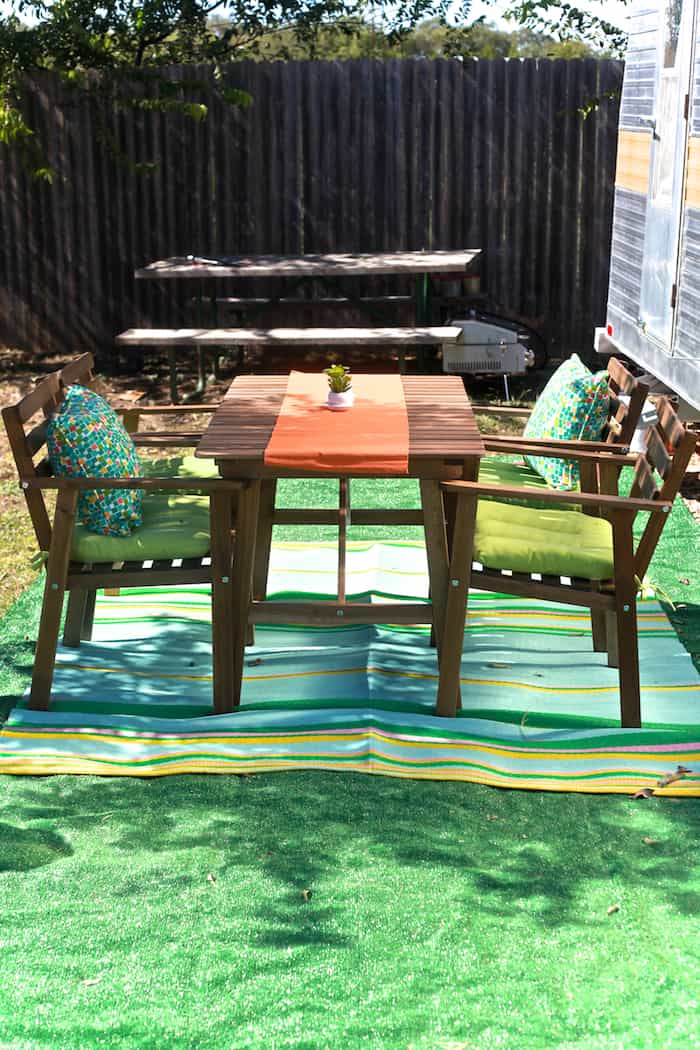 Open the door and the pups are right there to welcome us home.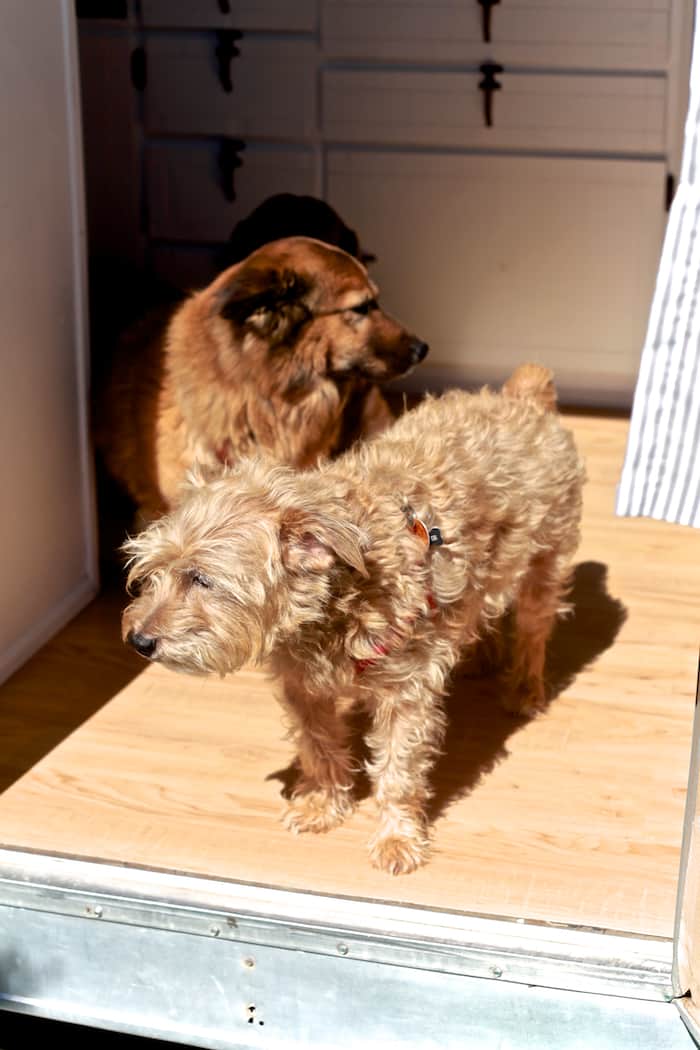 Step into the "dining/living" space. It was important to me to add some personal details and bring in a few pictures from home. We also changed out the curtains. We found some great curtain tracks that let us better hang the curtain all around the front windows with no gaps. The curtains now run all the way around the front windows providing us with optimal privacy. Because when those curtains are open, you can see everything!
The studs in the camper are sparse so, hanging pictures and things were becoming a challenge. I found the best way to hang pictures and secure things like the lamp you see in the corner was using 3M Command hanging strips.  These things are the bomb!
Here are some before, after and after after photos. 😀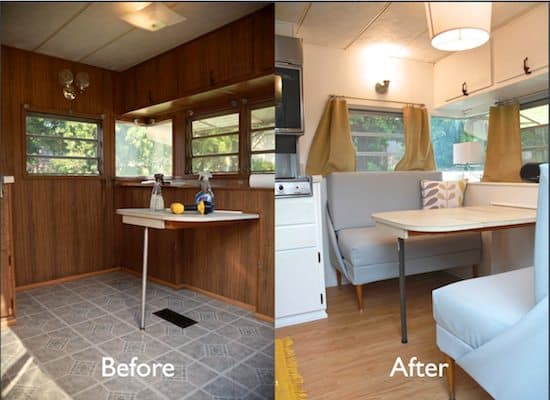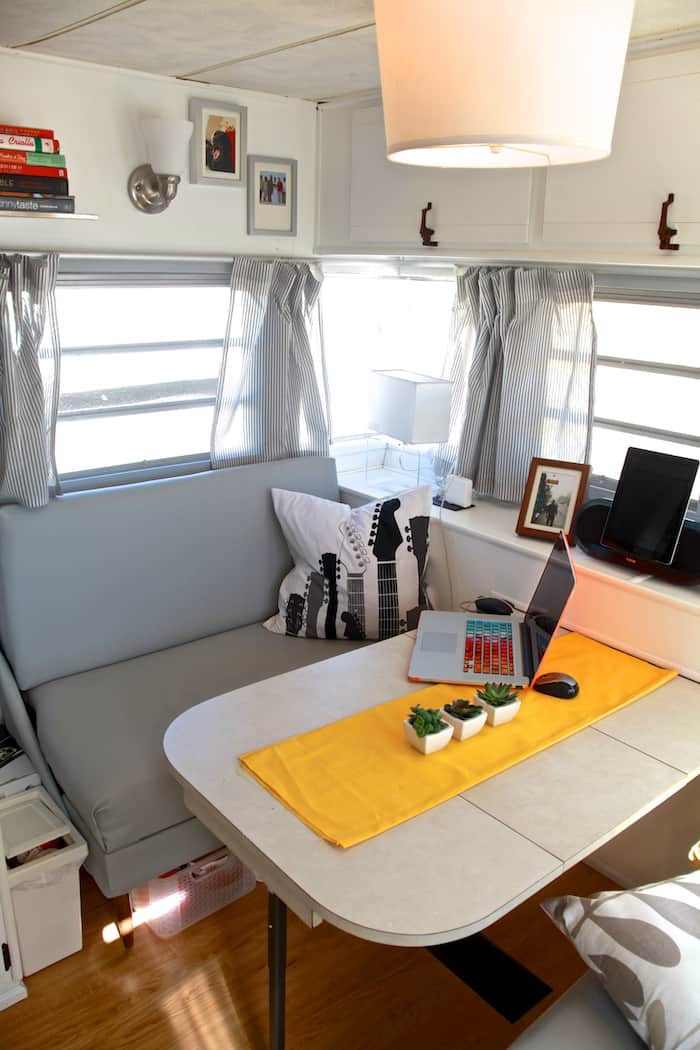 On this wall, I was lucky enough to find a stud and hung a shelf for my must have on hand cookbooks, plus whichever new one I am reading at the time. It was important for me to have a few of my cookbooks on hand. The rest of my cookbook collection is in a storage unit 1 minute away from the campground.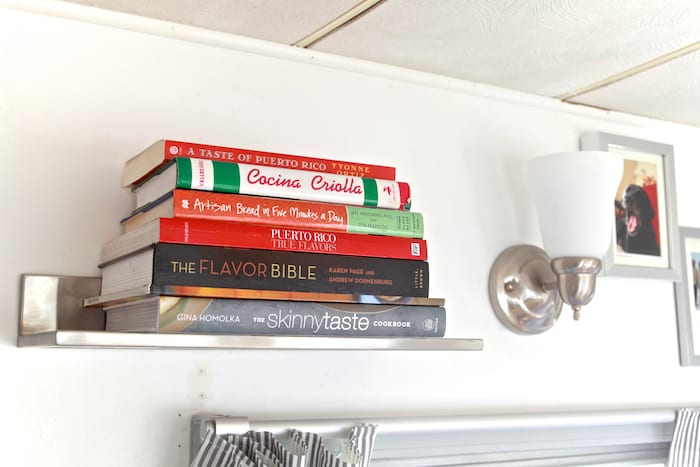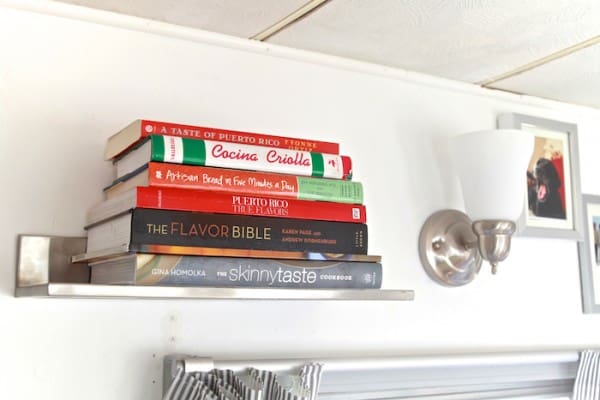 Here is a shot of the other bench area. I kept it simple here with a few throw pillows and some personal touches on the wall.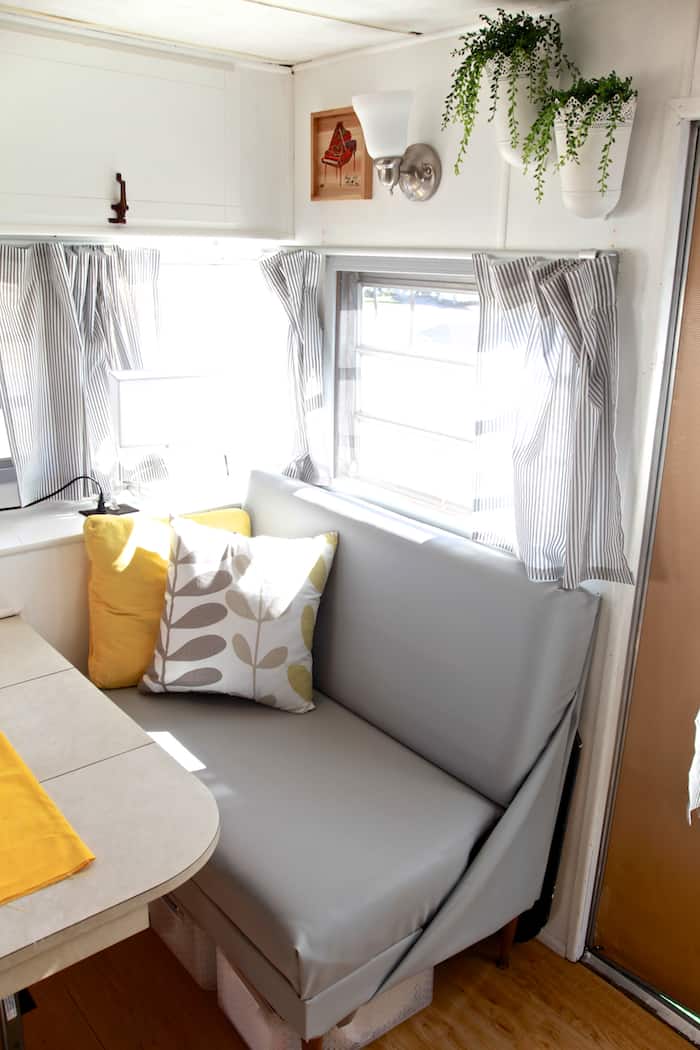 I wanted to bring in some greenery and hung some artificial plants on the wall thanks to the magic of 3M command strips. If you look at the back of the basket, you can just barely seem the strips.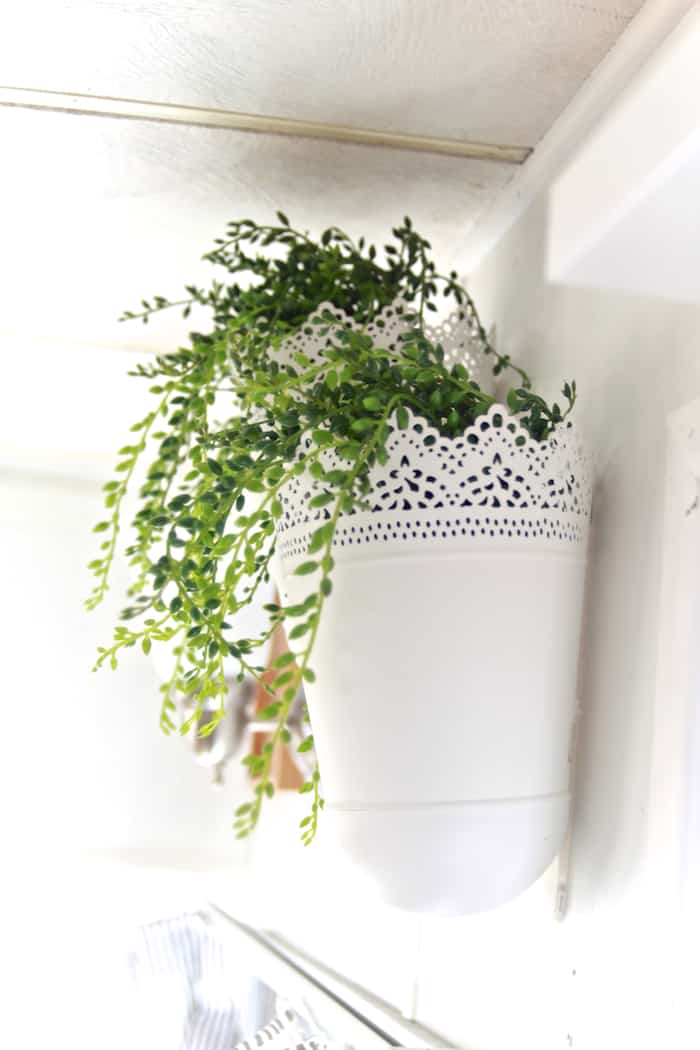 Under the benches, I have baskets storing my favorite dish and textile props. Also, under the bench seat is more storage space. There is where I store my backdrops, surfaces, platters, cutting boards and my induction burner.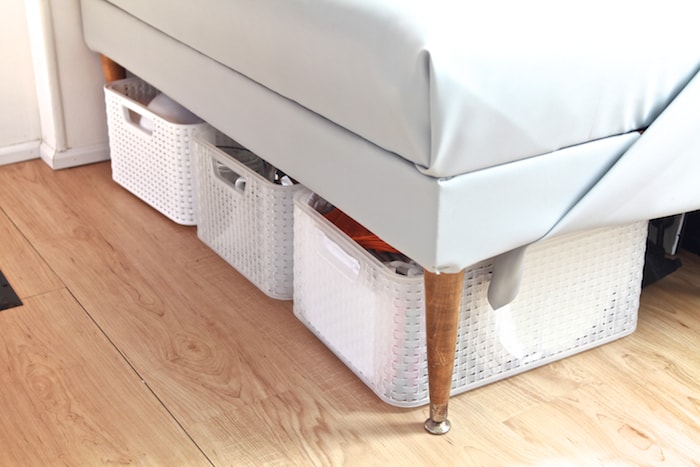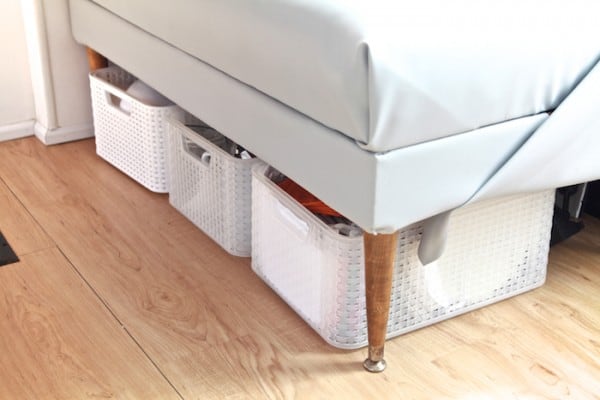 Here is a complete picture of the dining/living area. The cabinets above are where I keep some small kitchen appliances, collection of vinegars and oils and my heavy duty dutch ovens.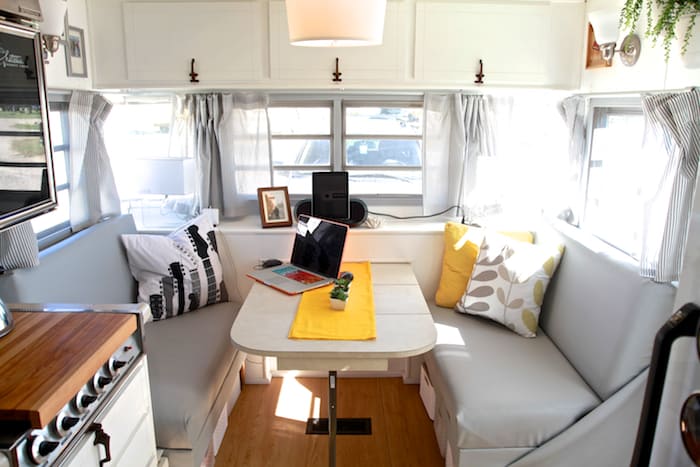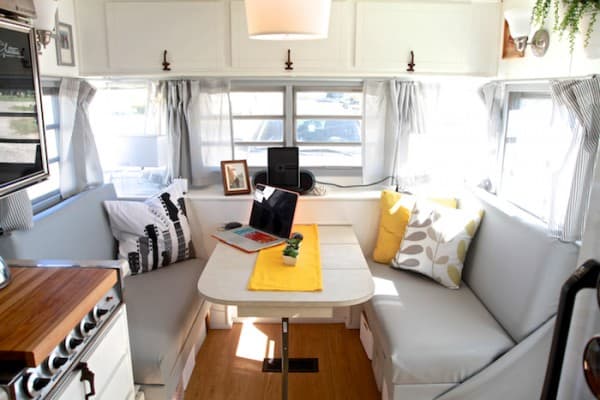 Above the doorway we hung a picture shelf and some hanging hooks as an in and out station for keys, mail and whatever else you need on the way out the door.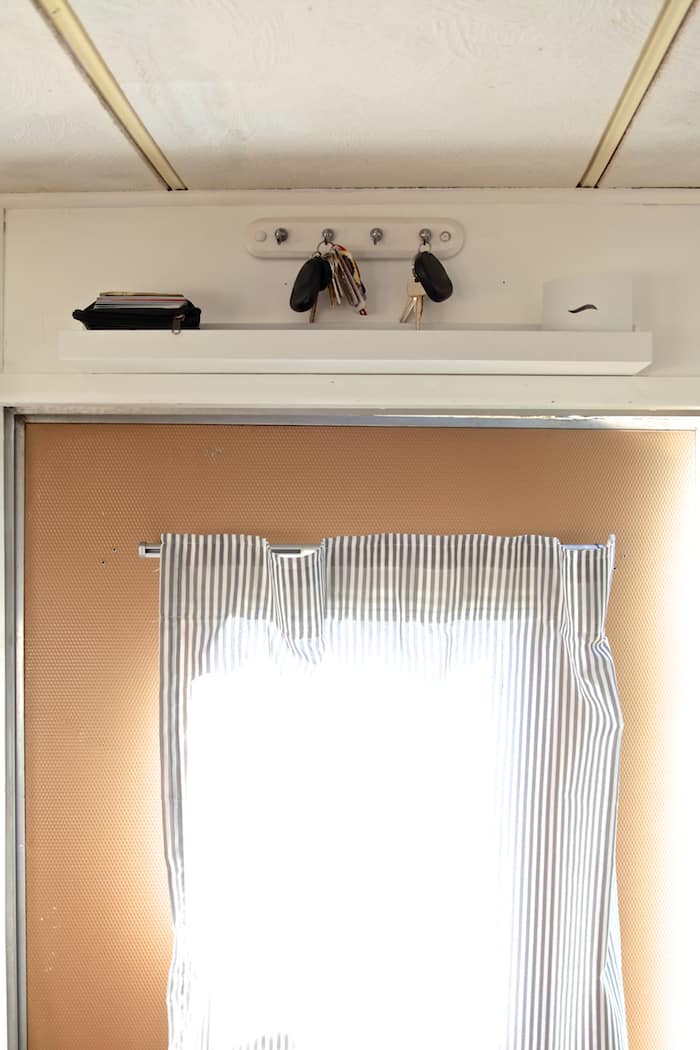 On the wall next to the door, which contains the refrigerator, I hung some pots and pans that I wanted to have quick access to. This wall is not really a wall; it's just a framed in panel. It has no studs behind it so, again I used the 3M Command hooks to hang the pots, pan and clock.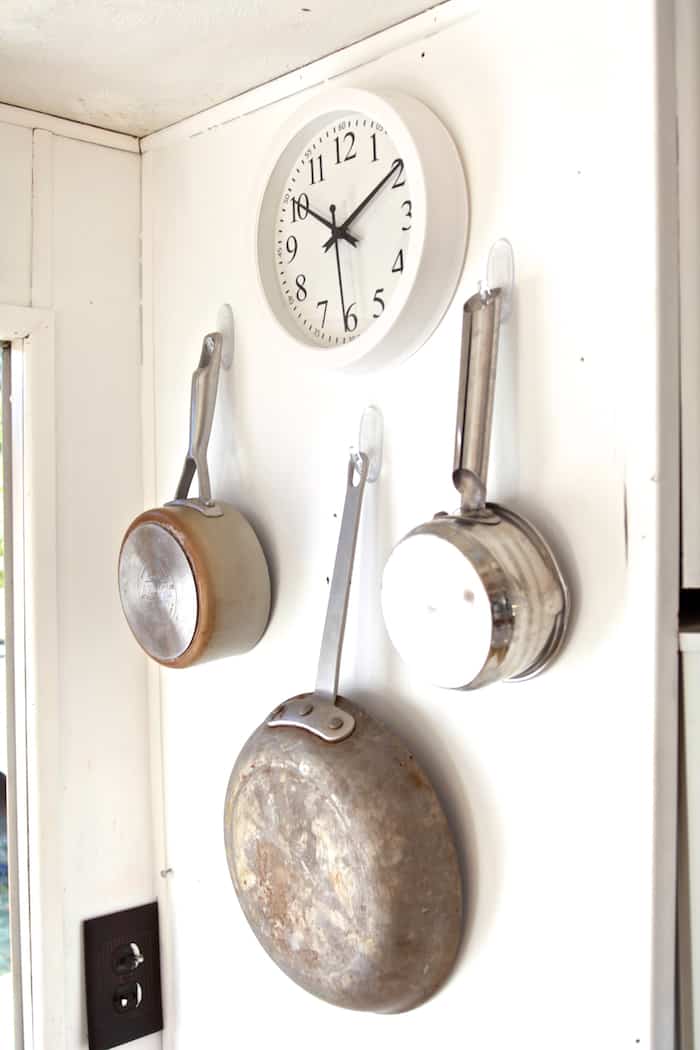 Let's take half a step and move into the kitchen. In order to optimize my counter space I got this cutting board that fits over the range and can also be placed over the sink when I am using the range. It's perfect!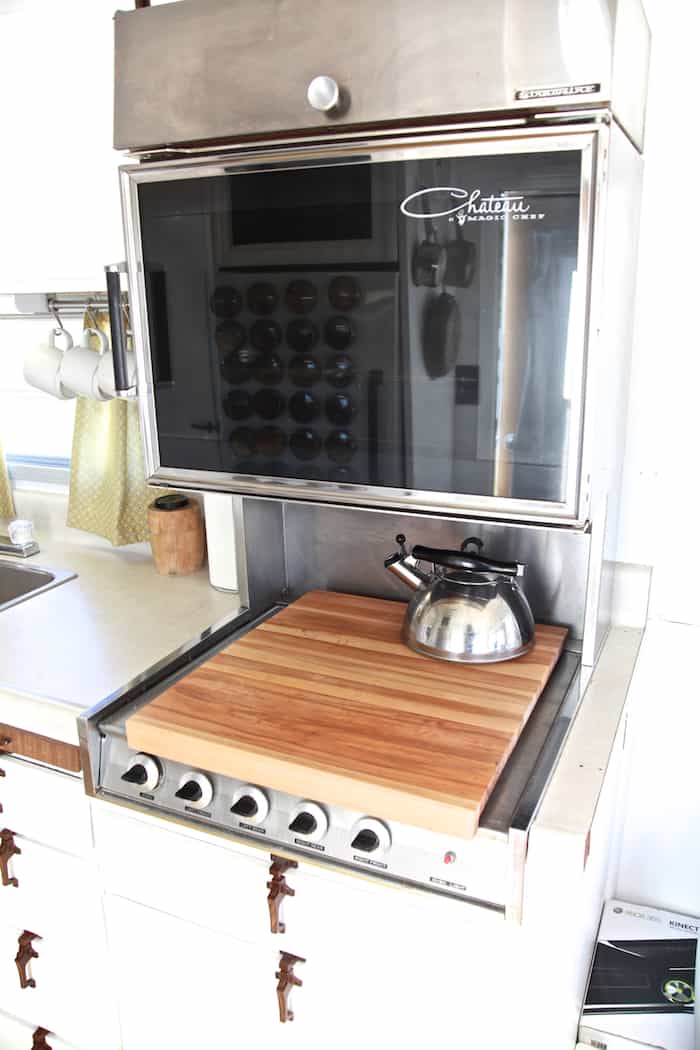 Across from the range is the refrigerator/spice rack.  My spice collection is extensive, and if I stored it in the pantry, I would barely have any room for food.  I filled 36 magnetic spice containers and put them on the refrigerator. It's perfect really! I was looking for a way to dress up the refrigerator, and this was the perfect solution.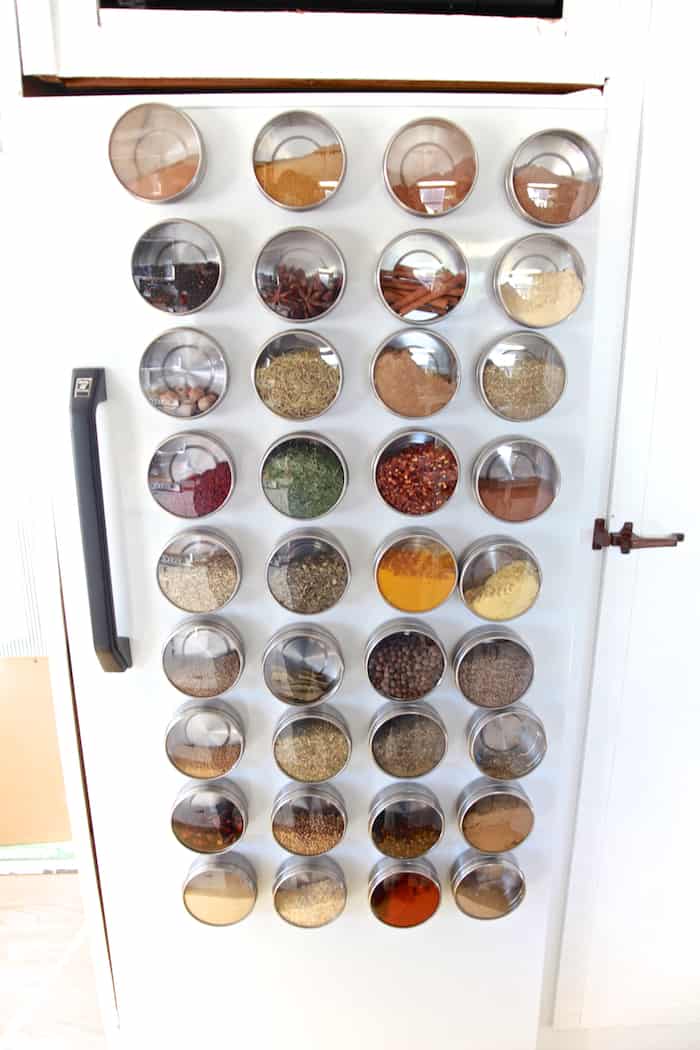 On the inside of one of the cabinet doors, I hung a magnetic strip to store my measuring cups and spoons. It's all about optimizing space people! 😀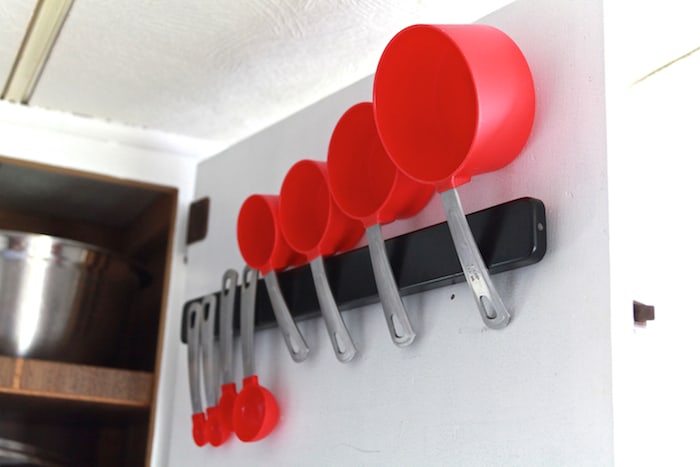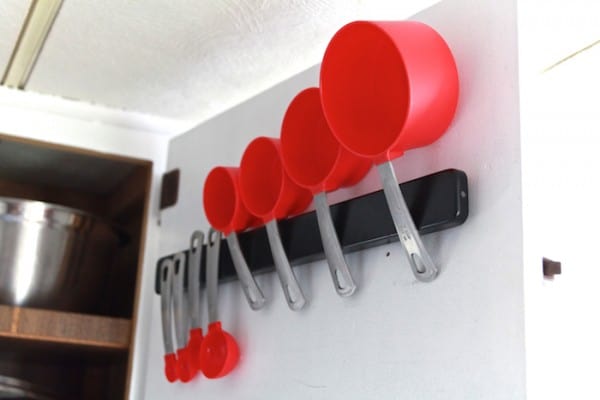 On the kitchen wall is another magnetic strip for my knives and a rod to hang cooking utensils and a dish drying rack. Hanging the dish rack on the wall leaves both my sinks open for cleaning dishes or prepping foods.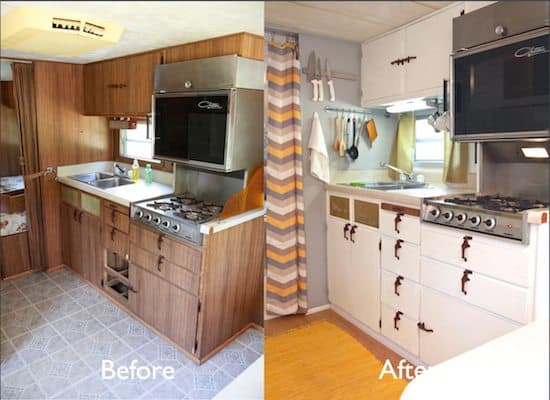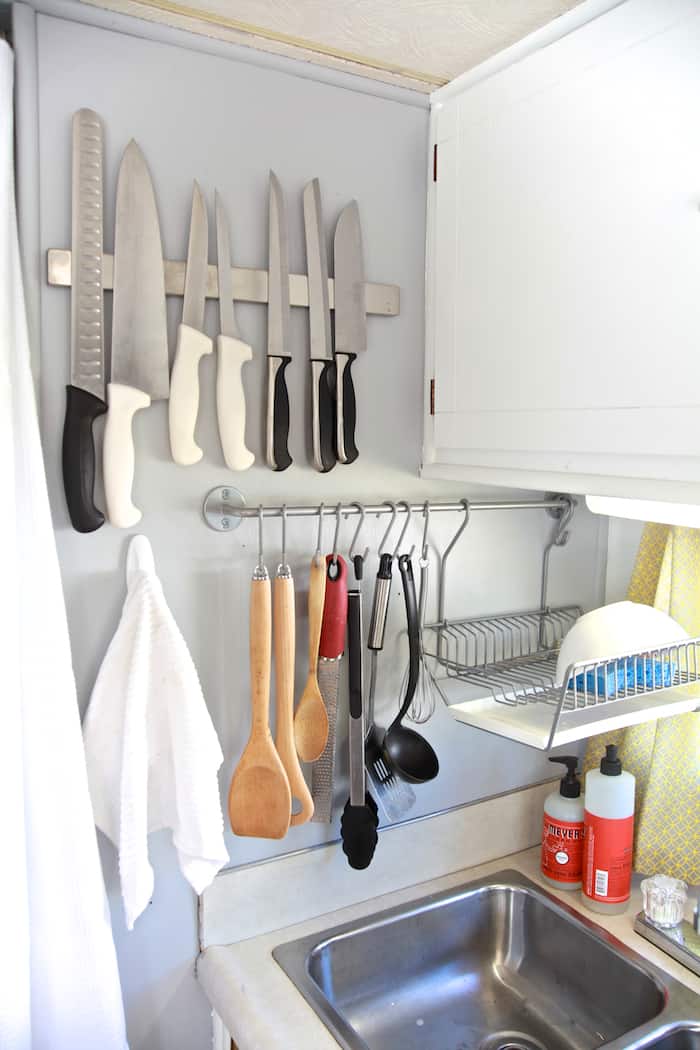 Another change we made in the kitchen was installing a gooseneck faucet. This has made a huge difference when cleaning dishes. It allows more space to rinse large items like pots and pans. Every camper should have a gooseneck faucet!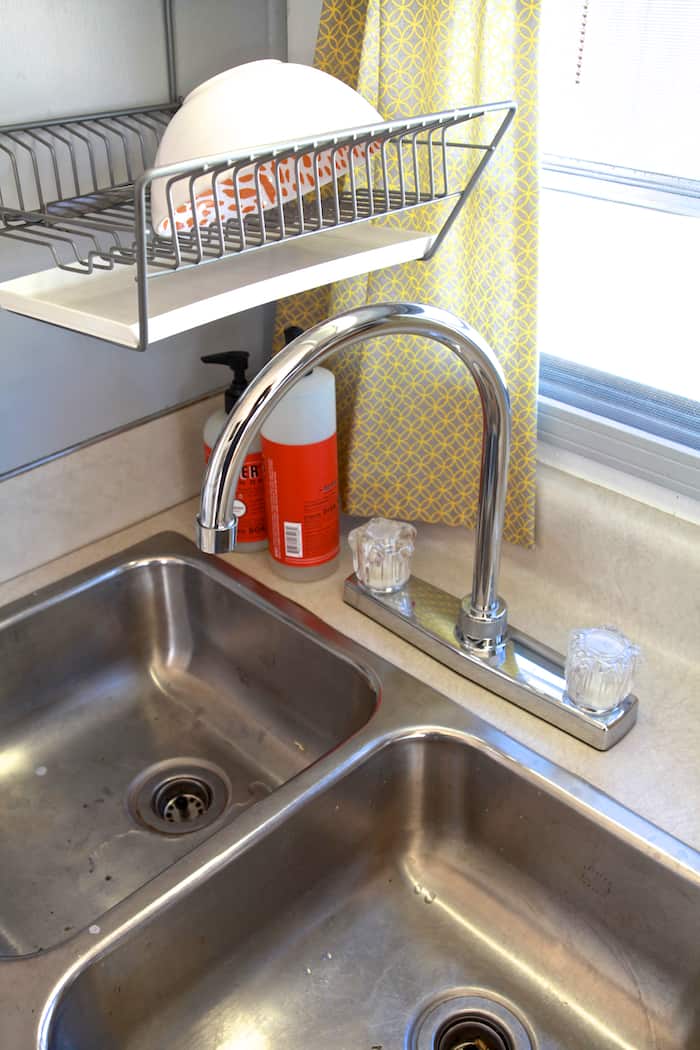 Now let us turn to the left and enter the bedroom. First you will notice the wall. Before I had a decal of a tree but, it started to peel off and look dirty. It was driving me crazy!  While strolling the aisles of target I found this vinyl temporary wallpaper. PERFECT! It was easy to apply, and if I get tired of it, it will be easy to change.
I also changed the bedding to a duvet cover so I can change our the weight of the comforter depending on the weather. In the cabinets above the bed, I have more bedding and blankets.
The light fixture was also presenting to be a challenge. It's the original fixture, and each light has its own switch. I wanted to find something familiar to replace it but, I couldn't find any fixtures with dual switches. Instead, I fixed it with smaller bulbs and found these little shades that sit directly on the bulb. Perfect solution!
We also changed the curtains out in this space with heavy blackout curtains that I hemmed. These curtains help keep out the morning light and cold air.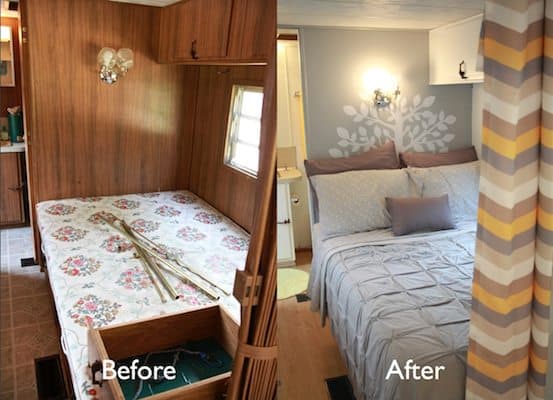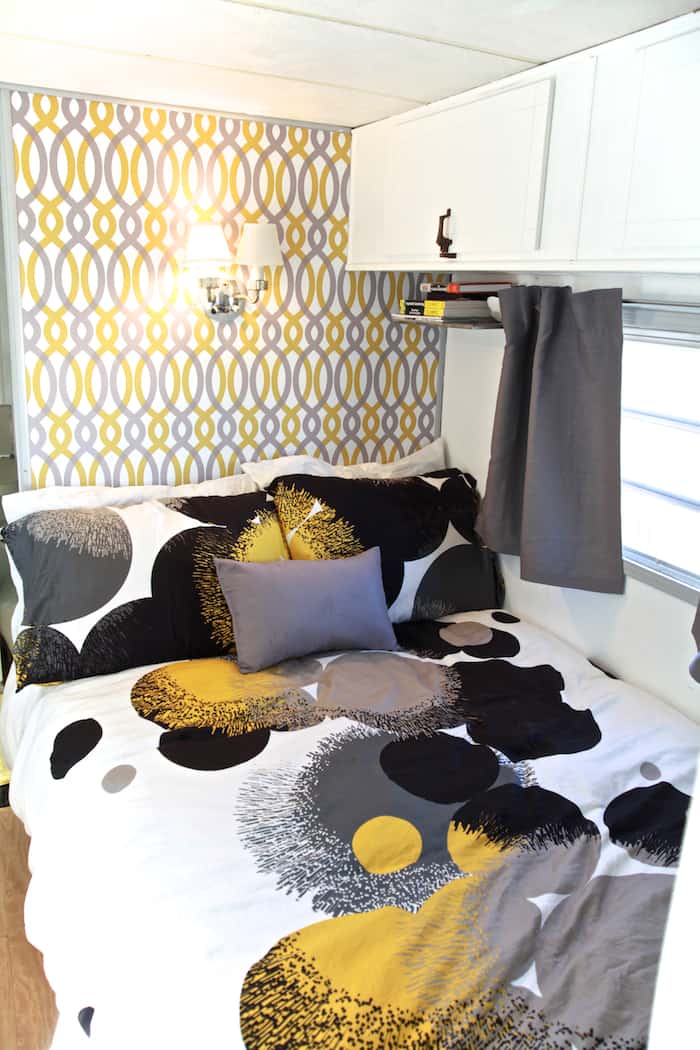 Over the bed and just under the cabinets we hung some more bookshelves to use as nightstands. This way I don't have to climb over OB to get my cellphone or my glasses. Do you like my reading material?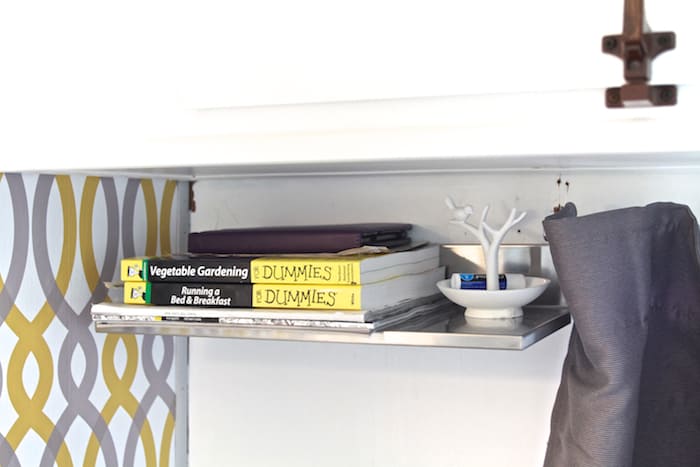 On the opposite wall, we hung our little tv. It's on an arm that pulls out so we can watch tv from the kitchen/dining area or the bedroom. I can even see the tv from the bathroom. 🙂 We still need to fix the cable situation and run it through the floor of the camper.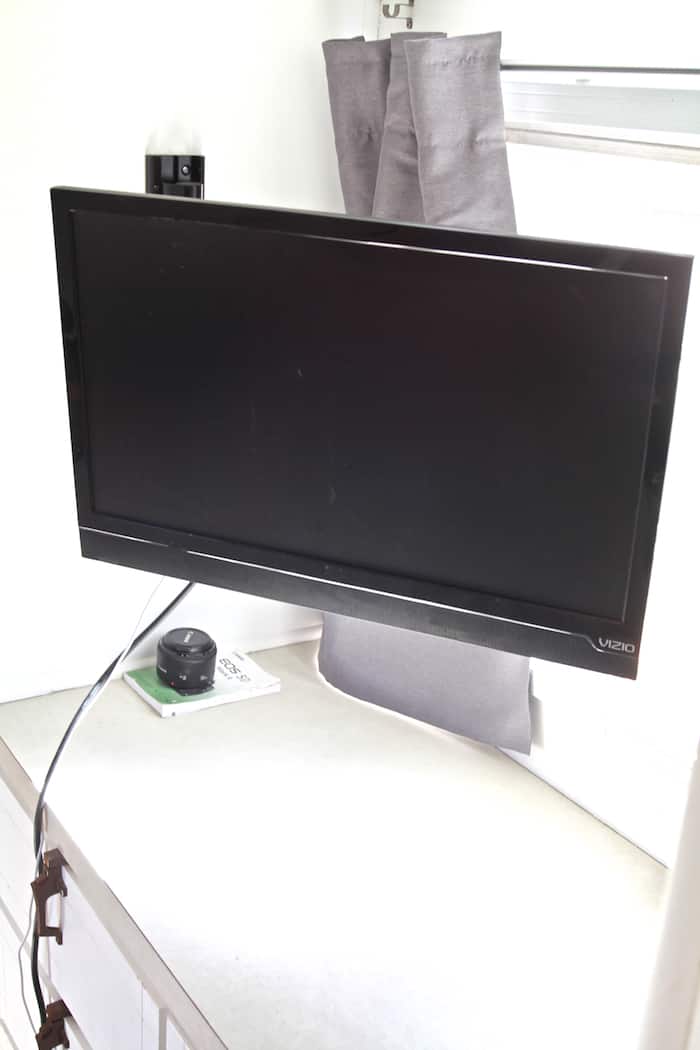 On the other wall of the vanity area, we hung some hooks for easy access to my favorite accessories.
In the closest we installed some shelves to optimize storage space for our shoes.  Also, I keep all my flats and sandals in the basket, leaving room for my boots and sneakers.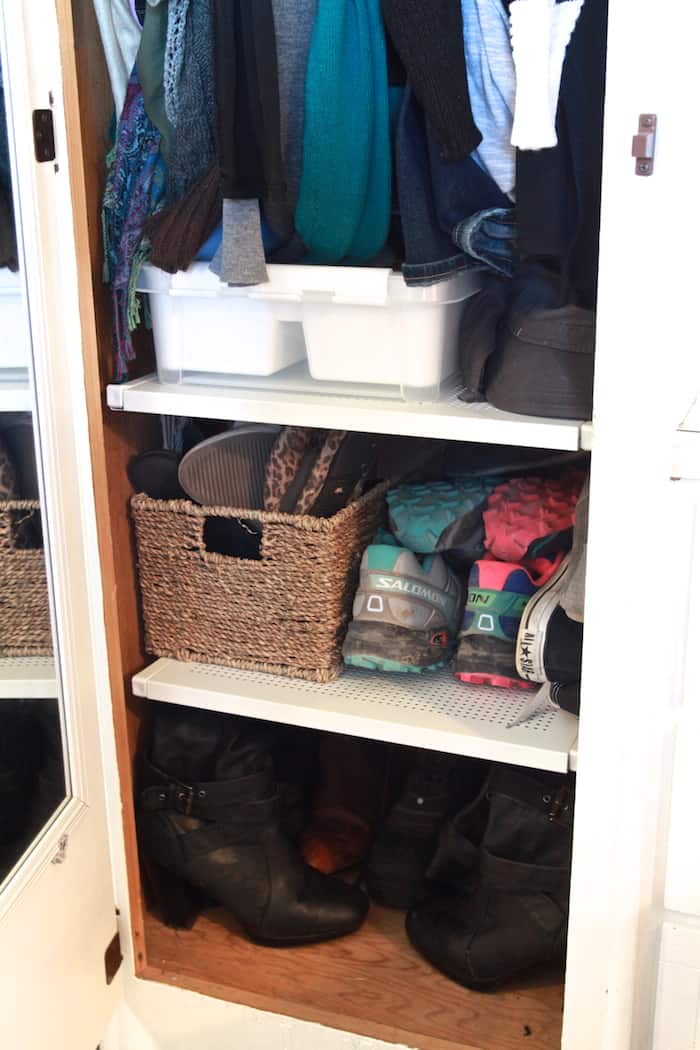 Take two steps to the right, and we enter the master bath. 😉 Over the sink we hung a rod and some little baskets to hold our everyday items. Also, note another gooseneck faucet, a necessity to wet my crazy short hair in the morning.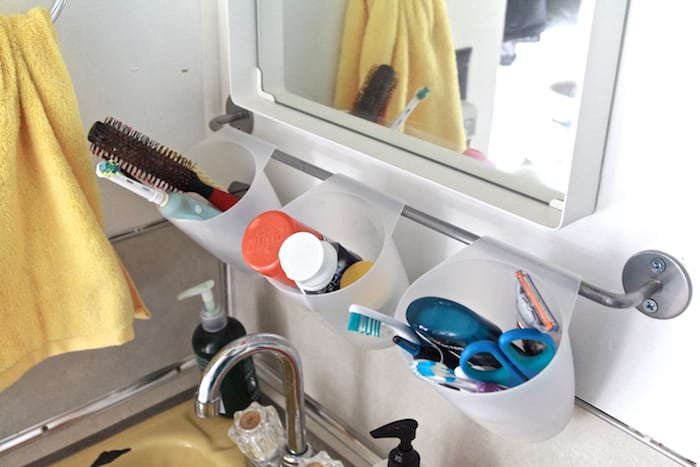 In the bathroom is a backdoor area that we have converted into a storage area. On the wall we hung some baskets. The top basket holds my hair dryer and hair iron and the bottom basket has all the doggie items. We also have a rod to hang our coats.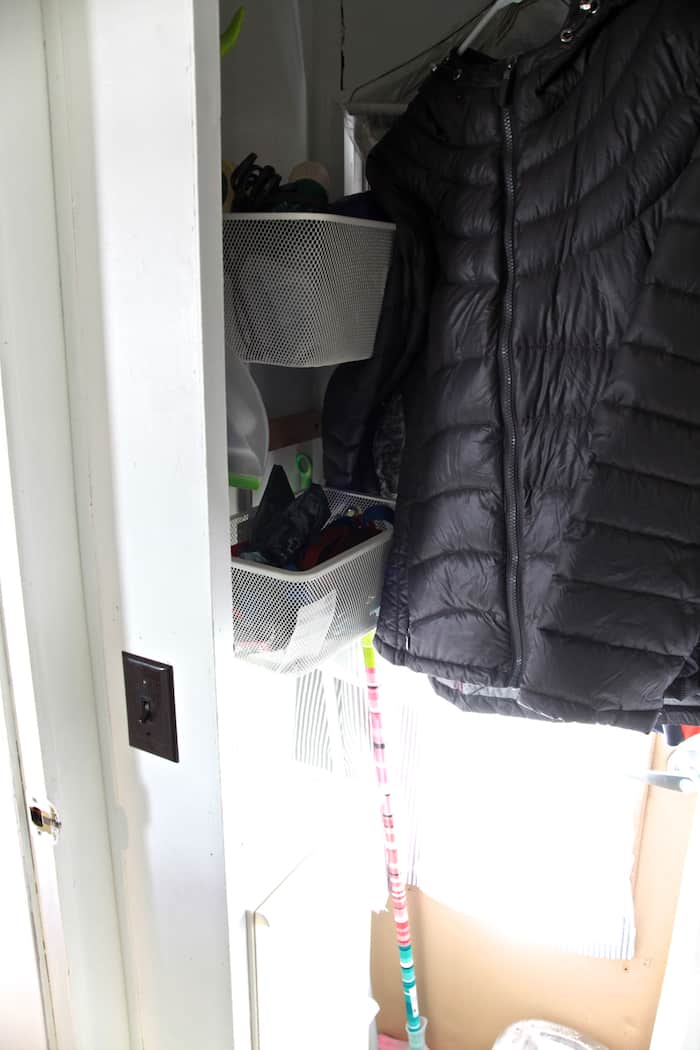 At the bottom are some containers to hold the dog food and a water dispenser for the pups.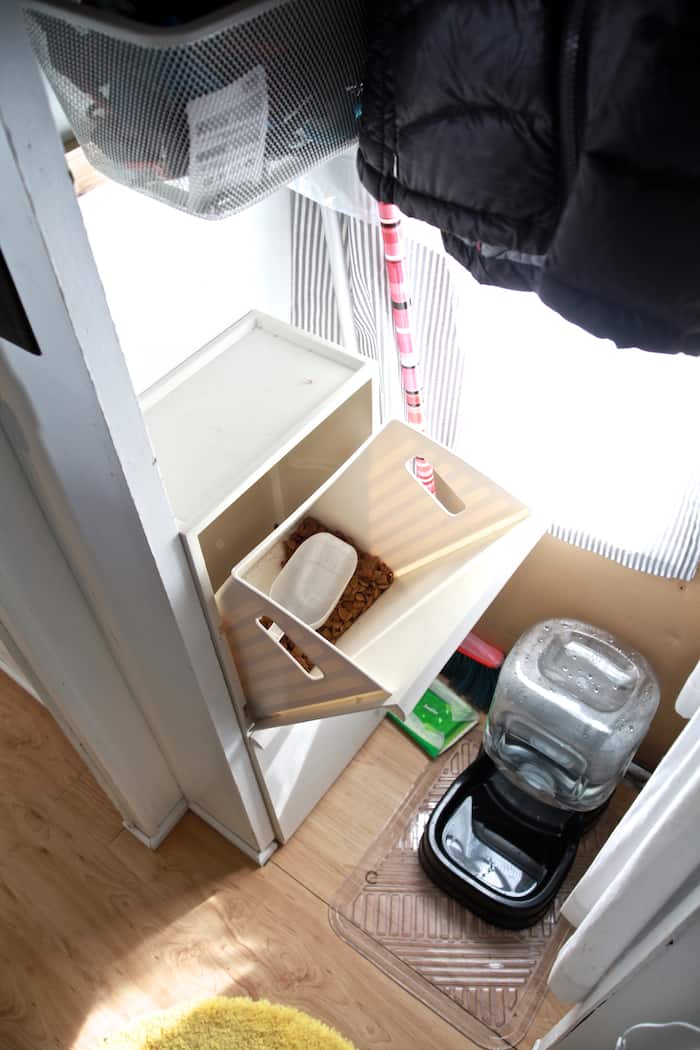 And, that is our little home!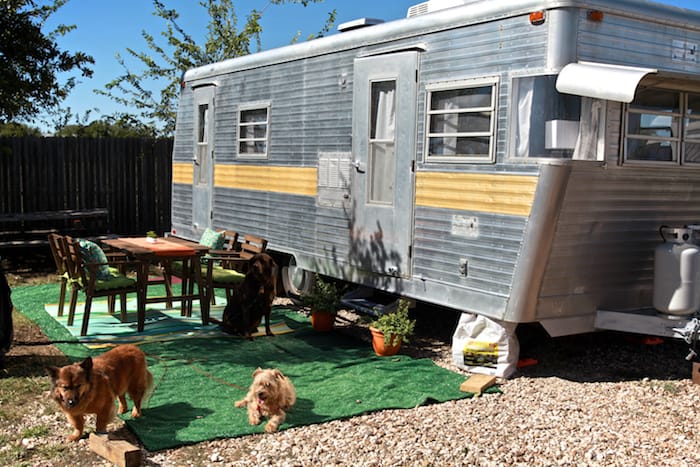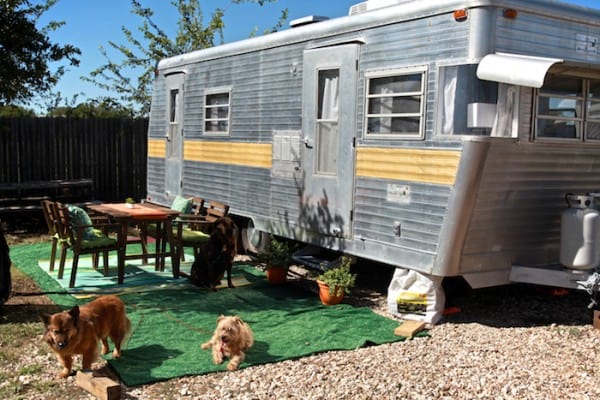 There have been some adjustments and challenges. It's a big change going from a 1900 square foot house to a tiny trailer. But, so far I am in love with our little home. We get up together early in the morning and walk the dogs with a hot thermos of coffee in hand. In the evenings we light the chiminea and enjoy dinner and conversation outside.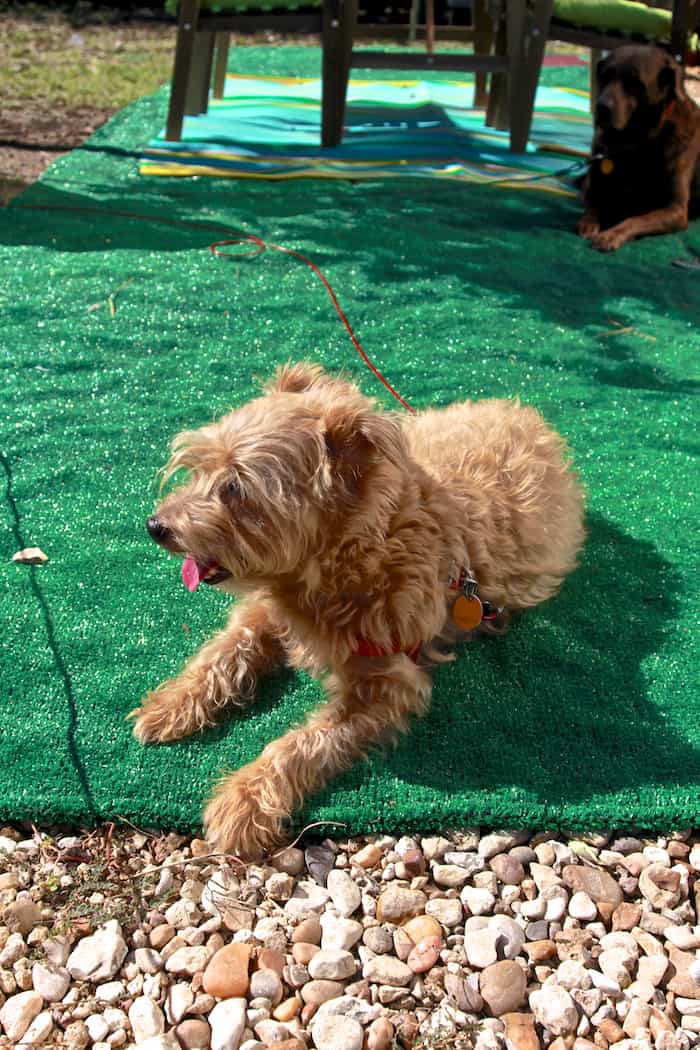 Our next step is soon to begin the hunt for the perfect piece of land. It's not going to be easy, but I am confident it is out there somewhere. I will continue to keep you posted on our plans and experiences as we continue to dream small.
Please feel free to ask any questions! I will do my best to answer them.
Read more about our dream small project!