It has been gloomy and rainy for a week now and it doesn't look like it's going to let up till maybe the weekend….so says the weatherman.  What is really annoying is that it isn't even a real rain, it's a mist, I feel like I am in London or something.  Cold and drizzly weather like this calls for a warm hearty stew.  This particular dish has to be my favorite cold weather dish, no doubt.  The name of this dish, Sancocho, literally means stew.  In Puerto Rico when a person has spent all day under the hot sun, it is said that they are "sancochao",  which means stewing in the blistering heat.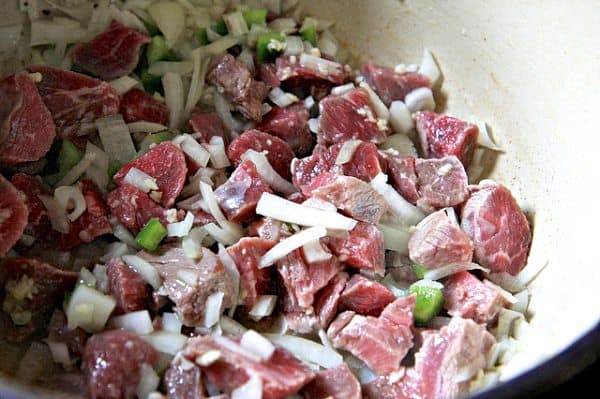 This stew goes back at least 400 hundred years to when the Spaniards brought African slaves over to the island.  The slaves would make a huge pot and let it stew all day and have a hearty meal ready after a long day of labor.  The tradition continued on to the poor farmers, which were call "Jibaros" and it is still here today.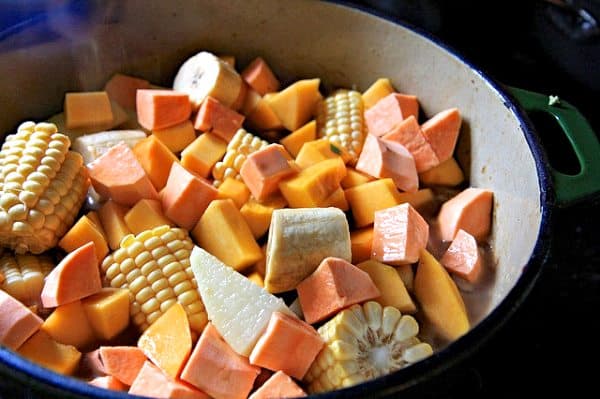 Sancocho is made up of beef tips, beef stock and a variety of starches that are both native to the island and to Africa.  Although plantains are associated with Puerto Rican cuisine, the plantain is originally from Africa.  My favorite starch in this stew is the yucca root, which is native to Puerto Rico and was use by the native Taino Indians.   I was lucky enough to find frozen yucca at my local Asian market.  You can switch starches in and out if needed.  If you are missing something, add a little more of something else, but do not leave out the corn.  The corn is one of the best parts.  I always save my corn for the very end, it is almost like a savory dessert.  I remember when my sister and I were young we use to fight over the last piece of corn in the pot.  She is a scrappy one, but I didn't go down without a fight.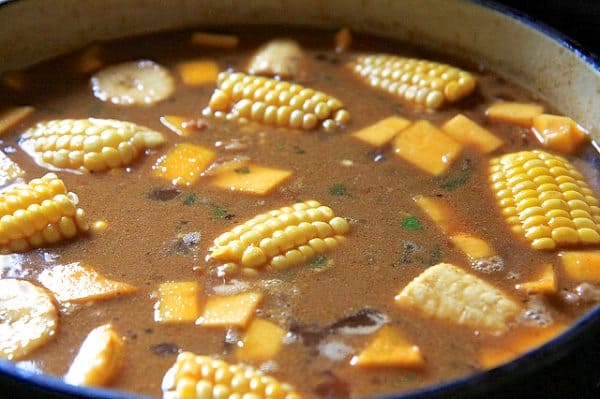 This stew is just heaven and reminds me so much of home.  Obed was very excited to come home to a huge pot of sancocho.  It is very filling and bursting with flavor.  If you have any left, refrigerate it and save it for later.  This stew is even better the next day after it has been marinating overnight.  I think Obed and I ate from this pot for three days.  You can also freeze it and have it on hand for a cold rainy day.
To me, it's a little piece of home in a bowl.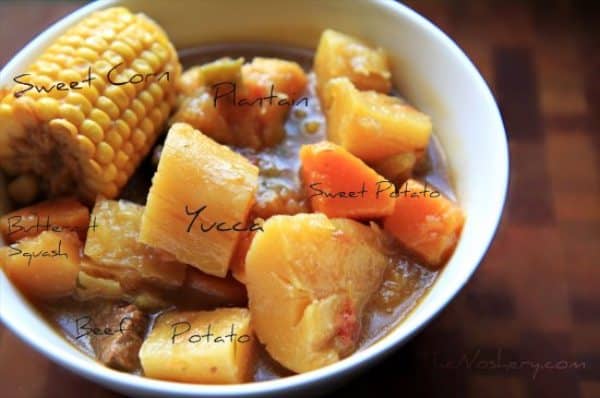 Sancocho (Puerto Rican Beef Stew)

Ingredients

2 Tbs olive oil

5 garlic cloves, minced

1 1/2 lbs top round beef, cubed into 1inch pieces

1/3 cup yellow onions, chopped

1/3 cup green pepper, chopped

5 sprigs of cilantro, chopped

1 teaspoon salt

1/4 teaspoon ground black pepper

4 quarts beef stock

1 green plantain, peeled and slice into 1 inch pieces

1 yellow plantain, peeled and sliced into 1/2 inch pieces

1 medium sweet potato, diced into 1 inch pieces

1 medium yucca, diced into 1 inch pieces

1/2 lb butternut squash, peeled and cubed into 1 inch pieces

3 medium new potatoes, peeled and quartered

2 ears of yellow corn, cleaned and sliced into 6 parts each

Instructions

In a preheated dutch oven or heavy pot over low-to-medium heat, combine olive oil, garlic, beef cubes, and onions, stir until beef is brown on all sides and onions begin to caramelize. Add in chopped pepper, cilantro, salt, pepper, and 1 quart of beef stock. Cook down until stock is reduced by half about 20 minutes.

Stir beef, then add in all the remaining vegetables and beef stock. Continue to cook until meat is tender and the vegetables are soft.

Copyright 2012 - All Rights Reserved - TheNoshery.com