Whipped Goat Cheese and Blueberry Balsamic Crostini | This simple and elegant crostini makes for the perfect appetizer for your next fabulous party. When hosting any party, it's great to have an easy and tasty appetizer up your sleeve. One of my go-to foods to serve at a party is a fabulous crostini.
These crostini come together in no time and are a flavor bomb! They are perfect for any party–I promise that they will be a hit. Even if you think you're not a fan of goat cheese, I am confident you will love these!

What is a crostini?
The name translates to "little toasts" in Italian, very fitting for these small slices of toasted bread. The thinner the toast, the better for optimum crispiness.
Usually, the word refers to an appetizer round topped with anything from creamy spreads to cheese to bruschetta. It's the perfect vessel for a flavorful topping like my peppery strawberry and burrata crostini, balsamic beets and goat cheese toasts, and avocado and chorizo toasts with balsamic glaze.
I have a thing for crostini, as you can see, the original fancy toast. Who can say no to toasted or grilled bread topped with whatever your heart desires? Crostini can be the perfect appetizer or even a satisfying meal.
Inspired by the flavors of summer, I decided to top these crostini with tangy whipped goat cheese and sweet blueberries. The goat cheese is whipped with heavy cream until smooth and creamy. The whipping cream cuts into goat cheese texture but maintains the tang. The lovely tang of the whipped goat cheese pairs beautifully with the blueberries and balsamic reduction.
Since I am a fanatic about sweet and savory, I also lightly rubbed the buttery toast with garlic. I'm telling you! These are the bomb!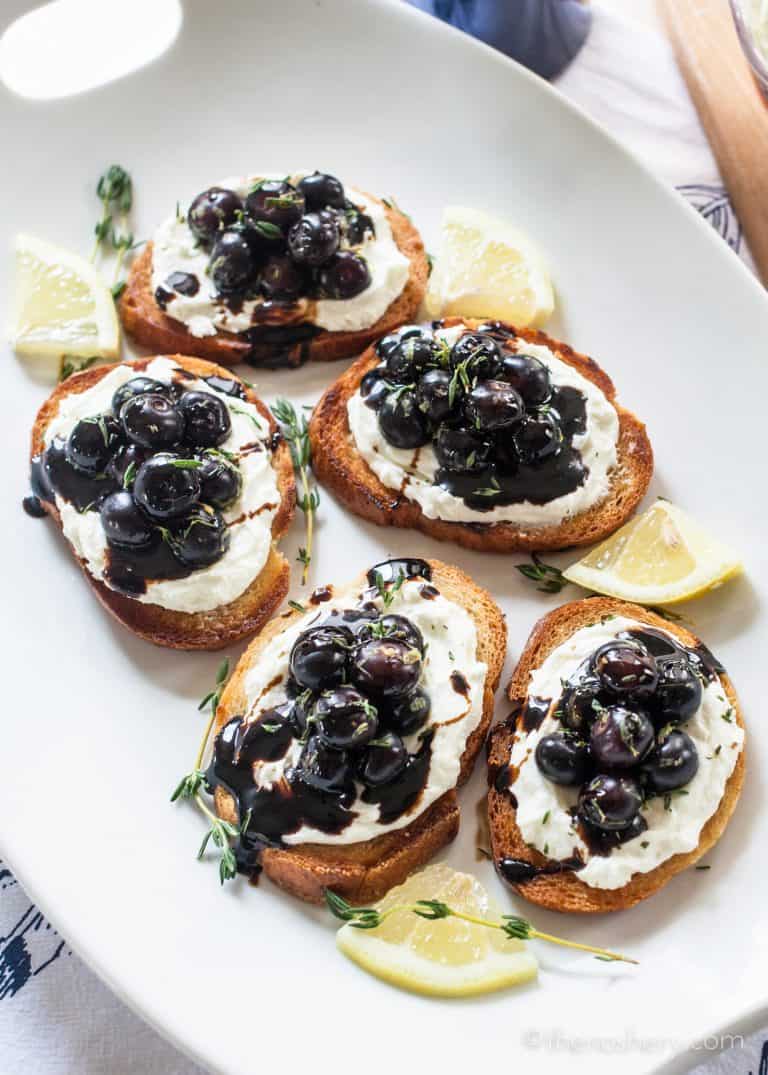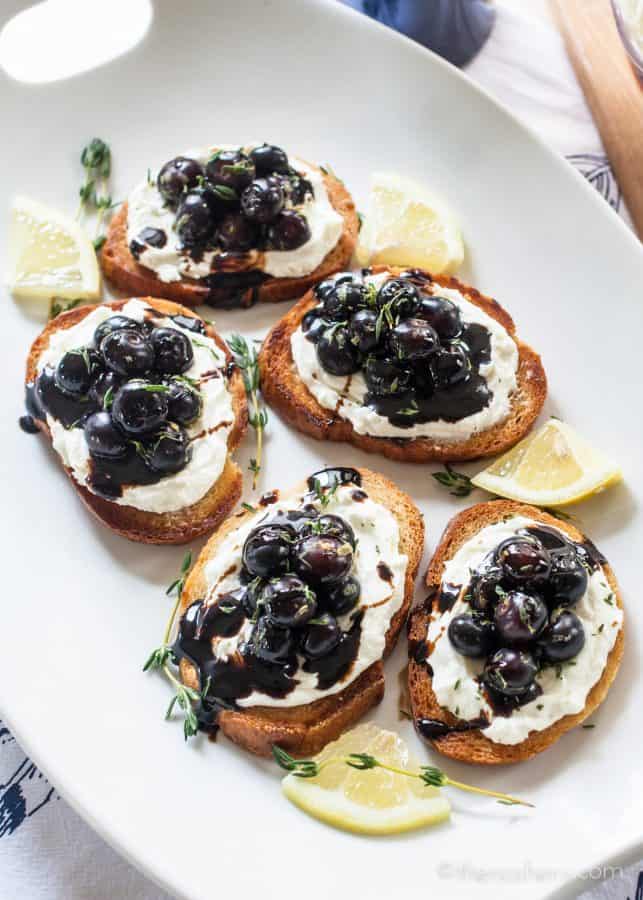 Whipped Goat Cheese and Blueberry Balsamic Crostini Appetizer Recipe
8 ounces goat cheese
1/2 cup heavy cream
1 teaspoon salt
10 ounces blueberries
zest of 1 lemon
tablespoon lemon juice
1 tablespoon chopped fresh thyme
balsamic reduction
12 1/2 1/2-inch french bread slices
4 tablespoons butter
1 garlic clove
How to make whipped goat cheese
Part of what makes these toasts so divine is the whipped goat cheese. I love goat cheese as it is, but incorporating a little air into it makes it light, fluffy, and irresistible with the different textures of this dish. So don't skip this easy step!
You simply place room temperature goat cheese and cream in a bowl with some salt and beat it with a hand mixer until thick and smooth and ready for prime spreading on toast. A food processor would also do the trick, but it might not be as fluffy. Set the whipped cheese aside until its shining moment.
How to make Blueberry and Goat Cheese Crostini
Next, in a bowl, add the blueberries, lemon zest, lemon juice, and thyme, tossing until well-combined. As you toast your crostini, the berries will sweeten and start releasing their natural juices.
While that flavor concentrates, heat a skillet to medium-high heat. Butter both sides of your toasts and let them crisp up in the hot skillet until they turn a gorgeous golden brown. This will take about 2-3 minutes per side. When they're finished, rub one side of the warm toast with the garlic clove.
Now it's time to assemble. First, add the goat cheese mixture to the toast, top with those syrupy blueberries, and finish with a drizzle of balsamic reduction and a sprinkling of fresh thyme leaves.
Then prepare to take one of the best bites of your whole life (and another and another)! Feel free to use strawberries in place of blueberries. Or sweet caramelized onion would also make a tasty addition if you're feeling it. Like I said before, when it comes to crostini, the sky is the limit!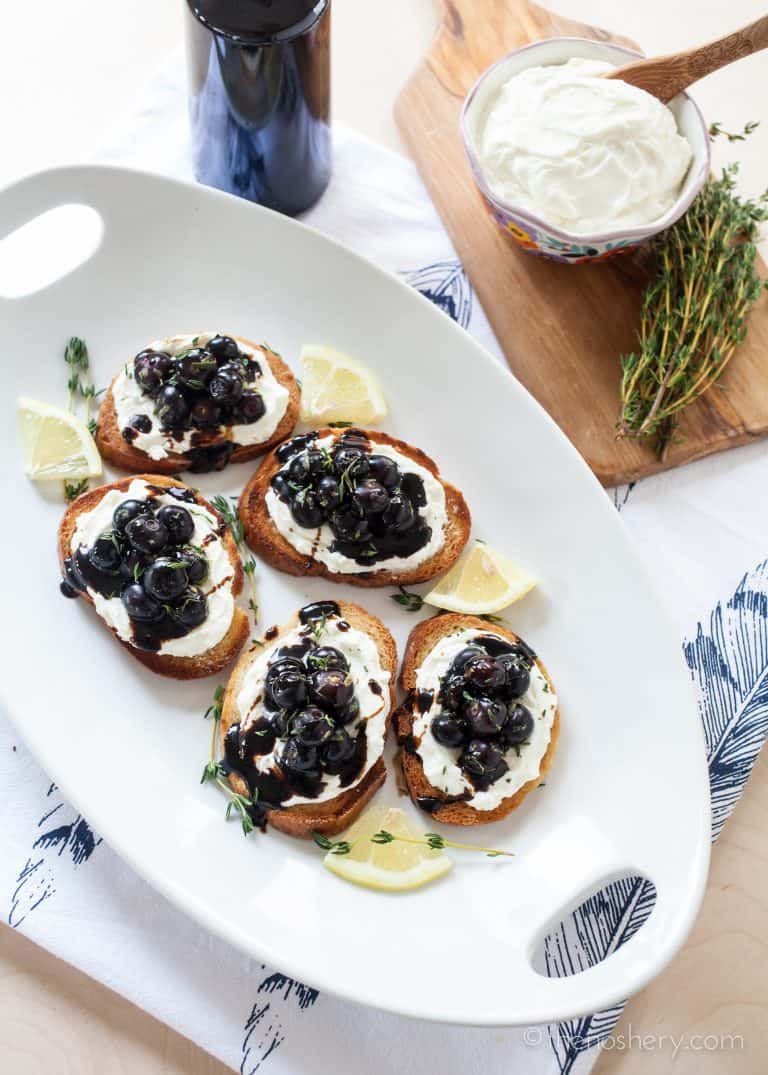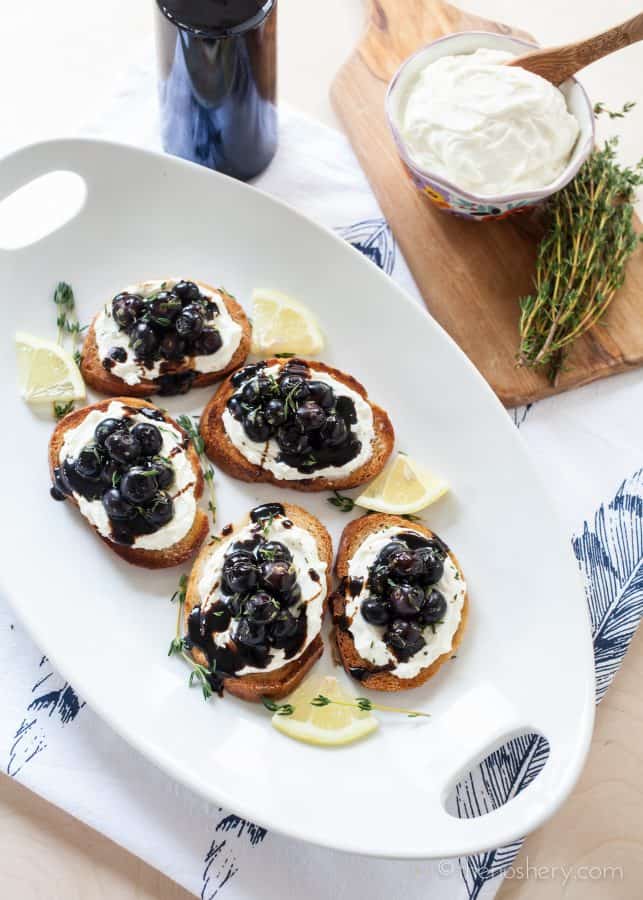 Other ways to use whipped goat cheese
If you have extra whipped goat cheese, don't let it go to waste! You can dollop it on pancakes or waffles with a little honey or use it as a sandwich spread. It would make a fabulous addition to a cheese board with roasted red peppers, your favorite crackers, and some freshly ground black pepper.
Create a goat cheese dip to make raw veggies sing. It would also taste amazing layered with fresh fruit in a parfait glass for dessert.
So many sweet and savory possibilities with this delicious spread!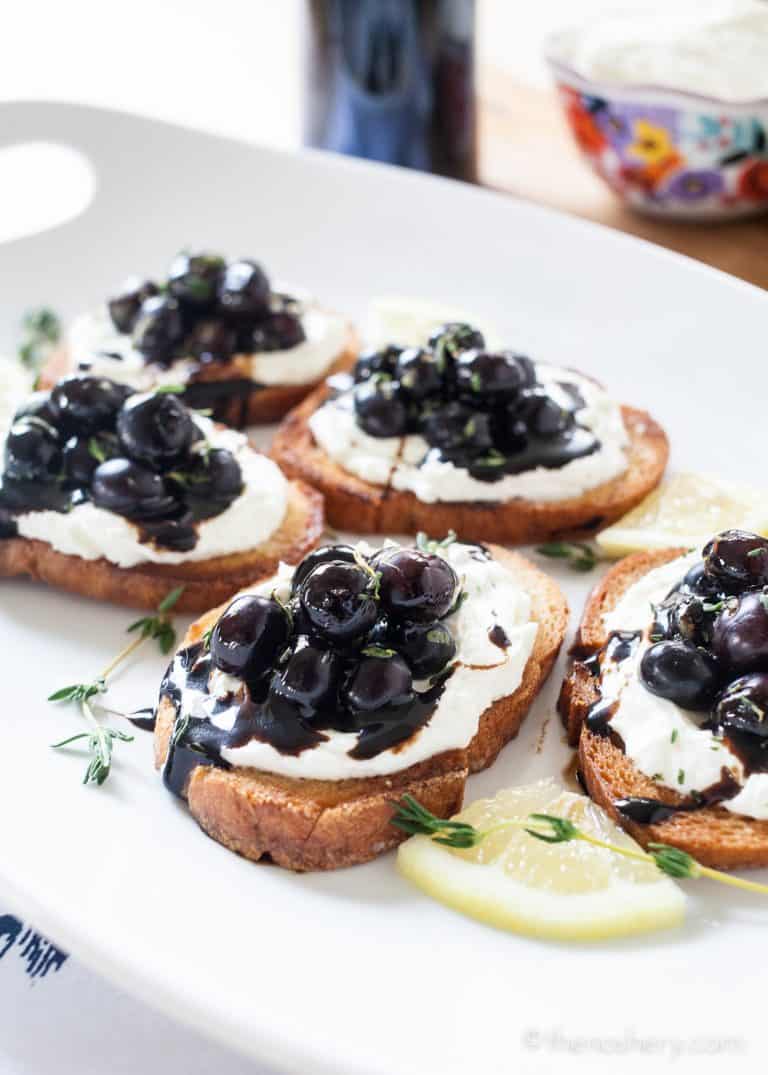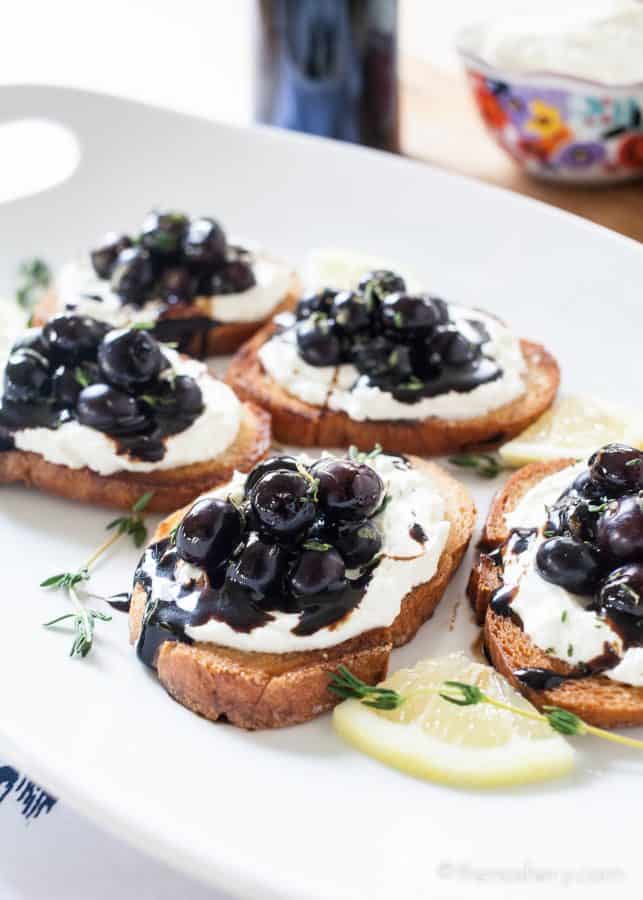 Make it a party!
These are incredibly easy to put together for any party and are sure to impress your guests. You can't go wrong with a menu of appetizers and small bites (perfect for mingling). My favorites are ham croquetas, sandwich de mezcla, and sticky gochujang chicken wings made in the instant pot. For more ideas, check out my full list of appetizer recipes.
Who knows? If you come to love these whipped goat cheese crostini as much as I do, you may make them for just yourself.
more berry love:
Yield: 12 servings
Whipped Goat Cheese and Blueberry Balsamic Crostini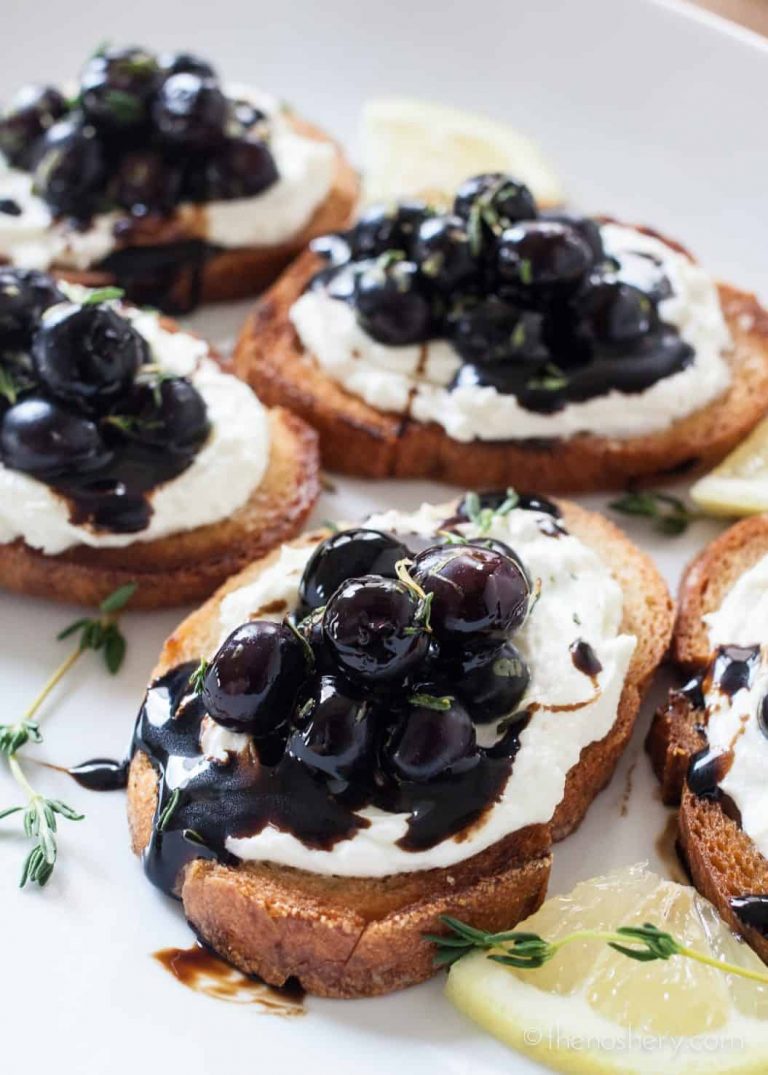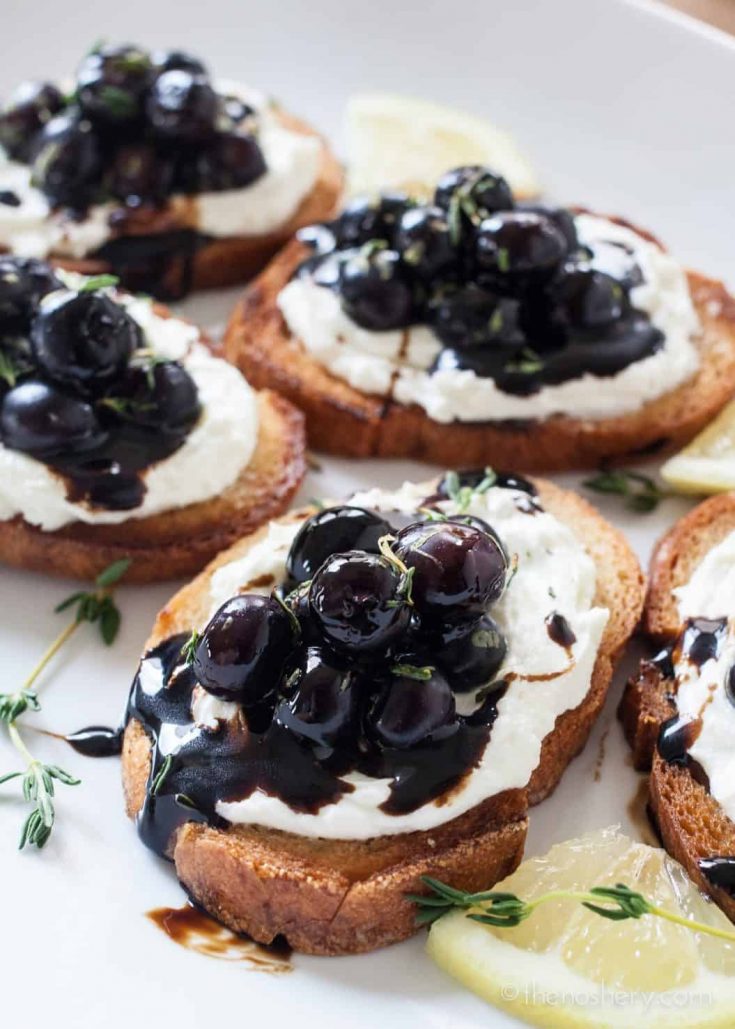 These crostini come together easily and are full of flavor. A perfect combination of tangy, savory and sweet. Your guest are sure to love them!
Ingredients
WHIPPED GOAT CHEESE
8 ounces goat cheese
1/2 cup heavy whipping cream
1 teaspoon salt
BLUEBERRIES
10 ounces blueberries
zest of 1 lemon
tablespoon lemon juice
1 tablespoon chopped fresh thyme
balsamic reduction
CROSTINI
12 1/2 1/2-inch french bread slices
4 tablespoons butter, melted
1 garlic clove
Instructions
In a bowl combine goat cheese ingredients, using a hand mixer beat until well combined and smooth. Set aside.
In a small bowl combine blueberry ingredients except balsamic reduction and toss until blueberries are evenly coated, set aside.
Heat a heavy skillet over medium-high heat. Brush bread slices with butter on both sides. Toast bread slices in skillet until golden brown, 2 - 3 minutes each side. Gently rub one side of the crostini with a garlic clove.
Spread whipped goat cheese on crostini, top with blueberries and drizzle with balsamic reduction. Garnish with fresh thyme.
Recommended Products
As an Amazon Associate and member of other affiliate programs, I earn from qualifying purchases.
Nutrition Information:
Yield:
12
Serving Size:
1
Amount Per Serving:
Calories:

158
Total Fat:

12g
Saturated Fat:

8g
Trans Fat:

0g
Unsaturated Fat:

3g
Cholesterol:

30mg
Sodium:

343mg
Carbohydrates:

9g
Fiber:

1g
Sugar:

4g
Protein:

5g