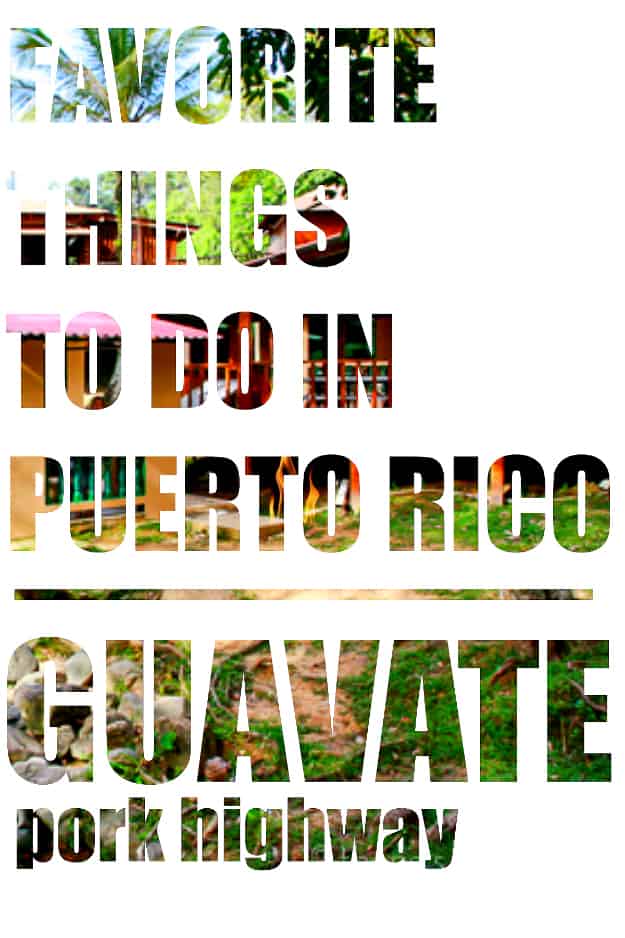 In the hierarchy of proteins pork is king in Puerto Rico, and there is no place that more clearly defines authentic Puerto Rican food and our love for pork then a small stretch of road along Rt.184 in Cayey Puerto Rico. Tucked away up in the mountains of Cayey is pork heaven, a mile of road lined with lechoneras. Lechoneras are open air restaurants that specialize in slow roasted whole pig. It's the most flavorful tender pork you will ever have the privilege of eating. Whenever I travel home I make sure to plan a visit to Guavate.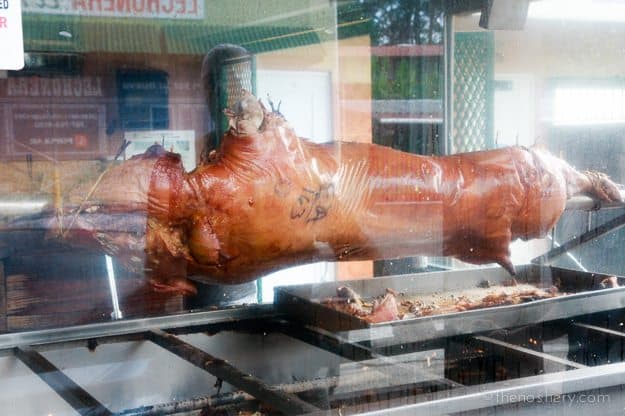 Many of the restaurants are open during the week but, if you want to get the full experience I recommend visiting Guavate on the weekend for lunch. During the weekend, people make their way to Guavate for food, cooler temperatures, and live music. There are over a dozen lechoneras to choose from, but my favorite is El Rancho Original. I love the food, and I love the restaurant. It's made up of open air patios and gazebos that back up to the forest and a freshwater stream.
Service at lechoneras is cafeteria style. Once you pick, your lechonera and park walk up and get in line. When you get up to the restaurant, there will be warming trays full of food and a huge whole roasted pig in the window. Of course the pig is the main attraction but, I'm going to give you a run down of what the most common items offered. But, don't be afraid to ask for recommendations. Most of the service staff will speak English and so will some of the people in line.

Proteins
Lechón – slow roasted whole pig. You have to get some it's the reason you are there after all.
Pollo asado – slow roasted whole chicken.
Pescao en Escabeche – fish in an olive oil, vinegar and onion sauce
Sides
Arroz con gandules – seasoned rice with pigeon peas and bits of pork
Arroz blanco – white rice
Arroz amarillo – yellow seasoned rice
Habichuelas guisadas – stewed beans
Yucca en escaveche – boiled yucca root in an olive oil, vinegar and onion sauce
Pana – boiled breadfruit
Amarillos or Maduros – sweet plantain
Tostones de platano – fried green plantains
Tostones de pana – fried bread fruit
Batata blanca – boiled white sweet potato
Morcilla – blood sausage
Guienitos verde en escabeche – boiled green bananas in olive oil, vinegar and onion sauce
Longaniza – pork sausage
Ensalada de papa – potato salad
Ensalada de coditos – macaroni salad with ham and onion
Arañitas – fried shredded plantain balls
Pasteles – Puerto Rican tamales, masa of green banana, plantain, yautia and pumpkin filled with beef wrapped in a plantain leaf and boiled
Appetizers
Empanadillas – fried savory hand pies
Papa rellena – fried mash potatoes stuffed with meat
Alcapurria – a root vegetable fritter filled with beef
Bacalaitos – codfish fritter
Drinks
Malta – non-alcholic carbonated malt beverage
Coco Rico – coconut soda
Kola Champagne – a soda beverage that a cross between cola and cream soda. To me, it tastes like bubble gum
Jugo de Parcha – passion fruit juice
Judgo de Acerola – tropical cherry juice
Jugo de Tamarindo – tamarind juice
Jugo de Guava – guava juice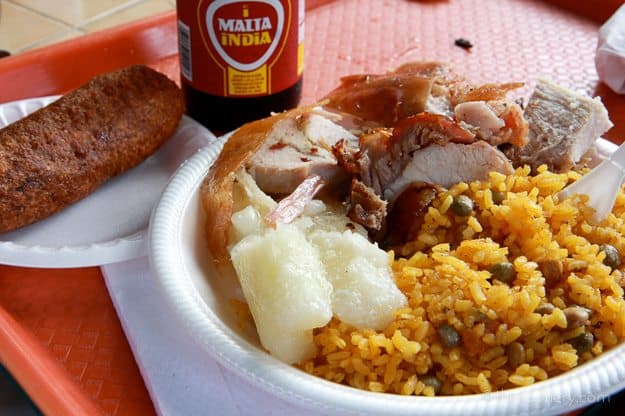 I normally order a plate with lechón, arroz con gandules and yucca en escabeche with a malta and an alcapurria. It's a beautiful plate of happiness.
To get to Guavate from San Juan take PR-52 southbound. When getting near Cayey, take exit #32, which says Guavate. Turn left and head up the mountain on PR-184. When you reach km 27 you will start seeing lechoneras and shops selling souvenirs.
If you decided to go on the weekend try and get there by 11:30 am to beat the rush, come lunchtime it can get pretty busy with bumper to bumper traffic. Don't rush the day enjoy the food, explore the grounds behind the restaurants and dip your feet in the streams, stay and listen to the music and if your daring do a little dancing.
Check out more things to do in Puerto Rico!