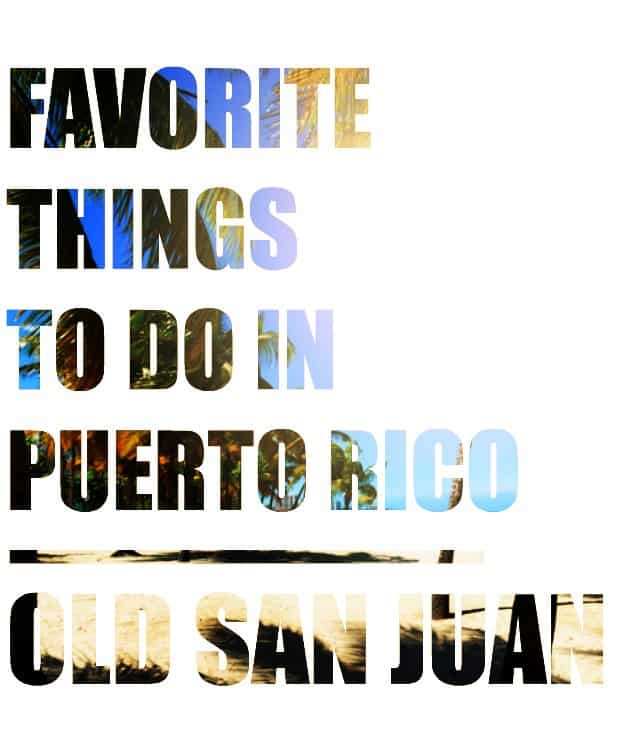 I am SOOOO excited!!! OB and I just bought tickets to go home to Puerto Rico for Christmas!!! It's probably been ten years since the last time I spent Christmas in Puerto Rico. I have been home to visit plenty of times since then but, not for Christmas. I plan on attending my sister's Christmas Eve party and hitting all of my favorite places and some new ones that I've never been. Then I thought how fun it would be to share some of my favorites destinations in Puerto Rico. I frequently get asked where to go and what to do while visiting Puerto Rico and the list is always long. It's hard to narrow down a list because there are so many wonderful things to do. So, I've decided to start a little series sharing ten of my favorite places to visit while in Puerto Rico. Of course, I have to start with Old San Juan!
Old San Juan is a must visit for everyone whoever steps foot in Puerto Rico. The amount of food, art, history and shopping is almost too much to count. If you plan on visiting I recommend a day trip. Make sure you dress comfortably, keep hydrated and carry some cash. There are many street vendors that do not accept credit cards, and you're going to be kicking yourself if you don't have cash, trust me.
Parking and getting around
Start at the bottom of Old San Juan where the cruise ships dock. There are two public parking lots in Old San Juan, Estacionamento Doña Fela and Estacionamiento La Puntilla. At this point, you have two choices. Take your time strolling up through Old San Juan (this will be mostly and uphill walk) or go to the corner of Calle Tizol and El Paseo de La Princessa and look for a sign for the free trolly. There are three different trollies with three different routes that pass this stop. You can see more about the trolley system and their stops here. But, before you get on the trolly get yourself a piragua de crema (milk shaved ice) or helado de parcha (passion fruit sorbet) from one of the street vendors. Below is my favorite walk through Old San Juan. If you want to take the trolley, start at El Morro and follow my route in reverse order.
Walking Old San Juan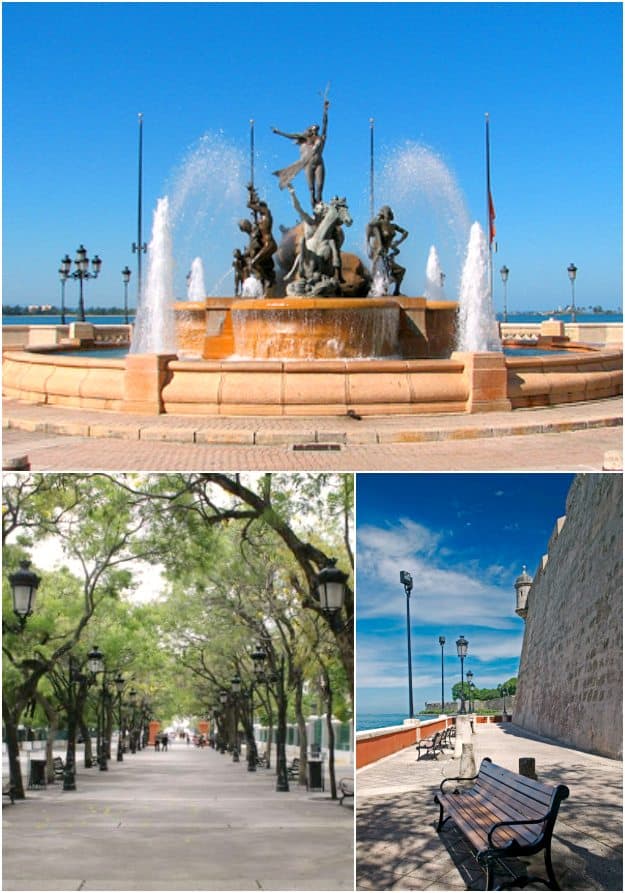 Of all the walks, you can take in Old San Juan this is one of my favorites. As you walk down El Paseo, you come to a beautiful fountain with a bronze sculpture representing the culture of Puerto Rico. Continue walking along and you will pass under beautiful trees shading the walkway on one side and piers on the other. To your right, you will come up a metal sculpture that looks like "spikes". If you look up the city wall, you will see a pale blue and white colonial mansion, this is La Fortaleza built in 1540 which has housed the governor since 1846. Keep going and later on the right is a sculpture of Queen Isabella in a lovely cool sitting area.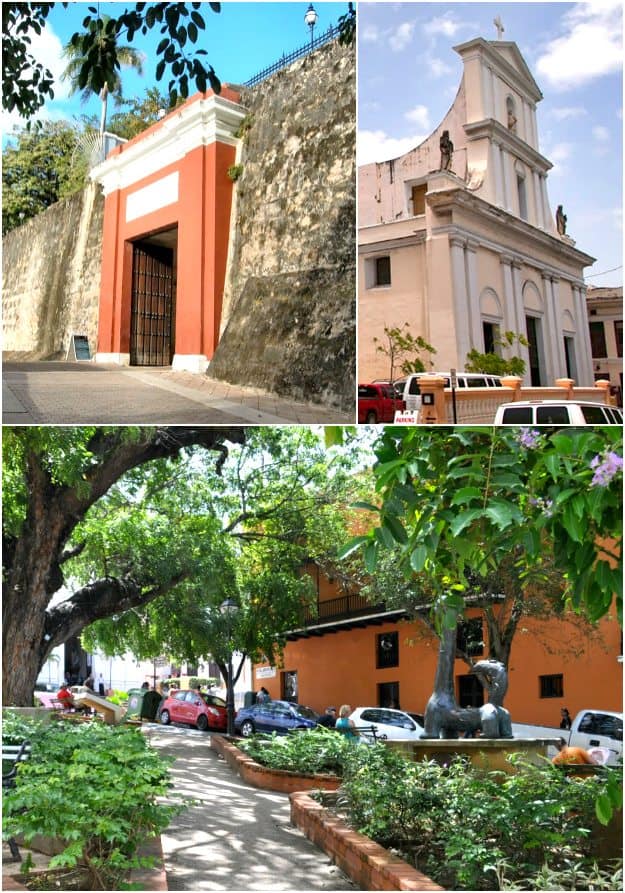 As you continue walking you'll come upon a large dark red doorway, this is La Puerta de San Juan. This is my favorite street in Old San Juan. As you walk through the gate, you will notice that the road is paved with cobblestones and 400-year-old homes line the street. It's also full of trees and vegetation providing shade after your hot walk along the city wall. When you reach the top of the hill, there is a little plaza with benches and across the street is El Cathedral de San Juan Bautista the second oldest cathedral in the Americas.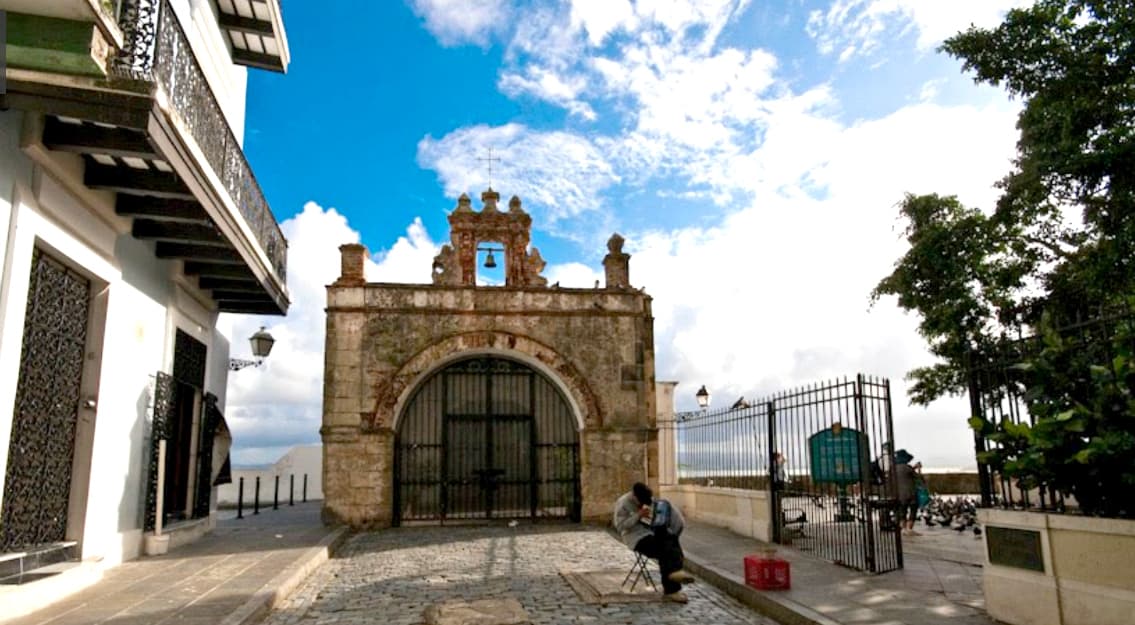 From here turn right down Calle de Cristo, keep walking until the road deadends into, and old chapel called the Capilla del Christo. To your right, you will see a small park full of pigeons that overlooks the ocean. Pay the man a few dollars and have fun feeding the birds.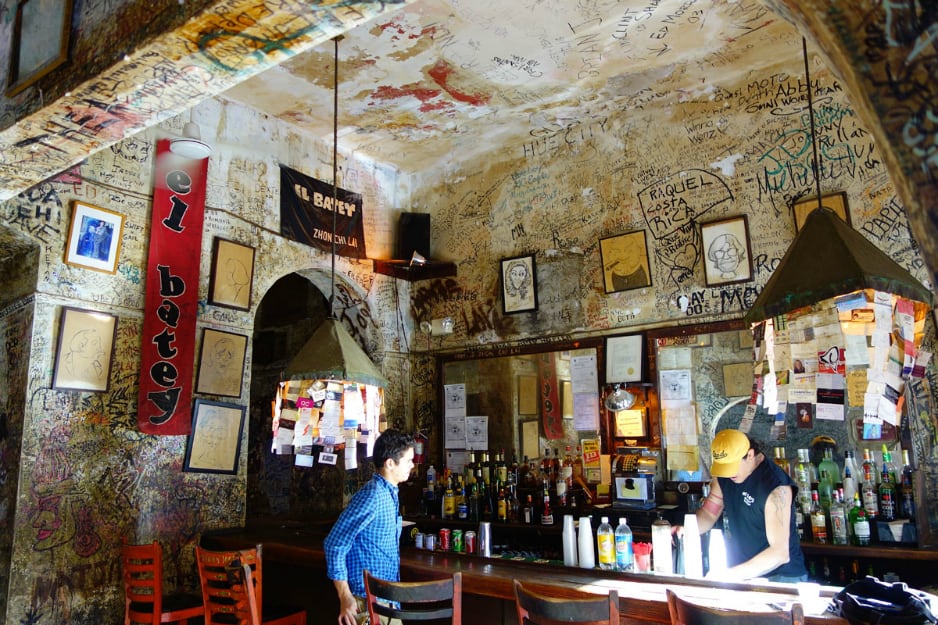 Leave the park and go back up Calle de Cristo. As you walk along you will pass several shops and eateries. Make sure to take a peek at the bar El Batey, a quirky dive bar covered in graffiti and an old jukebox that plays original 45s from the 60s and 70s. A great place to stop and cool off with a bottle of beer. The place isn't cute but, it's fun.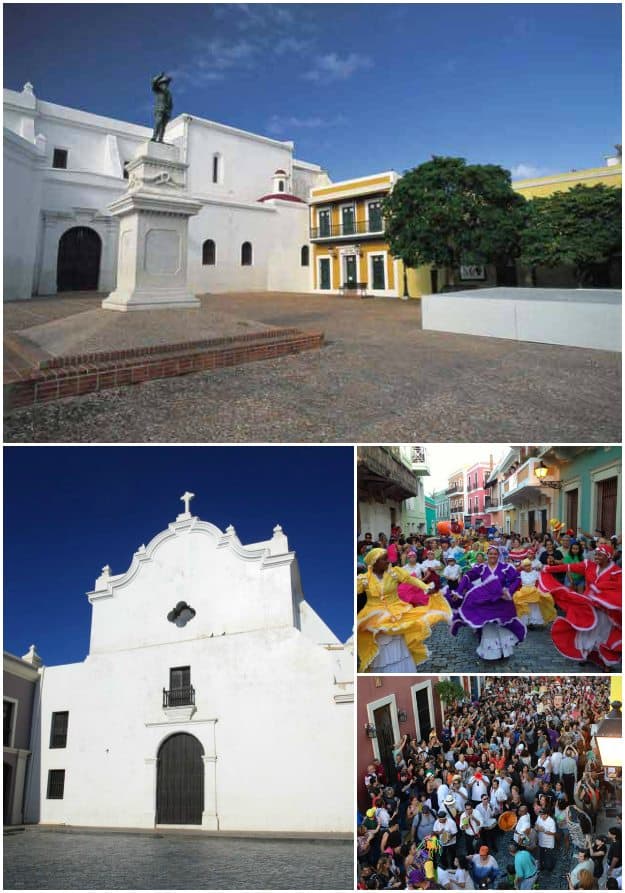 At the corner of Calle San Sebastian and Calle de Cristo is Plaza San José and Iglesía San José, a 16th-century church. Calle San Sebastian is sprinkled with local bars and eateries. It's also where "the street party of the year" is held. Right when the rest of the U.S. has switched gears and put the holidays in the rearview mirror, Puerto Rico keeps on partying. The weekend festival Fiesta de la Calle de San Sebastian is typically held in mid-January. The festival has a parade, music, dancing, libations, food and local artisan crafts for sale.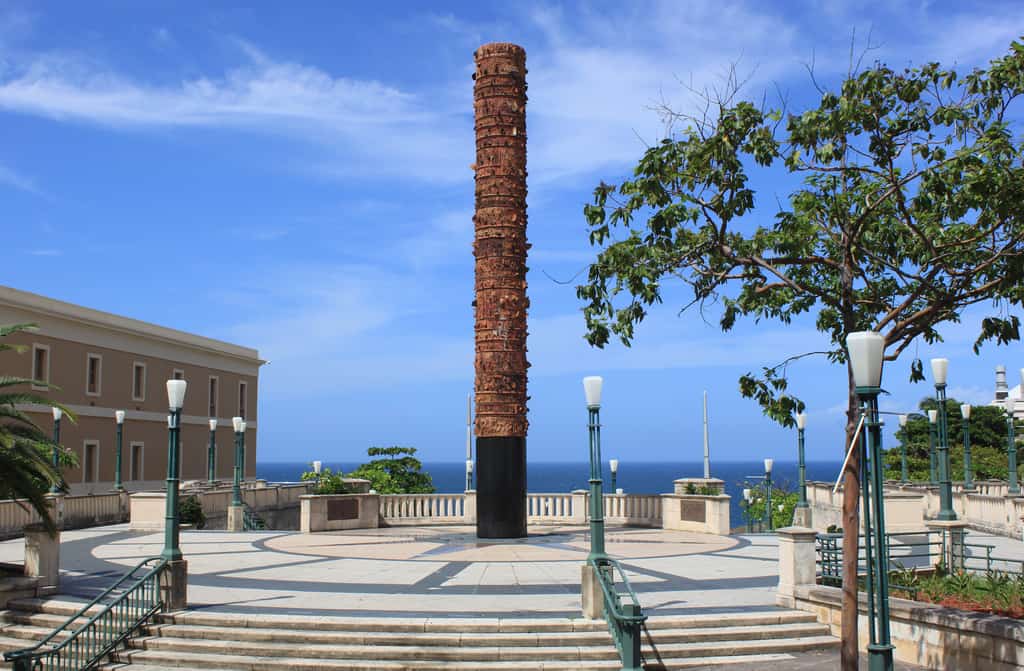 As you keep walking you will come to a plaza with a totem pole in the middle. This is El Tótem del Quinto Centenario, commemorating the native Taínos. At the bottom of the plaza is a great ground fountain where you will see many families with their children cooling off.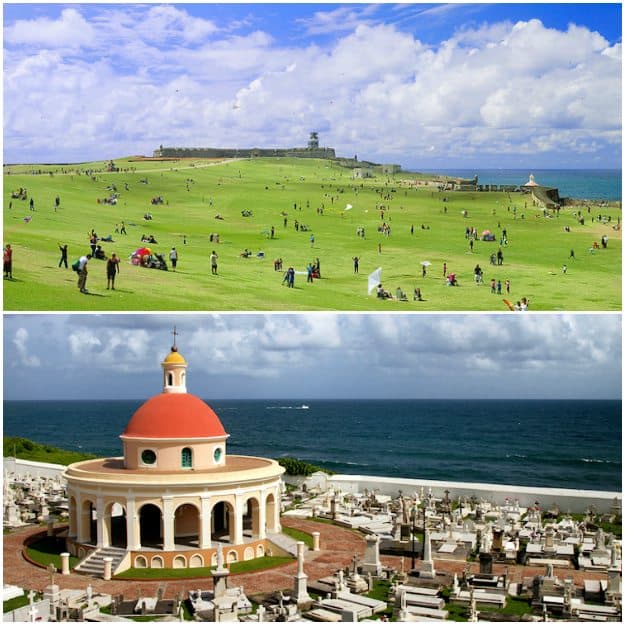 Once you get to the lower part of the plaza look to your left, and you will see the grounds of El Morro, families will be flying kites and having picnics on the lawn. Look towards the ocean and you will see the top of a bright coral dome, this is El Cementerio Santa María Magdalena de Pazzis, the resting place of many of Puerto Rico's historical figures.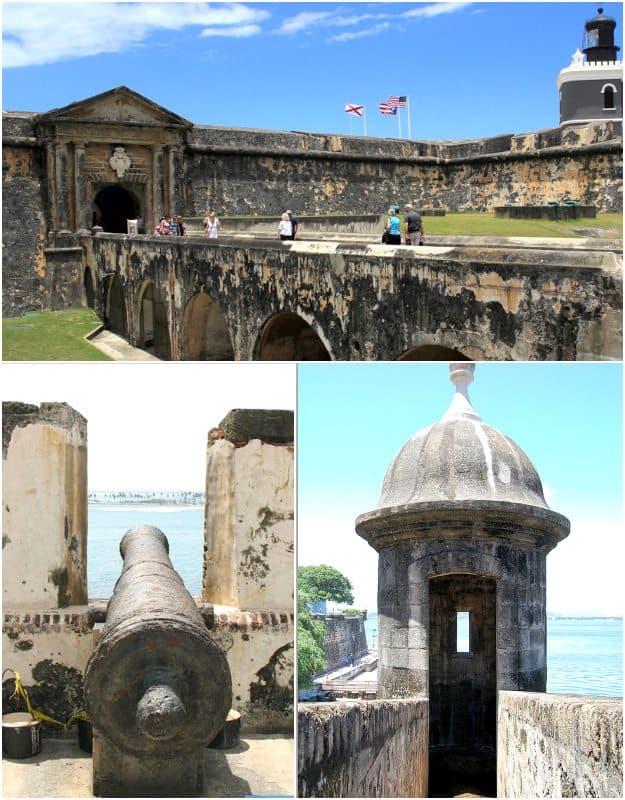 Continue left down Calle Norzagaray and up toward El Morro or what is officially named Castillo San Felipe del Morro. El Morro was built sometime during the 16th Century and is named after King Phillip II of Spain. Its main purpose was to defend the port of San Juan by controlling the entry to its harbor. In 1961, it became part of the U.S. National Park Service. El Morro is open every day from 9 am to 6 pm, except on national holidays. It is $5.00 to enter the park, but children under 15 enter for free. You can walk El Morro at your own pace or join one of the many guided tours, including an after-hours lantern light tour of a Spanish soldier's life.
Places to Eat
At this point, I will usually head back down to the car or to find a local eatery to refuel. Here are a few places to get a bite to eat.
Raíces $$$ – Theme restaurant serving traditional Puerto Rican dishes.
Barrachina $$ – The birthplace of the piña colada. Serving cocktails and local dishes and seafood.
El Picoteo (Hotel El Convento) $$$ – Tapas bar in the Hotel El Convento. Great place to grab a bite and enjoy a drink.
Triana Tapas & Flamenco $$ – A tapas bar that also has evenings of live flamenco dancing.
Old Harbor Brewery $$ – A microbrewery serving hand-crafted beers, steak and spiny Puerto Rican lobster.

Pirilo Pizza Rústica $$ – A rustic pizzeria serving delicious classic Italian and international dishes. Pirilo bar has a wide selection of drinks, exclusive to the restaurant and a variety of more than 50 handcrafted beers
There you have it some of my favorite places to visit in Old San Juan. But, Old San Juan is just a small part of Puerto Rico. I will continuing sharing my favorite things to do in Puerto Rico through the summer.
Check out more things to do in Puerto Rico!
Guavate in Cayey: Puerto Rico's pork mile
Culebra: Home of the Most Beautiful Beach in the Caribbean