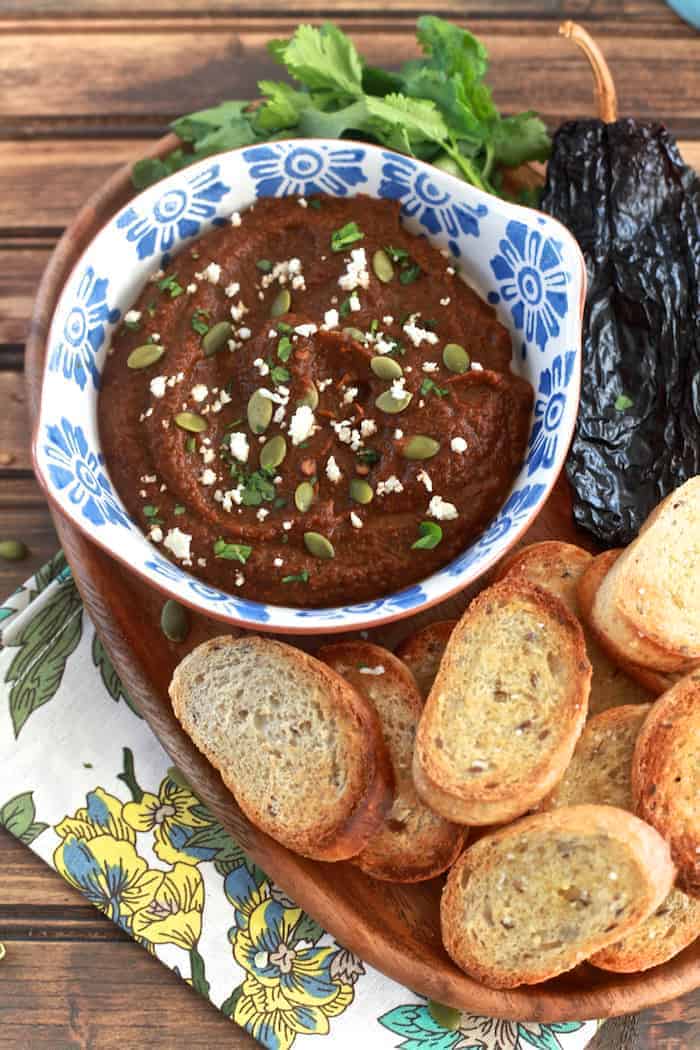 The sun is rising later, and my dogs insist on being walked no later than 6:30 am. Initially this it sounds like a bummer but, there is an upside. Almost every morning I get to sit outside, enjoy the crisp Fall morning air and watch the sun rise all while enjoying a warm cup of coffee. I thought I loved Fall before, but now I am absolutely smitten. I probably won't be singing the same tune when those Texas Summers roll in so, I am relishing this for now.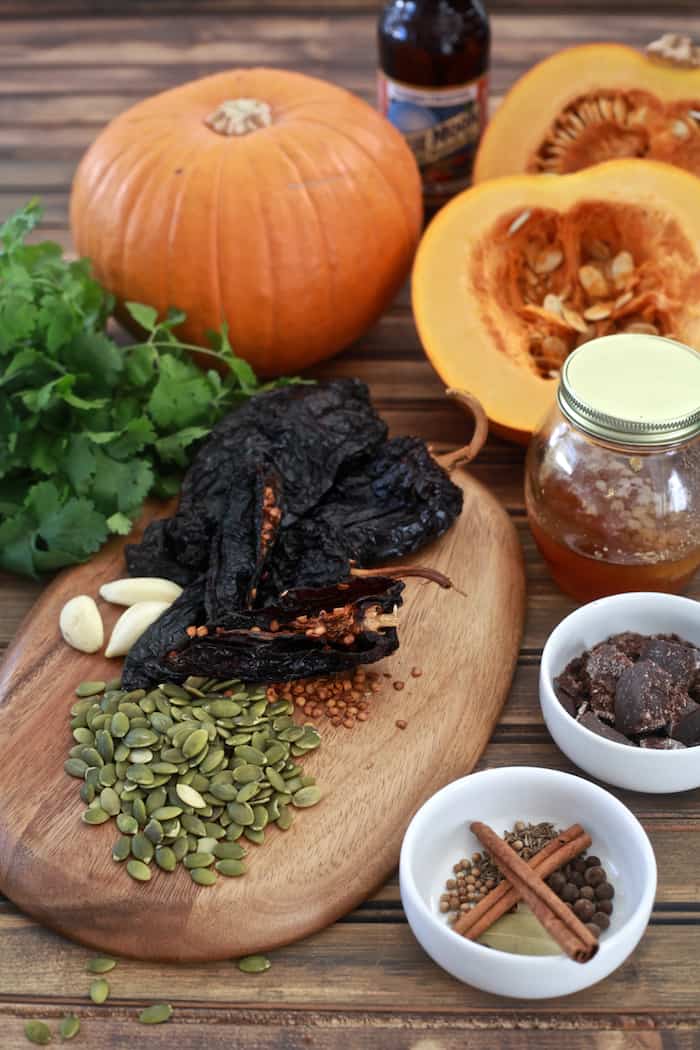 The Fall announces its arrival in many ways, shorter days, changing leaves, cooler temperatures and pumpkins everywhere. Pumpkin patches sprout up all over town, and everything is pumpkin flavored or pumpkin based. Fall is pretty much when pumpkin takes over the world and most of the time I am totally cool with pumpkin or pumpkin spiced foods. But, then when I see a pumpkin spice gum, pumpkin pie vodka or pumpkin pie soda I think to myself that the world has lost its mind.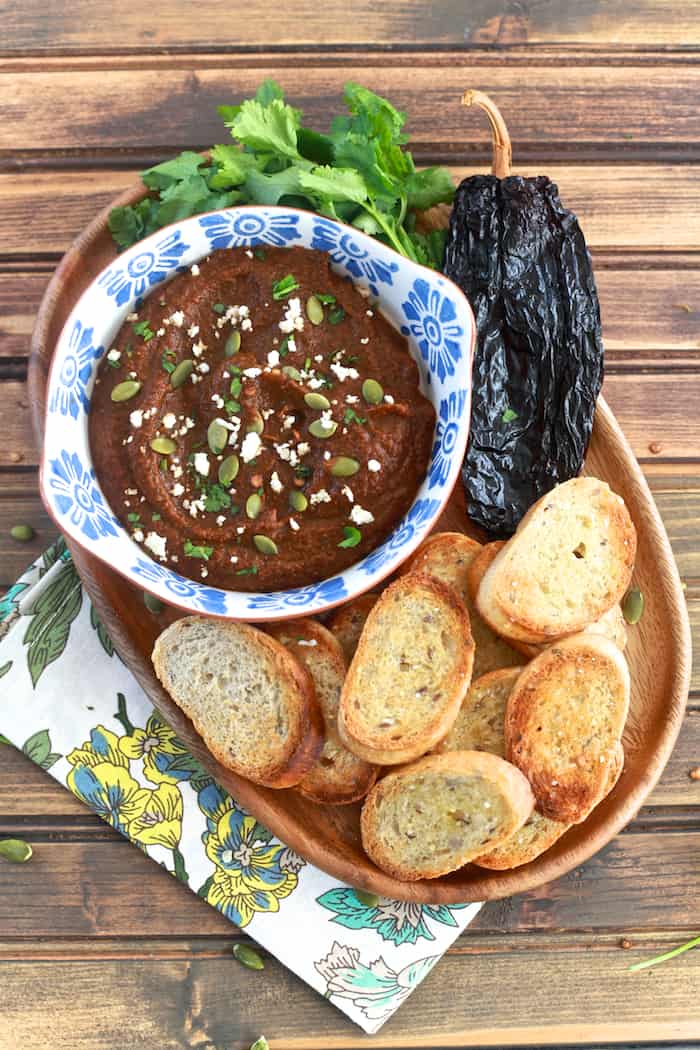 However, I cannot deny my personal love for pumpkin. They are so versatile! What is there not to love! Pumpkin can be used in pie, made into a sauce, baked in a bread or just hang out on your porch step and look adorable. Yes, I love pumpkin, and I am ok with that. Therefore, a pumpkin recipe is well overdue.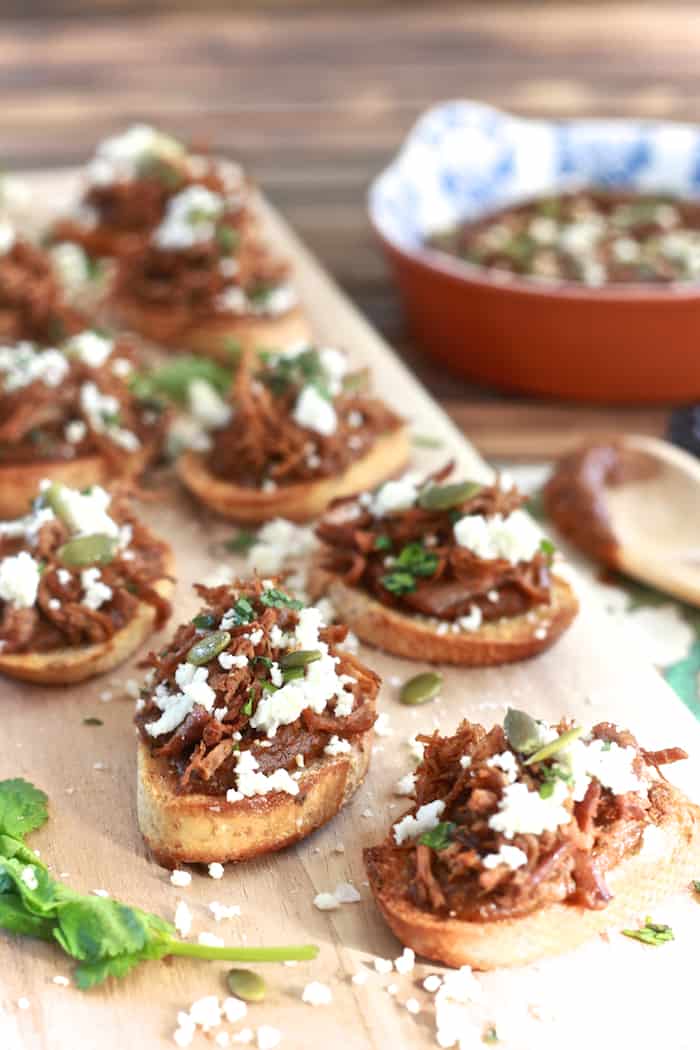 I thought I would do my own "pumpkin spice" but, mole style. Yes! Pumpkin mole!  Mole comes in many variations but, they are all made up of a combination of chili peppers and toasted spices and nuts. Typically it's a sauce served over beef or chicken, but I thought it would be fun to do a variation that would serve more like a spread or dip. The great thing about this recipe though is it by simply adding some stock it can easily be turned into a sauce or stew.
Mole is super complex and rich in flavor. It's smokey, spicy, sweet and earthy. One of the most important steps for a good mole is toasting your spices, nuts and chilies. Toasting is key! It's also important to char any vegetable you are using. Charing the vegetables adds two things, sweetness from the caramelized natural sugars and smokiness from all the delicious charred bits. Mole is the perfect demonstration of how fire can add flavor.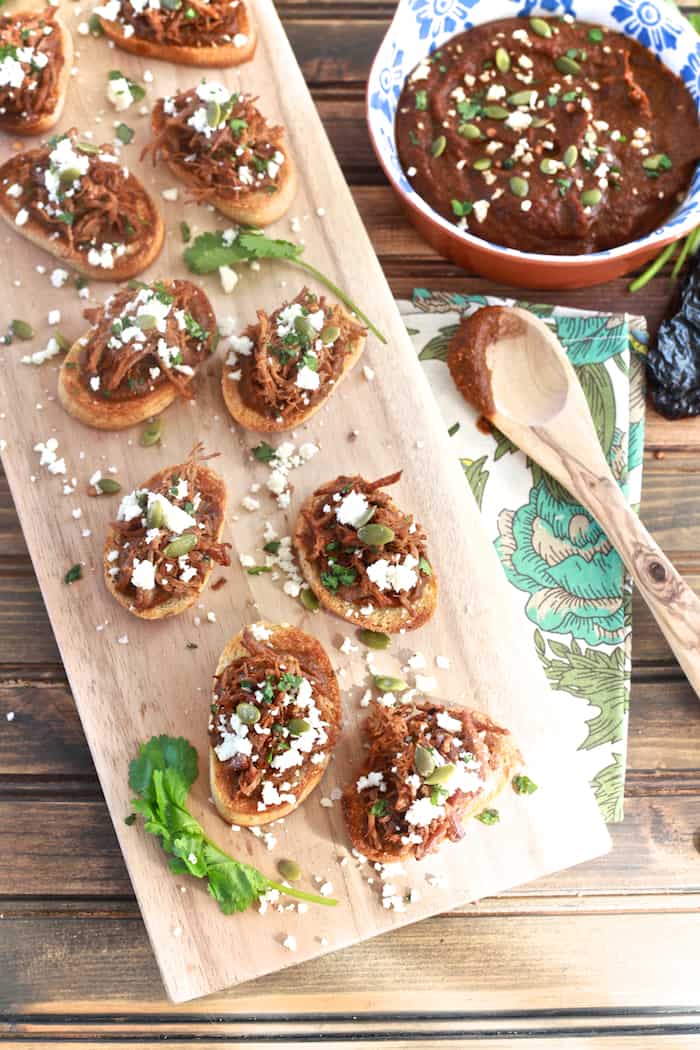 This spread is best served with toasted hearty bread slices lightly rubbed with garlic. If you want a more hearty appetizer top bread with spread and prepared brisket or pulled pork.  If you like, garnish with queso fresco and cilantro.
This spread turned out exactly how I wanted! Smokey, earthy, sweet and just a touch of heat. I took a bite and obnoxiously declared my genius! The spread on its own is kind of awesome but, it's freaking awesome on the toasted garlic bread. Topped with brisket it's possible you will pass out.
Pumpkins rule!

Yield: 4 cups
Roasted Pumpkin Mole Spread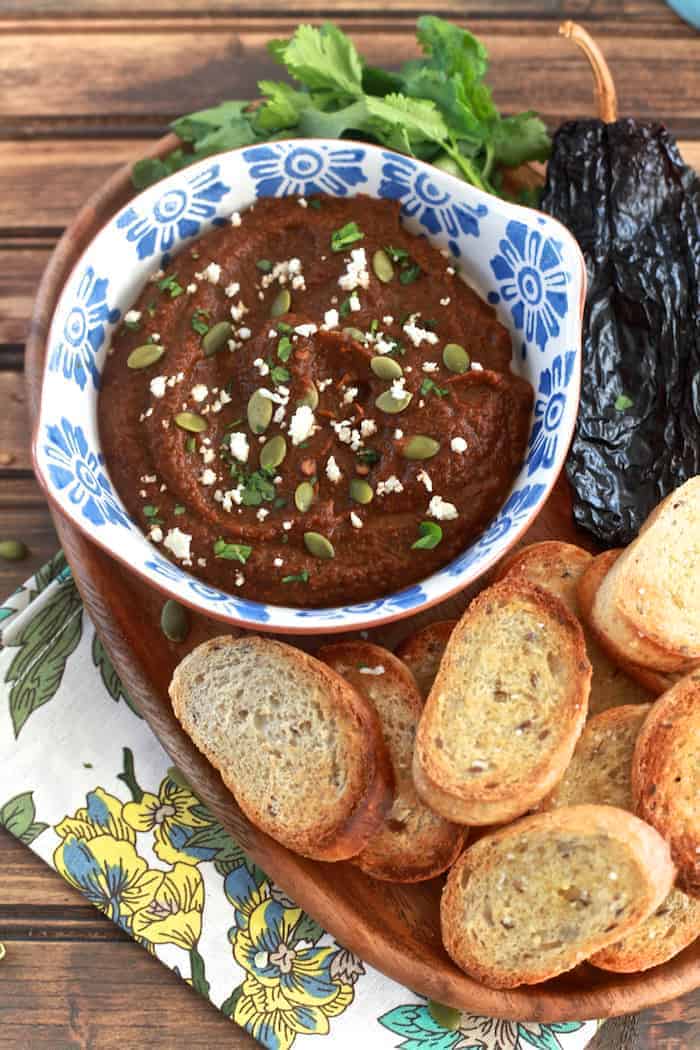 Savory pumpkin spread with chilies, spices and garlic. A great Fall appetizer!
Inactive Time
1 hour
39 minutes
Total Time
1 hour
55 minutes
Ingredients
1 3 lb pie pumpkin, seeded and quartered
1 white onion, peeled
6 whole garlic cloves
3 ancho chiles, stemmed, seeded and opened
1 bottle beer
1/4 cup pepitas
5 whole cloves
1 cinnamon stick (or substitute for 1 teaspoon ground cinnamon)
8 whole allspice berries (or 1/8 teaspoon ground)
1 teaspoon cumin seeds
1 teaspoon coriander seeds
1/2 disc of Mexican chocolate (Abuelita)
1 1/2 teaspoon kosher or sea salt, or more to taste
2 tablespoons honey
1 teaspoon crush red pepper
1/2 cup cilantro
whole wheat baguette
garlic clove
[br]
Garnish
cilantro
pepitas
queso fresco
Instructions
Heat oven to 400 degrees. Place pumpkin quarters, onion and whole garlic cloves on sheet pan. Drizzle with olive oil. Roast in the oven for 15 - 20 minutes and remove onion and garlic. Allow the pumpkin to roast another 20 minutes or until fork tender. Using a knife carefully peel skin from the pumpkin flesh.
While the pumpkin is roasting heat a dry skillet over medium-high heat, toast the ancho chiles for about 15 to 20 seconds per side, until they brown and crisp without burning. Transfer toasted ancho chiles in a bowl and cover with beer. Soak for 10 to 15 minutes until they are plumped up and rehydrated.
In the same skillet add pepitas, cloves, cinnamon stick, allspice, cumin, and coriander. Toast until fragrant, about 3 minutes.
In a blender combine pumpkin flesh, ancho chilies, 1/2 cup beer, toasted spices and nuts, chocolate, salt, honey, crush red pepper and cilantro. Blend until smooth and transfer to a large sauce pot. If you have an immersion blender combine everything in the large sauce pot and puree using an immersion blender until smooth.
Preheat broiler to high. Slice baguette in 1/2 inch slices, about 24 slices. Place bread slices on a broiler pan. Char bread on each side under hot broiler, keep an eye on it! Rub toasts lightly with garlic clove.
Serve toast with pumpkin mole spread garnished with cilantro, pepitas and queso fresco.
Notes
Make a heartier appetizer with prepared barbacoa or carnita meat.