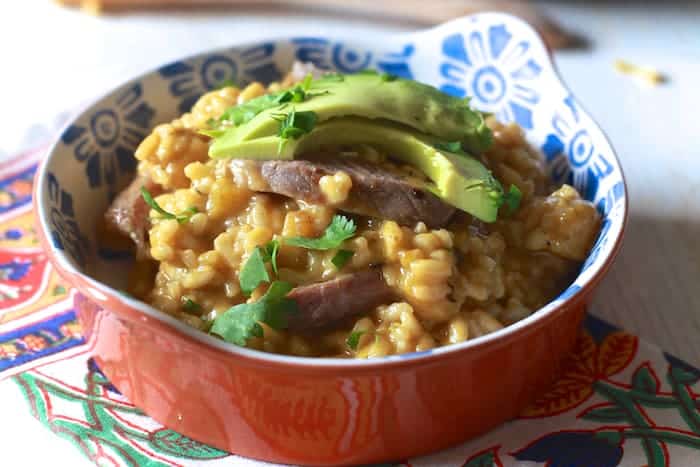 When I was visiting my parents in Puerto Rico back in May they took me to this a restaurant that made a risotto with sweet plantains and steak. It was amazing and I vowed to try and recreate it when I got back home. It took me a little while, but I finally got around to it. I know it still a little warm for a risotto, but this idea has been gnawing at me for months!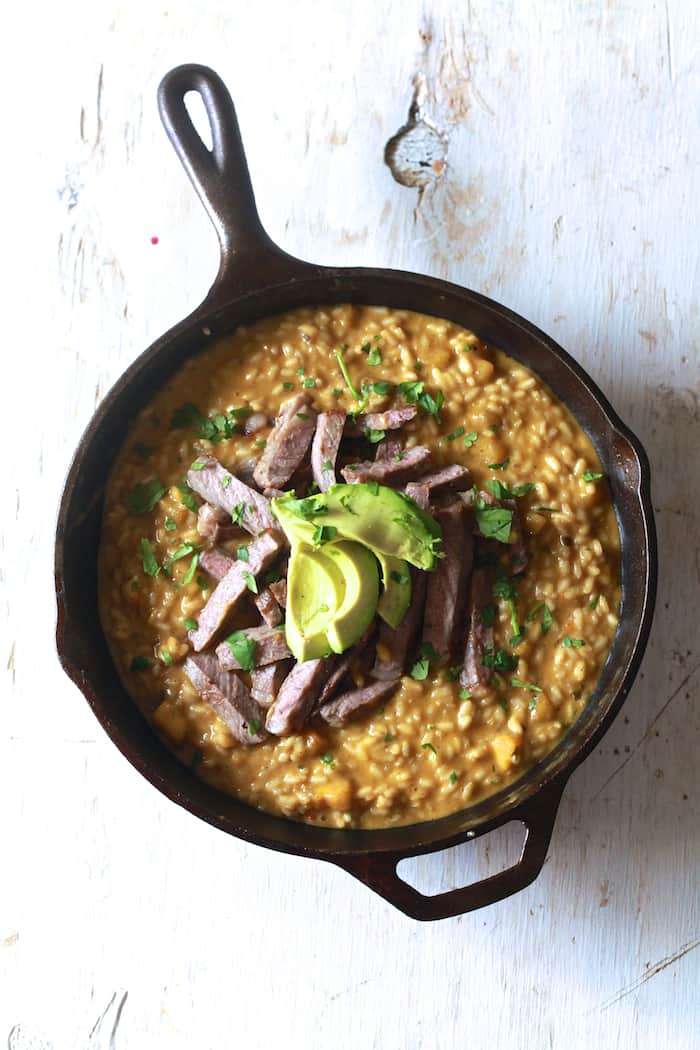 I remember the risotto having a hint of sweet, a real kick of white wine and tender meaty chunks. With those three things in mind I was determine to recreate that awesome meal I had three months ago.

It's important that the plantains be very ripe for optimal sweetness. The plantain should be mostly black and soft to the touch. Also, you want a really marbleized strip steak, this will guarantee a tender juice steak. The trick to risotto is patience and agitation, which sounds kind of funny. Patience because it takes time and agitation because you have to keep stirring it to make it creamy.

Risotto Criollo (Ripe Plantains and Steak)
Ingredients
5 - 6 cups chicken stock
¾ cups wine
1 ripe plantain, diced
vegetable oil
2 thin NY strip steaks
2 tbs recaito
adobo, to taste
1 cup arborio
2 teaspoons annato oil (optional)
¼ cup shredded oaxaca cheese
2 tablespoons heavy cream
Instructions
Bring a pot of chicken stock to a boil, lower to a simmer and add wine.


In a large skillet pour just enough oil to coat the pan. Heat over medium-high heat, when the oil gets hot add ripe plantain. Fry plantains until bright yellow and just beginning to crisp. Transfer to plate lined with paper towel.


Season steaks with adobo. Heat same skillet over medium-high heat, add steaks. Cook on each side for 2 minutes or until med-rare. Transfer to a plate and let rest.


Deglaze pan with a splash of white wine, scraping up all the brown bits. Add recaito, sauté until fragrant about 1 - 2 minutes. Add arborio rice and turn heat to medium. Stir until edges of the rice begin to look translucent, 3 to 4 minutes. Add a ladle of stock mixture and stir until liquid is absorbed, about 1 minute. Add ¾ cup warm chicken broth mixture; stir until almost all broth is absorbed, about 1 minute. Continue adding broth by ¾ cupfuls, stirring until almost all broth is absorbed before adding more, until rice is halfway cooked, about 10 minutes. Stir in ripe plantains. Continue adding broth by ¾ cupfuls, stirring until almost all broth is absorbed before adding more, until rice is tender but still firm to bite and risotto is creamy, about 10 minutes. Stir in annato oil, ¼ cup grated oaxaca cheese and heavy cream. Transfer risotto to serving bowl. Top with sliced steak.
Notes
Annato oil is vegetable oil infused with annato seeds, also known as achiote seeds. The annato oil is to give the risotto a deep orange color.
0