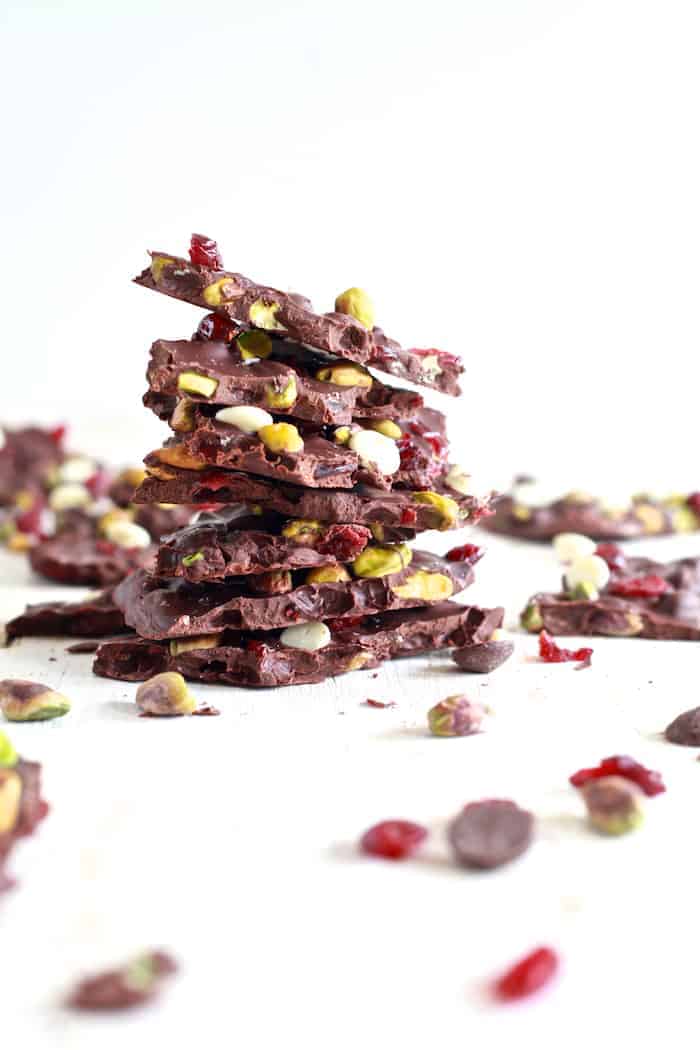 Sometimes a girl just needs a sheet pan full of dark chocolate. You know what I mean?
It's been a long crazy day; you've been on your feet most of the day, and you feel completely zapped of all energy. A sheet pan of dark chocolate filled with salty nuts and tart cranberries sometimes can put the giddy-up back in your step. But, setting our selfish need for dark chocolate aside, chocolate bark also make a great edible gift and treat for friends and family.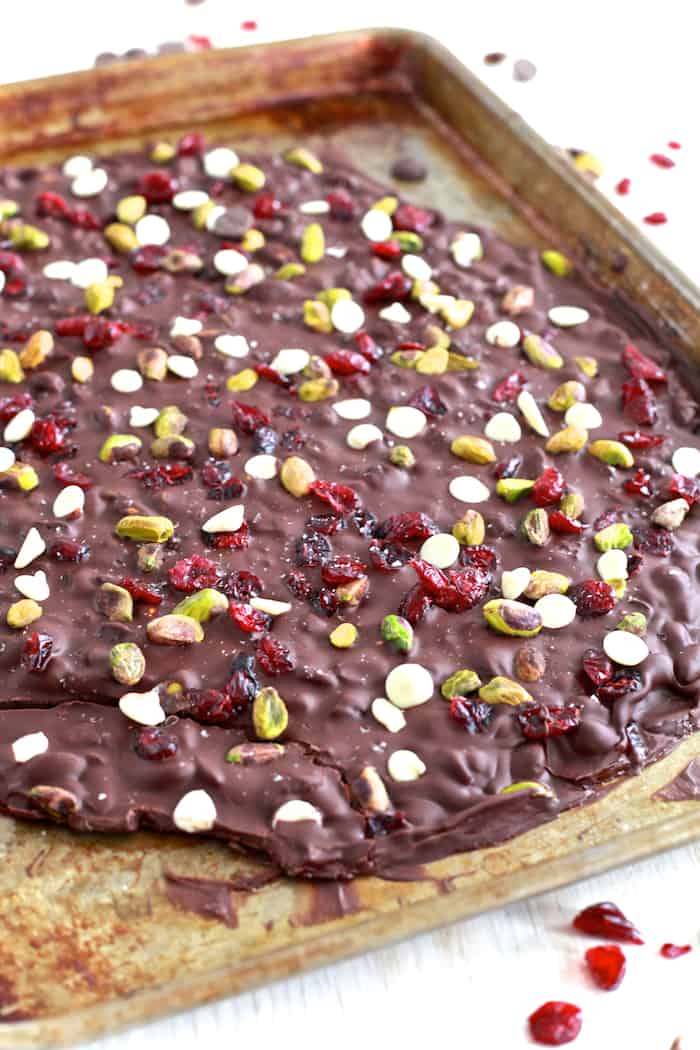 Growing up in a bilingual home, there were some things I had never heard of before, chocolate bark being one of them.  I remember when I was a kid the fist time someone offered me a piece of chocolate bark. I look at them like they had lost their mind. I thought to myself, "Why would I want to eat bark covered in chocolate?" In my home, bark strictly referred to what grew on trees, and I did not think that dipping it in chocolate made it edible.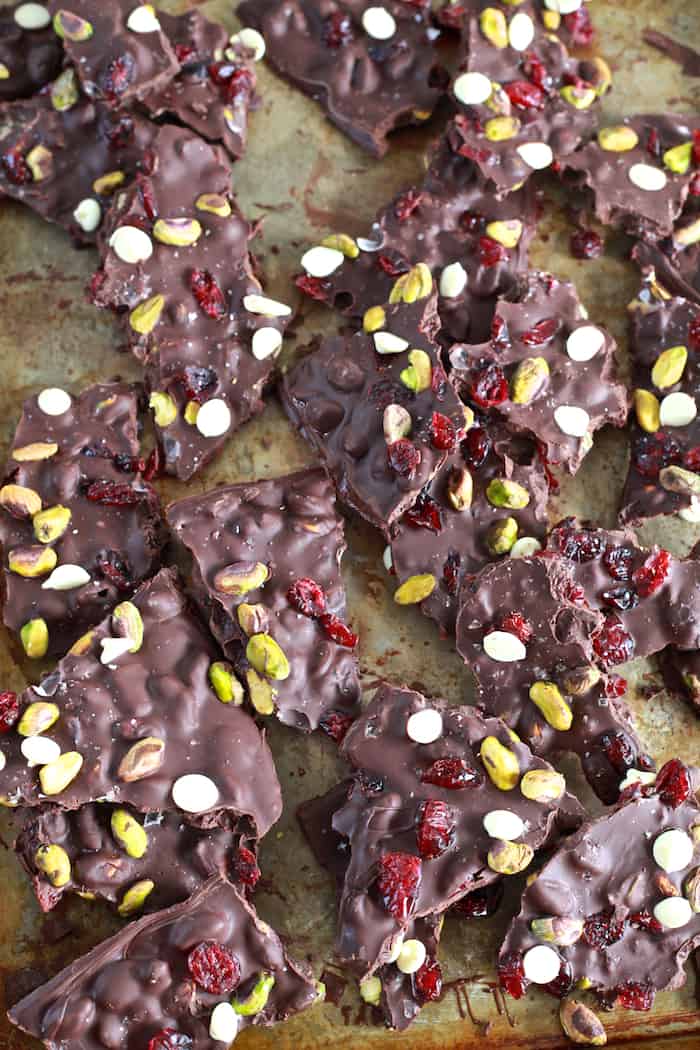 Eventually, I learn that it was called bark because it looked like bark, not because it was bark. My childhood and, let be honest, adulthood is speckled with moments like these. I remember the first time someone mentioned a strawberry pop cake to me, and my response was, "How do you keep them from melting?" That is when I learned that pop was in reference to soda and not popsicles. IDIOT! This happened just five years ago. In my defense, it was my first time living in the mid-west.

Now having full knowledge and understanding of what chocolate bark is I figured it was high-time I make some. Chocolate bark comes in infinite combinations. It can be made with dark chocolate, white chocolate or milk chocolate it all up to you and your preference. It can also be mixed and topped with whatever your heart desires. I bed a semi-sweet chocolate park with bacon, peanut butter chips and banana chips would be awesome!! Want to make your chocolate bark match a theme? Make halloween chocolate bark with peanuts and candy corn!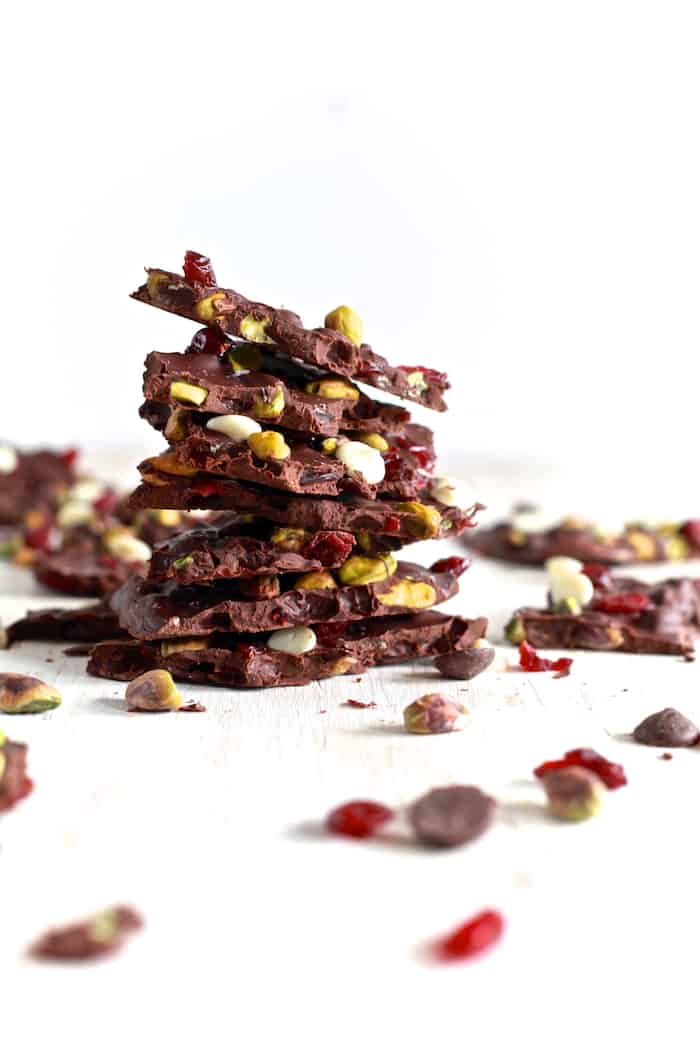 Chocolate bark is fully customizable! Just swap out ingredients however you please. Just leave out the tree bark! 😉

Pistachio and Cranberry Salted Chocolate Bark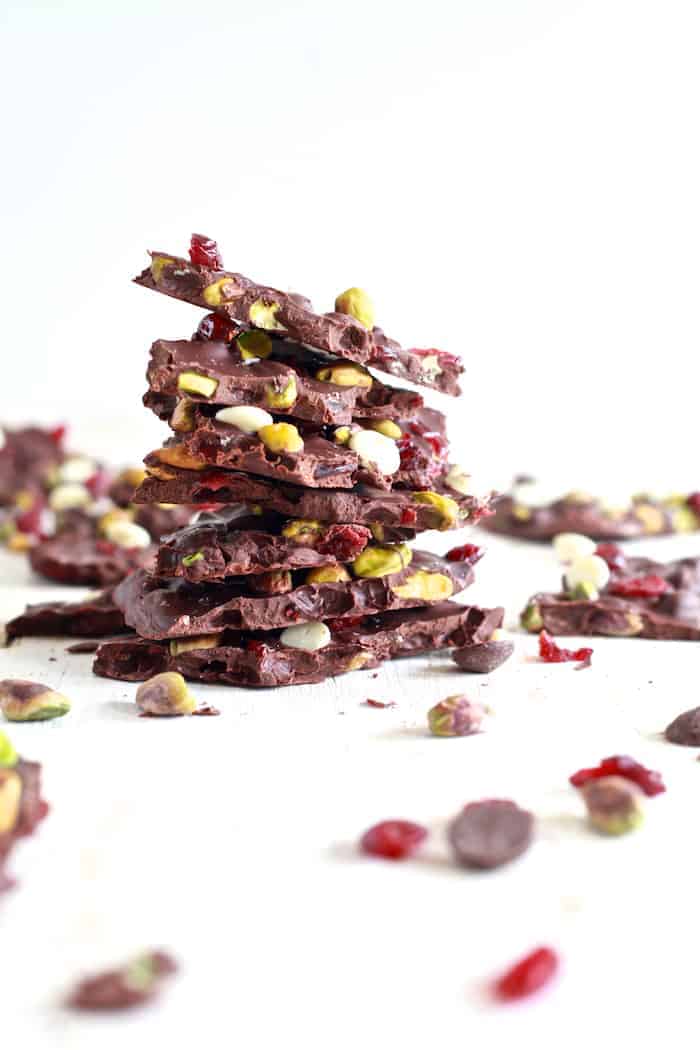 Ingredients
2 10 oz bags 60% Cacao bittersweet chocolate chips
1 cup shelled and roasted pistachios
1 cup dry cranberries
1/4 cup white chocolate chips
salt flakes (Melton salt) or course sea salt, for sprinkling
Instructions
Spray a rimmed baking sheet with cooking spray, and line with parchment, leaving an overhang on ends.
Melt dark chocolate chips in a double boiler or a heatproof bowl set over a pan of simmering water, stirring. Stir 3/4 cup pistachios and 1/2 cup cranberries into melted chocolate.
Pour into baking sheet, and spread in an even layer. Sprinkle with remaining pistachios, cranberries, white chocolate chips and salt.
Refrigerate until firm, about 1 hour. Peel off parchment, and break bark into pieces.