**This post is sponsored by ALDI, but all opinions are 100% my own.

Last week I took off for a visit to ALDI's headquarters in Geneva, Chicago. It was a fun whirlwind trip of food and wine!  I started shopping at ALDI's shortly after I moved to Tulsa 5 years ago, and it's become my go-to store for everyday needs and staples. So, when ALDI contacted me and invited me and a few other bloggers to their headquarters I was in!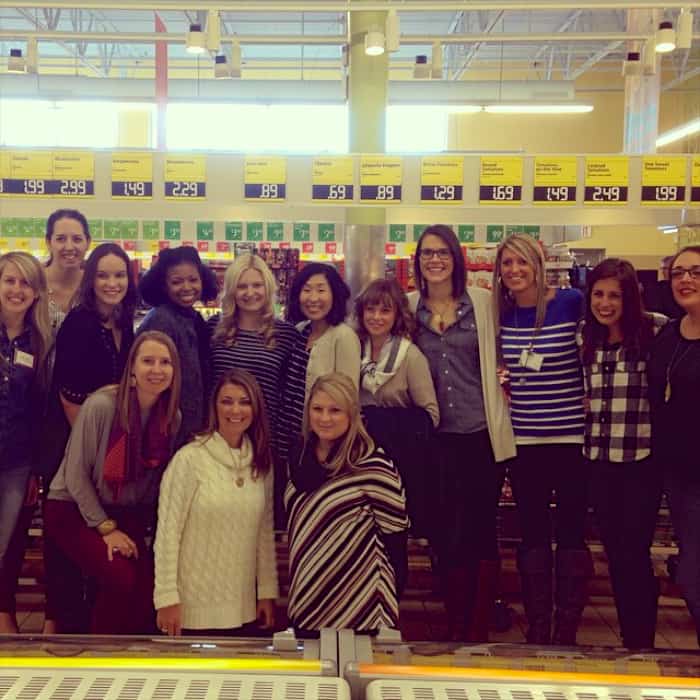 First thing on the agenda was a blind taste test of ALDI brands vs. name brands. It's completely understandable to think that in order for ALDI to have such great prices, an average 45% savings; there has to be a lack in quality of the product.  This blind taste test is just one of the things that debunks this misconception.
We tasted seven different items and ALDI mostly beat or tied with the national brand! How can this be!?
Orange Juice //  Split – 7-7
Protein bar // Aldi 10-4
Greek yogurt // Aldi 9-5
Guacamole // Split – 7-7
Tortilla Chips //  National brand 8-4
Havarti cheese //  Aldi 7-6
Butter Crackers //  Aldi 12-1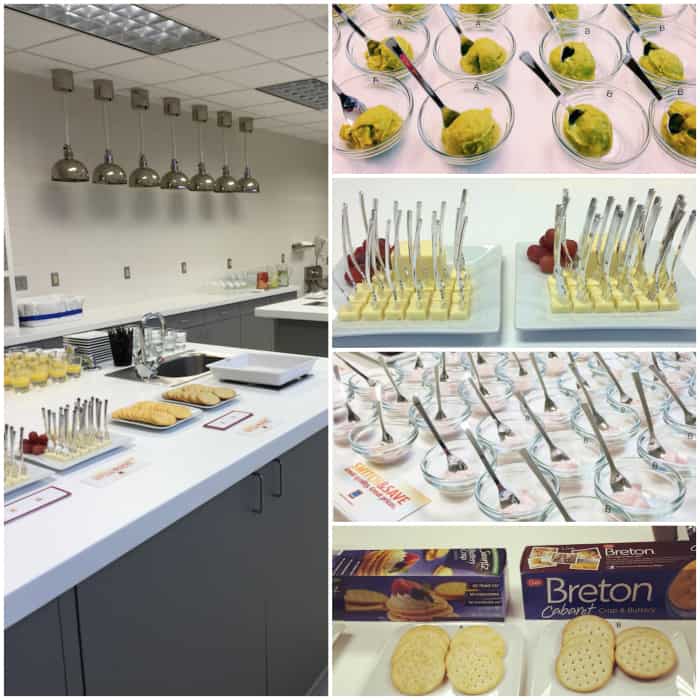 I learned that ALDI takes their products very seriously. They put products thorough; vigorous tastes test making sure that their products meet or exceed the national brand. And, it's not only about taste but also nutritional content and texture of the product. After ALDI's army of professional tasters and testers pick a product they then send them out to an independent army of professional tasters and testers to double check their findings. All this to bring you the best quality product.
ALDI is so committed to providing shoppers with a quality product that if they are unable to find a supplier that makes a product that stands up to a popular national brand they carry the national brand.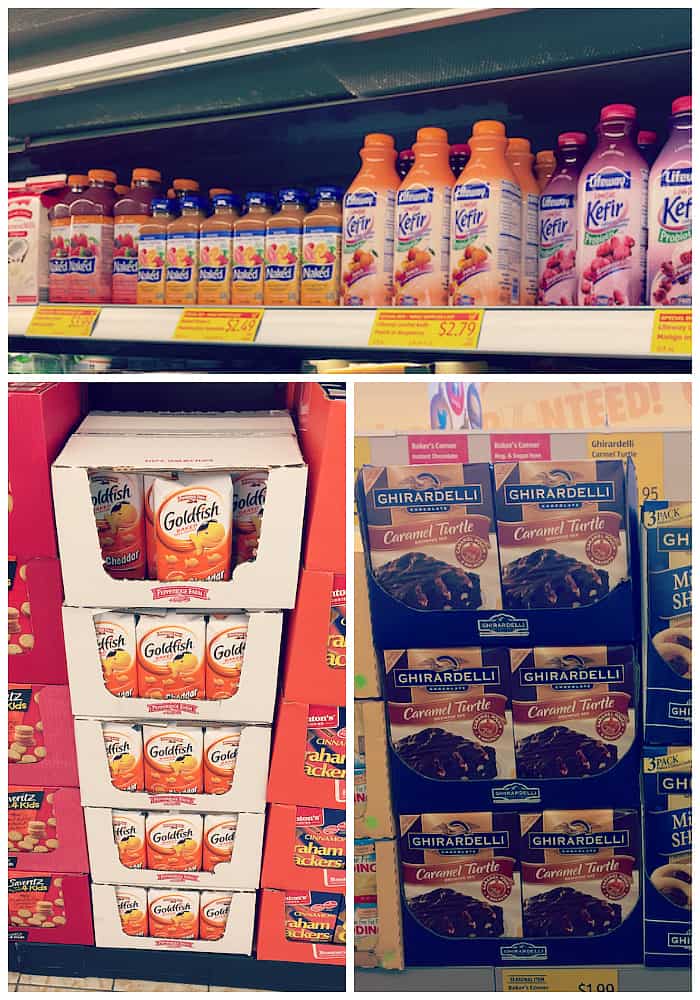 After our blind taste test, we moved on to tasting their new Live G-Free. Yes, they even got the shopper with gluten intolerance covered. And, even for a girl who like an extra side of gluten I can get my snack on with these treats. They also have a Simply Nature line, which I buy from regularly. I love the almond butter, honey, jam and granola cereal.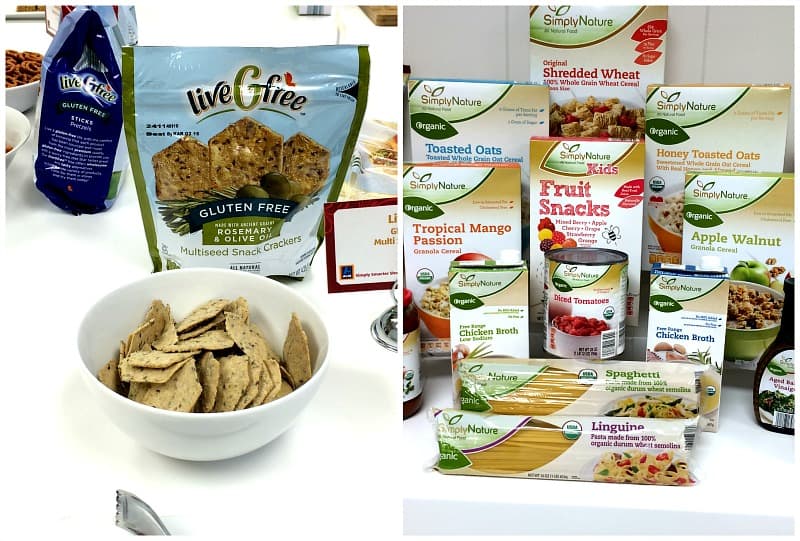 Next on the agenda, wine tasting and pairing! Not every ALDI carries wine and if you saw the amazing prices you may think there is no way a $5.00 bottle of wine can be good. But, we learned that this is not true.
For our wine tasting ALDI brought in a Sommelier, a person educated and certified on all things wine. We probably tasted eight wines all sold at ALDI and all amazing in their own right. My favorite was the ZUM Riesling. Normally I stay away from rieslings thinking they are too sweet but, this one I found to be perfectly balanced.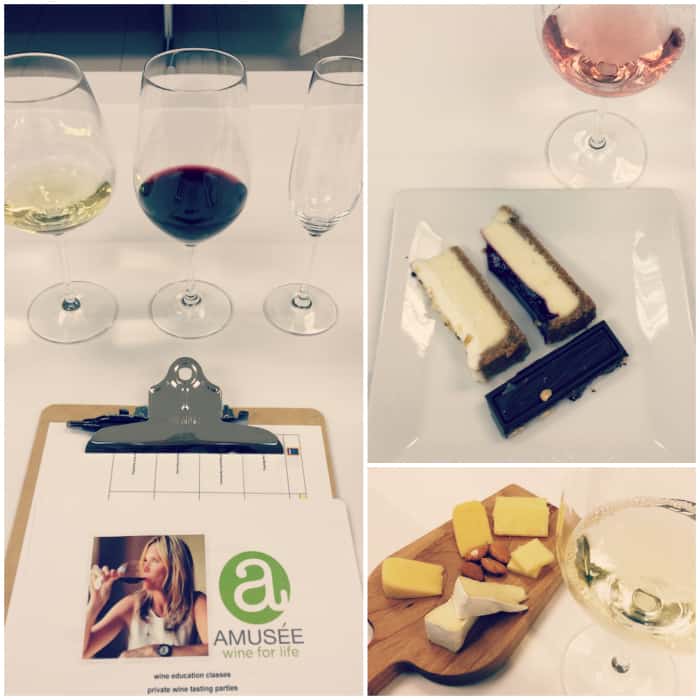 I really fell in love with their wines! I have to have a wine tasting and pairing party soon! We sipped on wine and nibbled on bits of food learning all about pairing. Another great feature about ALDI's wines is their label. Many times when you look at a wine label you get an ambiguous description of the wine. ALDI's wine labels are full on information, giving you the confidence to choose the right wine. A quick glance at the label and you will know if its a light or full bodied wine, what's in the wine, if it's dry or sweet, what to pair the wine with, where it's made, and how to store it. It is a great for wine newbies.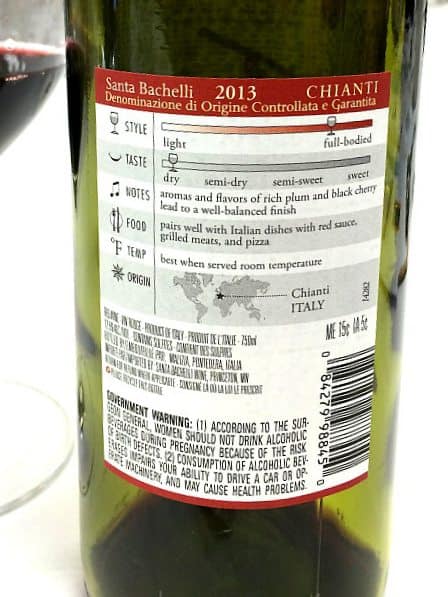 After we had been fully educated in all things wine, we moved on to some friendly competition that included more wine and food. We broke out into three groups. We were all given the same spread of food and were challenged to pair a wine with each course. Not to be all braggy but, me and my team won! What can I say…we paid attention. It wasn't hard; we are talking food and wine after all.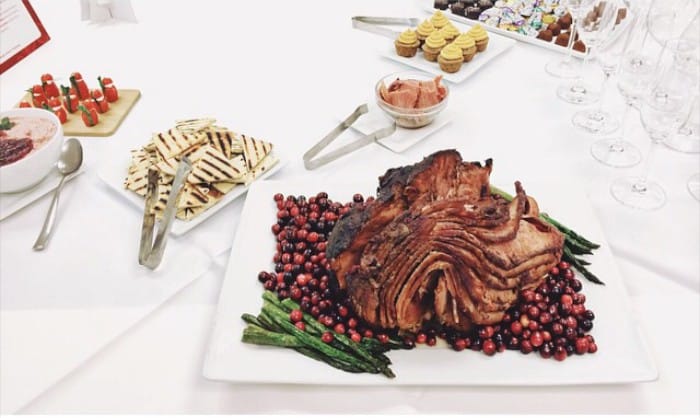 After a full day of food and wine tasting, we had dinner with more food and wine. By the end of the evening, I was beyond full and probably 2 oz away from on the wrong side of tipsy, but it was a blast. I was fed like a queen all day long and got to do it with a group of awesome ladies.
The next day we toured one of ALDI's stores.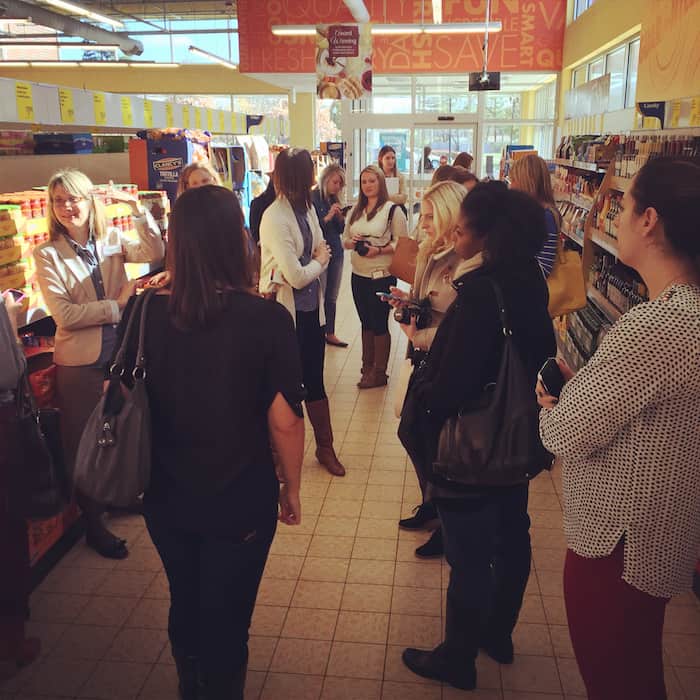 The day before was full of food and wine; this day was full of wonderful information. Thirteen bloggers fired question after question at the ALDI representative, and she was free and open with wonderful answers. Here are just a few things you need to know.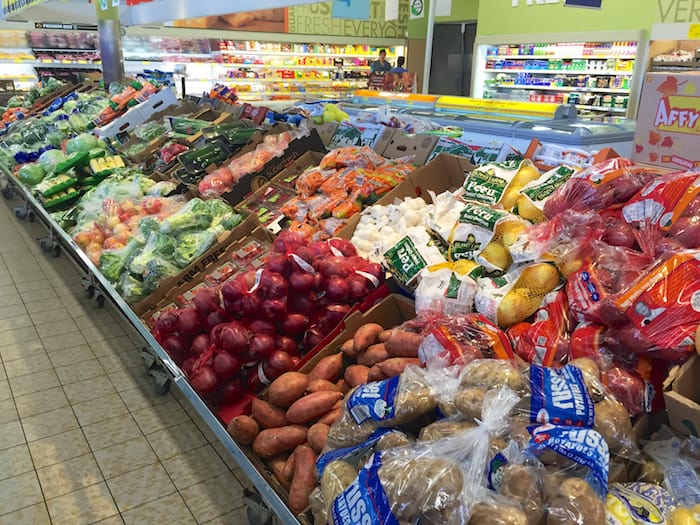 ALDI is not a "one stop shop" but, they have all of the staples and seasonal special buys.  
They are uber efficient in how they run their business and are kind enough to pass their savings on to the customer. For example, fewer items mean less space and less staff to maintain the store. The shopping cart quarter system means don't have to pay people to pick up carts. If you look around you will notice, there are very few shelves. This saves in equipment. Instead, they stock products in boxes that are designed to blend into the background. This is also a more efficient way for staff to stock items. Instead of having to stock shelves one item at a time all they have to do is open and stack the boxes. It's genius! Also, ALDI recycles all of their cardboard boxes.  Customers are encouraged to bring in their own bags or purchase ALDI paper or plastic bags.  

T

his saves on bag cost which saves you money.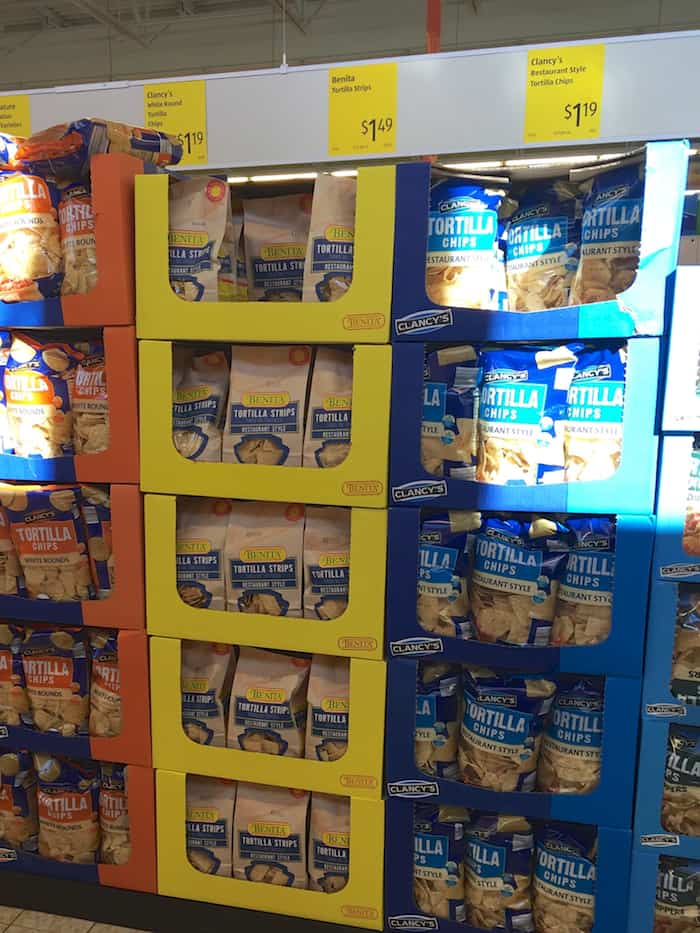 Next time you shop at ALDI look closely at the packaging. There is a UPC code on all sides of every product, 

which is why the cashiers are so freaky fast. They don't have to flip the packaging around looking for the UPC code. 
Periodically they will have

 speciality products. Special buys are normally seasonal products are brought in and stocked in the stores on either Sunday or Wednesday and once they are gone they are gone.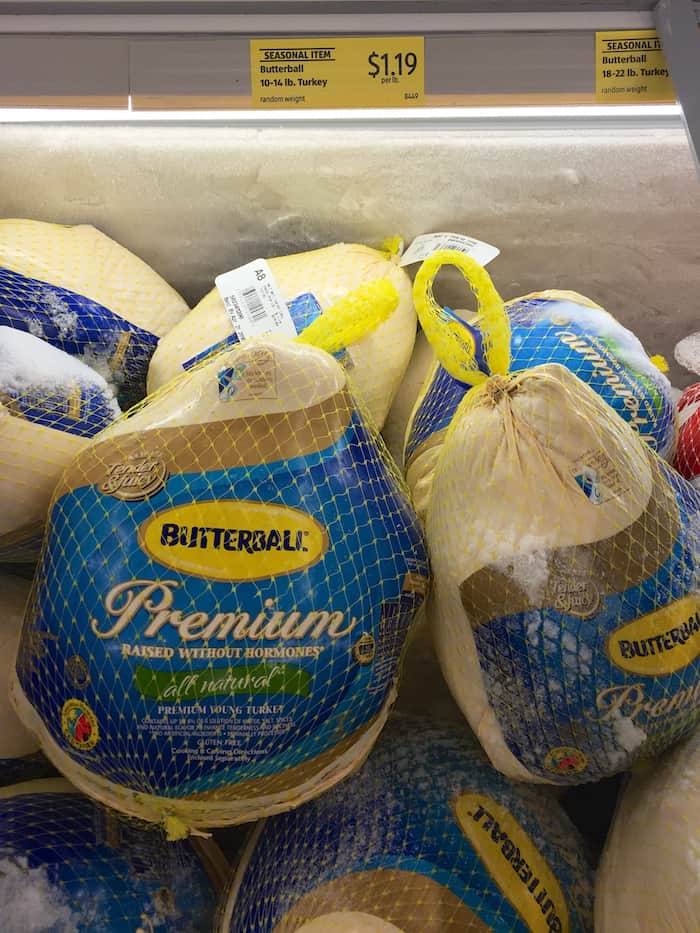 ALDI does carry some name brand items. About 10% of the products that are sold in the stores are name brand products. ALDI considers these products heritage items and carries them if they are unable to fund a supplier that can provide a product that meets or is better than the name brand.  
The health quality of the products do not suffer. Excess salt is not added for preservation. The nutritional information is the same if not better than that of the leading competitor.
They don't carry specialty cut meat or grass fed meats, but, they have all of your basic covered and at amazing prices.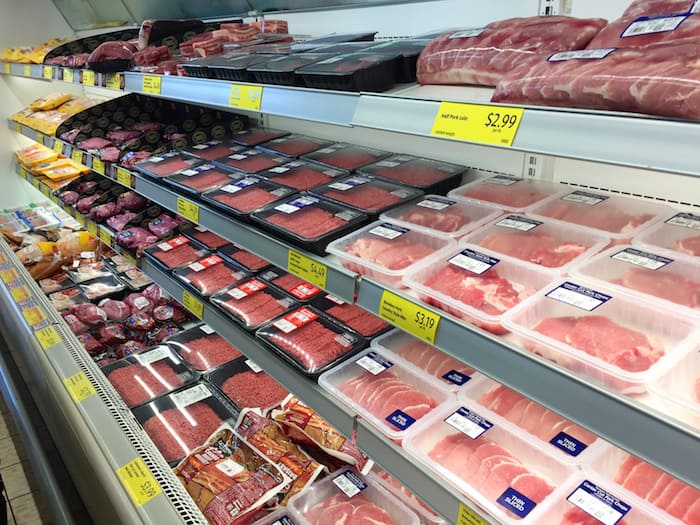 Employees get paid above the industry standard in pay and in benefits. There are about 10-15 employees per store and they are trained on all facets of the store. In the next 5 years ALDI plans to open 

650 

new stores and hire 10,000 new employees. Keep your eye open southern California. ALDI is coming your way. 
The 

Double Back Guarantee –

If you are not satisfied with an

 ALDI product you can bring it back 

for a refund and get another item for free. 
They are the place to go for wine party supplies. Wine, cheese, cracker, nuts, cured meats and chocolate. PARTY!
They have organic

produce and products

!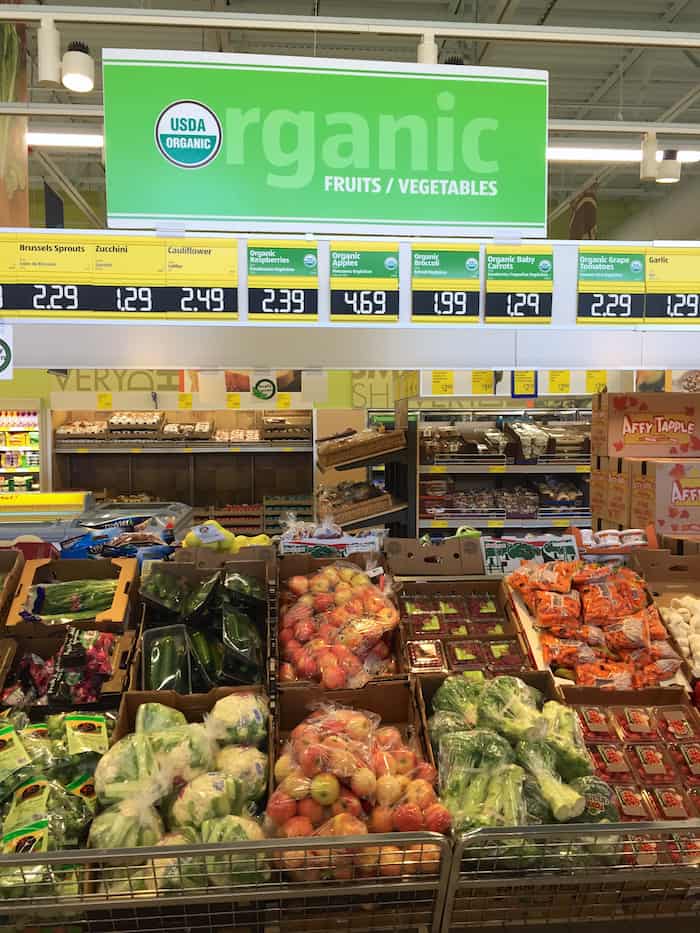 The produce selection can vary depending on where the ALDI is located. For example, my ALDI carries lots of peppers and even cactus leaves sometimes because I am in Texas. The ALDI in Chicago had guavas! I totally bought some and packed them in my carry on.
The average shopper will visit 3 – 4 stores to get the best deal. Next time instead of running around town start first at ALDI. I promise you will find most of what you need, save 45% – 50% and save time. Conveniently enough, most ALDIs are located just down the street or across the street from a major grocery chain. Normally when I shop at ALDI I am able to purchase 85% of the items on my list, and I just run across the street for the few specialty items I need.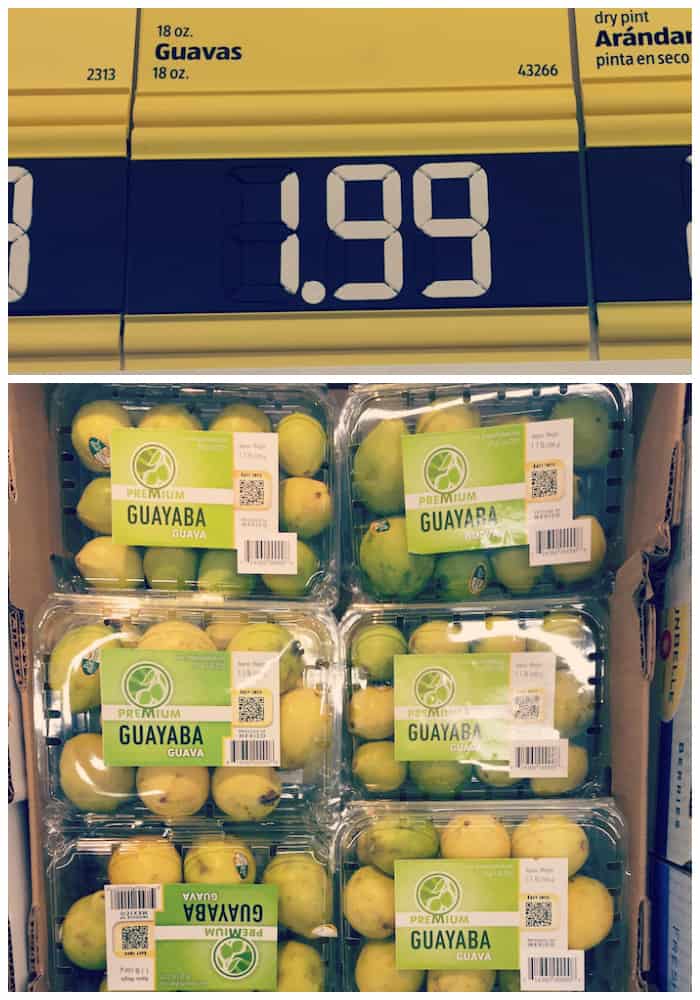 ALDI offers more than you would expect, all without sacrificing quality while still offering amazing prices. I mean .49 POM pomegranates! It's the best kind of madness!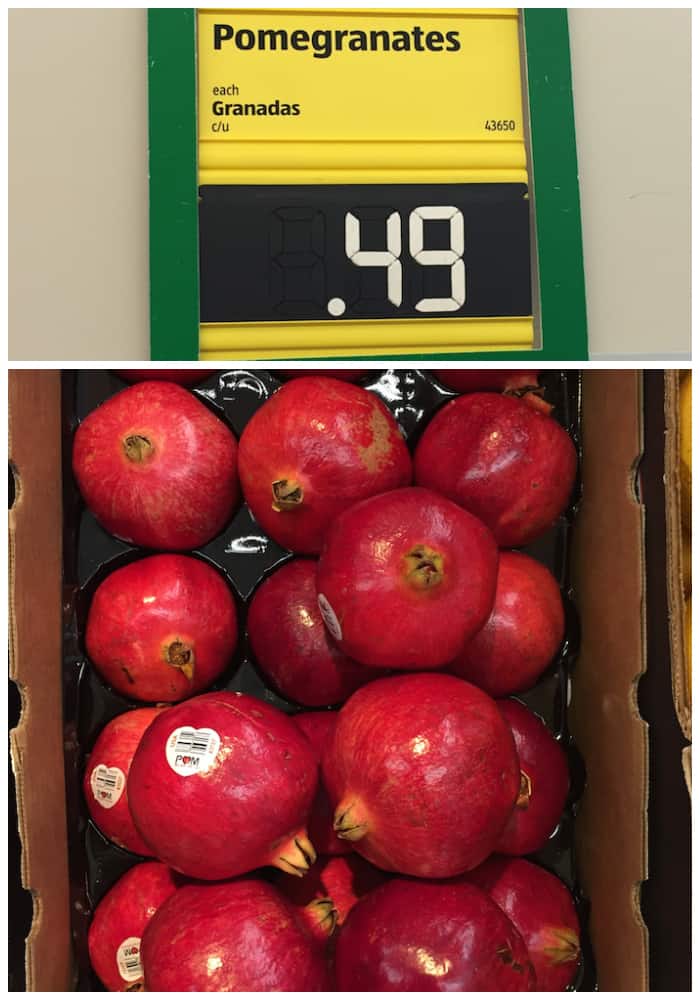 They even have a storm trooper. You know…in case you need a storm trooper.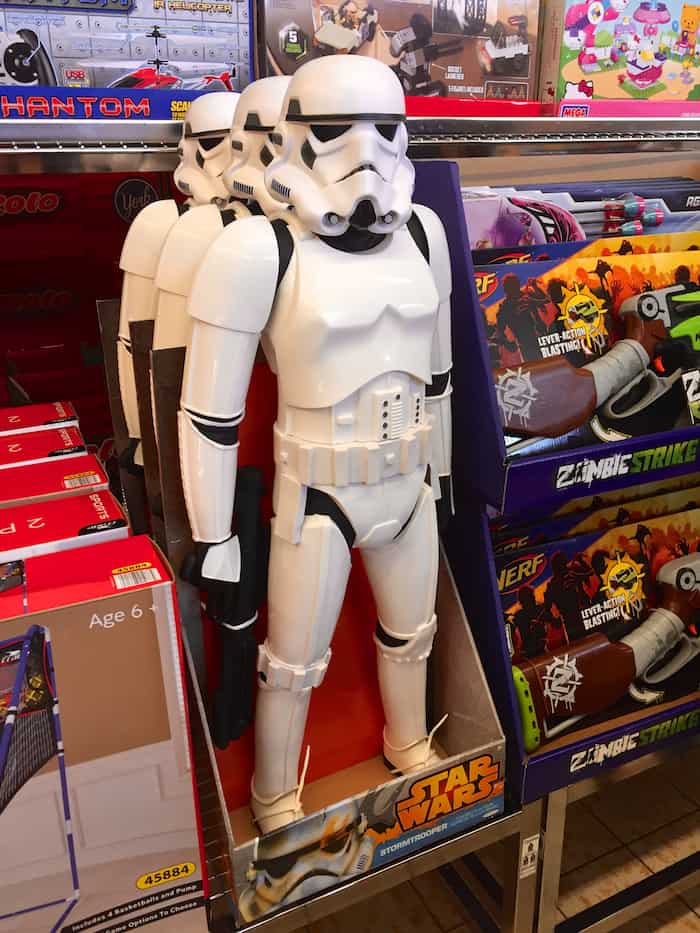 So, when are you going to ALDI? This holiday season save yourself time and money shopping with ALDI and stay tuned for entertaining tips and tricks. Tip No. 1 shop at ALDI.