Bacon, lettuce, and tomato on toasted bread! What is there not to love? I love a good BLT because…hello, bacon! And then I added a runny egg. I know! It's almost too much to take.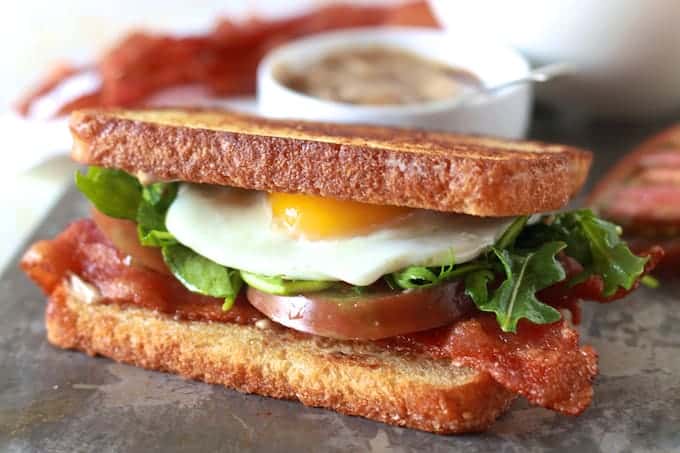 When I was a kid, my father played in a bowling league and sometimes I would get to tag along. I wasn't really interested in bowling, what I was after was the crinkle cut french fries and toasted BLT. To this day, I still associate crinkle cut fries or what I call "bowling alley fries" and BLTs with bowling alleys. It's funny how somethings can stick with you after so many years. Even now as an adult if  I see BLTs or crinkle cut fries on the menu at a bowling ally or a diner that is what I order.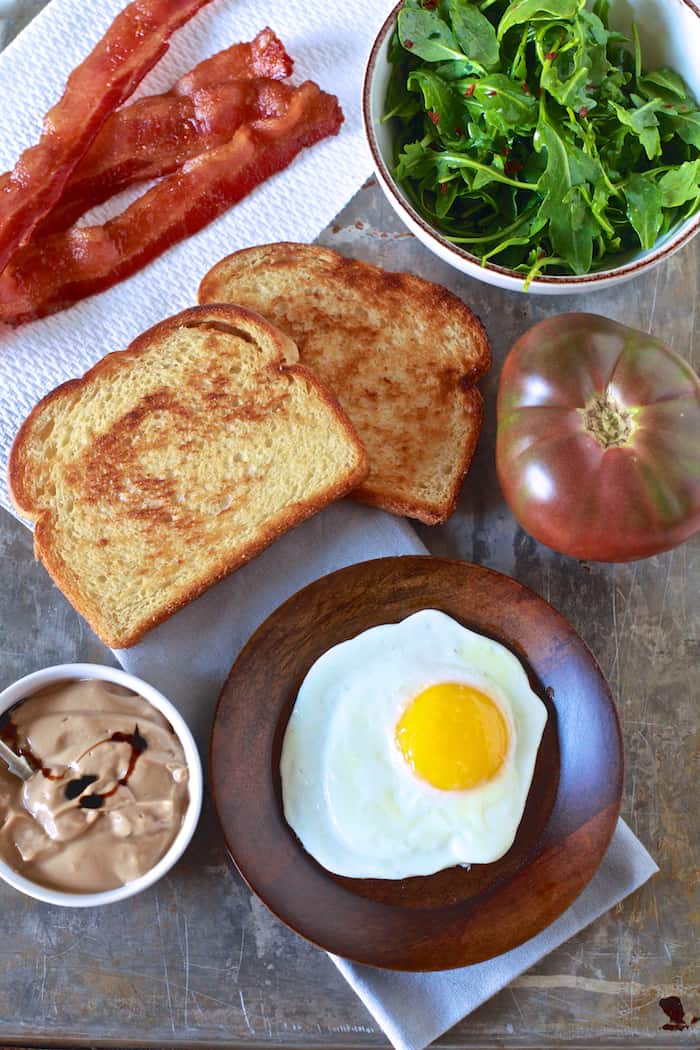 Needless to say, my love for the BLT is deep-seeded in my heart.  There is no doubt that it's my favorite classic sandwich. But, the bread has to be toasted and it has to have mayo. It's not a proper BLT without mayo and toasted bread.  I just love taking a bite and getting into every part of a BLT. The crunch from the bread, creamy tang of the mayo, sweet juiciness of the tomato, fresh crispness of the lettuce and saltiness of the bacon makes me do somersaults.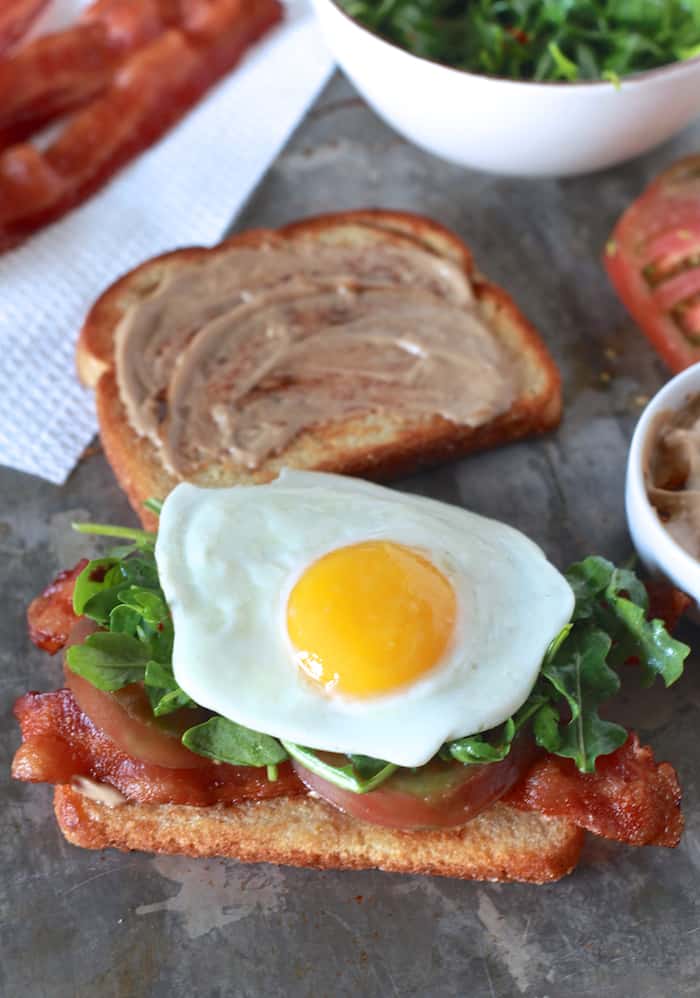 I recently got my hands on a beautiful heirloom tomato at the farmer's market. If you have never tried an heirloom tomato you must do it at least once even if you don't like tomatoes. Heirlooms haven't been tweaked to look all pretty and uniform like commercial tomatoes and then ending up flavorless and bland. Heirlooms tomatoes have a tender flesh that bursts with sweet refreshing juices. Tasting like what a tomato should taste like. I am telling you heirloom tomatoes will change every opinion you ever had about tomatoes, good or bad.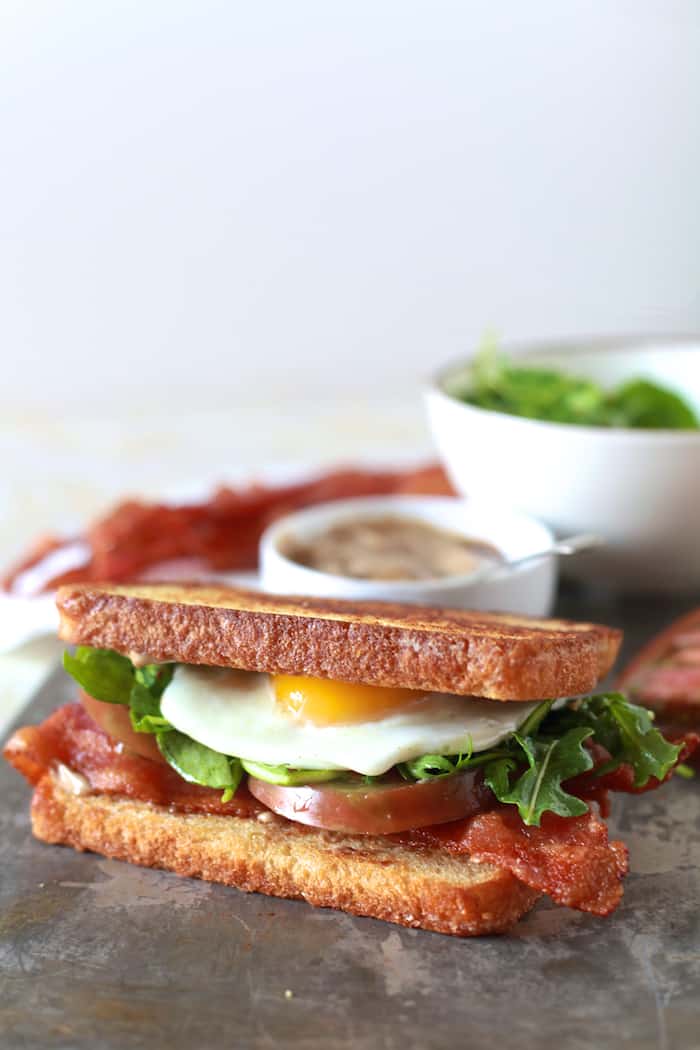 With am heirloom tomato in hand, I suddenly and desperately wanted a BLT, but I thought I would fancy it up a bit and make it even more irresistible. And, an heirloom tomato is a great way to fancy up a BLT. I made my game plan and I tell you what! I came up with a winner! Picture this…sourdough grilled in butter, crisp thick cut hickory smoked bacon, sweet juicy heirlooms, peppery arugula, savory balsamic mayo and because I feel like it a runny egg. You all know how I feel about runny eggs. #runnyeggallthethings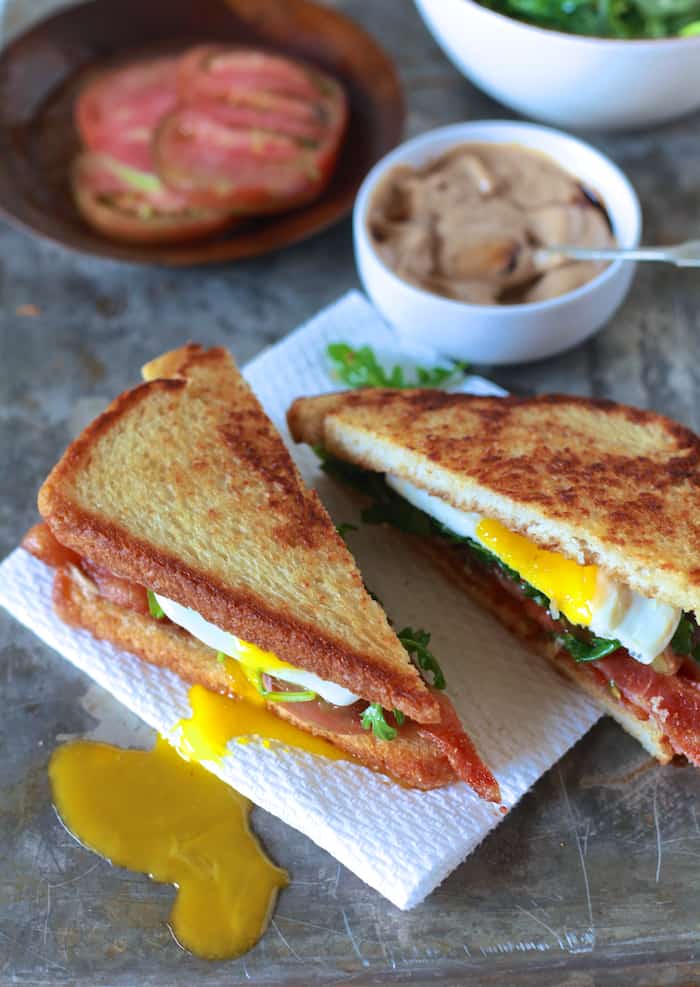 It only took over two decades, but I now have a BLT that is fit for my oh-so-grown-up and mature self. I want this sandwich every day for the rest of my life…with a side of crinkle cut fries of course. It's everything that you love about a BLT time 4,569,381.2, seriously.
If you need more bacon in your life check out these Elvis Blondes or these Thai Peanut Butter and Bacon Burgers.

Yield: 2 Sandwiches
Fancy BLT with Balsamic Mayo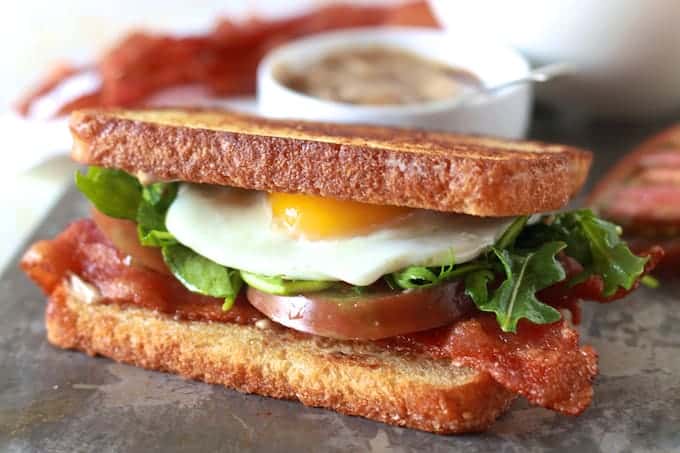 Ingredients
Sandwich
[br]
4 -6 slices thick cut hickory smoked bacon
4 slices sourdough bread
4 tablespoons butter
2 eggs
1 heirloom tomato, sliced
1 cup arugula
1/2 lime
olive oil for drizzle
crush red pepper
salt to taste
[br]
Mayo
[br]
1/2 cup mayonnaise
1 clove garlic
2 teaspoons balsamic reduction
Instructions
Heat oven to 400 degrees. Line a sheet pan with parchment paper. Lay bacon on prepared sheet pan and roast in the oven for 15 - 20 or until crispy.
In a small bowl combine mayo ingredients and set aside to allow flavors to meld.
Heat a large skillet over medium heat or a griddle. Depending on the size of your skillet or griddle you may have to do this in batches. Melt 1 tablespoon of butter for each side of bread as you toast the bread, don't add the butter all at once. Also, be careful to not let the skillet too hot or the butter will brown.
While toasting the bread, heat a non-stick skillet over medium-low heat, spray with non-stick spray and slowly fry the eggs until the yolk has set as desired.
In a small bowl toss arugula with a drizzle of olive oil and a squeeze of lime, season with salt and crushed red pepper.
Assemble
Spread toasted sourdough with balsamic mayo. Build the sandwiches, bread, bacon, tomato, arugula, egg and bread.
Notes
Balsamic reduction or glaze can be found at your local grocery store in the vinegar and oils aisle. If you cannot find it boil 1 cup of balsamic vinegar until reduced by half.