Cooking salmon on a cedar plank infuses smoky flavor into the salmon. The tangy herb yogurt sauce is a perfect complement to the cedar plank salmon. A great summer dish for a summer barbecue.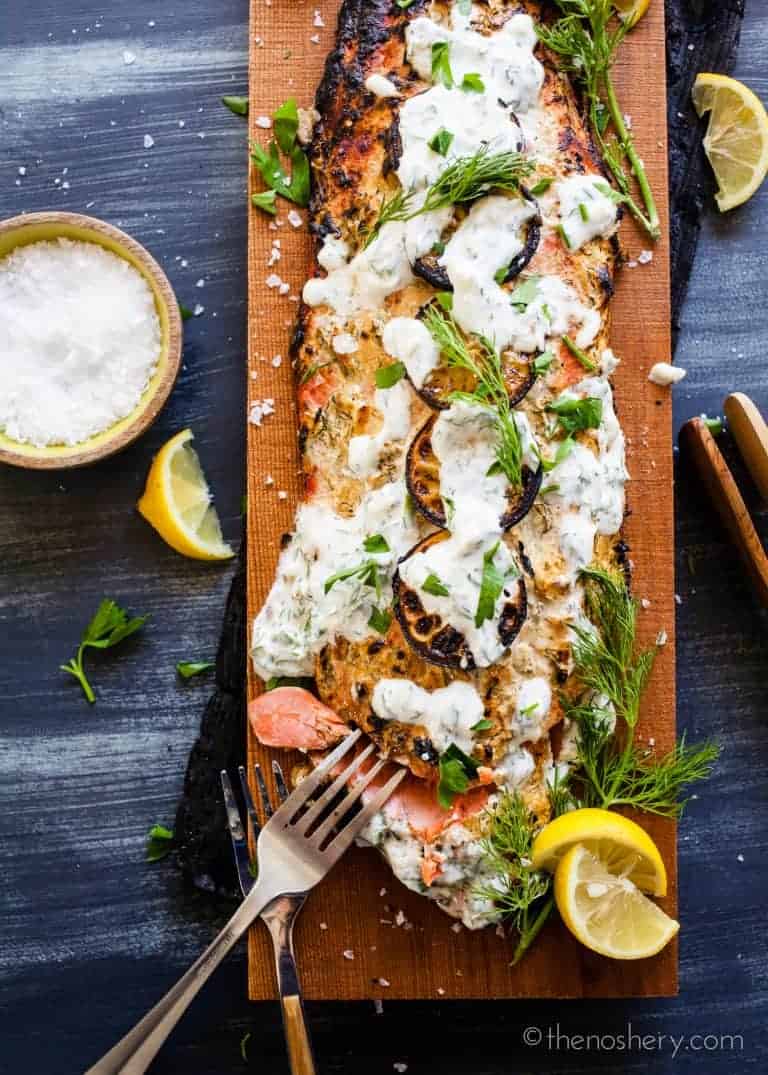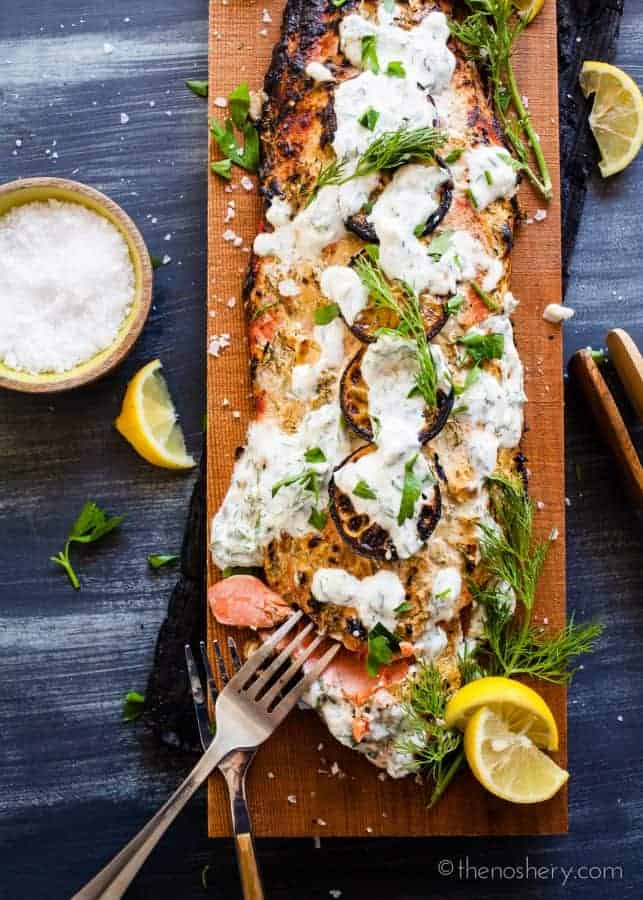 I don't eat much seafood. If you search The Noshery archives you will find very few seafood recipes. It's not that I don't like seafood. I love seafood, but it's a food I need to crave before I think of making it. But, when I do eat seafood salmon or shrimp is what I most commonly eat.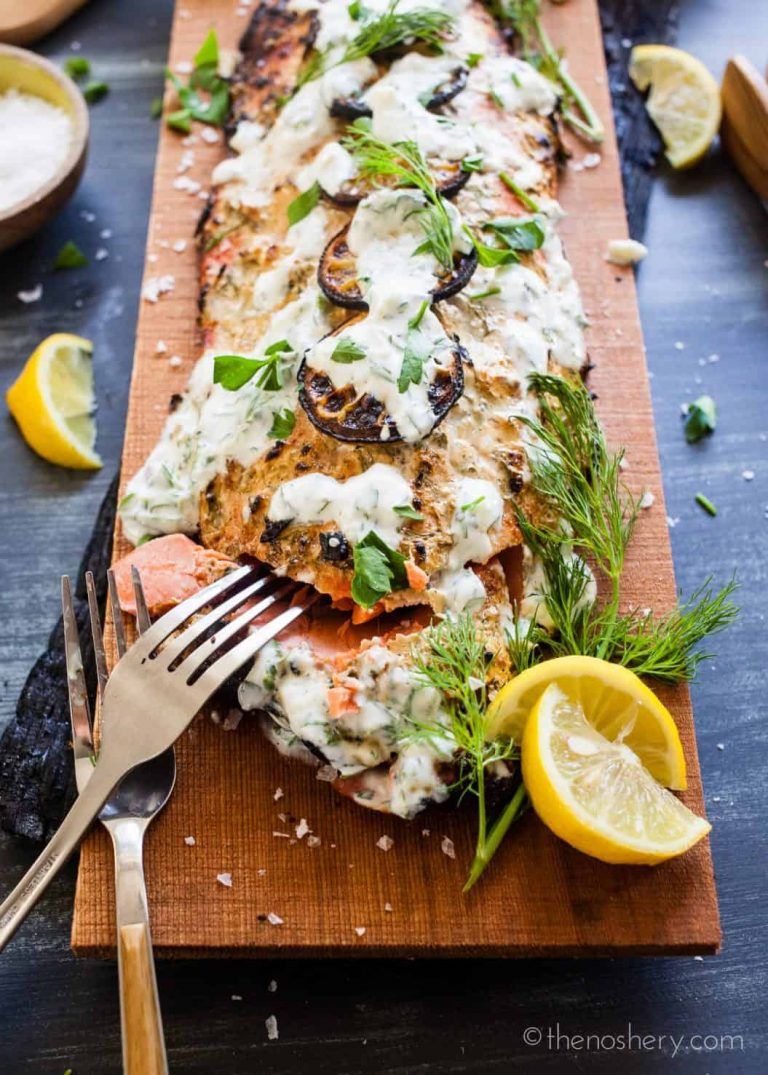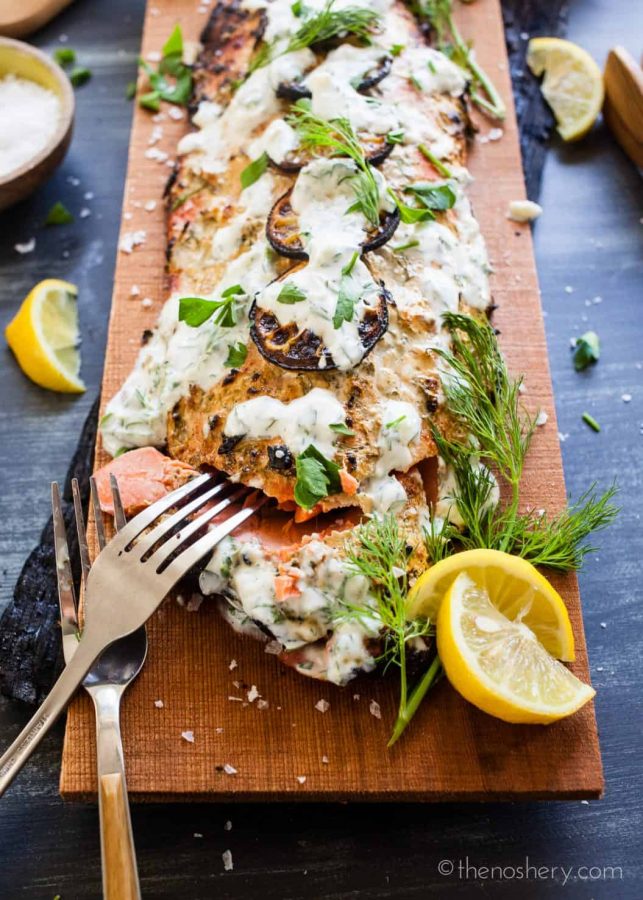 One thing I love and can never have enough of is smoked salmon. I love smoked salmon! Making true smoked salmon takes time but cedar plank salmon is an easy way to add a smokiness to your salmon.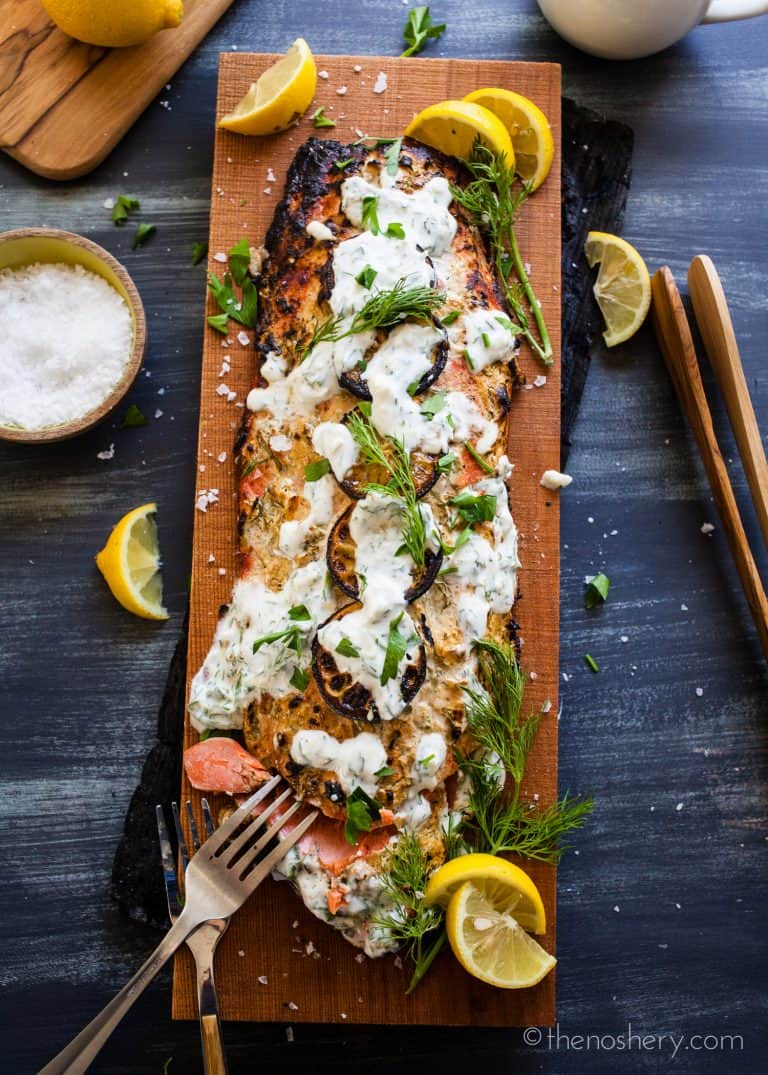 If you're like me and find cooking or grilling fish fillets intimidating cedar plank salmon is a great way to start. Cedar planks can be found at most grocery stores in the seafood department. It's important that you plan time to allow the planks to soak for at least 2 hours.  To add more flavor to the salmon I like to soak my planks to white wine but you can also soak them in salted water.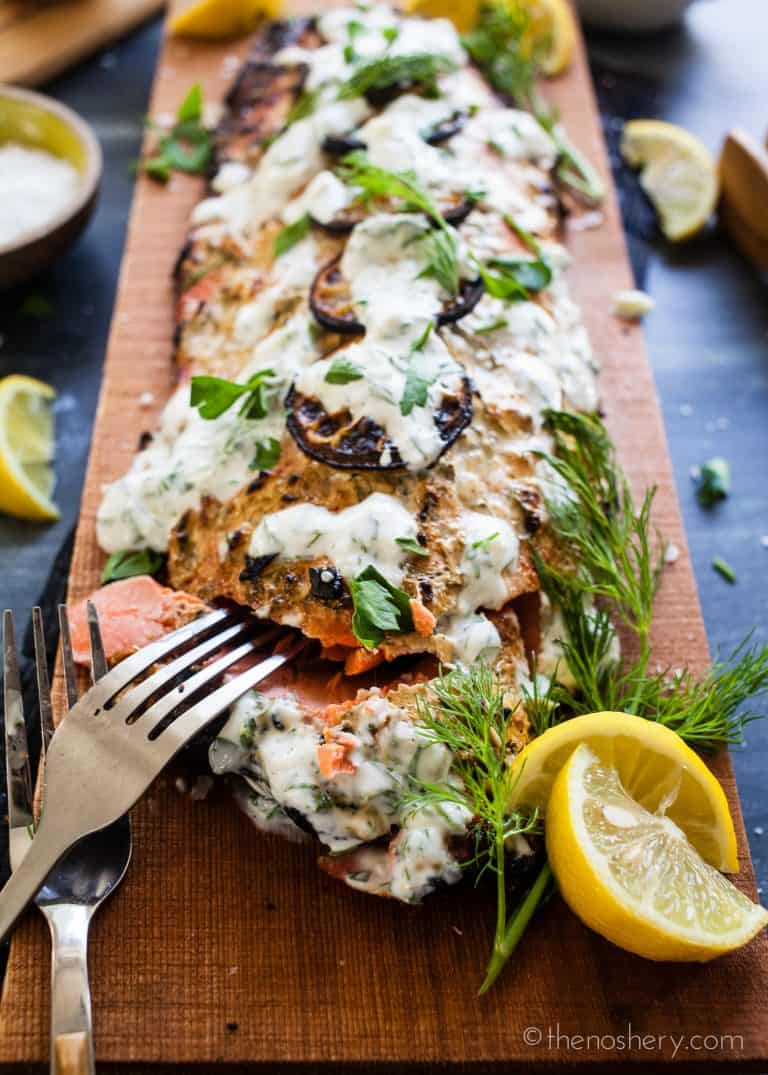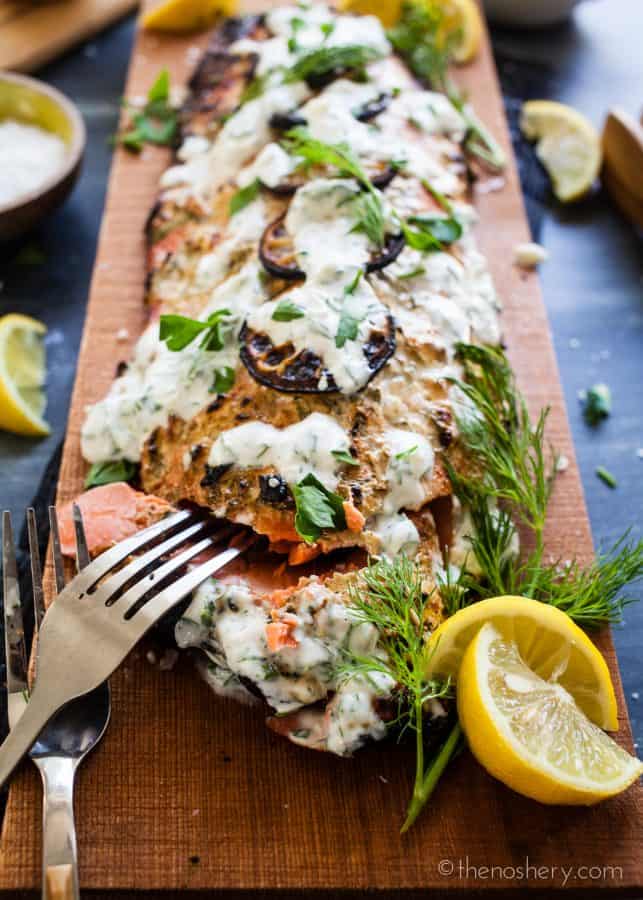 The secret to this cedar plank salmon isn't just the smokey flavor from the cedar plank but also the fresh herbs in the yogurt sauce. Whenever I can I use fresh herbs over dry. I don't have the room for a herb garden so I use these to tips on how to store fresh herbs.
I love this dish because it's tangy, smoky and easy to prepare. It a great recipe for weeknights or a dinner party. I put my planks to soak first thing in the morning and went along my day. By dinner time, they were ready making dinner easy.

Yield: 6 - 8
Cedar Plank Salmon and Herb Yogurt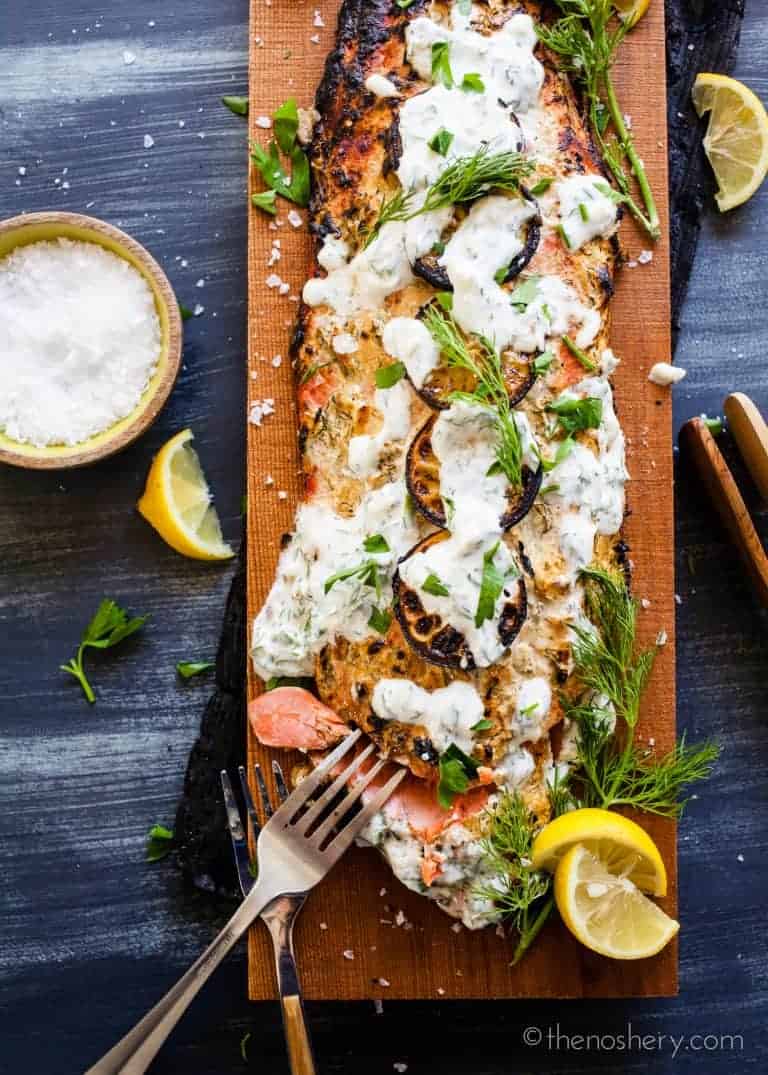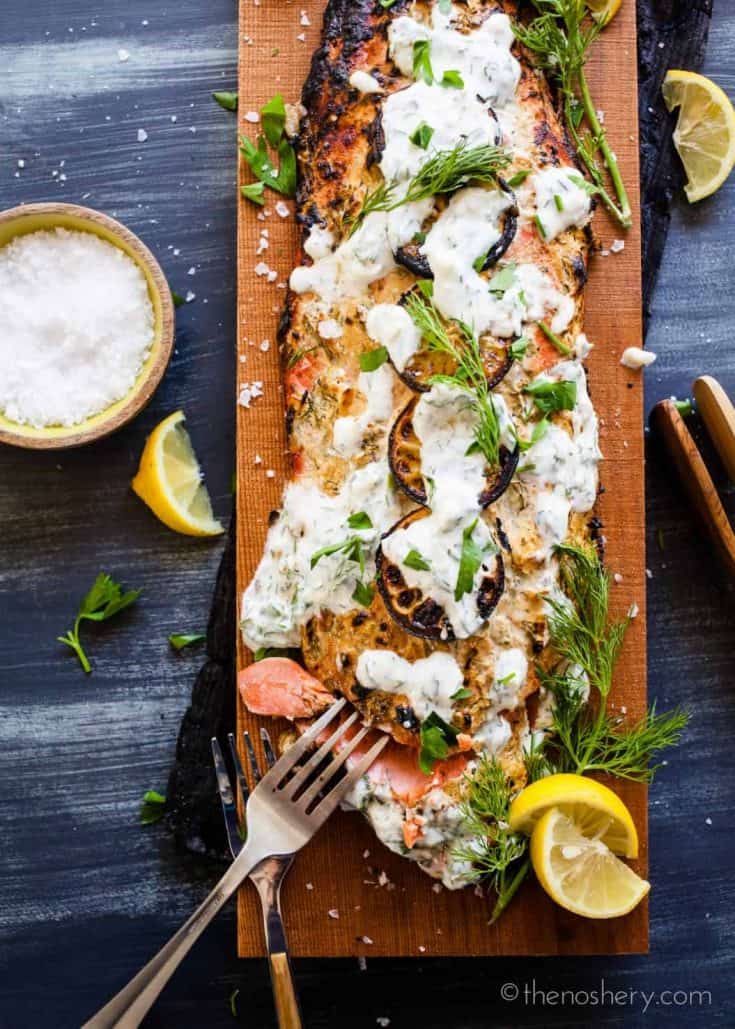 Inactive Time
3 hours
18 minutes
Total Time
3 hours
50 minutes
Ingredients
1 cup plain greek yogurt
1 tablespoon fresh chopped chives
1 tablespoon fresh chopped flat-leaf parsley
1 tablespoon fresh chopped basil
1 tablespoon fresh chopped tarragon
1 tablespoon fresh chopped dill
2 cloves garlic, minced
juice of a small lemon
1 tablespoon white wine vinegar
1/2 tablespoon kosher salt
1.5 - 2 pounds salmon fillet with skin
1 cedar plank
1 lemon sliced
finishing salt like Maldon (optional)
extra herbs and lemon wedges for garnish
Instructions
Soak cedar plan for two hours.
Combine yogurt, herbs, garlic, lemon juice, vinegar, and salt in a small bowl. Pat salmon dry and place on the cedar plank skin side down. Spread half of the herb yogurt over the salmon and place lemon sliced on top.
Set grill for indirect grilling and heat grill to medium-high. Place cedar on the grill away from the direct heat. Close grill. Cook for 20 to 30 minutes, or until cooked through. It's good to check it halfway through. The salmon is done when uniformly pink. The internal temperature should reach 135 degrees.
Transfer the salmon and plank to a platter. Drizzle with remaining yogurt sauce. If yogurt sauce it too thick add a little milk to thin. Garnish with fresh herbs and lemon. Serve right off the plank.