I know I have been MIA for a few days. It has been crazy busy here and I finally have a chance to blog.
One of my Hubby's favorite food for breakfast is french toast, so I decided to kind of do some french toast but just a little different. Same ingredients just made differently. I made what some call eggs in a basket, egg in a hole or bird's nest, what do you call them? It was super yummy.
More Breakfast Egg Love:
Items Used in this Recipe:
Yield: 2
Eggs in a Basket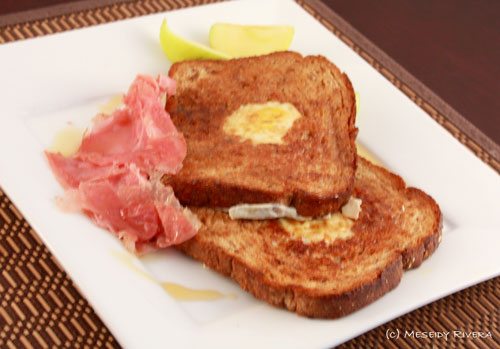 Ingredients
4 pieces hearty whole grain bread
4 eggs
2 tablespoons butter
sugar
cinnamon
Instructions
Heat your griddle skillet at 300 degrees. Cut a 1 to 1 1/2 inch hole into the center of your bread. Butter your bread and sprinkle with sugar and cinnamon on both sides.
Place bread on the skillet and crack egg into the hole. Let it cook for a few minutes and flip. I cooked it till the yolk was still soft but not runny.