Earlier this week I was going to post an orange chicken that I made in the crock-pot but it didn't turn out so good…..it was a little on the salty side. This recipe, on the other hand, was a hit! A few weeks back Hubby and I went to the Goodwill just to check out what they have. Every once in a while we like to go and see if we find anything interesting. This Goodwill had a pretty big book section and I found myself in the cookbook section. I found a cookbook of Cooking Light Annual Recipes for 2000 for only $2.50! This cookbook is almost 350 pages, I thought this was a deal! So mental note if you want to grow your cookbook collection, check out your local Goodwill.
Anyways, in this book, I found a recipe for a Fresh Mango Salsa and I had just bought six mangos at Sam's Club (great deal), so I thought this would be a good thing to try. I thought what would go well with a mango salsa and jerk chicken was the first thing that came to mind. I searched around for a few jerk chicken recipes on-line and came up with this. I also made an easy side of roast potatoes. Hubby and I agreed that this recipe was a success.
More Mango Love:
Items Used in this Recipe:
Yield: 4
Jerk Chicken with Mango Salsa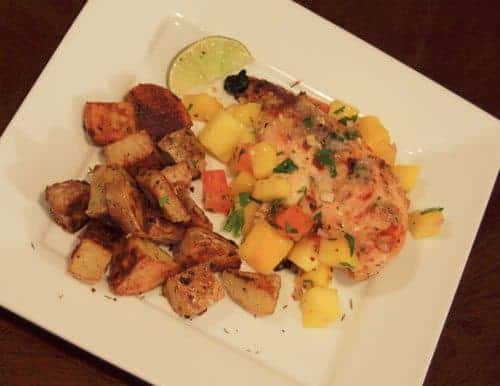 Ingredients
Jerk Chicken
[br]
1 teaspoons ground allspice
1/4 teaspoon ground nutmeg
1/2 teaspoon salt
1 teaspoons dried thyme
1/2 teaspoon ground ginger
1 tablespoon brown sugar
1 teaspoons ground black pepper
1 tablespoon vegetable oil
1/4 cup of chicken broth
1 onion chopped
3 cloves garlic
1/4 tsp crushed red pepper or 1 habanero peppers (depends how much heat you like)
4 chicken breast
1/2 cup lime juice
[br]
Mango Salsa
[br]
1 1/2 cups of chopped & peeled mango
1 1/2 cups chopped tomato
2 Tbs minced fresh cilantro
2 Tbs fresh lime juice
1 tsp minced peeled fresh ginger
Instructions
Combine all ingredients except the chicken and lime juice in a food processor and puree until pretty smooth. Place the chicken and lime juice in a mixing bowl and pour about half of the jerk sauce over it, tossing the chicken around to coat it well. Place in a container and pour the remaining sauce on top of chicken. Cover and refrigerate for at least 1 hour, you can also do it overnight.
Remove the chicken pieces from the jerk marinade. Heat grill or griddle grill to medium high heat. Add chicken to grill and cook, flipping once until cooked through, about 5-6 minutes on each side.
Combine all ingredients in a bowl, cover and chill.