This drink is like cherry limeade, and mojito were the Wonder Twins and united to create the ultimate summer cocktail. "Wonder twins powers activate form of the ultimate summer cocktail!"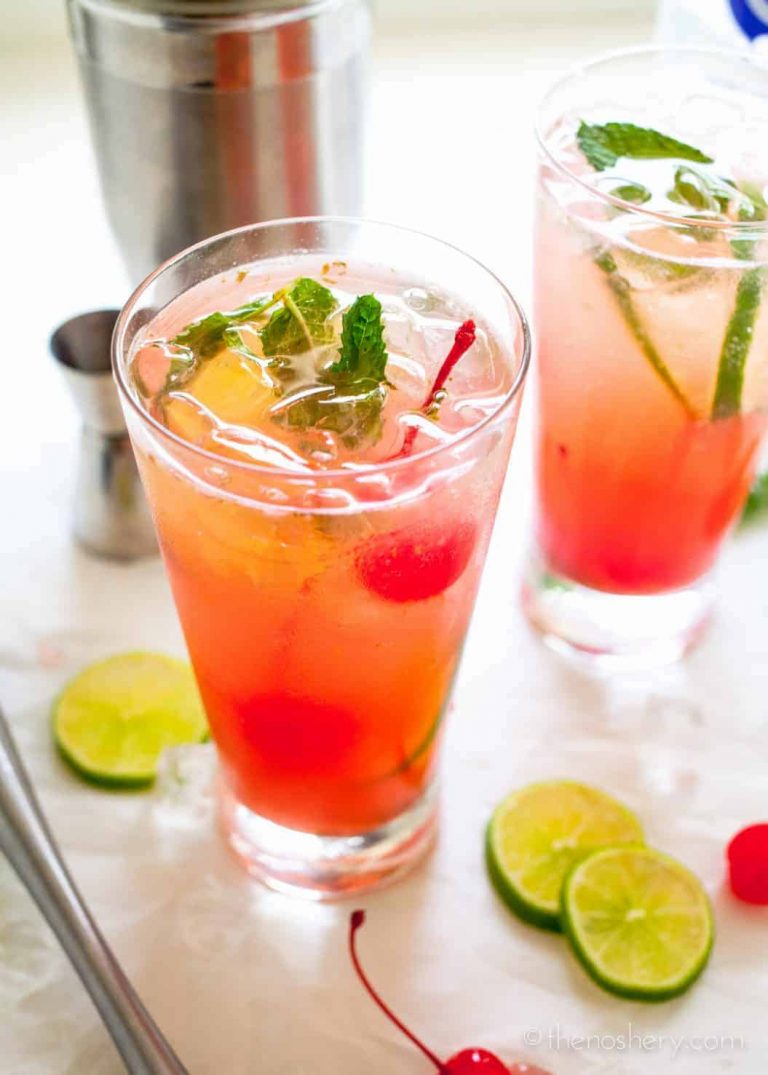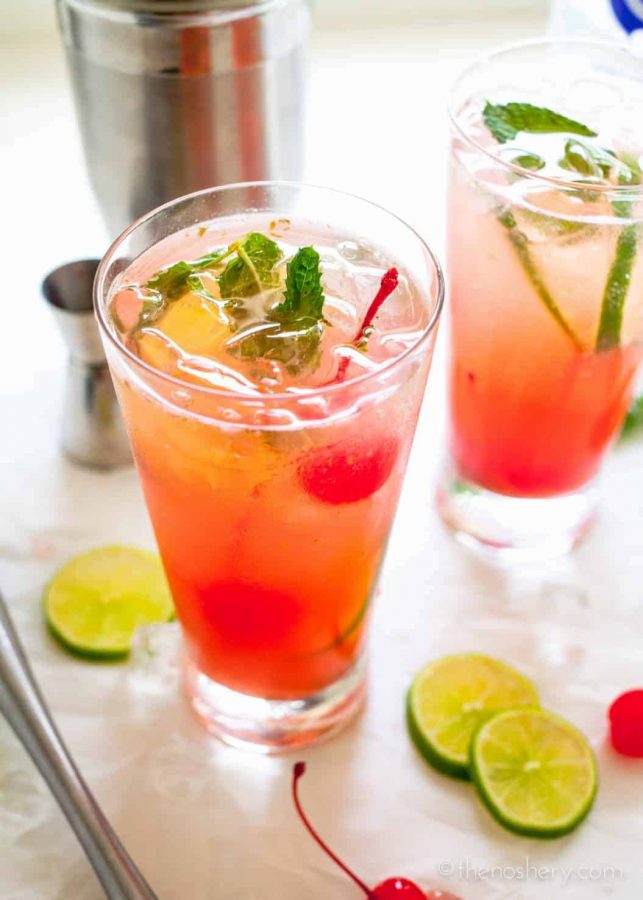 I love citrus beverages. Citrus is my jam.  I cannot be trusted to be left alone with a gallon of lemonade or limeade. I will drink it; I will drink all of the ades. For a long time, I was a purist. I would only drink lemonade or limeade, but then I was introduced to the cherry limeade. When I took my first sip, I thought to myself, "What is this sweet and tart pink nectar I am drinking? Where has it been my whole life?"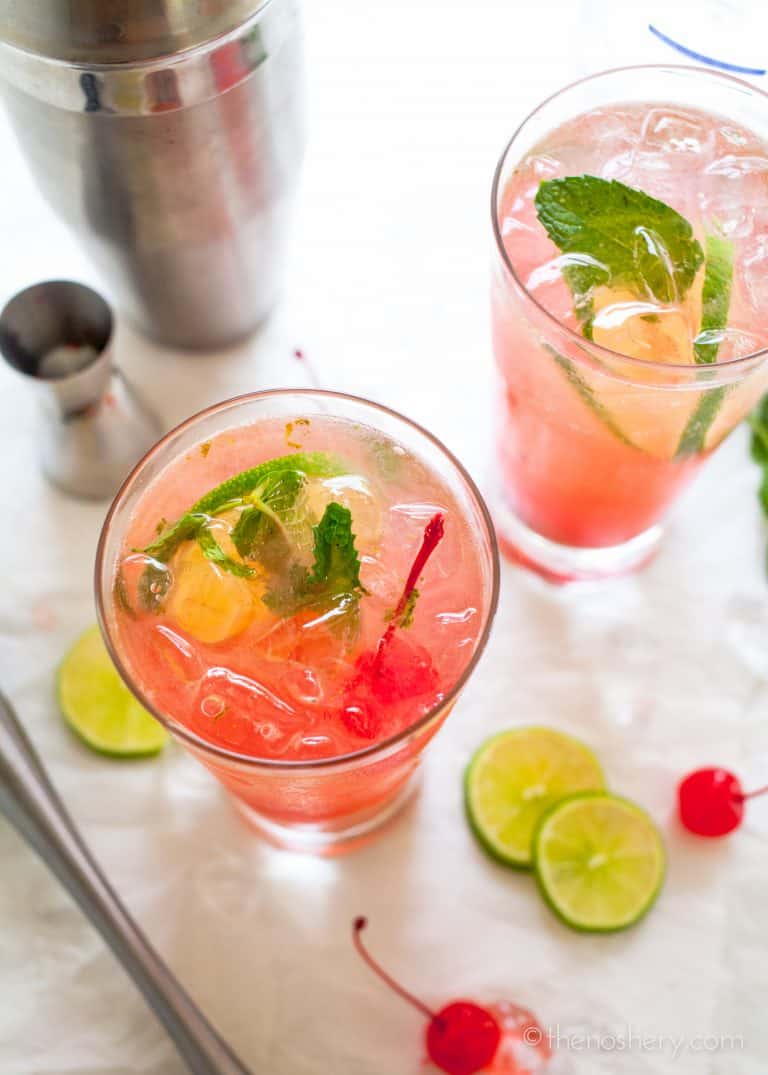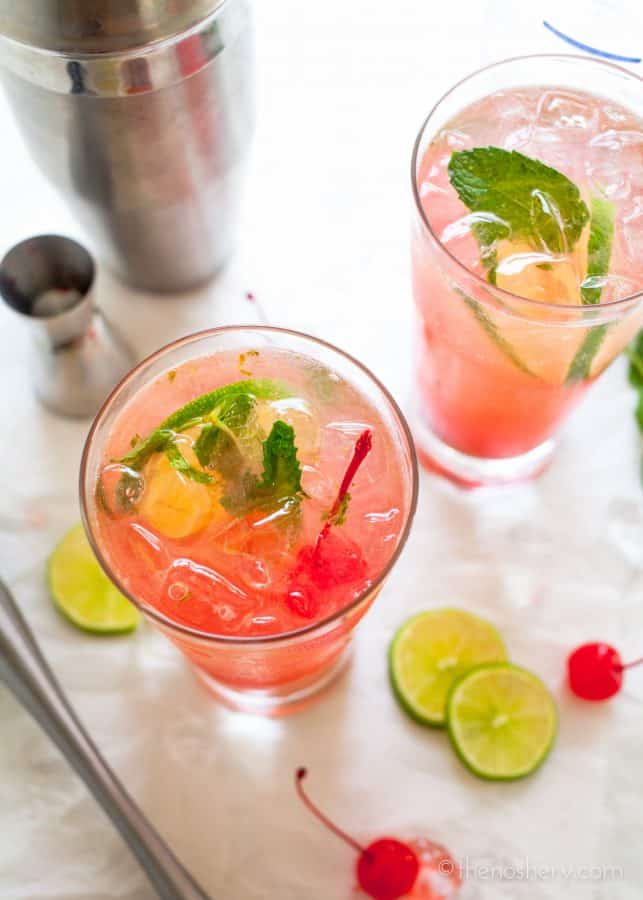 Over the weekend OB and I went out for dinner and were enjoying the weather out on a patio with a couple mojitos. Mojitos are the minty limeade of the cocktail world. They are refreshing and dangerously easy to drink. As I sipped on my mojito my joints got warm and loose and I let myself relax into my chair. Then I saw a server come out with a big sundae for the table next to us. The sundae was topped with maraschino cherries and I thought, "How awesome would a cherry limeade mojito be!?"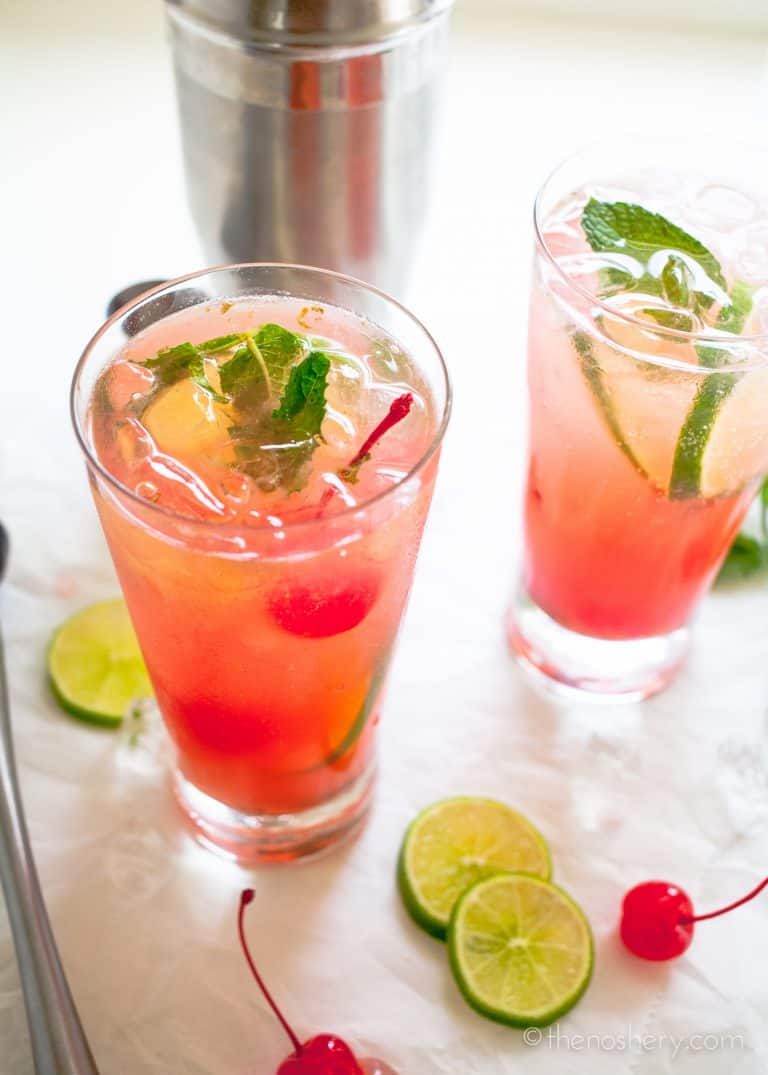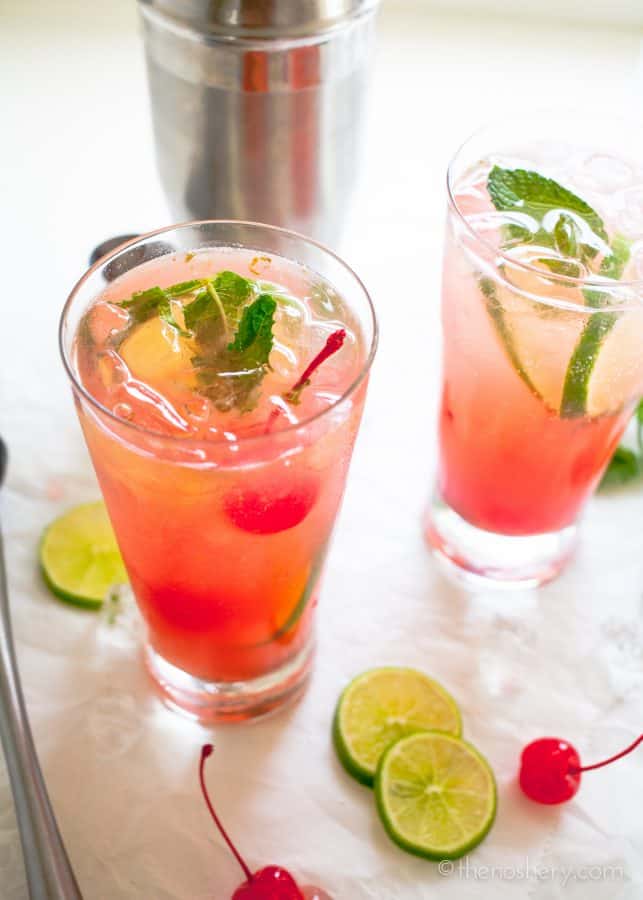 I asked the server to bring me a few maraschino cherries in syrup and added them to my mojito. I immediately knew I was on to something. The next day I did a little experimenting and came up with this yummy cocktail. When you take your first sip, it tastes just like a cherry limeade but drink slowly because even though you may not taste it at first, you will feel it eventually.
This is a great cocktail for a hot day on the patio with friends our your main squeeze.

Yield: 2
Cherry Limeade Mojito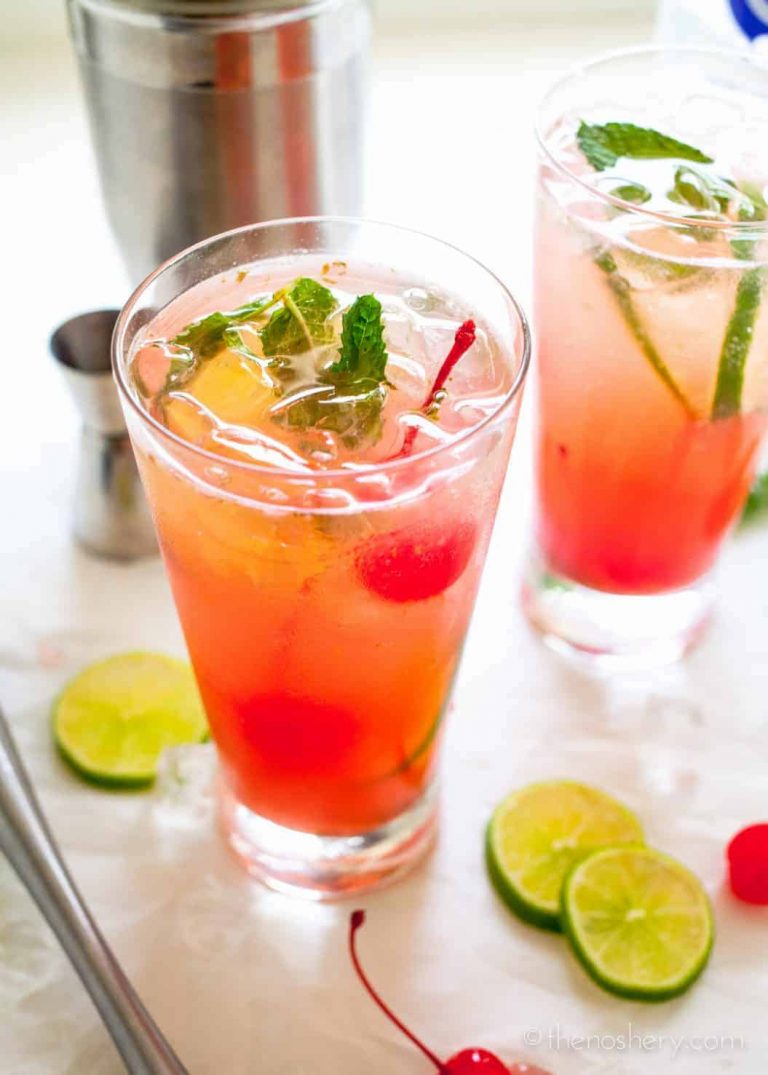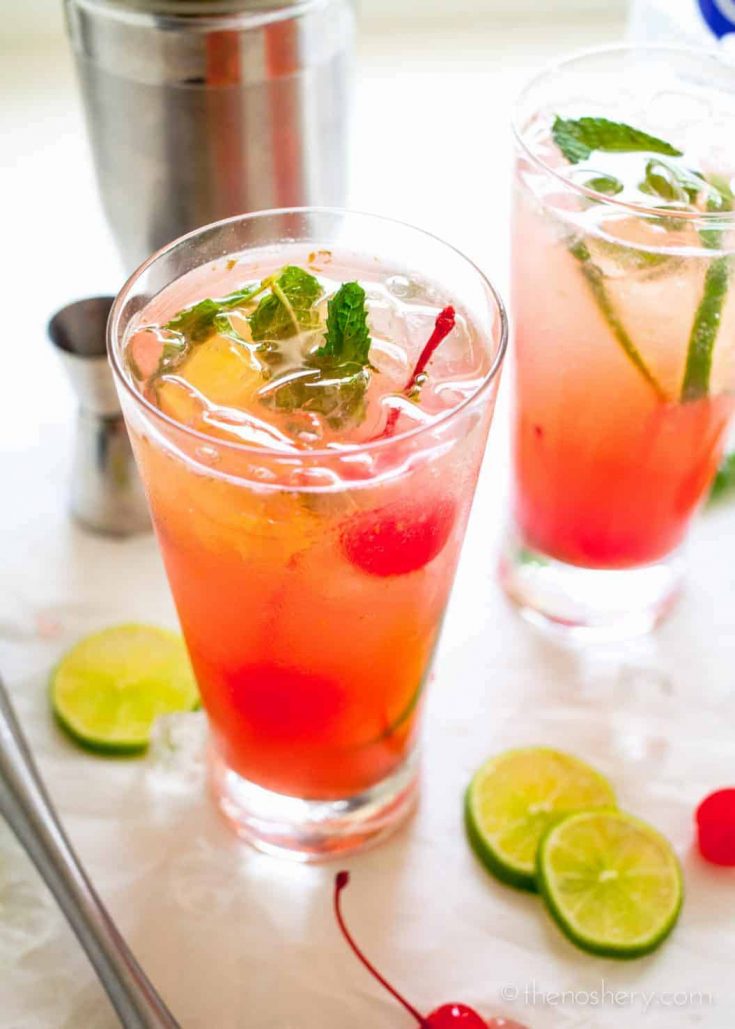 Ingredients
12 mint leaves
4 teaspoons sugar
3 oz white rum
2 oz fresh lime juice
1 oz maraschino cherry syrup or grenadine
lemon lime soda
maraschino cherries
lime slices
mint leaves
Instructions
In a tumbler muddle mint leaves and sugar. Add white rum, lime juice, and maraschino cherry syrup. Mix until well combined.
Fill two tall glasses with crushed ice. Strain the cocktail mixture evenly between the two glasses. Top with lemon-lime soda and a splash of maraschino cherry syrup. Garnish with maraschino cherries, lime slices, and mint leaves.