Sweet and tart roasted summer fruits over marinated and 
grilled
skirt
steak,
 topped with crispy onions.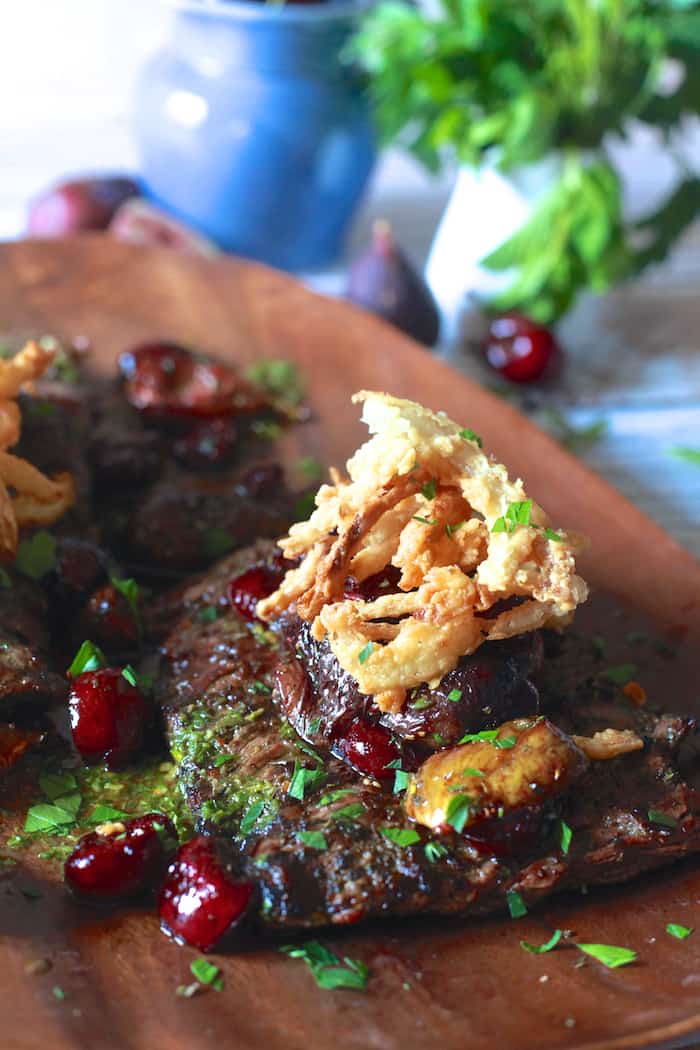 When you think of Summer dishes you think them made up of brightly colored fruits and vegetables come, but Summer also has some rich dark fruits like cherries and figs. August is the month when the seasons of these two fruits overlap. I know! I can't believe it's August already! But, don't be sad although August is the start of the end of summer but on the upside, it's also the beginning of fig season.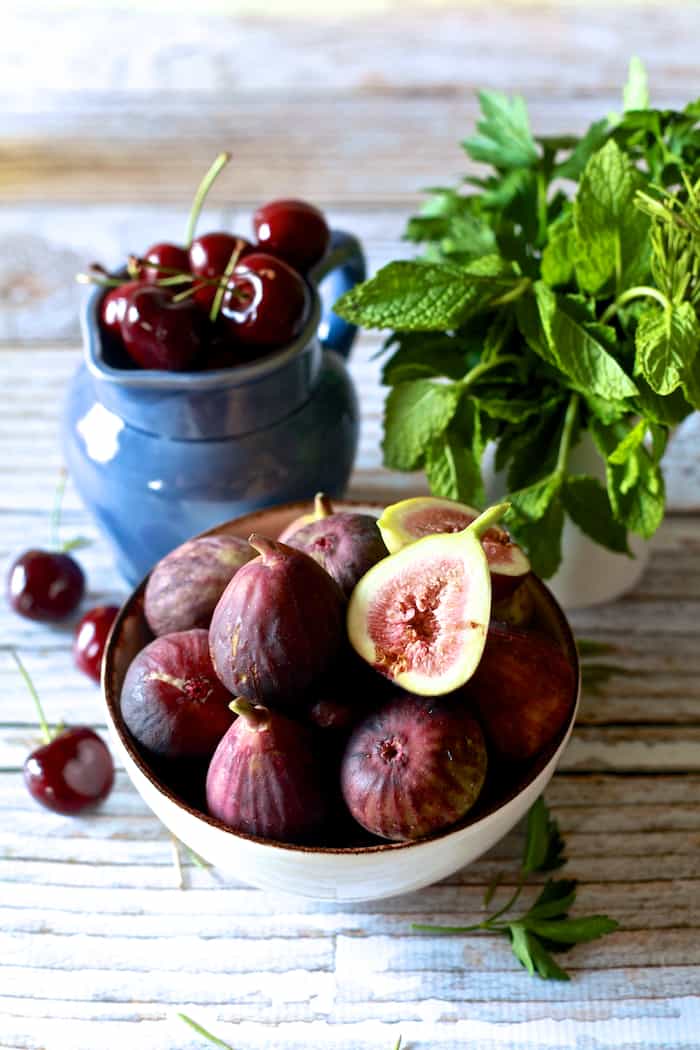 One of the things I love about cherries and figs is their rich flavor when roasted. They almost taste like a sweet red wine, gently opening the door that will lead into Fall, but still holding a foot firm in Summer. Reminiscent of our own battle to not want the Summer to end but still yearning for the cool breezes of the Fall.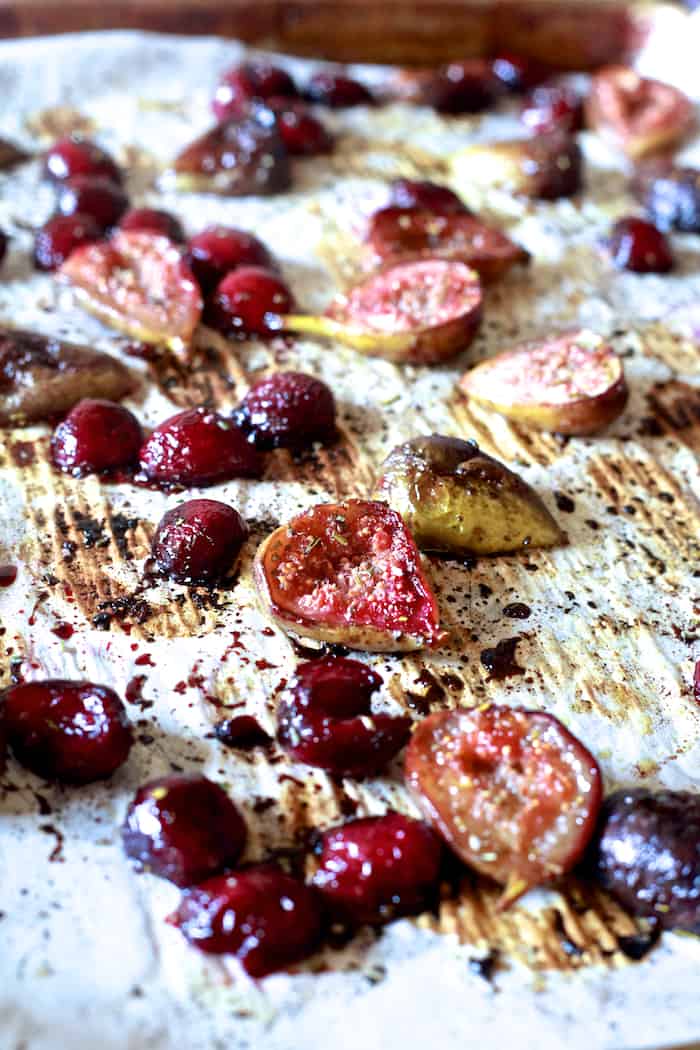 I am always torn this time of the year. Excited that cooler temperatures are around the corner, but sad that summer's abundance of produce will soon come to an end. The thought of no more green beans, sweet corn or juicy peaches makes me sad.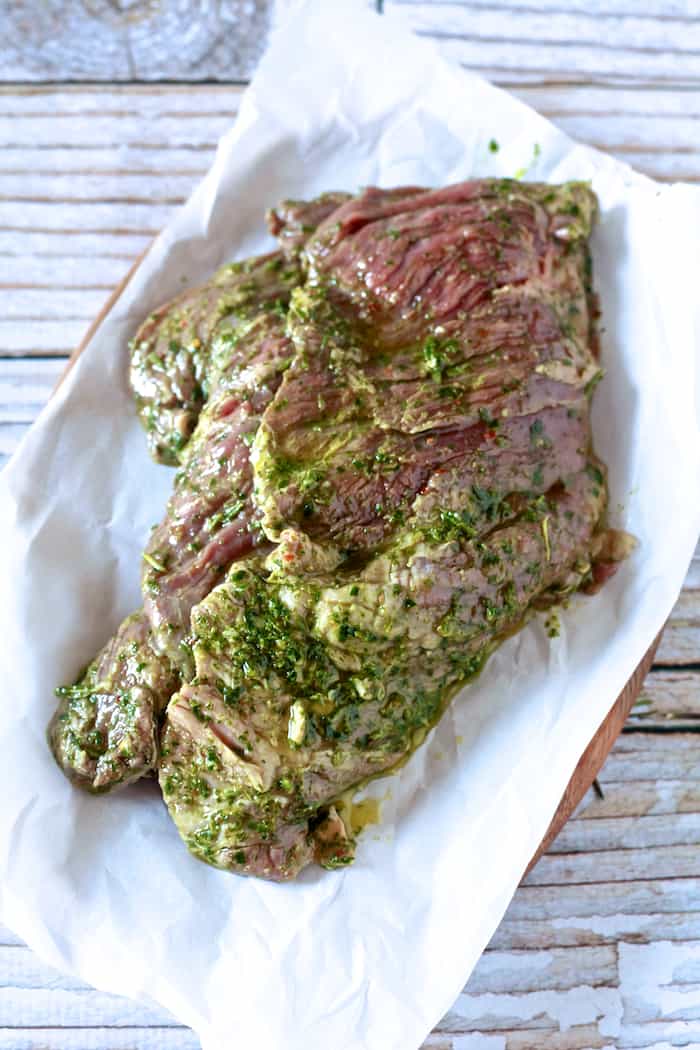 Still wanting to hold on to this last bit of summer OB and I have been doing a lot of grilling. This weekend I marinated some skirt steak in a mixture of olive oil, mint, parsley and rosemary and charged OB with the grilling. When grilling there is one thing that is crucial. Once you put it on the grill don't mess with it, don't poke it and for heavens sake don't press it! The only time you should touch the meat is to turn it and to pull it off the grill. This allows the meat to get all crispy, charred and amazing.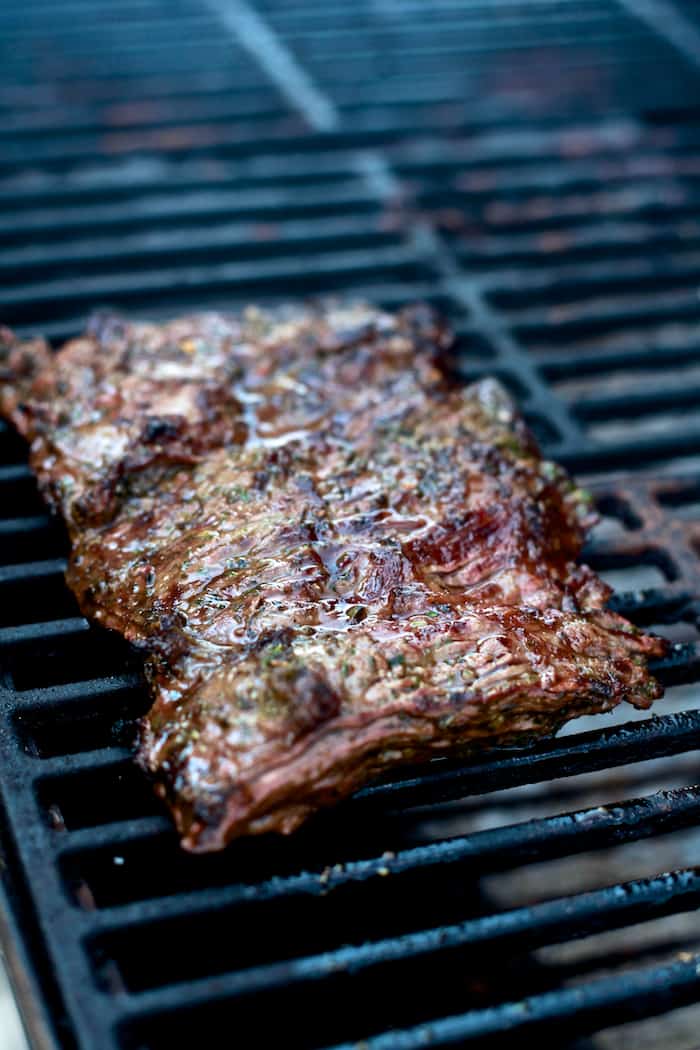 Top grilled, charred meat with roasted cherries, roasted figs and crispy onions and you will be voted ruler of the world. I love this dish for its simplicity and depth of flavor. It's one of those dishes that is easy to prepare but still makes you look like a rock star.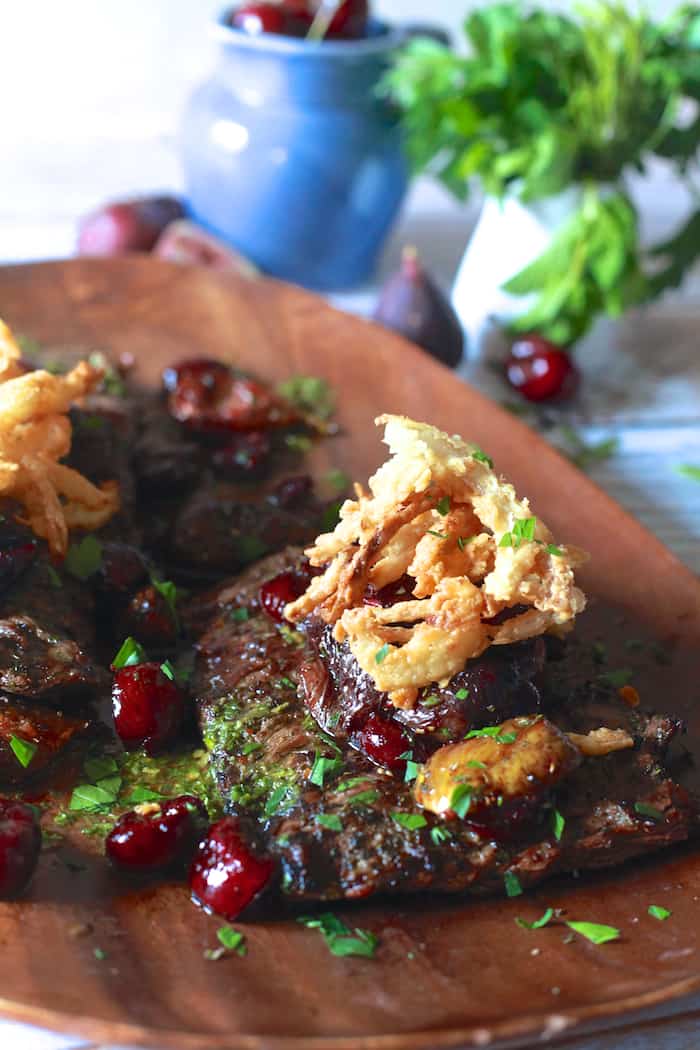 If you hang around here enough, you may notice that I have a deep love for combining sweet and savory. Like the time, I made those crostini with strawberries or that pot roast with blueberries and mushrooms. I just don't believe it has to be all sweet or all savory and this dish is further proof that sweet and savory are a match made in heaven.
Marinating the steak in olive oil and mint gives it a taste reminiscent of lamb without the gaminess and the roasted cherries and figs will make your heart leap. At the very last minute, I decided to add some crispy onions rings and I am so glad I did! Adding that element of crunch really took this dish over the top.

Grilled Skirt Steak with Roasted Cherries and Figs with Crispy Onions
Sweet and tart roasted summer fruits over marinated and grilled skirt steak, topped with crispy onions.
Ingredients
2 skirt steaks


Marinade/Dressing
¾ cup mint leaves, loosely packed
¾ cup parsley leaves, loosely packed
1 sprig rosemary
1 teaspoon crushed red pepper
3 cloves garlic
½ cup olive oil
2 tablespoons red wine vinegar


Fruit Topping
8 black mission figs, halved
8 oz pitted black cherries
1 teaspoon minced rosemary
2 tablespoons olive oil
salt to taste
Crispy Onion Straws (optional)
Instructions
Remove any silver skin from the steaks and season with salt and pepper. Pre-heat oven to 400 degrees.


Combine all ingredients in a food processor and process until smooth. You can also use an immersion blender if you have one. Place steaks in a resealable plastic bag, pour ¾ of the marinade over steaks. Seal tight removing as much air as possible. Let marinade in refrigerator for 30 minutes.


While steak is marinating combine all ingredients for fruit topping. Spread on a sheet pan lined with parchment paper. Roast in the oven, until tender and caramelized about 30 minutes.
Prepare onion straws if desired.


Build a medium-hot fire in a charcoal grill, or heat a gas grill to high. Cook 3-4 minutes per side until meat is nicely charred and medium-rare.


Top steaks with roasted fruit, drizzle with remaining dressing and top with crispy onions. Garnish with minced parsley and a finishing sprinkle of salt.
0