tortilla You don't know this but I have a fascination with Spain. On my bedside table, sits a Lonely Planet Travel guide for Spain. It has been highlighted and flagged to death. I have flagged almost every site I dream of seeing and every restaurant I want to eat. I have also made it abundantly clear that on or before my 40th birthday I expect to be surprised with a trip to Spain. Granted it won't be much of a surprise since I will be expecting it but, it's really about the trip, not the surprise.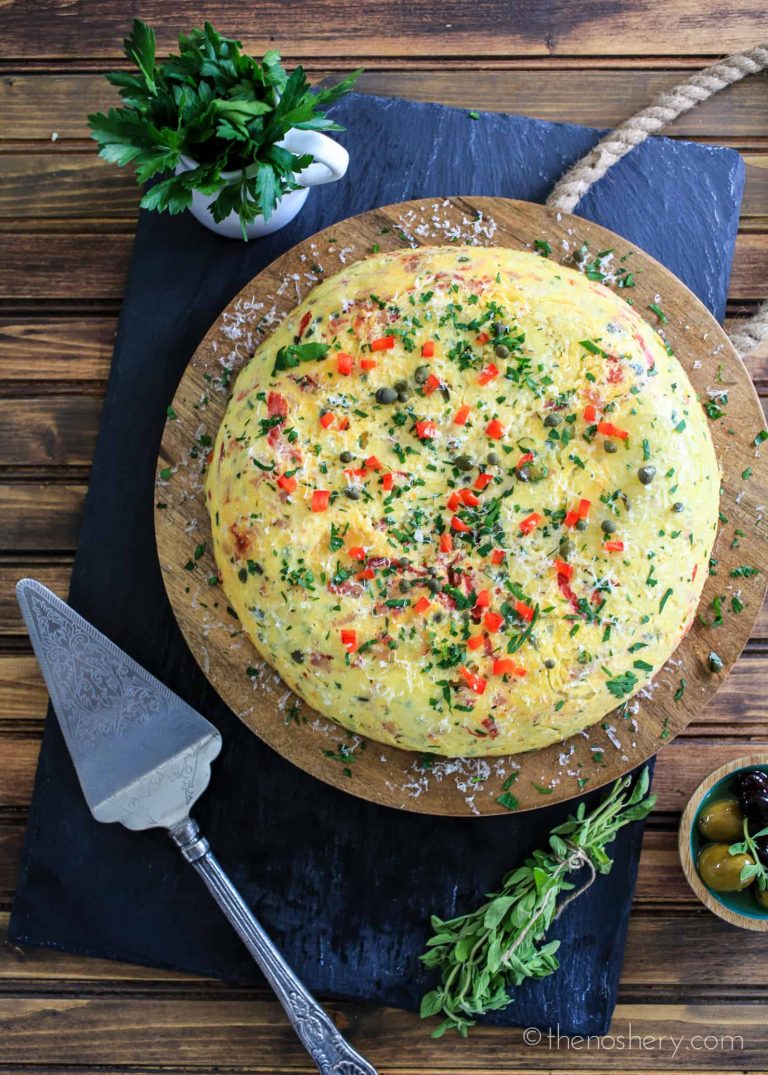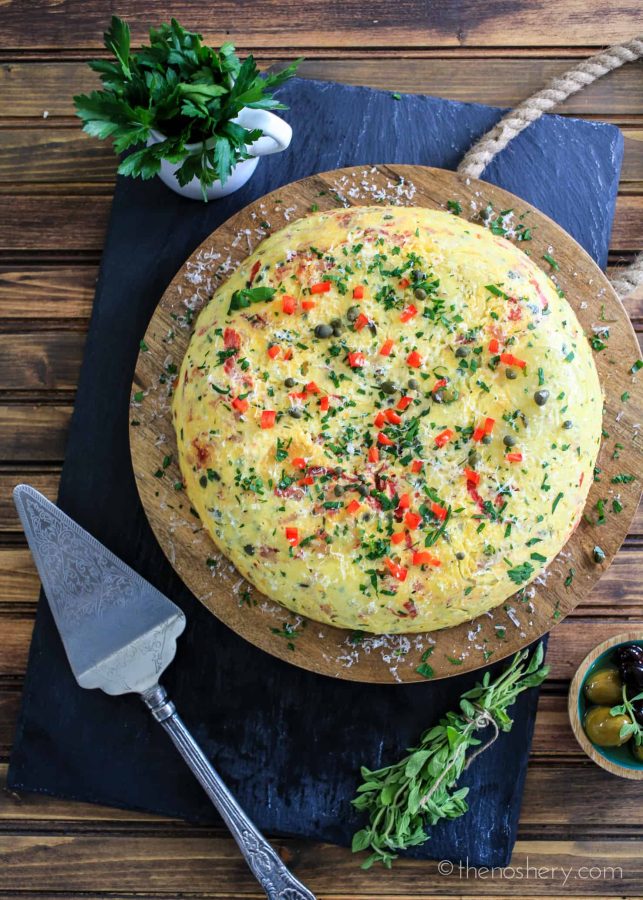 A few weeks ago OB called me and told me to pick out a restaurant, whatever I wanted within reason. With all of the crazy hot weather and his busy work schedule, we hadn't left our 5-mile radius in what felt like forever.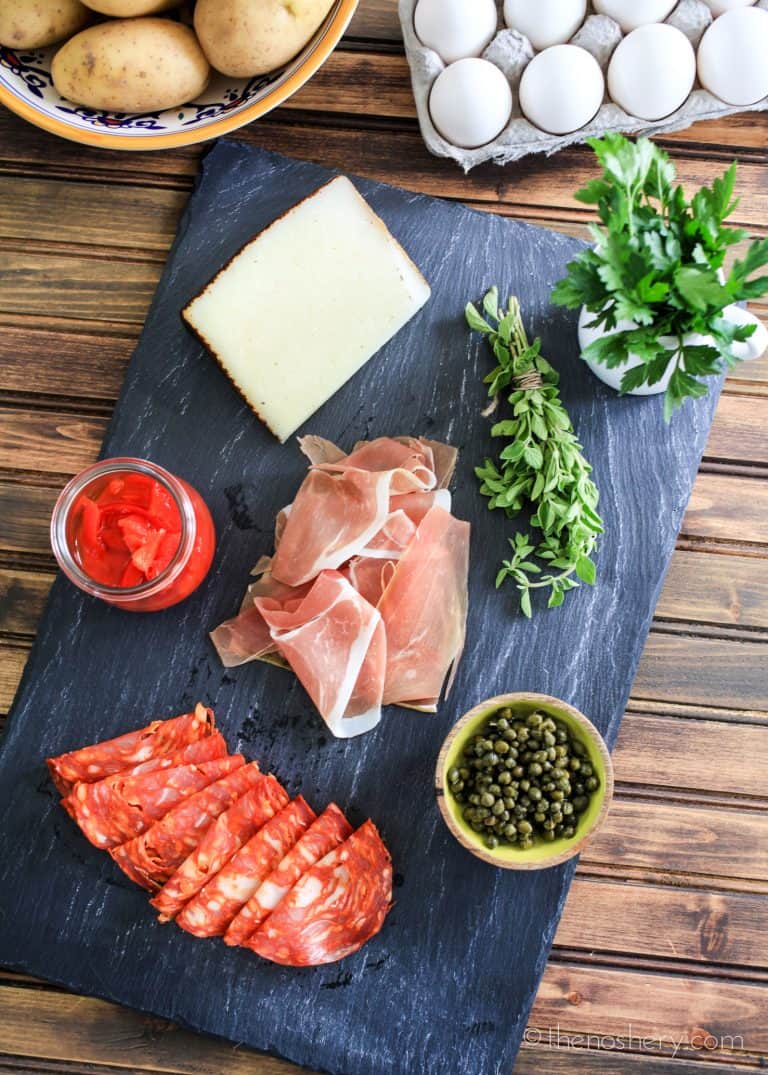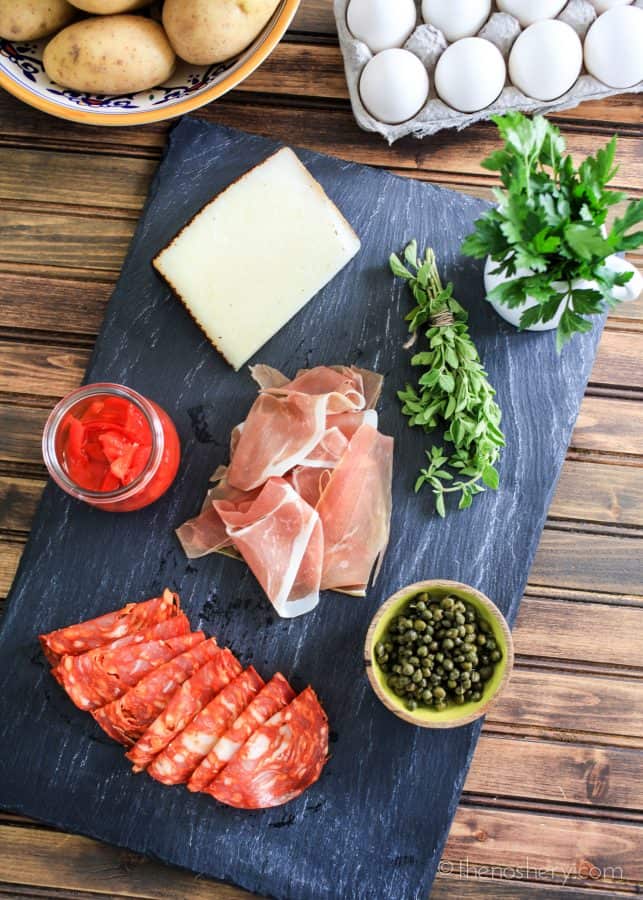 I quickly jumped on Urbanspoon looking for someplace interesting to eat and I stumbled upon Cafe Madrid. It's a tapas bar in the Highland Park area of Dallas. I reviewed their menu and found wonderful treats like paella, fried olives stuffed with anchovies, jamón serrano plate, and blood sausage. I squealed so loud with excitement that I freaked Honey out. She's a nervous dog, I'm always freaking her out.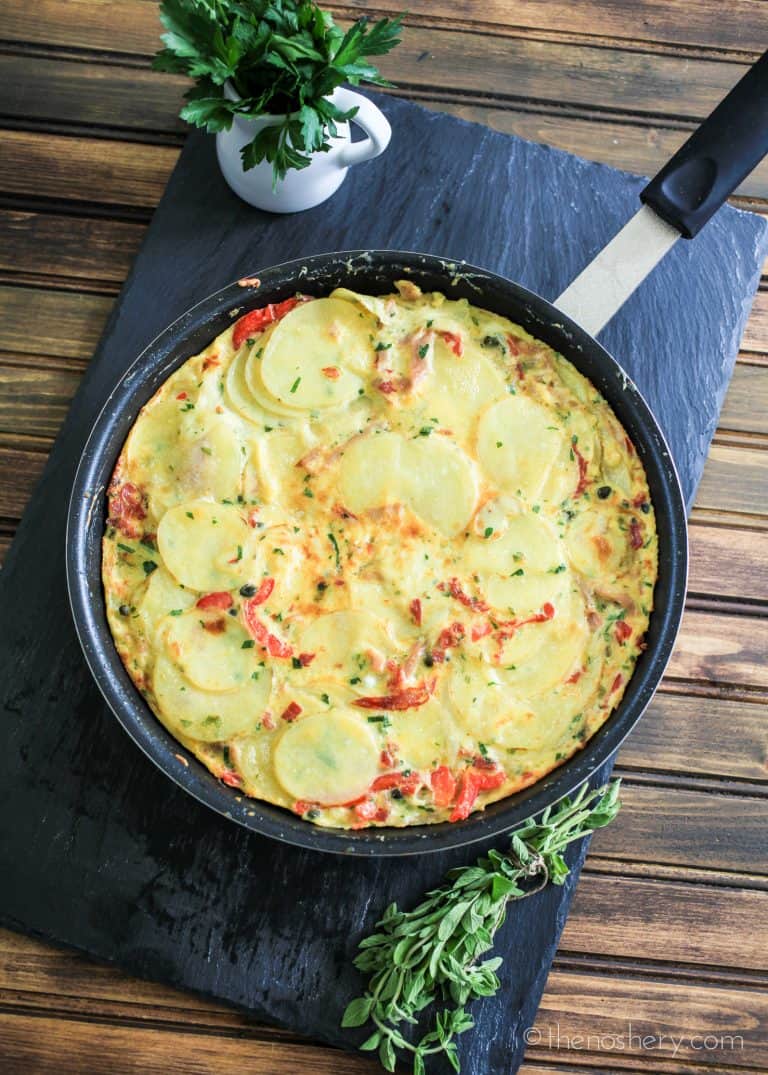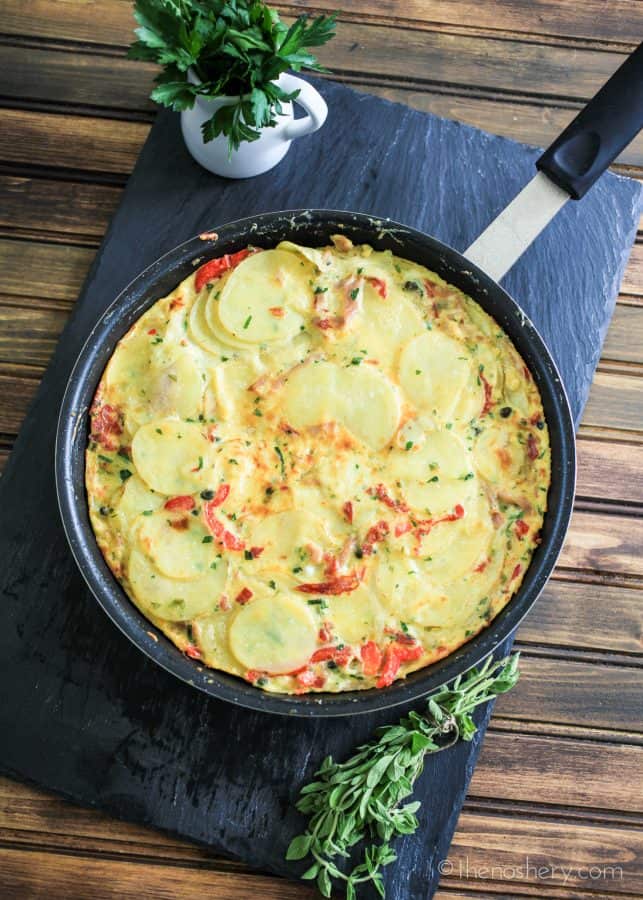 That evening OB and I probably ordered a total of twelve tapas. I was over the moon with foodie happiness. I didn't want it to end. One of the tapas we ordered was a tortilla Espanola. It's not anything like the taco tortilla you may be familiar with. It more closely resembles a frittata. The tortilla we had at Cafe Madrid was a simple tortilla of egg, potato, and onion. I ate every bite! However, I can't drive 35 minutes away every time I want a tortilla Espanola so, what other choice do I have but to make one of my own.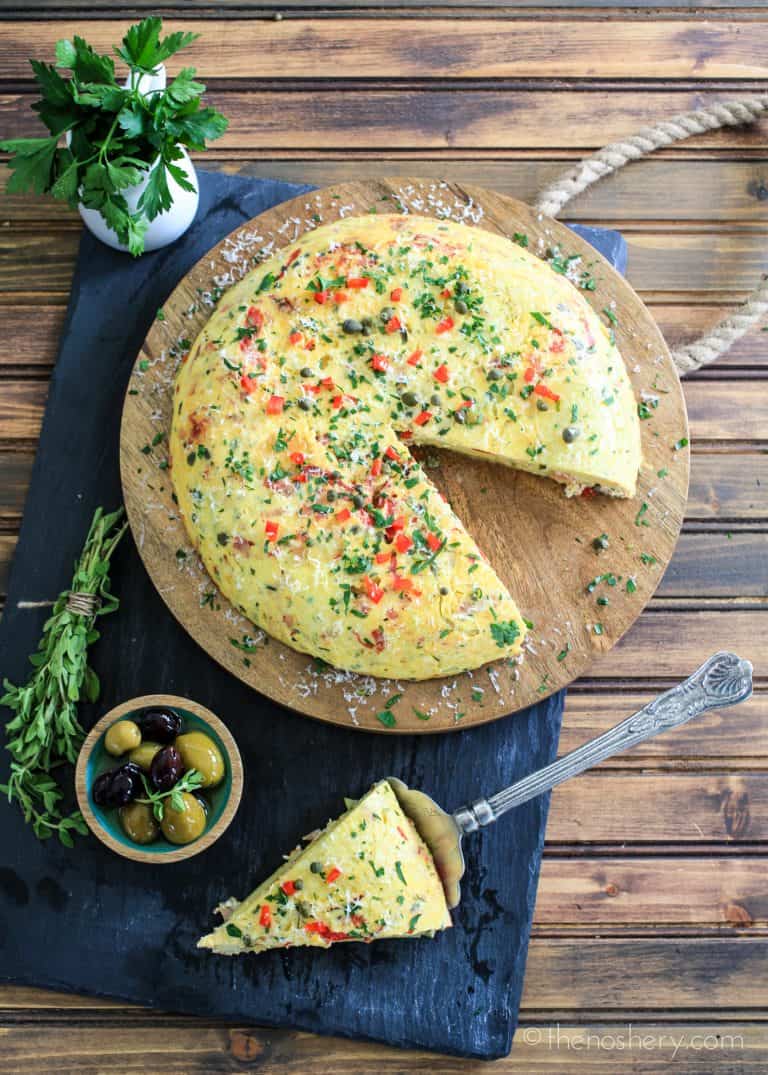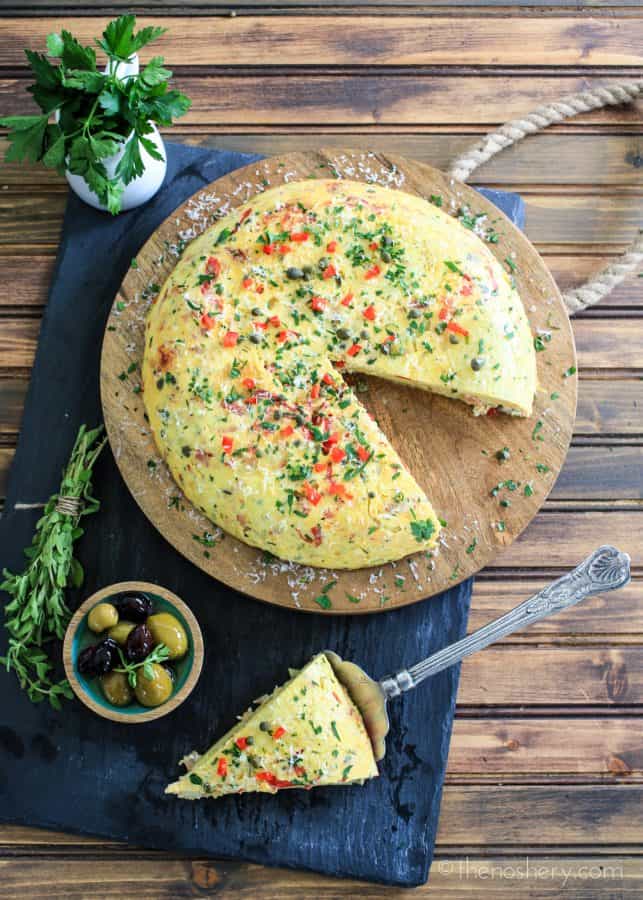 This tortilla recipe breaks the rule a little. If you're a tortilla Espanola purist look away but, if you just want amazing inspired food then you need this! The add-ins I chose can be changed to your taste. If you don't want or can find jamón serrano use regular ham. Use whichever cheese you prefer and feel free to add some veggies. It's really a very versatile dish what's important is the potato, onions, and eggs. As long as you got those three things the rest is up to you!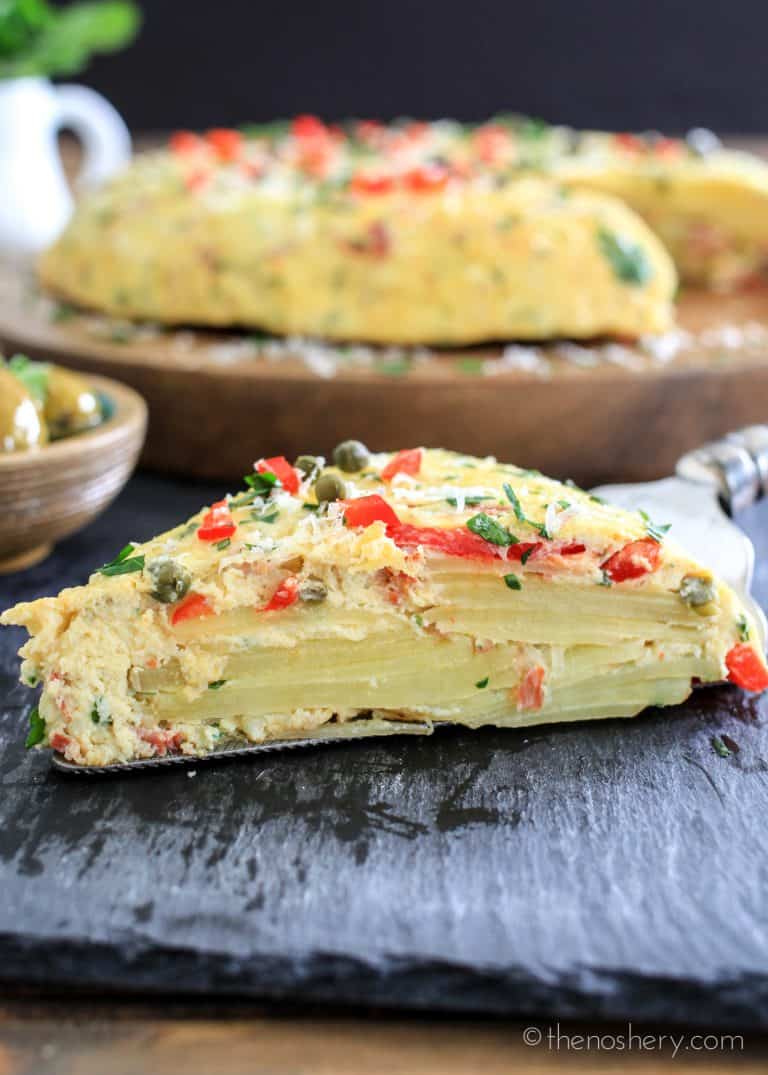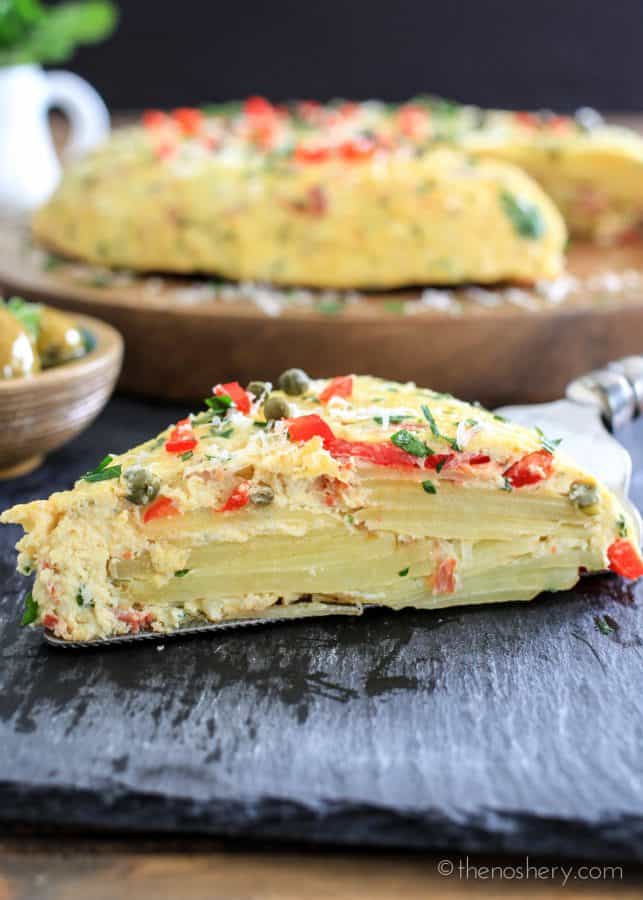 When I know I am going to have a busy week and love to make one ahead. These are great to make ahead and heat up for a quick dinner or lunch. I like to serve it with a simple side salad.
more egg love
Yield: 8
Tortilla Espanola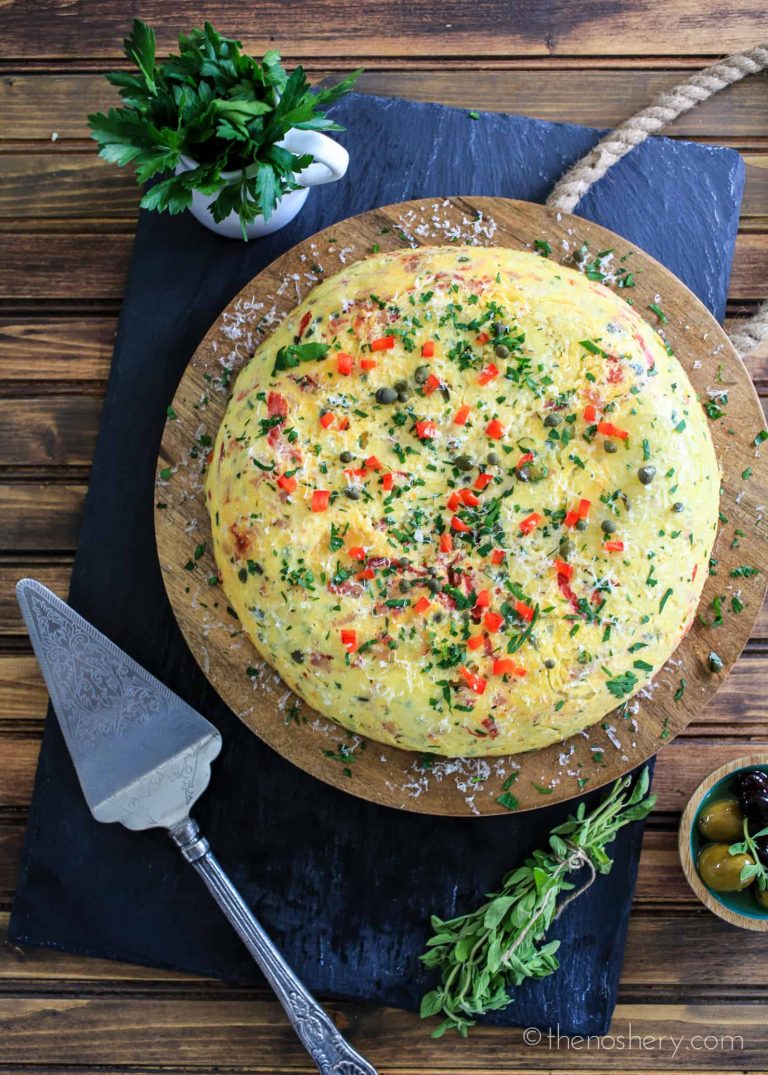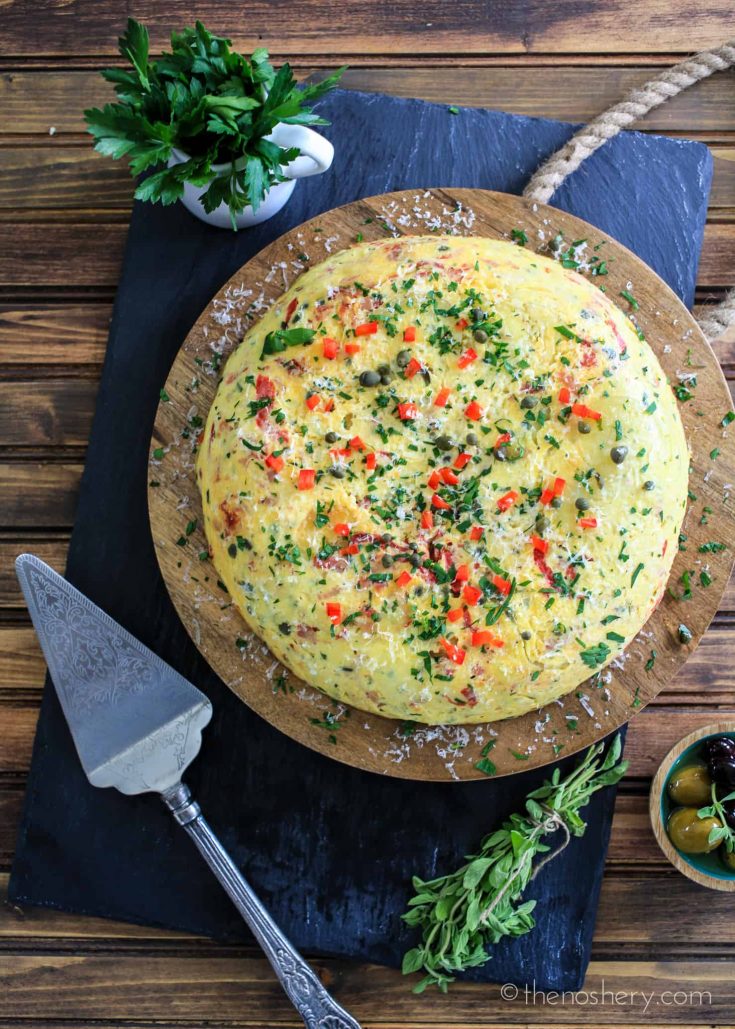 Tortilla Espanñola is a very versatile dish of potato, onions, and eggs. A great make ahead meal to enjoy for lunch or dinner throughout the week.
Ingredients
6 oz Jamon Serrano or Spanish chorizo, diced
4 Yukon gold potatoes, thinly sliced
1 large Spanish onion, halved and thinly sliced
8 large eggs
1 4 oz jar diced pimentos, drained
1/4 cup flat parsley leaves, chopped
1 tablespoon minced fresh oregano
2 tablespoons capers
1 cup shredded Manchego cheese
salt and ground pepper
olive oil
Instructions
Heat 1 tbs of olive oil in a 10-inch non-stick oven-safe frying pan. Using the same skillet add potatoes and onions. The pan will be super full. Fry the potatoes and onions for 5 - 8 minutes, turning frequently. Cover and cook over medium-low heat for about 30 minutes, turning occasionally until the potatoes have softened and slightly golden.
In a large bowl add eggs, chopped herbs, shredded cheese, pimentos, capers, and cured meat, season with salt and pepper. Beat everything together until well combined. Once the potatoes are ready add them to the egg mixture and fold all together until the potatoes are coated.
Add 1 tbs of olive oil to the same pan. Pour the potato mixture into the skillet. Cook over low heat, until the egg begins to set.
Take a small spatula and lift the tortilla from the pan to help it from sticking and allow uncooked egg to run underneath. Once the base of the tortilla has set, which should take about 5 minutes, place the tortilla under a broiler.
Broil the top of the tortilla until it has set and is golden. Run a spatula around the edge and invert the tortilla onto a plate.
Cut into wedges and garnish with chopped parsley.
Recommended Products
As an Amazon Associate and member of other affiliate programs, I earn from qualifying purchases.
Nutrition Information:
Yield:
8
Serving Size:
1
Amount Per Serving:
Calories:

315
Total Fat:

18g
Saturated Fat:

9g
Trans Fat:

0g
Unsaturated Fat:

8g
Cholesterol:

219mg
Sodium:

371mg
Carbohydrates:

20g
Fiber:

3g
Sugar:

4g
Protein:

18g