Spanish Hot Chocolate with Coconut Churros | Many moons ago when I had cable, I was watching some show on the Cooking Channel about living in Spain. I was immediately glued to the television. I love anything Spain! My biggest dream is to go back and visit Spain or what I affectionately call "The Mother Land."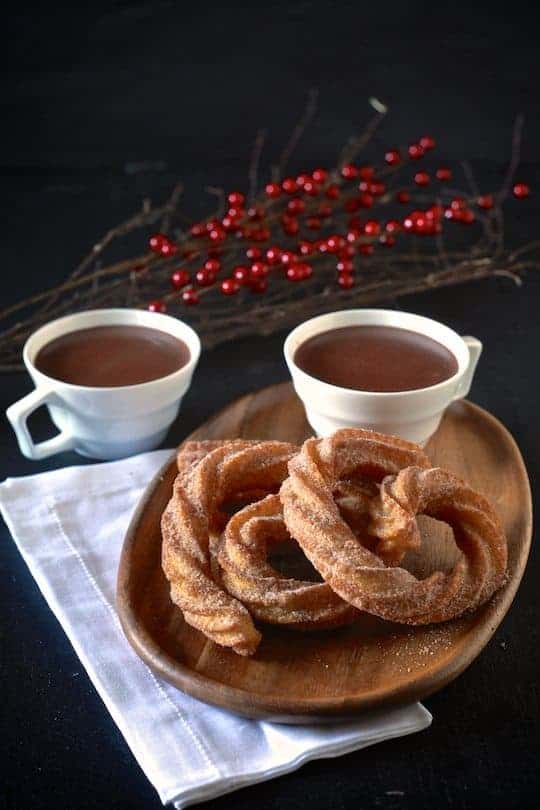 I remember the show! From Spain with Love!
The episode was all about Spain's obsession with chocolate. It all started back in the 16th century when it was discovered in the regions of Mesoamerica and brought back to Spain. With time chocolate became a very popular drink in Spain and served to the Spanish monarchy. It was said that "chocolate is to the Spanish what tea is to the English."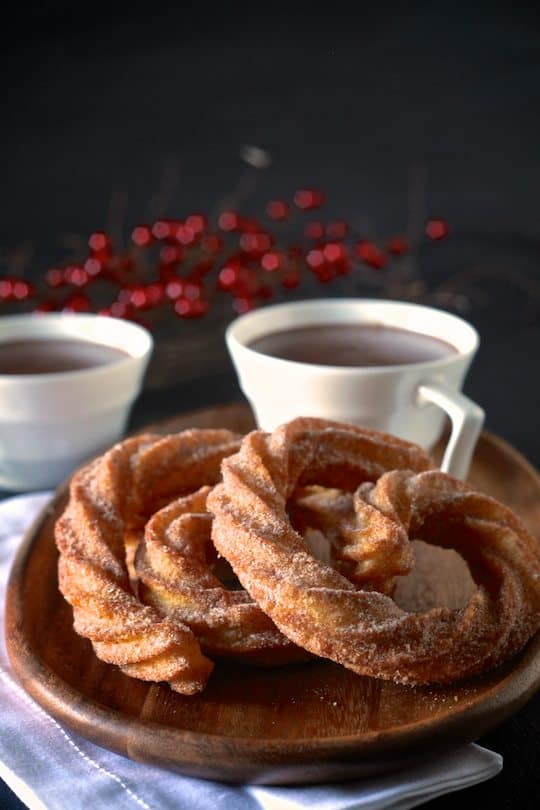 But, it wasn't like the hot chocolate that we drink here in the U.S. It's made with bittersweet chocolate and served as a rich thick and creamy drink. Thick enough that it coats and holds on to your churro when it's dipped, but still thin enough to drink.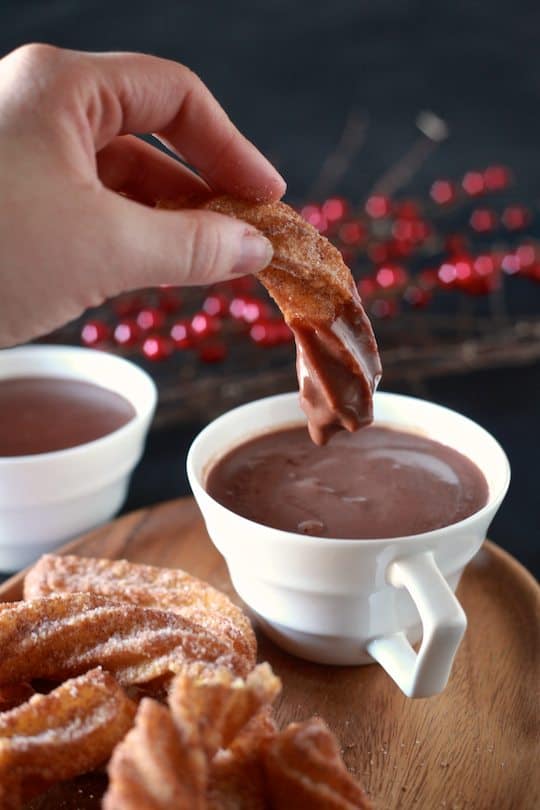 During the episode, they sat down for cups of thick hot chocolate and a side of crispy fried churros. I immediately knew that I had to make this for myself! Seriously what could be better!?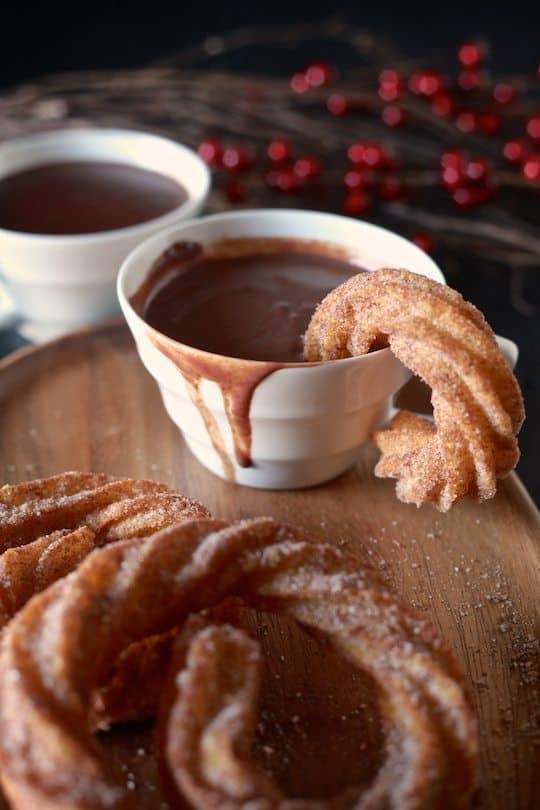 There are all kinds of happiness going on! Hot chocolate, sugar, cinnamon covered crispy churros and for the heck of it, I added a few teaspoons of coconut extract to the churros. Because coconut and chocolate are BFFs.
Someday I will go to Spain and sit at the counter of a chocolateria and have an authentic Spanish hot chocolate with churros. In the meantime, I have these to hold me over.
more chocolate love!
Yield: 4 cups chocolate / 10 - 12 churros
Spanish Hot Chocolate with Coconut Churros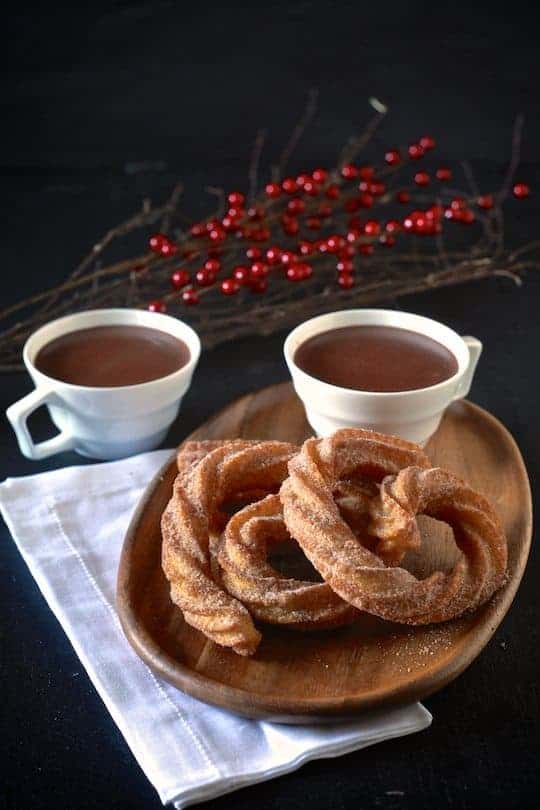 Hot chocolate made with bittersweet chocolate served as a thick and creamy drink. It coats your churros when it's dipped, but still thin enough to drink.
Ingredients
Churros
1/2 cup butter
1 cup water
2 teaspoons coconut extract
1 cup flour
1/4 teaspoon salt
4 whole eggs, beaten
1/4 cup sugar
1/4 teaspoon cinnamon (optional)
Hot Chocolate
6 oz bittersweet chocolate (at least 58% cacao), chopped
1/2 cup sugar
2 cups milk
1/4 cup cornstarch
1/4 teaspoon vanilla
Instructions
Churros
Heat about 2 inches of oil in a heavy, high-sided pot over medium-high heat until the oil reaches 360 degrees. Mix the sugar with the cinnamon on a plate and set aside.
In a medium sauce pot combine 1 cup of water with the butter, extract and salt, bring to a boil over high heat. Using a wooden spoon, stir in flour. Reduce the heat to low and stir vigorously until the mixture forms a ball, about 1 minute. Remove the dough from the heat and, while stirring constantly, gradually beat the eggs into the dough.
Transfer the churro dough into a pastry bag fitted with a large star tip. Squeeze a coil of dough into the hot oil. Cut the dough from the tip using a knife or kitchen shears. Repeat, frying 1 or 2 coils at a time. You can also fry them in strips and do 3 to 4 at a time. Fry the churros, turning them once, until golden brown, about 2 minutes per side. Transfer the cooked churros to a plate lined with paper towels to drain.
When the churros are just cool enough to handle, roll them in the cinnamon-sugar (in Spain churros are simply rolled in sugar.)
Hot Chocolate
In a large heavy saucepan combine chocolate, sugar, milk and 2 cups of water. Heat the chocolate over medium heat, whisking frequently, until the chocolate is melted.
Stir cornstarch into 1 cup of cold water until smooth. Whisk the cornstarch slurry into the chocolate. Cook over medium-high heat, whisking constantly until chocolate mixture begins to bubble. Reduce the heat and cook for 2 minutes, whisking, until thick.
Remove chocolate from heat and stir in vanilla.
Serve in large cups with churros.
Recommended Products
As an Amazon Associate and member of other affiliate programs, I earn from qualifying purchases.
Nutrition Information:
Yield:
8
Serving Size:
1
Amount Per Serving:
Calories:

453
Total Fat:

26g
Saturated Fat:

16g
Trans Fat:

0g
Unsaturated Fat:

9g
Cholesterol:

129mg
Sodium:

233mg
Carbohydrates:

44g
Fiber:

4g
Sugar:

19g
Protein:

10g