There is just two of us in our little house, which results in a lot of leftovers sometimes.  Especially when it comes to rice. We like rice, no we love rice.  Rice is to Puerto Ricans what potatoes are to Americans. Growing up in a Puerto Rican home the standard meal was rice, beans and a side of meat.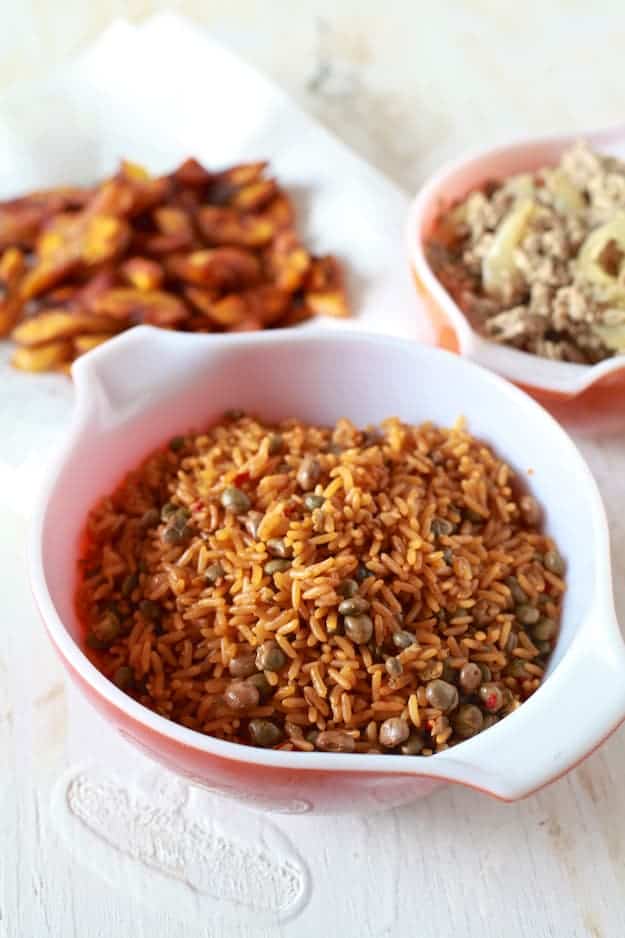 Any given day of the week you will find an array of leftovers in our refrigerator.  If I am not careful, the leftovers will take over and come alive. With only two of us in the house, it just happens.  Seriously, one time I found a container in the back of the refrigerator that I am sure would have started talking to me if opened.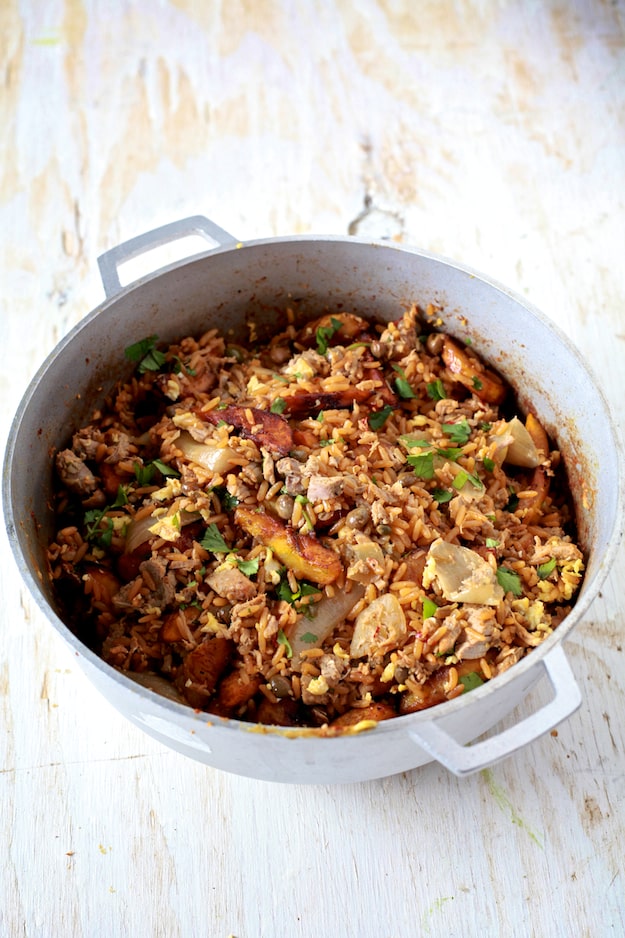 As scary as leftovers can become they can also make some amazing dishes.  A few weeks back while I was standing in front of the refrigerator trying to figure out what to make for dinner. My eye landed on some left over rice and pork tenderloin. I didn't have quite enough for both of us, but I knew if I combined it and bulked it up with some other things it could make a killer dinner.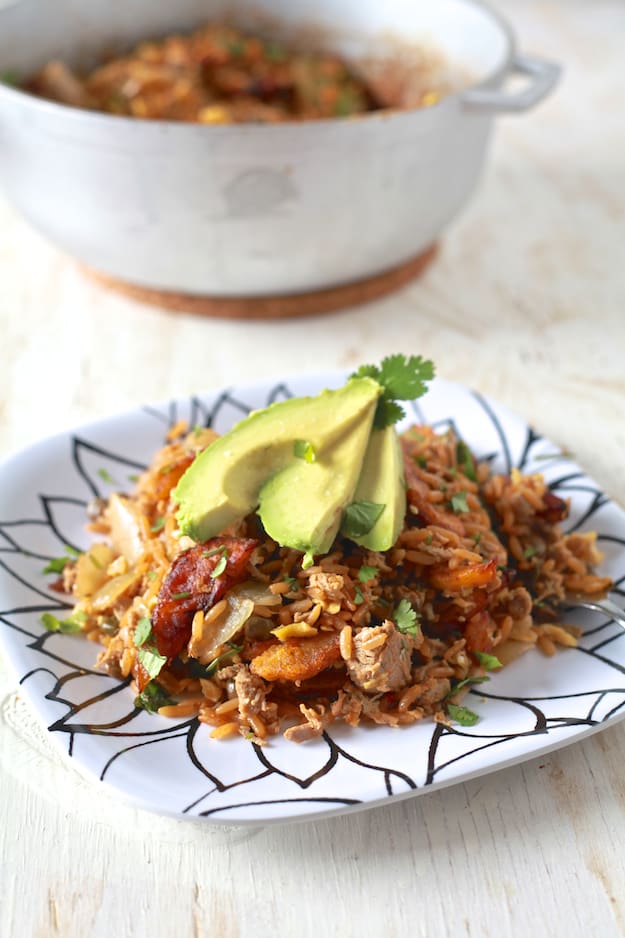 I fried up some ripe plantains that were sitting on the counter, scrambled a few eggs, tossed in the rice and pork, and TA-DA dinner was made. And, HOLLY MOLLY was it good!  These are all elements that I've had for a complete dinner, but to toss them together and fry them up a little made it a whole new dish.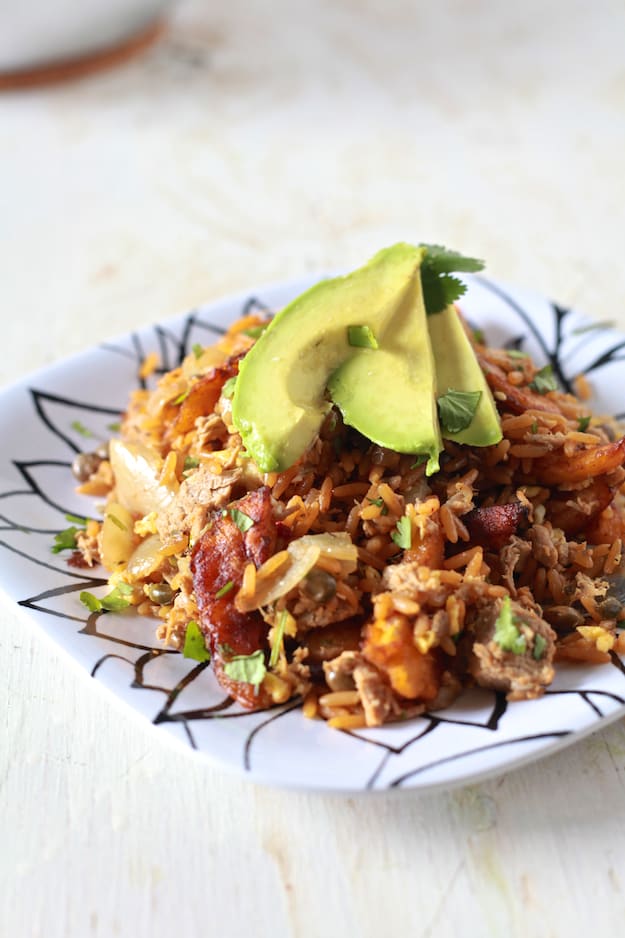 With tender rice, savory pork and chunks of sweet, crispy plantains, every bite is the perfect bite! This business is so good I had to force myself not to hide in the closet with the whole pot. I showed some self-restraint and only had a bowl, instead of the whole pot. Although, I did go back for seconds…and maybe thirds.  It was just SOOOOO good!


Yield: 4 - 6 serving
Puerto Rican "Fried Rice."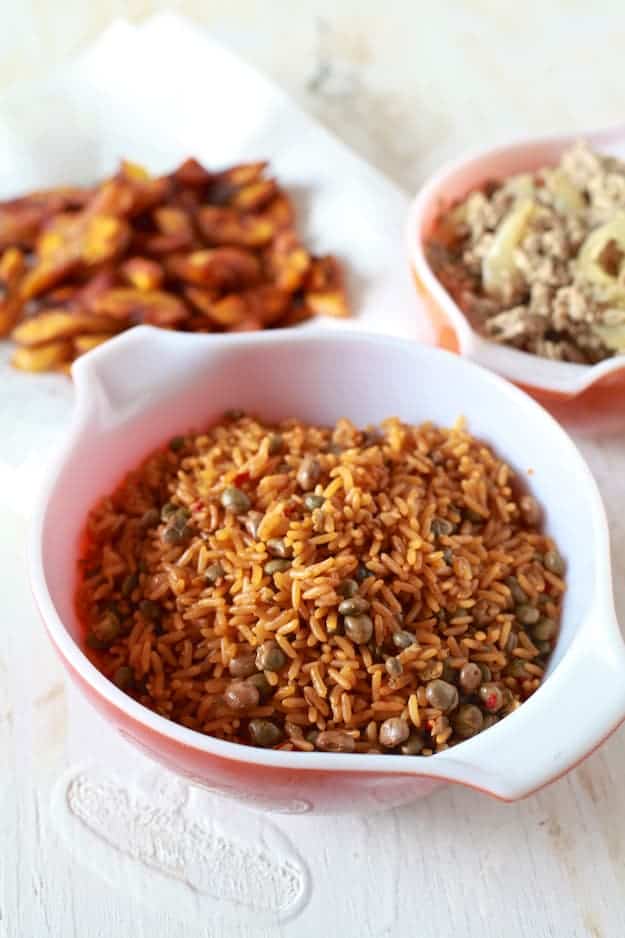 Ingredients
Pork
[br]
2 teaspoons kosher salt
1/2 teaspoon pepper
2 tablespoons oregano
4 cloves garlic, minced
2 tablespoons olive oil
1 pork tenderloin
1 onion, chopped
1/4 cup water
2 tablespoons white vinegar
[br]
Rice
1/4 cup recaito
1 small onion, small diced
1/4 cup diced roasted red peppers or pimentos
1 tablespoon capers
1 envelope sazon con achiote
1 tablespoon tomato paste
2 cups parboiled rice
1 15 oz can pigeon peas, drained
2 1/4 cups water
2 bay leaves
2 ripe plantains
vegetable oil
3 eggs
cilantro
avocado
Instructions
Pork


Combine, salt, pepper, oregano, garlic and olive oil in a small bowl. Rub pork tenderloin with seasoning. Add chopped onion to a slow-cooker. Lay tenderloin over onion, add water and vinegar. Set on HIGH for 3 hours. Once pork is done, dice pork into 1/2 inch cubes.


Rice


While pork is in slow cooker, make rice. Heat a caldero or heavy bottom pot over medium-high heat. Drizzle with olive oil, once olive oil is hot add recaito, onion, red peppers and capers. Cook until onion is translucent, add sazon, season with salt and add tomato paste, mix until well combined. Add rice and toast rice about 5 minutes. Add water, pigeon peas and bay leaves, stir gently. Bring to a boil, set to low heat and cover for 20 - 30 minutes or until water has evaporated and rice is tender. Fluff with fork and set aside.


Plantains


Peel and slice plantains at a bias, cut sliced in half. Heat a large skillet over medium-high heat, add just enough oil to fill the bottom of the skillet. Allow the oil some time to get hot, but be careful not to get it too hot. Add plantains to the oil, fry both sides until golden brown. Transfer to plate lined with paper towel, set aside.


Assemble


Scramble eggs in a large skillet, set aside. Heat 2 tablespoons of olive oil in skillet, get the skillet nice and hot. Add pork, fried plantains, 1/2 of the prepared rice and scrambles eggs. Toss until heated and rice is crackling. Served garnished with cilantro and topped with avocado.
Notes
Recipe for homemade recaito and sazon.

*This recipe does make twice the amount of rice that you need for he fried rice, but it's best prepared at this ratio. Remaining prepared rice can be kept refrigerated for up to a week for and easy weeknight dinner side.

The skin of ripe plantains should be yellow and black, The more black on the skin the riper the plantain.



18