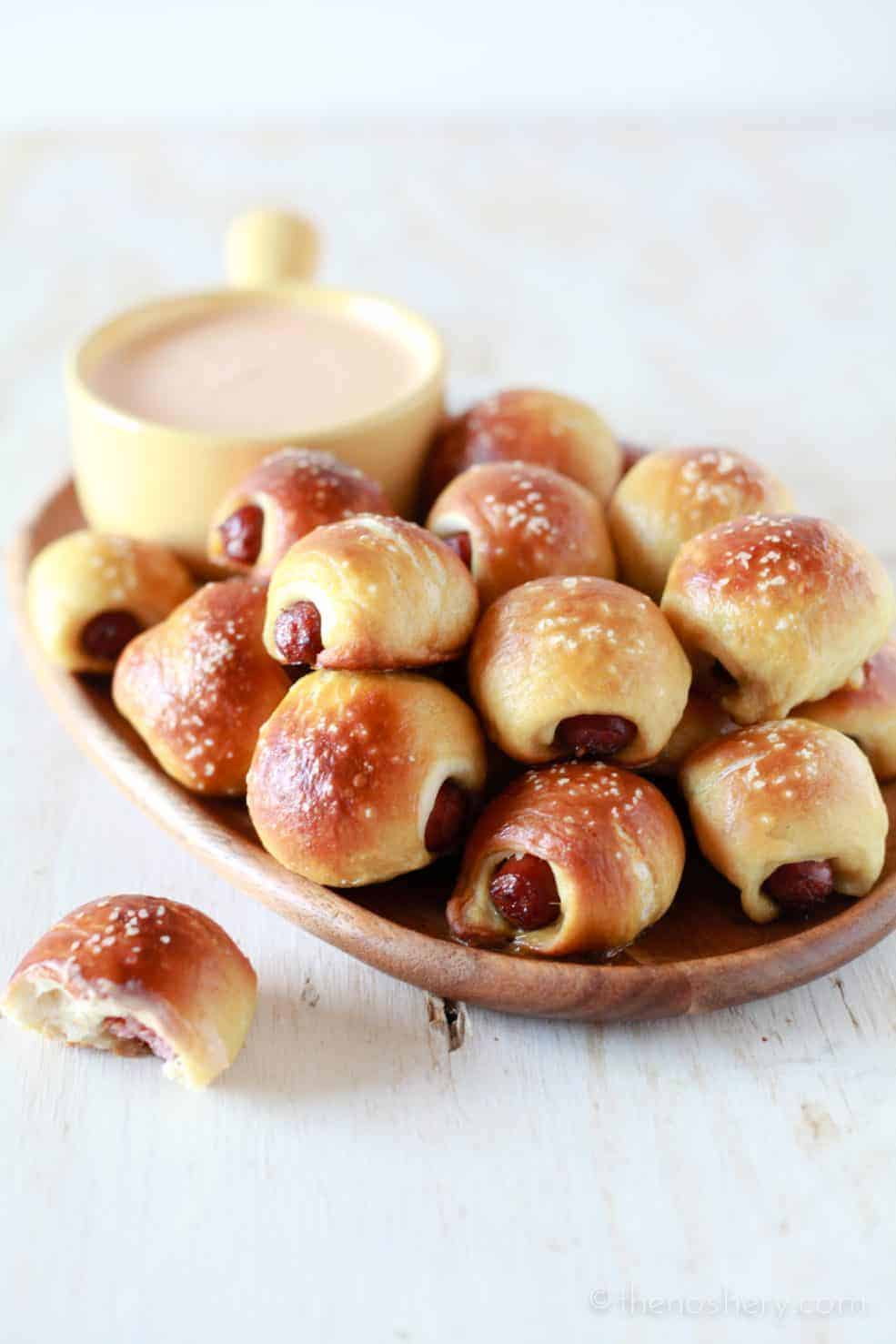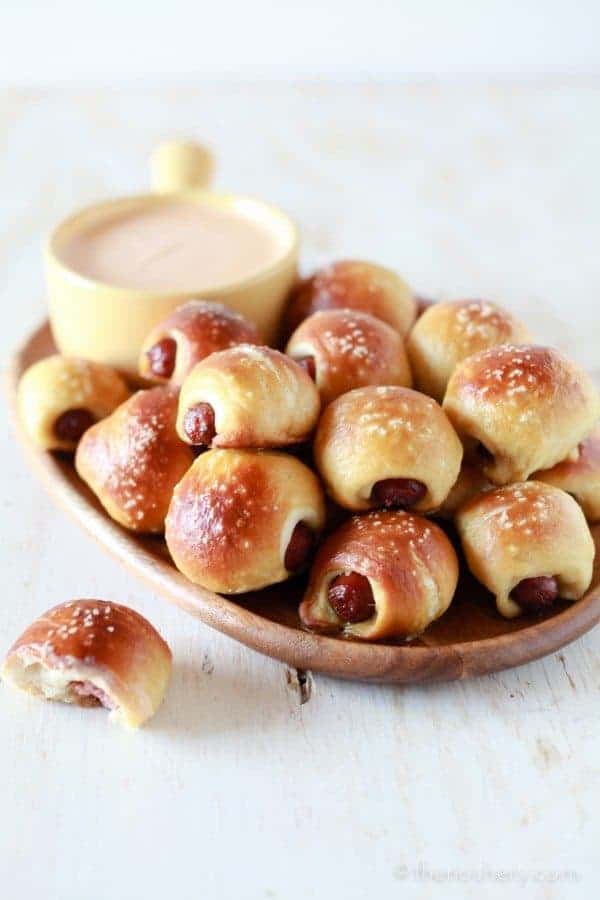 GREEN 42, GREEN 42, WEASEL, WEASEL, LITTLE BUNNY FUFU…OMAHA!
Whatever the heck that means. Does anyone understand what these quarterbacks are talking about before the snap? Mind you this is a rhetorical question, because honestly I don't care. When I watch football, it is usually by accident. Either because OB is watching and I happen to be in the room, or there is a football watching gathering. In those cases, I am there for the food and to watch the commercials.
Don't misunderstand, I don't hate football, but I am more likely to watch if it's an exciting game; otherwise I am more apt to spend my time checking my Instagram feed.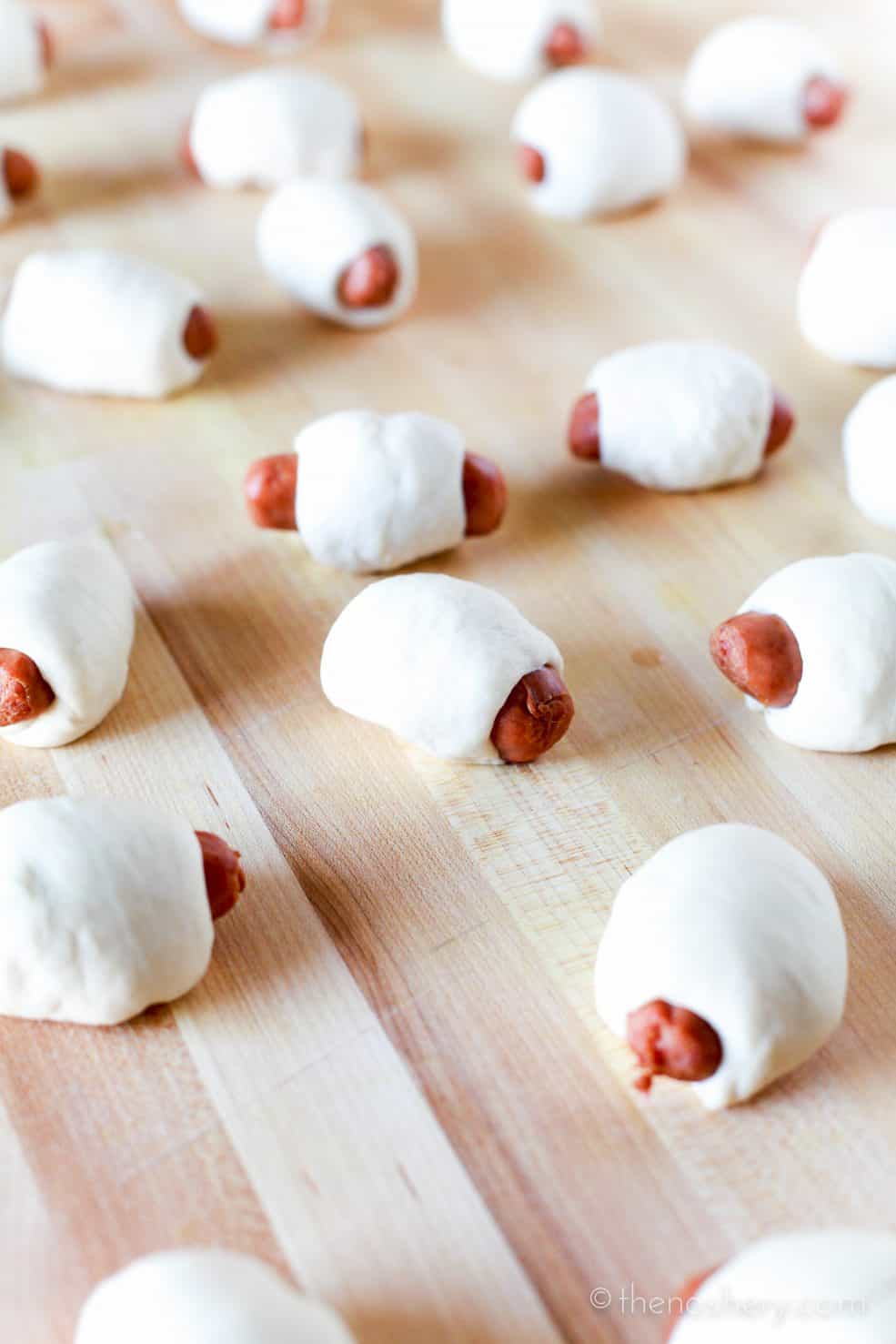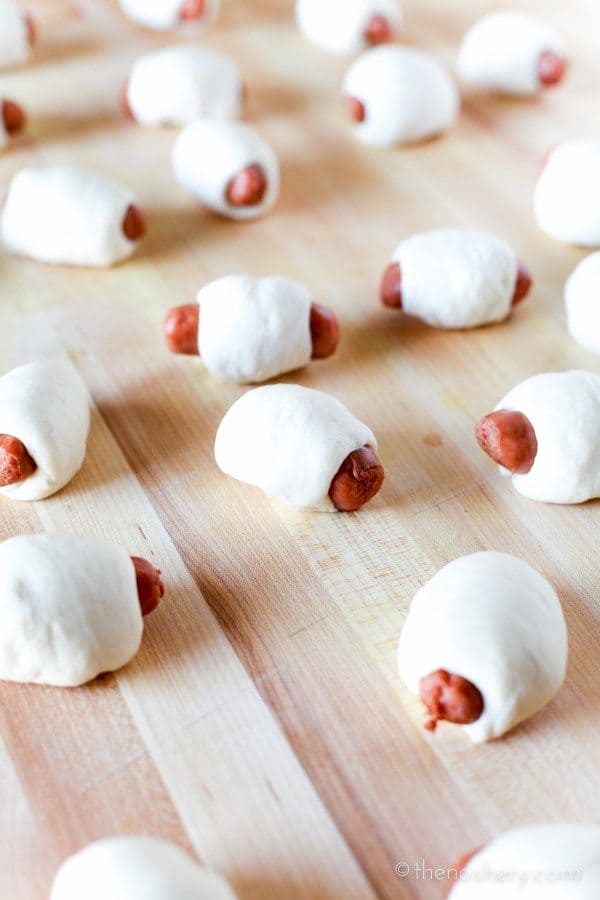 The playoffs are in full swing, and the final four have been determined. Soon enough we will know who is playing in the Super Bowl. It's kind of like the Hunger Games, except no one dies, it's teams of grown men, and there is a ball. Yup! Exactly like the Hunger Games.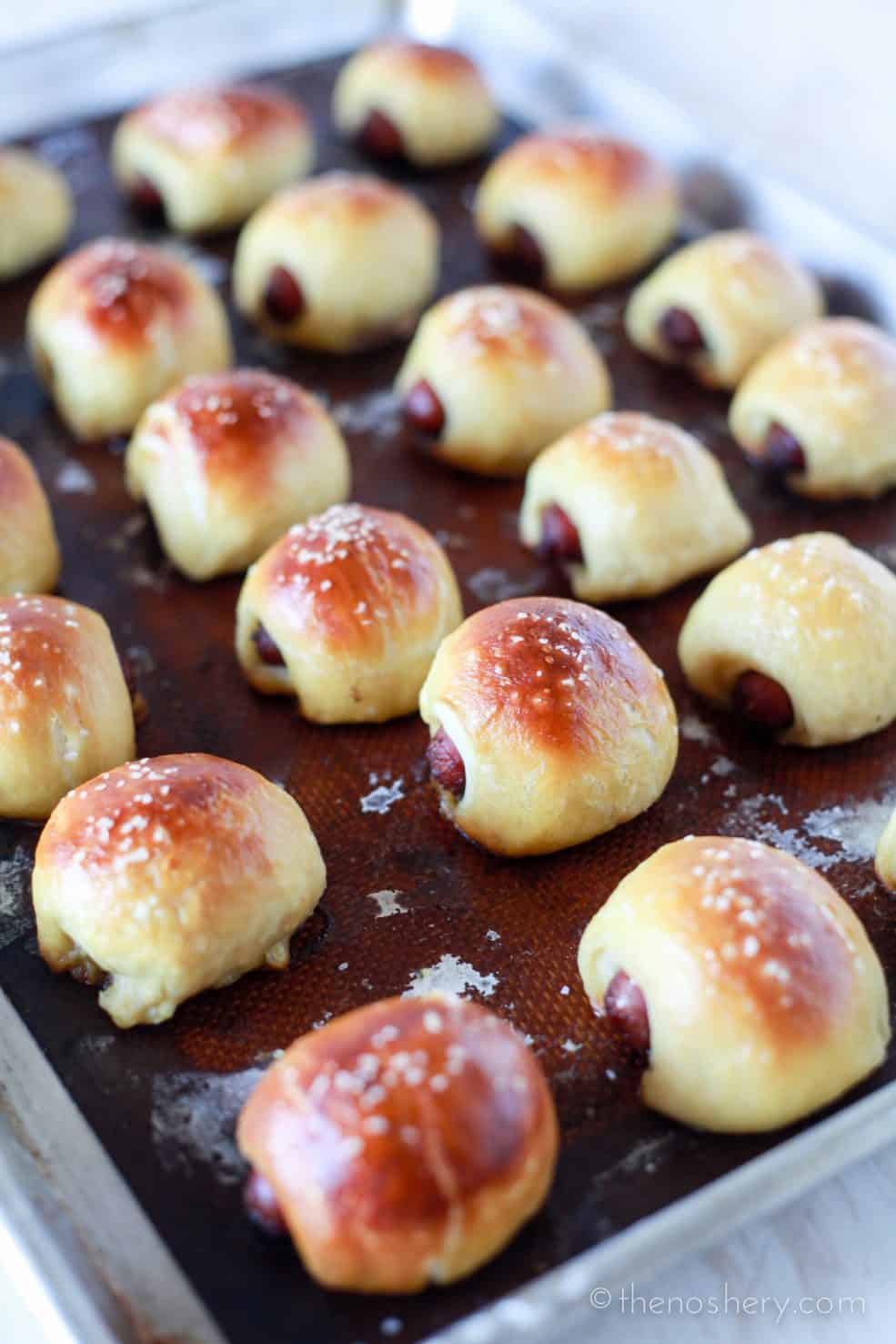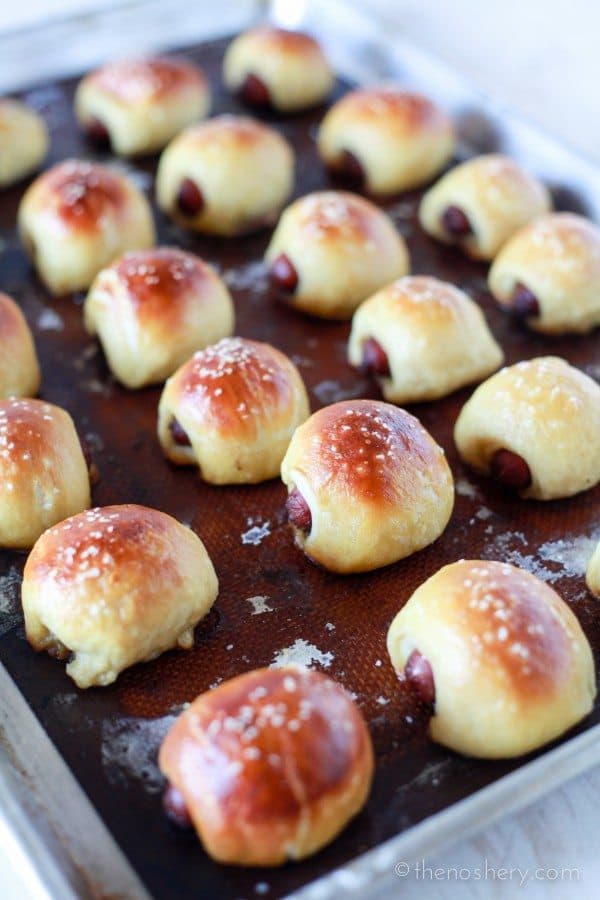 Yesterday we went over to a friend's house to watch some football and eat some football grub. I thought it would be the perfect time to test drive an idea I had for pretzel dog bites and to make them extra special I decided to make a cheesy beer dip with the dog bites.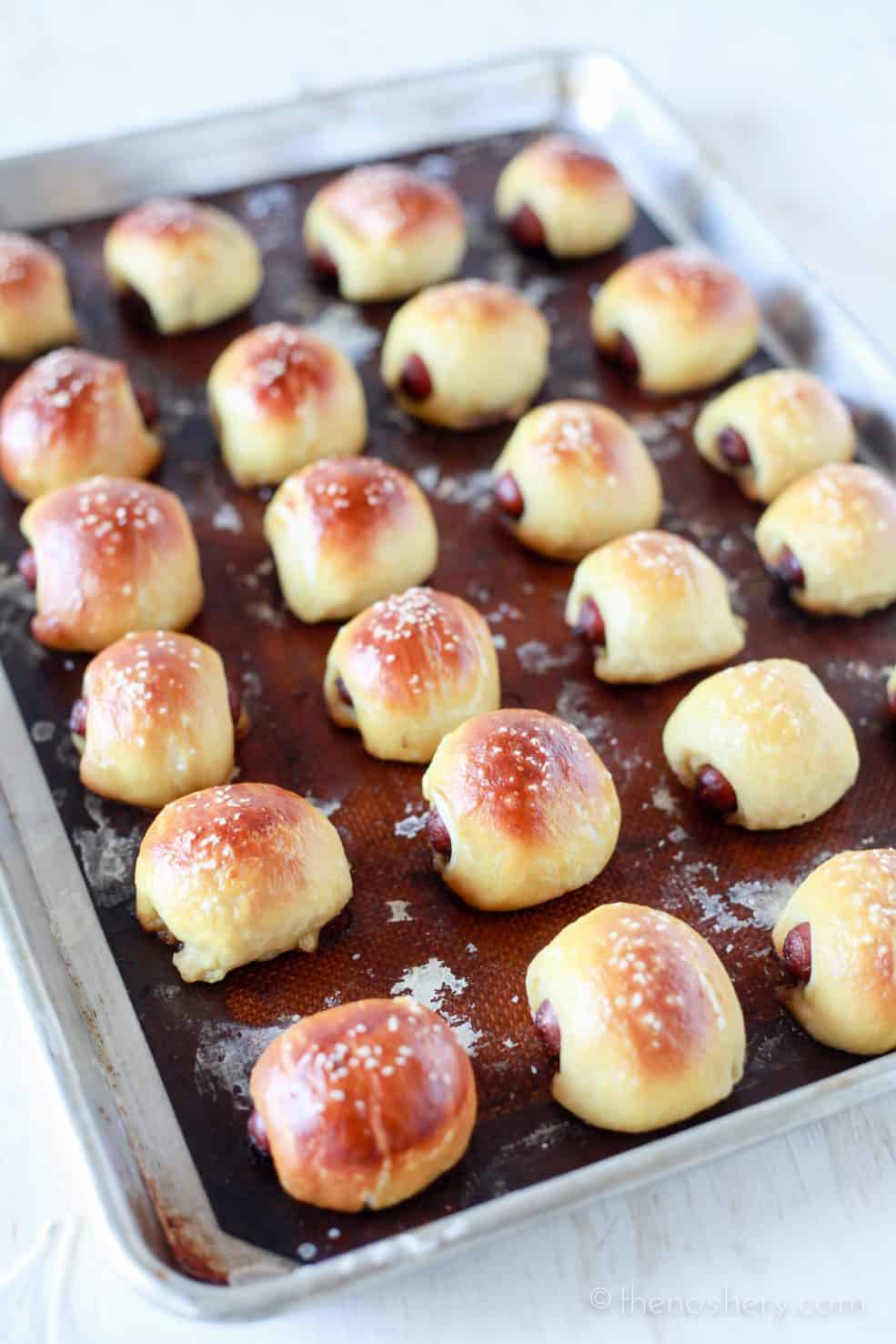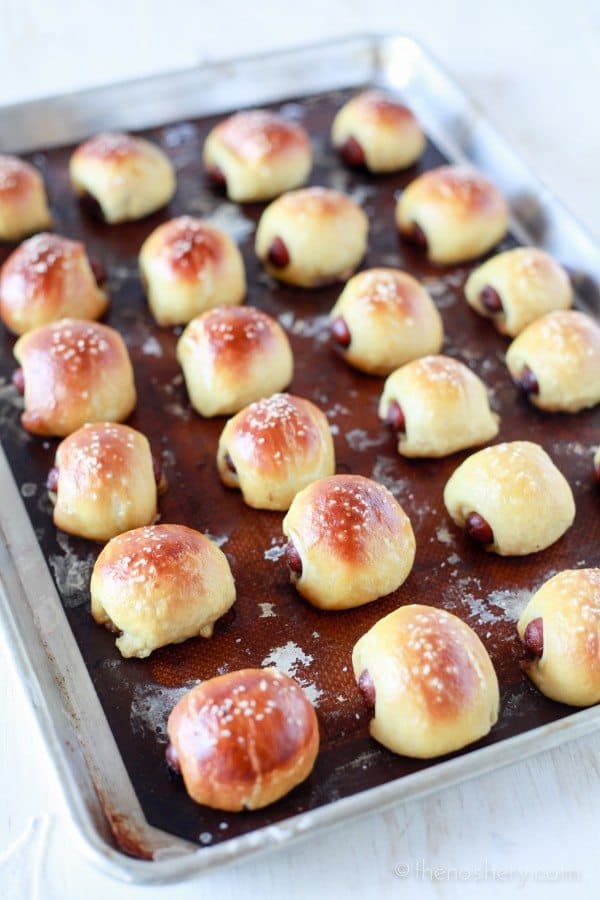 The moment I had the idea for the pretzel dog bites, I knew I had to make a beer cheese dip. Honestly is there a better combination than sausages, soft pretzels, cheese and beer? I mean if that isn't the definition of football grub, I don't know what is!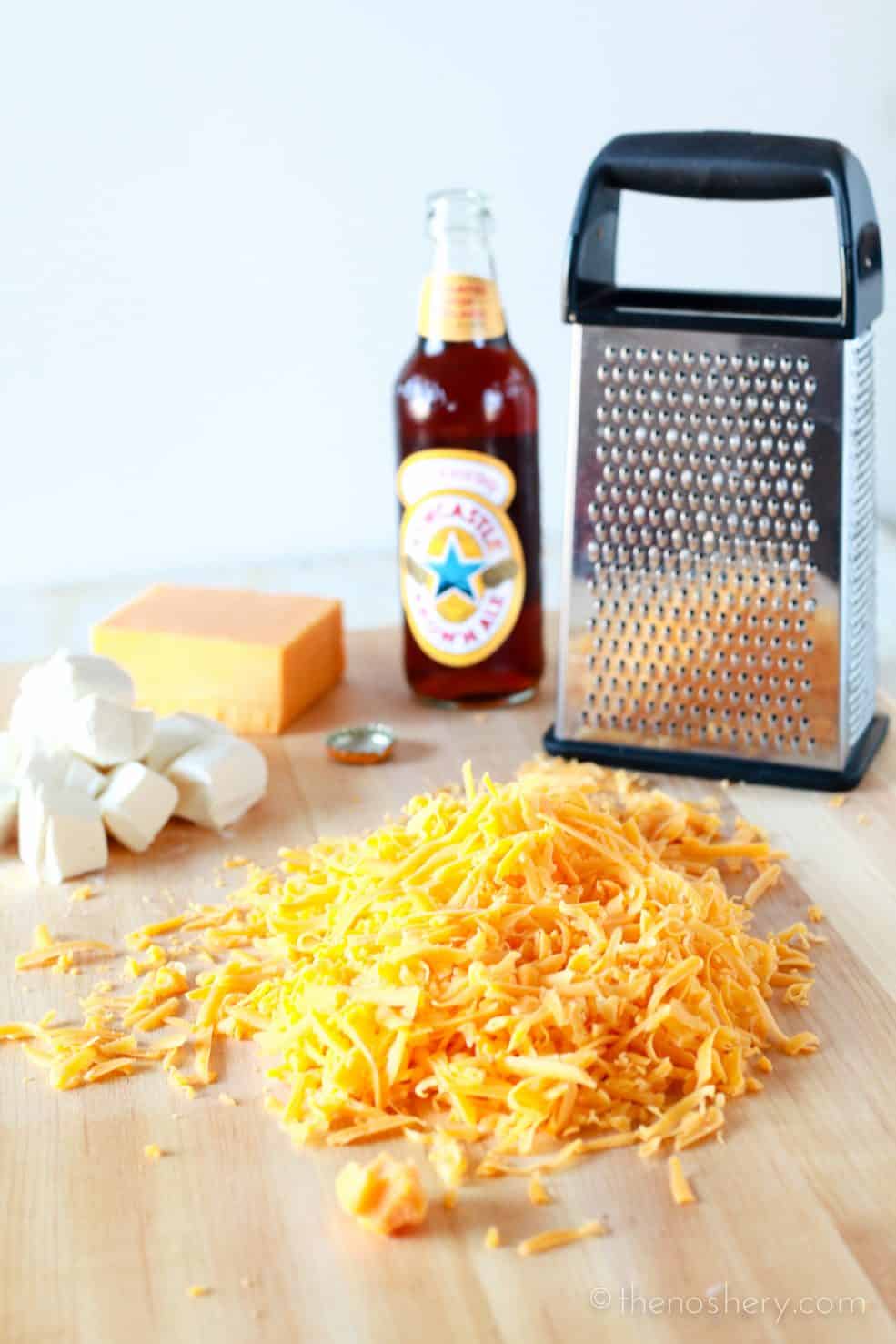 Of course, as soon as the bites came out of the oven I had to do some necessary quality control. Holy molly! These are so crazy "gut"! (That is German for good, btw.) Swoon-worthy soft pretzel bread, with the salty sourness that make pretzels so lovable, wrapped around a meaty little sausage. Be warned these little bites are incredibly addictive. I love this soft, salty pretzel dough.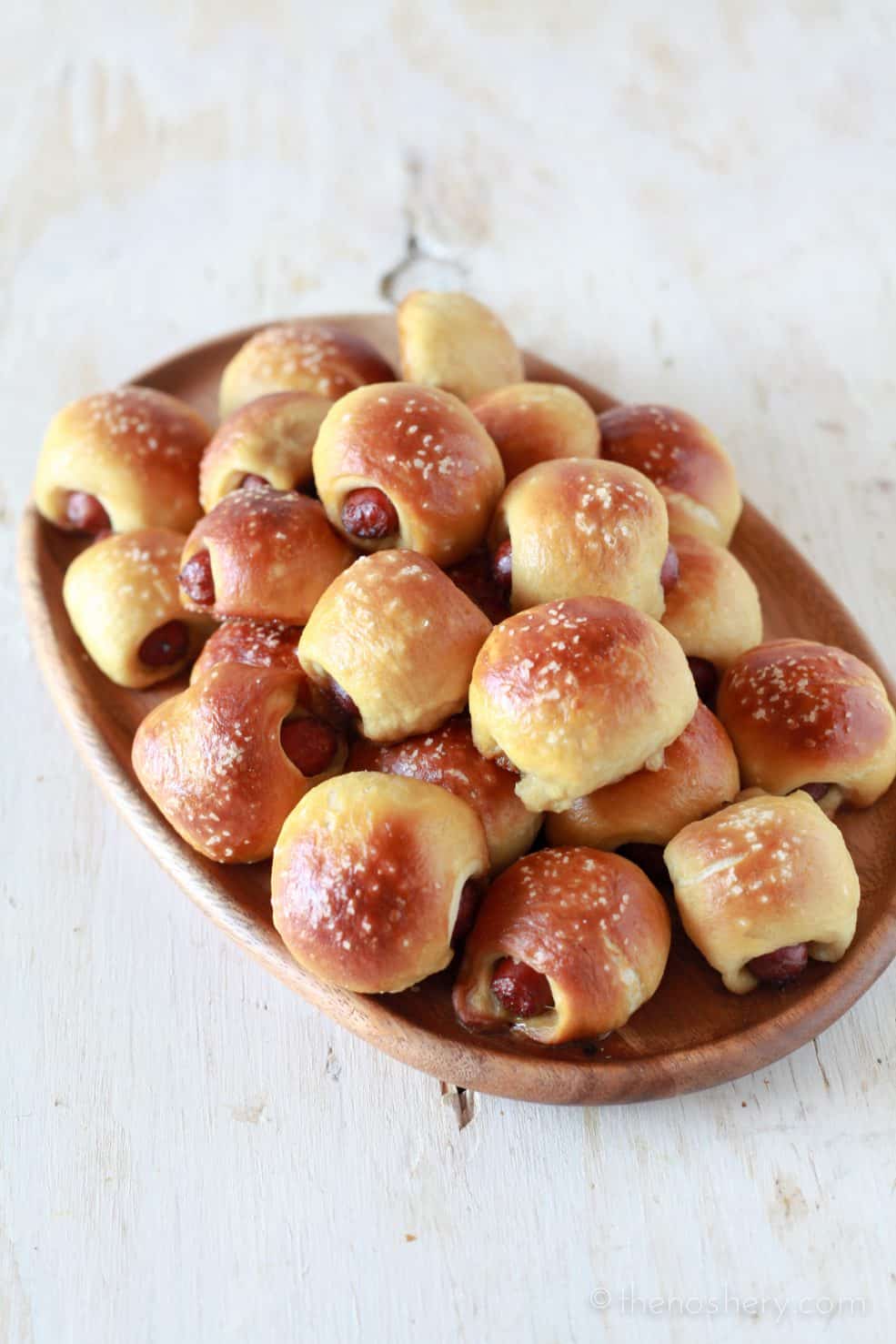 Of course, I can't forget the cheese sauce! Hello! Cheese, meet, beer and you shall be best friends!
I will be honest this beer cheese dip is kind of like mustard. It's amazing (seriously) with pretzel dog bites, hot dogs, corn dogs and burgers, but you may not necessarily want a full spoonful straight up. At least, I wouldn't want a spoonful of mustard; you might be different (weird) but, to each its own.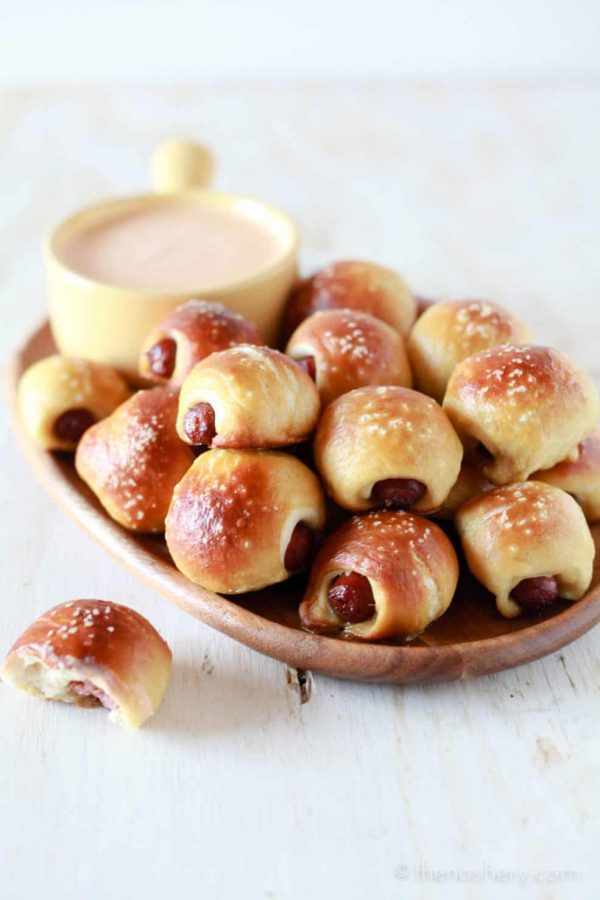 If you're planning on hosting or attending a Super Bowl shin-dig, you should totally make these pretzel dog bites. They are easy to make and to make it even easier the work can be split over two days. I made the dough the day before and refrigerated it overnight. The day of I took the dough out of the refrigerator and left it on the counter to come to room temperature. It's important that it come to room temperature, so it's soft and stretchy enough to roll and wrap. The most important step to delicious soft pretzel bread is boiling in baking soda water. The baking soda water is what gives the pretzels that beautiful brown shiny crust. The cheese sauce can also be made the day before and slowly reheated before serving.
So, which teams are you hoping to see go head-to-head at the Super Bowl or are you in it more for the commercials?
Yield: 4 1/2 - 5 dozen
Pretzel Dog Bites with Beer Cheese Dip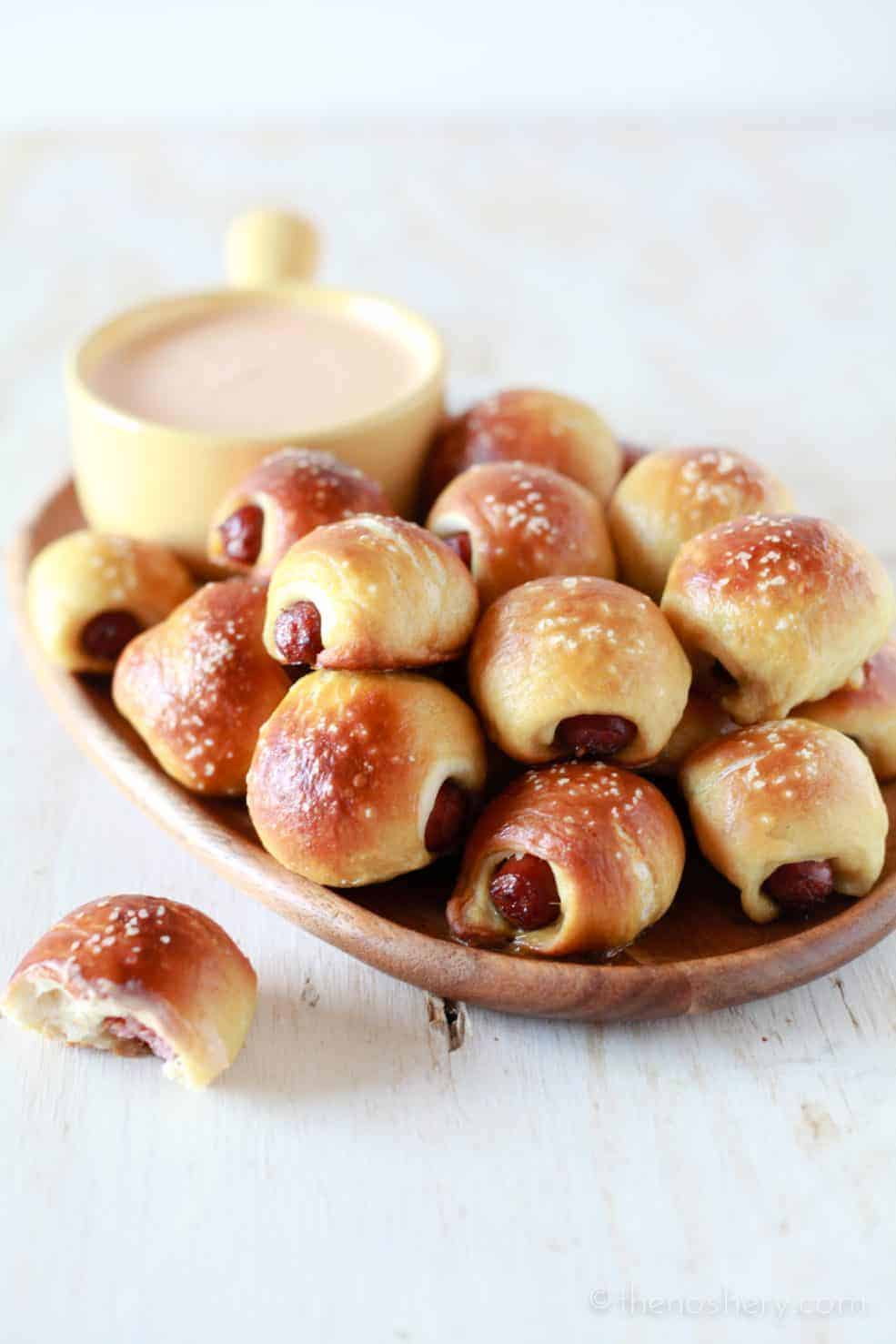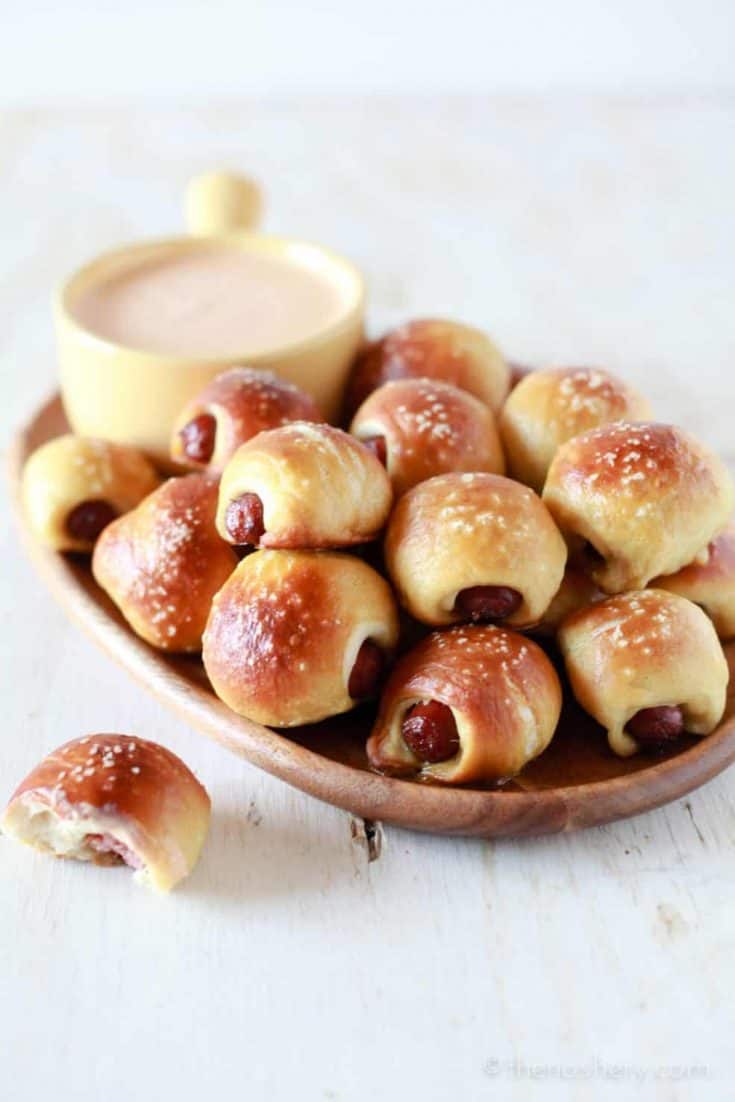 Ingredients
Pretzel Dogs
1 1/2 cups warm water
2 tablespoons light brown sugar
1 package active dry yeast (2 1/4 teaspoons)
3 ounces unsalted butter, melted
2 1/2 teaspoons kosher salt
4 1/2 to 5 cups all-purpose flour
Vegetable oil
3 quarts water
3/4 cup baking soda
1 whole egg, beaten with 1 tablespoon cold water (egg wash)
Coarse sea salt or Kosher salt
2 14 oz packages cocktail sausages, drained and patted dry
Cheese Dip
1 bottle beer
3 cups grated orange sharp Cheddar cheese
2 tablespoon flour
8 oz cream cheese, diced and softened
1 clove garlic, minced
Salt and pepper
Instructions
Pretzel Dogs
In the bowl of a stand mixer combine the water, sugar, yeast and butter, mix with the dough hook until combined. Let sit for 5 minutes.
Add the salt and flour and mix on low speed until combined. Increase the speed to medium and continue kneading until the dough is smooth and dough pulls away from the side of the bowl, about 3 to 4 minutes. (If the dough appears too wet, add additional flour, 1 tablespoon at a time.) Turn dough out of the bowl, place on a flat surface and knead into a ball.
Oil the same bowl with vegetable oil, return the dough to the oiled bowl and turn to coat with the oil. Cover with a clean towel or plastic wrap and place in a warm spot until the dough doubles in size, about 1 hour.
Preheat the oven to 425 degrees F.
Bring the water to a boil in a small roasting pan over high heat and add the baking soda.
Line a sheet pan with parchment paper. Remove the dough from the bowl and place on a lightly floured work surface. Divide the dough into 8 equal pieces, about 4 1/4 to 4 1/2 ounces each. Roll each piece into a long rope until just about 1/2 inch in diameter. Take a cocktail sausage and begin to roll the dough around it, using a knife of a bench knife, cut the dough right where the dough meets, tightly pinch the dough at the seam to secure.
Boil the bites in the water solution in batches, about 10 - 15 at a time. Boil for about 30 seconds. (If some of the seams pop a little, just pinch them back together.) Remove with a large slotted spoon. Place pretzel bites, seam side down, on a prepared baking sheet. Make sure they are not touching. Brush the bites with the egg wash and season liberally with the salt. Place into the oven and bake for 15 to 18 minutes until golden brown, turn pan 1/2 way for even browning.
Remove to a baking rack and let rest 5 minutes before eating. Serve with cheese sauce.
Cheese Dip
In a saucepan over medium heat, bring the beer to a simmer. In a bowl, toss the cheese with the flour. Add the cheese mixture to the beer with the remaining ingredients. Stir until all the cheese has melted and the texture is smooth, about 5 minutes. Strain through a fine mesh strainer. Keep warm until ready to serve.
Notes
Pretzel dough can be made the day before, covered and refrigerated. The day of place dough on the counter to bring to room temperature, about 1 hour. Allowing it the dough to come to room temperature makes it soft and stretchy.

Cheese dip can be made ahead of time. Cover with plastic wrap touching the surface of the cheese dip to prevent skin, refrigerate. Reheat in a sauce pot and serve.