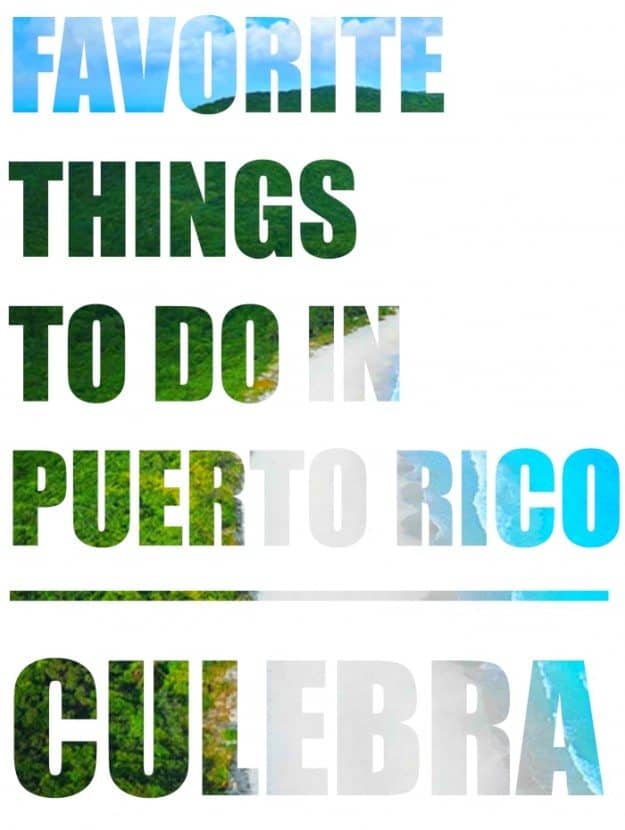 Many people don't know that off the coast of Puerto Rico are two tiny keys, Culebra, and Vieques. Vieques is the larger of the two, more populated and visited. Both islands were occupied by the military and used as gunnery and bomb practicing sites. After years of protest from the island inhabitants the military left Culebra in 1975 and eventually left Vieques in 2003.
Both islands have their benefits but, out of the two my favorite is Culebra. If you are looking to experience a laid-back island getaway, it doesn't get more laid back than Culebra. Culebra is great for a day visit or a weekend getaway. However, keep in mind that this little island is all about the beach and relaxation. There is not a lot going on after hours. In fact one of the shops in Dewey, Culebra's main port, reads "Open some days, closed others". Culebra is where you go to escape the hustle and bustle of life, where time stands still and seems to have been standing still for decades. Culebra has no big hotels, no golf courses, no fast-food chains and no rush-hour. I am not even sure if there is a traffic light. What Culebra does have is gorgeous nature, beaches, bays and snorkeling sites.

What to do
Playa Flamenco
Honestly, I am not much of a beach person, but if there is one beach that I love and always make an effort to visit Playa Flamenco on Culebra. This beach is a mile long pristine beach with white sand and water so clear you can still see your feet when the water is chest high. My favorite time to go is during the low-season winter months. The water is extra clear, and the beach is practically abandoned. You almost feel like your on a deserted island paradise.
Culebra's main attraction is Playa Flamenco. I promise you will be one of the most amazing beaches you will ever experience. I dare say THE most amazing beach. The mile long beach is nestled in a horse-shoe shaped bay. On the east side of the beach there are high rolling hill, while the west side is low and lined with scrub and trees. Also, on the west end is the iconic rusting tank left behind by the military. It now sits on the shore rusting and painted with swirling green and yellow stripes.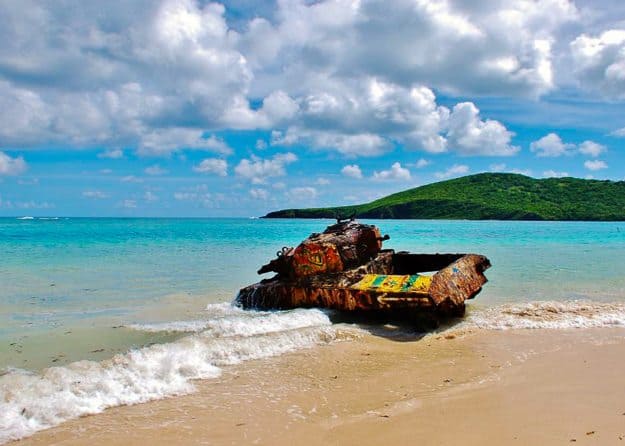 At the entrance of the beach, there are kiosks selling snack food, lunches, rum drinks, and beer. There are also outdoor showers, picnic tables and camping is allowed at the campground the west side of the beach.
Snorkeling
If you go walking along the beach, take your snorkeling gear with you. There are two snorkeling sights that are accessible from the beach. On the left-hand side of the beach straight out from the tank you can swim out to the coral reef.
If you are a more advanced snorkeler, check out the reef to the far right of the beach where the sand ends, and the rock/reef system begins. It is full of hard coral and marine life. This reef system comes all the way up on the beach; you need to enter and exit the water between the two rows of concrete/rocks. Once you are in the water, snorkel around the concrete pilings and to the right. Again, I recommend this reef for advanced snorkelers and swimmers since the water goes deeper, and the current is stronger. I also recommend a snorkeling buddy. Also, remember to return to the shore before you get tired as you will be swimming against the current.
If you are interested in a guided snorkeling and diving tour contact Aquatic Adventures. They are located above Dinghy Dock and lead four-hour dive and snorkeling tours that leave around 10 am. Lunch is included during the tour.
Although I have not visited the other small beaches on the island, you may want to explore them. Learn about more beaches and snorkeling locations at PR Day Trips.

Where to Eat
Most dining locations in Culebra do not open till 5 pm and close at 9 – 10 pm.
Barbara Rosa $, Hwy 250, Mon – Fri 5 pm – 9 pm
A tiny cafe run from the verandah of Barbara's house. Review the menu of burgers and seafood and when you decide what you want holler for Barbara through the kitchen hatch. BYOB/Cash Only
El Eden $$, 836 Sardinas, Wed – Sat 5 pm – 9 pm
A liquor store and restaurant in one. Set with patio tables and mismatched tablecloths. The menu is made up of dishes featuring seafood, pasta and decadent desserts.
Dinghy Dock $$, Calle Fulladoza, Daily 11 am – 11 pm
Seafood is the specialty here featuring freshly-caught swordfish and snapper. It's also a busy bar where the locals and expats hang, chat and nurse their beers.
Guava $$$, Calle Fulladoza, Thu – Sun 6 pm – 10 pm
If you want to have a fancy romantic evening, this is the place to visit. Located in Club Seabourne you dine in a screened-in porch enjoying specialty wines from their cellar and a seasonal menu.
Where to Stay
There are a few villas and guesthouses in Dewey, and there are many vacation rental properties available on the island. Culebra Vacation Planners is a local agent with access to a variety of vacation rental properties. You can also find some homes listed on Air BnB.
How to Get to Culebra
Cheap but Challenging
This is the most inexpensive way to get to Culebra but, it's not the easiest way. It's going to sound crazy difficult, but, I PROMISE you it's worth it!
A ferry travels daily to and from Culebra out of Terminal de Lanchas, Fajardo. However, the ferry is run by Puerto Rico's transportation authority and it's schedule can be unreliable due to weather or mechanical issue and sometimes difficult to get a ticket depending on the day and time of travel. If you suffer from any motion sickness, take something before boarding the ferry. It is a very choppy 1 – 1.5 hour ride.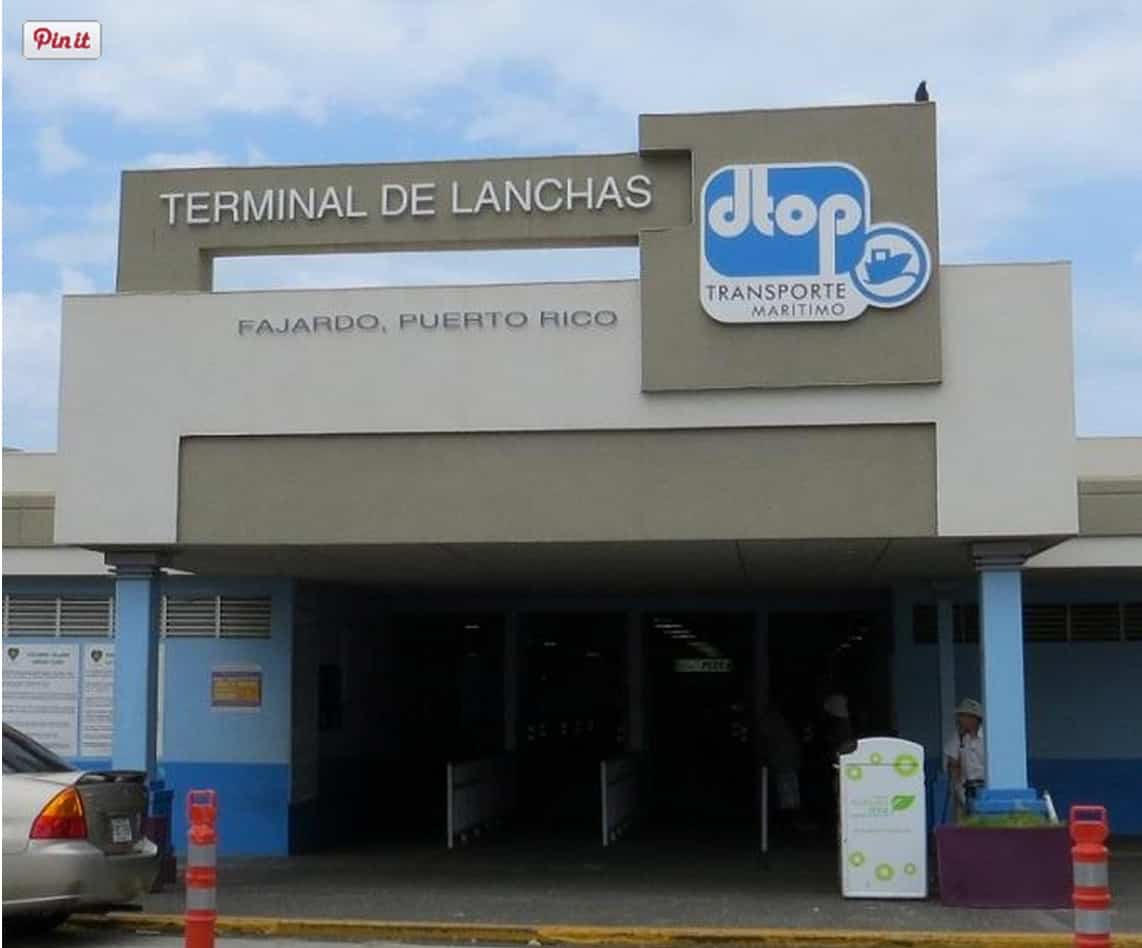 A one-way ticket to Culebra costs $2.25 per person; round-trip tickets are available. Kids 3-11 years old and seniors 60-74 years old cost $1.00 per person, seniors 75 years and older are free. Parking in the public lot costs $5.00 per day plus tax.
Fajardo to Culebra (7 days/week & holidays)
9:00am • 3:00pm • 7:00pm.
Culebra to Fajardo – Mon- Fri 6am, 1pm, 5pm. Sat/Sun: 1pm, 5pm.
Tips for getting a Ferry Ticket
Arriving early to purchase a ticket is a MUST! There is no way around it.
There is a limited number of tickets available for each ferry and the residents of Culebra have priority over travelers.
The 9 am ferry out of Fajardo is the most popular, arrive at least 2 hrs early or more to purchase tickets for this ferry. I always try and arrive 7 am at the terminal to get in line to purchase tickets.
Tickets can be purchased at the ticket office across the street from the terminal 1 – 2 hours before the scheduled departure.
Tickets do sell out, especially 9 am everyday and weekends in the summer and holidays.
There are separate windows for Vieques, Culebra and the cargo ferries, so make sure you get in the correct line. Make sure that you purchase a round-trip ticket otherwise you will have to buy a return ticket later.
Tickets cannot be purchase in advance.
Ticket windows open 1 – 1.5 hrs before the first ferry is set to leave.
To purchase a ticket you could be standing in a long line sometimes in the sun for several hours, bring a hat, sunscreen and water. Once you purchase your ticket you will go to another line to wait to enter the terminal. If you have more then one person in your party have some wait at the terminal line while another purchases tickets. Trying to figure your which line is which is not always easy.
AVOID THE ISLAND around spring break! I swear all of Puerto Rico's college students descend on the tiny island of Culebra during spring break.
You are allowed to bring coolers, beach chairs, umbrellas, snorkel gear and other beach items with you. The general rule is that there is only one bag per person allowed. Get as much as you can into your bag and the coolers will only run you $1 to $2 each. Make sure you tell the ticket person what extra items you are bringing to avoid having to run back and pay a fee. Pets can be brought in a crate for a fee and bikes are only allowed on the cargo ferry. When boarding the ferry the crew will tell you where to store your larger items like coolers. You can find a more detailed list on fees at the DTOP website.
Pricey but Easy
The easiest way to get to Culebra is by air. There are several small airlines that fly out of San Juan and Ceiba into Culebra. Like most airlines ticket prices will very on dates and time of purchase.
Cape Air, Vieques Air Link & Flamenco Air are the airlines that fly in and out of Culebra. They also fly between Culebra and Vieques.
How to Get Around Culebra
When you arrive to Culebra you will arrive in Dewey. Off to the left you will see several taxis and taxi vans. The passenger vans will take you straight to Playa Flamenco. Last time I was there it cost $3 per person and they don't leave until the van is full. If you call ahead you can reserve a rental car and a rental representative will be available for you when you get off the ferry. Car rentals companies on the island are Carlos Jeep Rental, Jerry's Jeeps and Avis Car Rental. There are also bike rentals, but the hills will leave you walking more then riding.
See more of my favorite things to do in Puerto Rico!