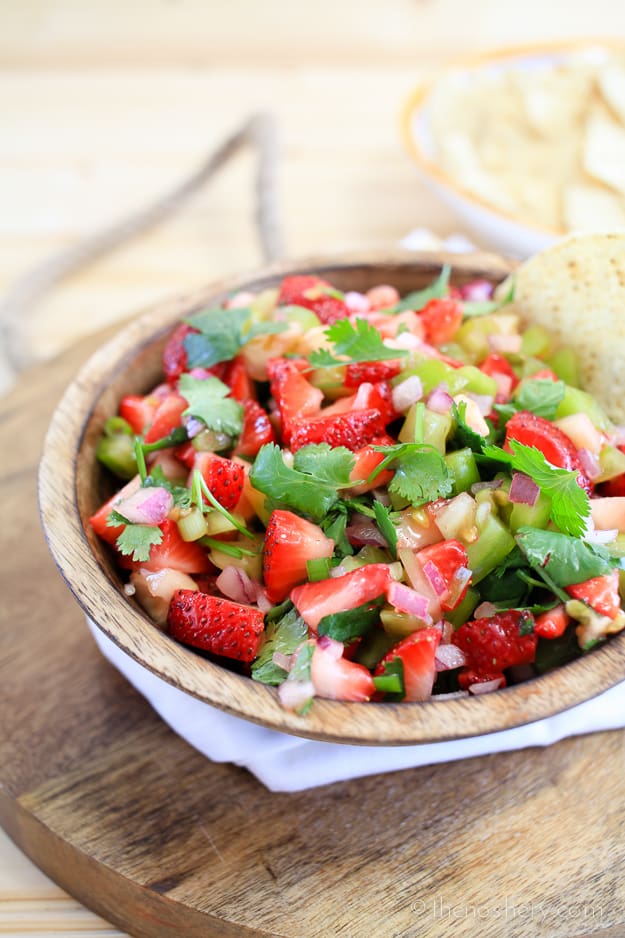 I like most people have an appreciation for salsa. Anytime I go to a restaurant and chips and salsa are placed before me I can not help but, stuff my face with chip after chip. Time and time again I try to demonstrate some semblance of self-control when a bowl of chips and salsa is plopped down in front of me. Full discloser I have failed every time.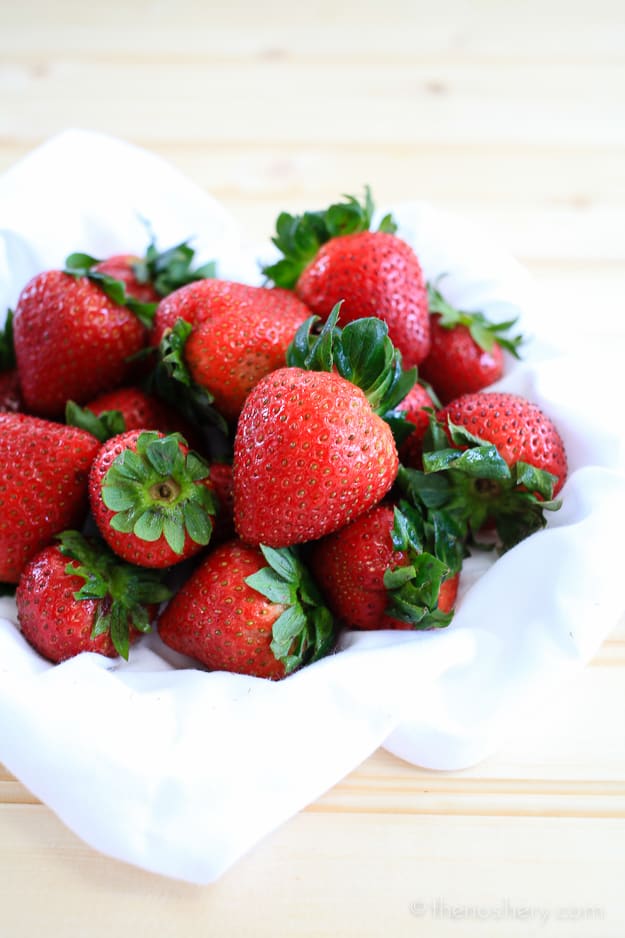 For a long time, I was a salsa purist. Salsa was strictly to be made up of vegetables, tomatoes, onions, peppers and cilantro. That was it. That was my definition of salsa. Before I got a clue, I thought any "salsa" with fruit in it fell in the category of weird fruit salad. Also, "salad" made up of fruit and cool whip also fell under weird fruit salad and still does, but that is a topic for another day.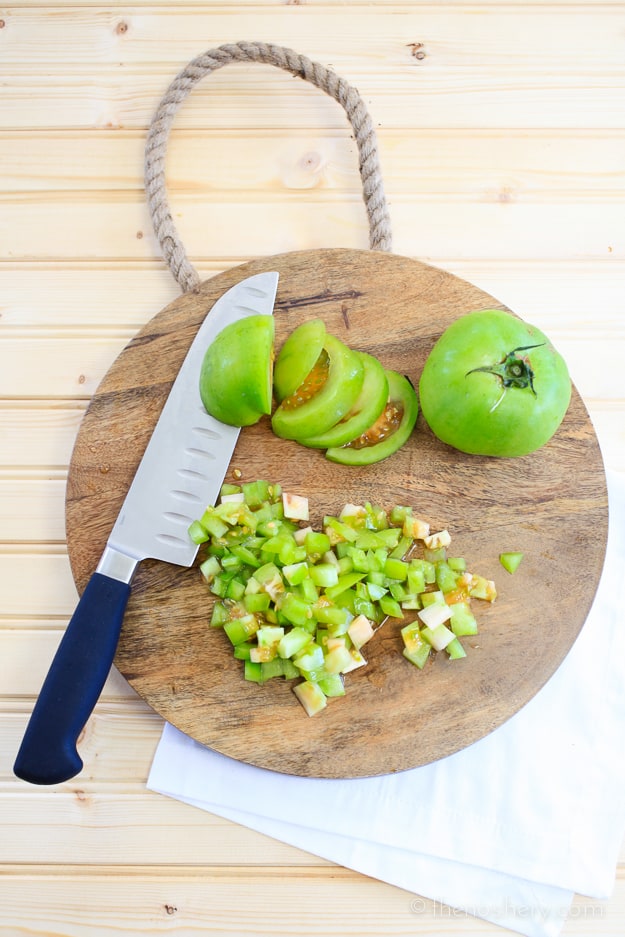 Mind you this limited view of salsa was before I blogged, went to culinary school and developed some common sense. My first real life exposure to fruit salsa was at a party. Someone showed up with a mango salsa. I looked at this bowl suspiciously. "Why was this fruit salad ruined with onions and cilantro?" I asked myself. But, to my surprise everyone was devouring the salsa. And, like most kids I broke down under the peer pressure and tried it. WHAT A FOOL I WAS! Fruit salsa is da bomb!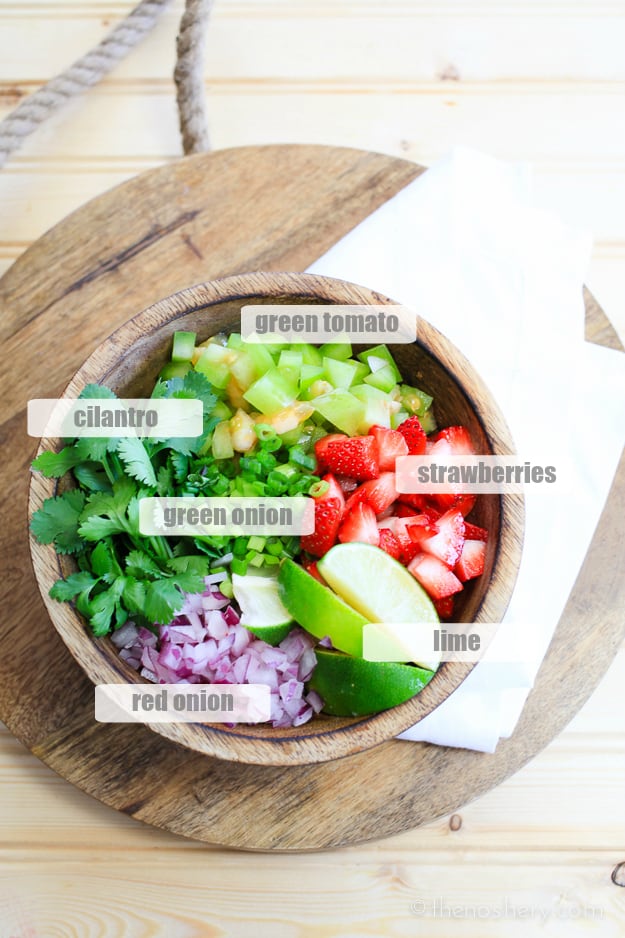 Today I have a great appreciation for all forms of salsa. Restaurant salsa bars are my danger zone. I can never pick one so, I must try them all. Now that summer is here what better time to take advantage of all the beautiful fruit and vegetables in season than to make a fruit salsa.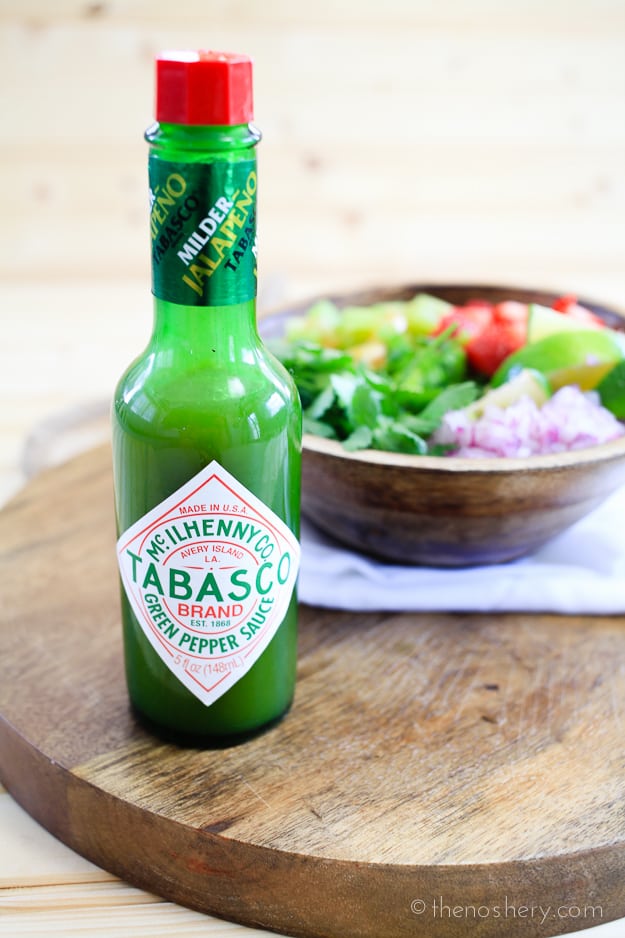 This salsa is a little different than your average salsa. Not only do I use ripe, sweet strawberries but, I decided to use tart, crisp green tomatoes. Also, because I love heat but, am not a fan of biting into raw pepper I used Tabasco's Green Pepper Sauce. If you have love fruit salsa, you will fall on your tush over this one. The strawberries are perfectly sweet against the spicy green pepper sauce, and the green tomatoes add a crisp texture to the salsa.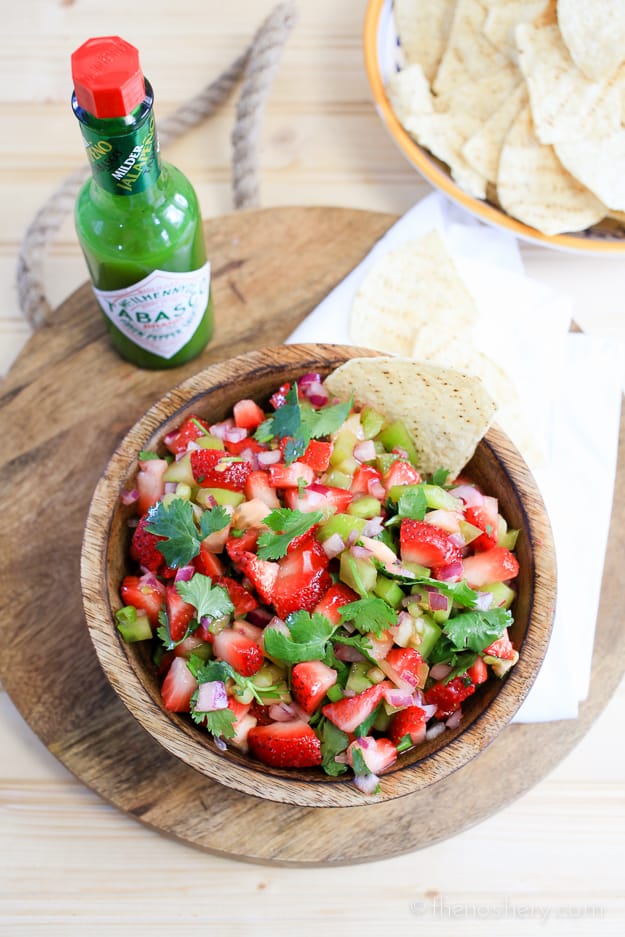 When you see green tomatoes, fried green tomatoes are probably the first thing to come to mind. But, they are great when added to salsa. They have a light tart flavor but, by favorite part is the crunch and texture they bring to the salsa. I love to find new and interesting ways to add texture to food!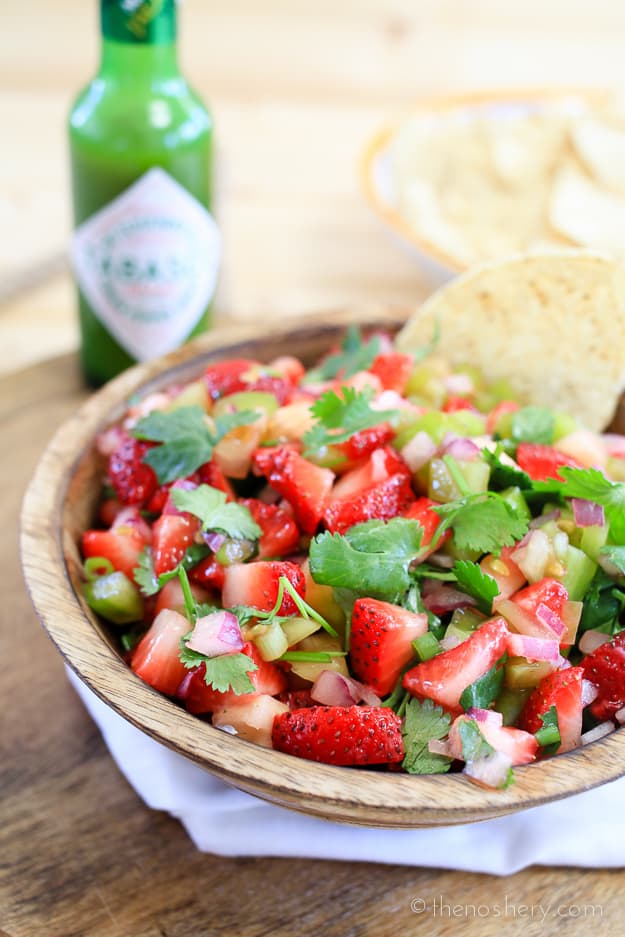 Using Tabasco sauce is an excellent way to have more control of the heat in your salsa. Peppers are great and fun but, not every pepper's heat is the same or the same size. Sometimes you add a jalapeño it's a little spicy then the next time you make the same salsa, and it taste like fire. By using Tabasco sauce, you have more control on the heat level. Make it as hot or mild as you want.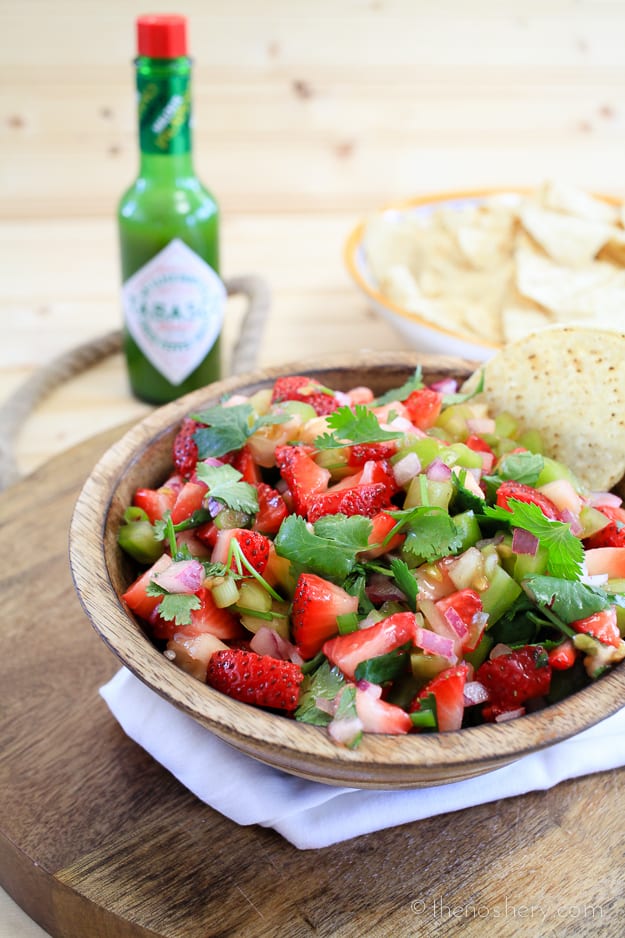 This salsa meets every level of addictive. It's sweet, it's spicy and it kind of awesome. It's great on or chip or with fish tacos. This salsa will be in my regular rotation this summer as long as green tomatoes are around. Once the green tomatoes go our of season, you can substitute them with tomatillos.
Bring on the chips and salsa!
This post is part of a partnered series with Tabasco. Thank you for reading and for supporting companies I partner with, which allows me to create unique content and recipes for you. All opinions expressed are always my own.
Are you following me on Instagram, Twitter, Facebook and Pinterest?
Thanks for reading and subscribe to The Noshery email list to have each post delivered straight to your inbox.

Yield: 3 cups
Strawberry Jalapeño Salsa

Ingredients
1 cup diced green tomato
1/3 cup finely diced red onion
2 teaspoons Tabasco Jalapeño sauce
1/2 lime, juiced
2 green onions sliced
1 1/2 cups diced strawberries
1/2 cup torn cilantro leaves
salt to taste
Instructions
In a large bowl combine all ingredients. Gently toss the salsa until well combined. Season with salt to taste. Add more salt, lime or cilantro according to taste.
Notes
If you are unable to find, green tomatoes use diced tomatillos instead.