Harissa Powder | Hello, spicy food lover, collector of hot sauces. Allow me to introduce you to my harissa spice powder blend. It's spicy, a little sweet and roasted. I love harissa!
For a long time, I was not a fan of spicy food. In fact, I avoided it like the plague. But that was because all of my previous experiences had been crazy hot food that just burned my mouth and added no flavor. In fact, it was so spicy that it burned all the flavor out.
Things have changed, though. While I have no interest in biting into a chili any time soon, I have developed an appreciation for heat with complex flavors — and harissa meets that criteria.
While it's often found in paste form, today I set out to find a way to enjoy all the heat and flavor of harissa but in powder form. The better to sprinkle it over snacks!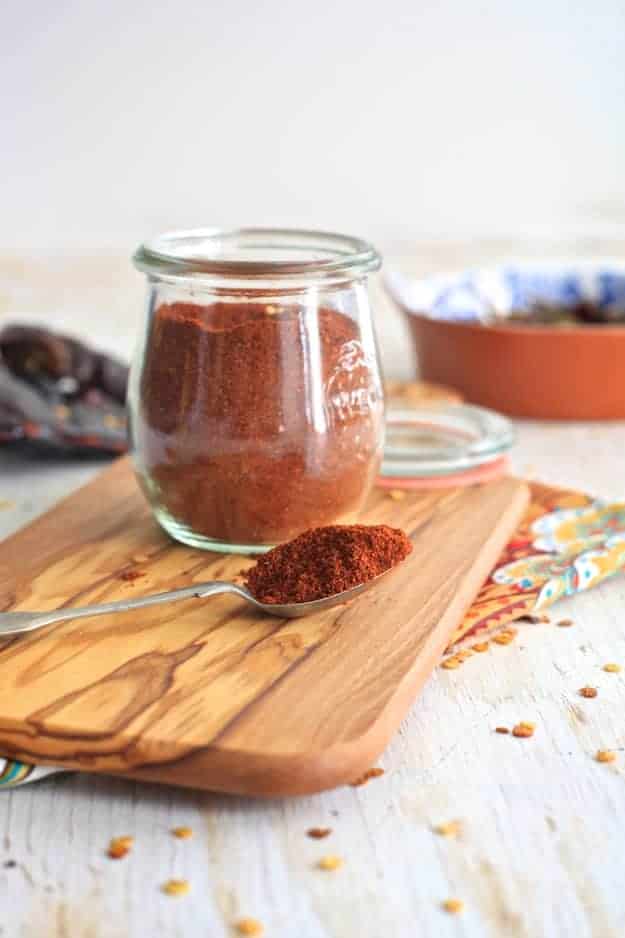 What is harissa spice blend?
If you're not familiar with harissa, it's a North African hot chili pepper paste made up of hot chili peppers and spices such as garlic, coriander seeds, or caraway seeds, as well as some vegetable or olive oil for preservation.
It has a deep, roasted pepper flavor with a hint of sweetness and a kick of heat. It's a wonderful spice that should be added to everyone's pantry.
How do you use harissa spice blend?
It can be added to soups, marinades, or used as a dip if you like some direct heat. Harissa is wonderful to enjoy in paste or dry form. It all depends on how you want to use it.
In paste form, it's great to rub on chicken, beef, or fish as a spicy, aromatic marinade. You can also add it to your favorite stew or chili to take the flavor to the next level. For example, it makes a great dry rub for The Chunky Chef's baked chicken wings, can be added to ketchup to give it a little kick, and takes my Moroccan lamb stew to the next level.
But I love having the harissa seasoning blend to sprinkle over my popcorn, fries, toasted chickpeas, or nuts. It adds all kinds of flavor and revamps things I eat all the time.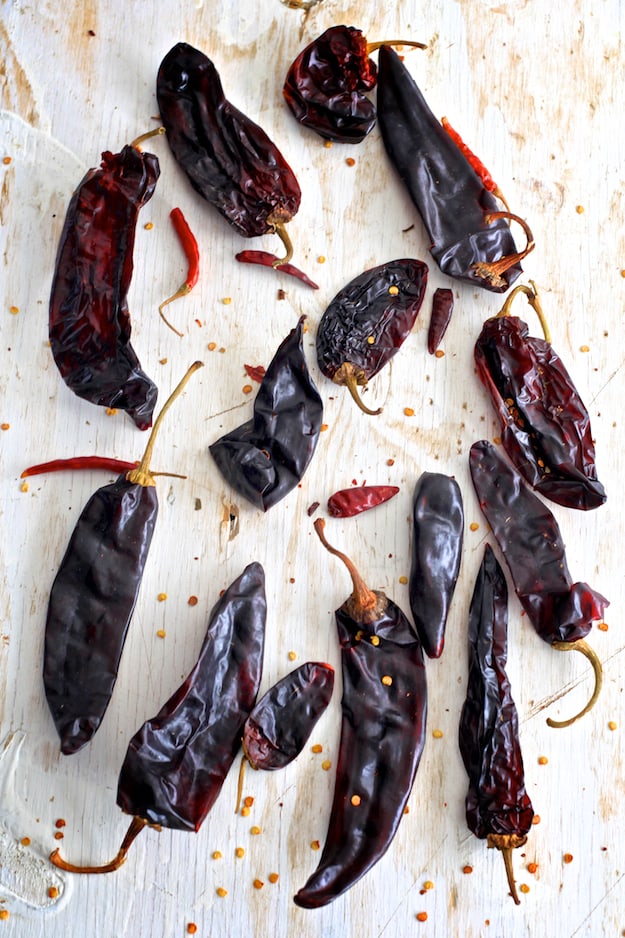 Harissa spice blend ingredients
guajillo chiles
dried new mexico chiles
dried Thai chiles
caraway seeds
coriander seeds
cumin seeds
kosher salt
garlic powder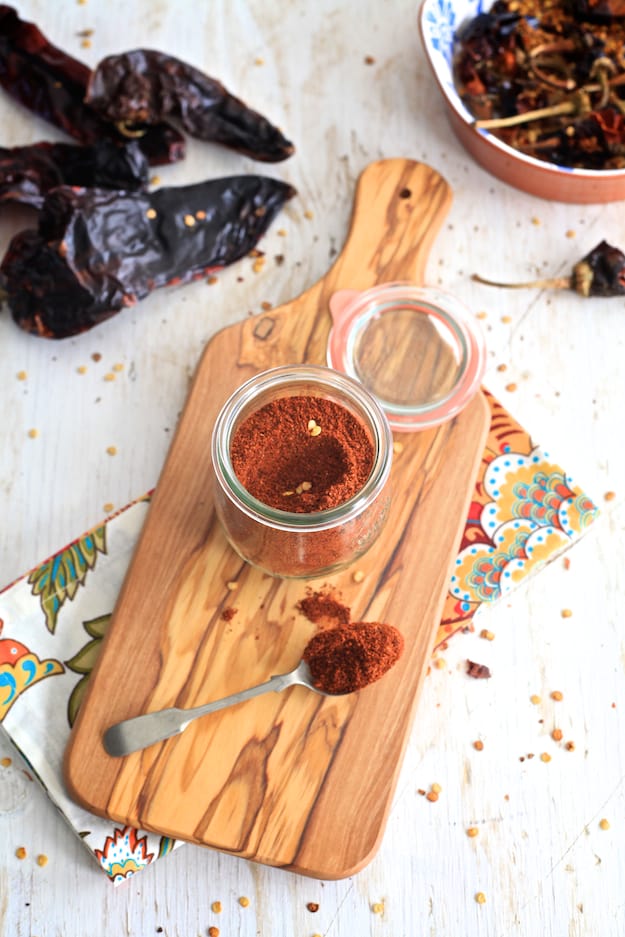 How to make harissa spice
Start by preheating your oven to 350 degrees. Toast all of the dried chilis on a sheet pan for about 5 minutes or until their aroma tells you their flavors are starting to develop. Let them completely cool.
In the meantime, toast your caraway seeds, coriander seeds, and cumin seeds in a dry pan for about two minutes, watching them carefully so they don't burn. You want them to be fragrant, not rancid!
Once the chilis have cooled, whir them up in a food processor until they're broken down into flakes. Then place them in a spice grinder or coffee mill with the toasted seeds, working in batches until they're all milled. If you need a good workout, you can also turn them into a powder with a mortar and pestle.
When everything is well-combined, it's ready to enjoy. Store it in an airtight container for easy access when you're craving some spice in your life!
If you're a fan of spicy foods and haven't tried harissa yet, I strongly encourage you to try it as soon as possible! It will change your life and become your favorite go-to spicy kick.
more harissa love
Yield: 3/4 cup
homemade harissa spice powder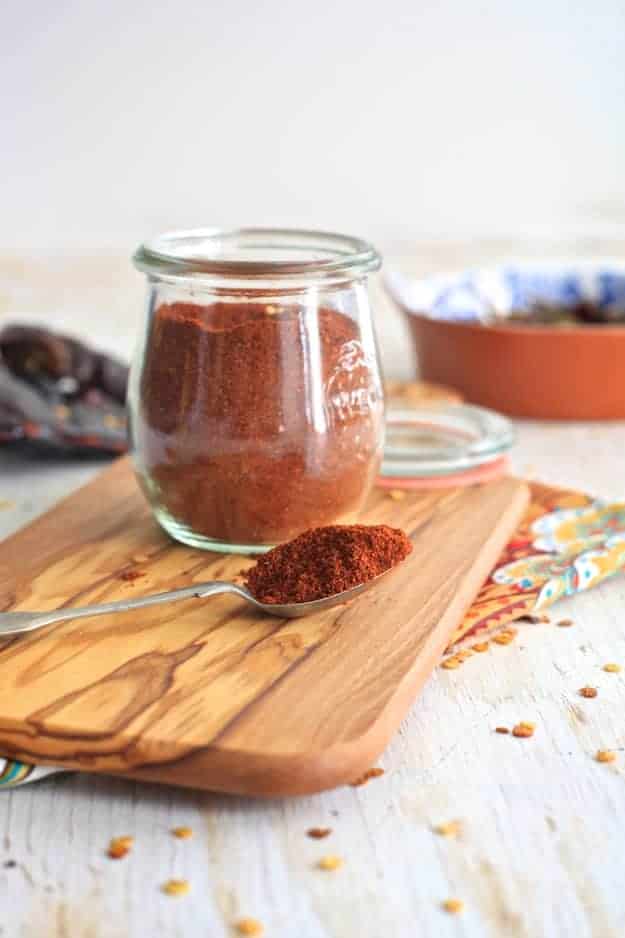 Harissa is a blend of chiles, garlic and spices that is commonly found as a paste. This harissa dry spice blend is a great way to give your favorite food a sprinkle of heat.
Ingredients
8 dried guajillo chiles, stemmed and seeded
8 dried chilis de arbol, stemmed and seeded
4 dried Thai chiles, stemmed and seeded
1/2 teaspoon caraway seeds
1/2 teaspoon coriander seeds
1/2 teaspoon cumin seeds
1 1/2 teaspoon kosher salt
2 teaspoon garlic powder
Instructions
Heat oven to 350 degrees.
Spread dried chilis on a sheet pan. Toast for 5 minutes our until fragrant. Remove from the oven and allow them to completely cool.
In a dry skillet toast caraway, coriander and cumin seeds until fragrant, about 2 minutes.
Transfer cooled chiles to a food processor and process until broken down into flakes. Working in batches transfer chilies and spices to a spice/coffee mill. Pour milled spices into a bowl and mix together until well combined.
Store in an airtight container.
Notes
Recommended Products
As an Amazon Associate and member of other affiliate programs, I earn from qualifying purchases.