Have you ever wanted to make pasta but you have no pasta machine? No worries, all you need is a work surface, a rolling pin, and a knife.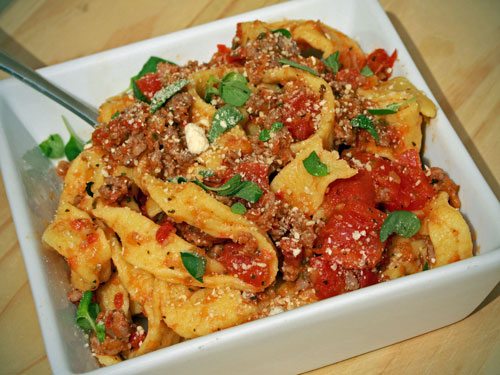 I have been wanting to make homemade pasta FOREVER, and I have been asking for a pasta machine probably for just as long. So when I saw this recipe I HAD to try it out. For my first try, and without a machine, it turned out pretty good. Although apparently, I needed to roll it thinner because I ended up with some pretty fat noodles, which made an extra hearty meal. 🙂 No matter, I froze some of the dough so I will have a chance to try it again. The sauce that I made, I borrowed from Dutch Girl Cooking, except I used a combo of Italian sausage and beef. It turned out quite yummy so I recommend you give it a try. Her recipe makes A LOT of sauce so I froze some of it to facilitate a quick dinner in the future.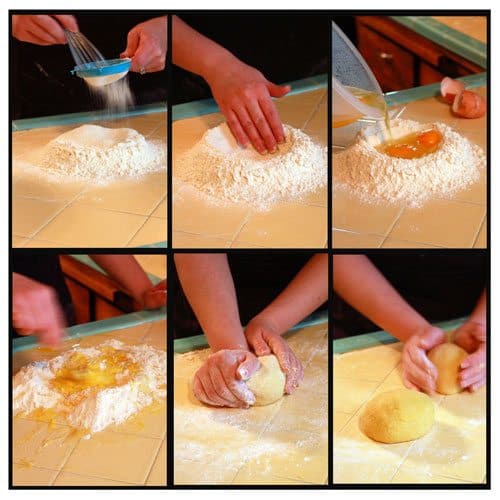 This pasta making process is a great weekend project and as you get better at it, you can be more creative with it. I am hoping to make my own ravioli down the road, once I get comfortable with the rolling.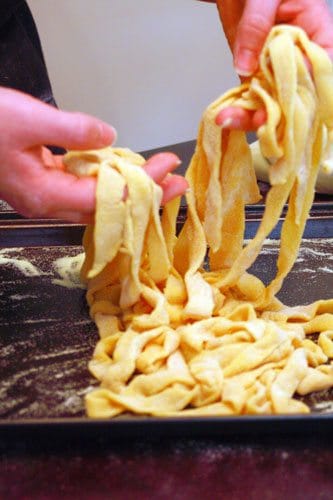 More Pasta Love:
Items Used in this Recipe:
Homemade Pasta No Machine Needed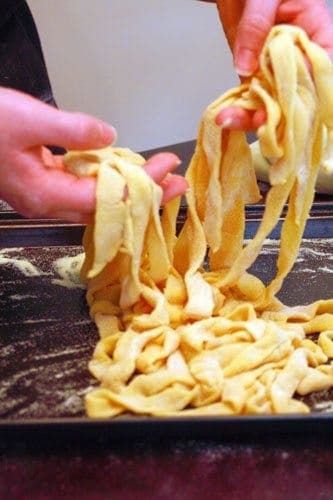 Ingredients
1 3/4 cups all-purpose flour, plus more for dusting
1 cup semolina flour, plus more for dusting
6 large eggs, at room temperature
4 teaspoons extra virgin olive oil
salt
Instructions
Sift both flours together on a large work surface and make a well in the center. Place eggs, olive oil and a pinch of salt in a bowl, then pour into the well, with a fork, break up the eggs, then gradually mix the wet ingredients into the flour mixture just until combined.
Gather the dough into 2 equal-size balls; flour the surface. To knead each piece, push the dough away from your with the heel of your hand, fold the dough over itself and turn it counterclockwise. Continue pushing, folding and turning until the dough is smooth and elastic. 4 to 5 minutes.
Pat each piece into a ball. Flatten slightly, wrap in plastic and refrigerate for at least 30 mins. or overnight. (You can freeze 1 ball for later, or roll out both and freeze the cut pasta.)
Place the dough on a lightly floured surface and dust with flour. Starting in the middle, push away from you with a rolling pin, easing up on the pressure as you approach the edge. Continue rolling the dough into a sheet, turning occasionally, until you can see your fingers through the bottom. Let dry 10 minutes.
Dust the top of the sheet of dough with flour and loosely roll it into a cylinder. Using a sharp knife, cut into 3/4 inch wide slices. unwrap the noodles; dust with semolina and gently toss to separate. Place on a sheet pan and cover with a tea towel until ready to cook (or freeze bags for up to 2 months.)
Cook the noodles in a large pot of boiling salted water until al dente, 2 to 3 minutes. Drain and serve with your favorite sauce.
Notes
From: Michael Chiarello, Feb/Mar 09 Food Network Magazine