Turkey burger patties inspired by one of my favorite dishes, pad thai and seasoned with ginger, peanut butter, and siracha.
Yeah you read it right a Peanut Butter Turkey Burger.  I found the recipe on A Good Appetite and like she said don't let the PB scare you, this is a gooooood burger.  If you like Asian cuisine you will like this burger, just think of an Asian dish with peanuts & ginger in it, it's a very similar taste to that.
More Turkey Burger Love:
Items Used in this Recipe:
Yield: 2
Pad Thai Inspired Asian Turkey Burger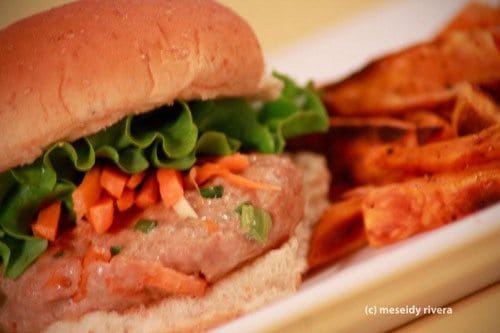 Ingredients
1 medium carrot, julienned
1 scallion, chopped
1/8 t ground ginger
1 t kosher salt
10 oz ground turkey
1 1/2 tablespoon chunky peanut butter
1/4 teaspoon sesame oil
1/2 teaspoon sriracha chili sauce
Instructions
Place all the ingredients together in a bowl. Work with hands to mix but to do overwork.
Cook on a griddle (turkey burgers tend not to hold together well on a grill) until done, about 6 to 7 minutes per side.
Serve with lettuce leaves, more julienned carrots & garlic mayo.