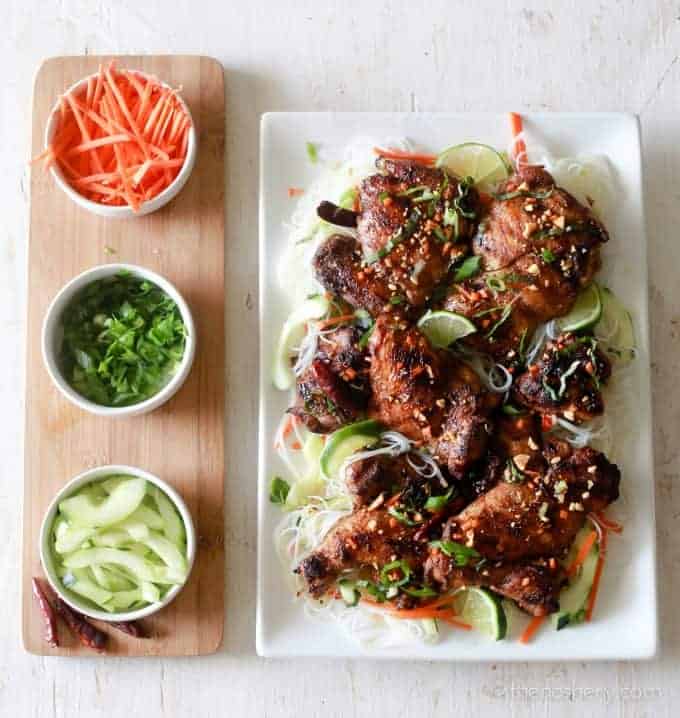 I love five spice! If you are not familiar with Chinese five spice it's made of five spices, hence the name, star anise, cloves, Chinese cinnamon, fennel seed and black pepper. Some variations will also have anise seed, ginger root, nutmeg or turmeric. It's perfect to use as a dry rub on chicken, duck or pork.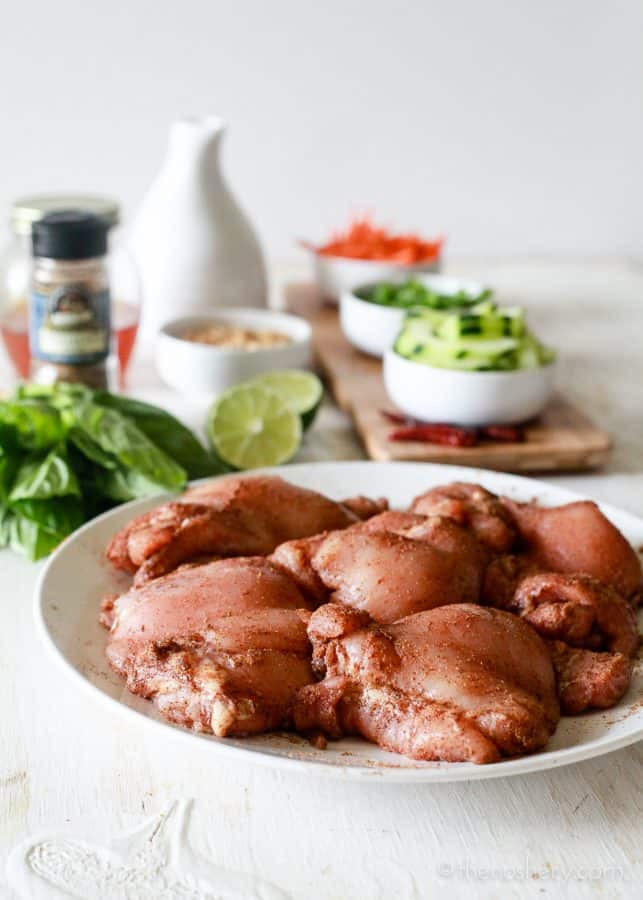 This dish is really simple! Toss chicken in Chinese five spice, grill, drizzle with honey, squeeze a little lime juice and toss noodle salad. It's so easy and tasty you will probably add it to your regular weeknight dinner rotation.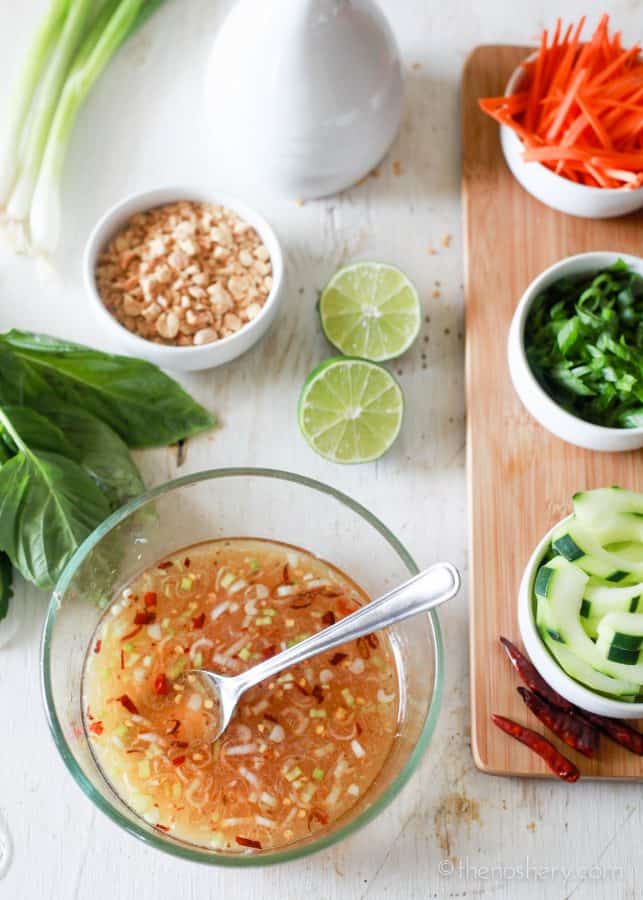 I absolutely love Chinese five spice! The combination is an interesting combination of complex flavors creating that hard to describe umami flavor. Obviously I live to use it as a meat rub, but I have also used it in baked goods. It's a perfect addition to Fall flavor baked goods like pumpkin bread. I love versatile ingredients!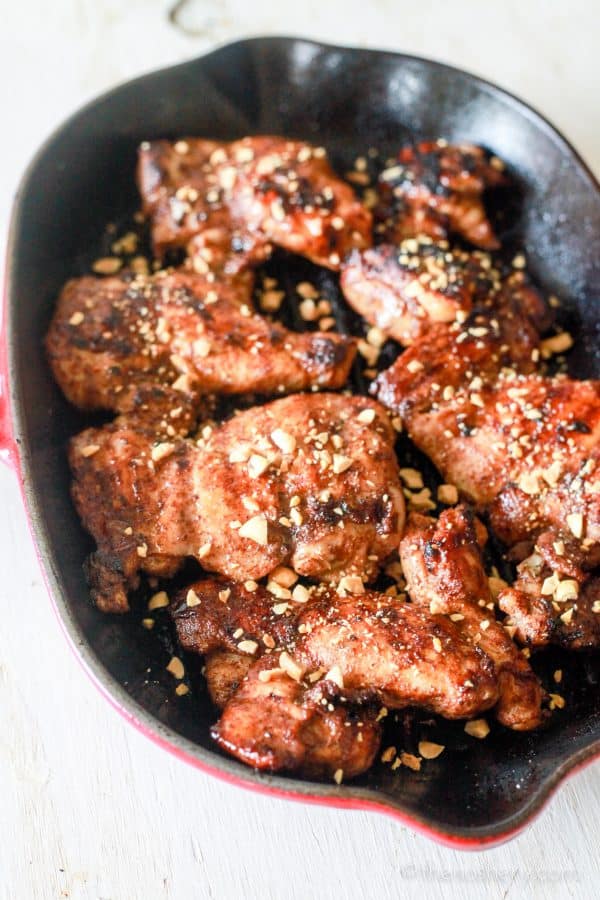 The noodle salad is tossed in a bright dressing made of lime juice, honey, and fish sauce. Yes, fish sauce. I know it sounds weird, but it makes a huge difference. Fish sauce can be found in the Asian food aisle of your supermarket. It is an amber-colored liquid extracted from the fermentation of fish with sea salt. I will tell you up front if you take a whiff straight from the bottle it may knock you out….it stinks, but don't be put off by the smell. It adds a wonderful umami complexity, and it's a must have in this dressing.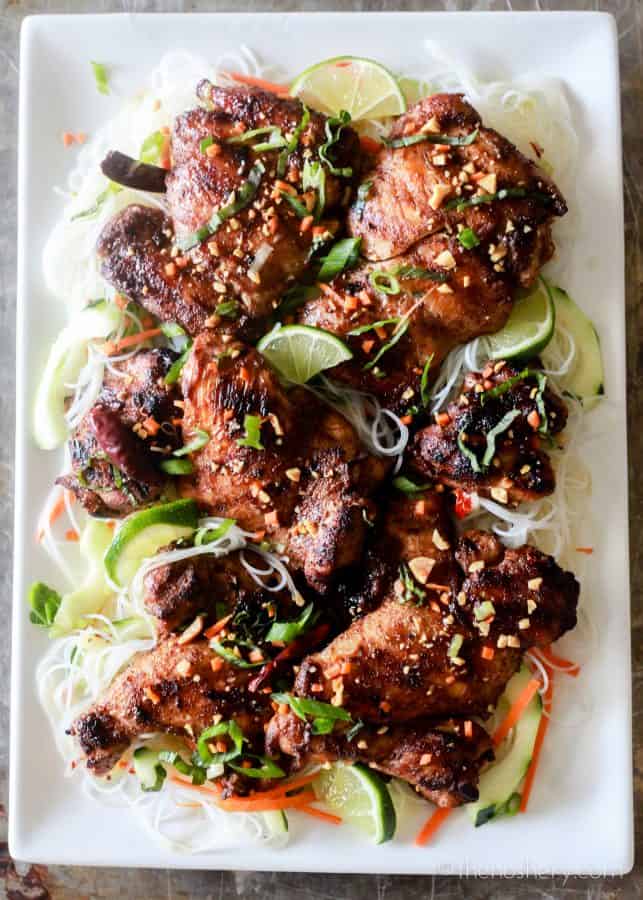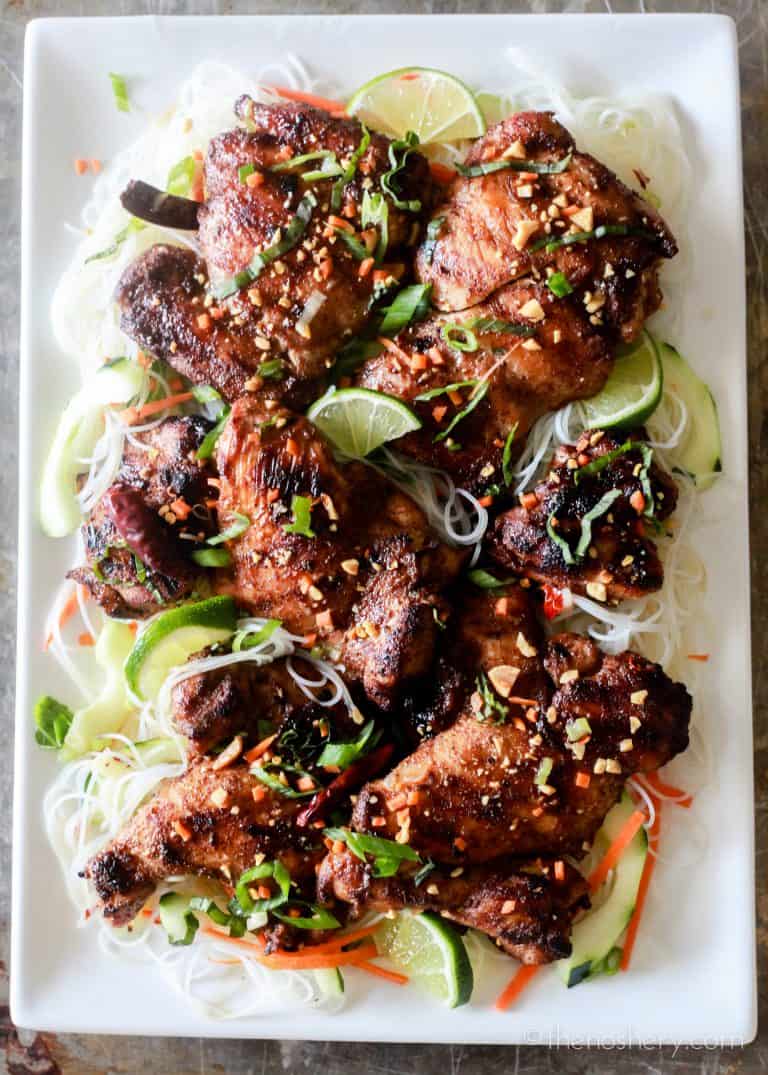 Finally, let's talk noodles. There are vermicelli noodles, and then there are rice vermicelli noodles. Vermicelli is about the shape of the noodle, long and thin like angel hair or fideo. A traditional vermicelli noodle is made of a basic pasta dough of egg, flour and oil. Rice vermicelli noodles are made using rice flour. Rice vermicelli can also be called rice stick noodles and can be found in the Asian food aisle of your local supermarket.
The chicken can be served warm over the noodles or chilled. Which also makes it a great make-ahead meal. Refrigerate the chicken, noodles and dressing separately. When the noodles are tossed with dressing, they will loosen. Topped with sliced chilled chicken and dinner is ready! Easy! Peasy!


Yield: 4 servings
Five Spice Chicken with Vermicelli Noodle Salad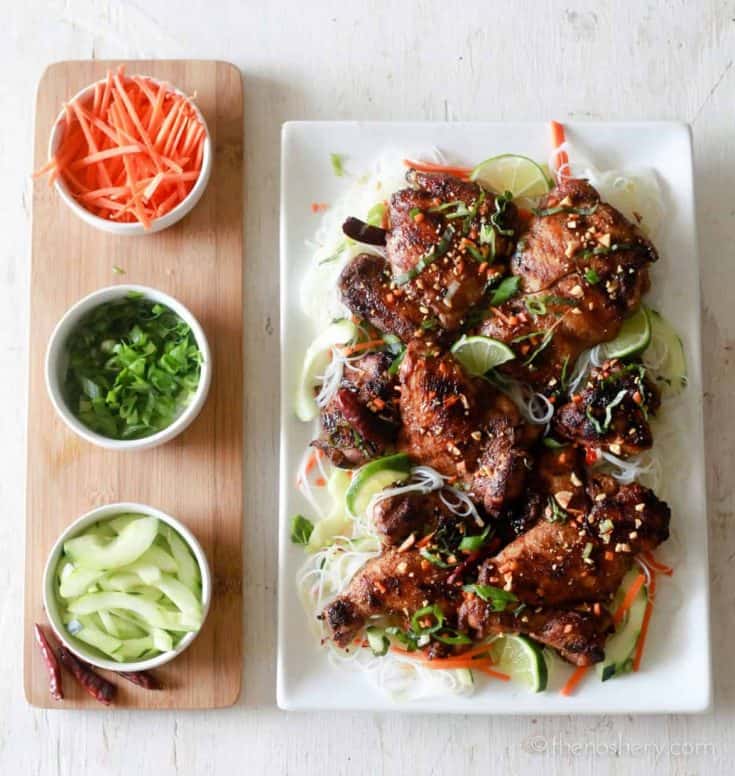 An easy weeknight meal of Chinese Five Spice chicken and cool vermicelli noodle salad.
Ingredients
Chicken
1 package boneless skinless chicken thighs, about 2 lbs
2 tablespoons Chinese five spice
2 tablespoons honey
2 teaspoons salt
1 lime
1 tablespoon chopped peanuts
[br]
Dressing
[br]
3 tablespoons fish sauce
juice of 1 small lime
3 tablespoons water
1 1/2 tablespoons honey
1 tablespoon vegetable oil, melted
white of 1 spring onion, sliced
2 dry red peppers, minced
[br]
Salad
[br]
7 oz package vermicelli noodles, prepared according to package directions
1 cucumber, peeled, deseeded and sliced
2 medium carrots, julienne
1/4 cup peanuts, chopped
green onion, garnish
cilantro, garnish
Thai basil, garnish
Instructions
Heat a grill skillet or heavy bottom skillet over medium-high heat. Brush with vegetable oil.


Toss chicken thighs with Chinese five spice and salt. Place on the hot grill pan, turning after 3 or 4 minutes, until nicely charred and cooked through. Be careful not to crowd the pan. If pan is too small you may need to cook in batches. Drizzle the honey over the chicken, squeeze over the juice of 1 lime. Cook another 1 - 2 minutes to allow honey to melt and lime to reduce. Sprinkle with the chopped peanuts, set aside.


Combine all dressing ingredients and whisk until well combined. Combine all salad ingredients and toss with dressing. Garnish with green onion, cilantro and/or thai basil. Slice chicken and serve with noodle salad.
Notes
Make-Ahead: The chicken can be served warm over the noodles or chilled. Which also makes it a great make-ahead meal. Refrigerate the chicken, noodles and dressing separately. When the noodles are tossed with dressing they will loosen. Topped with sliced chilled chicken



4