Psssst! You're smiling…..
Who doesn't smile when getting a big bowl of ridiculously creamy ice? Even more so if said ice cream is sandwiched between two rich chocolate truffle cookies! Make that ice cream Dreyer's Slow Churned Limited Edition Peppermint Wonderland and you might as well pass out, with a big fat grin on your face.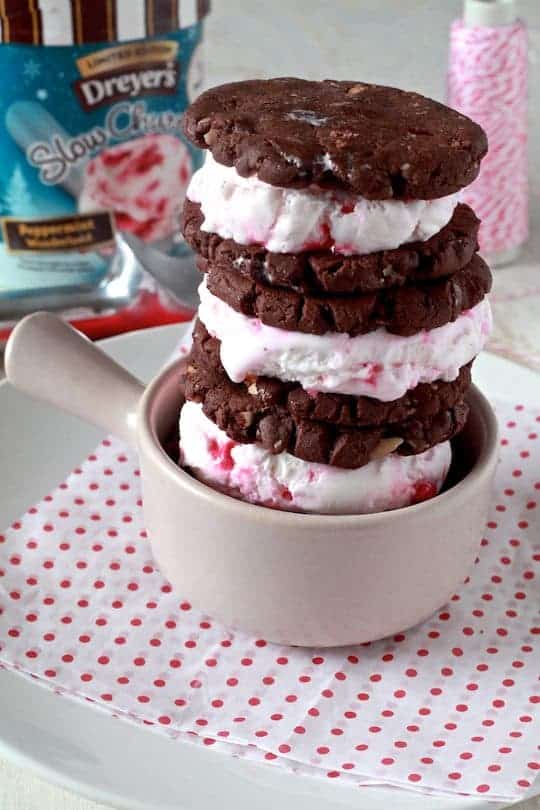 In the spirit of the Holidays, Dreyer's Slow Churned Ice Cream has the oh so delicious Peppermint Wonderland available to devour. This ice cream is ridiculously rich and creamy and it's 1/2 the fat of regular ice cream. It's a win-win! And, I love the Peppermint Wonderland flavor which perfectly pairs with chocolate!
You may ask yourself, is it really that rich and creamy if it as half the fat and 1/3 fewer calories than regular ice cream? I am here to tell you it totally is! To get this rich and creamy texture they slowly churn the ice cream using non-fat milk. By slow churning the ice cream they get a rich and creamy texture that will make you smile from ear to ear.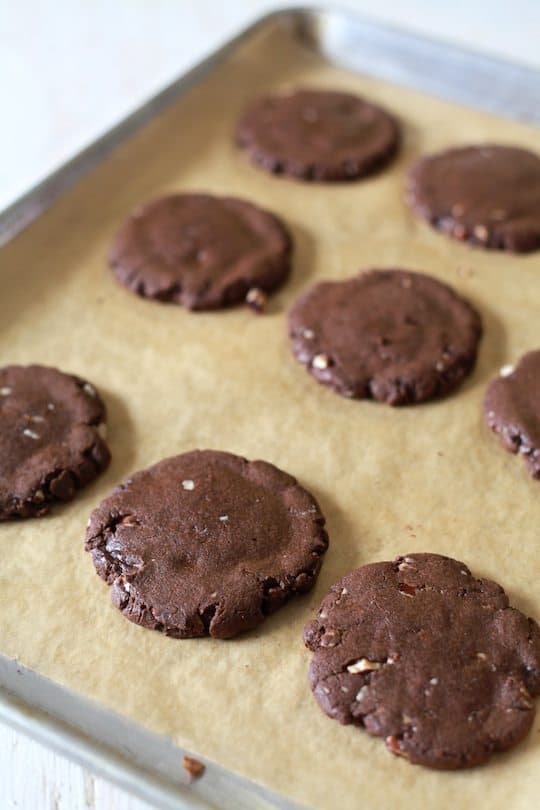 Ice cream creates happiness. Think about it, would we all be screaming for ice cream if it wasn't awesome? I mean, right now I am trapped in a house after a winter storm blanketed the entire town with ice, but even in this not so perfect situation I can't help but smile while I eat a scrumptious ice cream sandwich. Yes I am eating an ice cream sandwich during an ice storm, because ice cream is that awesome!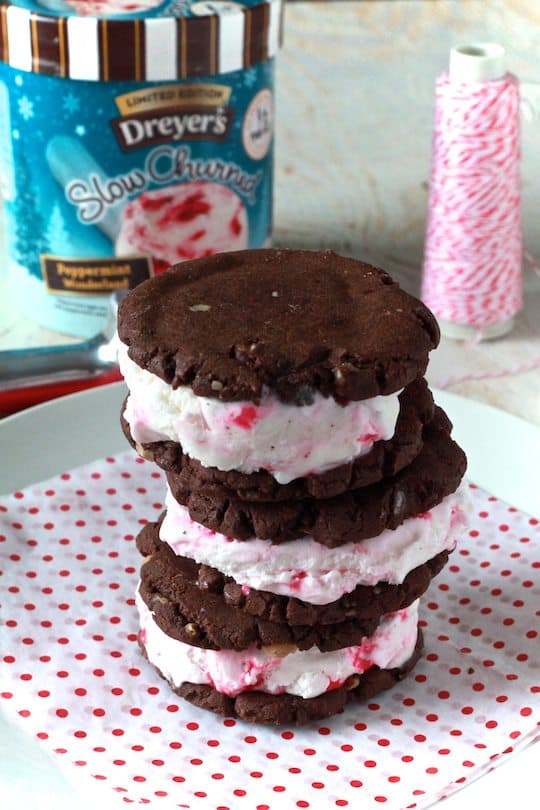 The cookies for these sandwiches were kind of amazing! They had crispy cookie edges and the center was almost nothing but truffle. If you want you can serve them warm topped with ice cream and they have more of a molted chocolate texture. Equally amazing!
It is a season of gathering and sharing, so go share some Dreyer's Slow Churn ice cream with someone!
Yield: 6
Chocolate Truffle Cookie Peppermint Ice Cream Sandwiches with Dreyer's Ice Cream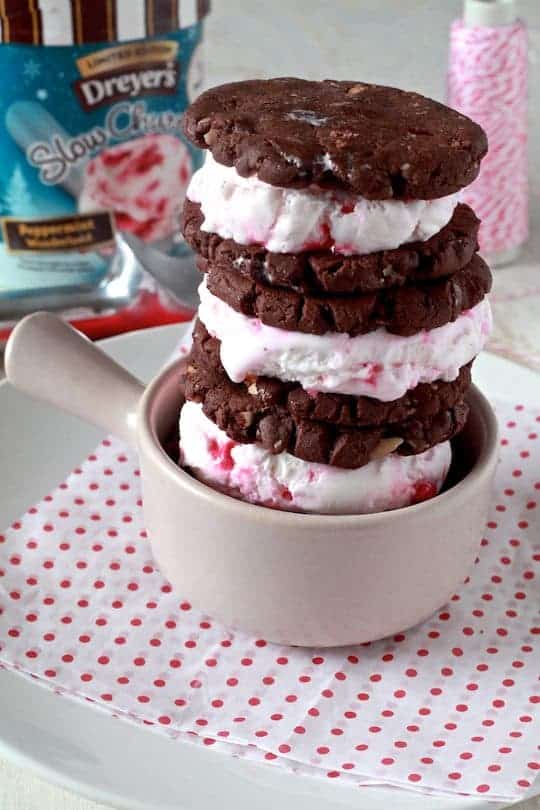 Ingredients
Ganache
8 ounces of semi-sweet or bittersweet chocolate chips
1/2 cup of heavy whipping cream
1 teaspoon of vanilla extract
[br]
Cookie Sandwiches
1 1/2 cups all-purpose flour
1/2 cup cocoa powder, unsweetened baking cocoa or Dutch-process cocoa
1/2 teaspoon baking soda
1/4 teaspoon salt
1/2 cup granulated sugar
1/2 cup brown sugar
1/2 cup (1 stick) unsalted butter, softened
1/4 cup chocolate ganache
1 teaspoon vanilla extract
1 large egg
Instructions
Ganache
In a small, heavy saucepan bring the heavy whipping cream to a simmer. Keep and eye on it you don't want it to scald.
Pour the chocolate into a separate bowl. Pour the cream over the chocolate, add the vanilla, and allow to stand for a few minutes then stir until smooth.
Measure out 1/4 cup of ganache to use in the cookie batter, set aside and place the remaining ganache in the refrigerator for two hours, or in the freezer for 30 minutes or until set. Remove from refrigerator and using a teaspoon roll out balls of the ganache. Roll in your hands quickly (they will melt a little in your hands) and place on a baking sheet lined with parchment paper. Place in the while you prepare the cookie dough.
Cookie Dough
Preheat the oven to 375°F. Line two baking sheets with parchment paper.
In a medium-sized bowl, whisk together the flour, cocoa, baking soda and salt.
In the bowl of your stand-mixer or using a hand mixer, beat together the sugars, butter, and 1/4 cup chocolate ganache until light and creamy. Add the vanilla and egg, beating until combine. Mix in the dry ingredients, blending until well combined.
Scoop 1 tablespoon of the dough (a lump about the size of a walnut), make an indentation in the center with your finger and place one of the ganache balls into the indentation.
Shape the cookie dough up and over the filling, pressing the edges together cover the center. Roll the cookie in the palms of your hand to smooth it out. Repeat with the remaining dough and filling.
Grease the bottom of a drinking glass or a small plate, use it to flatten each cookie to about 1/2-inch thick. You may need a small spatula to lift off the glass.
Bake the cookies for 7 minutes, or until they're set and you can smell chocolate. Remove them from the oven, and cool on a rack. Transfer to the refrigerator to cool completely.
Once completely cooled, scoop Dreyer's Slow Churn Ice Cream onto one cookie, top with another cookie and gently press the sandwich.
Freeze until ready to serve.
I was selected for this opportunity by Clever Girls Collective, however all content and opinions expressed here are my own.